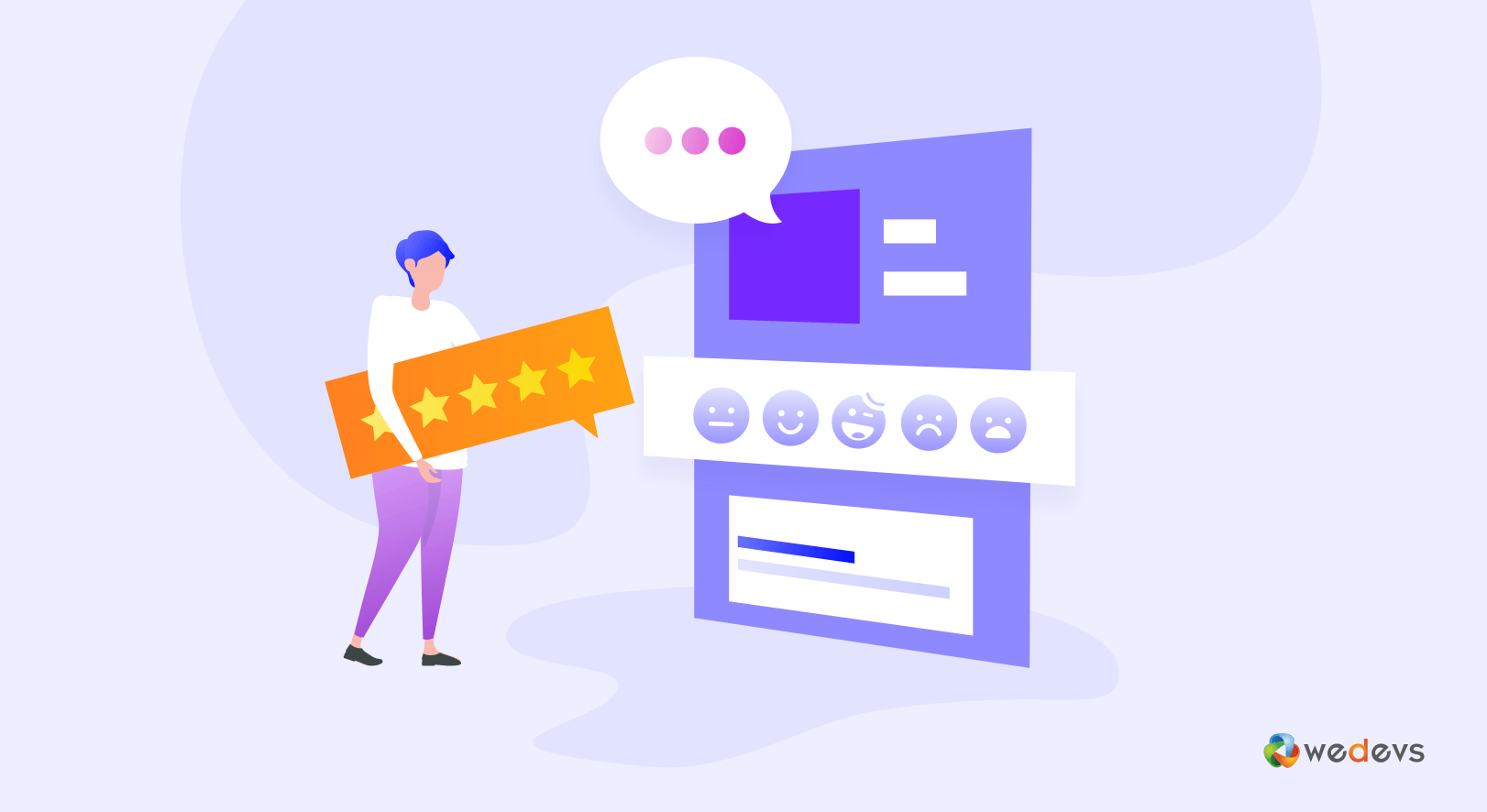 Benefits of Having a Review Page for Your Online Business (Guide to Design a Review Page in WordPress)
It may sound fascinating to you, more than 72% of customers won't take any actions until they read any reviews. People will surely listen to you and do business if they trust you. And this will happens if they get positive reviews of your company.
15% of users don't trust businesses without reviews – Hosting Tribunal
Therefore, considering the importance of review on business, we'll discuss how to make a review page on WordPress website, smart strategies to get positive reviews and also introduce amazing addons.
Yes, you're hearing the right. We're talking about Happyaddons. The most amazing enhancer that works seamlessly with Elementor Page Builder.
However, in the next part, we'll discuss why Happy Addons is perfectly suitable for designing a review page.
So, let's begin with the elaborate discussion:
Why Choose Happy Addons for Designing Review Page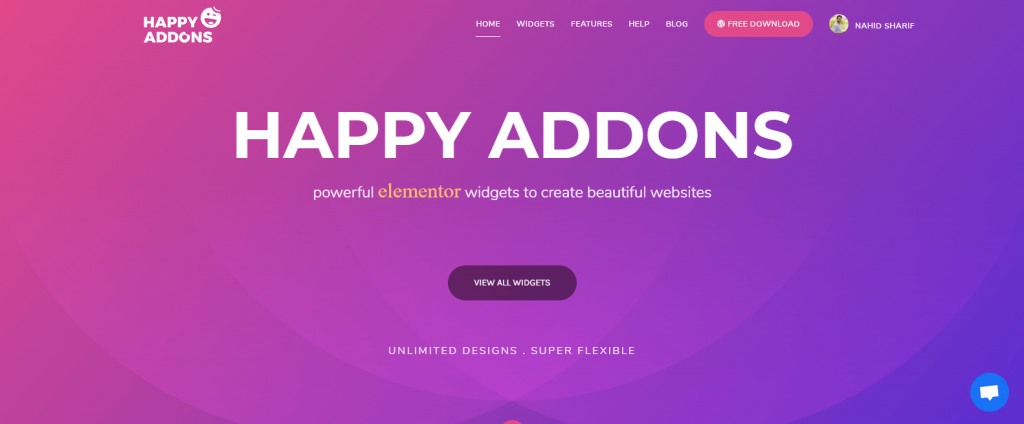 Happy Addons is completely unique and has dazzling designing tools. It has around 25 different widgets for the WordPress ecosystem. Moreover, the widgets of Happy Addons are capable of creating any types of designs at different circumstances.
Collaboration with Elementor makes it more strong and powerful. And its trendy and unique look with detail editing experience allows everyone to create ravishing designs in a quick time. Again, it includes two extra features for every elementor widget called Happy Effect.
Happy Effects
Happy Effect consists of two portions, and they are:-
Floating Effects: Using Floating Effects. you can Translate, Rotate or Scale thus it helps to create stunning animations for any Elementor widget
CSS Transforms: CSS transforms is another fruitful feature of Happy Addons. It'll help you to add various CSS transforms, for example, using it you can translate, rotate, scale and also skew your elements.
Let's check out the facilities you'll get using Happy Addons for any designs in WordPress:-
It's free, easy to use, and collaborates with Elementor
Responsive and tested on different screens
Compatible with almost every theme
Constantly adding new features
And, it's lightweight and fast
So these are the main reason why should determine Happy Addon as the prior plugin to make a review page on WordPress.
Anyways, read the article on 'How elementor changed the era of WordPress Development'
How to Design a Review Page with HappyAddons
Happy Addons works perfectly with Elementor. So before using Happy Addons, install the Elementor plugin to your website. After that, install Happy Addon.
Let assume you have already installed and used both WordPress and Elementor.
Check out the article on 'How to Create a stunning header with Elementor'
So let's get started:
Step 1: Adding Sections
First, add a section like the way you always do with Elementor. And then drag Review Widget to the sections.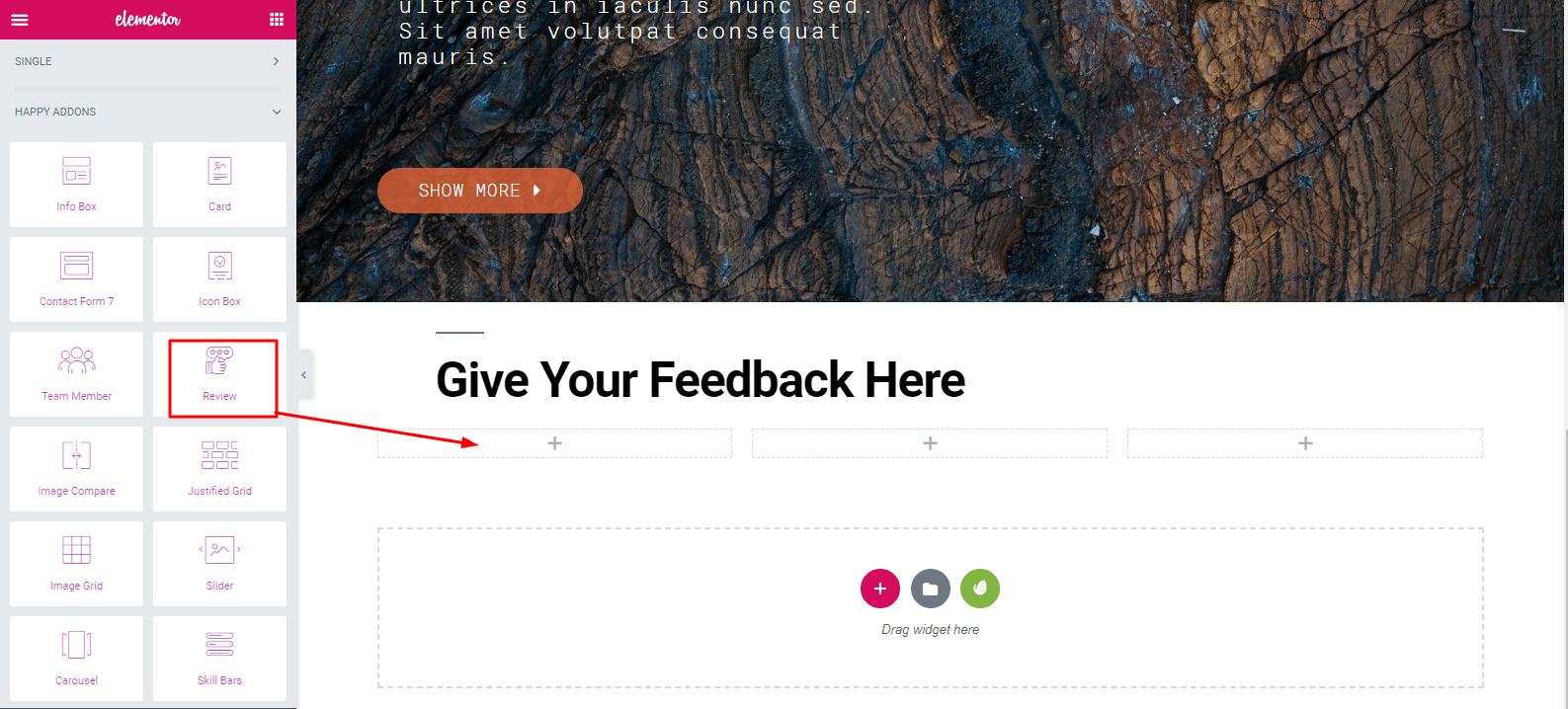 After dragging 'Review Widget', it'll appear like the following screenshot.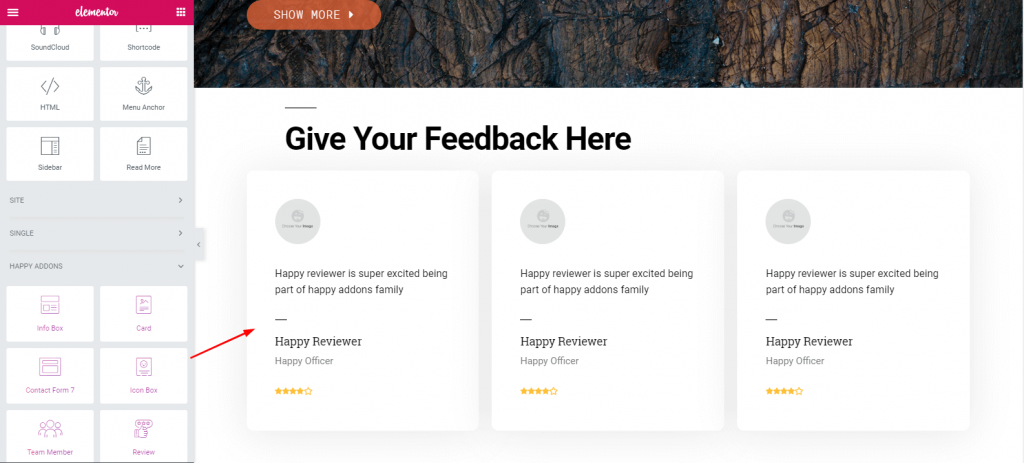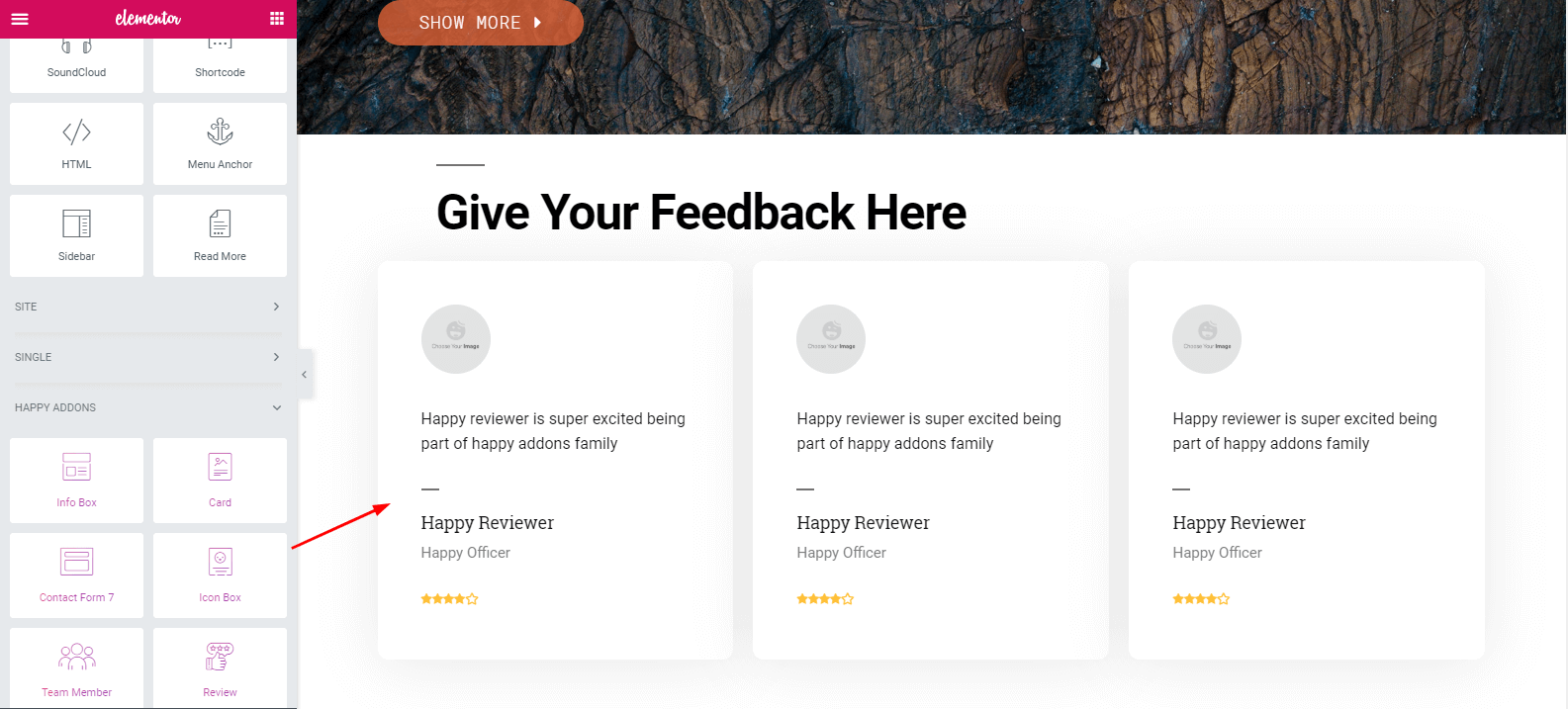 Step 2: Editing Preset, Review and Reviewer
In this section, you can edit Preset, Review, and Reviewer.
Preset
It's a collection of designs that will help you to use it in the objects. Using preset will allow you to decorate your review box with a more delightful look.
check out the screenshot below: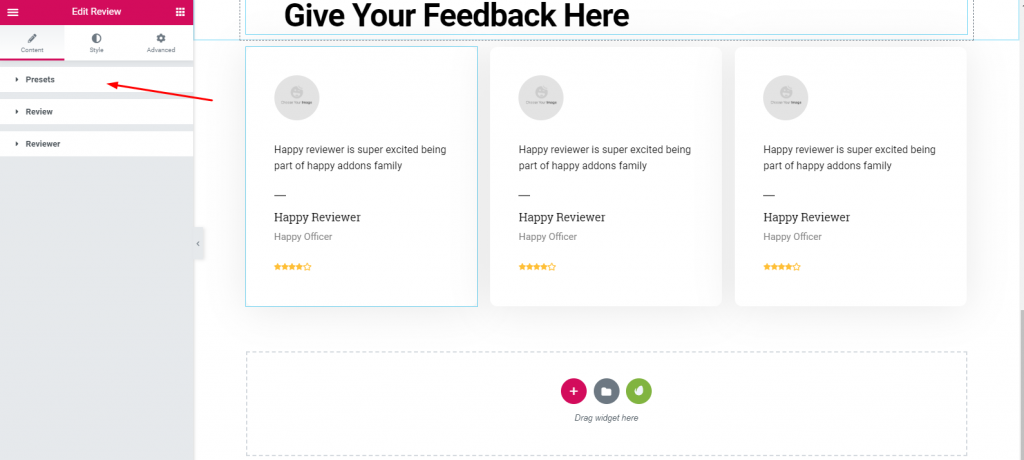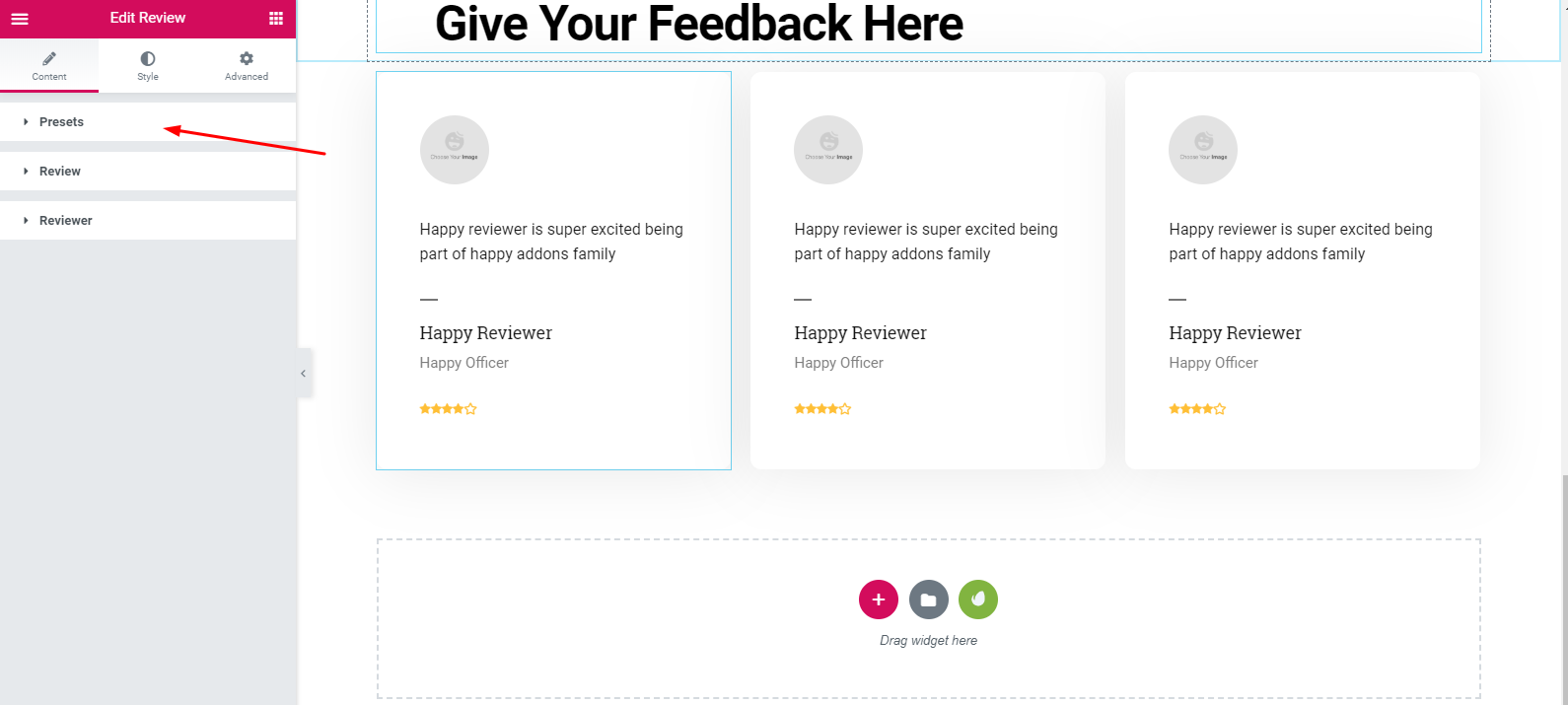 Review
Here you can resize rating and also choose rating style. Next, you'll see the description, review position, and the review type, etc.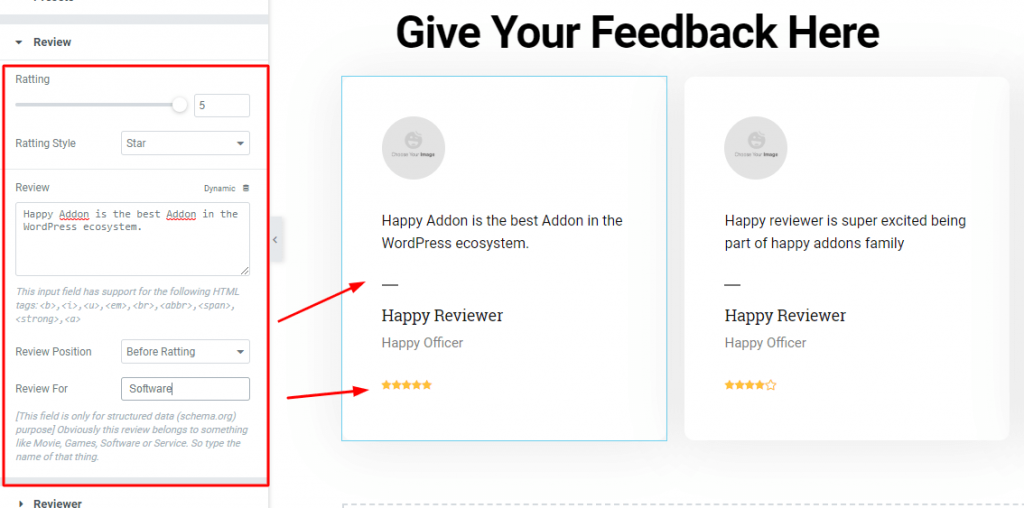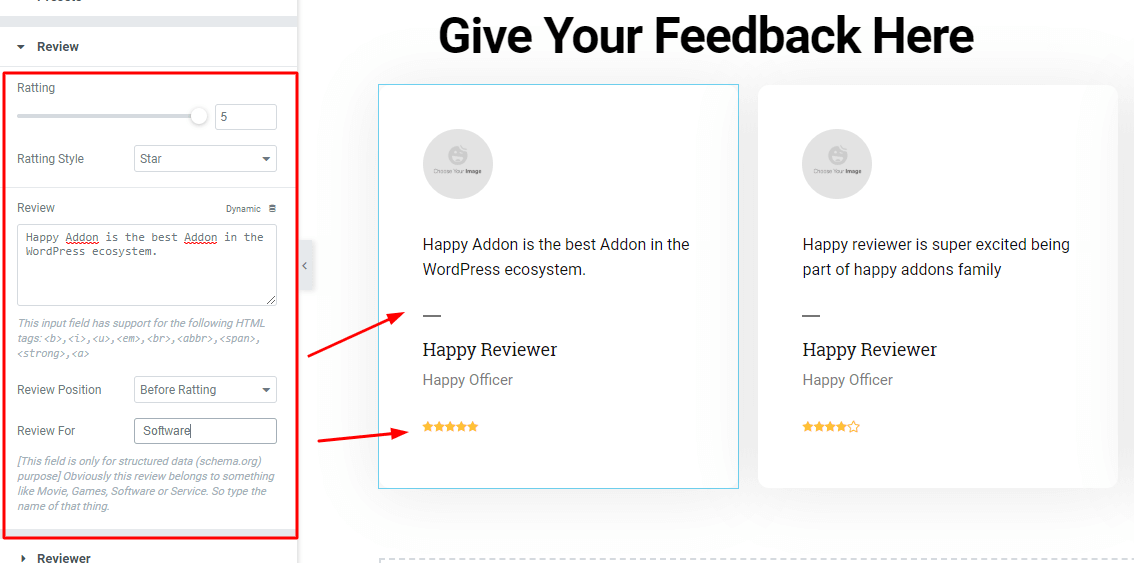 Reviewer
This part is very interesting. You can edit each and every review of your customer. For example, the reviewer's photo, images position, name, designation, and more.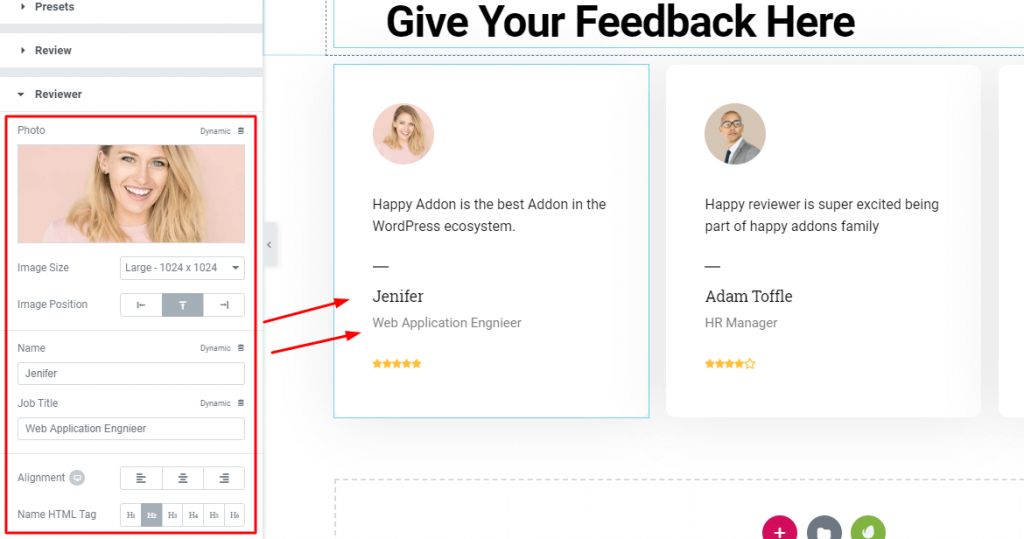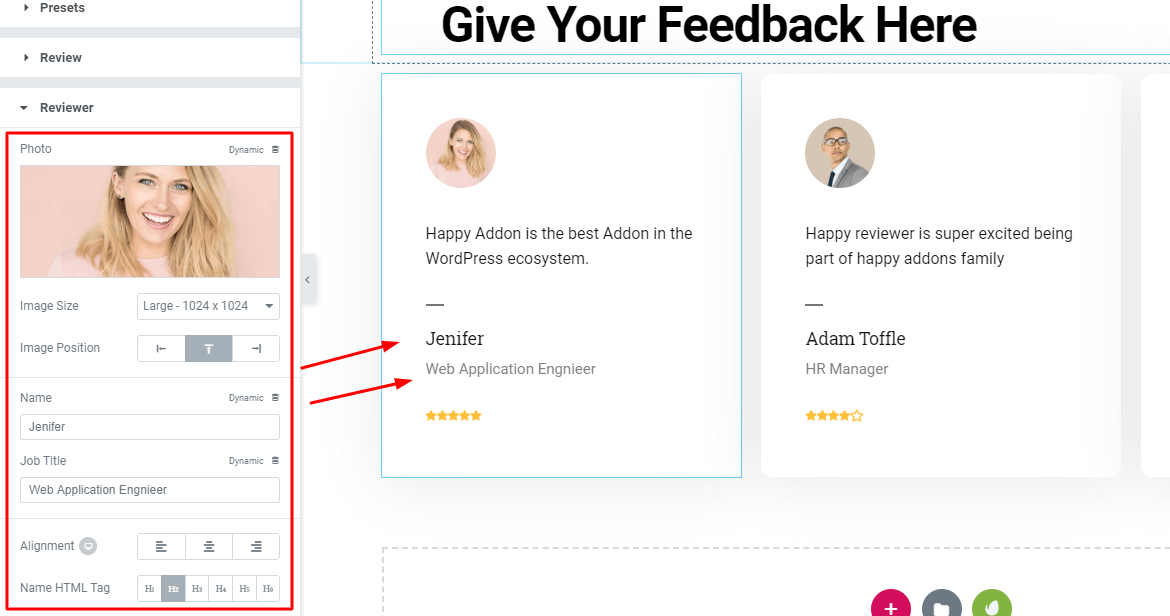 Step 3: Stylize Review Widget
To stylize the section, click on the 'Style' button.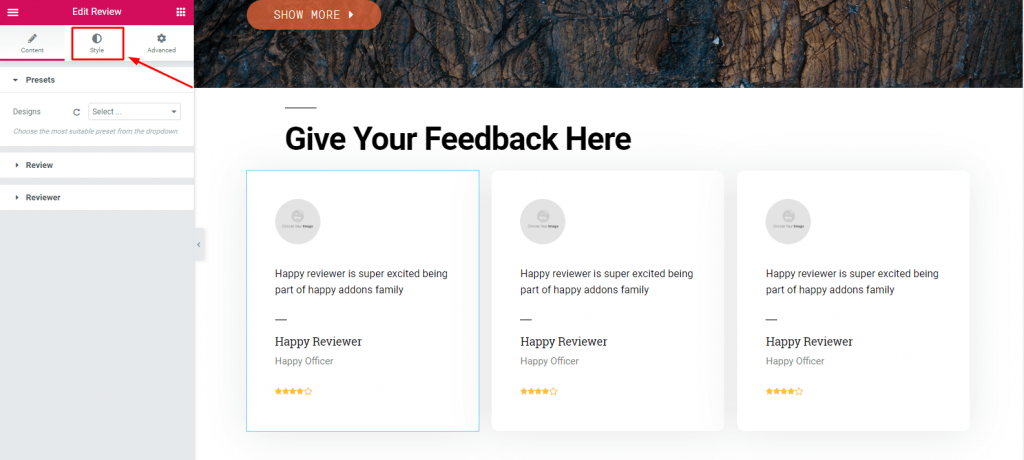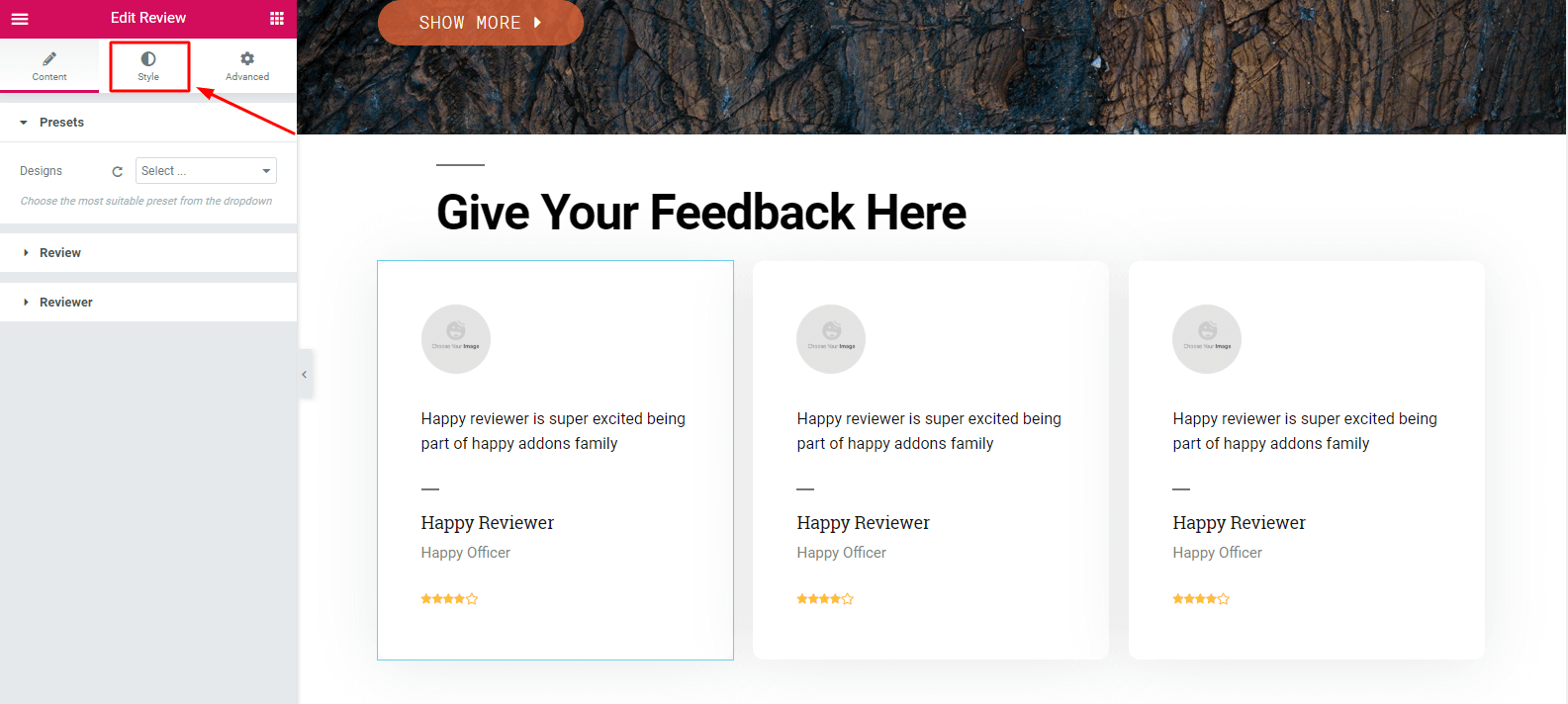 Here you'll have more options to stylize your review page. You can stylize Rating, Review & Reviewer, and Photo, etc.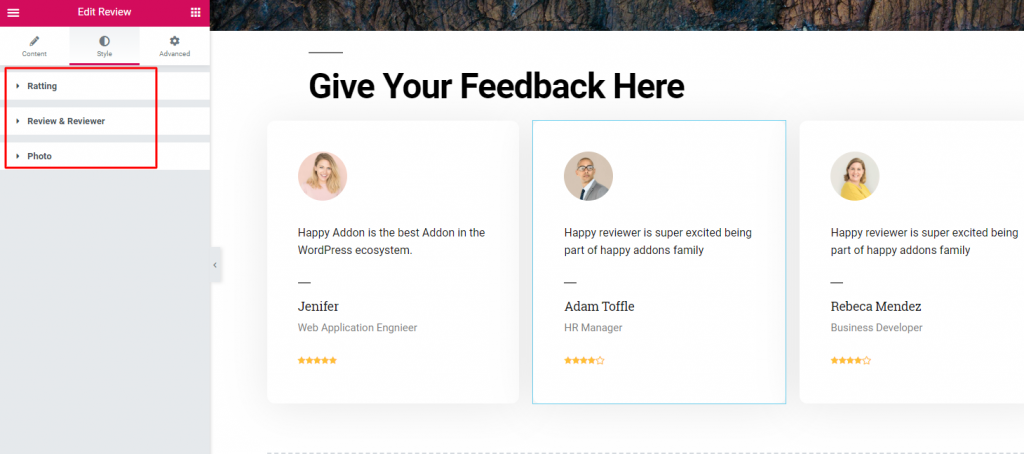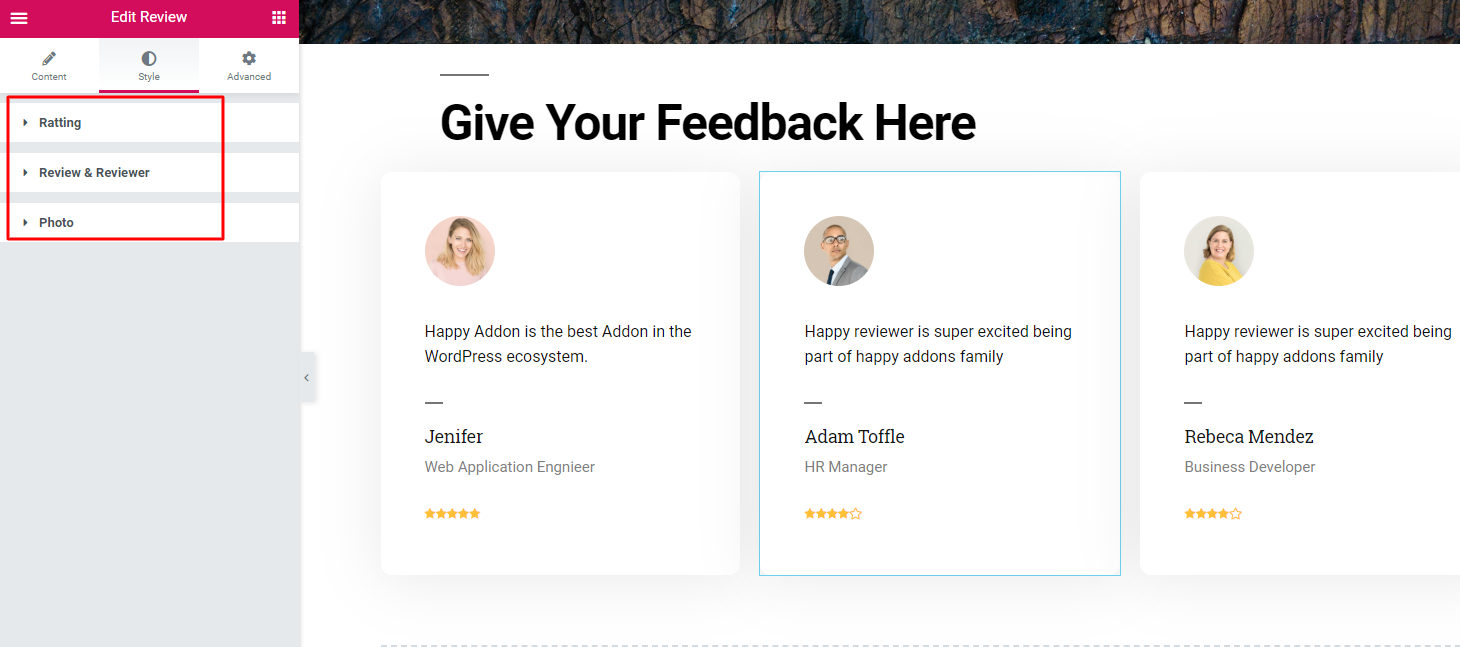 However, you can edit this section according to your website design and your choice. You'll get three option here like:
Rating
Here you can resize the rating button, bottom spacing, padding, text color, and more.


Review & Reviewer
In this section, you'll have more options to do different things with your review button. Therefore, it will look different and lucrative.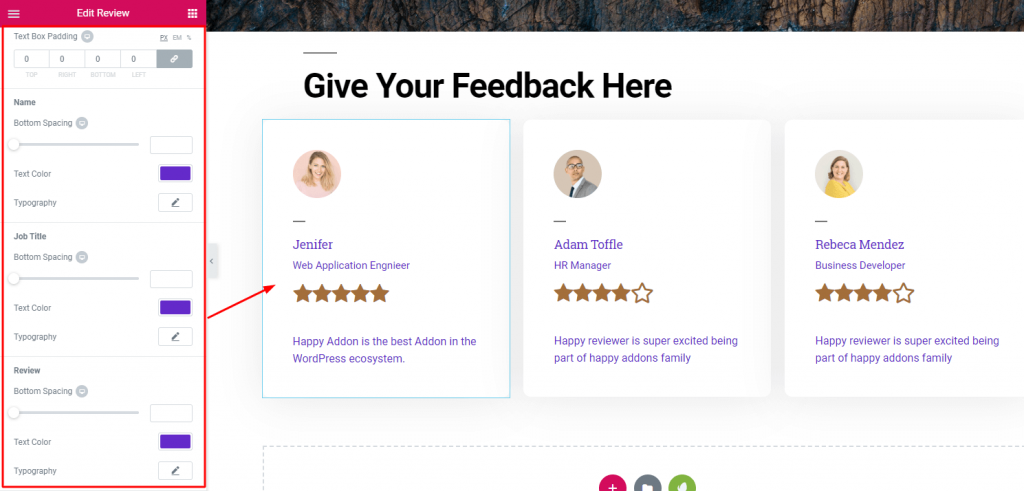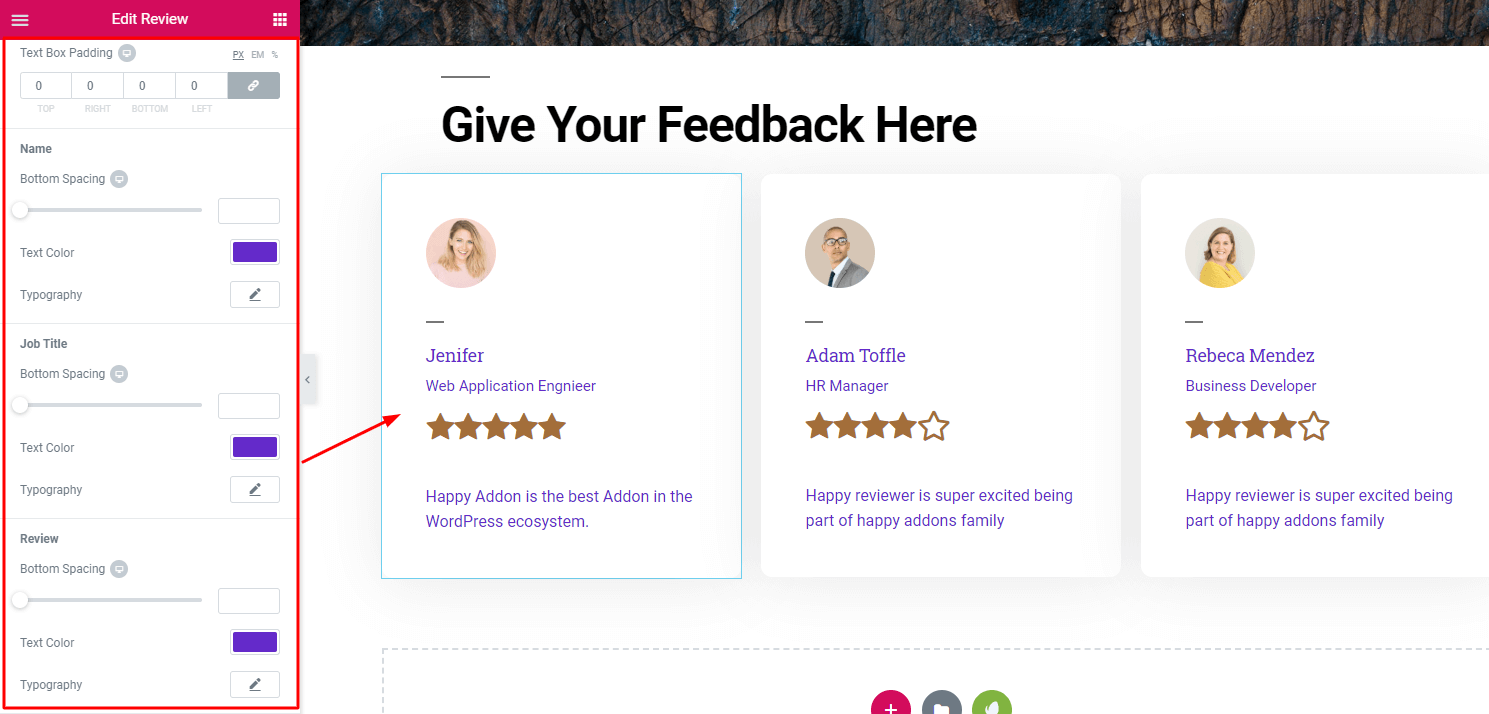 Photo
Next, you'll get a 'Photo' section. It's also very simple to utilize. Here you can edit and resize your photos and do a lot of things like padding, margin, box-shadow, height, width, and more.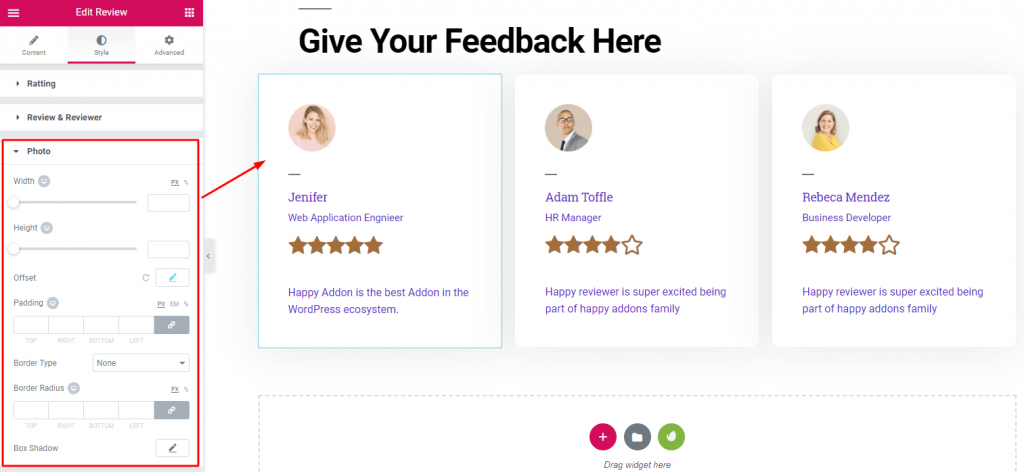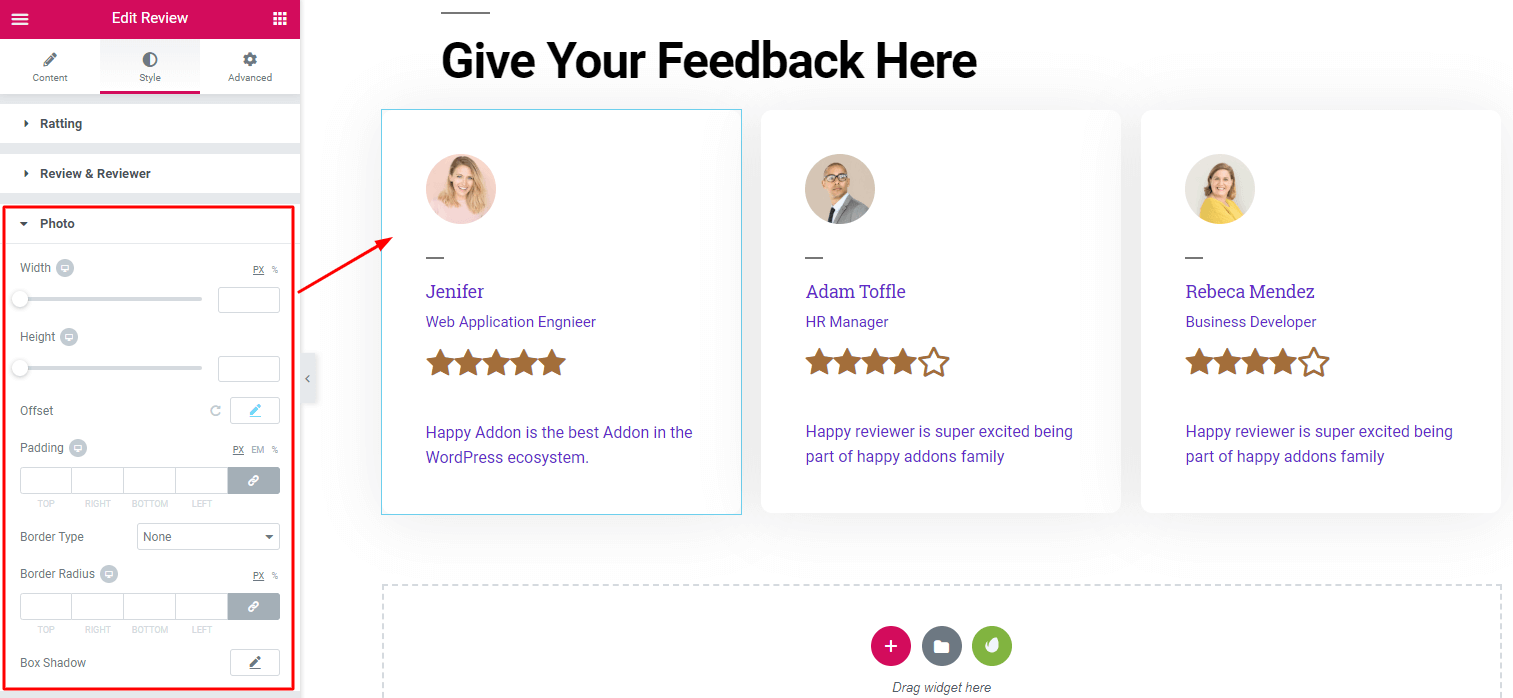 Step 4: Finalizing the design
This section is the final part of this tutorial journey. If you're a WordPress lover, then you must want to design your blog with fruitful styles. Right.
Here you can edit your design with some advance option. For example, margin, padding, Z-Index, CSS ID, and CSS Classes, etc.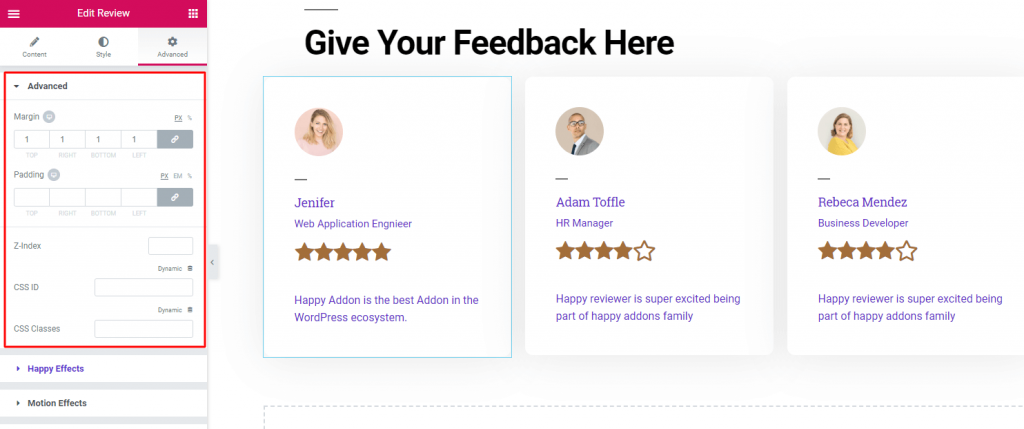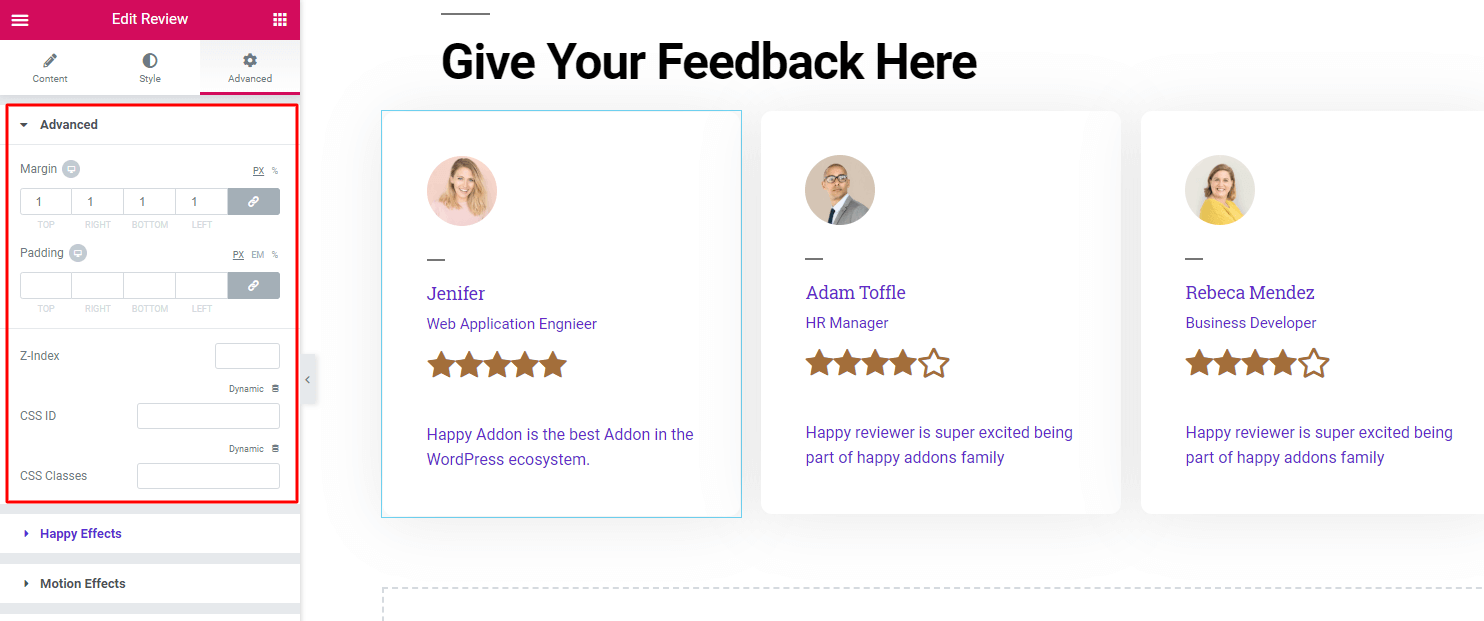 Now, you'll get the 'Happy Effect' here. As we already mentioned earlier, the Happy Effect consists of two sections.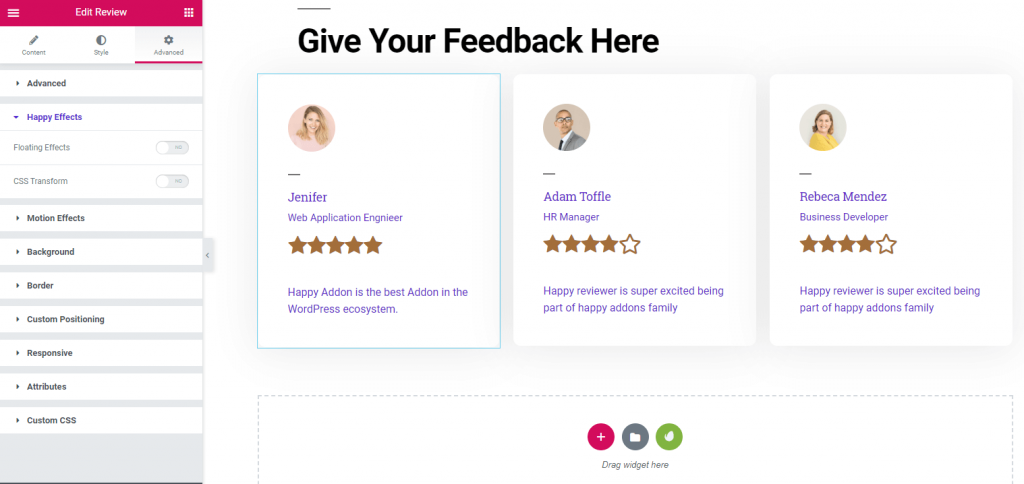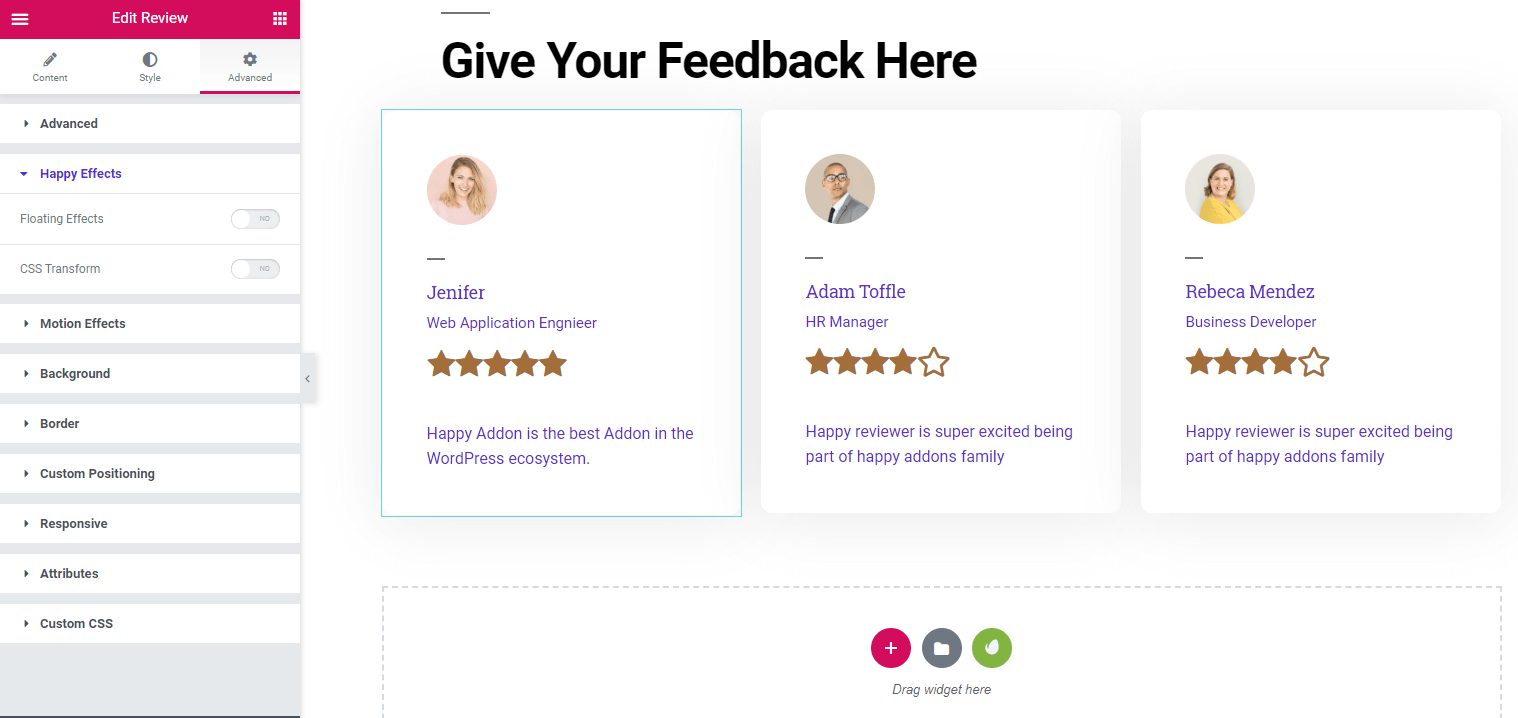 If you activate the 'Floating Effect' you can use its facilities. However, check out the following video to understand it more deeply:
After activating the 'CSS Transform' like the previous part, you'll see more options to experience different designs. By the way, check out the following video to get a clear idea:
Live preview of Review Page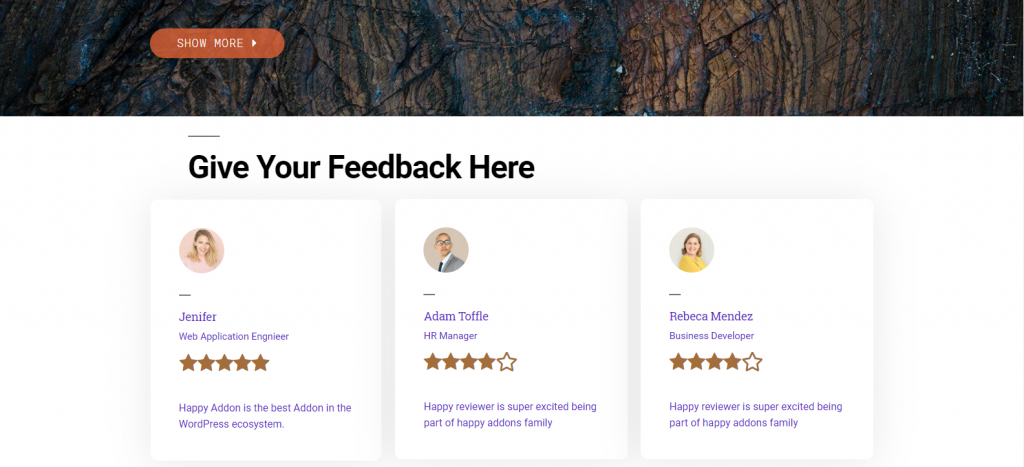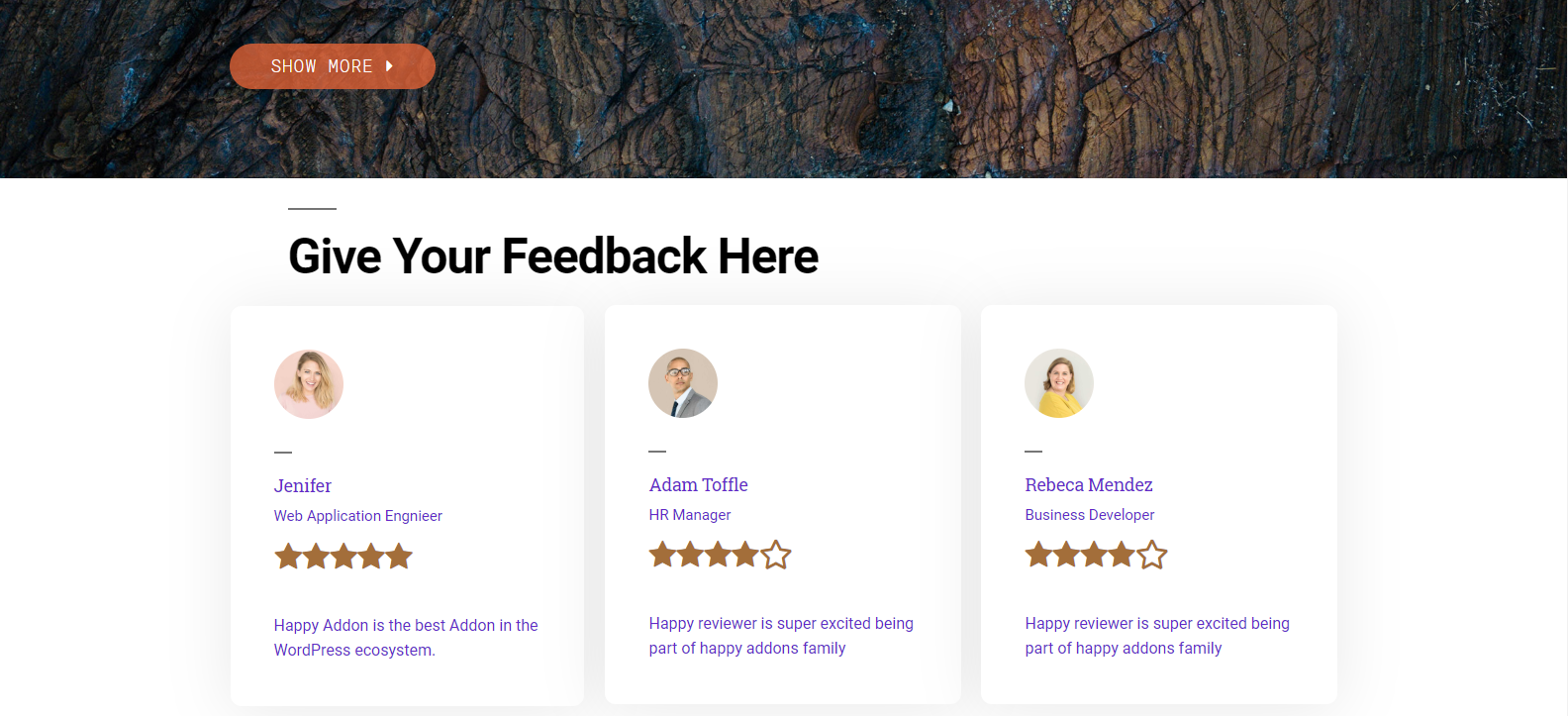 Smart Strategies To Get Positive Reviews From The Real Customer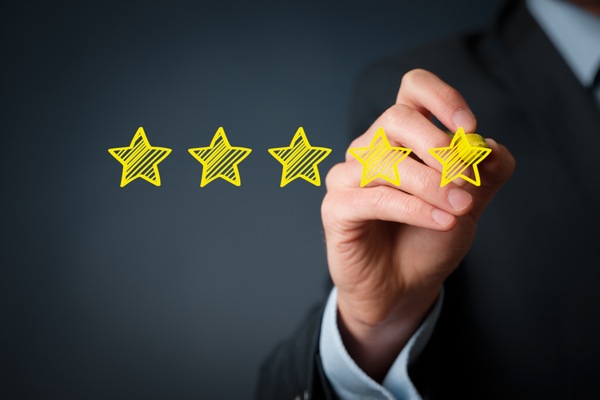 If you're giving 100% to your customers then there is no one better than your satisfied customers to express your success stories. As we mentioned earlier, 72% of customers take any service after reading reviews. So, it's very notable to increase positive reviews for your business to stay in the competition especially if you have an eCommerce business.
Giving away real time experience of your customers on your website, blogs, and social media accounts, etc will prove how dedicatly you work for your brand to keep promise in the real world.
In this part, we'll share some very effective smart ways of getting quality customer reviews. So let's get started:
Provide Customer Live Support
Having customer support on the website is a very plus point. Because it helps customers to communicate with you directly. For example, they'll share their views, opinion, feedback, search for any items and also complain if any problems arise. Therefore, this may increase reviews and trust also
Respond Reviews Quickly
You must respond to customer reviews quickly. Because it proves that you take care of them! And also you should respond to both the positive and negative reviews. Publicly ask your customers to contact you directly so that you can discuss the problem. Show them that you are eager to do all you can to solve the problem.
Keep Easy for Customers reviewing
Try to keep the review process of your website easy and simple. Thus, your service and products will get more ratings and attract more reviews. Suggestions from KissMetrics expresses that, keep your review form easy and short. In addition, it creates sense to make such forms as amusing as possible.
Share Your Reviews Through Social Platform
It's quite important that your customers like your emails. Including customers, reviews in your promotional emails may energize your customers to take action on your site.
Follow Up Your Customers Regularly
Following up with customers regularly is another practice of getting more positive reviews. For example, giving calls, mail, tweets or messages. Thus, it increases revenue and traffic. However, this method is proactive and generates more leads.
Monitor Social Channels Regularly
Monitoring social channels on a regular basis also proves your activity. Moreover, social media sites like Facebook, Twitter, LinkedIn, etc. can be a perfect place for getting customers reviews. So your instant response to customer reviews on these platforms is a positive sign to get more reviews.
So these are the smart strategies that you should follow if you have a small or medium online business.
Final Words
In this tutorial, we tried to show how to make a review page on WordPress in a very easiest way. However, you may already observe that we haven't used any code or programming language to make this review page.
So as a beginner, it'll give you amazing experience and joy using Happy Addon along with the Elementor page builder.