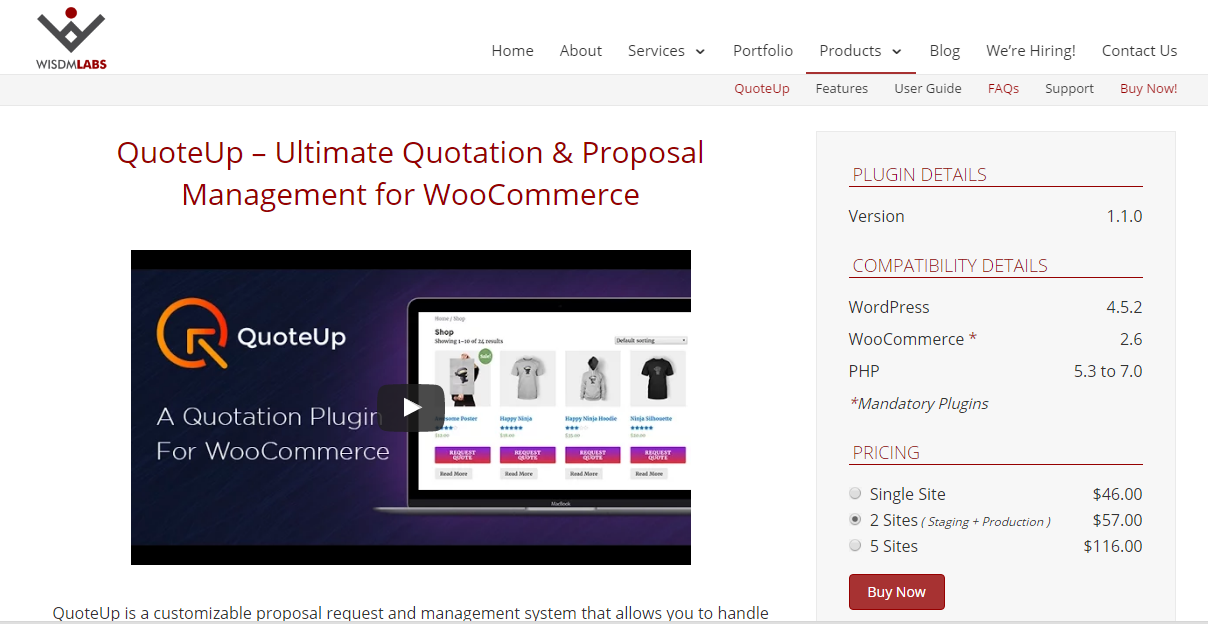 QuoteUp- The Ultimate WooCommerce Quotation Management Tool
Requesting quotes come in very handy at online stores. Quotes are essential for the negotiation of prices between customers and sellers. Marketplaces based on WordPress, WooCommerce, now can also generate rich quotes thanks to QuoteUp by WISDMLABS. QuoteUp is your effective Quotation Management Tool for your WooCommerce powered store or marketplace.
QuoteUp – Overview and How it Works
QuoteUp is a proposal request system which can help you to manage complex quotes in WooCommerce. Most importantly, you can customize it according to your need.
You can easily turn your WooCommerce store into a Quote Only Store with QuoteUp. You can also add 'Request a Quote' button on your store's products.
Customers can request quotes for both single and multiple products. In addition to that you can send custom notes with them. Quotes from your customers will be stored in the backend of your store.
QuoteUp will also email you the requests. You can then easily and quickly edit the price. Finally, you can send it back to your customers.
With QuoteUp, you can discuss purchase proposals with your customers. It helps you to boost sales and increase conversations in 4 simple steps.
Adds a button
You get a proposal request button on your selected products. Your customers click on that button. 
Pick a price to quote
A proposal request form pops up and the customer can enter their preferable price. You will get this proposal from the customer directly to your dashboard and email.
Review quote
Now, you can view the proposal request on your admin panel. You can edit the price and send it back to the customer.
Approval and checkout
A PDF version of the proposal is send to the customer via email. The customer gets the opportunity to approve or reject the proposal. If the proposal is approved, the customer is redirected to checkout page.
Features of QuoteUp
QuoteUp is a proposal and quotation management tool for WooCommerce. It has a wide range of features. It can help your store to build a productive feature of quotation management.
Easy Quote Creation
QuoteUp provides helps to create complex quotes against your products. You can be benefited from this if you are planning to sell products which do not have a fixed price.
Analyse Purchase Inquiries
QuoteUp offers you an unique combination of quotation and inquiry. You can use it as an effective market research tool. This will help you to utilize the power of data analytics. In addition, you can get the following advantages,
Demand Analysis
Inventory Management
Strategic Marketing
Calibrated Pricing
Micro-Targeting
Create a Catalog Store
You can easily turn your WooCommerce store into a Catalog Store (Quote Only). You can control products according to their level. You can also set which products can be purchased directly and require quote requests. 
Negotiate Pricing
One of the most important features of QuoteUp is that you can easily negotiate to price with your customers. It is possible to negotiate from both sides until a price is agreed upon. If a customer rejects your quote, you can resend the quote with a new price.