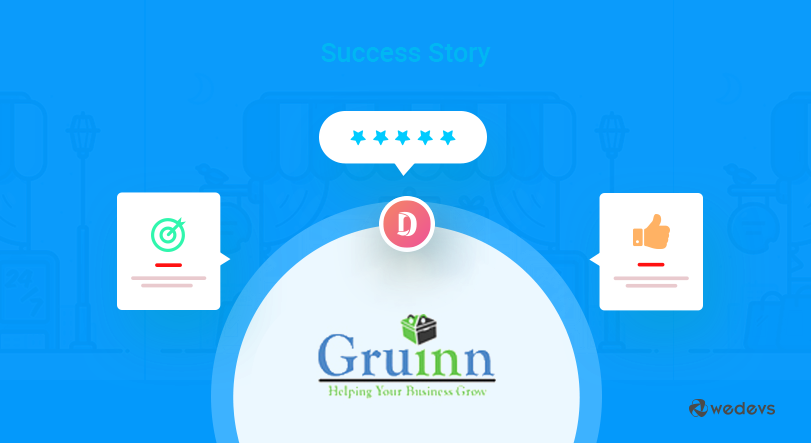 Michael Delaney's Story Of Becoming A Successful Marketplace Owner
Are you finally planning to launch your very own marketplace this year? Or do you already have one and you want to double your revenue?

If you are still hesitant due to the limitations that you feel you are in then taking motivation from success stories of the established marketplace would certainly help you ease down the stress and serve your cause. So taking inspiration from the way a marketplace develops itself can indeed be a fascinating thing for anyone.

m

So today's post will have one such interesting and captivating success story of Mr. Delaney's marketplace Gruinn previously known as ShopperRegion.com.

So, let's jump right into it.
Hardship While Getting Started With 'Gruinn.com'
Getting started with a new business was never easy for Michael Delaney. With his marketplace gruinn.com, he was kind of stuck in a chicken & egg situation. He didn't have too many vendors, so not too many customers were visiting his site. Since there were not too many customers so not too many vendors were interested to sign up on his site. So, all in all, it was not so easy for him after he finally decided to commence with his marketplace Gruinn.com
It is only recently he has collaborated with a small business company to become his vendor that sells furniture and garden furniture. And right away he has started to see new visitors visiting his site every day and also enquiring about the selling products in the sites. Though it was tough in the first stage, now after the initial struggle he is quite hopeful that this will help pick things up and move in the right direction for his marketplace.
Vision & Goal Revolving Gruinn
I am using Dokan to Create an online Marketplace much like eBay, dedicated to helping small businesses grow
As a reasonable thinker, Mr. Delaney always wanted to build a marketplace for small businesses that can grow into becoming a much bigger brand in the future. More and more small businesses are looking for exposure to get their business to grow. Nowadays many customers also look to promote their locations, web addresses, and other contact details. As a broad-minded marketplace site Guinn never really discourages doing this. As they firmly believe in the growth of small businesses. And they don't want to hinder this process in any way and the pricing plan set by Gruinn reflects that.
Gruinn's ultimate goal is to help business owners grow. As they are looking for publicity and several ways to get the word out about them but just relying on them won't help as it is also important for the vendors to understand that they also need to be capable enough to sell their products and manage their inventory.
Flexible Advertising Packs
At Gruinn vendors/sellers can sign up with a Small Business Package for advertising their product for as low as just £20. Every new seller is allowed to upload unlimited products with 10 paid advertising with a commission fee per sale of just 5%. Not just that, they even do some free social media marketing for the vendors to further help them bring in new customers.
It is also possible for the vendors to reduce their commission fees with a package upgrade. With just a mere £60 for the Business Pack, any vendors are allowed to have paid advertising of 30 products from its uploaded unlimited products with just to pay a 2.5% commission fee per sale.
There is also a Premium Pack that enables vendors to upload unlimited products and have paid to advertise for 100 products for a monthly charge of just £120. But more importantly, you are no longer required to pay the % commission per sale fee with this Premium pack.
It also has a free trial pack of £0 as well whose commission per sale % is set to 5% with vendors getting to upload unlimited products and get free advertising with zero monthly fees.
Note: With all these packs, every vendor gets to upload auction products, add their contact and address details as well. And all the mentioned prices of the packages are sold on a monthly basis.
What Drove Mr. Delaney To Choose Dokan?
Currently, my vendors are having a great time using Dokan they tell me it is so easy and practical to use
From Mr. Delaney's statement, it is quite clear that Dokan is really user-friendly and suitable for any type of user starting from amateurs to professional marketplace buffs. As he mentioned, he wants to build an eBay-type marketplace to help small businesses to get a platform to sell their products hassle-free. And he quickly discovered that Dokan is what it serves its clients with the best of features for an eBay-like e-commerce marketplace. After closely looking at all the Dokan features Mr. Delaney was convinced that it was the best marketplace solution that he can ask for. And his below statement just further validates that.
This is why we are proud to be using Dokan as with it we are able to give you all the tools to help manage and run a successful business. – Michael Delaney
His belief in Dokan rose even higher when he actually tried Dokan Demo to personally analyze its ability to manage a fully featured multi-vendor marketplace. The plugin is based on one of the most popular WordPress and CMS, with WooCommerce the most famous e-commerce platform being its driver. With such a compelling trio powering up Dokan and its user-friendliness to install & operate, it was an easy decision for Mr. Delaney to go for Dokan without much hesitation. The search engine presence of Dokan on the web was quite easy to come across.
Dokan now provided Mr. Delaney with a platform to connect with thousands of vendors and customers across the globe. Truly an awesome way to earn money working as a proud and passionate marketplace owner.
Recommendation For Dokan
I believe Dokan is the best multivendor plugin on the market- Mr. Delaney
Mr. Delaney believes Dokan is the best multi-vendor plugin on the market and he could have never come this far without it. He may have only just started to bring in customers and visitors but he honestly believes the only place to go from here is up.
Yet to make it even better he has proposed a few suggestions that could help improve Dokan even further.
To upload products via flat rate option (charge a flat rate to vendors to upload a product not via a commission)

A page builder module for vendors to slightly alter their store pages.
Bonus: Growth Hacking Tips For Marketplace
To continue the growth of your growing marketplace, you must
Focus on building a loyal community and customer base. Be active and informative at different relevant communal channels.
Always think about creating something unique and valuable for your customers like innovative quiz contests or surveys.
Try to increase word-of-mouth buzz around your e-store. Make your product truly remarkable and give people a reason to share it with their friends or families.
Try to get some press mentions. Learn to reach out to your business-relevant influencers and journalists for your products and services to create maximum awareness for your brand.
Try to expand your customer base. If required go across the states or go totally global. Make your marketplace easily reachable to people worldwide.
Why Not Turn Your Story Into A Successful One This Year
Even after so many difficulties, Gruinn.com has finally started to see some positive results. So if Michael Delaney can do it even with so many hurdles to overcome, so can you. Out of all the available options, creating a full-throttle multi-vendor marketplace will test your nerve the most.
Once you are done with your market research and the collection of your fund, this is when you need to prepare yourself larger things that would show results- starting from social media/online marketing to list management.
So is it challenging to get started with such a business? Definitely, and it is certainly not easy to pull off either. But once you cross the initial hurdles is it rewarding? You betcha !!
Inspired by the progress that Gruinn started to see finally? Want to turn your disappointing journey of owning your own multi-vendor marketplace into a successful one? Now even you can also have a success story to share with others by next year's time. It's not hard, get Dokan and witness the tremendous growth of your multi- marketplace with your own eyes.
For any queries related to the Dokan Marketplace plugin, you can let us know by commenting under this post or contact our support team.
Also, if you have any exciting success stories to share with us then do let us know.