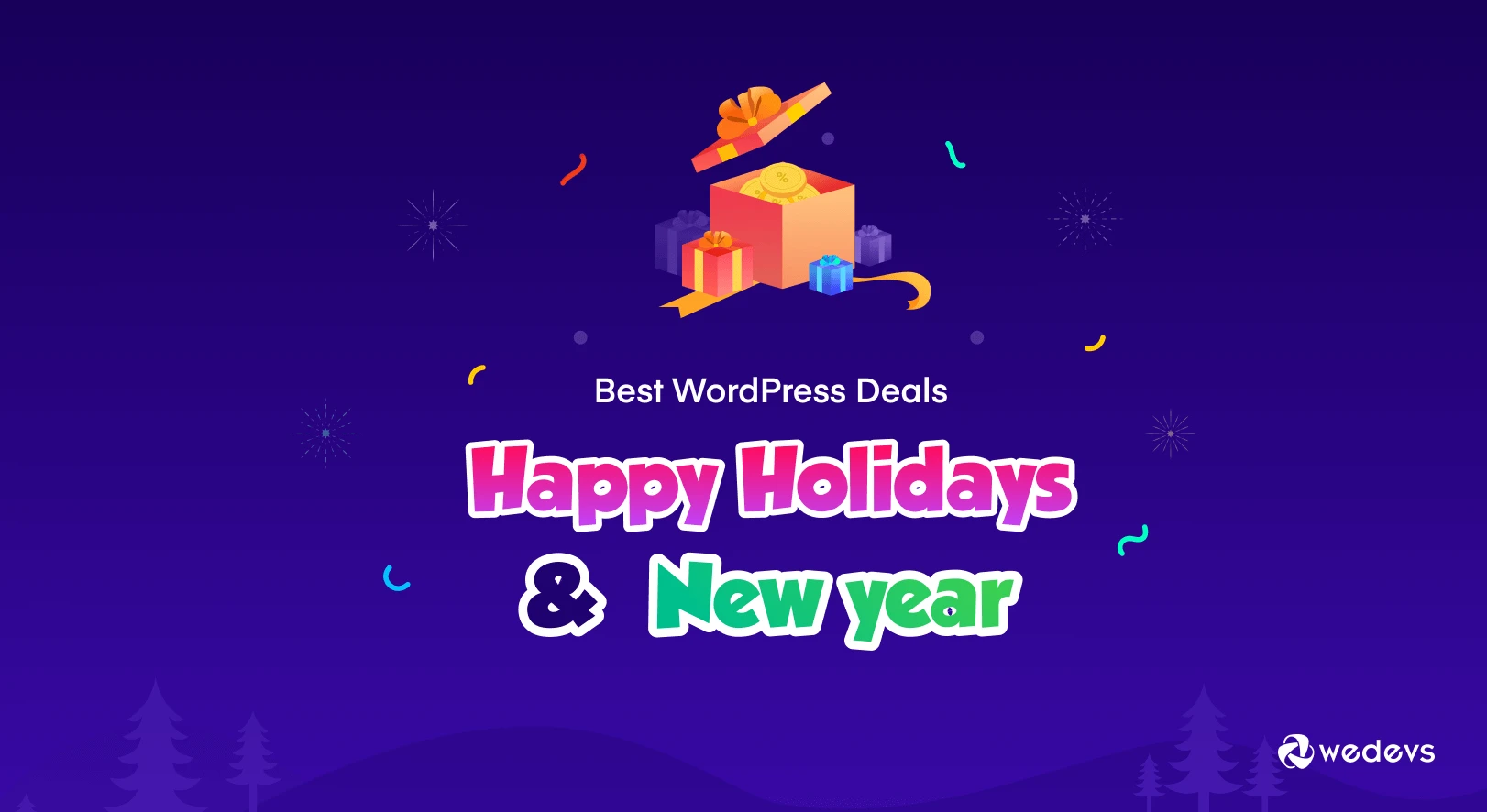 Best Deals from WordPress Community on Christmas and New Year (2021-2022)
With Christmas just around the corner, some better than BFCM deals are still available.
If you could not seize your desired products during Black Friday or Cyber Monday, roll up your sleeves again. Like every year, the WordPress community has come forward to leverage its users with many attractive Christmas deals. This is the best chance to save your dime for the next year.
It's time for the biggest celebration of the year! The joy and excitement are already in the air. WordPress is also celebrating this glorious holiday by offering the best Christmas deals for hosting plans, themes, plugins, and other tools.
There are many offers floating on the web already. But all the December deals might not be beneficial for your business. Therefore, you should compare all the deals first. Then, pick the right one for your brand.
To help you out, we have rounded up the very best WordPress coupons for Christmas sales below. Do hurry & grab your last-minute Christmas deals before it runs out!
Before checking other deals let me show you how we celebrate this festive season in weDevs:
weDevs is Celebrating This Winter with Great Christmas Deals
weDevs is the maker of many promising WordPress plugins like Dokan Multivendor, WP Project Manager, WP User Frontend, WP ERP, HappyAddons, weMail, and many more. With our innovative tools and solution, we have empowered 100,000+ businesses all over the world. The number is still growing.
Well, 2021 has been a tough year for most of us. We always try to stand by our clients even in this pandemic. Our lucrative summer sale, tempting Halloween deals, biggest sale on Black Friday- strengthen our statement. We are again ready to glorify the joy of your Christmas.
This Christmas, you can enjoy up to a 50% discount on all weDevs products.🤩
This is your absolute last chance for this year to get a discount on everything, so you better act fast! Click the button right away 👇
It is the best opportunity to fill up your hands with great products at the cheapest rate.
Top WordPress Christmas Deals for 2021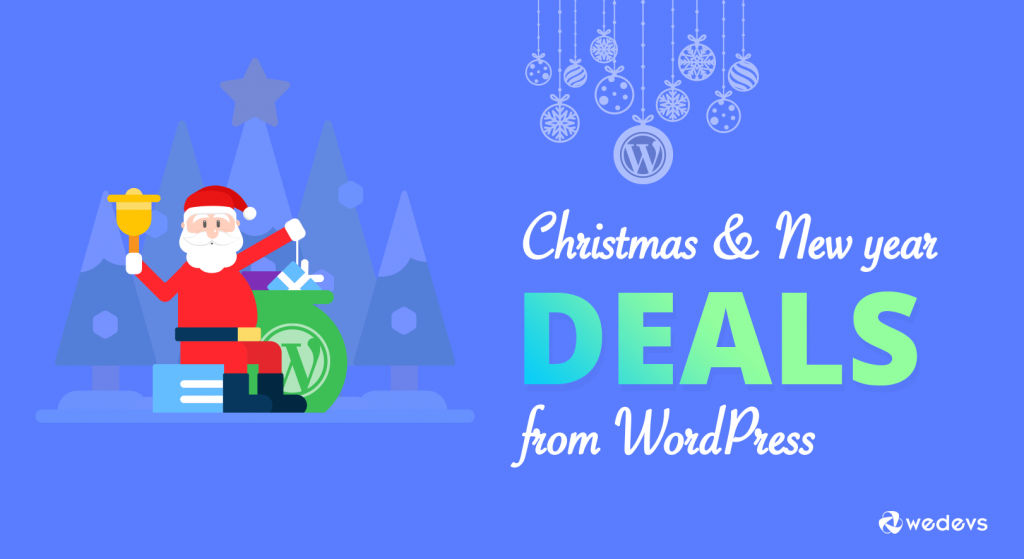 There are thousands of WordPress companies in the world. Almost all of them are offering special discounts for their clients in this festive season.
Although, it's not possible for you to check all the available Christmas deals and select the best. Therefore we have listed the best deals for WordPress plugins, themes, templates, hosting, and other tools. It will help you to pick the right solution for your business.
So, check the top deals for this Chritsmas 2021 carefully and save your pocket.
Exclusive Christmas Offers from weDevs
Dokan- Up to 35% Off on All Plans
Dokan is the no #1 multi-vendor marketplace in WordPress right now. It has empowered 50,000+ businesses all over the world. With Dokan it requires only 30 minutes to develop a site like Amazon or eBay or Shopify. Now you can build your own eCommerce marketplace without hiring any professional.
This Christmas Dokan is offering up to 35% off on all plans. So, confirm your deal before it gets over.
Coupon Code: Auto-generated
Validity Date: Starting from 22nd December
WP ERP- Up to 35% Off on All Extensions
WP ERP is the complete ERP solution to automate your business. It has CRM, HRM, and Accounting modules that will help you to manage your company with the utmost ease. Moreover, there are 20+ extensions and Project Management is available to coordinate all the parts of your business.
Luckily! this Christmas you can get these extensions at a staggering 35% discount. So don't miss the opportunity to get all the modules at a lower price than usual.
Coupon Code: Auto-generated
Validity Date: Starting from 22nd December
WP User Frontend Pro- Up to 35% Off on All Plan
With WP User Frontend PRO you can build registration forms, profiles, WooCommerce products, subscriptions, and contact forms effortlessly. At present, it has 30000+ active installations. It can be your ultimate all-in-one frontend companion.
WP User Frontend is offering a huge discount this Christmas. You can get up to a 35% discount on all the plans. Grab it while hot!
Coupon Code: Auto-generated
Validity Date: Starting from 22nd December
wePOS- Flat 50% Off on All Plans
wePOS is an advanced and responsive WooCommerce Point of Sales plugin. It lets you take orders and track your real-time inventory through your WooCommerce store. With wePOS you can process your customer's orders super fast. Also, it's possible to manage unlimited outlets and counters concurrently.
Coupon Code: Auto-generated
Validity Date: Starting from 22nd December
WP Project Manager Pro- Up to 50% Off
WP Project Manager helps you to plan, create, organize, and complete a project in an optimized way. It is a powerful tool to deliver your projects timely. Also, you can ensure the best use of your resources with detailed reports and suggestions.
Coupon Code: Auto-generated
Validity Date: Starting from 22nd December
Happy Addons-Up to 35% Off
Happy Addons is a powerful Elementor widget to design your website. It has 25+ interactive and free widgets to start initially. However, you can enlarge the capability with 20+ elegant premium widgets. It supports many advanced features like Presets, Unlimited section nesting, Happy Effects, Floating Effects, and so on.
You can get all these exclusive widgets and features at a huge discount of up to 35% off. Get the Christmas deals while you have the chance.
Coupon Code: Auto-generated
Validity Date: Starting from 22nd December
Appsero- Flat 40% Off
Appsero is a SaaS solution that provides Analytics, Software Licensing, Automatic Updates for WordPress Plugins, and Themes. Not only that, Appsero reduces your deployment time up to 3X! No matter where (GitHub, Bitbucket, or Gitlab) you push your new builds, uses will be automatically updated. Appsero takes care of your deployment auto-magically!
Coupon Code: Auto-generated
Validity Date: Starting from 22nd December
weMail- Flat 40% Off
weMail has simplified email marketing for WordPress users. It comes with an email sending API to send newsletters, collect leads, automated emails, display subscription forms, auto-add subscribers to a list, and manage subscribers all inside the WordPress dashboard.
Coupon Code: Auto-generated
Validity Date: Starting from 22nd December
weCare- Flat 50% Off
Do you have a marketplace or an e-commerce website? Do you need a professional to maintain your website? We are here to provide extra care to your website. You might have your own concept and imagination. We'd love to hear, and take over your imagination to make it real! Yes, we do custom projects as well, or if you need customizing a plugin!
Coupon Code: Auto-generated
Validity Date: Starting from 22nd December
Best WordPress Hosting Deals
Bluehost- Up to 60% Off
Bluehost is back again this year with its Halloween discount! This year you can get a massive discount of 60% OFF on all of its hosting plans.
Coupon Code: Auto-applied
Validity Date: Until further notice
WP Engine – 30% Off on All Annual Plans
WP Engine offers the best secure web hosting services. Small business owners, developers, and bloggers love this up to 30% discount deal on all the packages of WP Engine.
Coupon Code: Auto-applied
Validity Date: Until further notice
10web- Managed WordPress Hosting Powered by Google Cloud
When you connect your website to 10Web you can create an optimized copy of your website hosted on 10Web with a 95+ Google PageSpeed score. You can also migrate your website to 10Web Managed WordPress Hosting with 1 click. This Christmas you can enjoy a huge discount on their premium plans & packages.
Coupon Code: Auto-applied
Validity Date: Until further notice
Best WordPress Plugin Deals
Crocoblock- 22% Off
Grab 22% off discounts on WordPress form plugin Pro addons. JetFormBuilder becomes the best solution for advanced forms and can help you to create forms from zero, or with the help of patterns.
This form builder plugin has handy advanced features, as conditional actions, dynamic values, hidden fields, and calculated content.
With JetFormBuilder you can create any type of multi-step forms, quizzes, and surveys. This plugin was created exactly for Gutenberg native editor, but don't worry about styling. You can make the form visually attractive with styling options available.
Coupon Code: JFBCHRISTMAS22
Validity Date: 22nd December- 29th December
Wpmet- Up to 70% Off
ElementsKit: On this Holiday Campaign, enjoy up to 70% discount on ElementsKit and avail 81+ Free and Premium elements, 8+ exclusive modules, 79+ Premade Homepages, 500+ Premade Section Layouts & more
ShopEngine: An all-in-all, feature-heavy WooCommerce builder with 13 modules, 60+ widgets, 16 templates & more features to empower your customization capabilities with WooCommerce pages.
MetForm: Create any contact form, feedback form, subscription form, or any other type of form for your WordPress site in minutes with MetForm!
WP Social: This GDPR-compliant advanced social media plugin comes with social login, social counter, and social share features among a bunch of others.
Coupon Code: Auto-applied
Validity Date: 20th December- 5th January 2022
TemplateMonster- Up To 25% OFF
Can you imagine that Christmas and New Year deals are coming? It means that MonsterONE will be available at a discounted price. This ultimate subscription provides limitless downloads of high-quality digital items, weekly updates, simple licensing, and reliable support. You are free to save up to 25% without any coupon code. However, this bargain will not be timeless. So do not lose your chance to purchase Monster from 15th December to 21st December 2021. Hurry Up to Grab MonsterONE With 25% OFF on This Christmas Holiday!
Coupon Code: Auto-applied
Validity Date: Until 21st December 2021
SyncSpider- Up to 40% Off
For all Dokan users, SyncSpider has an exceptional time-limited offer! Monthly and Annual plans are 25% and 40% off!
SyncSpider treats you with the special Christmas/NewYears discount on all monthly and annual plans!
You can choose one of the existing three premium plans, Pro, Agency, or Agency+, depending on the scale of your business. If you are just starting an eCommerce business or have a small one, a Pro plan would be the perfect choice for you. It is created to support the growth of your business. The Agency plan is the perfect solution for larger-scale businesses with many clients or big teams.
Coupon Code: Monthly coupon code: K5BJ13WDZR | Annual coupon code: I3Q3IK9PYC
Validity Date: Until 1st January 2022
weForms- 33% Off All Plans
Save time while using the best WordPress contact form plugin to create your contact forms. Use weForms beautiful intuitive interface to create any type of form for WordPress you can think of with our simple drag and drop form builder.
Coupon Code: Auto-applied
Validity Date: Until further notice
CSSIgniter – 40% OFF On Any Purchase!
Since 2012 CSSIgniter has been supporting a large number of professionals and business owners. They provide enormous support without any confusing parts. You can get their amazing premium WordPress themes & plugins at a discount price in this festive season.
Coupon Code: XMASIGNITED
Validity Date: Until further notice
Sprout Invoices- Up to 55% Off
Fully Featured WordPress Invoicing Made Easy. Rated the Best Invoicing Plugin for WordPress.
Coupon Code: Auto-applied
Validity Date: Until further notice
Best WordPress Themes Deals
PixelEmu- 20% Off
Best responsive and mobile-friendly WordPress WCAG and ADA themes. Discover the best solution for your site. Easy to customize and support!
Coupon Code: Auto-applied
Validity: Until further notice
Themeum – 50% Off on All Yearly Plans
Themeum offers premium WordPress plugins and themes. Enjoy the biggest sale of the year on amazing products like Tutor LMS, Qubely, WP Crowdfunding, and our HUGE catalog of premium WordPress themes!
If you want to create eLearning sites on WordPress, build a donation site, or create any type of website on Gutenberg, you better rush to the Themeum website, grab your favorite deal, and make incredible savings!
Discount Offer: FLAT 50%
Coupon code: Not required
Validity Date: 5th January 2022.
WooVina Theme – Up to 70% Off on All Premium Themes
WooVina provides the best FREE WooCommerce WordPress theme, 15+ PREMIUM WooCommerce WordPress themes, and 85+ prebuilt eCommerce website templates built with WordPress, WooCommerce, Elementor, and WooVina theme to save you time money when building an online store!
Whether you're a business owner looking to create a new online store or a web professional that is helping your client with their eCommerce setup, working with a top-notch website template gives you a leg up.
Discount Offer: Up to 70% off on all premium themes.
Coupon Code: No code is needed
Validity Date: Until 5th January 2022
DroitThemes- 45% Off
Designing a WordPress website will be super easy with Droit Addons for Elementor. The Droit Addons for Elementor is a huge collection of new Elementor widgets, templates, blocks, and more. Droit Addons for Elementor is the set of Elementor widgets, with over 60+ widgets, as well as 28+ page templates and 250+ block templates.
Discount Offer: 45% Off
Coupon Code: XMAS2021
Validity Date: Until 31st December 2021.
Wrapping Up on The Best Christmas Deals
The holiday sale season is not over yet!
WordPress companies around the globe are ready to flourish their customers with great deals and discounts. Among a ton of lavishing WordPress sales, we have listed the most precious deals for your business. It will help you to gain a remarkable revenue in the next year indeed.
Therefore, don't miss this wonderful chance! Save your pocket by cracking the best Christmas Deals before changing the calendar.
Don't forget to check Christmas deals on WordPress plugins from weDevs while staying safe at home.