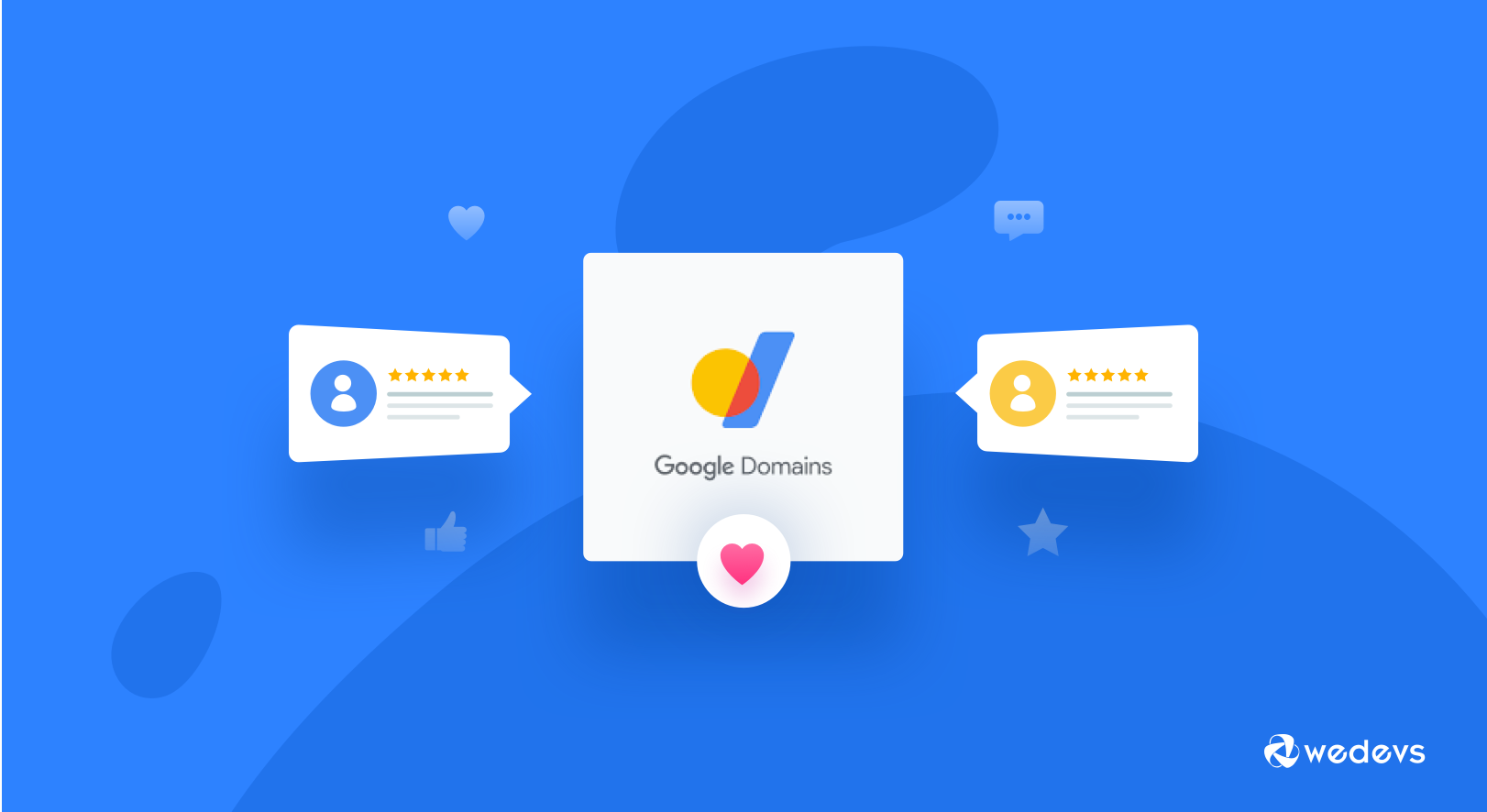 Google Domains Review 2020: All You Need To Know
In the crowd of so many other popular domain registrars, Google Domains still makes its way in the top list of reliable domain name service provider today. And to find out how it stands out against the other big guns in the domain industry, a complete Google Domains Review that describes all the basic details could essentially help you decide better in regards to choosing your ultimate domain name provider.
It is not known to many, that Google Domains that provides the Google Domain Registration services are still in the beta phase even though it got launched way back in early 2015. Its domain service is also not available to the whole world yet. Only a limited number of countries can enjoy the service at the moment. But that didn't stop it from being a top name in the domain game.
There is no doubt that Google Domains is currently one of the incredibly powerful website builders. Even though it enables you to build websites in an old-fashioned way but it does it with the latest technology of powerful tools.
In today's Google Domains Review we will be highlighting the major pros and cons of it. We will also provide you with a definite idea about how it can be different from the other contemporary domain registrars in today's time. And so by the end of it, you will surely be able to come to a conclusion regarding Google Domains being your suited choice or not.
Google Domains Review: The Key Details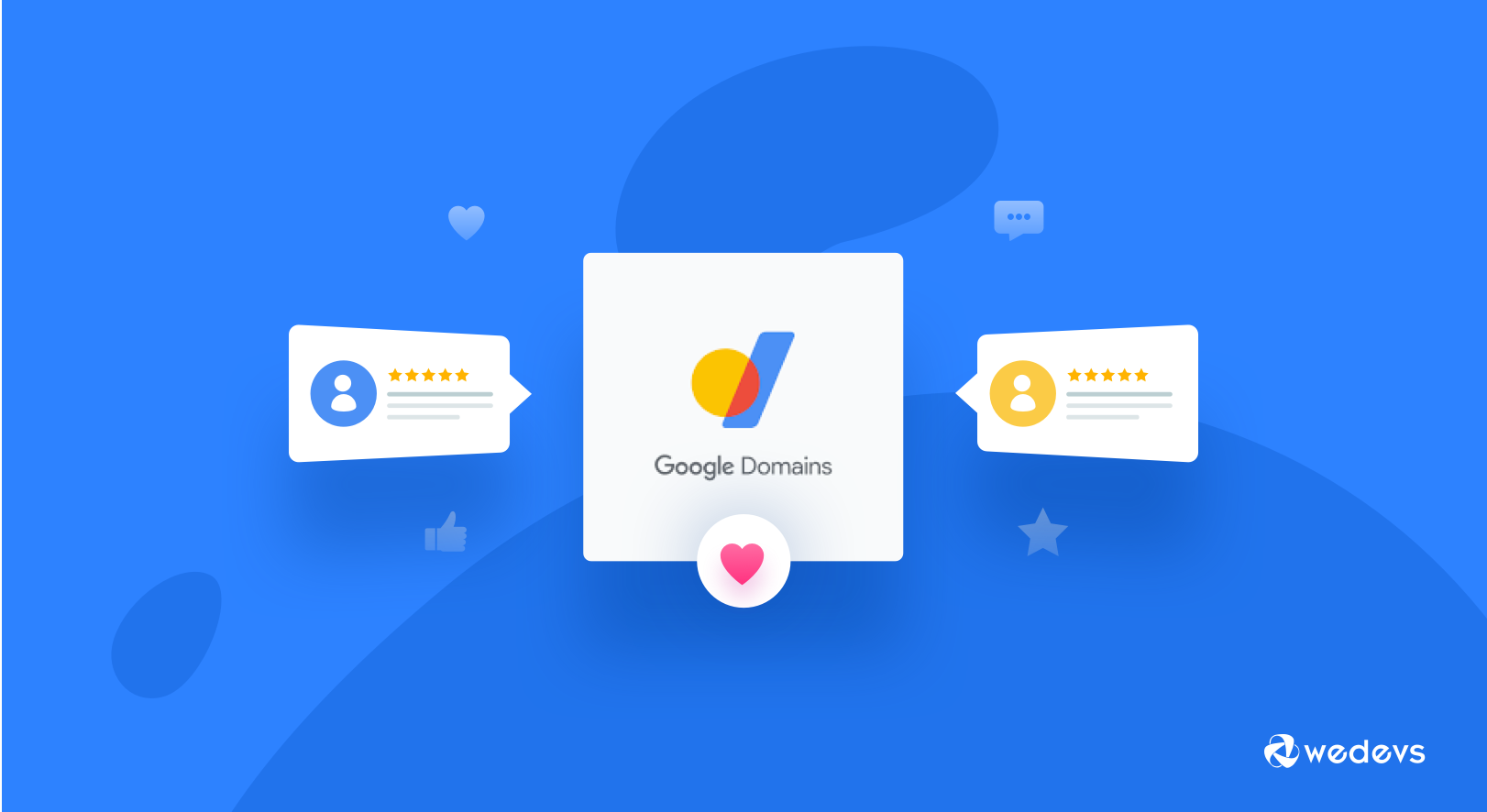 You should all be clear by now that Google Domains doesn't provide any other services other than working as a domain registrar. This means this only allows you to register, claim & manage your domain name only. For hosting for your website you would simply have to turn to other reliable hosting providers.
As a renowned domain registrar, it consists of both positive and negative sides of it. And this discussion of the benefits and drawbacks would certainly help the potential users who are thinking about using Google Domains's service.
As a part of the main portion of this review let's find out the pros and cons of Google Domains that could very well influence your decision of whether to choose Google Domains service in the future or not. So let's dive in.
The Ups Of Google Domains
Google's Brand Name & Value
The brand name Google itself is enough to prove its product's worth. People know very well, it is not just any product that would just vanish overnight. The brand is here and it is here to stay for a long long time. So, therefore, the fact that the domain registrar is attached to the name Google itself should be enough for many people to find it reliable & reassuring enough from all aspects.
Google resolves millions of requests every day, if not billions since its DNS server is the backbone of the internet worldwide. So the reliability comes naturally when you know the brand Google is also providing the domain registration service. Moreover, we use a number of services of Google every day Google Adsense, Google Analytics, etc. So it is always convenient and more reassuring for us to have one single reliable vendor such as Google proving all these services.
Minimalistic Interface & Backend Design
Right after you look at its, homepage design and backend user interface, you will right away know how super simple and minimal it is. So its simple yet transparent design is what that should impress a lot of people out there. The backend looks almost blank due to its minimalistic conceptual design.
There is no sign of up-sells or cross-sells when you enter the site. Not even any visual clutter which makes it look quite refreshing in the eye. There are no retargeting ads once you decide to leave the site either. In a world where you get to see pop-ups and upsells ads everywhere, Google Domains is where you will find a hint of refreshing touch in its design and set up rather than some confusing backend and frontend in it.
Partnerships with Third-Party Hosting
We are all aware of the fact that Google Domains doesn't offer web hosting services. It only focuses on domain registration. But even if they don't provide website hosting but still they have partnerships with a number of popular and renowned third-party website hosting companies. So even if you get your domain registered from it you will not have to worry too much about its hosting. This allows you to link your domain to their partner web hosting provider seamlessly.
More importantly, not just the partnered one you can connect your domain to any hosting service provider of your preference. Moreover, if you already have one, then you can even forward your domain to your present website. You can expect the process of setting up your website to be totally streamlined already for all the third party hosts that Google Domains has partnerships with.
Transparency in Pricing
Even though the pricing of domain registration per year is a little on the higher side compared to others like Namecheap, but it is quite transparent, to say the least. And also like Godaddy, it doesn't provide short-term discounting either.
Moreover, with all their domains, it includes WHOIS privacy protection for free, whereas other domain registrars like Namecheap & Godaddy has it as an up-sell. To be honest, Google Domains might not be the cheapest option out there but they do have transparent pricing which is truly some solid value for money pricing for all users.
Wide Collection of Free Add-ons & Integration Options
When you decide to get a domain from Google Domains, with no additional cost you get a wide range of free add-ons. These free add-ons could include tools like domain management, domain and email forwarding, private domain registration, up to 100 customizable subdomains, etc.
Moreover, most of the common web application integrates seamlessly with Google Domains. Even though it offers no build-in complementary products. Not to mention how easily it syncs with G Suite of Google for email, records, storage, etc. And we all know how Google runs on one of the superlative DNS servers.
The Downs Of Google Domains
Cost of Domain
As it was already mentioned about the transparency and simplicity of pricing being a pro for Google Domains, but it doesn't really come cheap. Even though it includes the price for privacy in their pricing and is still a cheaper option than other companies that are offering domain registration.
But when compared to the big names like GoDaddy or Namecheap, the pricing of Google Domains goes a little higher. The domain pricing of Namecheap is much more transparent and cheaper when you get it on a long-term basis. So many people who are thinking about long-time usage of Google Domains might find it less convenient. It is mainly due to the cost of the domain renewal each year.
Customer Support
Google Domains might have a number of positive things going for its users, but providing customer support isn't really one of them. Its interface and design mainly focus on eliminating any possible requirements for customer support. People those how have used the support of Google Domains didn't really find it too impressive in the first place. So it is definitely something not really the best in the industry. You can call it average.
Due to limited coverage worldwide, their call support options are limited to US working hours. Though they have the facility of off-hours chat/email service this isn't something that most people will be fascinated to use when they are in need of urgent support with their domain. So for many people, this could very well be a big enough reason to not choose Google Domains.
Focuses Only on Domains
This might be a good thing for many people, that Google Domains only focuses on domain name registering, but this can also be considered as a con. It is mainly because there are several other complementary products that always go with a domain. Like for instance, in order to make your site SSL secured, you will be needing an SSL certificate connected with the domain. And it is much simpler to manage it with your domain rather than buying it from a third-party source separately later on.
Some people want to manage domain & hosting separately and there are people who want it all bundled together into one even after knowing there can be a performance issue. Domain and hosting provider like Namecheap provides aggressive hosting, whereas GoDaddy offers general hosting with basic functionalities. In some cases, hosting providers like Bluehost or InMotion even provide a free domain name with hosting purchase. These are the kind of bundled products that are not at all available with Google Domains which could be considered a drawback for many.
Limited Country Coverage & Selection of TLDs
As it is known already that Google Domains has very limited coverage around the globe with its domain services. So if you are someone who is out of the coverage area & yet willing to use Google Domains, then you are certainly out of luck. There isn't much support that you are going to get in regards to being able to register your domain name with them.
And there is no way to know when they will eventually extend their coverage zone to offer their domain registering service to all those countries. So people waiting for Google Domains to begin their services as a Domain Registrar better start looking for other popular alternatives that are already available in their countries. As there is no surety when will they finally start their services to other residents of the countries.
Even though the collection of the generic domain of Google Domains is vast but there are limited country level or top-level domain support in it compare to others due to its limited coverage and access worldwide. This is something that another domain registrar ensures and provides to its users but Google Domains don't. So this means if any TLDs aren't available in their stock then you won't be able to buy it. So in terms of TLDs selection, other popular alternatives like Namecheap, Domain.com etc will always beat Google Domains in this regard.
How Google Domains Compares With Its Comtemprory Others
So how does Google Domains stands in front of other big names like GoDaddy, Bluehost, or Namecheap in the domain game? Well to be honest when it comes to the price of GoDaddy against Google Domains, there is no comparison whatsoever. It cost a couple of dollars less per year on top of its offering of better service compared to GoDaddy. Not to mention the free WHOIS privacy protection service that you get with Google Domains compare to GoDaddy's additional charge for it for every domain name you register with them.
On the other hand, Bluehost is partnered with Google Domains which ensures seamless integrations. This is probably the only third-party hosting service provider that is partnered with Google Domains that integrates so easily.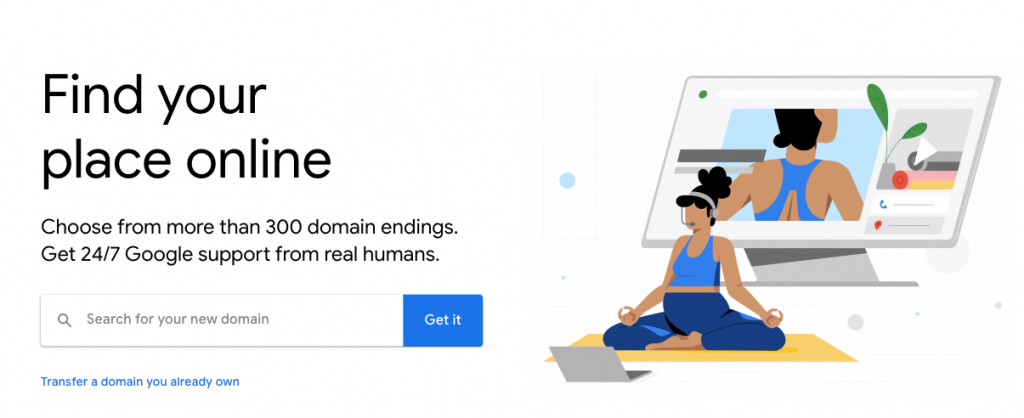 Whereas Namecheap is probably the only domain name registrar that is closer to what Google Domains is providing. The domain name price range is also quite similar to what Google Domains is offering for its users. It also offers free WHOIS privacy protection to a number of special TLDs similar to what Google Domains provides with each domain name. Thus a lot of similarities can be found in each of these two domain name service providers.
As Google Domains is all about domain name only, therefore, one can easily register their domain name with it and get the web hosting hosted from Namecheap or Bluehost to enjoy the best of both of its service.
Summary
Well, when it comes to name registration Google Domains indeed provides a lot when you look at its competitive pricing model. You need to understand this that Google Domains is still in beta, but over time this will just expand to a great deal. But it is only expected right now, and it will only work at its high level of usage.
A lot has been said about its price being a little on the higher side but it is still not so bad when compared to the other similar popular domain name registering agent. There are a lot of positives to take from it, and in some cases, it is even a little better for the most popular TLDs.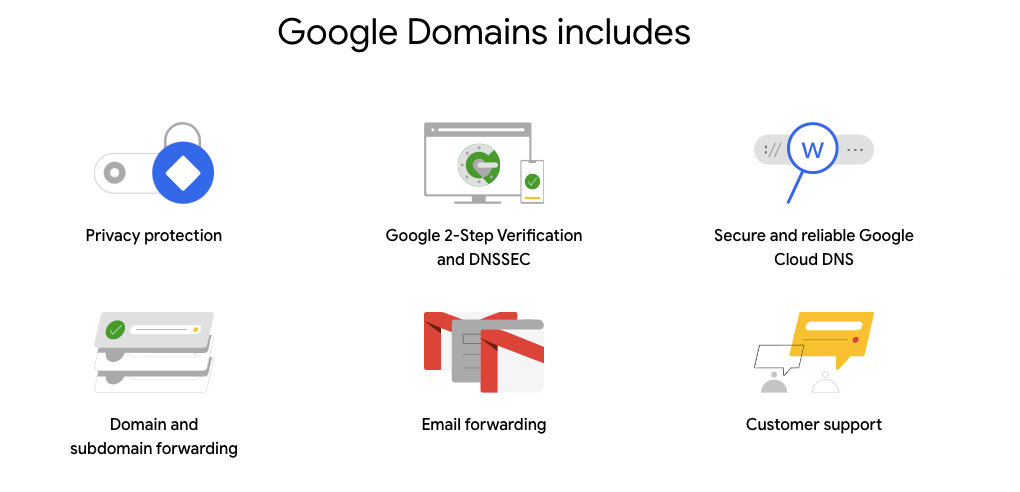 Its limited coverage is one major drawback that could run in the mind of its potential users. With its service only being available in around just 15 countries, the support and integrations with most of the top hosting providers are also limited that also doesn't provide too much of a positive vide among the reliable domain name seekers around the world.
But looking at some of its brighter sides, in Google Domains suite, there are a number of great social networking tools included with it. To start with, you can always post your sites on Facebook, Twitter, LinkedIn. But even if you don't have any of these, you do not need to worry, as after purchasing the domain you can always add them in afterward.
What's More?

In terms of expanding your business, there is no doubt Google Domains is a great option. Within a short span of time, you are always able to find the right business partner. And with the powerful tools that it offers, you will be able to build a site within a few minutes.
But to be honest, for many people, this could be quite a hassle to register their domain name at Google Domains and then needing to look for a third-party hosting service provider. This is complexity is something most people would want to avoid. For instance, everything will be in one place if you decide to register your domain from Bluehost or Namecheap and choose their hosting service as well.

This will not be the case when you register through Google Domains, as you will still have to get third-party hosting either from their partner hosting server or you will just have to pick one independently. And many would even prefer this, as they will only miss out on the free WHOIS privacy registration protection and integration of G Suite.
Final Verdict: Should You Get It or Not?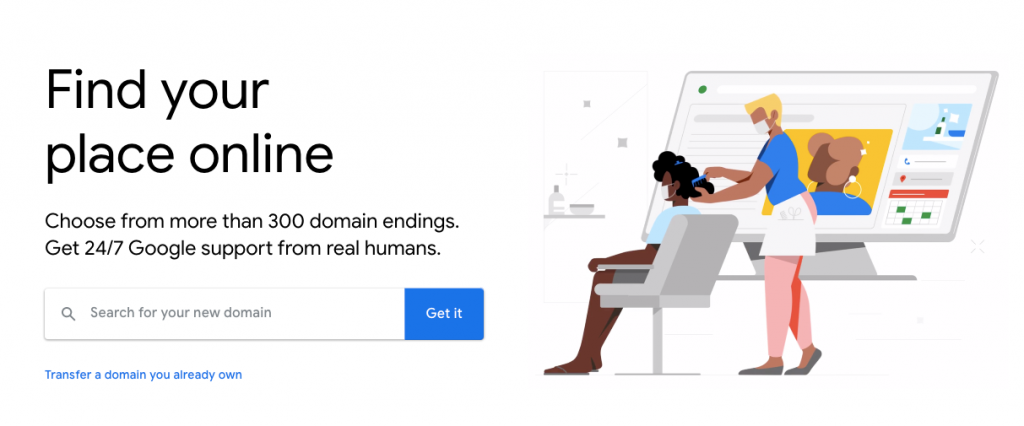 Even though there are a few downsides just like all other popular domain name providers, but when it comes to reliability, still there isn't too many better option out there that could beat Google Domains right now. There are no hidden fees when it comes to its pricing and its policies are also as transparent as it can get. They offer Whois privacy absolutely free compared to many others that charge a certain amount.
Moreover, you need to pay the exact same amount annually for the price of registering the domain name with Google Domains. Thus this makes it one of the most trusted names for a domain registrar right now. More so, when you register your ideal domain name with it, you get to utilize the Google DNS servers that truly sets it apart from the others.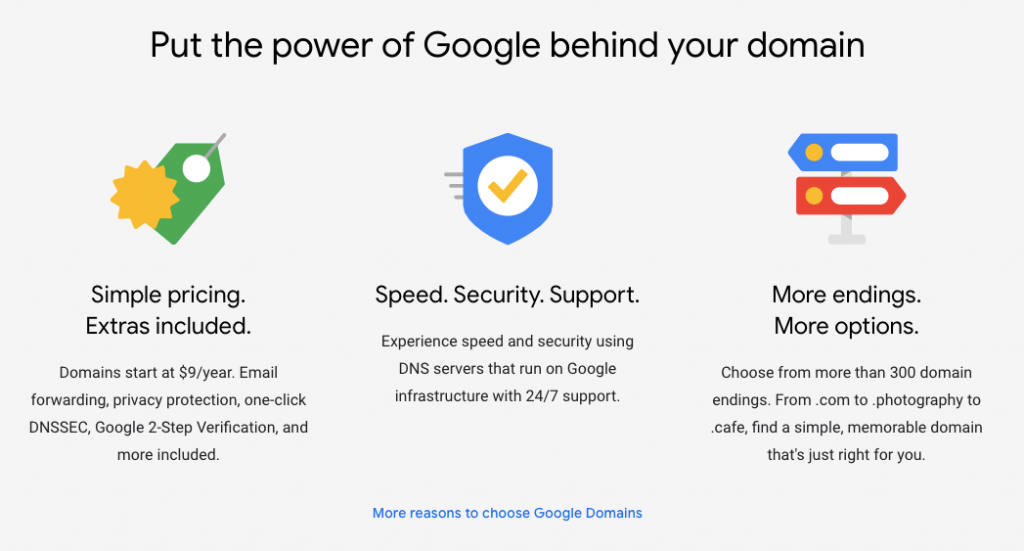 Now from our perspective, get Google Domains if you:-
desire simplicity & transparency in your domain registration system
have no problem in spending a little extra on domain compare to others
need to register a simple generic domain name for your business
don't need too many wide ranges of product selection
have full faith in the brand called Google
If any of these points match your need, then it can be said Google Domains is a solid fit for you or your business.
Other than these, looking at the benefits summarized from the point above, no doubt it is indeed an esteem domain registering service provider right now and it should be an easy pick for anyone out there if they are willing to keep the pricing side of it aside.
---