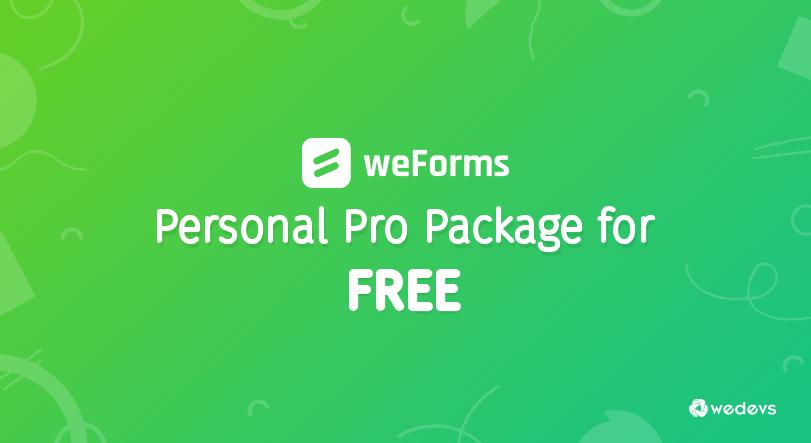 How to get weForms Pro Personal Package for FREE
Contact forms, one of the most common elements within a website, need your attention! You may say, WHY?
Well, they are very important because they create a bridge between you and your users/visitors. You can effectively communicate with them using contact forms. In WordPress, contact forms are very easy to make using form plugins. You can go through our detailed blog post on how to create a contact form without any coding.
weForms is the fastest and easiest contact form plugin in WordPress. It can create useful forms including contact forms, support forms, event forms, etc. within seconds. It also has many handy features that will take your form building experience to a whole new level.
The First Single Page Contact Form Plugin
Do you know?
weForms is the first WordPress form plugin that works on a single page.
Yes, it has been developed using vue.js, one of the most popular frameworks for JavaScript. The whole app runs on a single page and it has potentially reduced the load time. As a result, you get a unique and super-fast experience.
And Much More…
weForm's super-fast form building is not just for show. It also has many features that will provide you enough support for creating advanced forms and manage them. Not only that, but you can also import your previous forms created with other contact form plugins including Contact Form 7, WPForms, Ninja Forms, Caldera forms, Gravity Forms etc. With a single click, you can import all your forms to weForms and replace the previous shortcodes with new ones.
Suppose, you already have a contact form created with Contact Form 7 but you cannot customize the form and add advanced options. Don't worry, you can import the form to weForms and replace the shortcode with a single click. Your form will be still working and you will be able to modify it further according to your needs.
If you have WPForms free version installed, you may have a good contact form. But unfortunately, you are missing out on the submission management as WP Forms does not let you access the responses and manage them. Well, you can import that form to weForms and view the responses as well when someone submits something from the next time, just for FREE!
Let's dive into the awesome features of weForms.
an easy to use drag and drop form builder with live preview
one click form templates for a fast workflow
20+ custom fields for advanced forms
shortcode based forms to publish in the frontend
form submission notifications for both admin and user
customizable email templates with shortcodes
manage and share submissions
conditional logic
file upload
multistep forms
export/ import forms and entries
FREE Slack integration
form entry restriction, form scheduling and much more
Advanced Mailing Features
weForms Personal Pro package contains powerful mailing features. You can integrate with popular email solutions for WordPress including MailPoet and MailChimp. Using this feature you can add your subscribed users directly to MailChimp and MailPoet contact lists. You can get this feature along with the above ones just for $39!
Get All These Features For FREE
** THIS OFFER IS NOT AVAILABLE RIGHT NOW **
As a promotional offer, weDevs is offering all the above-mentioned features worth $39 for FREE!
Yes, you heard right. You can avail of the weForms Pro Personal Package for 3 months and you won't have to pay a single dime. This will also not require any payment details. You can simply register and get a copy of this Pro package.
How to Get These Amazing Features for FREE (Very Simple Steps)
Click on the above banner to visit the link from where you can get the Pro Personal package
Next, click on the Request Pro for FREE! button

Fill up the form with your details

Hit Submit Request.

Check Your Mail (the email you have provided in the previous form).

Confirm your subscription by clicking on the link inside the email.
You will receive another email with the link to get weForms Pro Personal package for FREE.

weForms Personal package will be added to your cart automatically. Click on the Continue button.

Check your details, place the order and complete your purchase.

Visit your account and download weForms Pro personal package from the Downloads tab.

If you have more questions on weForms and how it works, you can view our detailed doc. You can also comment and we will get back to you.