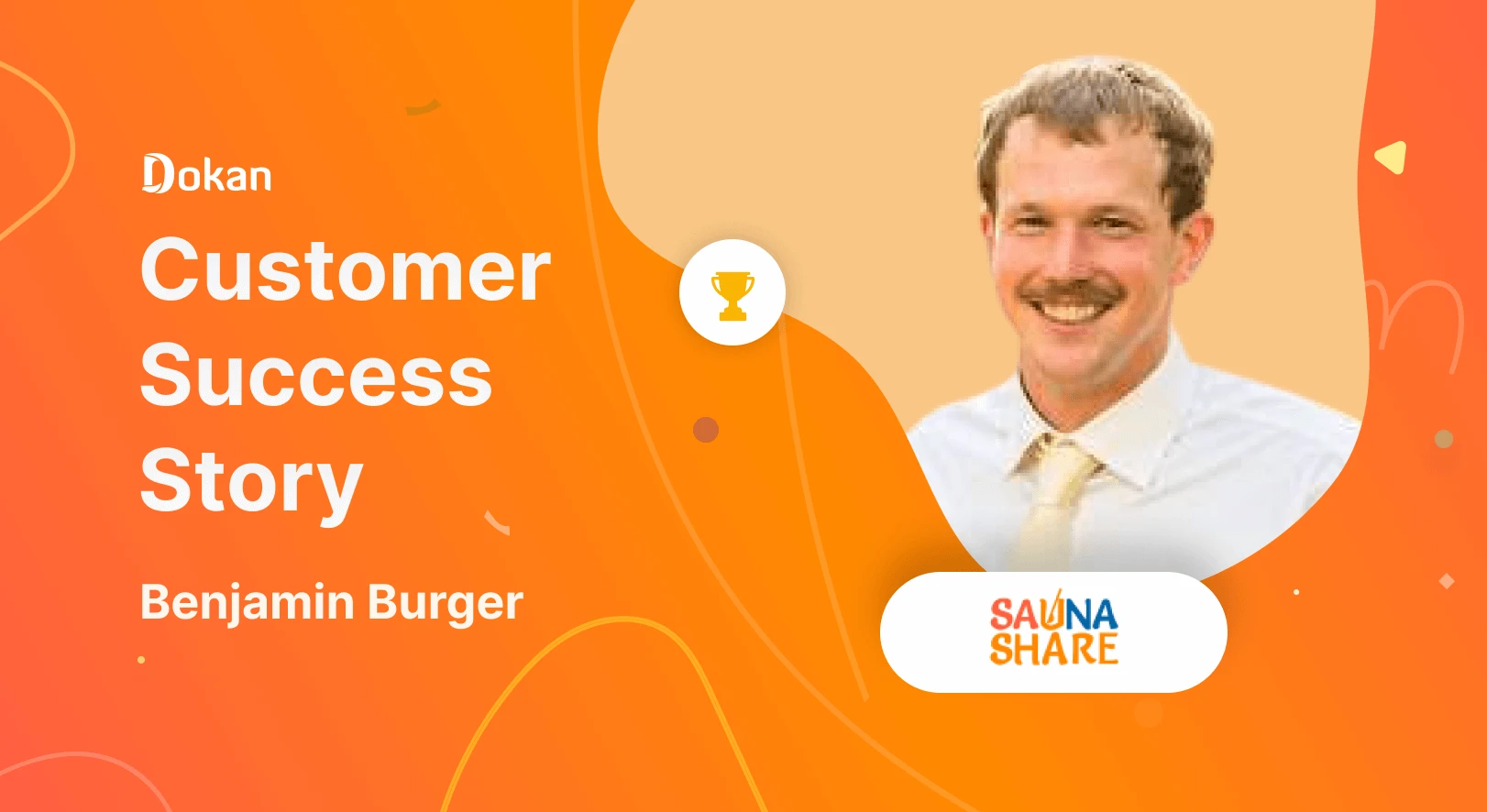 SaunaShare: An Inspiring Online Marketplace Success Story with WooCommerce and Dokan
Let's share an online marketplace success story of Benjamin Burger & how he established his dream empire with Dokan.
People sometimes get confused about what type of niche they should choose to kickstart their businesses. We always recommend choosing macro-niche. Because macro-niche has less competition and if you can set your target customer properly, making money out of it becomes comparatively easier.
Mr. Benjamin Burger is an entrepreneur who understood this trick and got immense success in his business. He chose a macro-niche for his business and now it's getting exposure more than he himself thought of while launching.
So what did he do? What was his strategy?
Mr. Benjamin Burger has shared his journey with us of launching the SaunaShare marketplace using the Dokan multivendor plugin. And today we are going to share this online marketplace success story with you. So, without any further ado, let's get started!
Background Story of SaunaShare
Stepping into a hot sauna after a session at the gym can be relaxing and detoxifying for your body. In the Scandinavian countries, the sauna has a culturally significant role. In the USA, it's also not uncommon for coworkers to bond in a sauna after hitting a happy hour, and many homes are built with an at-home sauna.
Mr. Benjamin Burger who lives in Minnesota, USA used to take sauna showers regularly from a rental sauna. But all of a sudden his favorite sauna went out of business. Then the sauna share business came to his mind. He wanted to make it a sustainable business model for sauna owners to rent their saunas to the community.
He thought if sauna owners could easily get set up online and list their saunas on a central website – like Airbnb for mobile saunas, it would be a profitable business. That's how the SaunaShare online marketplace was born.
There are 18 mobile sauna rentals available in Minnesota alone as of writing this article. And by this winter it's anticipated that there will be well over 100 mobile saunas around the world listed on the SaunaShare marketplace.
After trying several multivendor marketplace solutions, he finally chose Dokan multivendor plugin for creating his marketplace. Let's check the reasons behind it!
Required Features from Dokan for a Service-based Marketplace Like SaunaShare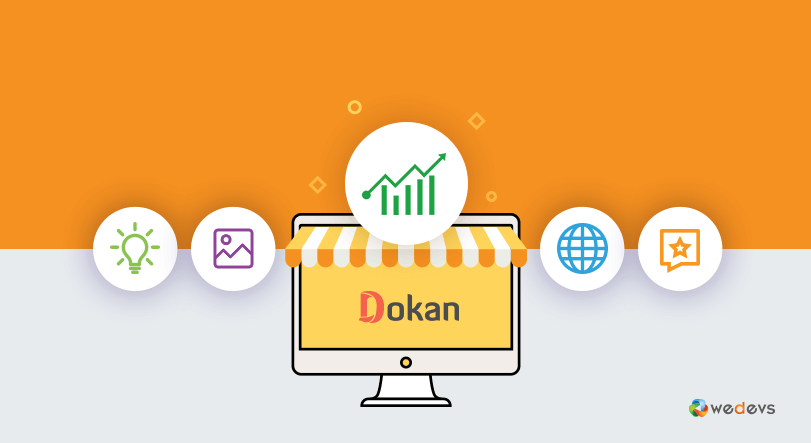 Dokan is the number one WordPress plugin to create any type of online multivendor marketplace. With more than 60K active installations, it's the most popular multivendor plugin as well.
You can rely on Dokan, doesn't matter if you want to create a small or enterprise-level online marketplace.
SaunaShare is a service-based online multivendor marketplace. So, if you want to create a such service-based marketplace, let's check what Dokan got to offer you.
Easy User Management
User management is not only a necessary feature for service-based marketplaces but also it's a common feature for all multivendor marketplaces. Usually, there are two types of users in an online marketplace. One is the vendors and the other is the general users.
You can easily manage both users using the Dokan vendor and customer registration feature. Using this feature you can let your vendors register to your marketplace and publish their stores. Then as an admin, you can access important information and manage vendors' rights and capabilities on your marketplace.
Useful Dashboards with Quick Overview and Reports

Admin dashboard is used to check net sales, commission earned, number of vendors signed up, number of stores listed, etc. Dokan comes with a built-in admin dashboard for admins. You'll get to access this after just installing Dokan on your site.
Also, Dokan comes with a vendor dashboard. It's designed to check all the data like vendor's sales, earnings, orders, etc in one place.
Smart Product/Service Search Option
When a customer visits an online marketplace, he must be looking for the search option. Because it gives him the flexibility to find his desired content/product in no time.
Dokan has a dedicated search module called Ajax Live Search. This module turns your regular search bar into an instant search tool to quickly search for products and save time.
Apart from it, Dokan has another search module called Geolocation. It helps to find the physical location of vendor stores within moments.
Easy Options for Site Credibility
Site credibility is crucial. Because your customers have chosen you out of several alternatives. So, you have to earn your customer's credibility to increase the retention rate.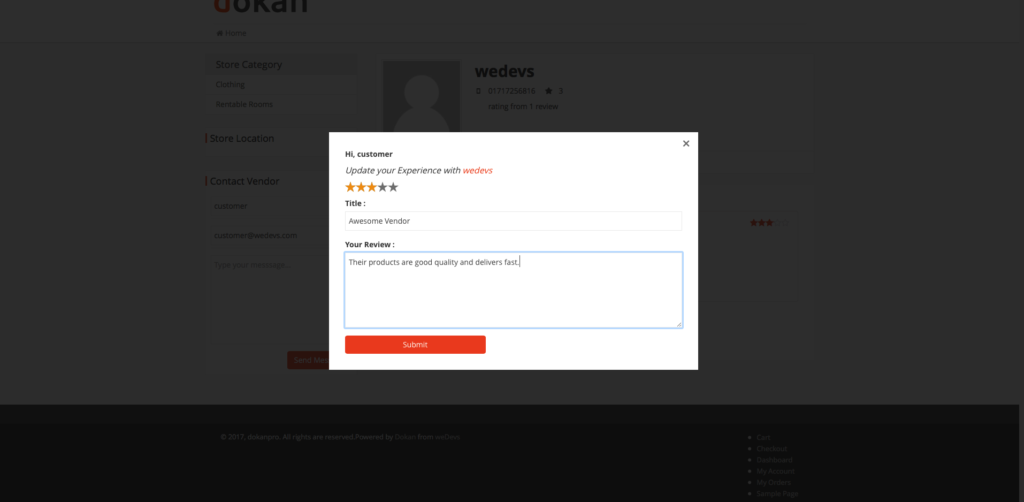 There are a few ways to increase the site's credibility. Like, as product reviews and ratings, live chat, product inquiries, etc. When a customer can check the reviews and ratings of a product, it influences him to take the decision to buy or not buy that product. If any question raises in his mind, he can instantly ask and get the answer from live chat.
All these things make a marketplace trustworthy to online shoppers. And Dokan comes with these features to make you in this regard.
Advanced Listing Opportunity
Product listing is another common challenge for every marketplace owner. When you are an admin, you have to let your vendors list their products as per their requirements. It's not possible to attract the visitors' attention unless the products are displayed in an appealing way.
Dokan empowers you to let your vendors list their products or services in the most advanced way.
Multiple Business Models
As an admin, you can make money by following two business models. One is the Commission based model and the other one is the Subscription-based model. In the commission-based model, you'll charge your vendor a fixed percentage when any purchase takes place.
In the subscription-based model, you'll charge your vendors a fixed amount to sell their products on your marketplace.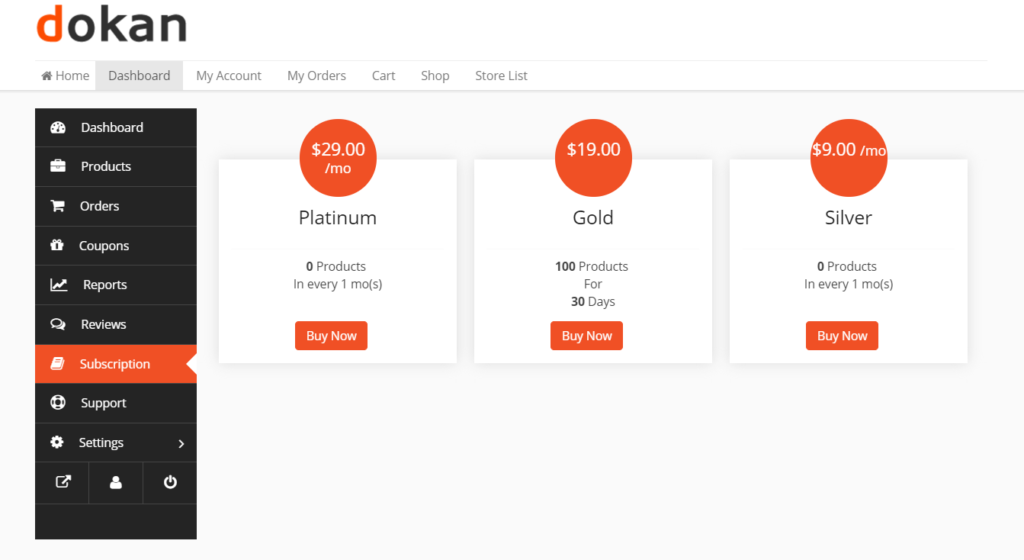 Dokan supports both business models. So, there will be no additional responsibility to take these things. You just choose which business model you want to apply and fix the amount or percentage, it'll be working perfectly unless you change the value.
Multiple Popular Payment Gateways
Dokan supports several payment gateways. As a marketplace owner, you have to ensure the availability of several payment gateways on your site. Because you can't control which payment gateway customers will prefer. So, to be on the safe side, you must integrate all the popular payment gateways into your online marketplace.
How Mr. Benjamin Burger Leveraged Dokan Features to Implement His SaunaShare Marketplace

Basically, SaunaShare is a service-based marketplace. People can book and rent saunas from this website. Also, if you are a sauna owner and want to host it on the SaunaShare marketplace to make some money, you'll be able to do it by registering as a vendor.
After registering a vendor, you will be able to showcase your sauna with attractive images and content. And if you are a consumer, you'll be able to find your desired saunas using the search option.
What Drove Benjamin Burger to Choose Dokan for SaunaShare
During the first two years of SaunaShare, Benjamin switched frequently between Dokan and other multivendor options. Basically, he was looking for a perfect solution that would help him to be settled. Finally, he came to the decision to stick with the Dokan multivendor plugin for the SaunaShare marketplace.
Why?
Let's check his statement!
Dokan always had a cleaner look and more options than the others, but for us, it came down to integrations. We had to make our backend function seamlessly with powerful plugins for booking, add-ons, currency switching, PDF invoicing, etc.
Apart from integrations, some other Dokan features came to the rescue for him. Let's find out about them.
Exclusive Dokan Modules
Dokan has 35+ premium modules to manage an online marketplace smoothly. The modules of Dokan are very easy to manage. It takes 1-2 seconds to activate or deactivate a module.
So, you can easily turn on and off a module as per your requirement basis. According to Mr. Benjamin Burger, this flexibility helps him a lot to improve his site loading time by enabling or disabling only the required modules.
Here are the most popular Dokan modules for a service-based marketplace:
| | | |
| --- | --- | --- |
| Table Rate Shipping | Product Advertising | Minimum Maximum Order |
| Subscription | Product Subscription | Elementor |
| Geolocation | PayPal Marketplace | Razorpay |
| Ajax Live Search | Rank Math SEO | Live Chat |
| Export-Import | Return and Warranty Request | Vendor Review |
Vendor Store Customization
Vendor store customization is crucial. When you're running an online marketplace, you have to let your vendor customize his store as per his needs. This is how he can highlight his store.
Dokan makes it simple for anyone to request vendor status and get a shop started. Actually, it was taking a lot of work of updating the saunas from Mr. Benjamin's end. So, he decided to use Dokan to let sauna owners customize their shops however they like.
Dokan Third-party Integration
We have already talked about how third-party integrations have been helping Mr. Benjamin a lot to manage his marketplace smoothly. He had to make his backend function seamlessly with powerful plugins for booking, add-ons, currency switching, PDF invoicing, etc.
And this is what he came to realize about Dokan.
Dokan is clearly respected by developers because most of the best plugins have Dokan integration. For areas where we needed to customize the integration, Dokan was wonderful to work with and has great resources.
So, to make the best use of Dokan and add some remarkable features to your marketplace, you can use some of the amazing integrations within it. Of course, using these integrations, you can increase your store's visibility and also give your marketplace top-notch facilities.
Available Resources
We have several resources for not only our beloved customers but also for our free users as well. Let's check them!
YouTube Channel
It's our pleasure to know that Mr. Benjamin liked our YouTube channel.
I would tell entrepreneurs to make sure they're following the weDevs Youtube channel. We get a lot of ideas for how to make the platform better that we never would have thought of.

Mr. Benjamin Burger
We have a dedicated YouTube channel for our users. There is a team to regularly creates and upload new videos on that channel to explain Dokan features and functionalities. Also, we host webinars on our YouTube channel discussing different exciting agendas of the WordPress industry.
Blogs & Documentation
Apart from our YouTube channel, we have a motivated technical writer team to write docs explaining the Dokan features. All of our docs are written by following the step-by-step tutorial format for beginners. Plus, we have a well-researched blog site to help our users with effective tips and further assessment.
Social Group
We maintain a Twitter handle and a FB page to share the latest news of weDevs. Our FB page works like a forum. Our users can easily post anything related to Dokan on this group. And we reply to those posts in no time.
Benjamin Burger's Message to New and Struggling Entrepreneurs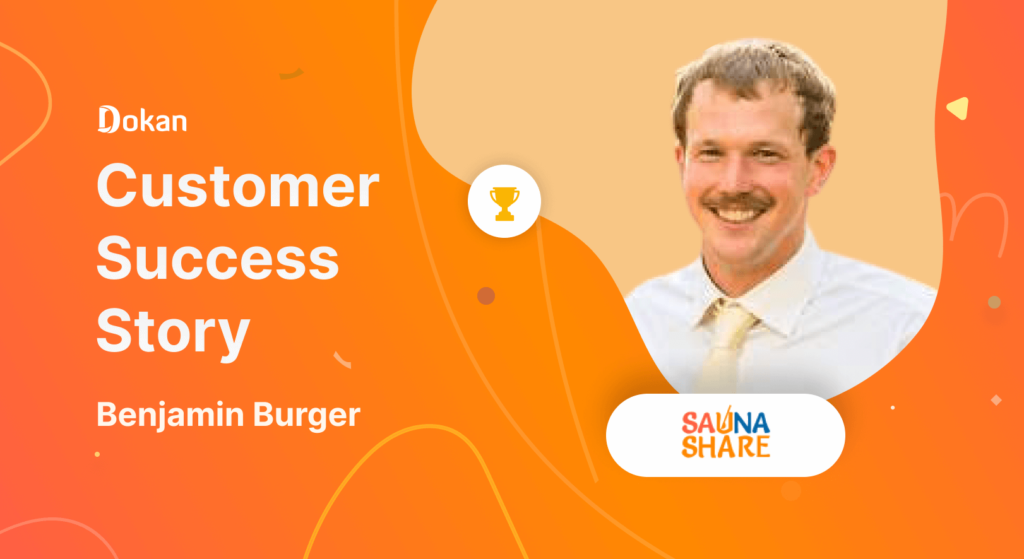 As the SaunaShare is a multivendor marketplace, so dealing with taxes, currency switching, vendor payouts, etc is really challenging for Benjamin Burger. But Dokan makes these tasks easier for him to handle.
So, we asked a question to him if he would like to recommend Dokan to other entrepreneurs. And here is his answer:
Absolutely. The Dokan ecosystem saved us years of development and allowed us to go to market with our idea quickly.
He thinks whoever entrepreneur is out there struggling with so many responsibilities related to managing a marketplace, he can choose Dokan to get rid of these unnecessary liabilities and give his time and energy to grow his marketplace.
This makes us so happy when we know that we are really making a difference in people's lives with our flagship plugin- Dokan multivendor.
Future Roadmap of Benjamin Burger
There are 18 mobile sauna rentals available on the SaunaShare marketplace till 2022. By this winter they are expecting over 100 mobile saunas around the world listed on SaunaShare. These mobile saunas will be available for rent in the arctic circle, Mexico, and Australia.
They have not started monetizing through commissions yet. They monetize through partnerships, subscriptions, and offering additional services for vendors. So, in near future, there is a possibility to start commission-based monetization.
Within a few years, SaunaShare has been featured in The New York Times, The Day, and Family Handyman. If they can keep up their hard work up, it would not be impossible to see the SaunaShare featured on your country's leading news site.
Create Your Online Marketplace Success Story with Dokan!
You can take Mr. Benjamin Burger out of thousands of our happy customers as an example. He clearly declared that-
This would have never been possible without Dokan.
People are now heading online for everything. They want to have a hassle-free shopping experience. So, if you can bring whatever they need at their fingertips, they will definitely choose your service or product.
For ensuring a better user experience, as a marketplace owner, you have to make sure you're using the most advanced technology to manage your marketplace. And Dokan is such kind of technology to create any small to enterprise-level online multivendor marketplace.
So, if you are planning to launch your own online marketplace, we'd recommend you kickstart your business right now with a simple yet powerful Dokan multivendor plugin.