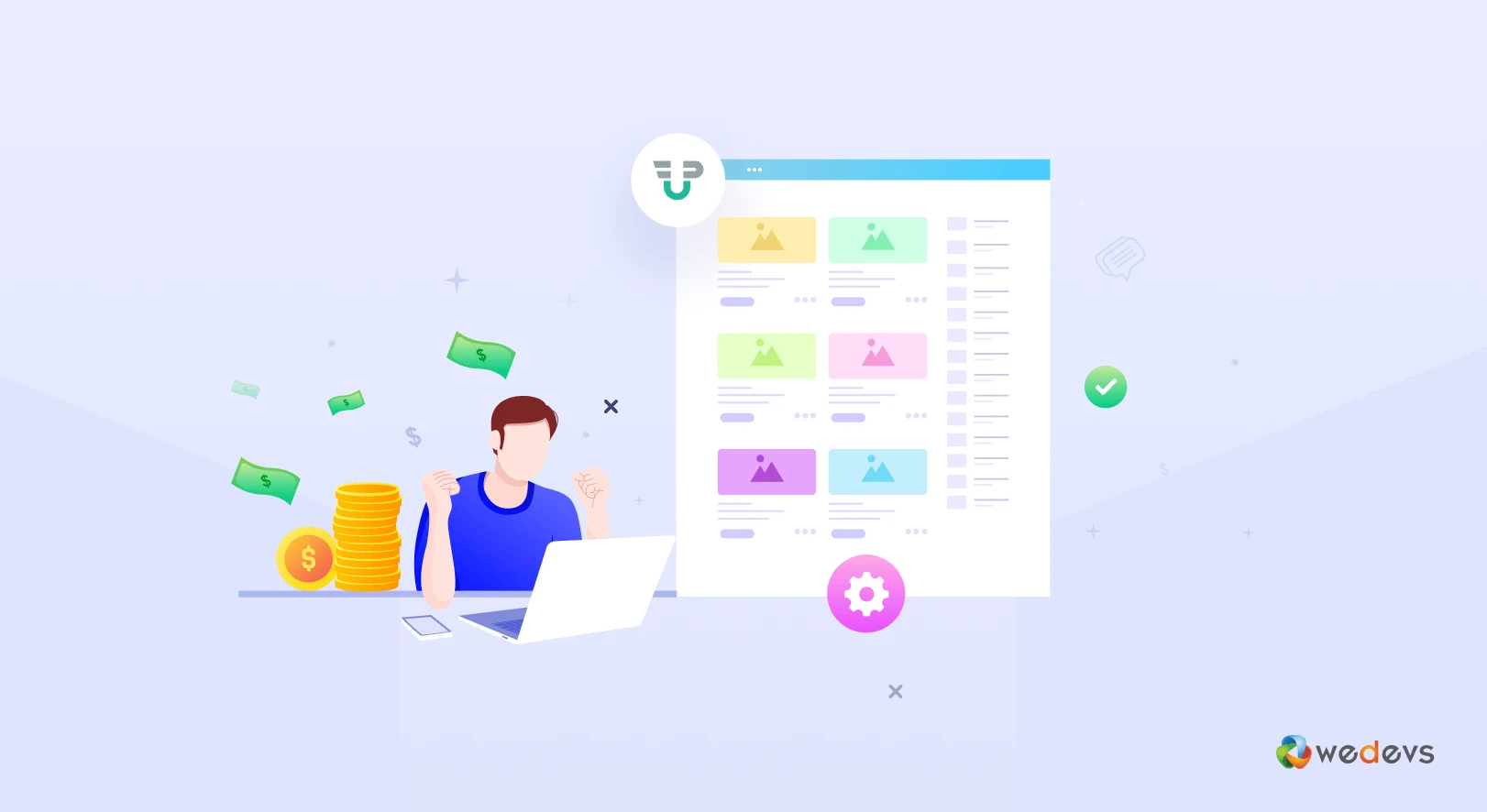 How to Create a WordPress Membership Site and Make Money
Have you ever wondered how people create a WordPress membership site and make money from it? You're in luck! Because today we'll show you the steps to build a membership website that helps you earn a handsome amount per month.
A large number of companies are rushing to join the digital membership economy. The two most popular models are online communities and subscriptions. In fact, 76% of businesses claim that a subscription-based model helps create customer retention and long-term relationships with customers.
Now you can subscribe to your favorite meal kit, fashion brand, groceries, toiletries, even dog toys. Or you can join the premium community for guidance and useful suggestions. Also, it gives you the chance to build connections with like-minded people on topics ranging from entrepreneurship to travel destinations. This means the membership model is getting popular for both sellers and buyers.
Since there are many benefits to creating a membership website. But before introducing any membership model in your business you need to consider the niche type and consumer preference. Let's explore the things below-
6 Popular Types of Membership Sites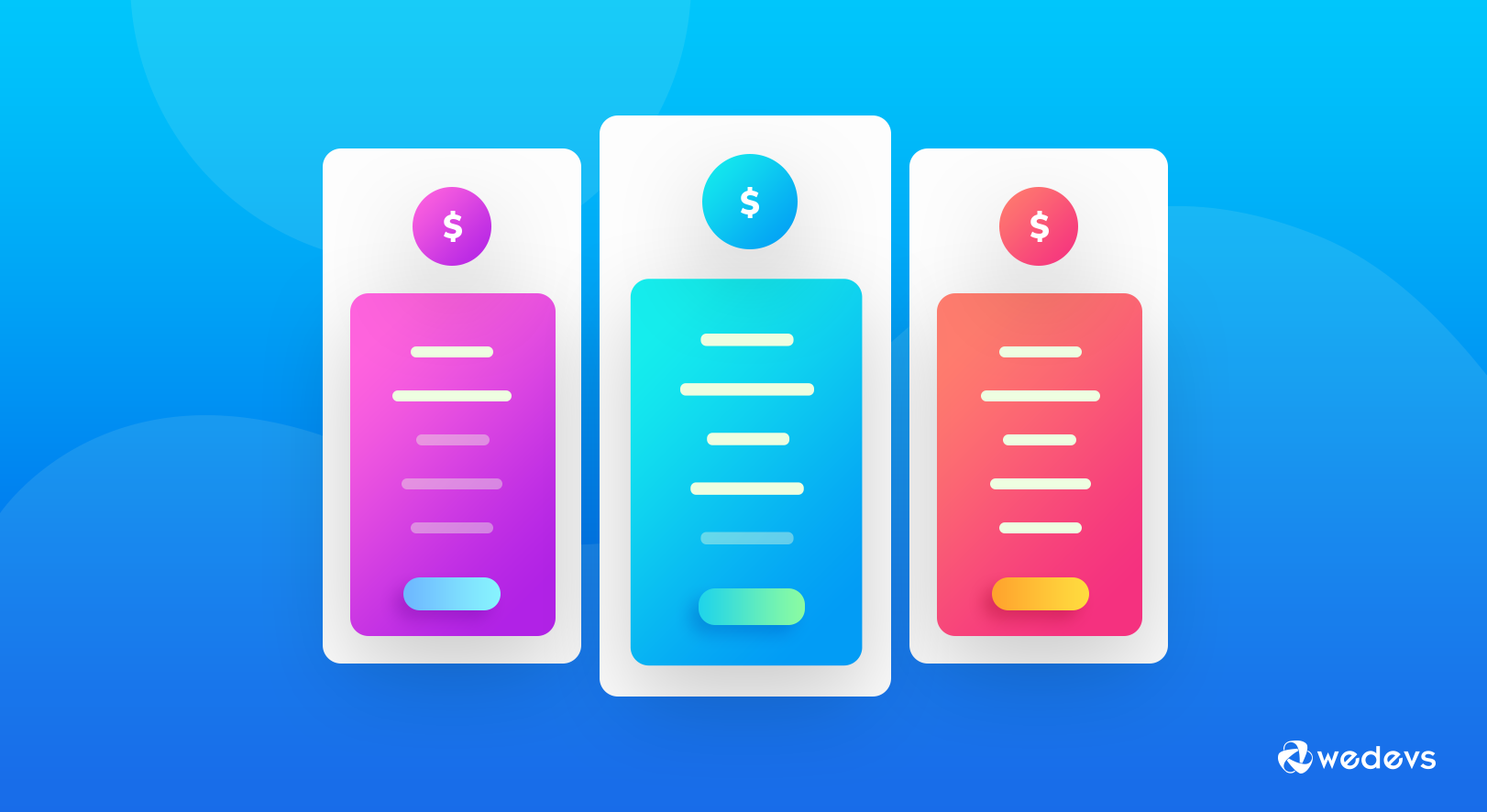 A membership website is a site that offers limited and exclusive content to members. You can charge your audience a monthly or annual subscription fee in exchange for access to gated content, community, services, or benefits.
If you are an expert in a particular field, you may share your knowledge and make money from your membership website. All you need to do is- encourage people to log in to your site and buy a membership to view or download premium content.
Netflix is the most common classic example of a membership website. Here users pay a recurring fee to get access to the content. There are several types of membership models. Such as paid online courses, industrial community, premium support forums, newsletters, and webinars.
If you want to create a WordPress membership site here are a few categories you can choose from-
Business Development Membership Sites
Career Coaching Membership Sites
Hobby Membership Sites
Online Course Membership Sites
Product/Service Bundle Membership Sites
Community Membership Sites
1. Business Development Membership Sites
You are a successful businessman who inspires people to entrepreneurship. Now you can share your experience with the audience having the same interest. Tell them how to build a business from scratch, common obstacles, and possible solutions.
On BizChix.com, Natalie Eckdahl helps entrepreneurial women build, grow, and scale their businesses. Premium membership gives them access to weekly and bi-weekly group coaching, pre-recorded content, a community of women entrepreneurs, and more.
2. Career Coaching Membership Sites
If you hold a good position in your career, tell people about your journey throughout the years. Position yourself as an authority in your field. Also, you may offer helpful resources, industry-based courses, expert tips, and other elements to your premium members.
Personal growth author Jennifer Louden encourages her fellow members to become great writers. On The Writer's Oasis, she discusses your fears, overcoming your creative blocks, and how to spread your voice.
3. Hobby Membership Sites
Even an interesting hobby can be the niche for your membership website. Suppose you are passionate about something and practice it for years. You can share your knowledge with others who have also an interest in it.
Marie Greene learned to knit from her grandma. Now she becomes an inspiration for knitters worldwide. Premium members of Olive Knits get to learn twelve new patterns per year. It includes complete tutorials, live webinars, tips and tricks, and access to the Knit Camp online community.
4. Online Course Membership Sites
This is the most popular type of membership site model. Here members pay a fixed amount or monthly subscription fee in order to get access to your online course. Online courses usually come with different formats of content such as video tutorials, audio lectures, useful documents, quizzes, and downloadable resources. You can merge a forum or discussion board into your course site as well.
The popular online learning platform Udemy offers thousands of courses in different categories. Students get access to premium courses by paying a subscription fee.
5. Product/Service Bundle Membership Sites
You can use your membership website to sell digital or downloadable products. Such as videos, plugins, themes, and downloadable resources like industry reports. This model is equally applicable for physical products. Suppose you build a membership community for marathon runners. And send running instruments to your subscribers every month. You may perhaps share upcoming marathon news and healthy tips on your site too.
If you are a service provider, running a service-based membership site can help grow your business. This is mostly used by entrepreneurs who provide one-on-one services to customers.
Read more: How to Create Amazing Content for Your Service-Based Business.
6. Community Membership Sites
A membership site allows you to build an interactive online community. You can bring a large number of people together belonging to the same profession, country, or group under a roof. So, they can help each other by sharing educational resources, professional tips, or personal stories. It is also possible to include an online community to any other type of membership website we've mentioned above. Because it's one of the best ways to connect members and build engagement.
People come for the content, but stay for the community.

Brendan
YouPreneur is an entrepreneurial community run by Chris Ducker. You'll find here many educational posts, courses, and suggestions for aspiring entrepreneurs. Users need to enroll in the program and use the platform regularly to get the most out of them.
6 Easy Steps to Create a WordPress Membership Site That Makes Money
Once you've decided what type of membership website you want to create it's time to select your niche. Monetization will be easy if you have deep knowledge of your niche and target the right audience. You may charge a monthly fee to your members by offering new content on a regular basis. Alternatively, ask members for a one-time fee. Giving access to all of your content at once will be easier to handle.
You should select your arena depending on your interest and expertise level. Before starting any new business you have to consider some important facts. Such as market research, competitor analysis, cost estimation, sales channels, etc. This helps you generate an effective business plan.
If you can determine the key success elements and risk factors, it gets easier to set strategies with the lowest chances of failure. After getting your business plan ready now follow the steps below to create a WordPress membership site and make money from it-
Step 1: Select Your Domain, Hosting, & Suitable Platform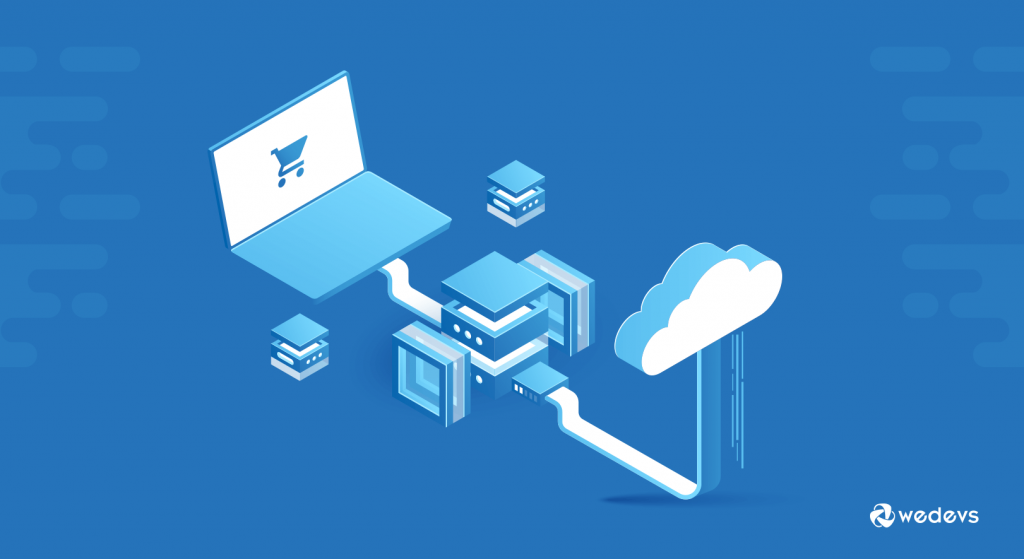 Once you decide your niche, now it's time to choose the perfect domain for your membership website. When brainstorming for domain names consider the things below:
Easy to say & spell
Name that correlates your brand
Go with .com, .org, or .net.
Avoid numbers and hyphens
Search engine friendly
If you want to change your existing domain address, check out our article on "How to Change WordPress Domain Address".
After finalizing the domain name, you need a good web host to live your website. There are many prominent web hosting providers. Check the Top 10+ WordPress Hosting Providers and pick the right one for you by checking their features, pricing, and stability.
Now, it's time to configure your subscription-based website for users. Fortunately, you don't need to know a bunch of codes or hire any pricey developer since you have WordPress. First set up your WordPress site and then install & activate WP User Frontend in your site.
With WPUF you can arrange your subscription packages in several categories. It comes with subscription features, like pay per post, content restriction, and guest posting. You have the flexibility to choose and create combinations of these features.
Follow this step-by-step guide to Create A Subscription Based Membership Site Using WordPress.
Step 2: Plan Contents Both for Traffic Generation & Special Ones for Monetization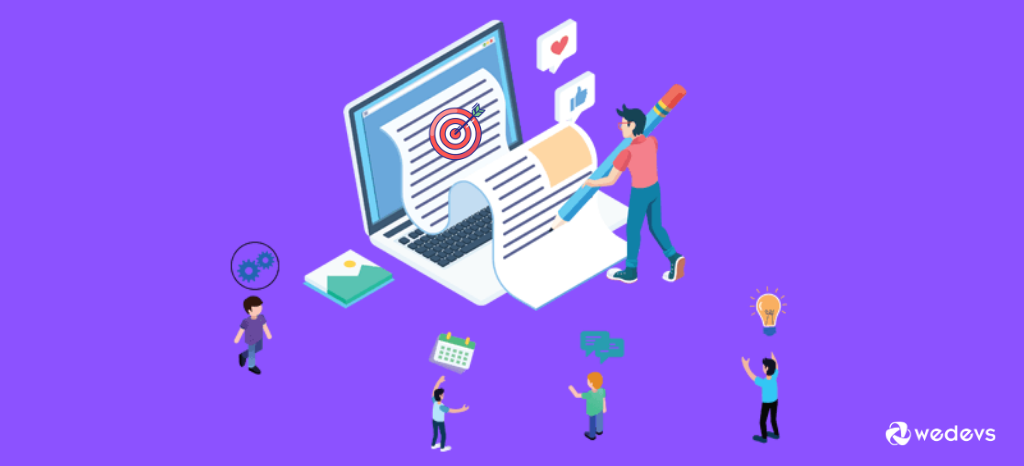 You get your site ready to up. Now select what type of content you want to include in your website. First craft your buyer persona. So, you can create content matching their needs, style, and taste.
Inside your membership site, you can categorize the content based on subscription level. This means to unlock some exclusive content your readers need to enroll in the next-level subscription. It always makes your premium users feel special and increases the value of your content.
Planning for content is a lengthy and continuous process. We divide the content marketing plan into 2 parts:
1st part: Pre-consideration Before Launching Your Website
Set Your Content Goal that Conveys Your Business Purpose
Study Your Audience to Know Their Urgency
Research Your Top-Matched Keyword that Aligns with Your Niche
Keep an Eye on Your Competitors to Track What's They're up to
Make a Content Publishing Calendar to Keep Consistency
Set Content Promotional Plans to Outreach Your Audience
2nd part: Continuos Process to Publish Content Regularly on Your Website
Create Top-Notch Contents that will be Referred as Resource
Publish trendy content that bring some extra traffic to your site
Create special content on big days and occassions
Conduct a Content Audit on Your Site to Know the Current Position
Measure Your Content Performance to Find out Where to Improve
If you want to learn more about this, check out this article on How to Create a Content Marketing Plan.
Also, make the content informative that add value to your readers' lives. Suppose you run a website sharing weight loss tips. You can include some generic content on healthy habits, the weight loss process, proper nutrition tips, etc. For your premium members offer some specific diet chart based on their calorie level, age, and weight. You can also include famous dieticians in your program to guide your members with useful tips and tricks.
Step 3: Determine Your Subscription Plans and Pricing
Premium subscriptions allow you to make a recurring revenue from your users. Your content must provide enough value that inspires people to pay for a subscription to access it. If you understand your readers' needs and produce unique content according to them, you can do a lot with your website.
There are several types of subscription options you may offer to your users. Such as:
Trial period subscriptions: Set a time period for a free subscription. So users can decide if they like your site content before paying.
Paid subscriptions: Users must pay a fee to enroll in the subscription. Charging process can be a one-time fee, a monthly fee, or a yearly membership fee.
Free subscriptions: Users will get content and other offers of your site in exchange their name and contact information.
Automatic renewal subscriptions: The subscription will be renewed automatically after a certain time period and charge the users.
Manual renewal subscriptions: A user needs to renew the subscription if s/he wants to continue using the benefits associated with the membership.
It is best to arrange your subscription packages that work with your business offerings and users. Analyze your competitors and check what they're offering to their members at which price. Considering these facts set your subscription levels and their prices.
Attractive names of subscription tiers may boost your audiences' curiosity to join your community. Learn How to Name Your Membership Levels in line with your brand.
Step 4: Restrict Access to Your Exclusive Content
Content restriction gives you the chance to keep your exclusive content restricted/invisible to non-subscribers. Only the premium members have access to those parts of your content. This feature makes your membership exclusive for the users.
WP User Frontend makes you able to apply different levels of restriction to your membership website. Such as:
Partial Content Restriction
User Role Based Restriction
Subscription Based Restriction
Restriction for Visitors
Menu Restriction
Taxonomy Restriction
Rather than locking up all your content, you can set some of your resources free access. So, users can get an idea about your content quality and its usefulness. Or you can let your readers see a part f your content. In Scholarly or IEEE, you can only read a part of that article or the introduction part which will give you a brief idea of the research. Now, if you find it beneficial, you must subscribe to their website to read the full article. This is called partial content restriction.
Read More: How To Set Up Partial Content Restriction In WordPress.
Engage people first with free content so they feel interested in your brand. Once they hook up, start charging them for your exclusive content through subscription. It would be crucial to decide which type of content you want to restrict for your premium users. Based on that, you have to build your content plan indeed.
Step 5: Include Reliable Payment Methods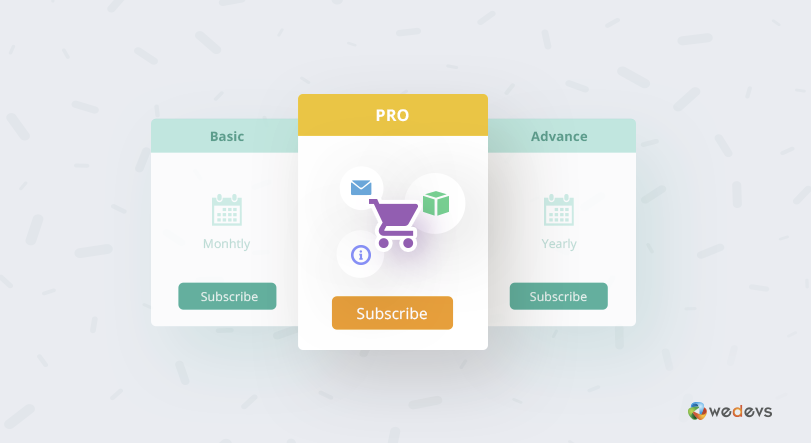 The main objective of your membership website is to make money from subscriptions. Since it's extremely important to keep all the transactions secure and smooth. People will share their confidential information during buying membership, you are likely to keep your site super protective. Providing all the payment gateways that your target audience usually prefers, is also required to ensure a great user experience.
With WP User Frontend your subscribers can easily pay through PayPal or direct bank. You don't need to add any extension to enable this feature. Moreover, you can include Stripe as the Payment Gateway for your users.
Step 6: Optimize Your WordPress Membership Website
Needless to say that, a great website can also fall if it doesn't visible on the search engine. In order to get a significant response from your users, your site must have a higher position on SERP. You may already know about common SEO practices you should apply to ensure the best results. Give a quick look at this SEO Checklist For A New WordPress Website.
Here we focus on the areas you should especially take care of for your membership website:
Create high-quality content: Useful content gives visitors a reason to keep coming back. Also, if your site has fresh and engaging content, people stay longer on your site. These matrics send a positive signal to Google bot and you can secure a higher position on search engines.
Include Visual Content: Visual content affects your brain faster than plain text. People also feel more interactive with visual information. Such as images, videos, gifs, quote, screenshots, etc.
Optimize Your Membership Site for Mobile: Over 60% of Google searches come from mobile devices. There is a high chance most of your users will use mobile or tabs to visit your site. So, make your website fit for all screen sizes.
Improve Your Page Loading Speed: You need to handle premium members who will pay for gated content. Your site speed must be optimized so they can get quick access to their preferred pages. Happy clients help websites get a higher ranking on SERP.
Join Question-and-Answer Sites: Regularly answer related questions from popular Q&A sites like Quora. Firstly, figure out the questions from your niche and then answer them elaborately. Don't forget to link your site that seems to appear naturally. By doing this, you're helping people and getting attention to your links. This way you'll get many authentic members for your website.
You can also earn from your WordPress blogging sites by letting your users create their own content. Learn how to Make Money With Guest Posts From Your WordPress Site.
How Much You Will Earn From Your Membership Website
First, let's calculate the cost roughly to build your membership website-
| | | |
| --- | --- | --- |
| Items | Minimum Price/Year | Advanced Pricing/Year |
| Domain Name | $0.48(mandatory) | $158 |
| Web Hosting Service | $8.88(mandatory) | $19 |
| Themes | $0 | $100 |
| WP User Frontend | $49 | $159 |
| SSL Certificate | $9( mandatory) | $29.88 |
| Promotional Activities | $0 | $1000 |
| Total | $67.36 | $1,465.88 |
This means to launch your membership website initially your cost is about $67.36. Next, it'll take approximately 3-6 months to create your brand authenticity. First, people need to trust that your content will add expected value to their lives. Once they get the confidence, they'll start subscribing to your website.
For example, you are an SEO expert and built a website to share your knowledge with others. In your membership program, you provide exclusive content for your premium subscribers. Here they can find articles with real-life case studies, reviews, and practical results. After all promotional activities and other efforts, you have 350 subscribers on your site who are supposed to continue their subscriptions for an entire year. It costs $6.30 per month for access to your membership website.
Therefore, your net collection would be around (6.30*350)*12= $26,460 per year. Here, we calculate the lowest possible amount you can earn from subscriptions.
Read More: How Much Does It Really Cost To Build A WordPress Website?
7 Biggest Challenges to Create a Membership Website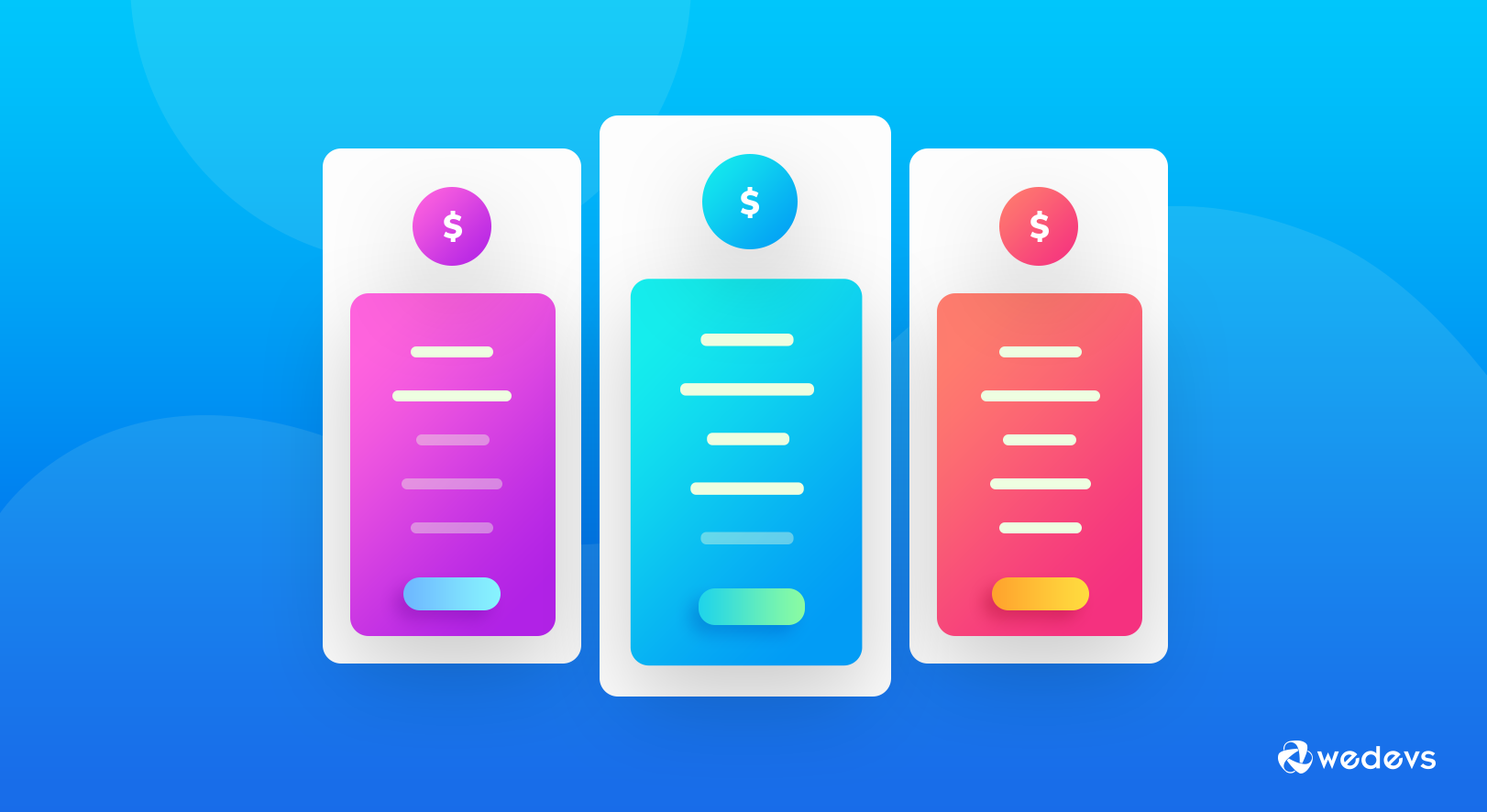 Building a membership website is a daunting process full of potential pitfalls. Here are the top 6 challenges every new membership site owner may face:
1. Keeping Cost Under Control
Launching a new membership website is not an easy task. Domain-hosting, site development, promotion- there are a lot of things you need to take care of. Be wise and don't try to make everything perfect at once. List down the things priority-wise and arrange them accordingly. Don't get confused with all the glittering things roaming around you. For site development, WPUF can be an all-in-one solution with all the required features. And the good news is you will get all the basic membership features completely FREE!
2. Cope With New Technology
New technology makes our lives faster. But adapting to new tools, plugins, setting process is not always easy. You need to put some extra effort to get a strong grip over your membership website. You can also hire professional people or agencies, but having basic knowledge helps you keep everything aligned. Try to connect with your industry closely so you would be able to introduce any new technology in your business immediately.
3. Build a Loyal Audience Base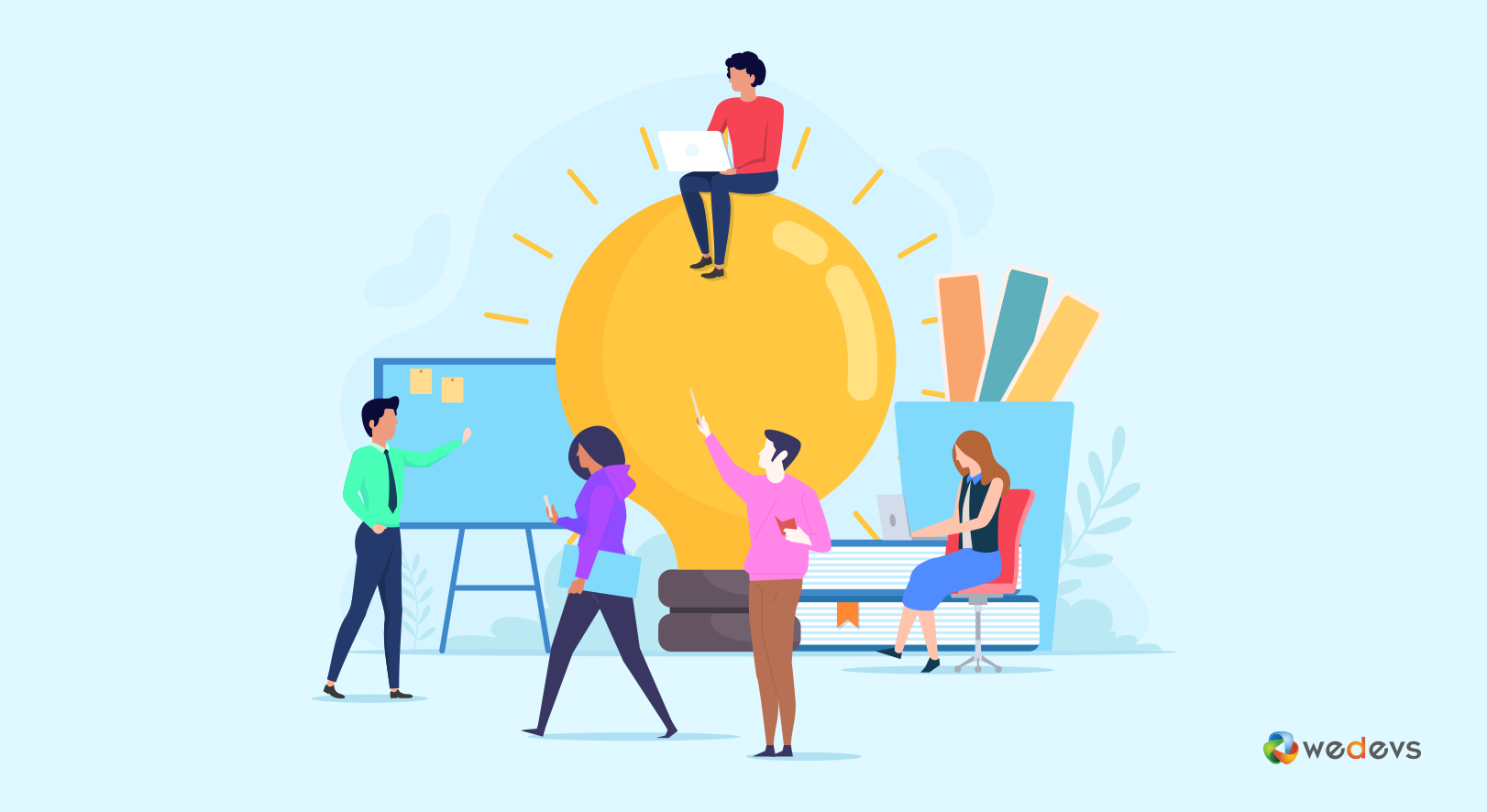 The audience is the cornerstone of your membership site. You must need a loyal fan base to increase your profits. With quality content, you can build your audience of true fans gradually.
These are the tips to get your fans faster:
Provide new & trendy content regularly (at least 2/3 times per week)
Compititor analysis is must before doing any content outline
Find the gap and always try to give something extraordinary to your users
Make your voice authentic that readers can rely on
Allow you readers to comment of your post & respond them
Join online communities & forum and communicate actively
Always ask yourself how to make the content more valuable for your users. As your audience gets mature you should update your content strategy with time.
3. Build Momentum in Your New Membership Community
As we've mentioned above people mostly continue their membership due to an interactive community. But at the initial stage, it's difficult to engage your members into a group. Sharing educative and interesting content may grab some attention from your audience. Also, inspire your members to share their reviews and problems with the group and help them at your level best. You can call for some special events or contests so members get the chance to know each other. As discussions and communication start happening, your responsibilities become less. People will find the cause to act in the community naturally.

4. Manage Time for Your New Membership Community
People usually start a subscription site as a secondary income source. Or sometimes an extension of their existing business. As a result, it becomes difficult to manage time besides doing your regular job or business. Better consider it as your client project or job. Because fundamentally it requires your maximum attention to build a strong connection. Also, you have a lot of tasks in order to configure and promote your site. Schedule all your tasks and try to make better use of your time.
5. Staying Motivated for a Long Time Period
Often we start a task with full force, but due to surrounding circumstances, we lose our hope. You start your membership website and give a lot of effort to it. Don't get upset if you aren't getting the expected response immediately. It takes time to reach your target audience and build a loyal fan base. Moreover, making buyers ready to pay is definitely a tough job. First, try to gain the trust of your customers that your brand will deliver on its promise in every interaction. Then nurture your leads for conversions. Remember, throughout the path, you'll get so many obstacles and failures. Make them the pillars of your success.
6. Encourage Members to Join Your Site
Coming up with a new product or service always has a lot of works. Even if you offer the best things around, until people enroll in your program you can't be successful. You must promote your membership site effectively so people come to your site. As there are endless options to implement, but as a new player in the game, you should try low-cost and low-risk ways to promote your business. Join related groups and establish your voice as an authority in that field. So, people respond actively when you tell them to join your membership site.
Read More: Why You Need to Adopt Subscription Business Models.
Checklist for Launching a New Membership Site
Here are the most important things you should be aware of before starting your WordPress membership website: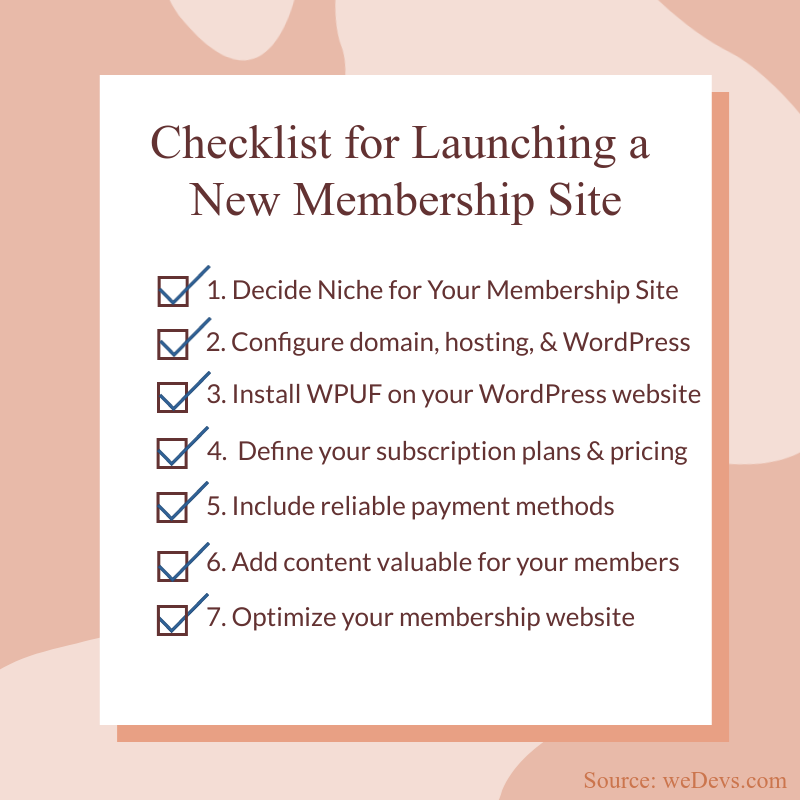 Ready to Create a WordPress Membership Website that Make You Money?
Launching a membership site is a great way to generate recurring monthly income. This business model becomes popular these days. It gives you the opportunity to create and deliver exclusive content for your premium members. Members also feel special having access to a private, members-only community. So, they get inspiration to continue paying for their membership.
Even if you have a running membership site, you can still go through the checklist we've shared above. Use the tips to take your membership site to the next level!
Have you any further queries about how to make money from membership sites? Do use the comment section below!