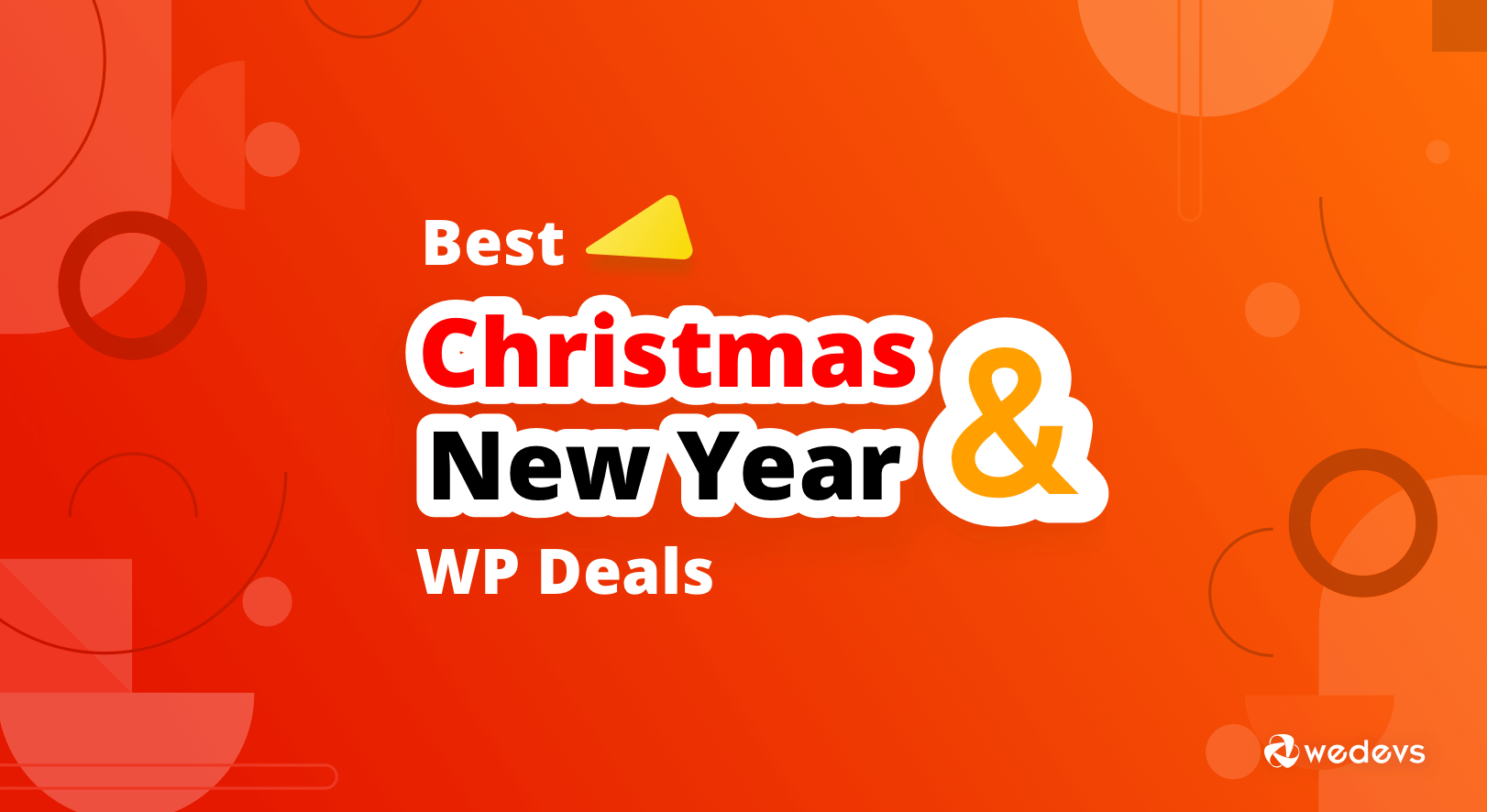 Best WordPress Christmas Deals & New Year Discount 2020
If you did not crack the best deal from Black Friday or Cyber Monday tempting offers, there is nothing to be worried about. The holiday sale season is not over yet!
Like every year, the WordPress community has come forward to leverage its users with many attractive Christmas deals. As a WordPress user, you can save your dime for the next year. This is the right time to grab your last-minute Christmas deals and sale.
It's time for Christmas! The joy and excitement are already in the air. WordPress is also celebrating this glorious holiday by offering the best deals for hosting plans, themes, plugins and other tools.
There are many offers floating on the web already. But all the December deals might not be beneficial for your business. Therefore, you should compare all the deals first. Then, pick the right one for your brand.
To help you out, we have rounded up the very best WordPress Christmas Sales Below.
weDevs is Celebrating This Winter with Great Christmas Deals
weDevs is the maker of Dokan Multivendor, WP Project Manager, WP User Frontend, WP ERP, weForms, weMail and many more. With our innovative tools and solution, we have empowered 100,000+ businesses all over the world. The number is still growing.
Also this year we have introduced a new Elementor plugin- Happy Addons. So, now you can create a professional site without writing any code. It minimizes your all hassle to hire a coder or programmer.
However, we are again ready to glorify the joy of your Christmas. We are providing exclusive deals like every year for WordPress users.
In this weDevs Chritsmas Offer you will get up to a 27% discount on all products .
Therefore, do hurry up and check our products to save your pocket. It is the best opportunity to fill up your hands with great products at the cheapest rate.
Top WordPress Christmas Deals and New Year Discount for 2020
There are thousands of WordPress companies in the world. Almost all of them are offering special discounts for their clients in this festive season.
Although, it's not possible for you to check all the available Christmas deals and select the best. Therefore we have listed the best deals for WordPress plugins, themes, templates, hosting and other tools. It will help you to pick the right solution for your business.
So, check the top deals for this Chritsmas 2020 carefully and save your pocket.
Dokan- Up to 27% Off On All Plans
Dokan is the best multi-vendor marketplace in WordPress right now. It has empowered 30,000+ businesses all over the world. Now you can build your own eCommerce marketplace without hiring any professional. It lets you create and manage your sites effortlessly. With Dokan it requires only 30 minutes to develop a site like Amazon or eBay or Shopify.
This Christmas Dokan is offering 27% off on all plans. So, confirm your deal before it gets over.
Coupon Code: N/A
Validity: From December 22 to December 27
WP ERP- Up to 29% Off on All Extensions
WP ERP is the complete ERP solution to automate your business. It has CRM, HRM and Accounting module that will help you to manage your company with the utmost ease. Moreover, there are 20+ extensions and Project Management is available to coordinate all the parts of your business.
Luckily! this Christmas you can get these extensions at a staggering 29% discount. So don't miss the opportunity to get all the modules at a lower price than usual.
Coupon Code: N/A
Validity: From December 22 to December 27
WP UserFrontend Pro- Up to 27% Off on All Plan
With WP UserFrontend PRO you can build registration forms, profiles, WooCommerce products, subscriptions, and contact forms effortlessly. At present, it has 20000+ active installations. It can be your ultimate all-in-one frontend companion.
WP UserFrontend is offering a huge discount on this Christmas. You can get a 27% discount on all the plans. Grab it while hot!
Coupon Code: N/A
Validity: From December 22 to December 27
wePOS- 51% Off on All Plans
wePOS is an advanced and responsive WooCommerce Point of Sales plugin. It lets you take orders and track your real-time inventory through your WooCommerce store. With wePOS you can process your customer's orders super fast. Also, it makes possible to manage unlimited outlets and counters concurrently.
WP Project Manager Pro- Up to 29% Off
WP Project manager helps you to plan, create, organize, and complete a project in an optimized way. It is a powerful tool to deliver your projects timely. Also, you can ensure the best use of your resources with details reports and suggestions.
Happy Addons-Up to 50% Off
Happy Addons is a powerful Elementor widget to design your website. It has 25+ interactive and free widgets to start initially. However, you can enlarge the capability with 20+ elegant premium widgets. It supports many advanced features like Presets, Unlimited section nesting, Happy Effects, Floating Effects and so on.
You can get all these exclusive widgets and features at a huge discount starting from 25% up to 50% this Christmas. Get the Christmas deals while you have the chance.
Coupon Code: N/A
Validity: From December 22 to December 27
Rymera Web Co-20% Off On Any License
Advanced Coupons is designed for WooCommerce store owners. It lets them run amazing new types of coupon promotions that you can't otherwise do with standard WooCommerce coupons.
Coupon Code: HOLIDAY20
Validity: December 17 – December 23, 2019
Flothemes- 25% Off
Flothemes offer premium WordPress templates for photographers, videographers & other creative businesses. They are running a limited-time Christmas sale, which expires on December 31st. Get $75 Off any theme. Get started today!
Coupon Code: HOHO75
Validity: Until 31st December
Woostify- 30% Off
Woostify is one of the most complete free and powerful WooCommecre WordPress themes that focus on increasing conversion rates for an eCommerce site. With many awesome features needed in any online store such as Ajax Add to Cart, Ajax Search, Mega Menu, etc.
Coupon Code: WOONEW
Validity: Until the 4th of January
Draftium- 35% Off
Draftium is a site prototyping tool for those who want to ideate a site prototype at absolutely no cost. It is easy-to-use, fast, minimalistic, and has a wide variety of pre-made blocks and templates.
This Christmas season, until December 29, we're giving out Draftium Pro with an amazing 35% discount.
Coupon Code: DF-CHRISTMAS-19
Validity: Until December 29
Weblium- 30% Off
Weblium is the most convenient website builder you've ever tried. With Weblium, you can create a professional site yourself even if you don't know anything about web design or have only a few hours to build a site.
We're offering a 30% discount on a PRO subscription by December 29.
Coupon Code: WEB-CHRISTMAS-19
Validity: Until 29th December
Nestify- 30% Off
Nestify improves site speed, eliminate downtime and increase conversions by up to 300%. It has better load times, more uptime, higher conversions.
Coupon code: WELCOME2020
Validity: Until the 4th of January
ThemeHunk- 30% Off
ThemeHunk is a popular place where you can get a wide range of beautiful, professional WordPress themes and plugins. Themes are easy to set up and customize as you need with a top-notch responsive design.
In this Christmas season, ThemeHunk is offering you a 30% discount on all our premium WordPress themes.
Coupon Code: CHRISTMAS30
Validity: 23 December 2019 to January 3, 2020
WpZita- 30% Off
WpZite provides readymade ready to use free and pro websites for all types of businesses like Agency, Digital marketing, Charity, Jewellery store, Barbershop, Wine shop and many more.
Coupon Code: SANTA30
Validity: Until the 5th of January
MotoPress
This Christmas you can get all MotoPress products at the 25% discount! Best hotel Booking plugin and its addons, Membership plans, Multipurpose themes and other must-have products for your website. Also, you will get priority support, constant updates and unlimited access to every single item!
Coupon Code: Xmas2019
Validity: 20th December to 27th December
PixelEmu
Grab high-quality Christmas Sale for WordPress WCAG and ADA themes. You will get 20% OFF on all plans.
Coupon Code: XMAS2019
Validity: Until 6th January 2020 only.
AliDropship
Get 35% OFF AliDropship plugin, themes or add-ons, and build a dropshipping store by yourself in just minutes!
Coupon Code: XMAS35
Validity: 23rd December to 31st December
ELEX Dynamic Pricing and Discounts – 10% Off
The plugin offers a ton of exciting features for WooCommerce discounts. WooCommerce variable pricing discounts, and displays discounts in a pricing table and offer table on the product page, making it one of the best WooCommerce dynamic pricing solutions for your business.
Coupon Code: ELEX_DynamicPricing_weDevs10
Validity: Until Further notice
Wrapping Up
Christmas is just around the corner. WordPress companies around the globe are ready to flourish their customers with great deals and discounts. Among a ton of lavishing WordPress sales, we have listed the most precious deals for your business. It will help you to gain a remarkable revenue in the next year indeed.
Therefore, don't miss this wonderful chance! Save your pocket by cracking the best Christmas Deals before changing the calendar.
Moreover, you can add your valuable thoughts and other useful WordPress Halloween deals, Black Friday and Cyber Monday offer in the comments.