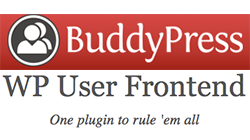 WP User Front-end premium Add-ons released
Finally, i am glad to inform you that your long time waiting period about to end. We released two premium Add-ons for WP User Front-end plugin today. More are on their way. A big thank you to all our loyal customers who waited for these gently for long time.
Today we released – BuddyPress Profile Integration Add-on & Paid Memberships Pro Add-on. Please go through their dedicated pages to know details about these add-ons.
Documentation
Paid Memberships Pro Add-on documentation: http://docs.wedevs.com/paid-memberships-pro-add-on/
BuddyPress profile integration Add-on documentation:http://docs.wedevs.com/buddypress-profile-integration-add-on
Free with Developer License:
These two add-ons along with future add-ons will be always free with WP User Front-end Developer license. If you are using personal or business license currently and consider to upgrade just shoot us – info at wedevs dot com .
Need help?:
Our Documentation and videos will cover all you need. Still if you require help please move forward to our Support Forum. Get help directly from Original Developer with dedicated support team.