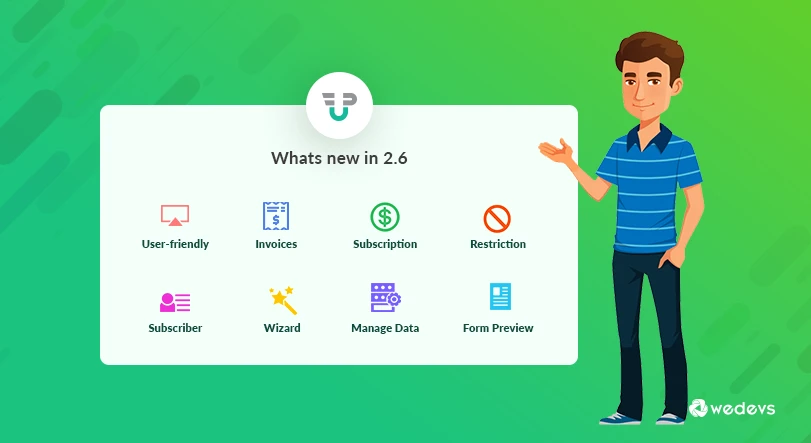 Release Notes: What's New in Offer with WP User Frontend v2.6
With the sole intention of giving you full control over WordPress frontend posting, WP User Frontend has continued its journey in trying to fulfill the requirement of the users with all its previous versions. Following the same footfalls, the all-in-one frontend solution has enriched itself with new features every time. So just like every other time, we have come up with some more exciting new features and tweaks that will surely give your WP User Frontend user experience, a whole new dimension.
In order to get you a smooth and user-friendly experience with much better functionalities, weDevs is presenting you their all-new WP User Frontend v2.6. So without further ado, let's have a closer look at the changes that you are going to witness in using this latest release.
This post will demonstrate all the changes in features & improvements that you are going to get in WP User Frontend v2.6.
So what actually got better in WP User Frontend v2.6?
User-Friendly UI & Help Menu
The general help settings are much more organized in v2.6. We have added a new help page and menu for WP User Frontend. This allows you to get easy access to all the possible help queries of the complete plugin in one place. If required, you can also get to all the detailed documentation of the settings and configuration directly from here.
This help section will allow you to understand all the important aspects of WP User Frontend and how to use them properly. We are hoping that this will give you a complete understanding of what WPUF does and how you can configure it.
Payment Invoices
With every transaction made, it is quite imperative to get a payment invoice. Though in the previous version of WP User Frontend, this invoice payment feature was missing. But this time it got its very own place inside the v2.6. Though it is a pro feature and doesn't change the experience for the free users at all.
With this newly added feature, a Pro user will be able to generate payment invoices for each of their transactions made from their accounts. Such an impressive feature to have to keep proper record details and track your transactions.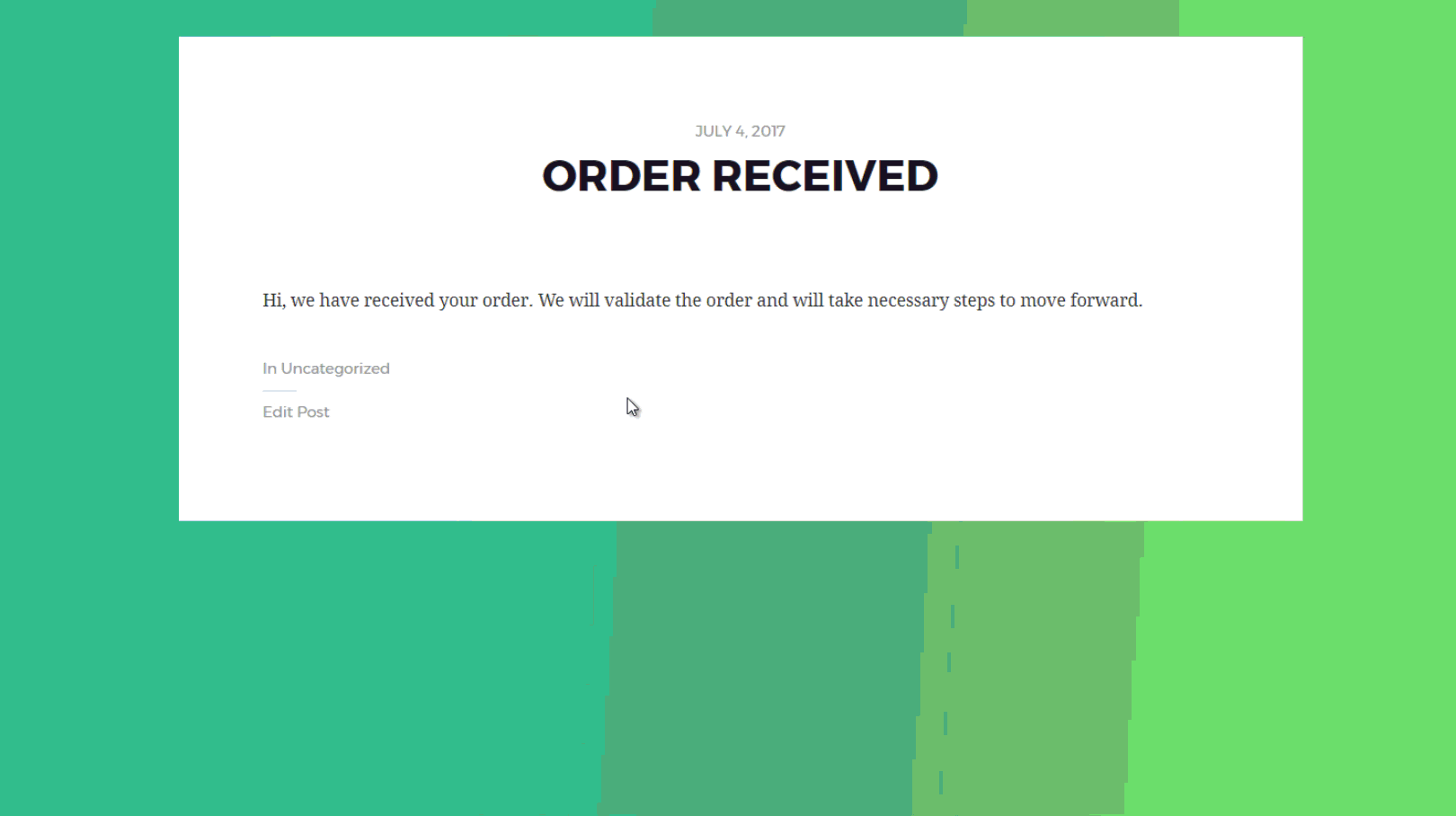 Improved Subscription Packs
When you think about subscription packs, you want it packed with things that would add value to your essentials. If the subscription packs don't work or meet your expectations that could leave you frustrated. So presenting compact & full-proof subscription packs is always a challenge to satisfy every user's needs.
With a shortcode, now you can include and set the order of subscription packs in the frontend.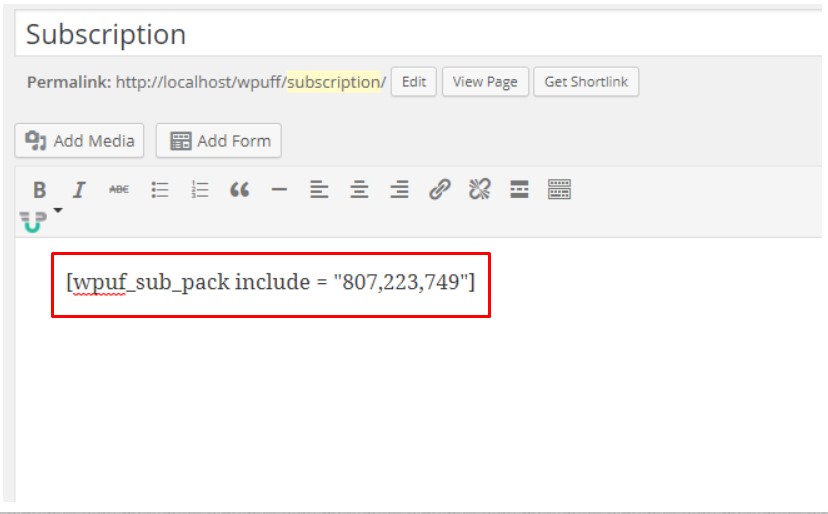 Add a subscription pack in the order you like.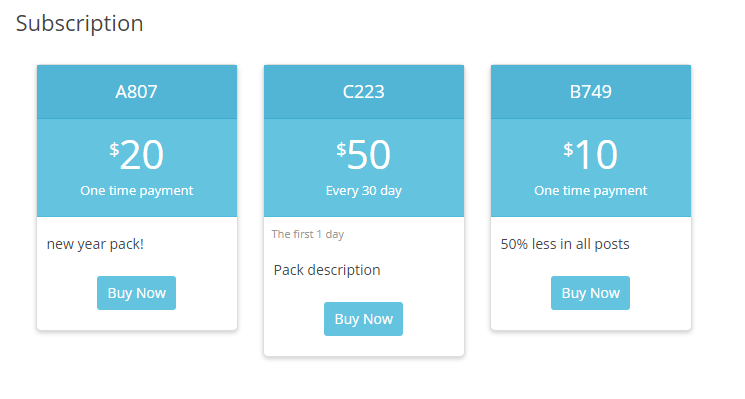 In the same way, a certain subscription pack can be excluded from the frontend using the shortcode.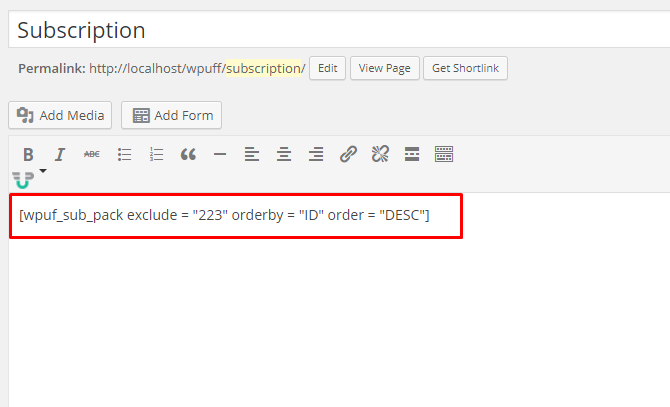 From the list, exclude the subscription pack that you feel isn't necessary.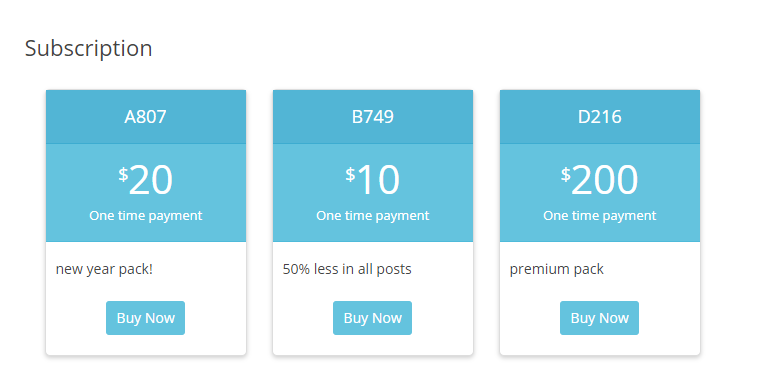 In short, in the previous version, all the subscription was viewable when used the shortcode[wpuf_sub_pack].The admin was unable to include or exclude subscription packs with shortcodes. But we have overcome that in our v2.6 of WP User Frontend. So in the latest version, you will be able to add, remove, reposition and reorder Subscription packs in the frontend using the shortcode. This will help you to manage subscription packs in a much more orderly manner.
Subscriber Lists
Getting to manage your subscription page & subscriber list is an important feature of your WP User Frontend. But in its previous version, it wasn't possible to list the active/inactive subscribers from the subscription page. But we have added this feature in v2.6.

Now the user will also be able to get the active/inactive subscribers list from the subscription page. Now you can easily find out how many users have bought subscription packs including their details. After clicking on the Subscribers tab, the page will redirect you to all the active/inactive listings of subscribers. From there you will also be able to cancel/approve any active subscription if you like.

Menu Restriction
Being able to restrict user menus is a very cool feature to have. This was missing in the previous version. But now in the WP User Frontend v2.6, setting up menu restrictions of viewing certain links for a specific user is very much possible.
Now you can restrict the menu based on individual users such as Logged in users, Logged out users, Subscription packs, and Everyone. Simply create a new menu, check on the Sample Page box and then pick the menu restriction options from the drop-down menu of 'Who can see this link?'. This feature can be availed by the pro users currently.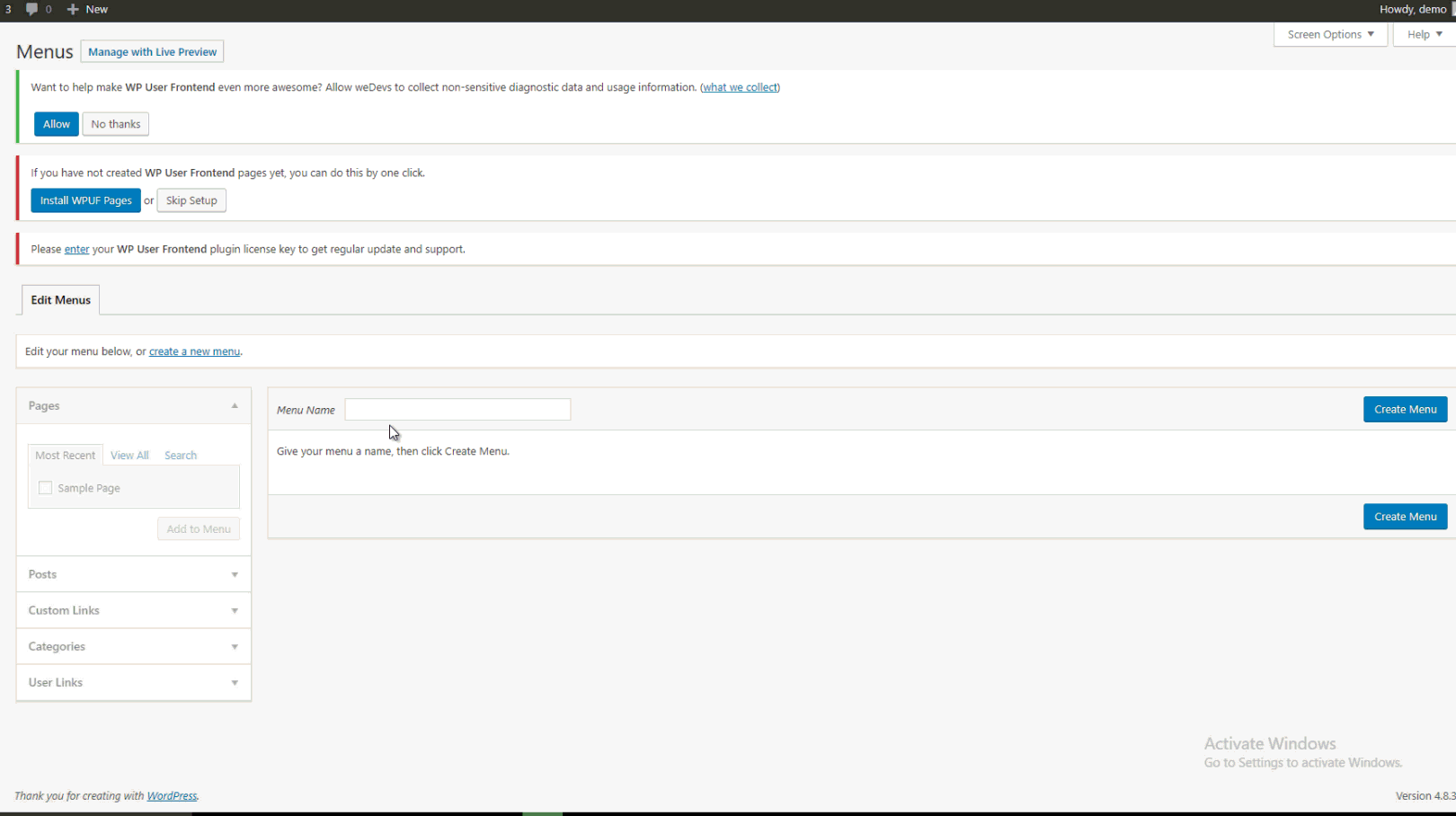 Manage Custom Field Data Better
It would be awesome if you could hide or view certain field data from a custom field post. And it wasn't possible in the previous version. But in v2.6 you can effectively permit a user to hide or view custom field data in a single post.
Being able to control the visibility of custom field data might come in real handy sometimes. Now the admin has more freedom of choosing which custom field data he wants to make visible in the frontend. So if you want to have full control over whether you want to show or hide any specific custom field data then you will love this latest feature of WP User Frontend v2.6.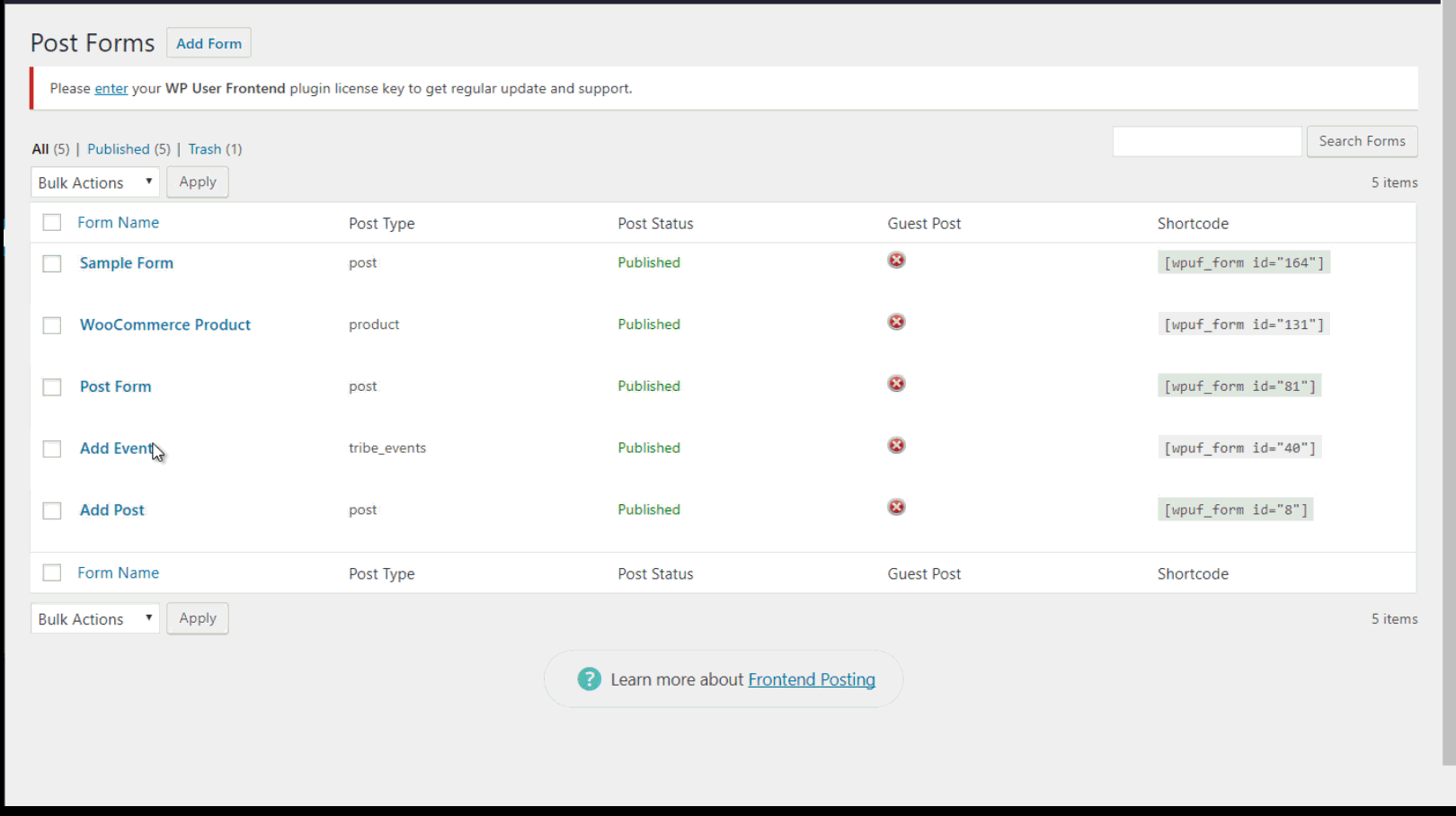 Form Field Visibility
The inclusion of the form visibility feature gives total privacy control over your field. This feature was not present in the previous version. But here in this latest edition of WP User Frontend v2.6, it gets an inclusion.
This feature will allow the admin to choose whether they want to make any specific form field visible/hidden based on users and roles. This option gives much greater control over the field that you want to show and to whom.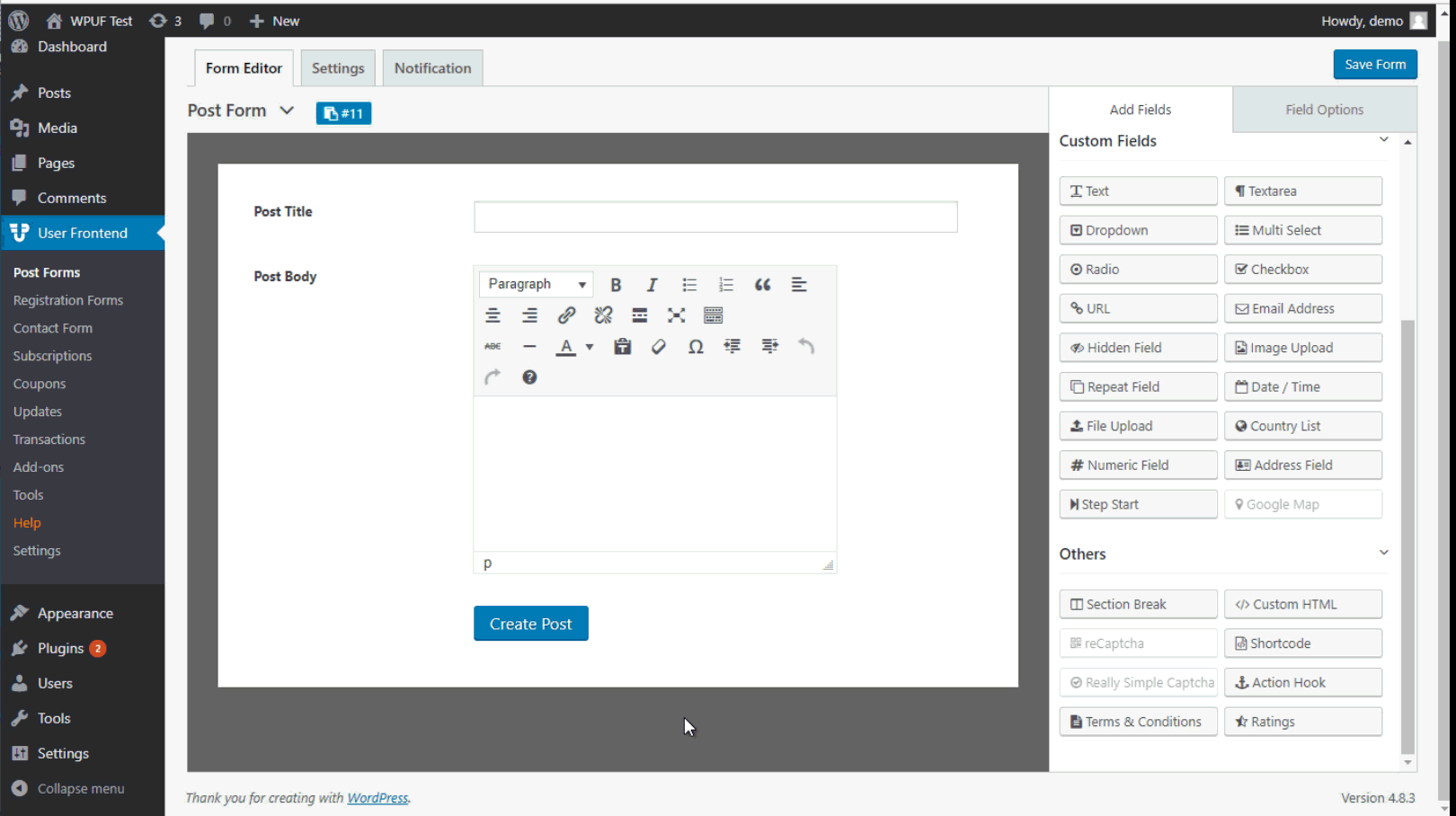 Payment Settings
Having a payment settings tab in Settings would be so much convenient for the user to directly manage the payment page. Even though this useful feature was not available in our previous version, our developer has decided to include it in our latest edition of WP User Frontend v2.6.
To manage payments and force subscription pack, you now have a brand new options bar in v2.6 with the name Payment Settings in the settings tab. You can now Enable Payments, with a checkbox option as well as Enable pay per cost and Force pack purchase for the individual post form from this tab. So you won't need to configure the payment option from global settings from now on.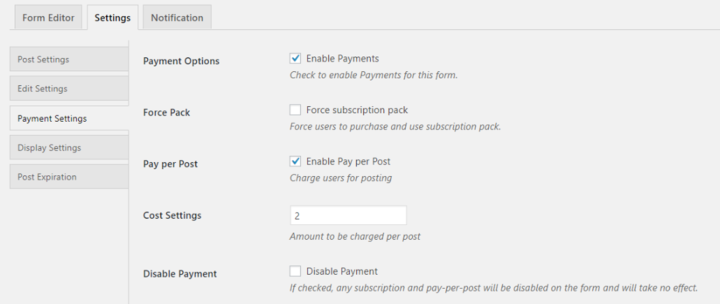 Registration/Login
Previously, this registration/login feature was only available for pro users. But now it is also available in the free version. Now you have the ability to register/login from the frontend using the WP UF plugin without requiring to use the WordPress default login/registration form.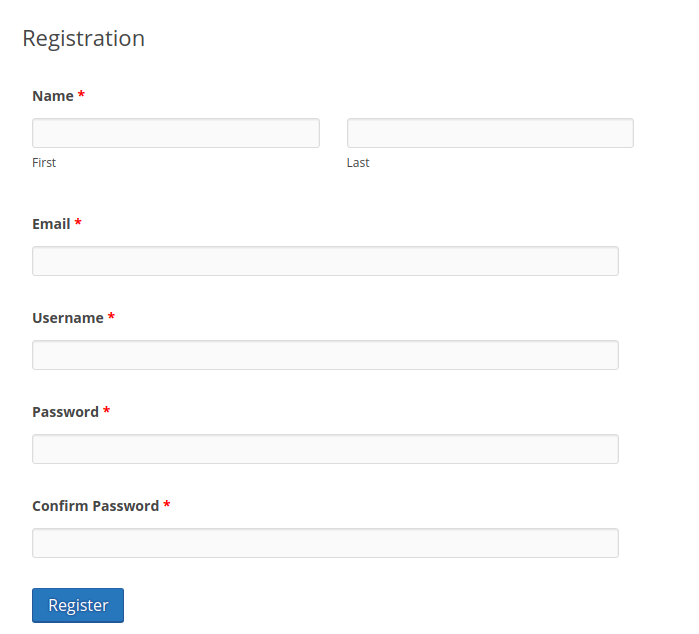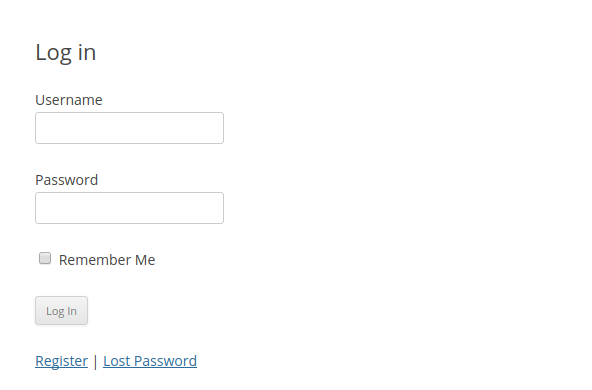 Some Tweaks/Improvements
Improved Help Texts of Settings
With the latest version of WP User Frontend, you can get an even better user experience. The UI of User Frontend has become much user-friendlier than from its previous version. In this version, a significant improvement in the help text of general settings is visible.
An upgrade to help texts of form settings, which gives you a much better understanding of the settings and functionalities from now on. Moreover, it assigns the help texts of various setting fields and a link to the appropriate documentation properly.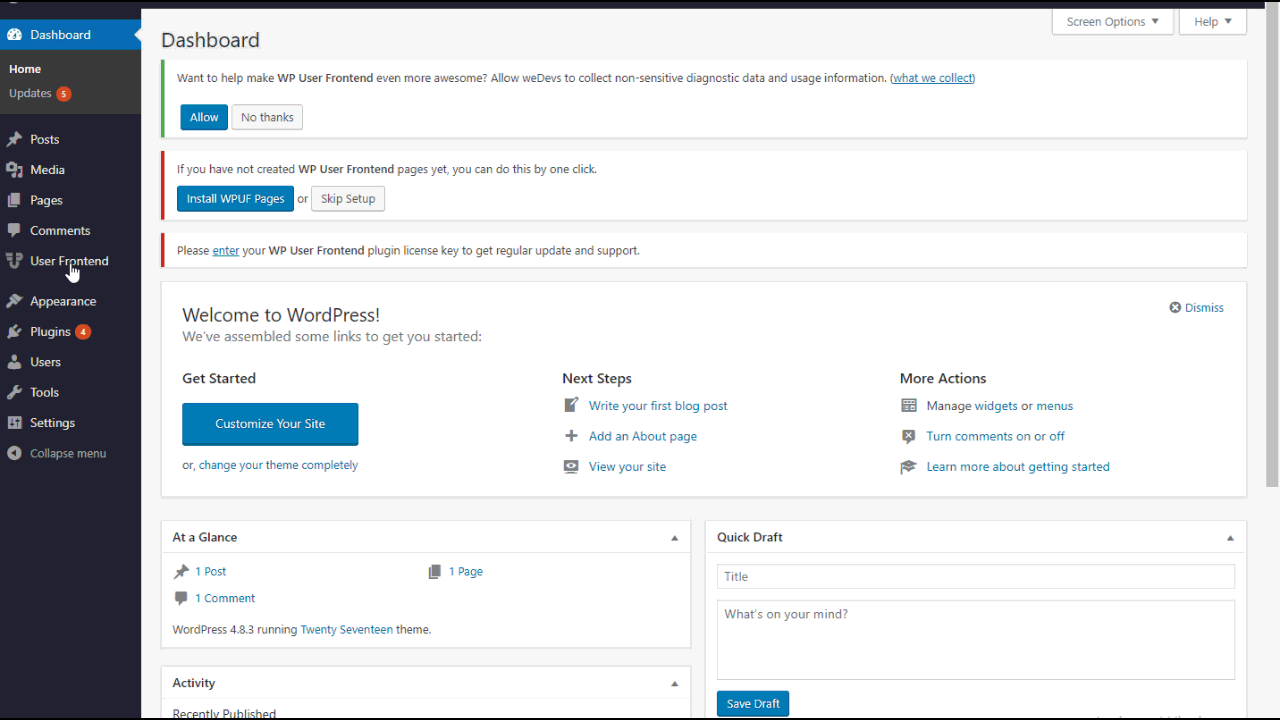 Welcome Page
Normally a Welcome Wizard helps the user to get an overview of the plugin's features & the setup guide. Most times when we install any new plugin for the first time, a welcome wizard pops up on the screen. It generally welcomes you and showcases an overview of the features to guide you through the system. This really helps the user to get a basic idea of the plugin and its features a lot quicker.
So in v2.6, a welcome wizard is added with the plugin to display the list of features of WP User Frontend and how it works. This truly makes the first-hand user understand all the features & configuration procedures a lot easier and faster.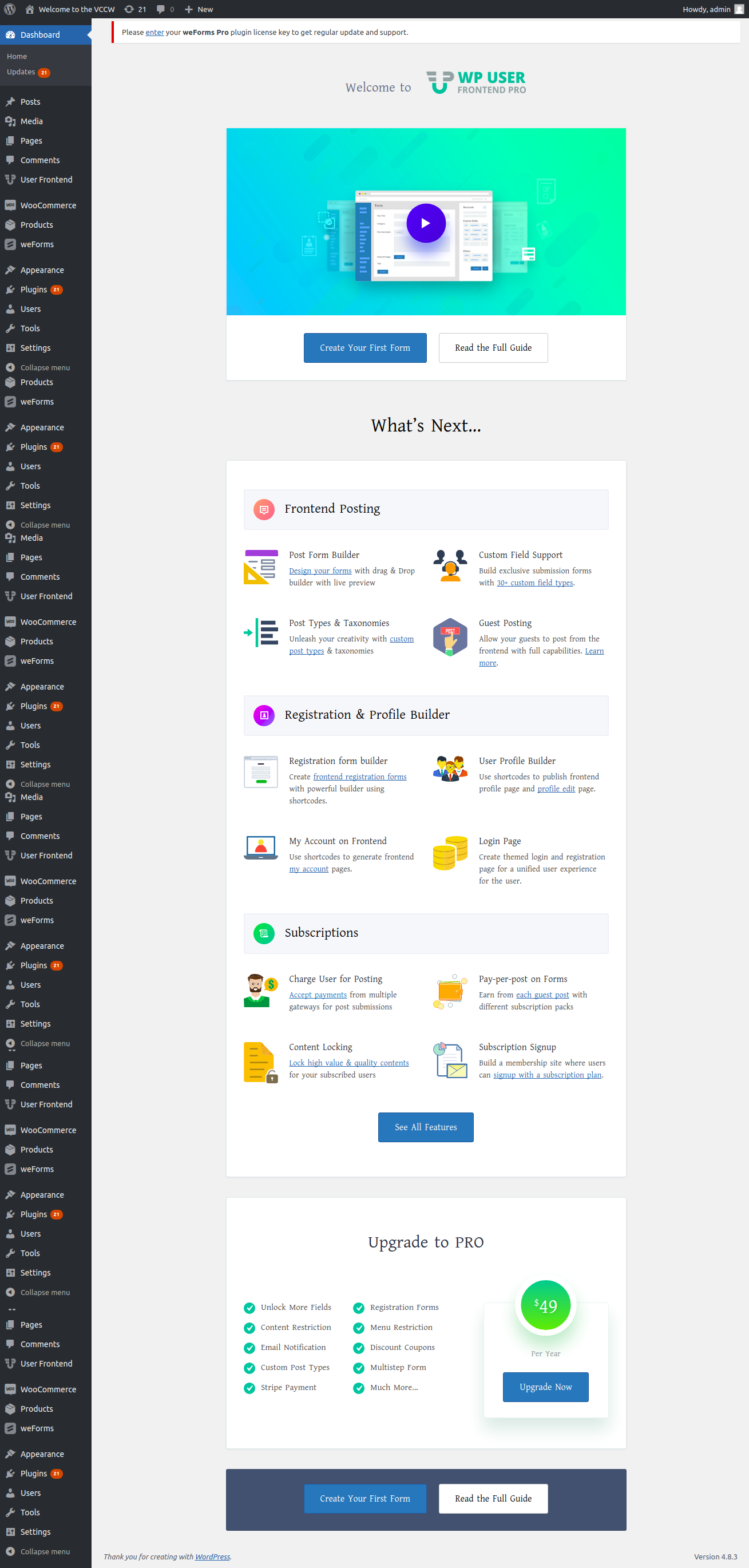 Restyled Edit Profile Shortcode
With the previous edit profile shortcode having an old and outdated user interface, our developer team has decided to give it a modernized outlook. So the shortcode of the edit profile is updated with the lone interest of giving it a more contemporary look.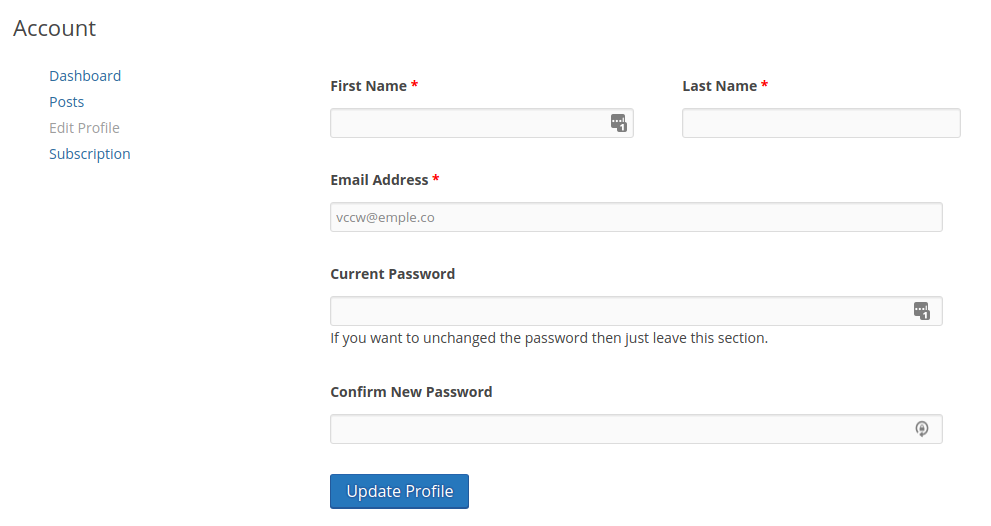 Form Template Preview
We have also updated the form template preview when you are creating a new posting or other types of form.
In the previous version 2.5.7

In the latest version 2.6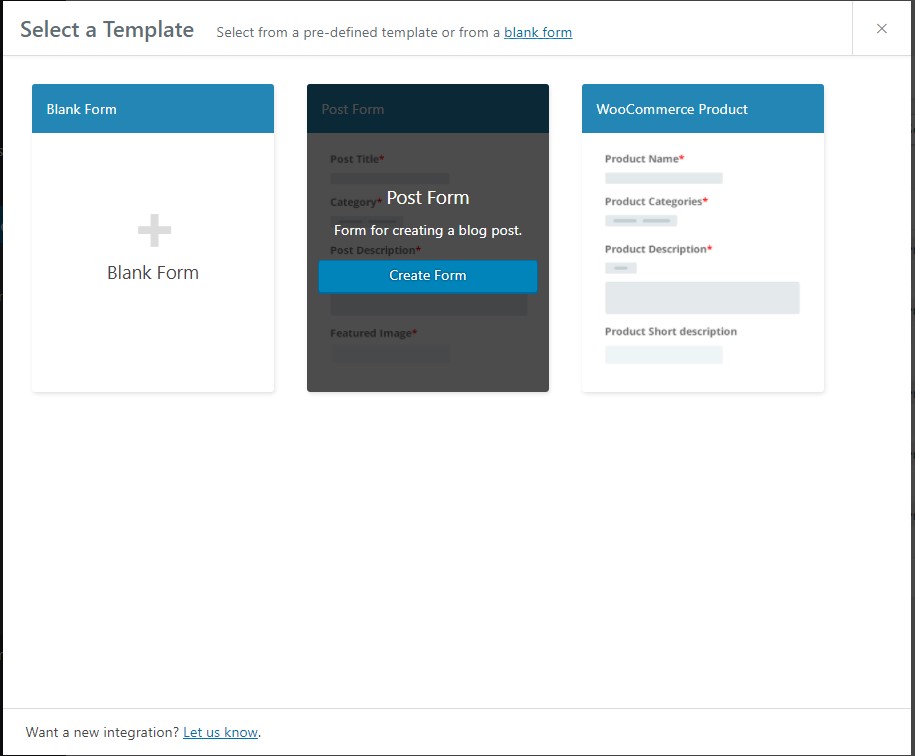 Some Fixed Issues
Pending transactions: The limitations to see just 20 pending transactions for the admin when there were many more is fixed. Now the admin can view all pending transactions.
SSL enabled: In order to support the PayPal security update notice, the payment process is updated. Now the site is SSL enabled to make it compatible with receiving payments from PayPal.
Wrapping Things Up
So with this, it wraps up our overview of the new features of WP User Frontend v2.6. Do share your views on what you think about these new updates in the comment below.
For a better understanding of WP User Frontend, read our blogs & detailed documentation that we post & update regularly just for you.