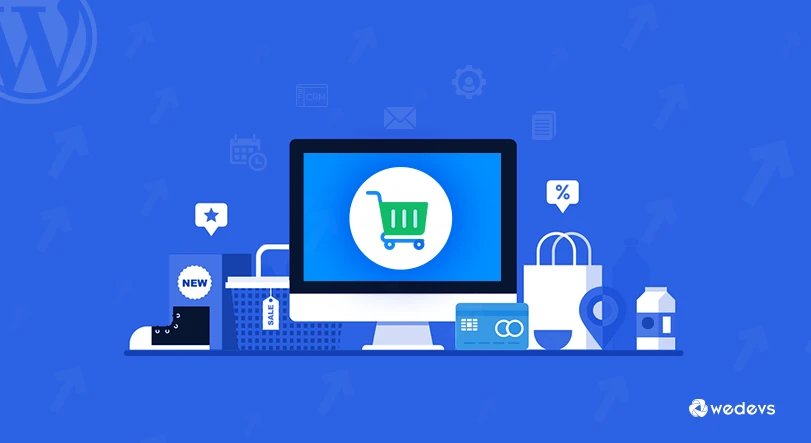 Significant Ways A WordPress CRM Can Grow Your eCommerce Business
Contrary to popular belief, CRM is not just for the big shots. CRM programs provide benefits for companies of all types and sizes. What's more – it's not even as complicated as widely thought of. And there's something that makes this solution even more viable for small businesses – WordPress! A WordPress CRM is a perfect fit for small businesses, such as an eCommerce.
We are not suggesting it because CRMs are a highly growing business trend today and every other company seems to be running to get a hold of one. In fact, there are more small and medium-sized companies using CRM than large enterprises. But this is because competitive CRMs are really awesome in their automation capability. Add to it the powers of WordPress. It's open source, customizable, and the core is free of cost. Moreover, plugins, extensions, themes and other goodies are super affordable, secure, and reliable. The combined features of CRM and WordPress make the solution highly scalable for small businesses.
WordPress also comes with multilingual abilities, search engine optimization functions, ease of use, plenty of themes & plugins to choose from, and detailed support documentation on all its products, which makes it even more appealing to small businesses.
Learn more about how a WordPress CRM is better than cloud-based solutions.
So why do we speak of eCommerce in particular? Because what a CRM application can bring to a small eCommerce business is extraordinary.
There are a couple of factors that a small eCommerce business needs to look for in a CRM:
good affordability so that price won't rise too much with only a handful of users,
super ease of use for all types of users, and
scalability with the growth of business
Here we come up with 10 ways a WordPress CRM can help you achieve the best with your online business:-
Keep Track Of Customer Concerns & Queries
You could be in the starting stages of your online business and still start using a CRM. With a good WordPress CRM, keep track of past customer purchases, offer suggestions for complementary products to purchase, and help with loyalty rewards programs. With CRM you can keep track of your customers throughout the sales process from the moment your users become leads to the time they become your shoppers. And even beyond.
Securely Access All Information
With CRM let your customer relationship and support agents easily access all data and history about a
customer. Thus, ensuring an enjoyable customer experience every time they interact with your business. Allow a good WordPress CRM to keep track of follow-up conversations, emails, problems, and solutions, as well as pricing, contracts and more.WordPress CRMs, because they are web-based, are easy to manage. Because it's self-hosted platform, your data and information stay with you. It all stays under your control!
Aids Interdepartmental Tasks
Who else benefits from a CRM program? The advantages of CRM are holistic and go beyond the sales team. Marketing, Finance and even the HR departments are served. Think about customer billing records, contracts, other financial data and how helpful they can be for the finance people. The HR can also use the CRM data to assess and rate the performance of customer representatives and sales agents.
Monitor & Compartmentalize Contacts
You are also able to categorize your customers under different life stage groups, such as leads, opportunities, subscribers, customers. Set an owner for each contact who will be the agent responsible for keeping track of that client and for answering his/her queries. This lets your segment your clients and provides them with products and services according to their preferences.
Personalize Client Communication
CRM provides you a multi-channel marketing platform that you can use to impress customers and set yourself apart from your competition. Keep track of customers' personal preferences with detailed user profiles. It's the perfect thing that small businesses can affordably do with a breeze without resorting to expensive solutions.
Customer status and activity logging let your agents closely handle customers with no sweat.Send personalized SMS, email newsletters, create automated workflows, trigger actions, make deals, and solve customer problems instantly. In this way, you are also helping to increase brand loyalty.
Surprise Clients At The Right Moments
With a CRM each customer's history and interaction details is immediately available to every person in your company who you give access to. It all stays centralized. Think about the convenience it brings: you can instantly see from a customer's profile what they have purchased from you, when they did, the number of times they requested for your support and the reasons for it. By using this info you can delight your clients at the right times and places. This is how you can be certain about retaining customers and making them brand ambassadors of your business in the long term.
Great For Targeted Marketing Efforts
You can even use the capabilities of CRM for your marketing purposes. Analyze and market to potential contacts who may be interested in your products. For example, with your CRM you can send newsletters with discounts and coupon codes to customers who have purchased from you. Thereby, you are able to make deals faster. You can also directly contact those for leads who dropped something in their shopping cart but left the site unpurchased. It helps you use data to personalize the customer experience in unconventional ways and surprise your users!
Insightful Reports That Help To Increase Revenue
CRM programs come with reports and analytics enabling you to create a competitive advantage. With reports, you are able to assess the number of sales against the number of queries you are answering. Your reports will also show you the most profitable product or service offering, customer satisfaction and loyalty, what the most profitable customers are buying, and initial response times. There's much more you can do with reports and analytics depending on your needs!
Company Management For Better Partnerships
Apart from customers, you will also need to deal with multiple companies whom you partner with. A competitive CRM would take good care of that, letting you create schedules for meetings, calls, emails, and others with other businesses having many representatives. It lets you connect better with your B2B clients and exceed their expectations so you can form stronger contractual relations.
A WordPress CRM That Does It All For You
Ideally what we are looking for are in a WordPress CRM for a small eCommerce business are:
contact-management,
company-management,
sales & marketing,
employee tracking,
reports & analytics,
sales service functionalities,
integrations when required,
automation, and
customization options
WP ERP is a comprehensive feature-rich WordPress solution that has all of the above features and is free for all users. The core plugin is free but comes with a host of greatly priced extensions for all its 3 modules – HRM, CRM and Accounting – that makes managing your business super fast and easy.
Its free version has enough functionalities for you to manage your eCommerce startup. The CRM module of WP ERP tracks and organizes all of your contacts and leads. You can track and follow up with all your queries whether it's a customer or a company having multiple representatives. Filter your contacts as you like with saved searches and various attributes. Group contacts with similar interests so you can do more targeted marketing and sales. You can even add notes to a user's profile when if you quickly need to note something important.
The add-ons let you get a good grasp of your overall sales pipeline and adapt as your business grows. It's also very beginner-friendly which makes it super easy to use.
Read more about how WP ERP assists you in managing a small business & team.
Wrapping It Up
A CRM application transforms your eCommerce small business so that you have more control over your operations and management processes. A WordPress CRM provides you that added security, performance, and flexibility so you can adapt its functionalities and features as your online business grows. Using this program you are empowered to make better informed decisions for your business, make more targeted marketing efforts, win more sales and contracts, and keep customers satisfied with better service. You are also able to anticipate patterns and trends and act proactively, without doing things on the fly!