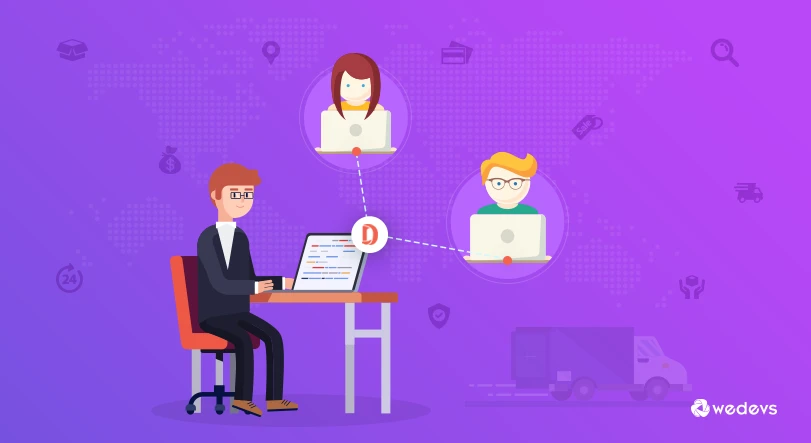 How To Allow Multiple Vendors To Sell The Same Product Using Dokan Plugin
The Single Product Multivendor is a much-needed module when you want to allow different vendors to sell the same product in your marketplace. Also, compare price among sellers for a single product and the seller can add/sell the same product with the different price.
So, if you are using the Dokan Multi-vendor Marketplace plugin, this may turn out to be an important post for you!
Different studies show that customers always want to buy the product which is available at less price.  Various vendors of a marketplace follow a similar concept.
Dokan single product multivendor module can help if you are willing to adopt this concept within your marketplace. Most importantly, your vendors will be able to choose products from your marketplace and assign the product to their profiles. They would also be able to choose their desired price even after the product is published. Basically, this powerful module gives your vendors the choice to assign any product from the marketplace and also create new products that other vendors will be able to assign to their profiles. Interesting, right?
However, this module is still under development and we just wanted to give you a heads up on what is happening with Dokan. We are always trying to improve the best multivendor solution for WordPress and introducing new essential modules. In today's post, we will show you how this module would be able to help your marketplace grow bigger. Without further ado, let's dive in.
Prerequisites:
You may already know that Dokan is based on WooCommerce and it extends its capabilities. You can easily turn any WooCommerce store into a Multivendor marketplace using Dokan. So, you should install and activate WooCommerce and set up your shop, products, and services.
Here is a checklist or workflow that you should follow.
Install and configure WooCommerce.

Create your store

Install and configure Dokan Multi-vendor Marketplace plugin.

Create products.

Enable "Single Product Multivendor" module.
That's all you need right now. 
Enable Single Product Multivendor Module
To enable this powerful module, navigate to – WordPress Admin Dashboard → Dokan → Modules.
Now, click on the toggle switch to enable the module.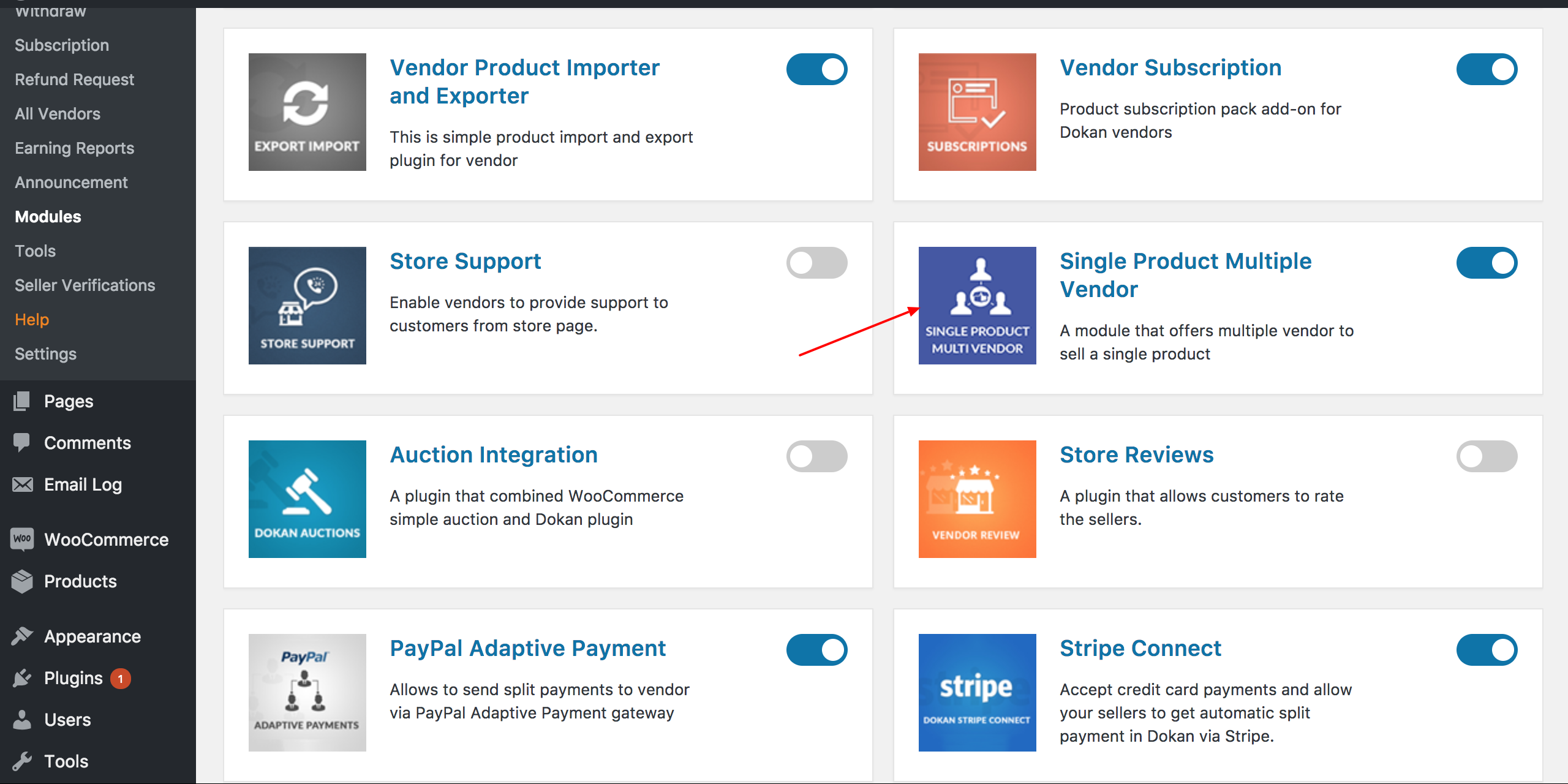 Admin Settings for Single Product Multivendor
After enabling the module you have to set the following settings.
Now, you will have to enable the feature from Dokan settings. Navigate to – WordPress Admin Dashboard → Dokan → Settings.
You will find a new menu – Single Product Multivendor. Click on it to configure this module.
At this step, check the 'Enable Single product Multiple Vendor' option.
You can also change the sell item button text and available vendor display area title. Now, choose where you want to display the available vendor section. Click on the drop-down menu and select according to your preference. After configuring everything hit the Save Changes button.

Seller Arrangement
After the successful configuration of the Single Product Multivendor module, Seller will be able to see Sell this item on the single product page as per the below image.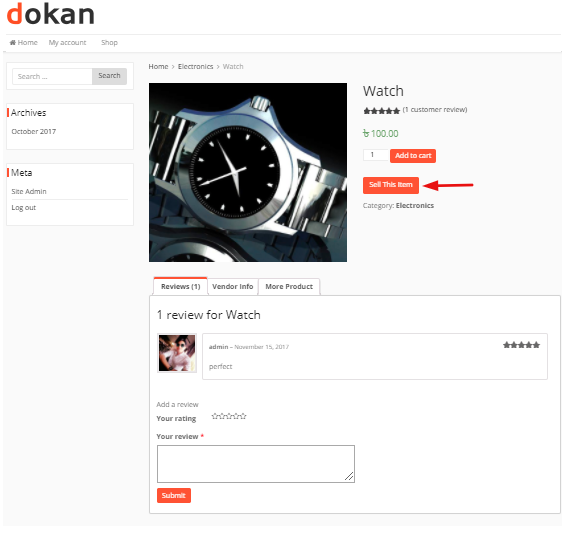 The seller can sell the product by clicking "Sell this item" button. After clicking on "Sell this item" button, edit product page opens where the seller can configure the product. Now the seller can select Product condition, enter price, quantity, description, upload the image and publish product to sell as like the screenshot below.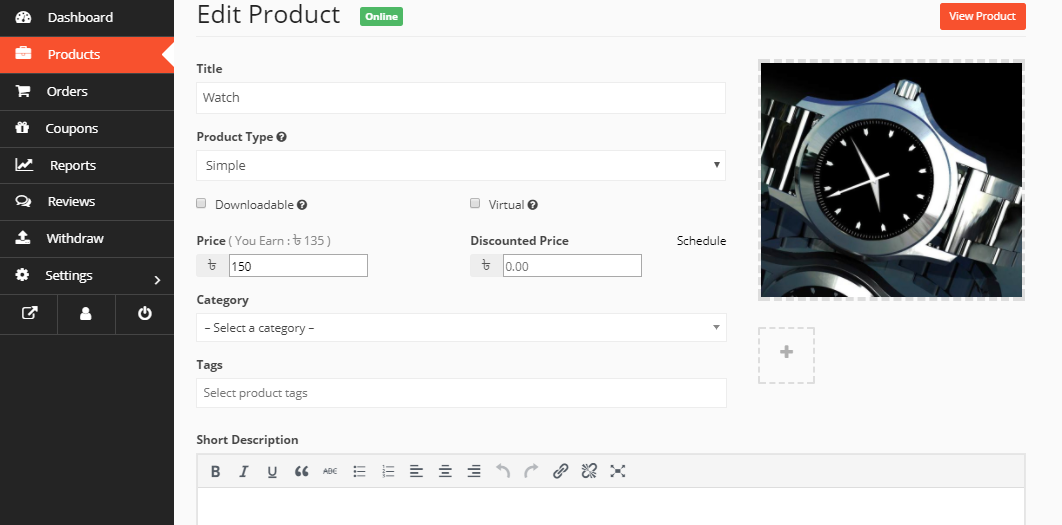 If the vendor is unable to pubish product directly by the admin then the product will show as a pending review after configuring and save the product. Admin can publish the pending product later from the site backend.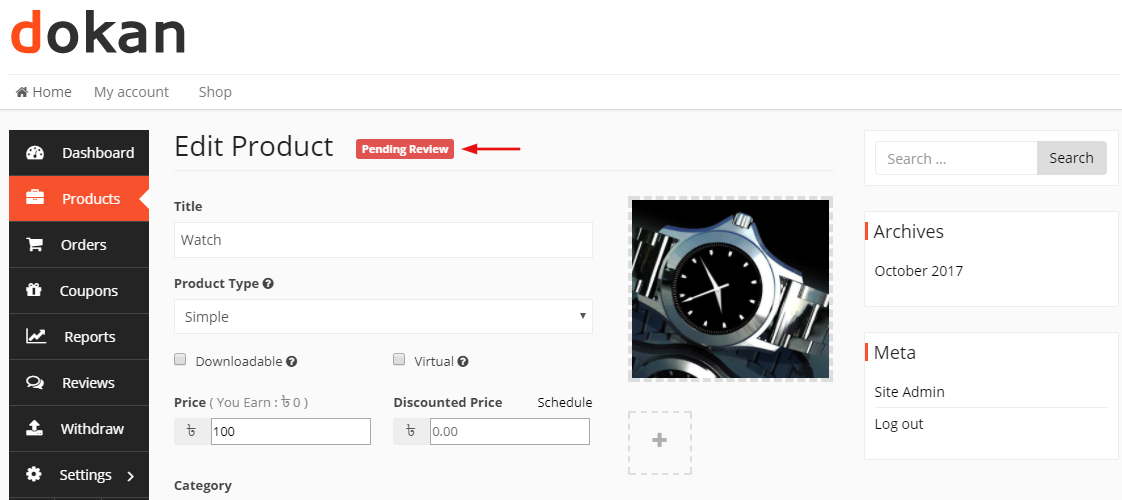 Customer View
Now the customer/buyer can see the same product from different vendors and compare prices among different seller for a single product as like the screenshot below.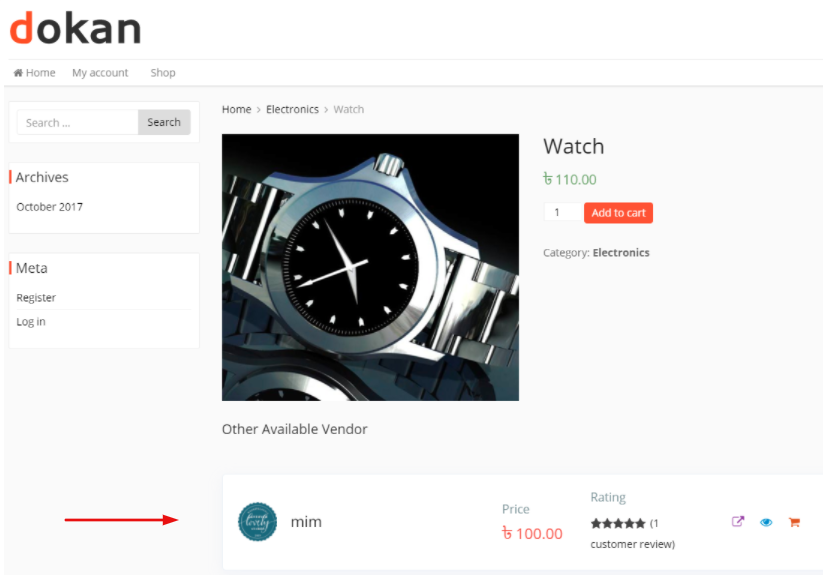 Wrapping Up
As you can see, this module is very interesting and useful for any multivendor marketplace. You can set up this module for your vendors and they will be able to use this feature. When they have this feature, it will give them an upper hand while creating new products. If the product they decide to buy is already available in the marketplace, they would get the opportunity of comparing the prices. Besides that, it will make sure your marketplace has everything that can help both your vendors and customers.
We haven't decided the exact release date of this product yet. However, it will be available within few months and you will get with the Professional package of Dokan. In the meantime, you can try Dokan demo and get the first-hand experience of this new module. 🙂