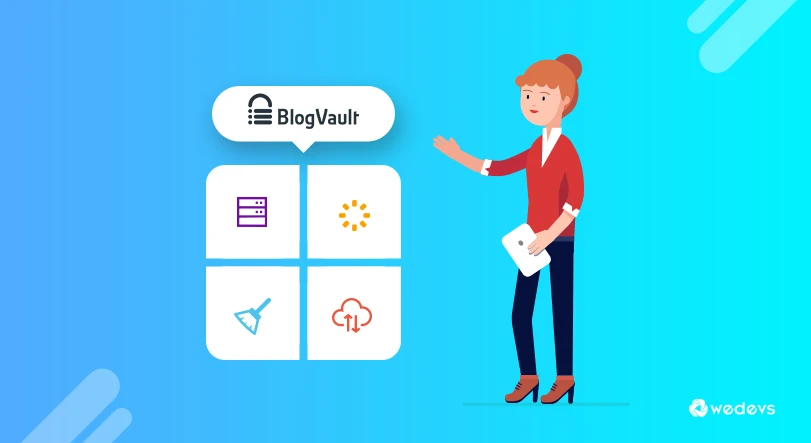 BlogVault Review: All-in-One WordPress Site Backup & Security
WordPress is a blessing to people who want to create their own website or wants to open a small business. With its open source nature, it enables a variety of new opportunities and opens new doors. Besides that, you can unleash your creativity while using WordPress.
So, you have developed the site of your dreams using WordPress. Imagine, one day you woke up from the bed, unlocked your smartphone and typed the domain name of your website. The browser returned either a 404 error or internal server error message. Or, your site may face security related issues like hacking, malicious attacks, etc. What will you do?
It would be a nightmare, right? Well, the scenario could even be worse. Suppose, your site was becoming popular or one of your customers were about to buy something and the site just literally crashed!
When a site crashes, it takes away all your hard work with it – all your posts, pages, products, even the database sometimes. 🙁
How/Why WordPress Sites Needs to be Secured
There could be many reasons that can crash your WordPress site. For example, new plugins or themes can create problems at the time of installation. This can certainly cause your site to crash. Besides that, malicious, cheap and nulled plugins can establish similar problems. Thus, your site becomes unstable and it stops functioning.
Hackers could be responsible for making your site vulnerable. They can break your database and it will surely create issues and hampers the natural flow of your website.
Just the other day, one of our friends were talking about how their site got hacked. Fortunately, it was just a simple blog. Can you imagine, your business site being hacked in front of your eyes?
So, how do you solve it or avoid crashes and hacking? The answer is simple – you will need a powerful migration, backup and security service for your website.
Today, we will talk about a popular, handy and all-in-one WordPress site backup and security plugin, BlogVault that can save from any kind of unwanted events.
BlogVault – WordPress Backup & Security Solution
BlogVault can be your one-stop solution to prevent any type of crash and security vulnerabilities. It provides amazing features yet it's really easy to use. However, you should note that- it's not really a WordPress plugin, its a cloud service that manages (backup, migration, security) your WordPress site for you.
Why Would You Consider BlogVault
Although BlogVault has an average UI and its features are really noteworthy. Most importantly, the pricing and plans do not depend on the size of your website. You get almost unlimited access. The backup process is also very fast than any other backup plugin on the market.
BlogVault provides powerful security features to keep your site safe from hacking and any other malicious incidents.
Besides that, it's very easy to use. You don't have to be technical in order to use it, and you don't have to set up anything at all. The setup is done automatically when you install the plugin. If you think about other solutions like BackWPUp, Updrift etc., they are complex for nontechnical people.
Here are some amazing features that you get with BlogVault –
Unlimited number of backups and also unlimited space
Save backups directly to Dropbox
Test restored sites anytime
Easy migration to another site
One click staging site
WordPress management directly from BlogVault Dashboard
Install, Update & Remove WordPress Core, Plugins and Theme
Generate Reports
If you think about the price, you need to pay $9 per month for using BlogVault. It allows you to manage a single site. There are other solutions, for example – VaultPress. It is a product from Automattic. It provides you features including automatic backup, 30-day backup archive, brute force attack protection, spam protection, site migration and one-click restores. And it costs only $3.5 per month.
However, VaultPress does not have advanced features. BlogVault has unlimited storage for backups, but VaultPress removes backups older than 30 days. VaultPress cannot create staging sites. It also does not provide site management functionalities. If we think about security issues, BlogVault has more security features like –
Block PHP execution in untrusted folders
Limit the number of failed logins
Secure files/folders
Blocks plugin/themes installation
Reset all passwords
Change Security Keys
All of the above features are absent from VaultPress. So, this greatly justifies the pricing of $9 per month for BlogVault.
Getting Started with BlogVault
You can get 7 days free trial with BlogVault so it's plenty enough time to test and make up your mind. You can add BlogVault to your site in two different ways.
Firstly, you can install their plugin from WordPress.org. Simply, go to the Plugins menu from your WordPress dashboard and click on the Add New button. Now, search 'BlogVault', click install now and activate.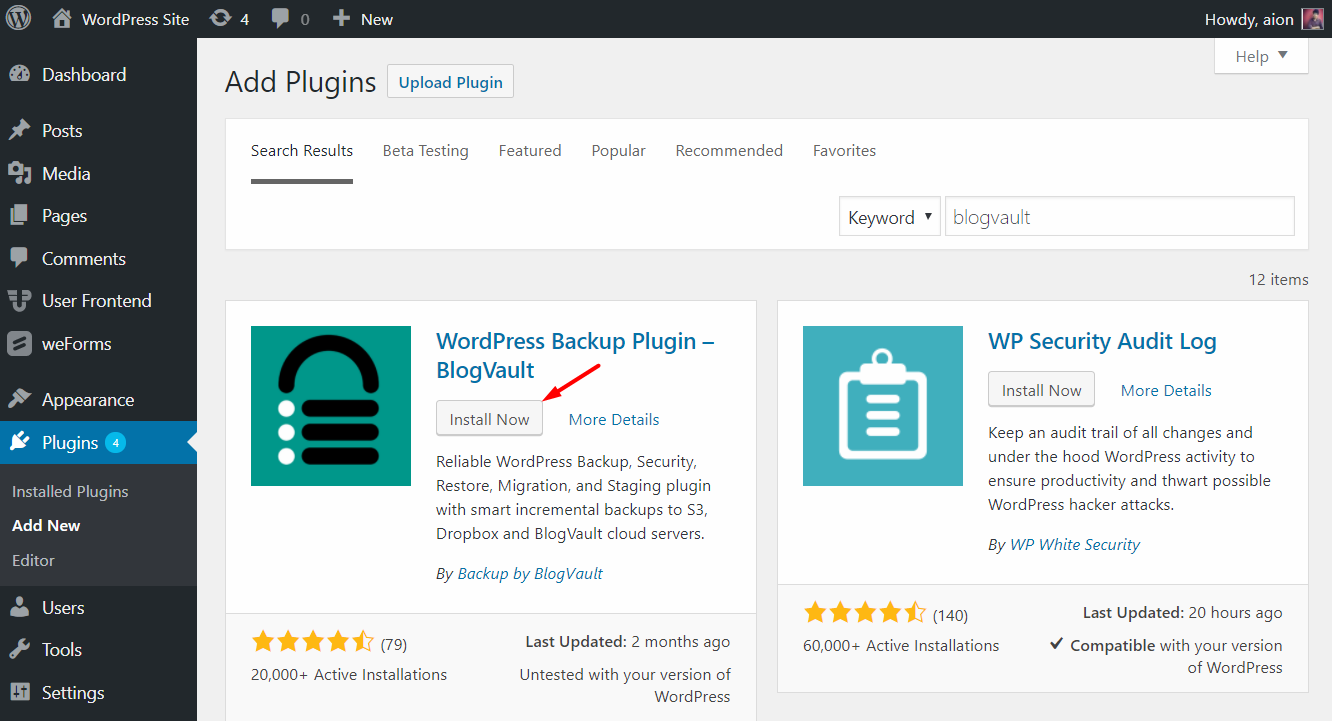 After Installation, you will get a new menu for BlogVault. However, it only lets to visit the actual cloud based service of BlogVault. You will need to click on the 'Click Here' link. It will redirect you to the dashboard.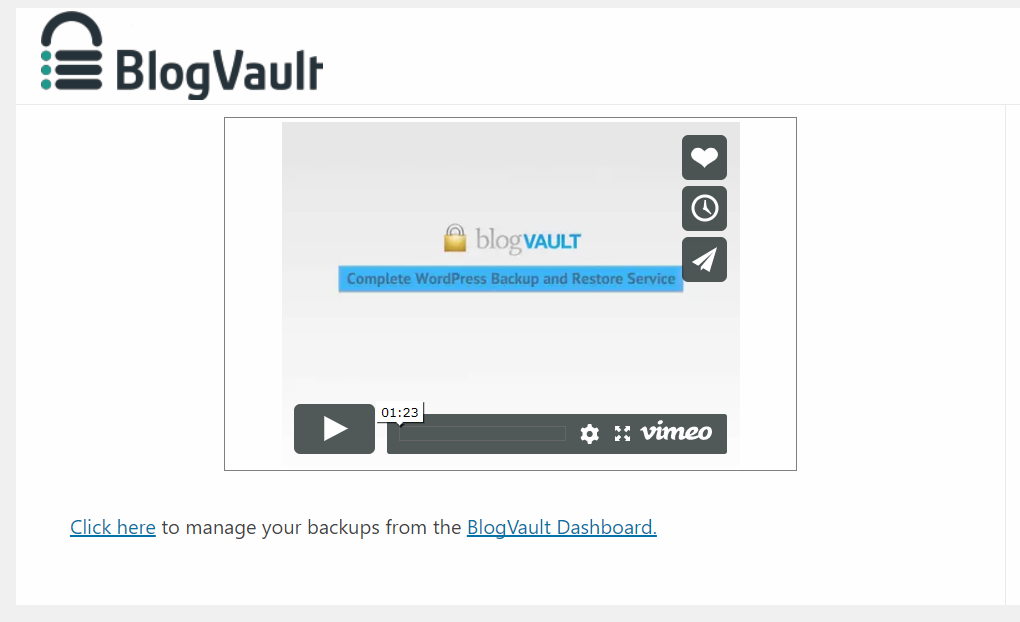 Secondly, You can directly visit BlogVault's website and register for a free trial. You will need to add your valid email address, set the password and site URL.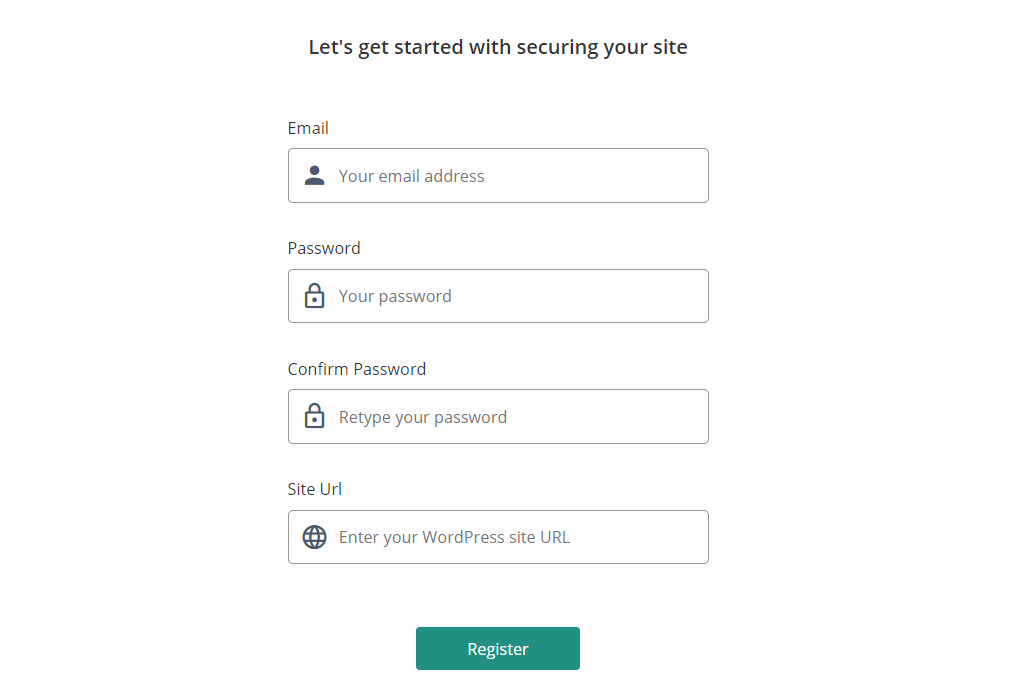 After signing up, you will have to provide credentials of your WordPress site. It will install the plugin automatically.
Manage Everything From BlogVault Dashboard
BlogVault has a simple yet super dashboard. It allows you to view all your sites. You can click on your site to get the overview.
On, the overview page, you will find four features at the top – Backup, Management, Staging and Security.
You also get a resourceful sidebar showing important details of your WordPress installation.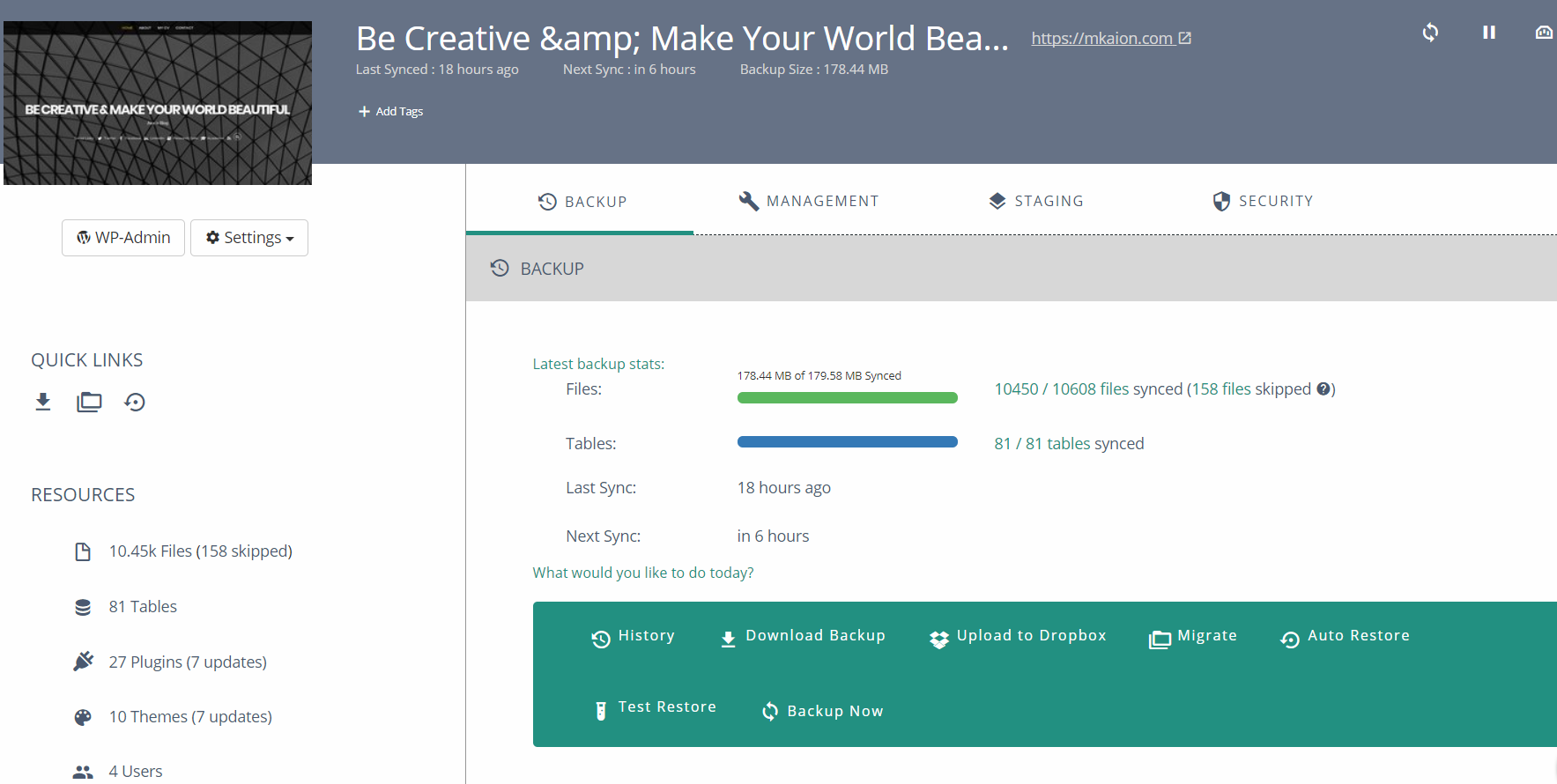 BlogVault Default Functionalities
You can view the history of your website including information like – WordPress Version, Theme, Posts, Pages, Comments and also database breakdowns. From here, you can rollback to a previous backup, auto restore, download backup as zip, upload directly to your Dropbox and add notes.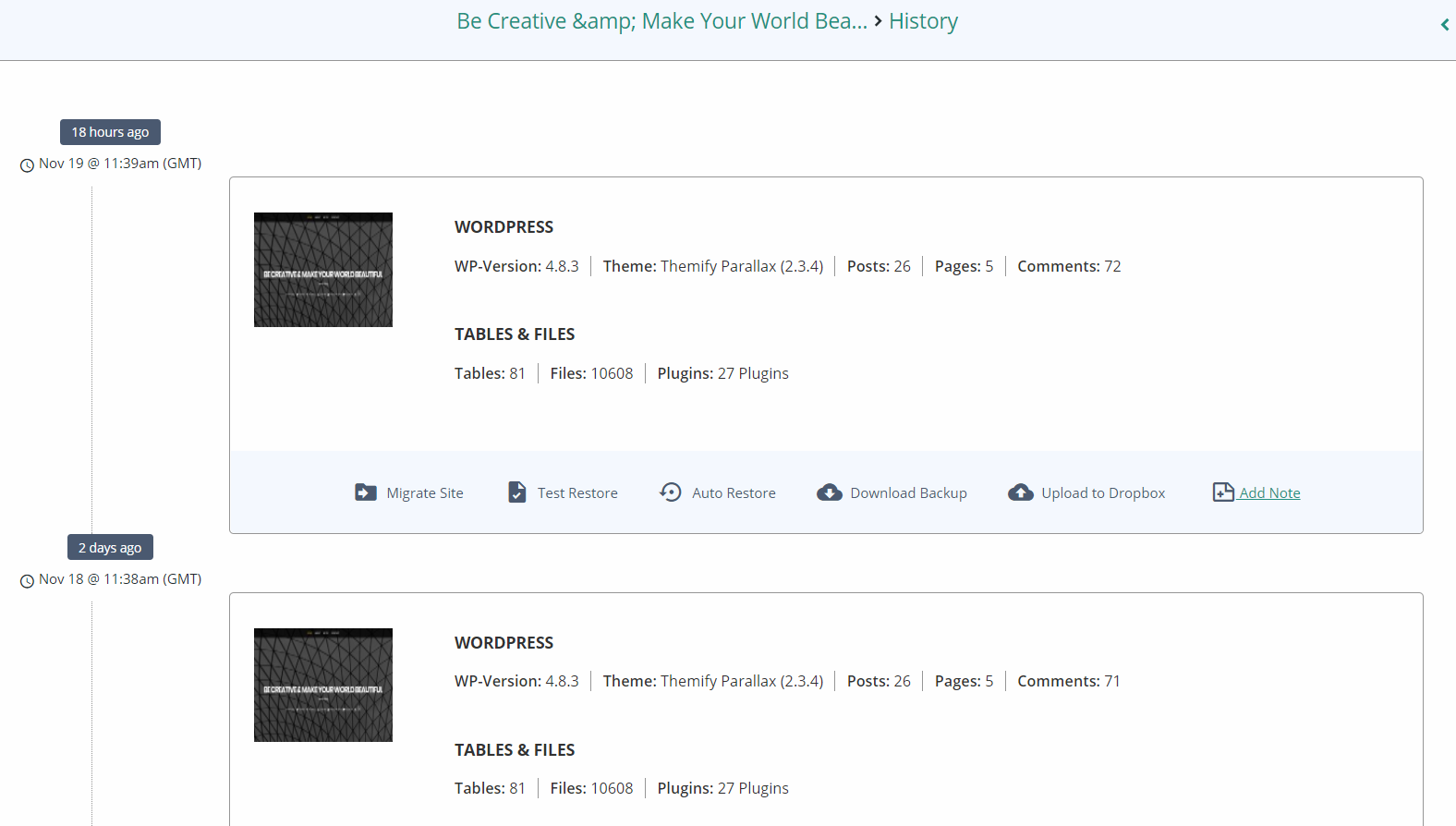 Backup & Sync Your Site Anytime You Want
BlogVault backs up your site automatically once every day. You can also backup anytime using the Backup Now button. You can restore any of your back-ups, even test the restored version if you want! The interesting part is – you don't have to visit your website or enter the Admin panel to do all these things. So, even if your site is down, crashed or hacked, you can still manage it from BlogVault Dashboard.
Manage Your Site using BlogVault
Using BlogVault, you can manage your whole WordPress installation. You also get an overview of your latest management stats including –
Active, disabled, updatable plugins & themes
WordPress Version
Total users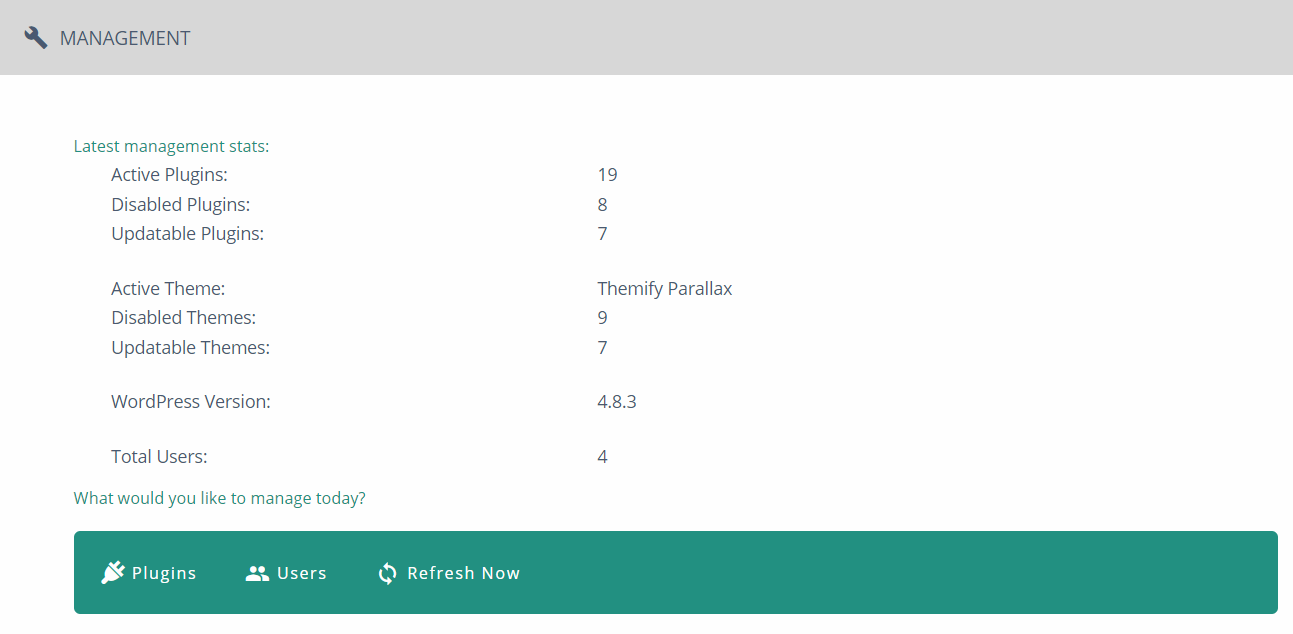 You can even update the Core version. It allows you to install, activate, uninstall your themes and plugins. This means managing your site becomes very easier.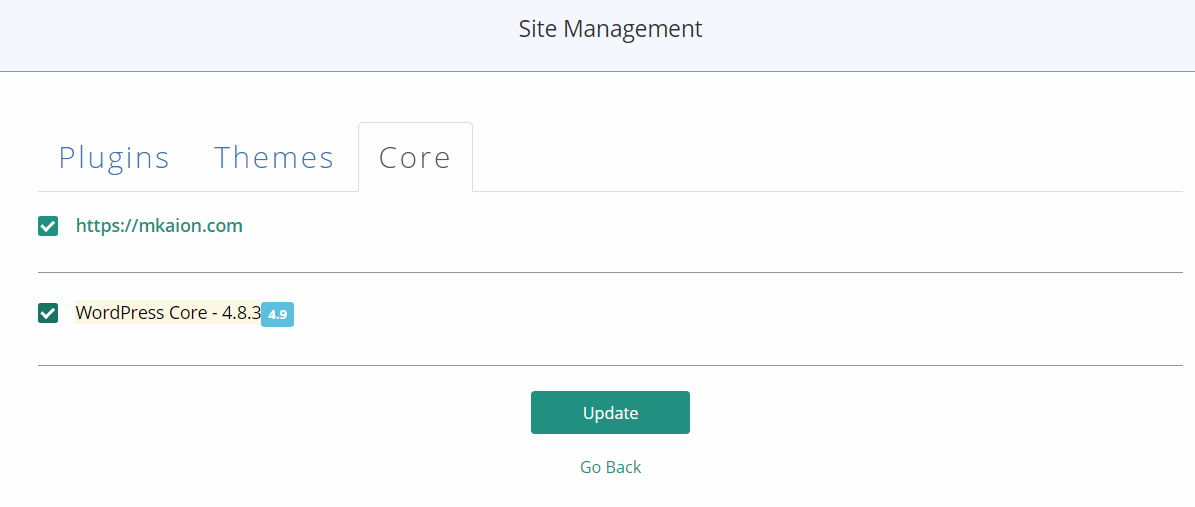 Not only that, you can even manage your users from here! Changing roles, password and also delete any user is possible from this dashboard thanks to BlogVault.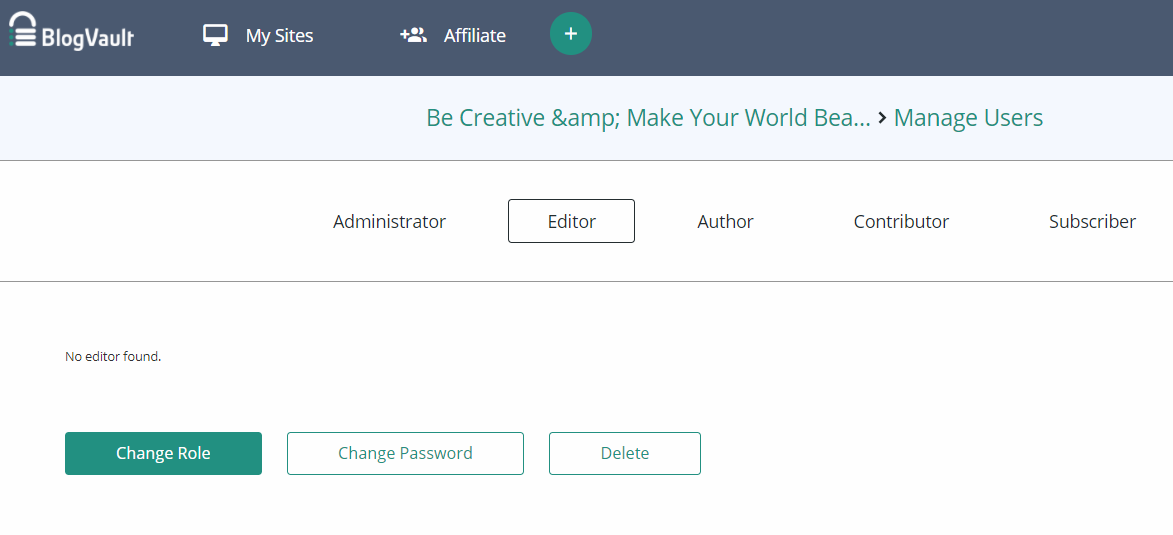 Create Staging Sites on the Fly
BlogVault has an interesting feature that can save a lot of extra pain and time. You can create staging sites with any backup you want, anytime you want.
Security Features of BlogVault
You can secure your website in many ways using BlogVault. It provides three types of security features – Essentials, Advanced & Paranoid. They can solve security related issues, threats and prevent hacking.
BlogVault Reports
Reports can become very handy if you are working on a team. You can generate backup and security reports for a certain time frame and present it to your team. It shows all the major activities related to backup and security. Also, you can get a glimpse of the updates, plugins, and themes.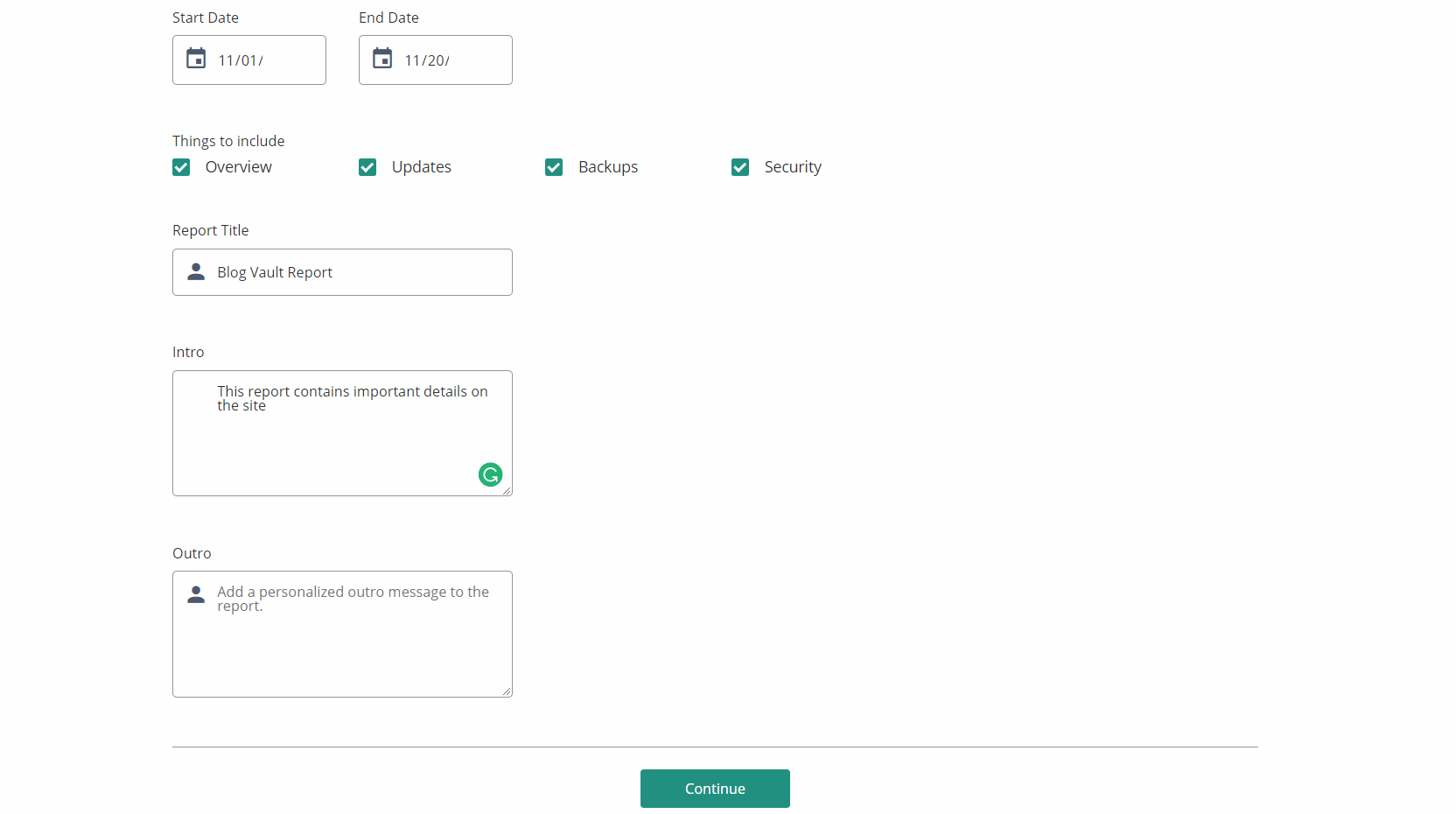 Wrapping Up
There is no doubt that security and backup are very important for any website. A minor breach of your site can break down everything you have been doing for a good amount of time. So, this serious issue should not be overlooked. If you agree, then you must consider having a strong security system and also a good backup process for your WordPress site. BlogVault can become your shield when you are facing security issues and also when you need backup features. You can store any previous backup whenever you want. You can even create staging sites before making any backup live. According to our observation, BlogVault deserves a good 4.7 ratings out of 5. We can also break down the pointing like this –
Usability: 5 Stars
Backup Features: 5 Stars
Security Features: 5 Stars
UI: 4 Stars
Quality: 5 Stars
Support: 5 Stars
Price: 4 Stars
Final Verdict
If you are looking for a feature-rich and powerful backup plugin for WordPress that also provides essential security options, then BlogVault is the best option to consider.