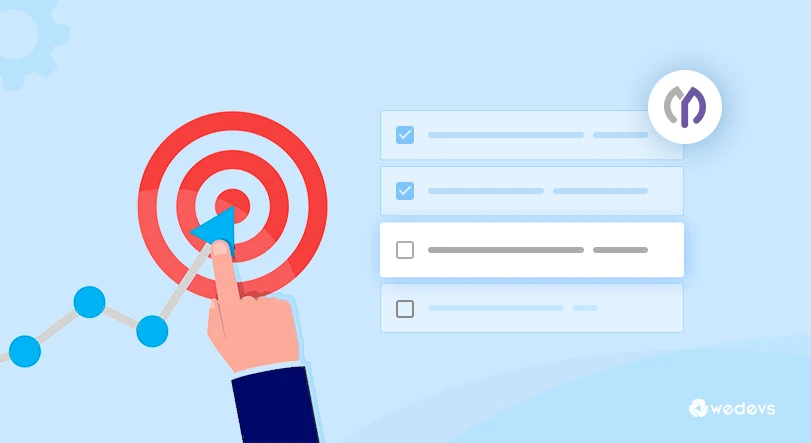 How WP Project Manager Makes Managing Milestones Even Better
Whether in life or for any work-related projects, milestones define a very integral part of an achievement.
Suppose you had this great idea for a service or a product that can create history!! You have put together the best people and built a team. Now it's time for you to just conquer the world, right!
Well, it's not as easy as it sounds. There are several different factors standing between you and your dream. One of the most important of them is Project Management. If you are not a capable project manager or don't hire one, all the talent in the world would fall short. This is where technology makes a difference.
Why WP Project Manager?
With all the disruption around the world in different industries by tech, Project Management is no different. There is no shortage of capable project management software out there that can get the job done.
But for those with limited resources, this is not the most practical decision one can make. WordPress already being FREE and massively popular can be a viable solution with the proper plugin. WP Project Manager was built around this idea alone.
Capable of handling small to medium projects, this is can be a great starting tool for anyone who is just toying with the idea of using a project management software for their business.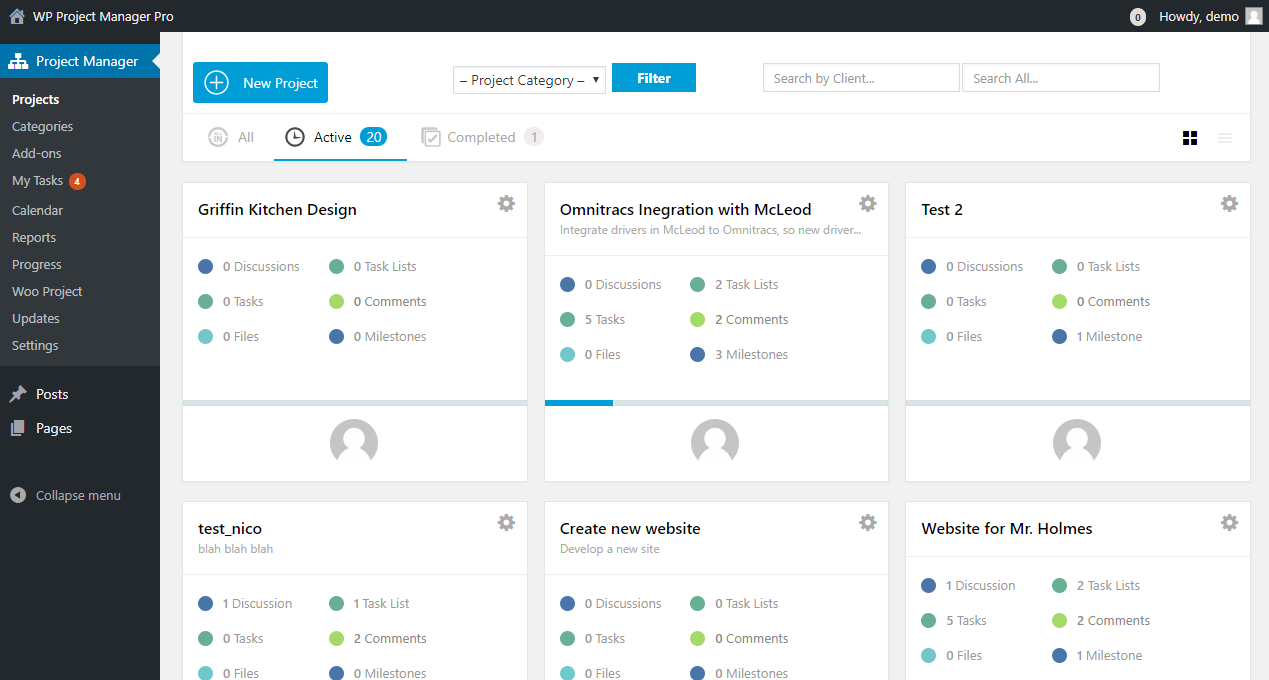 Check out the demo here.
Managing Goals and Milestones
If you are hesitant on spending any cash, you can always try out the FREE version of WP Project Manager from the WordPress store (you need not be jealous towards those with the paid ones!). Even the free version comes along with features that are bound to bring value to your workspace. Such as tracking your milestones.
In WP Project Manager, you have the ability to create each project separately from the Projects tab of the menu. You can even create tasks, tasks list, milestones, add files, comments and much more.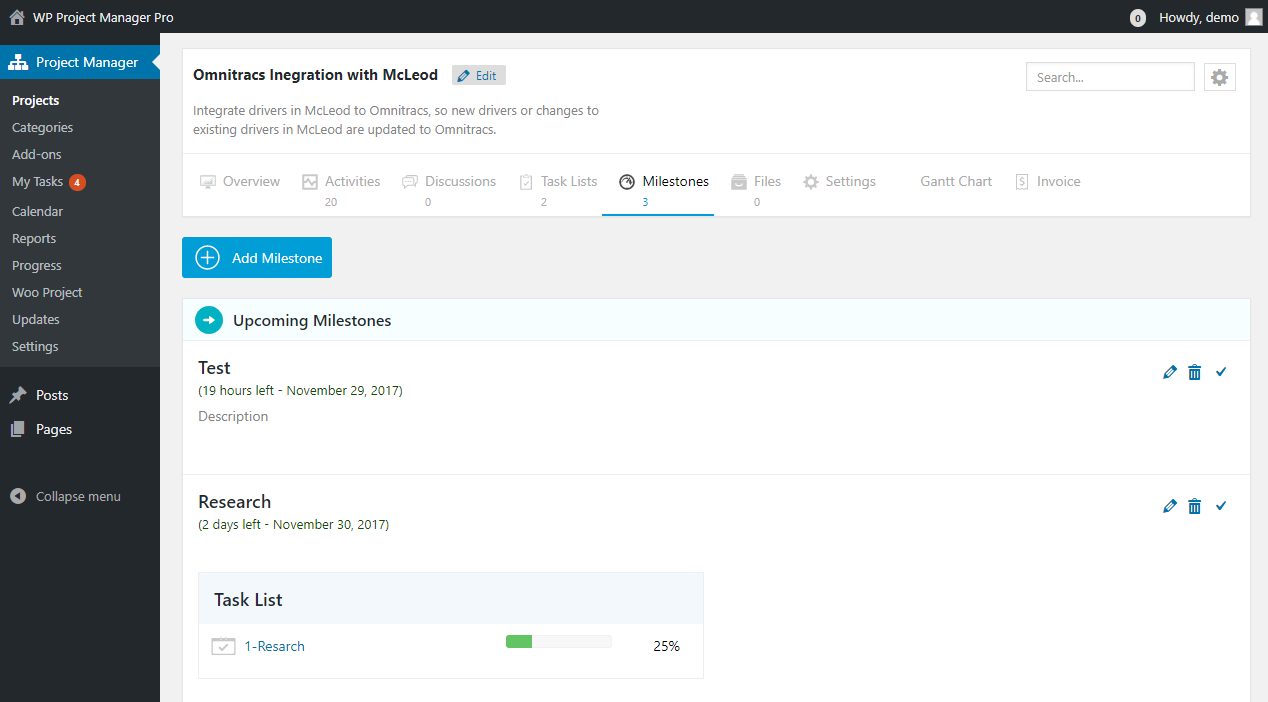 How does it work?
To add your projects to the Project section of WP Project manager simply go to –
wp-admin→Dashboard→Project Manager→Projects
There you will see a New Project button. Click on it and customize your options. You can select Name, Project Category, details about that project, add a particular user to that project and mark a checkbox to notify that user.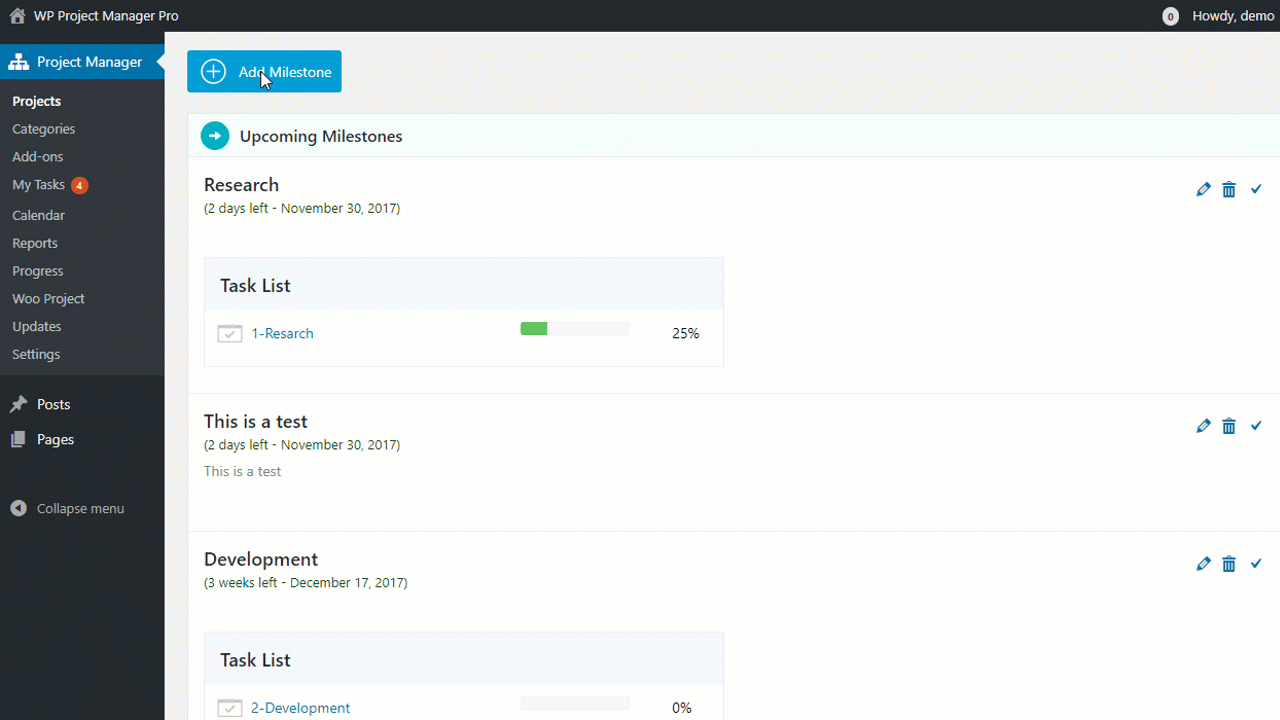 All of this from a single FREE plugin, How neat is that!!
After successful completion, you will now see a Milestone tab inside that project. Click on it to add milestones for your project. You can select Milestone Name, A due date for that milestones, Details, a checkbox to keep milestones private.
Why Use Milestones?
Whether for a small or a billion-dollar multinational project, Milestones are the only way to make it seem that your work is progressing towards the end result. It is actually a simple use of "Divide and Conquer" method really. Otherwise, there is no way to track the project goals that you need to reach.
Every milestone is a task, but not every task is a milestone
Every milestone is a special task that requires special attention. Milestone makes it easier to spot deadlines, identify potential project bottlenecks, monitor the overall condition of the project.
In WP Project Manager's milestone features, we have made it one a step ahead of the competition. Not only can you create separate milestones for each project, but you can also assign messages, keep it private from people you choose. You can even see your milestones based on Upcoming, Completed and Late Milestone.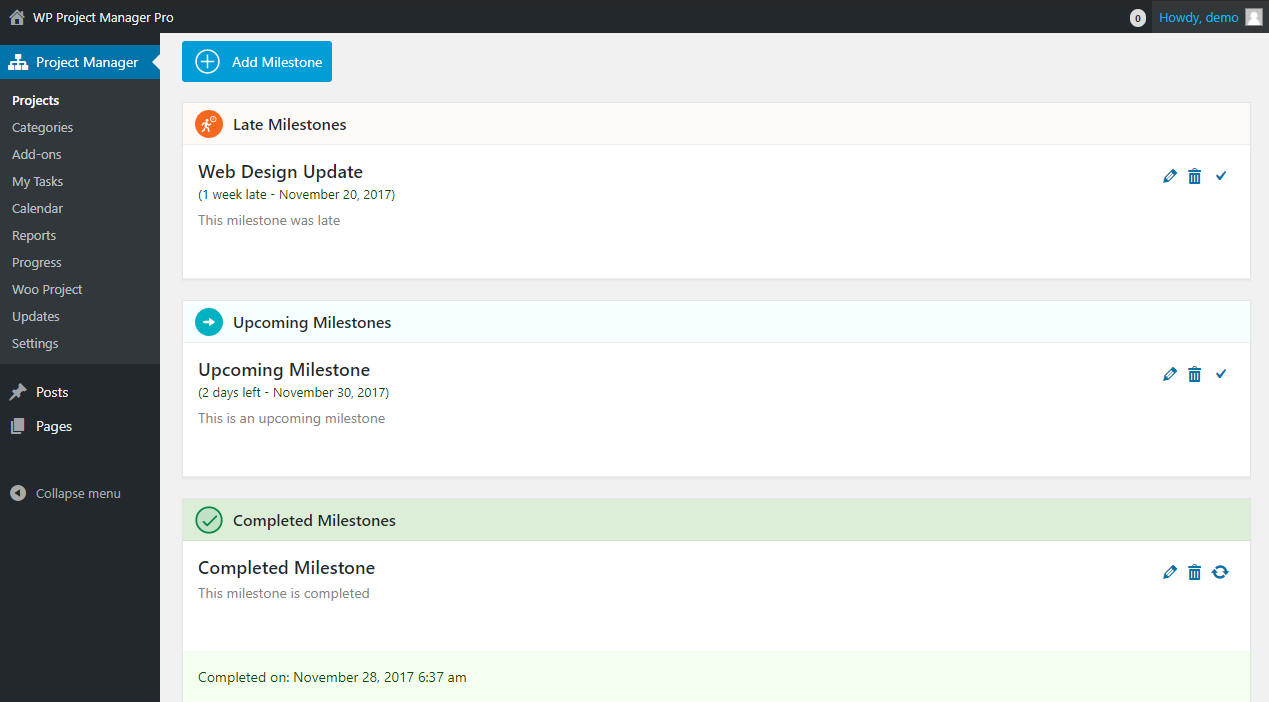 The manager will be able to give feedback based on the status of the milestone which is very crucial for any project no matter how big or small they are.
Wrapping Up
A simple project management software which can do wonders for your business should not be a thing only the big players can afford. As technology is becoming more and more viable even for the most common people everything is becoming more frictionless. Good project management systems are getting cheaper and cheaper project management systems are getting better.
But still, FREE?
WP Project Manager FREE gives you the feature that others give you in their paid license. Perfectly tailored for starting out your project in the beginning stages. Do you have any reason not to give it a try?