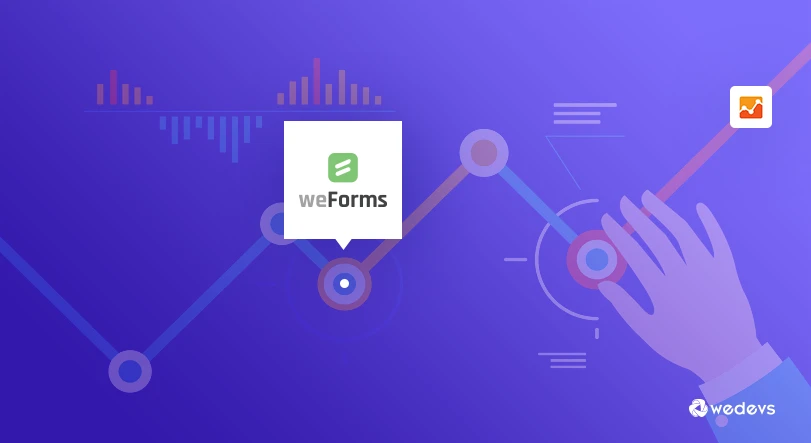 Easy Event Tracking for weForms with Google Analytics
Google Event tracking allows monitoring the elements (such as event forms) of a website that can't be tracked by Google Analytics. It can track any kind of user interactions with the content of a web page, such as (Downloads, Video Plays, Random Clicks, Gadgets, and Embedded Elements).
Why Event Tracking for Your Contact Forms?
Suppose, you have an open application form for an event. How do you track your form conversions where Google Analytics can't track all the necessary application forms?
Yes, Google Analytics Event can do that by integrating with the forms of your website. You can track every form submission on your site using Google Event Tracking.
Benefits & Advantages of Using Google Event Tracking
You may wonder How Google event tracking can help you and why it seems important. Well, it provides many useful features and advantages that give you enough resources to track down any type of event that's happening on your website. Interesting, right?
Let's find out some of the important benefits that you can get with this awesome tool.
Basic tracking of clicks/interaction (Downloads, External links, Internal banners, Sign-ups, logins and form submissions).

Counting Video plays and Social sharing.

Tracking Engagement With Embedded Maps.

Form completion progress.

Conversion tracking.

Internal Banner Tracking (Event Tracking can help you to decide which banners working best to attract visitors).

Affiliate ad clicks tracking.

Signups, Log-ins and Form Submissions.

Rank Tracking.

And so on.
How to Use Google Event Tracking on WordPress
You can now determine all of the elements of your WordPress site that you want to track. Especially, you can have an overall report of a specific event (such as form submission) using the Google event tracking.
WordPress site tracking can be done in a various way but we found all the other process is kinda complex personally. Some may require inserting tracking code manually which can be tough for non-coders.
The best way to track the event/form is by using the weForms plugin. You may think, why?
Well, using weForms, you can build amazing forms and also integrate them with Google Analytics. weForms Professional Package comes with Google Analytics Integration and it can potentially help with your event tracking.
Today, we are going to talk about how to track an event from your WordPress site using weForms as we found it easier for the users to configure and track the data.
To track a form inside your WordPress site, you'll need to have –
How to integrate weForms with google analytics
We assume you have already installed weForms on your WordPress site. Now you'll need to sign in to Google Analytics using your Gmail account to get started with.
We'll try to make it easy to understand by covering each & every part that you could understand it easily. Please follow the steps CAREFULLY.
Sign up for Google Analytics
At first, visit Google Analytics and sign up using your Gmail account.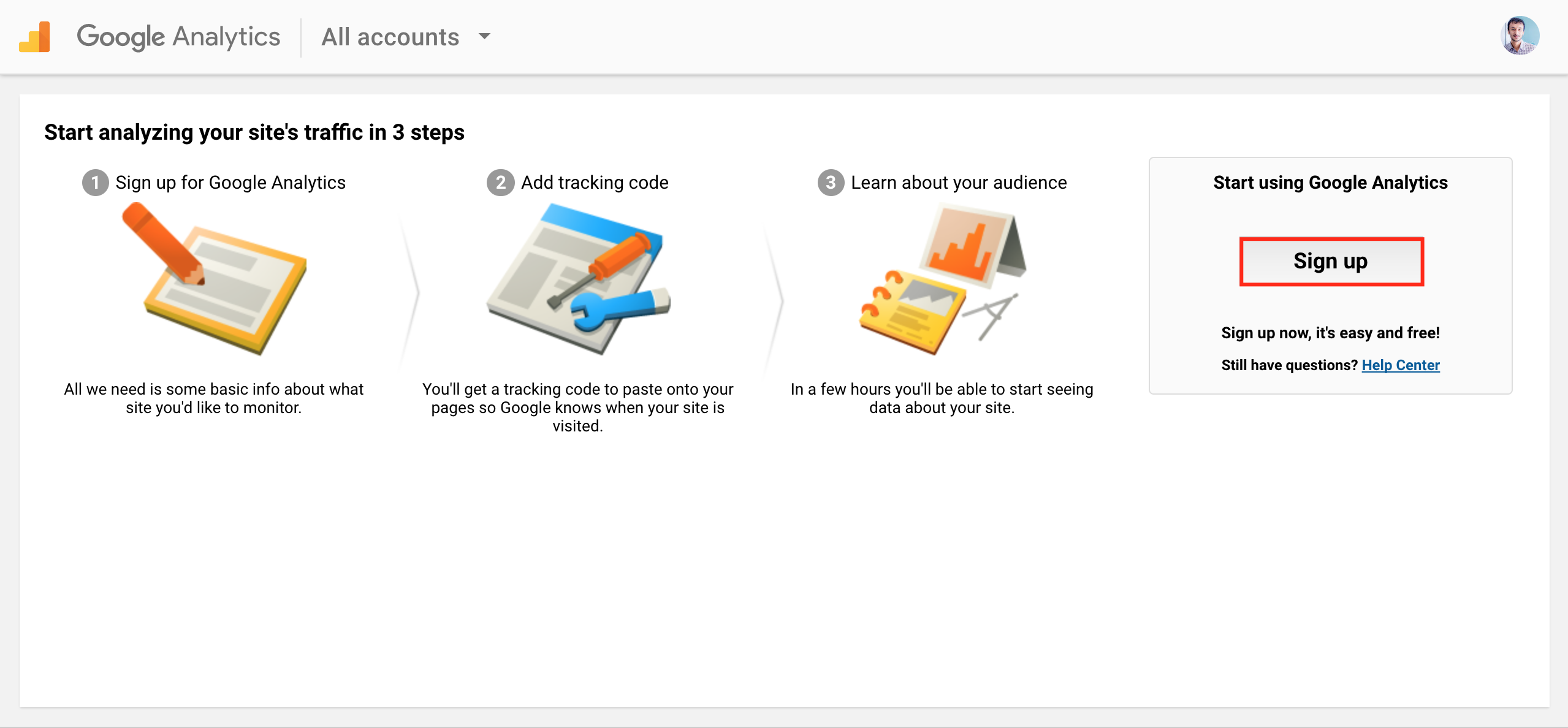 After signing in, fill the all necessary information on the page next as shown below.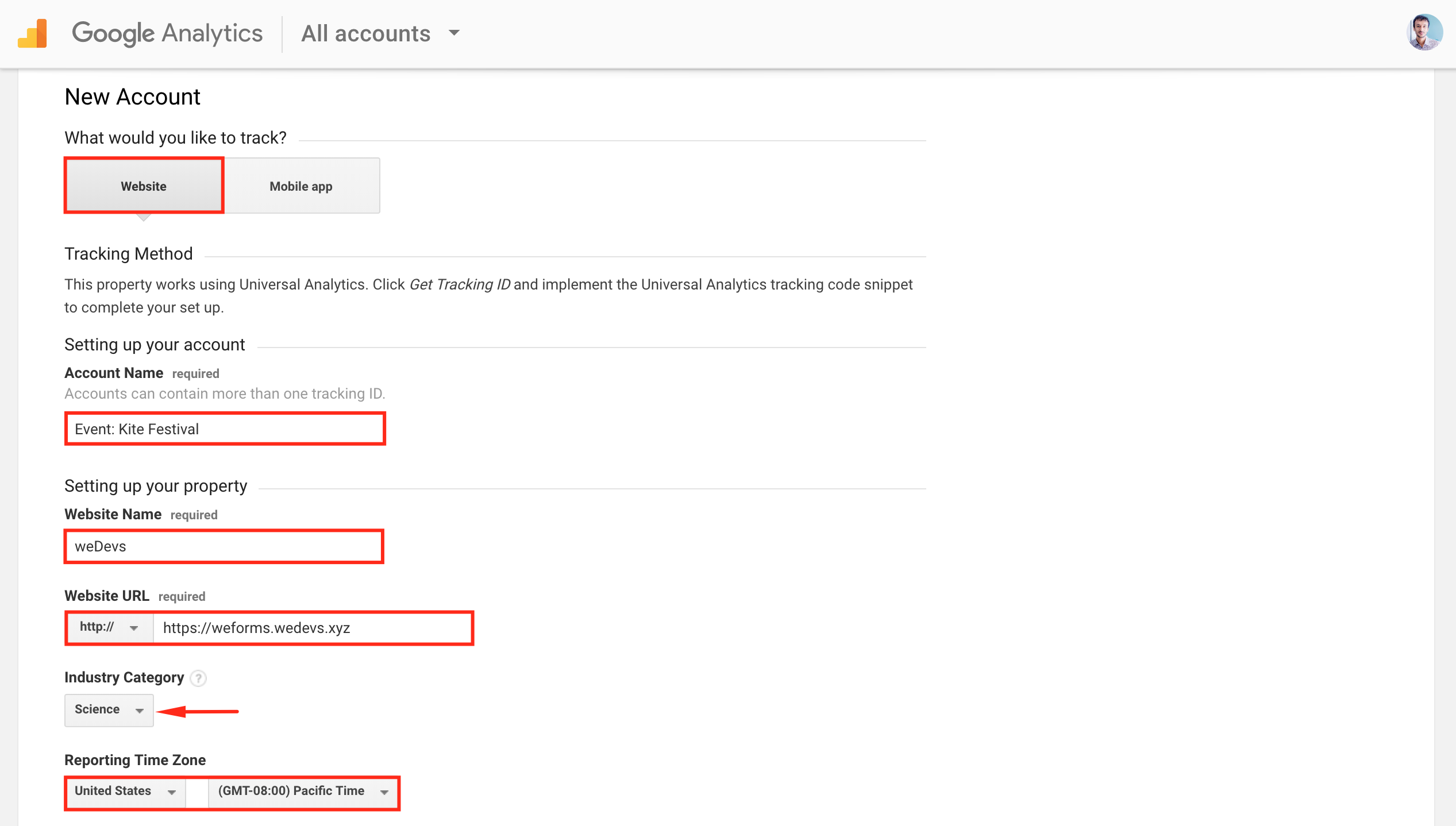 On the New Account page, please fill the indicated fields carefully and keep the checked (√) as it is by default.(Screenshots were taken separately because it's not covering the whole page in a single shot. You'll see this on a single page).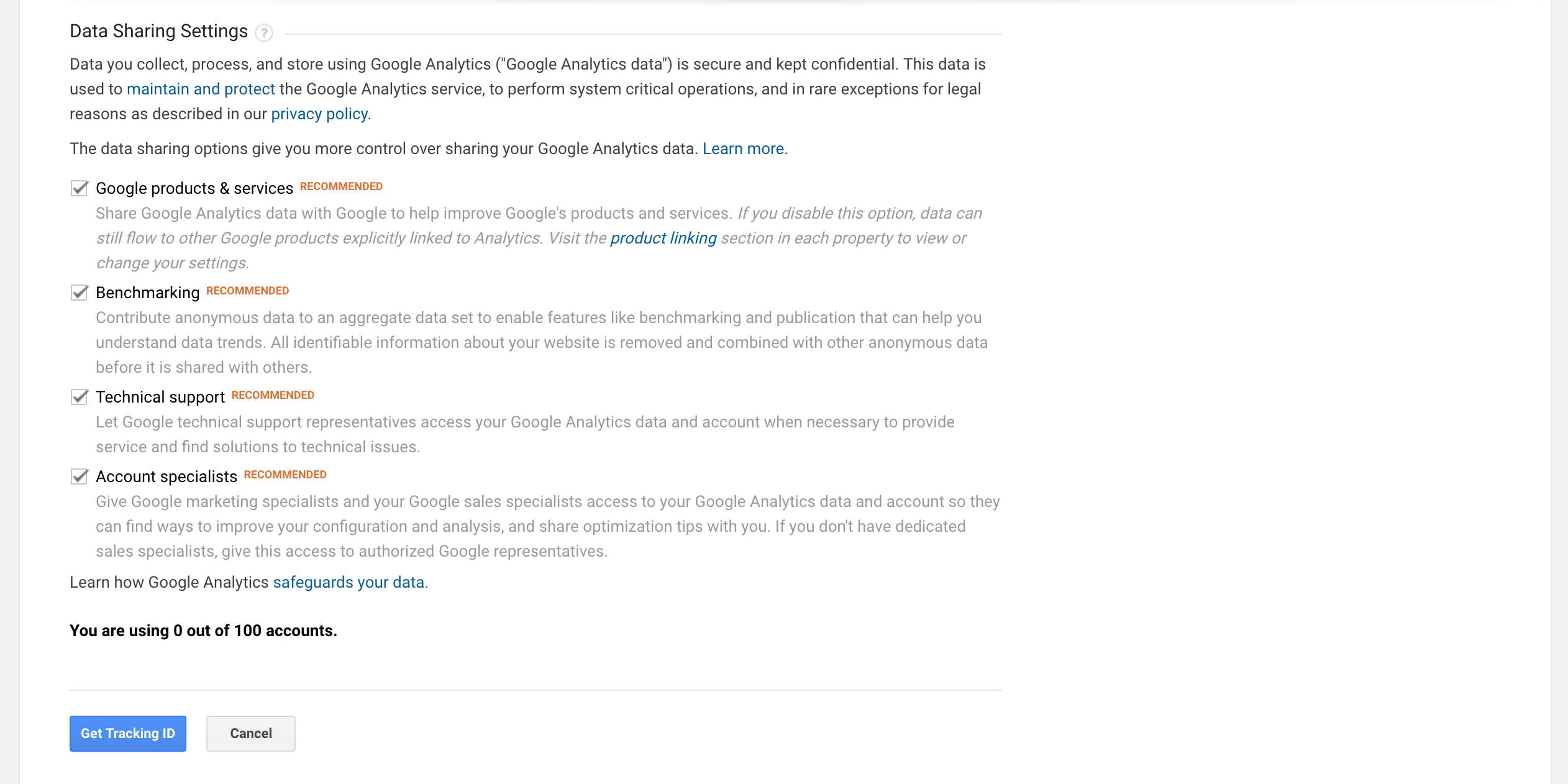 Click on the 'Get Tracking ID' after completing all of the forms and then accept the terms and conditions.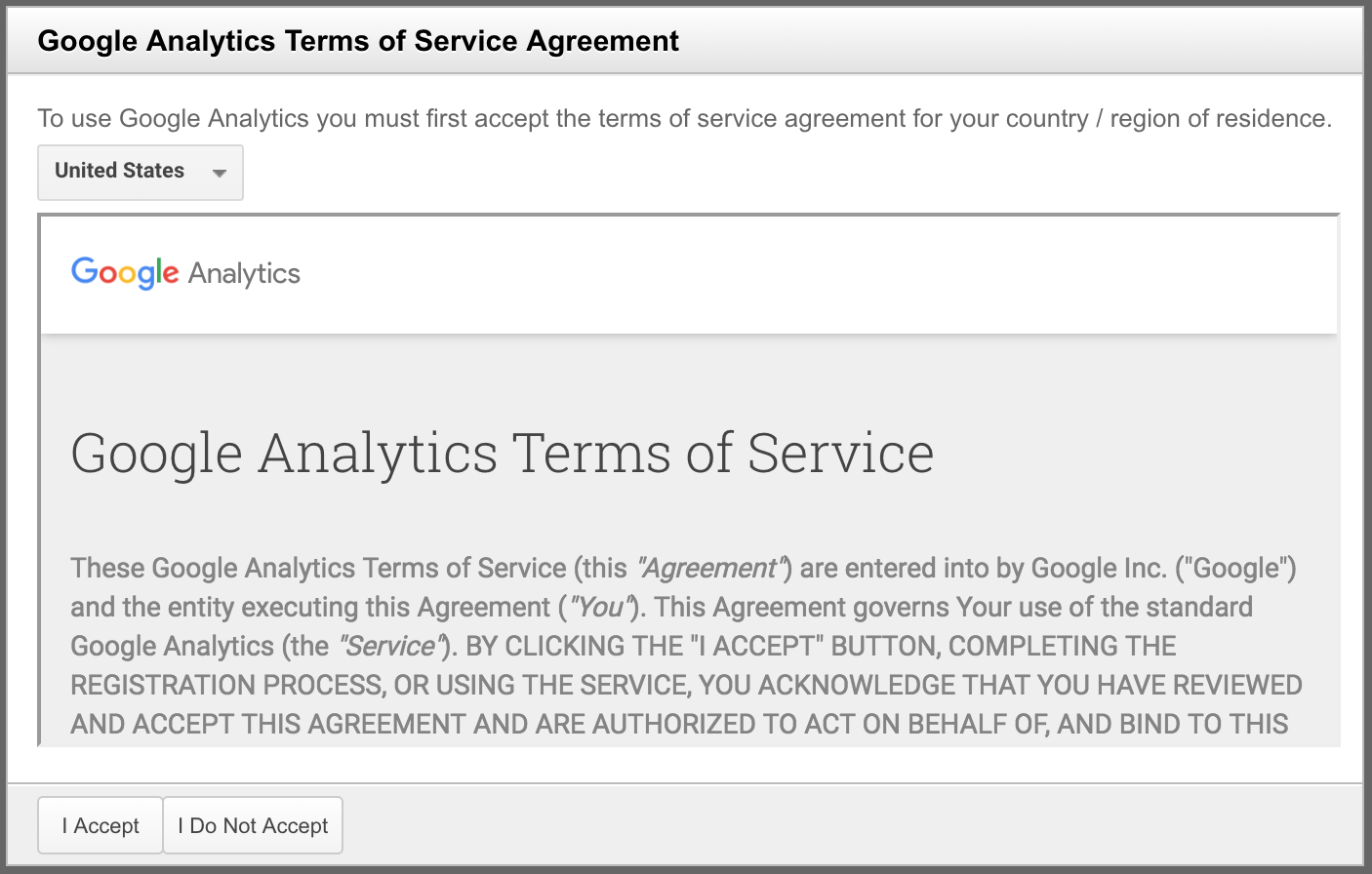 You have successfully created your own Google Analytics account. You'll get your tracking ID and other details on the page next. Stay hold on the page there.
Configuring weForms on your WordPress Site
Assuming you already have weForms installed on your WordPress site. Now, you need to activate the 'Google Analytics' module form the 'Modules' tab.
Please navigate to wp-admin→weForms→Modules and activate the module 'Google Analytics'.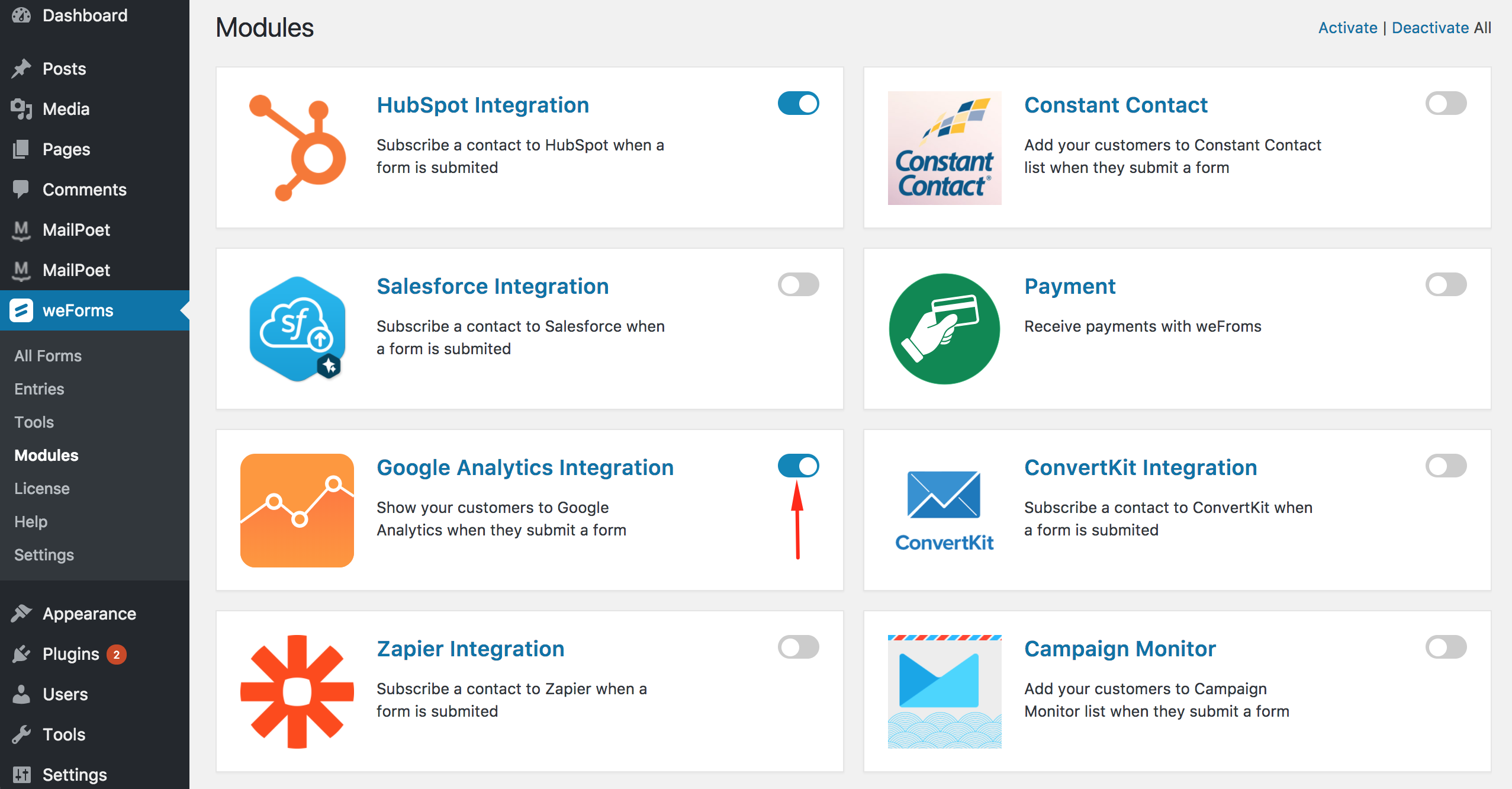 Now, create a form by navigating wp-admin→weForms→All Forms→Add Form. Select the Blank form to create a new form. You can also use any of the available templates.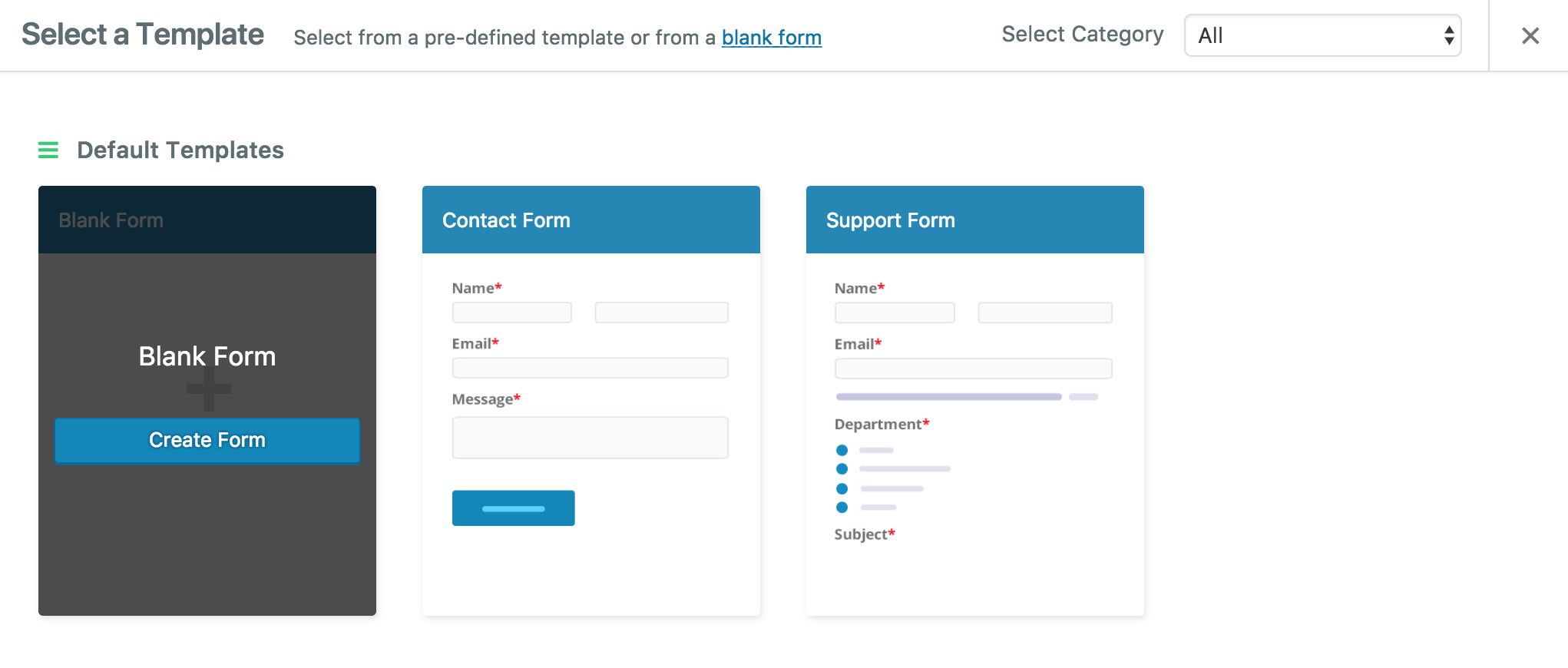 Add the required fields on the form. Need help? Here you go. Also, name your form whatever you want that suits your event.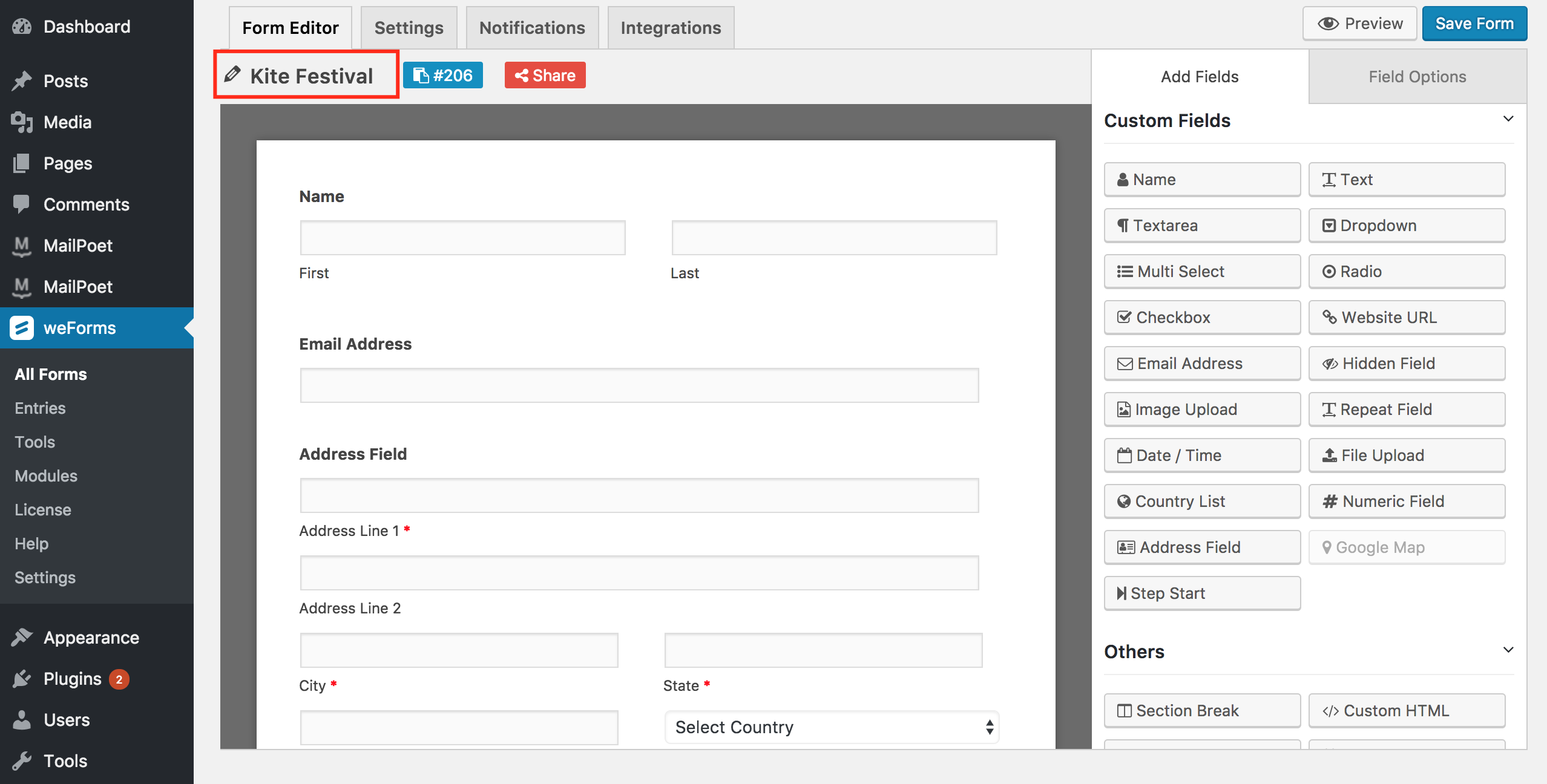 Click on the 'Integration' tab to integrate the 'Google Analytics' with weForms. Please follow the screenshot below.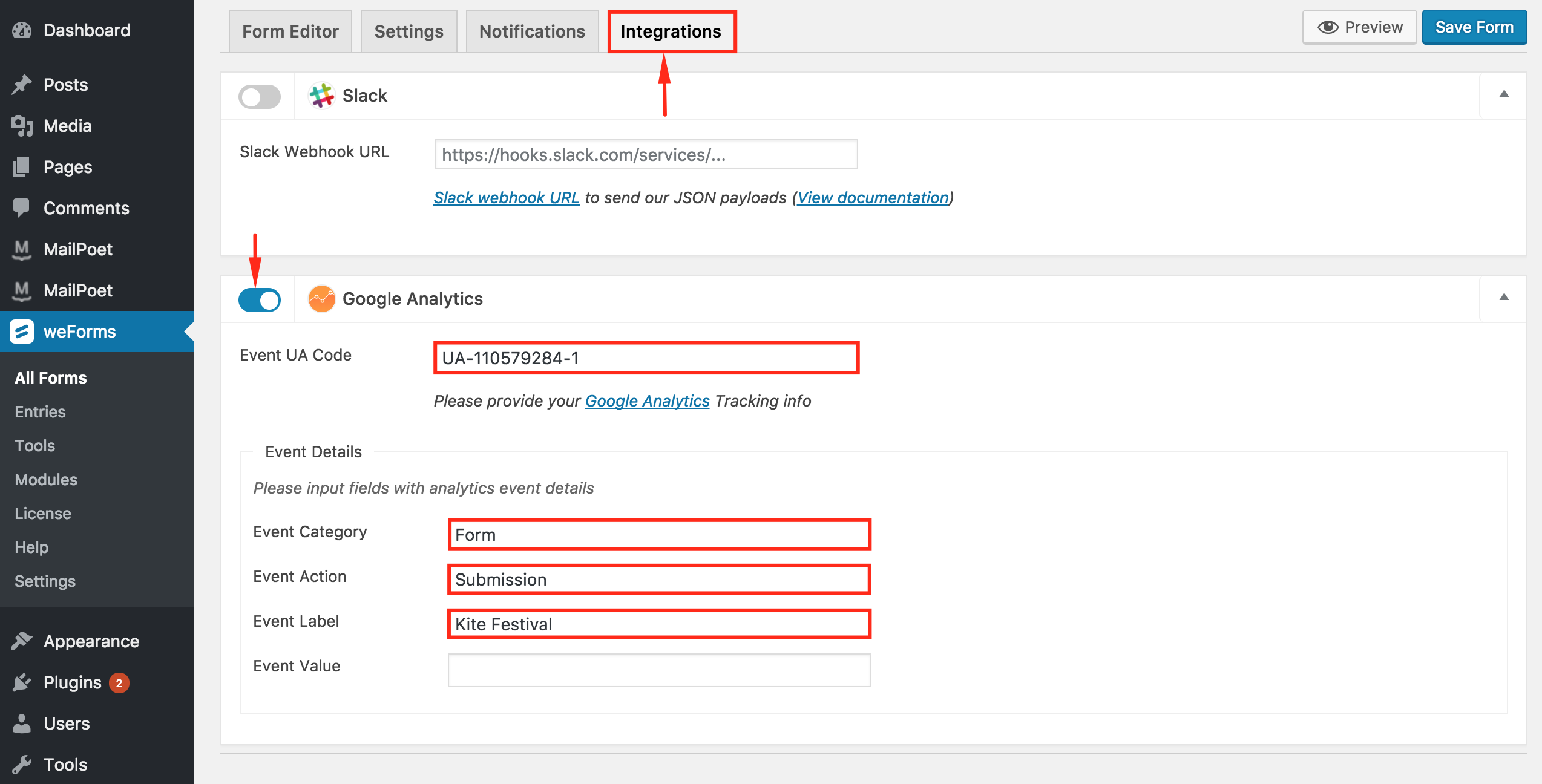 You'll need to insert the 'Event UA Code' here. Where to get this code? Ahhh, don't be panicked yet! Let me take you back 🙂
We have kept our Google Analytics page open, remember? Go to the page now and get the 'Event Tracking Code' from there.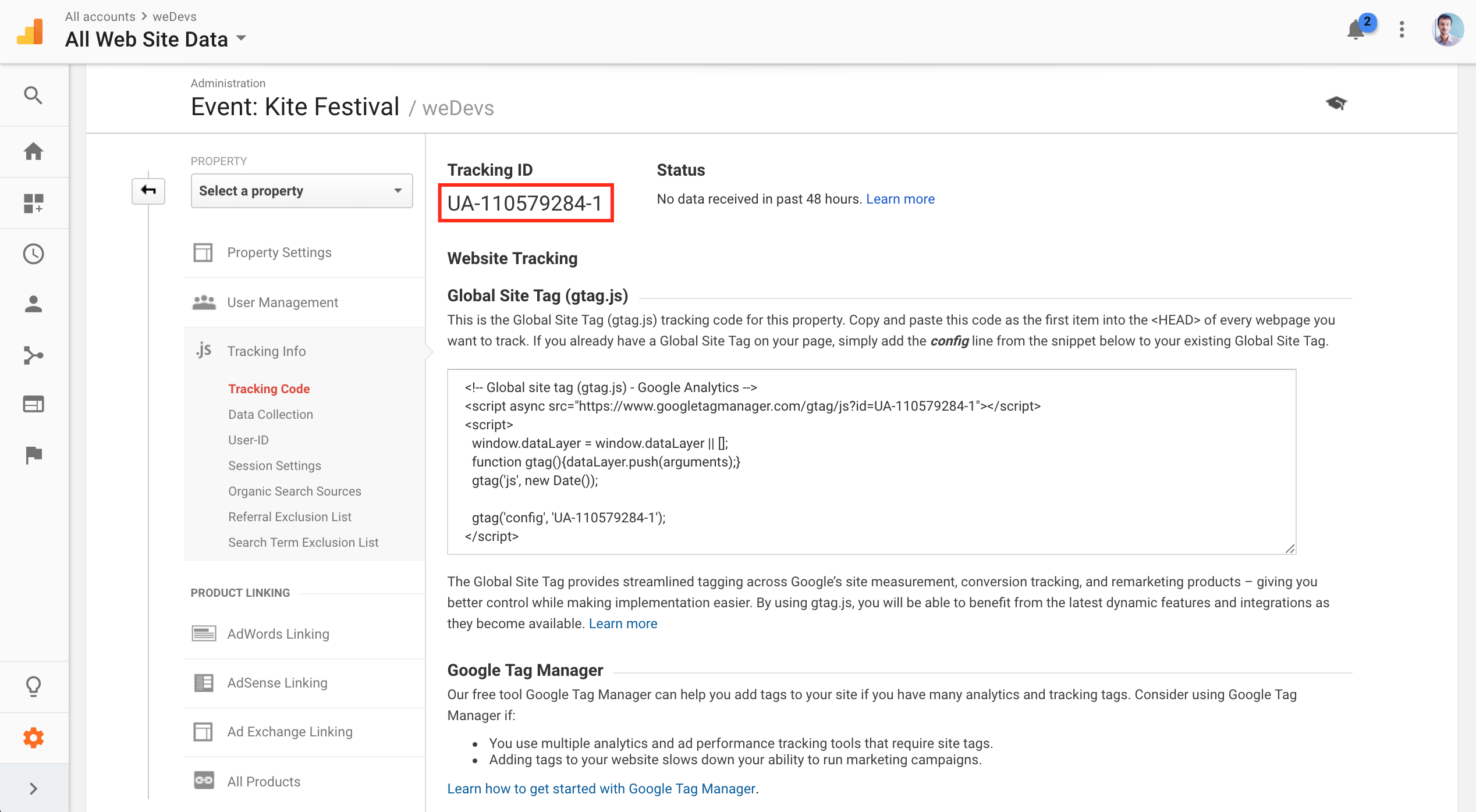 Copy and paste the Tracking ID into the 'Event UI Code' field and 'Save Form'.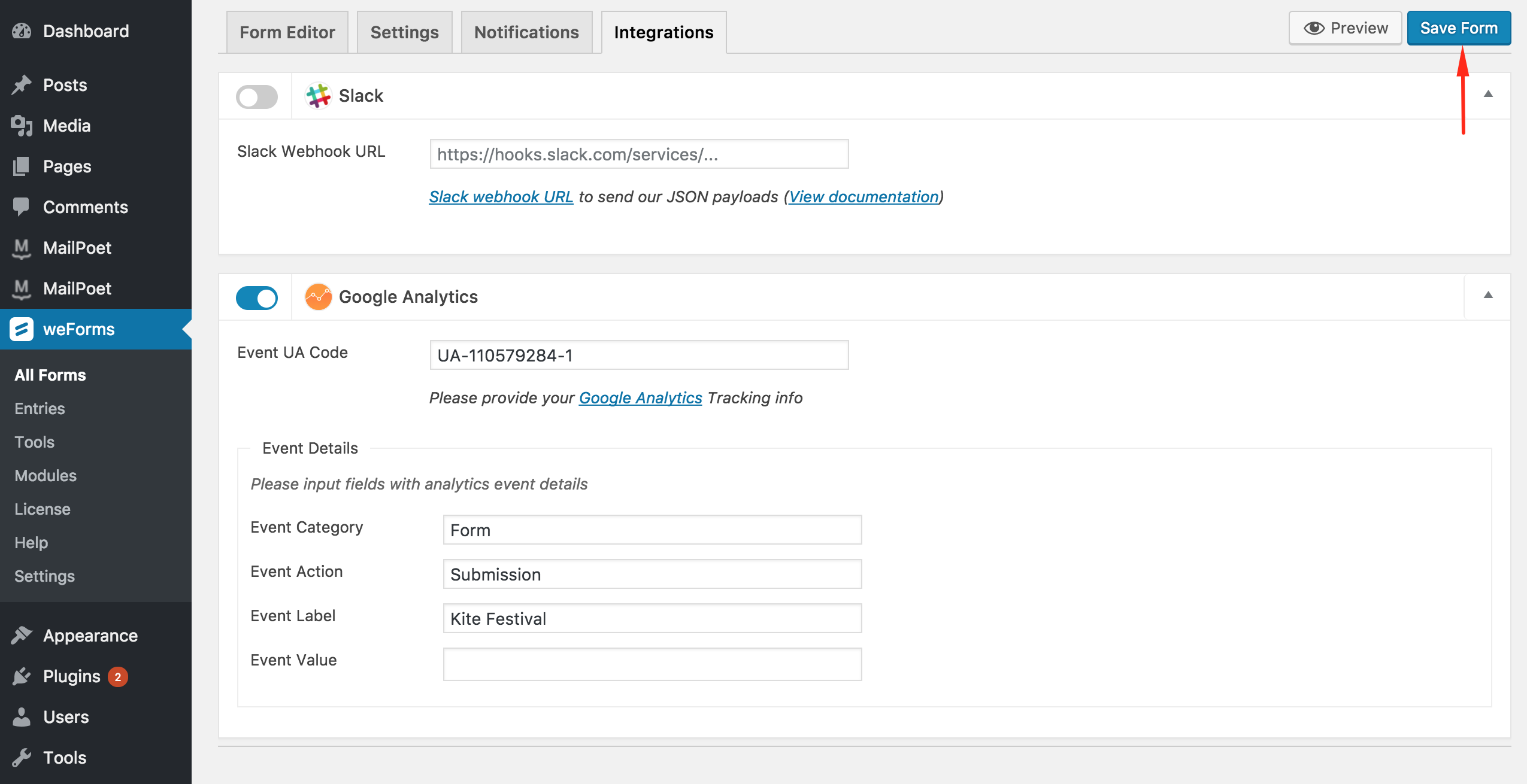 That's it! You have done integrating Google Analytics with weForms successfully. Cheers! 😀
What's next?
Good question indeed! We are done with configuring, guess what can be next. Yes, we'll check whatever it is tracking our form submission or not. Let's 'Preview' the page that we just created.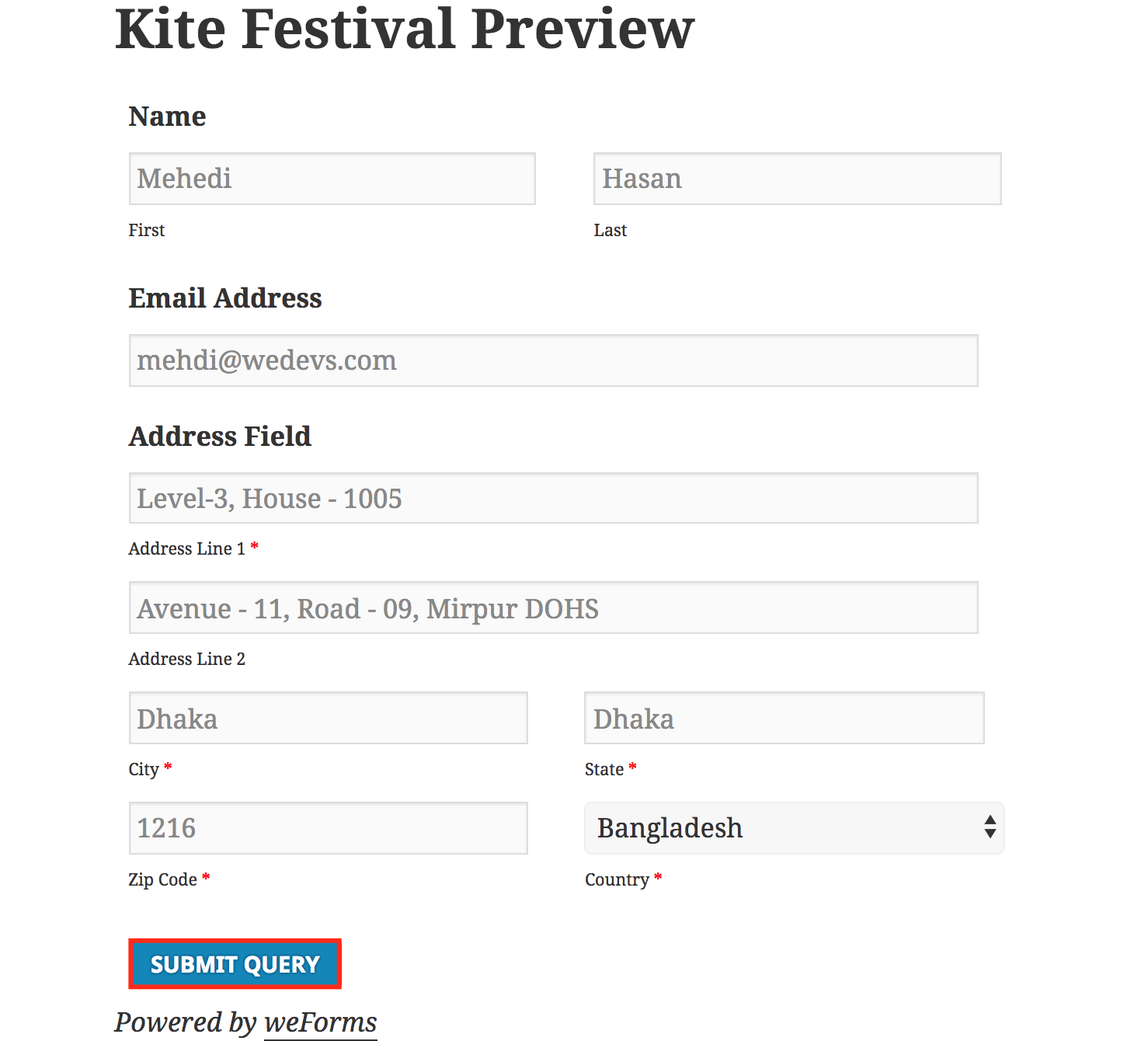 Fill all the necessary fields and 'Submit Query' to test whether the analytics is really tracking your visitors or not.
After submitting the form, visit 'Google Analytics' again. Navigate to Dashboard→Real Time→Events and track every submission of your form.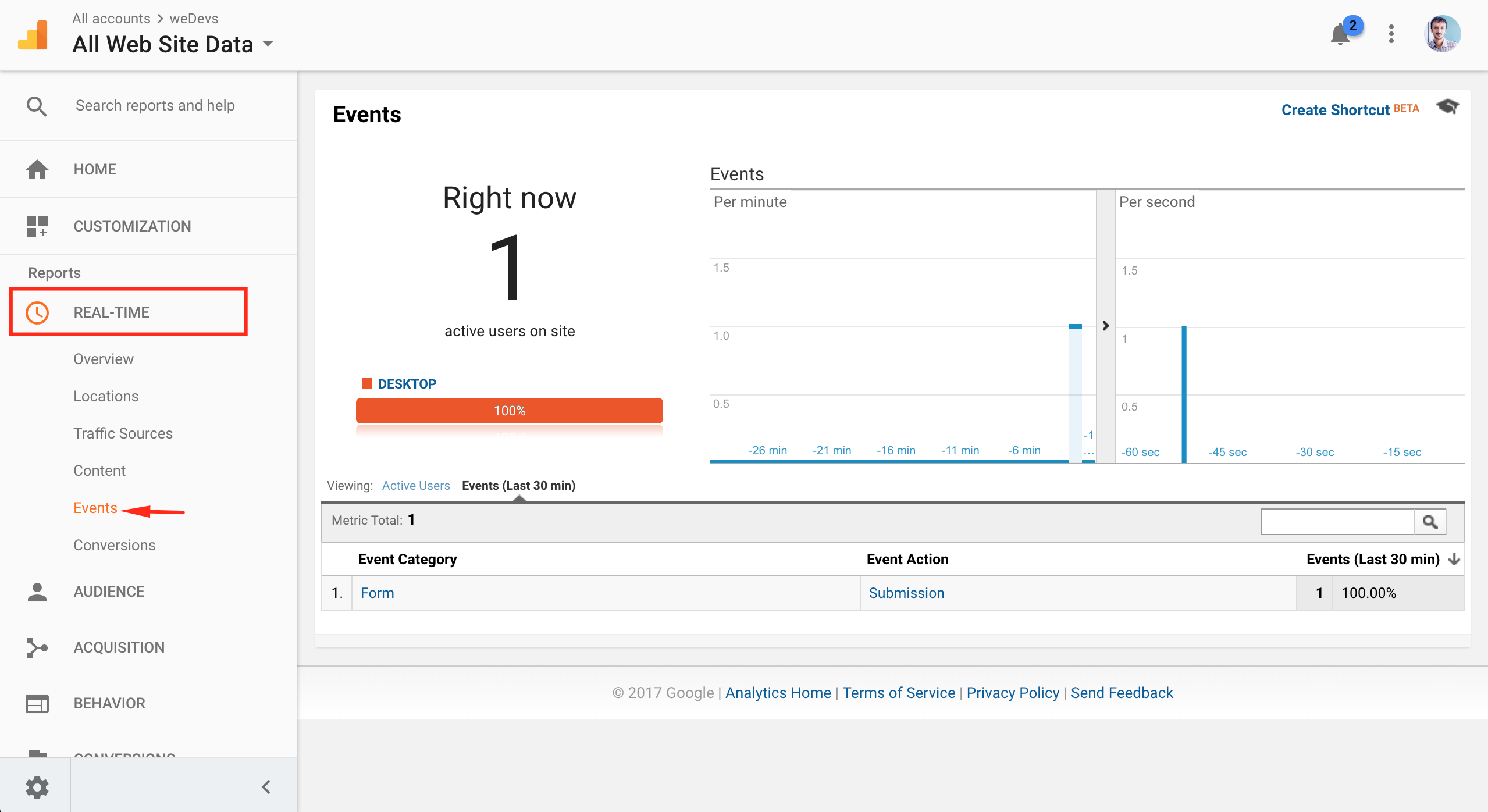 Wrapping Up
Customer insights you can track in real-time is an unfair advantage you can have over your competitors who aren't thinking of doing business in the long term. Google is the unparalleled market share owner when it comes to analytics.
So, integrating Google Analytics with weForms was a feature many wanted to see. By using the Google Analytics integration for weForms, you will get a complete list of an overview of the users who had any sort of connection with your forms built with weForms.
Whether they interacted before or currently interacting now. All in real-time.