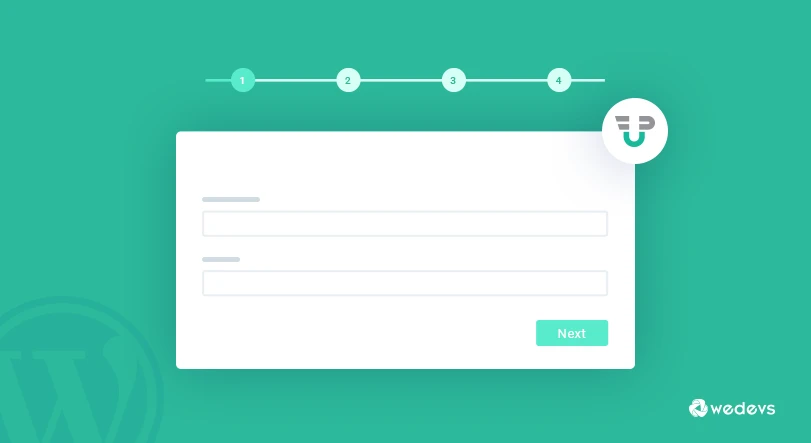 Create Multi-Step Registration Form In WordPress Without Any Coding
Ever had a form that took too long to fill up?
We know how you feel. You need to fill up that important form but are just bored to death thinking about it. But do you know how easily you can create a multi-step form in WordPress!
Running on almost 30% of the whole internet, WordPress really is everywhere. Plugins, another great resource that WordPress offers, can give you customization options that would have needed specialized persons.
Whereas simply creating a multi-step registration form would have taken hours of backend coding and appropriate technical knowledge, plugins like WP User Frontend can do it in mere seconds if not minutes.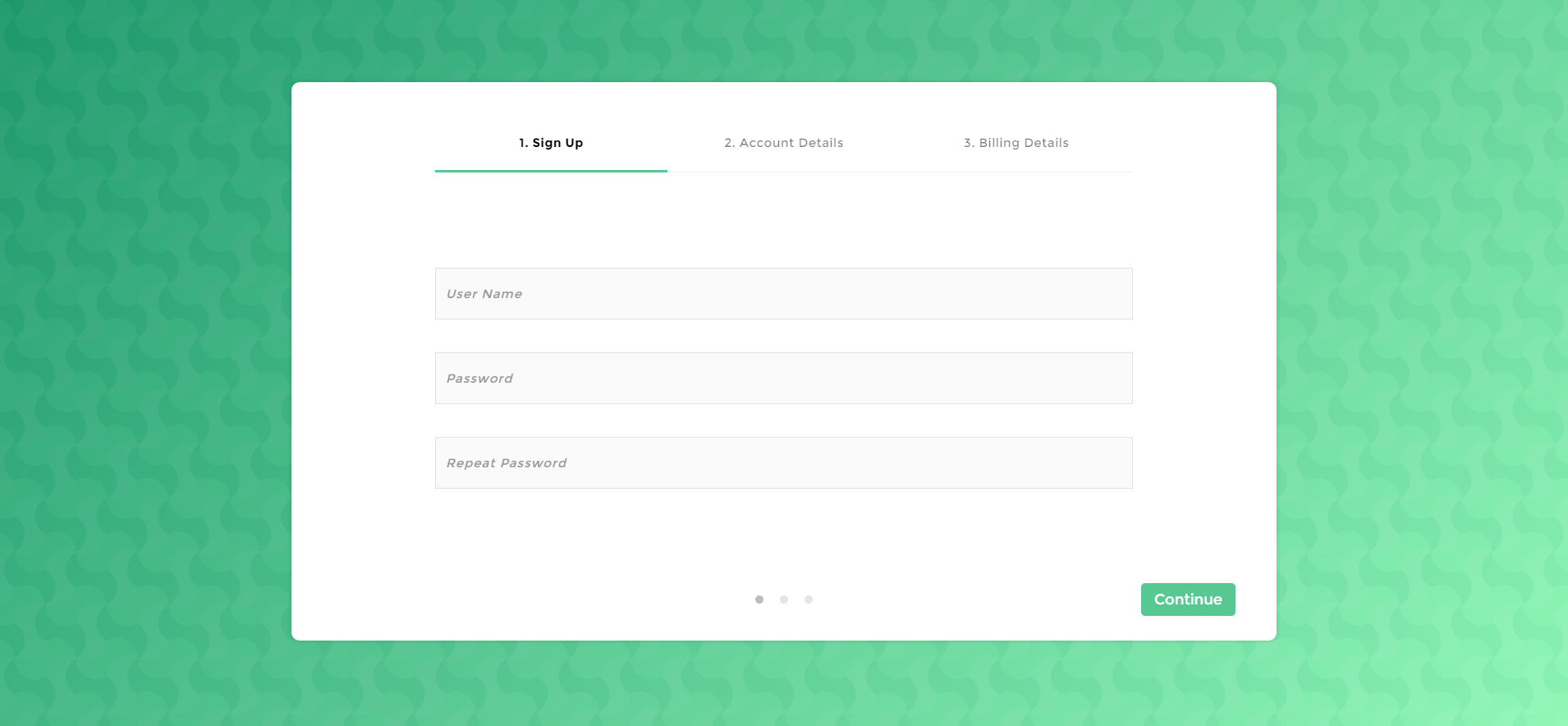 What is WP User Frontend?
WPUF is a WordPress plugin that lets you manage all your frontend need from one single place. It is an all-in-one solution that can be tailored according to your needs. Some key features that can be summarized are –
Create submission, contact, event registration forms, etc from simple to understand form builder
Frontend dashboard for ease of use
Settings to allow guest posting
Content restriction settings to manage permission hierarchy and much more
Care to learn more about WP User Frontend? Click here.
What is A Multi-step Form & Its Benefits?
A multi-step or multi-part form is a simple yet clever way to make it easier for the other person to fill up a large form. You just simply divided it into multiple sections to make it more interactive. Basically, you can break down larger forms into smaller parts so that your user can fill it up step by step without feeling annoyed. Some key benefits you will experience after using multi-step form are –
the conversion rate of long forms will increase(in some cases more than 300%)
it makes a good first impression
the progress bar shows the overview of the form to the user
use conditional logic to make the form fill up more personalized
Creating A Multi-step Form
A multi-step registration form can save time and make it easier for the person who is filling it up. It can even make it enjoyable for the user (if that makes sense). To get started on making a multi-step form in WordPress using WP User Frontend Pro you need to simply go to the
WP Dashboard → User Frontend → Registration Forms → Add Forms → Select A Template → Post Settings
there you will see an option to enable multi-step. Enable it to see the options that you can customize.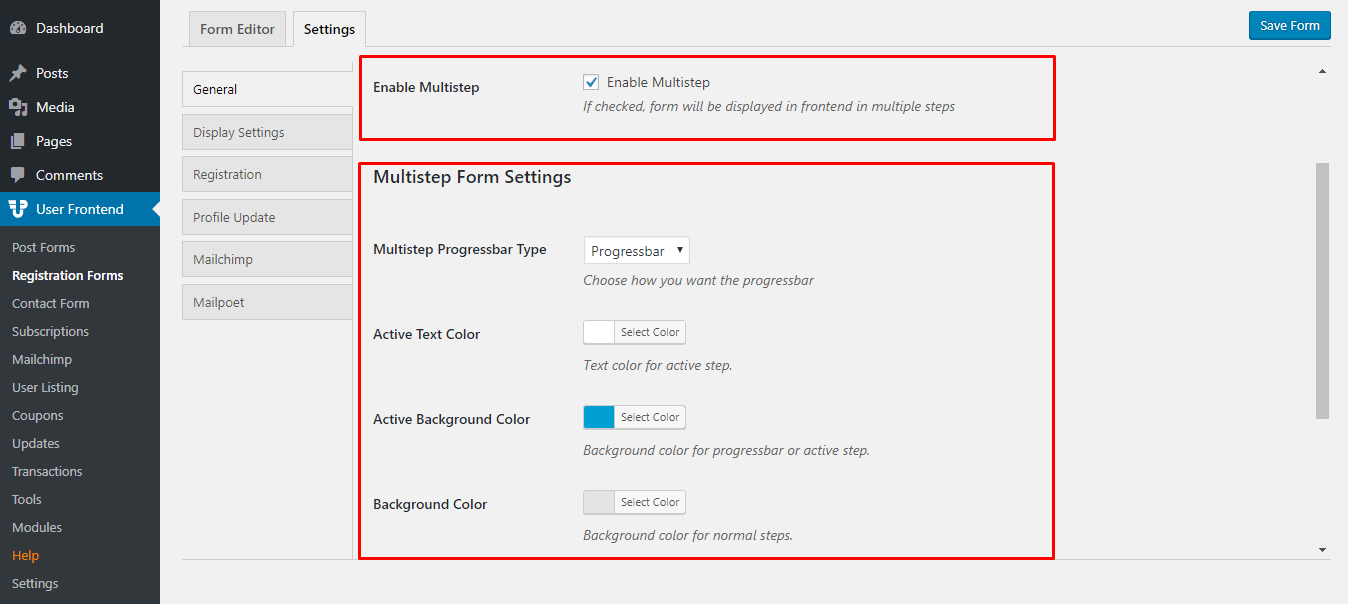 After enabling multi-step you can change
Multistep progress bar type: type of the progress bar that you have the option to customize

Progressbar: This shows an animated progress bar above the form to show where the user is at right now
Step By Step: Shows a step by step above the form. Like step 1, step 2 etc.
Active text color: Text color for the action step that the user will currently be in
Active background: The background color for the progress bar type that you have set
Background color: The background color for the normal steps
See our documentation for more information.
Now if you go to form builder and set how you want to see your form to be, it should look something like this.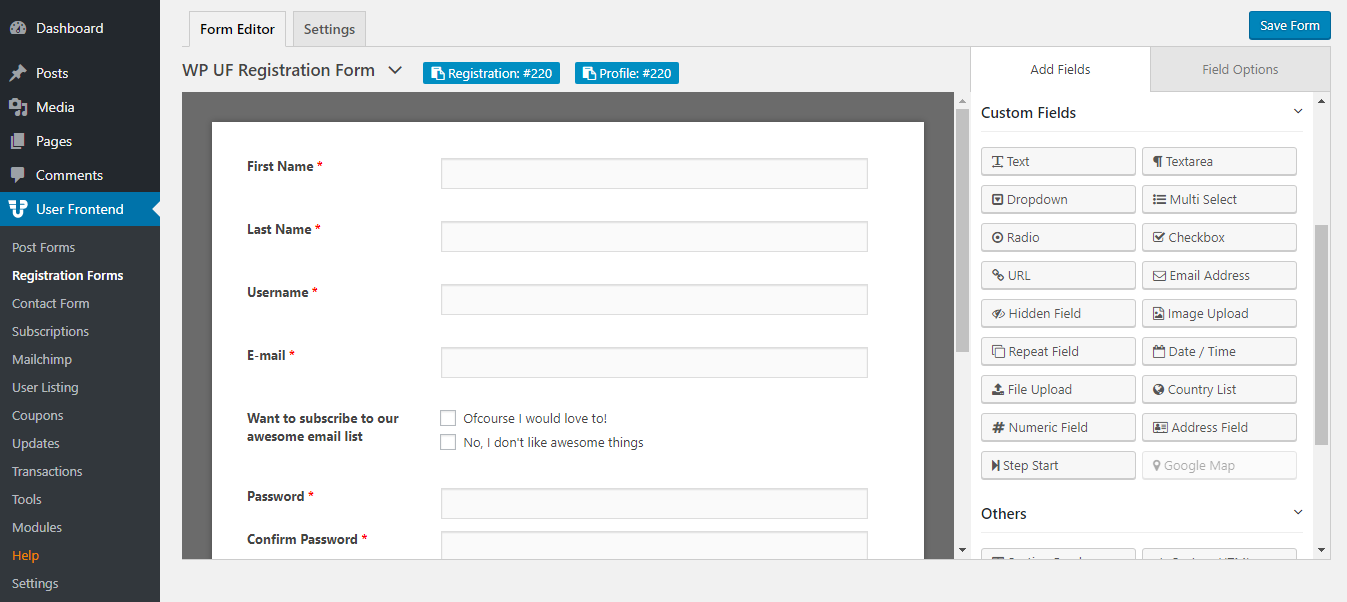 To add a multi-step in your current form you need to drag & drop the Step Start custom field to your desired location.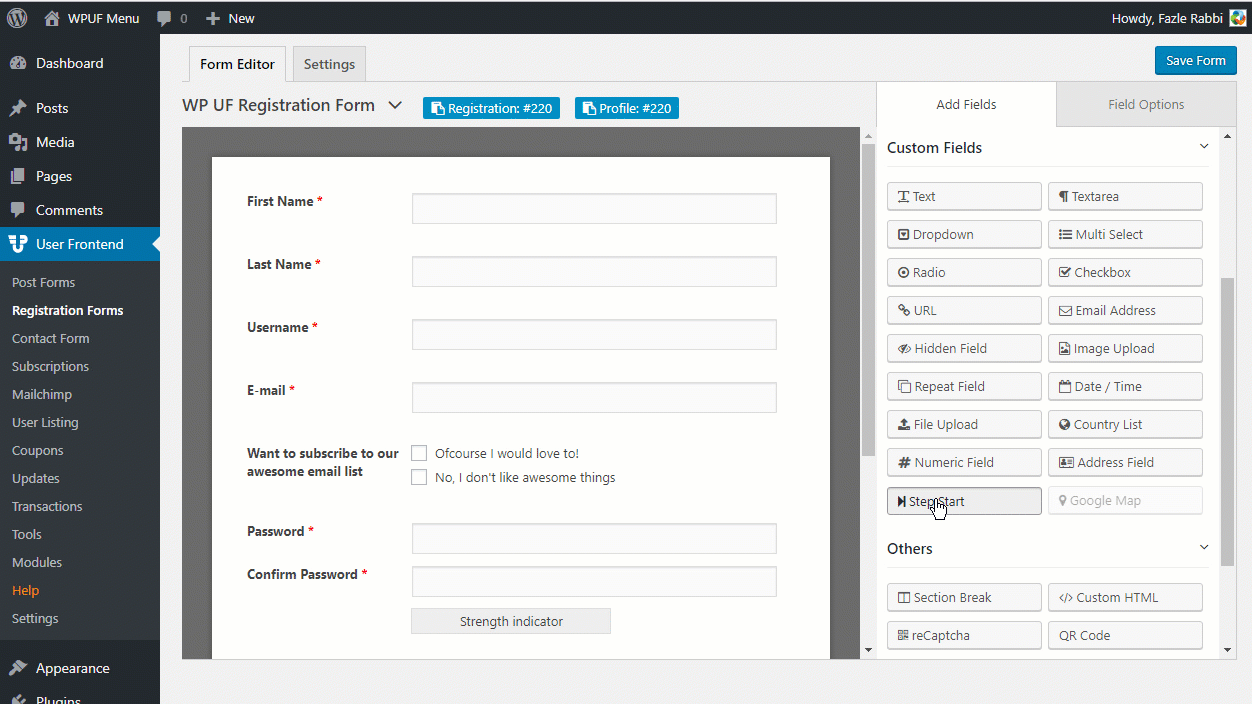 Hit save and copy the shortcode to any page/post. After publishing the post it will be available to the end-user. This is how it will look from the front end. Much better for a user who has to fill this up, right?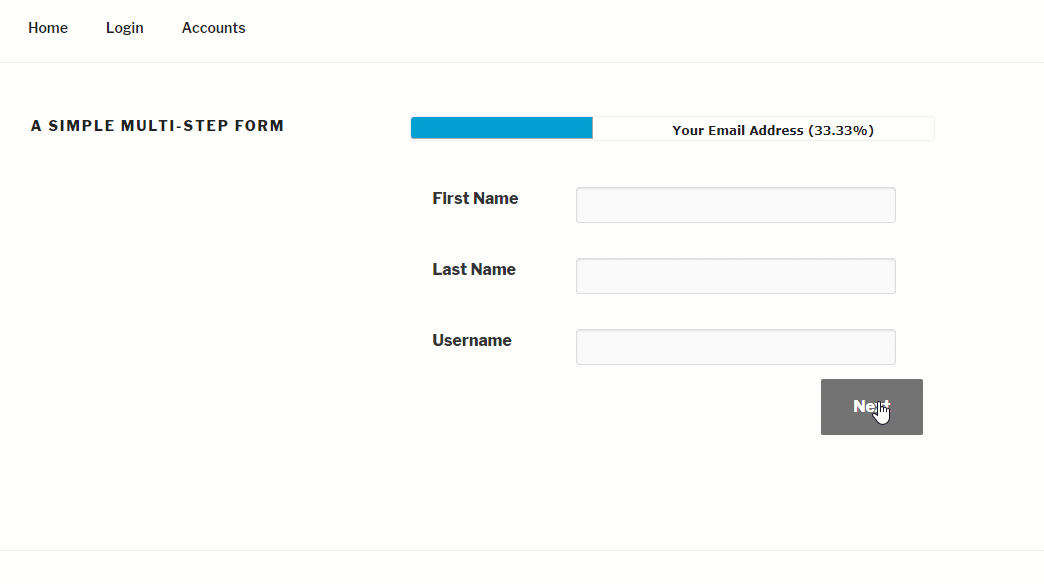 Conclusion
This might seem really a simple matter to be bothered with but don't be fooled by its disguise. Breaking down information can be a great way to decrease the form abandon rate that you can get. Focusing your user on certain tasks so that it makes it easier for them can be really helpful for their first impression of you too!
Did this blog peak your interest in WP User Frontend? Do you want to have a more hands-on experience?
Check out the demo
Also to learn more about how much does it cost(really not that much)