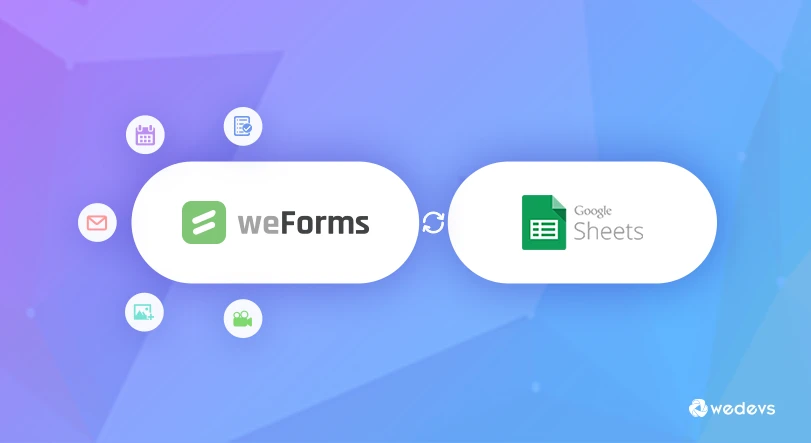 How to Integrate Google Sheets with weForms for Increased Productivity
You'll hardly find a website without having a contact form. A contact form works as a bridge to make communications with the website admin and the visitors. Just receiving messages from visitors and replying to them is not smart thinking in that era of 2018. WordPress contact form plugins got matured enough in those days.
Also, some of the contact form plugins have a HUGE number of advanced features on them which come later in the last year. weForms is one of them and already rocked out the contact form plugin market. Though it's not appropriate to call it just a contact form plugin, some of its advanced features made it "more than a contact form plugin" in the WordPress industry- people are saying so 🙂
No, We are not going to discuss all of the features of weForms here, searching on Google with the 'weForms' keyword would be enough, right?.
Google Sheets for weForms is a premium module that allows integrating/synchronize Google sheets with weForms so that you can easily pass data between these two platforms. Integrating Google Sheets with weForms is one of its advanced features which let a user collect their visitors' data from the form fields and automatically save on the sheet after every successful submission.
Anyway, we'll show you the steps that you need to follow for integrating Google Sheets with weForms.
Why should you use Google sheets with WordPress form plugins?
You really cannot avoid the benefits of getting the form submission data into a sheet. It will make your job easier as it is. For WordPress, there are many form builder plugins that provide contact and other purpose forms. If you want to take them to Google Sheets, you will need to do it manually. But when you can integrate Google sheets with WordPress, you can do it automatically. Here are some benefits that you will get if you can integrate these two different platforms.
Easy sorting
Analyze report with graph
Categorized the user
Real-time data
How to integrate Google Sheets with weForms?
Basically, Google Sheets integration comes with the Business Package of weForms. The integration process is very easy. All you have to do is to activate the module and configure it accordingly.
To activate the Google Sheet module, please navigate to– wp-admin → weForms → Modules → enable Google sheets integration.
After activating the Google Sheet successfully, we need to authenticate it. Please navigate to- wp-admin → weForms → Settings → click on Authenticate Google Sheets
After clicking the 'Authenticate Google Sheets', a Google popup will come up and ask to allow the permissions to access. Allow them to access your google drive folders and files to link or integrate with weForms.
Good. Now you'll get an access code after giving all the necessary permissions. Please copy & paste the code into the 'access code' field and click on the 'Verify Code' button.
Almost done! Now connect a Google Sheet with a form that has been created with weForms. To integrate a Google Sheet with a form, please navigate to WP-Admin → weForms → All Forms → edit/create a form → Integrations.
The numbers indicate:
Enable/Disable the Google Sheets.
Select google SpreadSheet (File must consist of your google drive).
Select the specific sheet of the SpreadSheet. (Sheet1 or Sheet2 or else).
Click the 'Setup Sheet Header' button(This will create the header row according to your form field if you use a blank sheet).
Save form.
We are all set! Just save the page & open in preview mode and submit a demo form like below.
Yes, we got our submission here 🙂
Wrapping up!
Getting the users data is not unethical all the ways. Think positively, if you have a running event booking form, how will you get all the users' contact data at a place? Copying into a sheet manually doesn't make any sense, really!
Also, this can be a HUGE opportunity for the digital/affiliate marketers. They can easily categorize their targeted visitors and make a communication with them.
Please feel free to ask any questions related to Google Sheets Integration for weForms here in the comment. We'd really love to hear from you 🙂