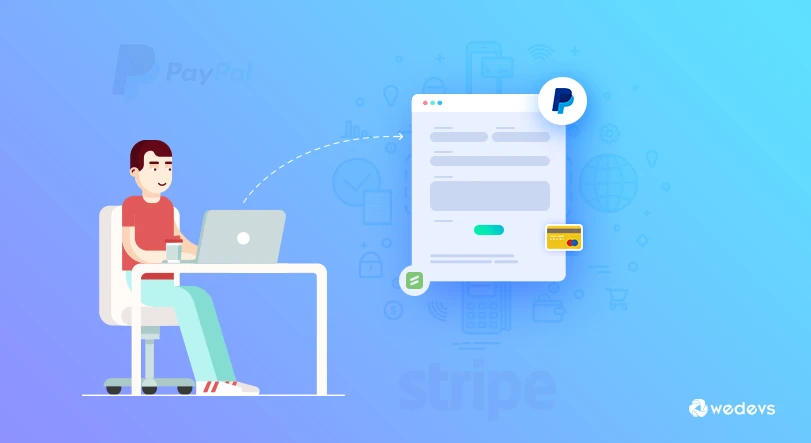 Collect Order Payments in your WordPress Site Using Forms
Nowadays, all e-commerce businesses or online subscription sites have the facility to collect order payments through their website. Whether you are buying any products or paying your bill online, the site you are using must have the ability to take payments. It is actually one of the main attributes of any business.
So, being able to collect order payments through your website is indeed very important. And now you can use forms to easily create & collect order payments on your WordPress site.
If you are looking to hold an event of selling products or taking donations through your website then having an easy payment collecting option within your website is a must. This post will take you through the process of how easily you can collect order payment using forms within your WordPress site with weForms.
Create & Use WordPress Forms for Collecting Online Payments
Collecting payment online can be done in different ways. Basically, you get a payment or checkout process with your eCommerce solution such as WooCommerce. But, if you are trying to collect payment for basic products or from any custom page, you can use forms.
weForms is the fasted form builder plugin on WordPress and it provides a payment feature with it. In order to collect any sort of payments through your WordPress website using weForms, you will need to enable the payment module. And the below tutorial shows you how easily you can do it with weForms.
Enabling weForms Payment Module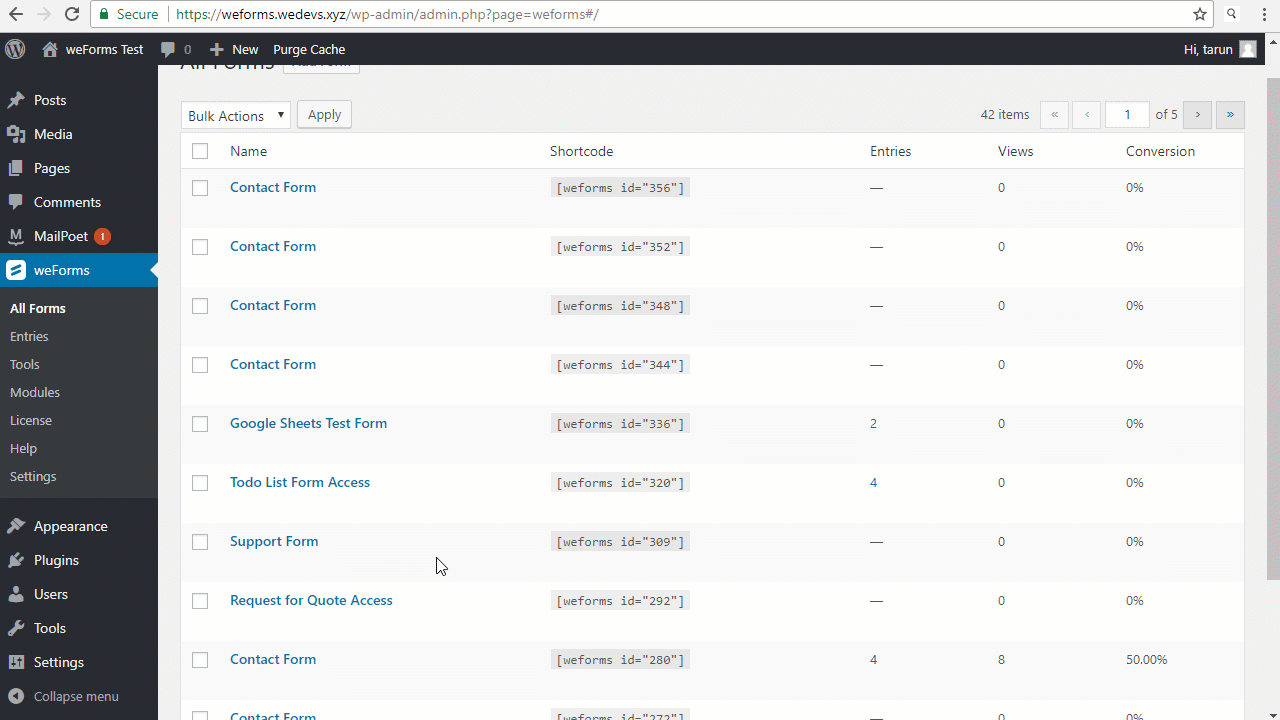 Above is a simple illustration of how you can enable the payment module in weForms. Simply get to the modules menu of weForms and find Payment from the list of modules to activate it. Right after it's activated, a new option named Payments gets automatically added to the settings menu of weForms. This opens up a number of vast settings covering all required options to set up & collect order payments using weForms.
Easily Create Payment or Order Form in WordPress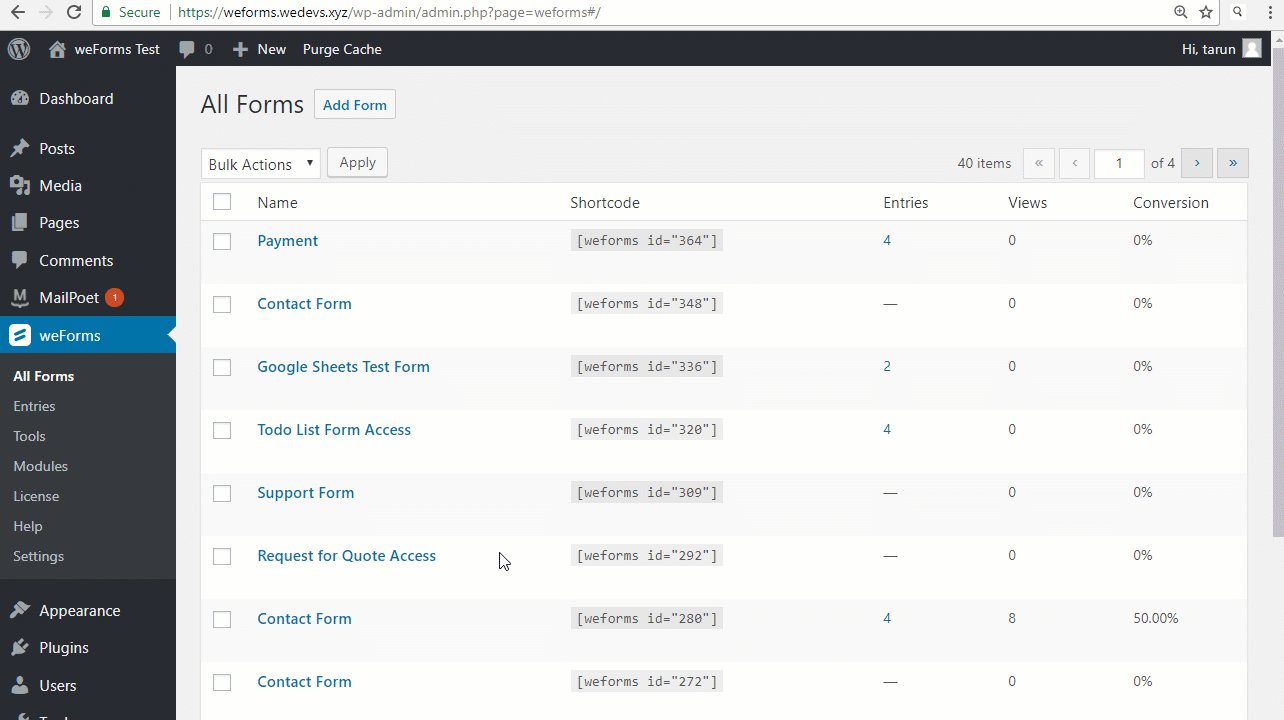 Above is an example of how easily you can create a payment form using weForms. Once you enable the payment module, a new field option named Payment Fields will appear in the form editor. So, first of all, select a blank or preset payment form. Then select the available payment field accordingly. Once all the desired field is added edit the fields from field options according to your requirements. We have simply shown an example of this process by filling out the form ourselves. Look at the video closely to follow each of the steps and you will be all prepared with a form that will be able to collect payments directly from your WordPress website.
Payment Settings Within Forms
You can collect payment using weForms through two popular gateways Paypal & Stripe. So below is the payment setting option available for both Paypal & Stripe.
Paypal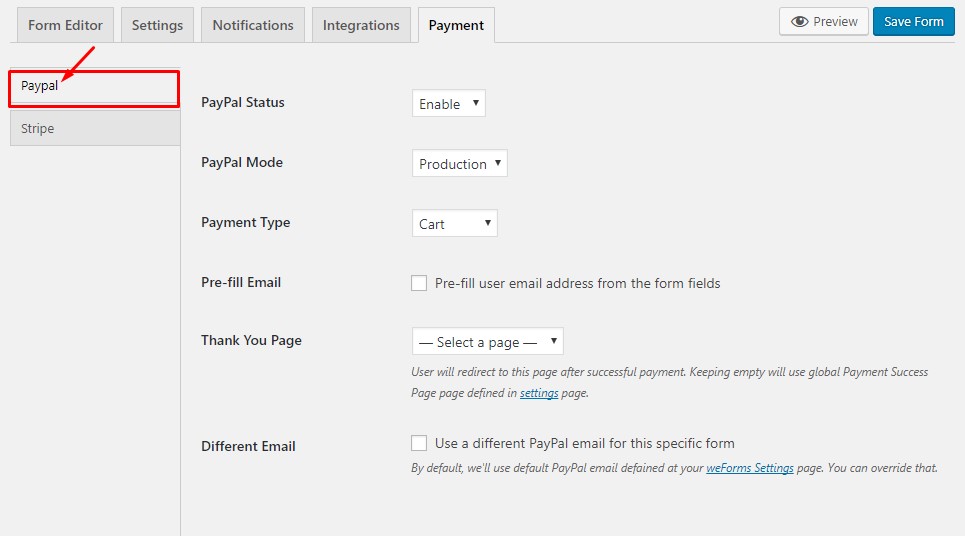 From the available form setting option for PayPal, you can change the PayPal status, mode, Payment type. You can also activate the pre-fill email option that will pre-fill any email address from the form fields. You can also control the redirection page after every successful payment by selecting the desired page to redirect the customer to that page. It is also possible to enable the use of a different PayPal email for a specific form.
Stripe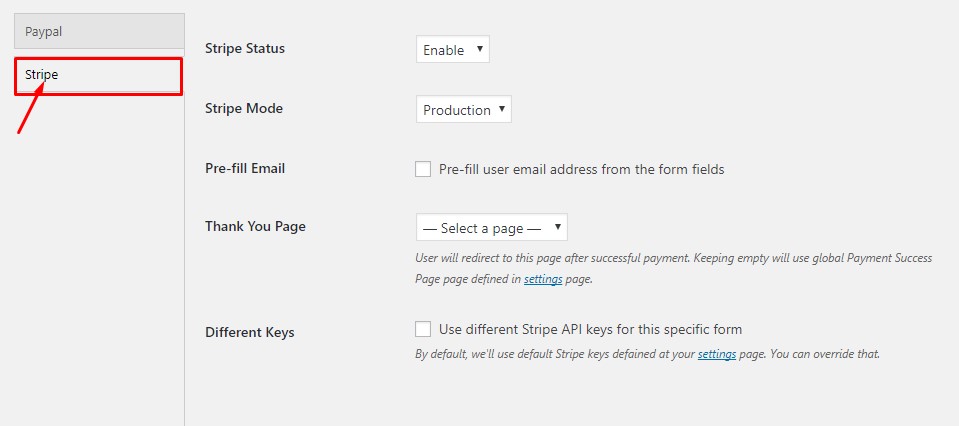 Stripe's form setting is also similar to that of PayPal. Just like PayPal, you can also control the Stripe Status & Mode but it doesn't have the Payment Type option. It also has the feature of activating the Pre-fill Email and choosing the redirecting page after every successful payment made. Lastly, it has the checkbox option to use different API keys of Stripe for any specific form.
Global Payment Setup Settings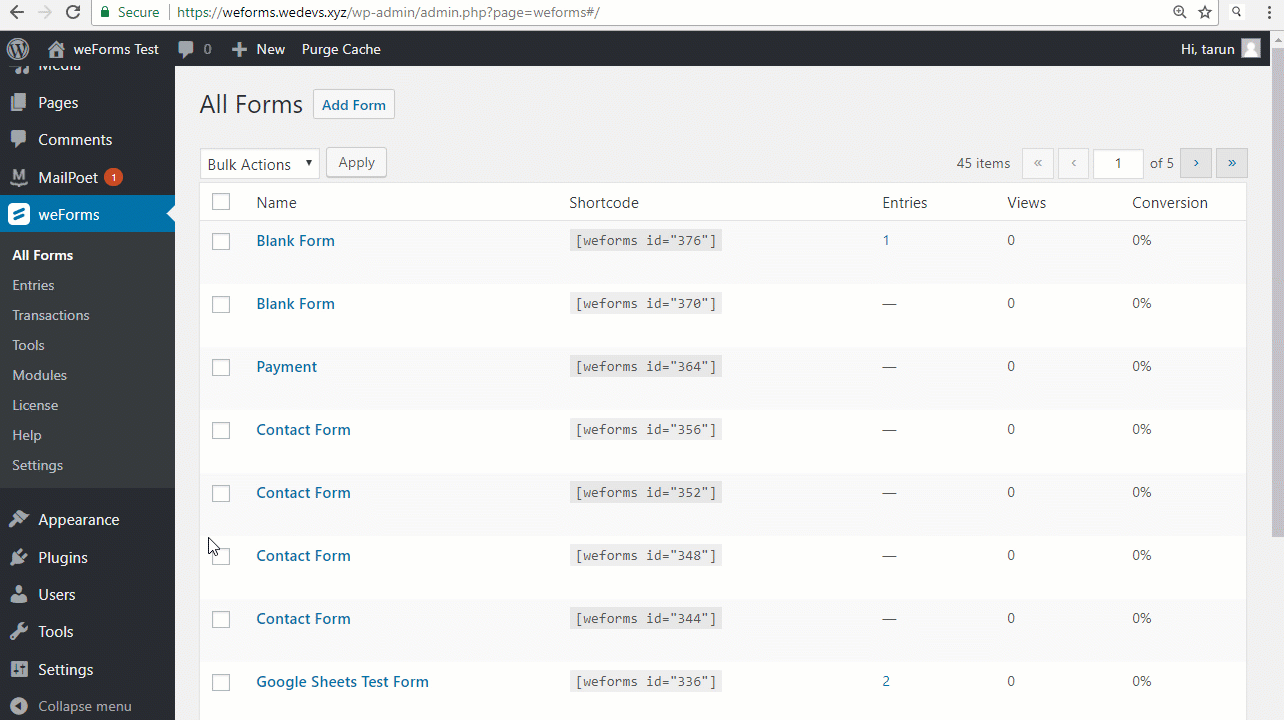 The video above is highlighting the main payment setting to control and manage all your payment-related issues. The video above very nicely portrays all the required options necessary and available to manage the payment option of weForms. This contains all the main payment collecting option that is required to complete the order payment of any product or item using forms.
Transaction details

After the customers complete their payment, you can check all those transactions detail of those payments in one place. Simply get to the payment form that you created to collect order payment and click on the transactions to view the customer details including the payment history. You can also check this transaction by going through to the Transactions bar in weForms main menu list.

Every new transaction consists of a unique ID number of the customer, The amount they transacted, an individual transaction ID, the date & time they have made the payment, and actions of their separate entry details.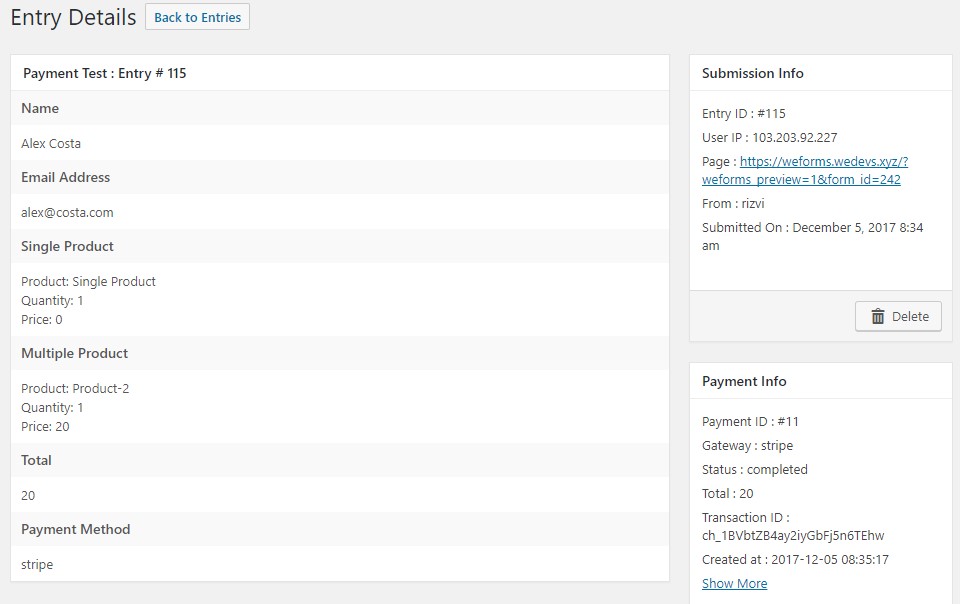 When you click on the 'Details' of Actions column in the Transactions menu, you will be able to view a detailed overview of the customer & payment entry details showcased on a single page.
Bonus: Create WordPress Donation Forms
Not just for collecting payment for the purchased products, using weForms you can also very simply create a nice donation form to collect donations for several social events. The video below displays the whole process of how to easily create a simple form to collect donation payments.
Collect Donation Payment

It is quite similar to how you can collect payment for buying a product using your forms above. Just simply add your required field from the list of fields available in "Add Field". Change the label from the respective field options according to your need. The video above already demonstrates the complete process of how a donation form is created in the back end to how the form looks and collects donation payment in the front-end. Though it is just used for an exampling purpose, you can customize your donation form any way you want it to fulfill your requirements.
To get a complete idea of weForms functionalities and its payment module (comes with the Professional package), check out our weForms documentation.
Final Words
In this post, we have used weForms as the form-building plugin platform to show how to create & collect order payments. Not just for order or donation payment collection, you can use weForms to create many other payment forms for other businesses or social services as well. On top of that, with weForms, you can integrate several email marketing services such as Aweber, GetResponse, Mailpoet, MailChimp, etc. by which you can easily gather your customer's email list to improve your conversion later on.
So if you are looking for a WordPress contact form plugin that fulfills all your desires of easy order payment collection then you may try out the weForms free demo to see the difference for yourself. And once you are totally convinced you can get
If you have enjoyed reading this post, then do visit our blog page for many more interesting blogs like this. We update our page with fresh blogs regularly just for you. Also, follow our social channels or pages for more new updates.