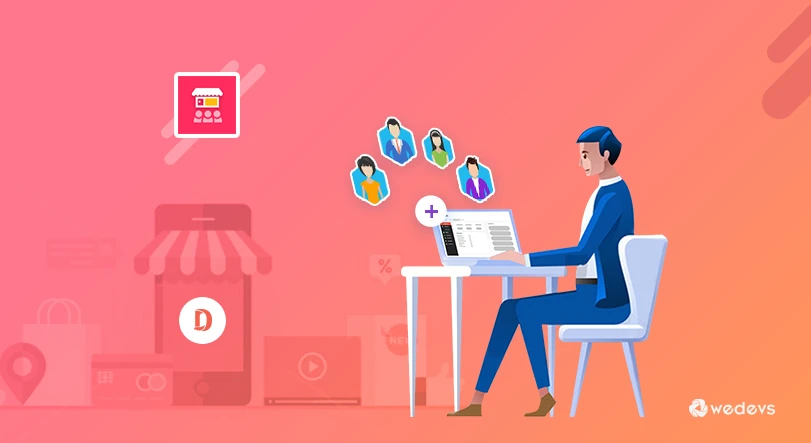 Vendor Staff Manager: New Module For Your WordPress Multivendor Marketplace
As eCommerce marketplaces grow in number and more competitive, owners and everyone at stake are looking for more opportunities to manage their online businesses in unique ways. The new Vendor Staff Manager feature for Dokan does exactly that for your Dokan-powered marketplace.
Imagine if your vendors could manage their online stores independently along with a team of other people just like you do. Think about the sellers who are making it big in your marketplace but find it hard to operate their entire store alone. These are the kinds of businesses that need teams.
If you have at some point thought about giving quick access to vendors to create and run their personal store team, now you have the perfect solution to do that!
Dokan Multivendor Introduces 'Vendor Staff Manager'
Just like you require staff with different permission levels for admins, vendors, subscribers, editors, and customer, to run your multivendor site, several sellers also need something to run their growing store-place with multi-level access. Vendor Staff Manager brings this feature solution to your marketplace.
Vendor Staff Manager for Dokan Multivendor now allows vendors to operate their stores independently along with their own online personnel with privacy and flexible access. Each vendor in your multivendor marketplace can have an unlimited number of staffs.
How This Module Benefits You
What's more! This powerful module gives vendors easy access for creating personal eCommerce teams who can operate the store in vendor's absence. The module also lets vendors customize permission levels so they can run their eCommerce business securely and reliably.
This also means vendors can securely add people living remotely into their online teams, and forgo the hassles that come with physically managing a team.
Thus vendors will have more hands. As a consequence, vendors get more opportunities to get more done and faster!
In Short: Your vendors can add as many staffs as they want, decide who gets to do what and enjoy more liberty.
Use Vendor Staff Manager in Easy Ways
The Vendor Staff Manager gives more control and authority to the sellers of your marketplace so they can run their eCommerce business along with a full-fledged managed team just like a brick and mortar store business.
Staff Manager module comes with customized Staff Dashboards. So your online personnel can manage orders, products, reports, reviews, withdraws, and even some of the other modules.
The premium extended feature comes with a very easy and intuitive interface. Yet it's feature-rich and endowed with everything vendors needs to manage their staffs directly from the frontend.
As soon as you turn on the module, your vendors will see a new menu, Staffs, in Vendor Dashboard from where they can create and edit new staff.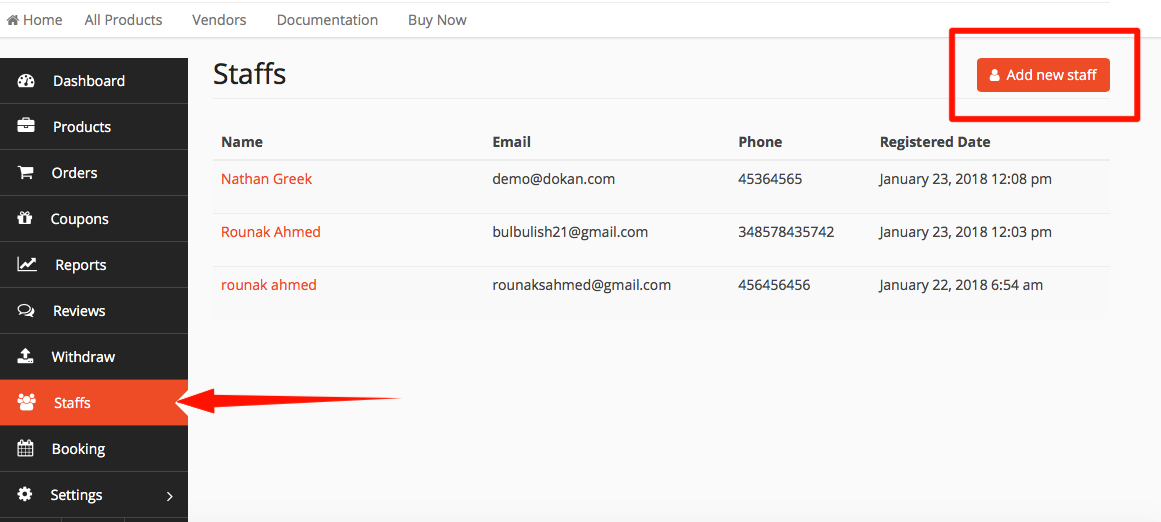 Vendors can create new personnel for their stores simply by clicking on Add New Staff. And that's how easy it is to add your team members!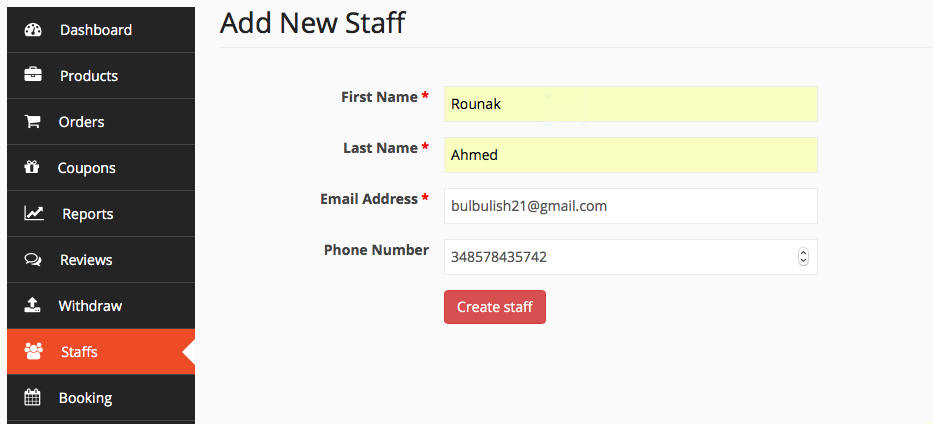 Vendors can also edit and delete every staff whenever they want.
Cherry on top! Vendors can manage permissions for each staff added completely on their own authority, without having to rely on Admins!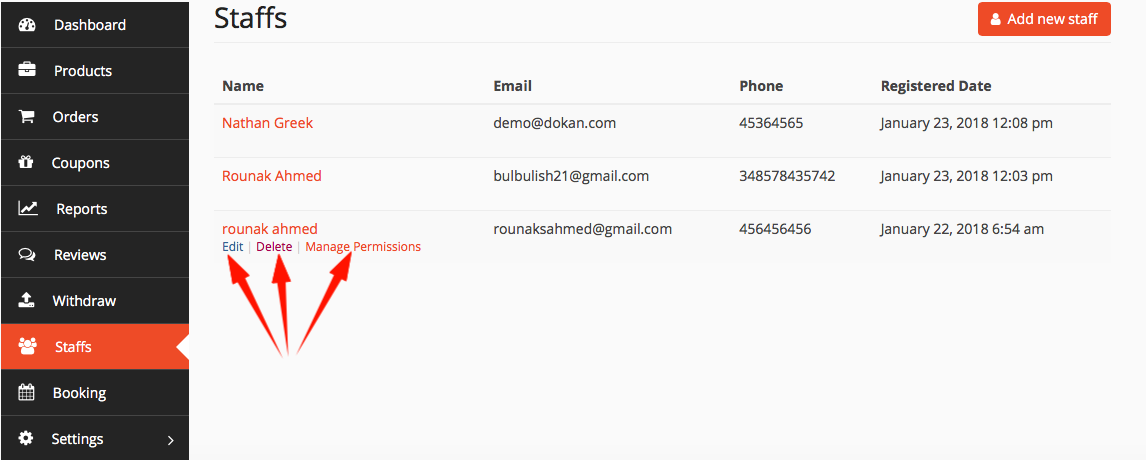 Manage Permissions for Online Staffs
The permissions manager is the most important feature of Vendor Staff Manager.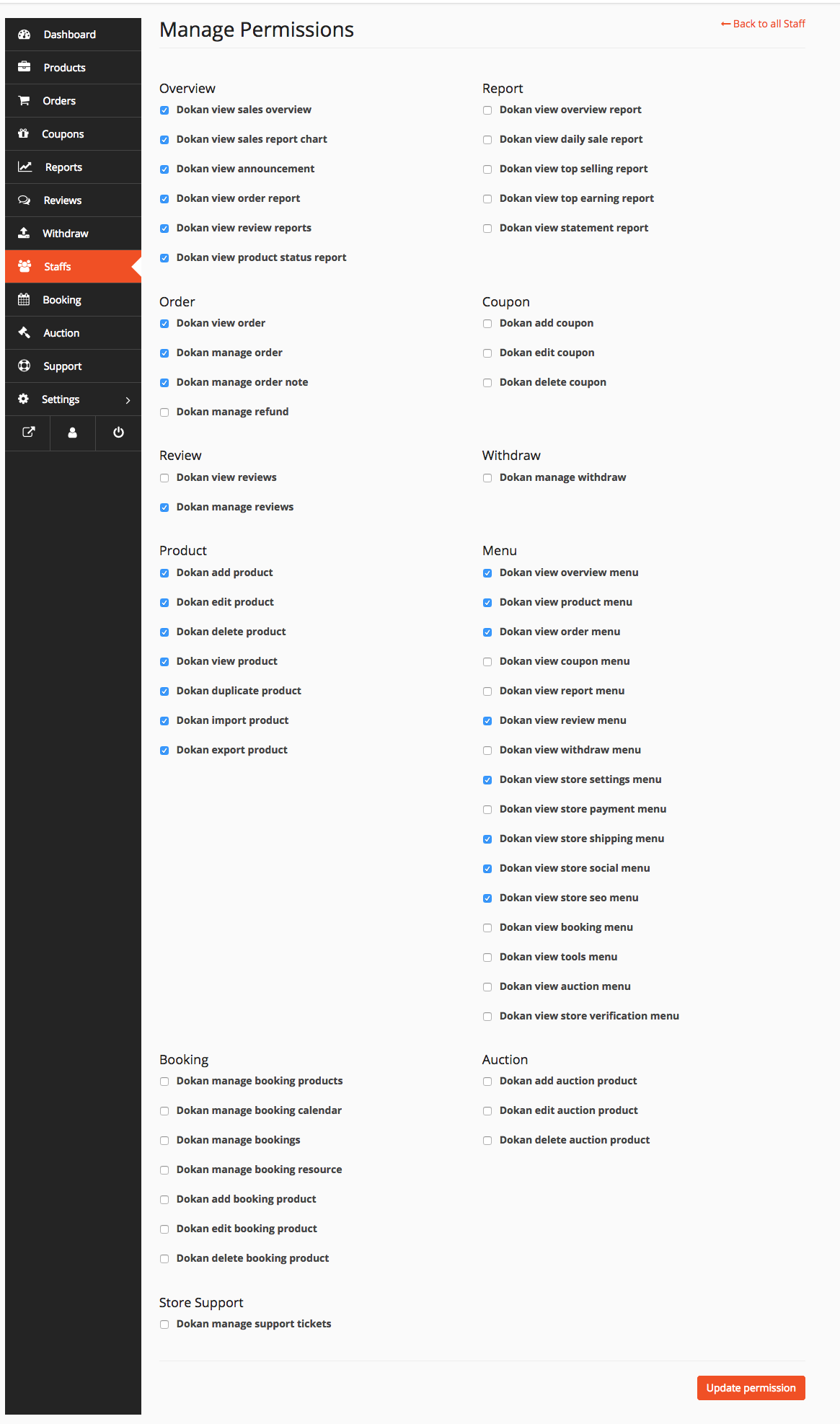 Vendors can change these access levels anytime they want. They have to simply check and uncheck the feature options and click on update permission.
If vendors want to turn off a category for a particular staff, they can simply disable the menu option for that category instead of unchecking every feature option. For example, if a vendor doesn't want a staff to handle Products in any way, he can opt out Product menu, [Dokan View Product Menu] from the Menu options. Doing this will remove the Product menu altogether from that staff's dashboard.
The changes will take place immediately on the Staff Dashboard.
The Staff Dashboard
Every personnel will get a verification mail when the vendor creates them on Dokan Vendor Dashboard under Staffs. After setting up a new password, staffs can log in with their new username and view the store with customized dashboards.
The process from both the vendor and staff side is as simple as ABC!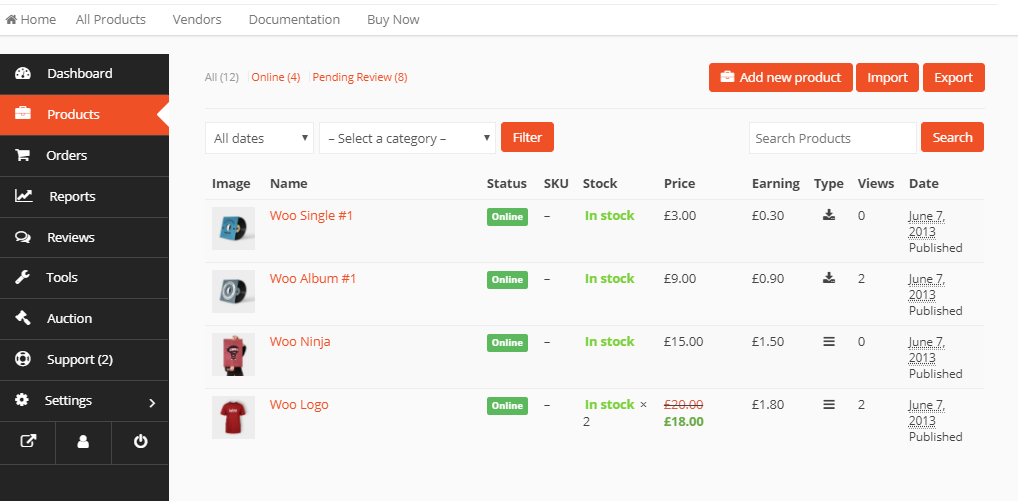 For ease and effectiveness, the Staff Dashboard has the same display as the Vendor Dashboard. Staff only gets to perform those actions that the vendor allows him to do from Manage Permissions page.
The same interface ensures familiarity for both vendors and staff so that both can easily interact with each other. It becomes all the more easier for vendors to show staffs around the store and their dashboards. This also ensures quick completion of tasks.
Let Your e-Staff Perform Essential Functions
Staff will be able to conduct several fundamental functions from the security of Staff Dashboard, such as, managing orders and refunds, reviews and withdrawals, and viewing reports.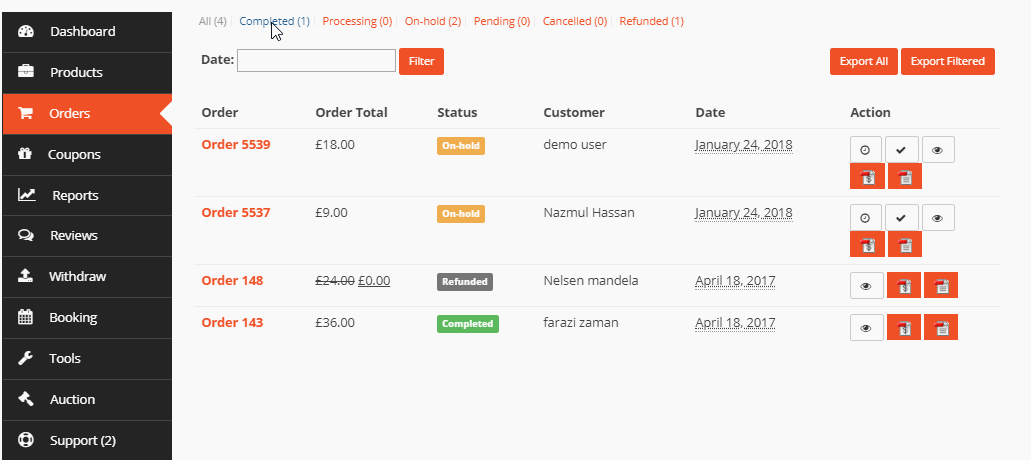 Staffs can also add, edit, update and delete products and coupons just like vendors do.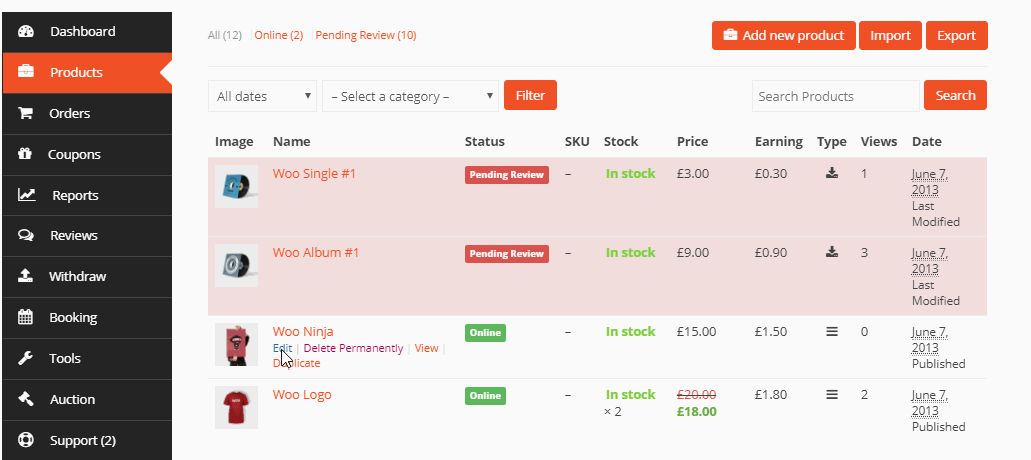 Staffs can also manage book-able and auction-able products. As well as handle customer tickets and client queries with Store Support. Please note that, vendors must enable these permission to let their staffs manage all the functionalities for them.
Handle Bookings, Auctions, and Client Support
Vendor Staff Manager lets the staff of your vendors handle 3 premium integrations: Dokan WooCommerce Booking, Simple Auctions, and Store Support. You can manage permissions for each module to your liking and decide which staff has access to what feature options.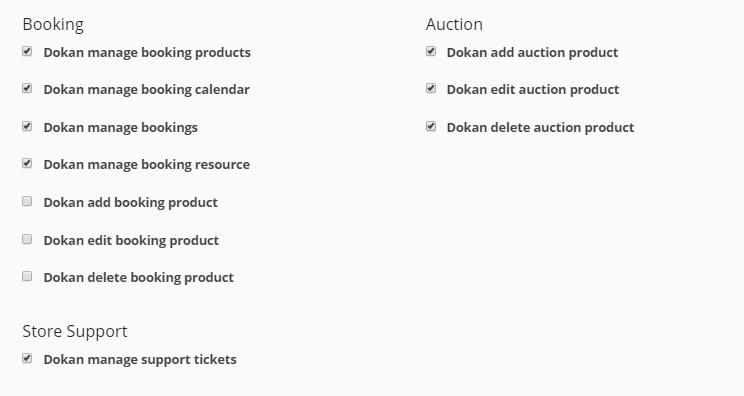 Get the Perfect Staff Manager for your Dokan-powered Marketplace
The Vendor Staff Manager module is available in Dokan Business and Enterprise Plans.
To learn about the installation, configuration, and use of this integration, have a read of the documentation.