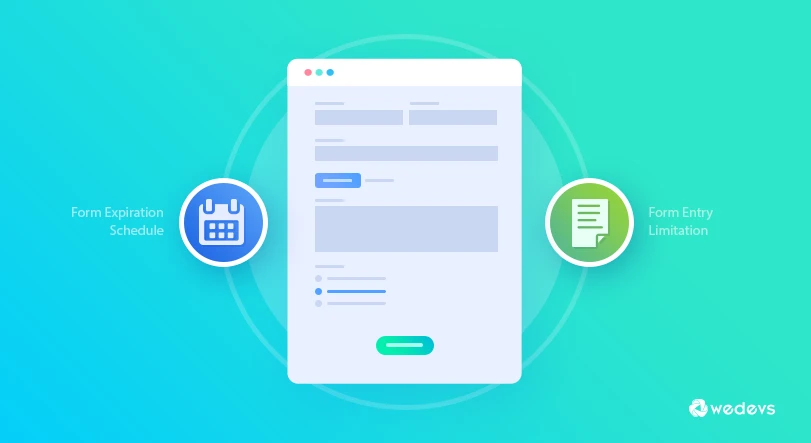 How to Set Up WordPress Form Expiration And Entry Limitation
Have you ever wondered whether it is possible for you to set WordPress form expiration schedule and limit form entries as your wish?
Not just you, this question is asked by many users these days. Sometimes, a user may require to set the expiration schedule of a certain form and limit the number of entries. It can be for taking online quizzes, submitting applications, events, proposals or registration forms etc.
So the ability to set up an expiration schedule for forms and limiting form entries in WordPress needs to give proper emphasis. This useful feature can be a huge selling point for any good contact form plugin for WordPress. And so it is for weForms as well and more importantly, this feature comes absolutely free.
This post will have the tips and tweaks of the expiration of form and entry limitations and how these features work with weForms. But before getting into more details about its attributes, let's find out how you can easily activate these features in each form with weForms.
Activating Form Expiration Schedule And Entry Limitations
So if you want to set your form's expiration date/time and limit the number of form entries, the first thing you got to do is to check the Schedule Form and Limit Entries box in the Submission Restriction settings of the respective form. The video above shows you exactly what you have to do to enable the option for you to set an expiration date/time and limit the entry of your forms.
How Free Form Expiration Scheduling Feature Works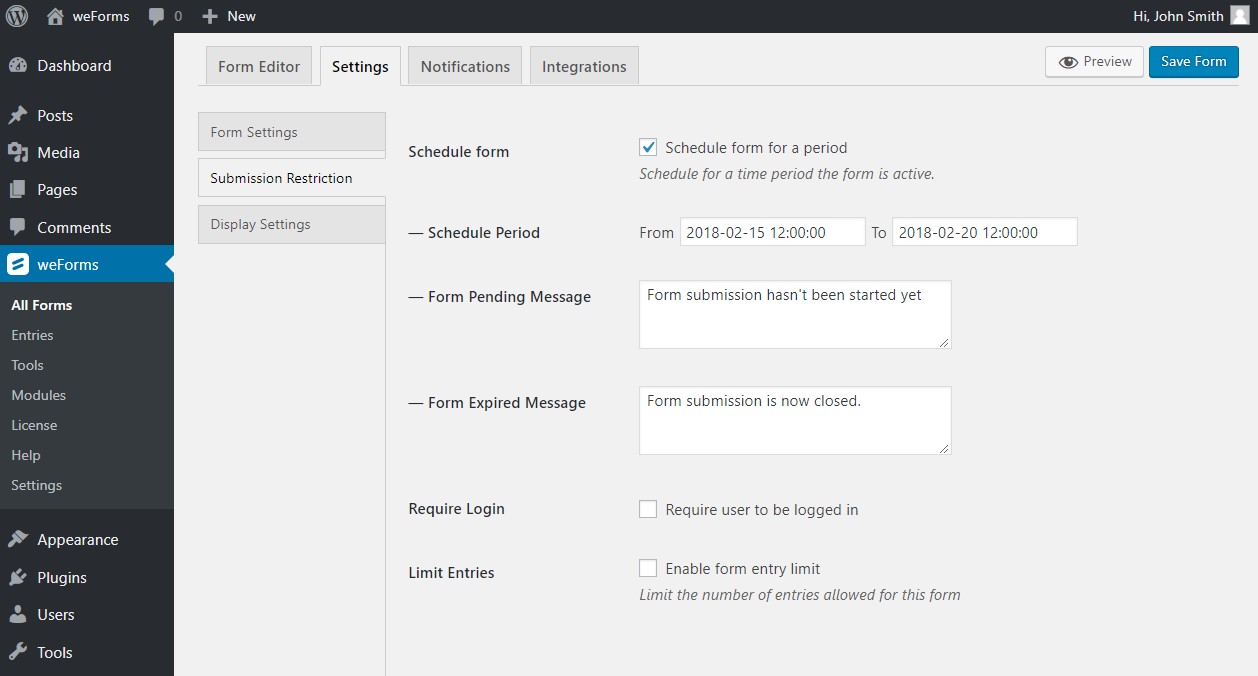 Say, you are planning to accept some job applications in your company and you want to set a certain period of date and time for the submission period of the application. Would you be able to do so if your form doesn't allow you to set an expiration schedule? This is where this feature comes in handy and helps you set certain expiration dates/times for each of your forms separately. With such an option, you will now have more control over your form submission.
Not just scheduling the form expiry period, in the submission restriction settings, you also have a dedicated text box for setting up a form pending and form expiration message. Form pending message is displayed when someone tries to submit the form before the date or time of the pre-defined submission period started. On the other hand, the form expiry message displays on the screen when someone submits the form after the application period is already over.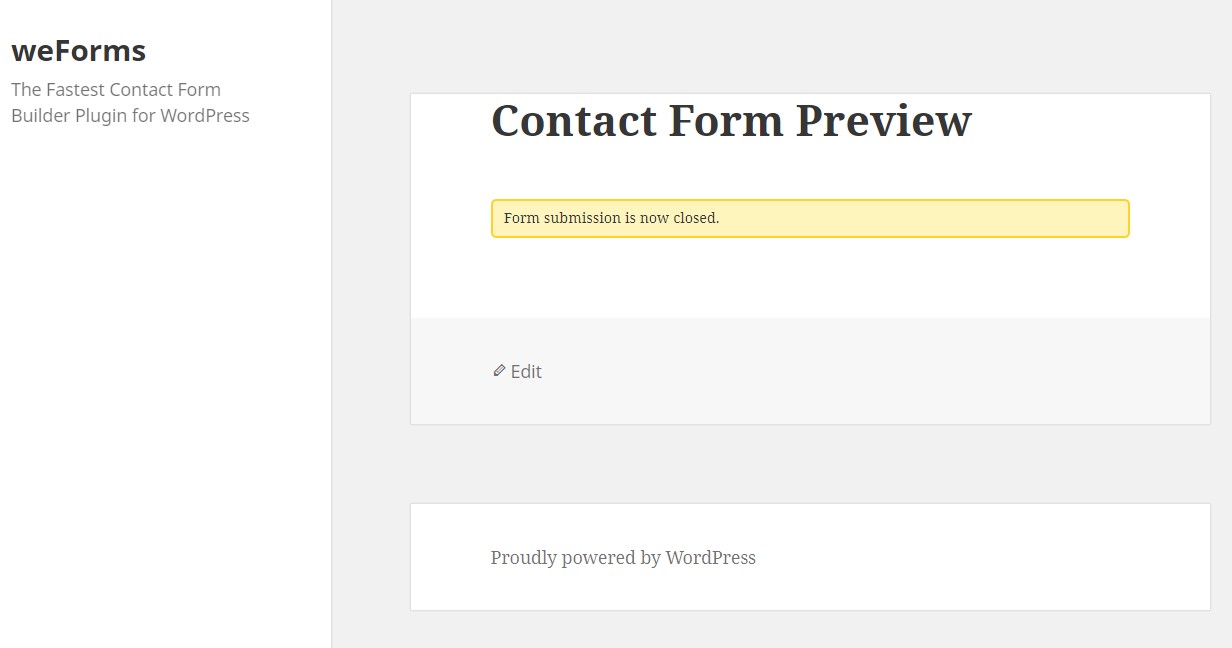 Here is a preview of the message that displays after the form submission date and time is over. Now this is a cool feature to have in your contact form plugin ain't it?
How Free Form Entry Limitation Feature Works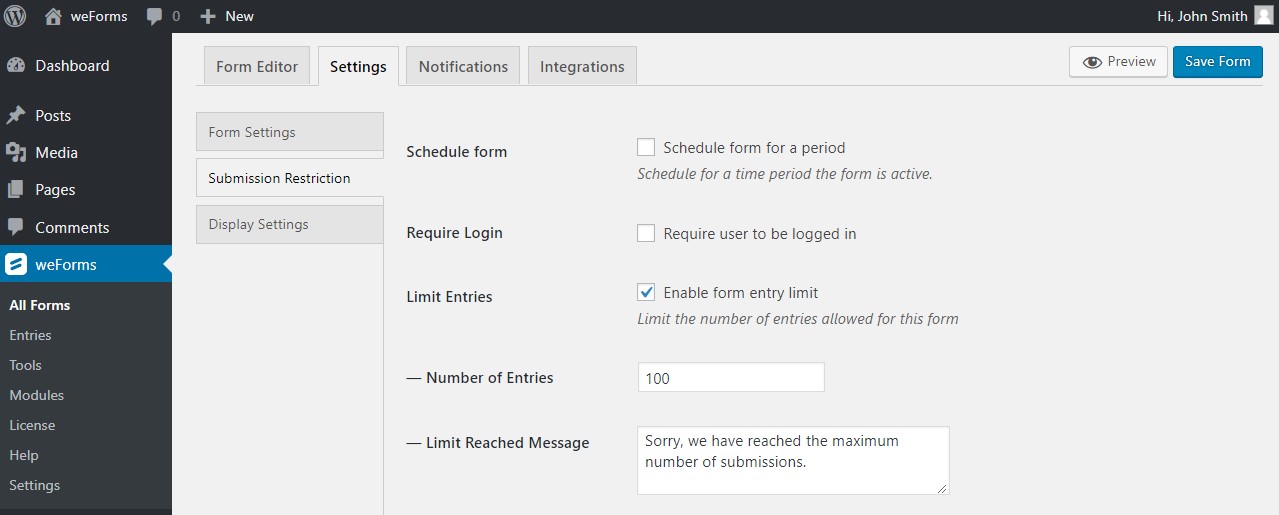 Now coming to the form entry limitation option of your form. Well, this feature is essential when you want certain form submission limited to a certain number of times. Say, you are running an event registration campaign and you only have 100 seats available for the event.
You want to accept only a hundred people to submit their registration forms. You wouldn't be able to do it if your form plugin settings don't allow you to limit the number of form submissions right? So as a contact form user of WordPress, you will always require having such an option in your form. And this feature will indeed give you the ultimate freedom of limiting form entries whenever you want it.
It has the option to input form entry numbers, and also has a text box to set the Limit Reached Message. This message displays on the screen when the form entry reaches the point it was set.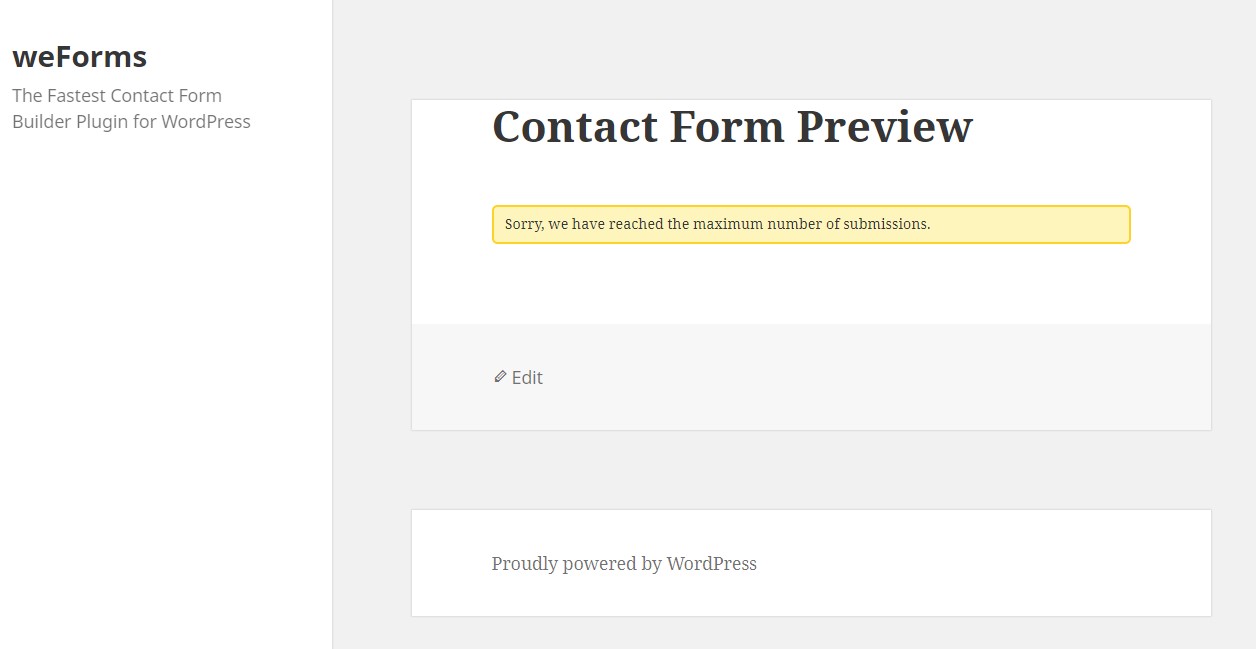 Above is the preview of the message the applicants see after the form submission limit is crossed. This is quite a helpful message to let the user know the status of the form submission.
Final Words
So that's all there is to it. We hope this post will help you understand the usefulness and importance of the form expiry schedule and form entry limitations in your forms. Through such posts, we always try to make you aware of the exciting things that you can do and achieve with WordPress plugins.
To effectively use any form submission you need to have a user-friendly and feature-enriched contact form plugin. One such kind of contact form plugin is weForms. The settings that we have shown in this blog have all been the form settings present in weForms. And as you can see how easy it was to configure the schedule form expiration and limiting the form entries. Not just that the feature of form expiration scheduling and form entry limitation is totally free in weForms. So if you are looking for an efficient and compact contact form plugin then you may try weForms or check out its demo to get a better idea of its functionality.
If you are already using weForms or any other contact form plugins then do share your experience or give your feedback in the comments below. We are always trying to improve our services after taking incentives from our valued customers.