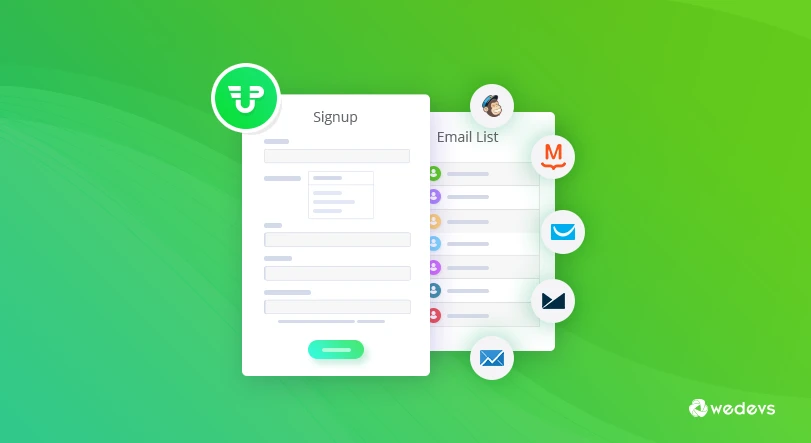 Build A More Robust Email List By Integrating Your WordPress Signup Forms
When you create a website with the purpose of serving some target users with a product or service, you definitely need people to sign up. This can be easily done with registration forms.
If you are running a WordPress site, you are winning on all ends. Because WordPress has made it super easy to create and use custom sign-up forms. Or in different words, registration forms.
Advantages of Signup Forms on WordPress
There are a number of benefits of WordPress registration forms:
It's secured: WordPress itself is known for its reliability. When you allow registration, it keeps spammers and users who are disinterested in your service or products away. A simple signup form is enough to prevent unwanted users from your site.
Keeps a record: You will have a good database of the people using your site in any form, like subscription, customer, vendor, editor. You will also have other important details letting you decipher where most of your users are from, what they are most interested in doing with your products or service, and how they are interacting with you.
Paid Membership Plans: Offer different membership features and plans to your registered users. This you can't possibly offer to your unregistered visitors, because to be able to consume your services in a consistent way, the user needs to have his own ID on your site. In this way, you also get to decide the kind of access a user will have on your website. And that only makes sense!
Only get what you need: With signup forms, you are in control of the information you need from your users. WordPress forms make it easy for you to add as many fields as you want and also make it relevant to your brand and service. For example, if you need website address, reCaptcha, or image upload fields along with email address and username, you can easily add these from the in-built options of WordPress forms.
Create different forms for different users: Using the conditional logic feature in WordPress forms you can display different fields for different user roles, like subscribers, editors, content writers, and contributors.
A great marketing tool: Email is still the best marketing tool with a large number of users. Email is more widely used than social media channels. So it only makes sense when you provide registration forms on your site so you can use the emails as future leads to further market your business.
Offer great bonuses and deals: You can entitle the people who signup on your site to special deals. So that more people signup to your site and so you can offer premium products with promotions, offers, and coupons.
Work with guest bloggers: Registration forms are a gateway to allow your guest posters to publish posts on your site as contributors. You can even create sites out of the user-submitted content, such as personal journals, job boards, classified ads, blog sites, dedicated service sites, such as car drivers, freelancers, and more.
And most importantly, what this article is all about:
9. Integrations to connect your registration forms with email lists: Using plugin integrations, you can even connect your signup forms with your email lists, so that more contacts and sales leads are added to your bucket!
WP User Frontend's Email Integrations
Using WP User Frontend's registration forms, you can not only create numerous custom fields with your signup forms, but you can also integrate them with several email marketing campaigns, like MailChimp, MailPoet, ConvertKit, GetResponse, and Campaign Monitor.
These modules are in the Professional and Business Plans of WPUF, the first complete front-end solution for WordPress-powered sites.
Create Flexible Registration Forms with WP User Frontend
The WPUF Registration Forms are built in such a way so you can serve your business goals better even with simplicity. With little tweaks and modifications, you can create a registration form for your site that not only signs up new users but also helps you to convert more people.
If you are already using WP User Frontend Pro Professional or Business Plan, all you need to do is navigate to Registration Forms.
If you aren't, check out the plans and full-feature list of WPUF PRO here.
To get started create a registration form on WP User Frontend first by clicking on Add Form.
Want to use more fields? Simply use the built-in drag and drop to add profile fields, custom fields, and other fields as you like.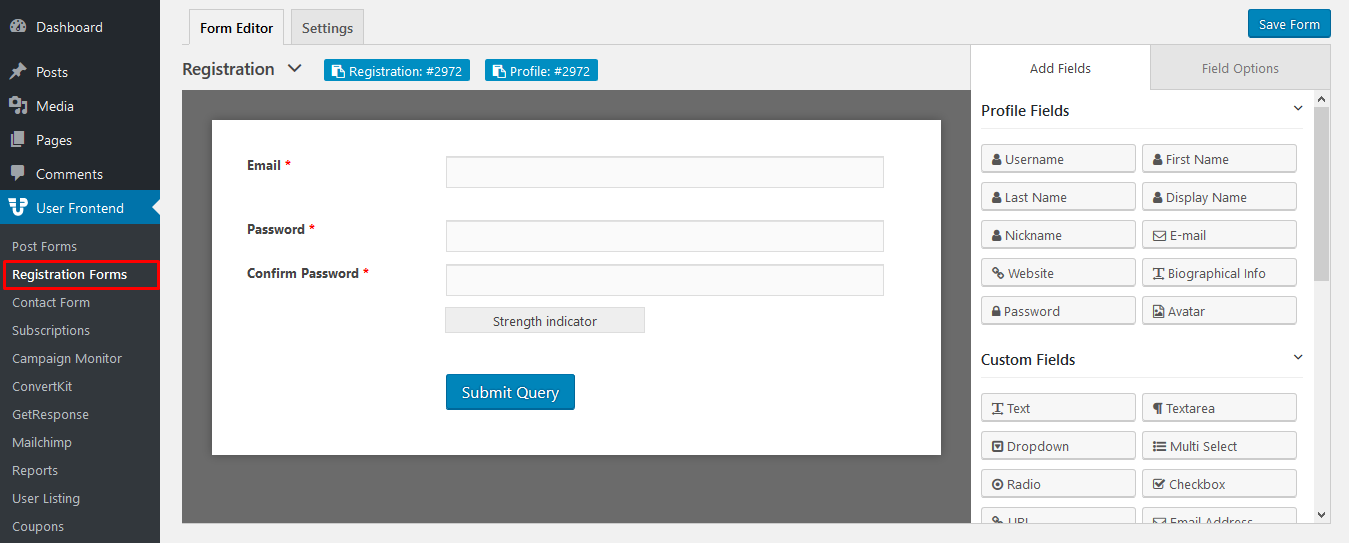 Add email verification, multi-steps, send SMS and set new user status directly from the Settings of the form.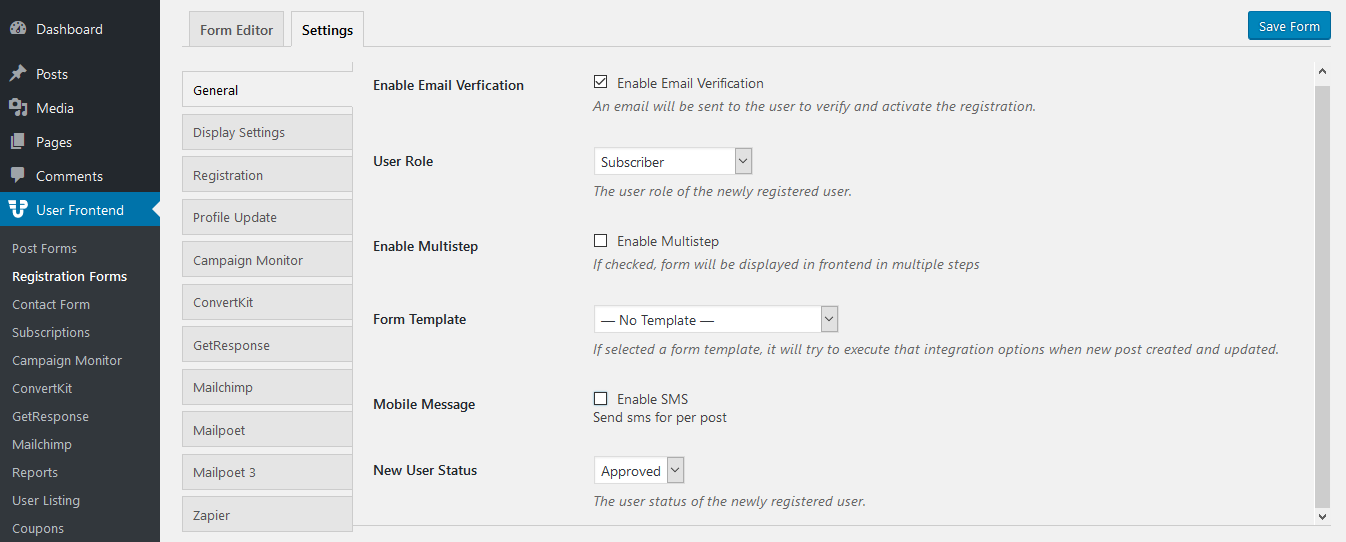 With WPUF Registration Forms, you can even set how you want labels to display, and if you want to redirect users to a different page after a successful registration.
Now you are ready to publish your form from WordPress dashboard→Pages by simply pasting the shortcode of the form. If you want to allow your registered users to come back and edit their information while logged in, use both the Registration and Profile shortcodes on your page.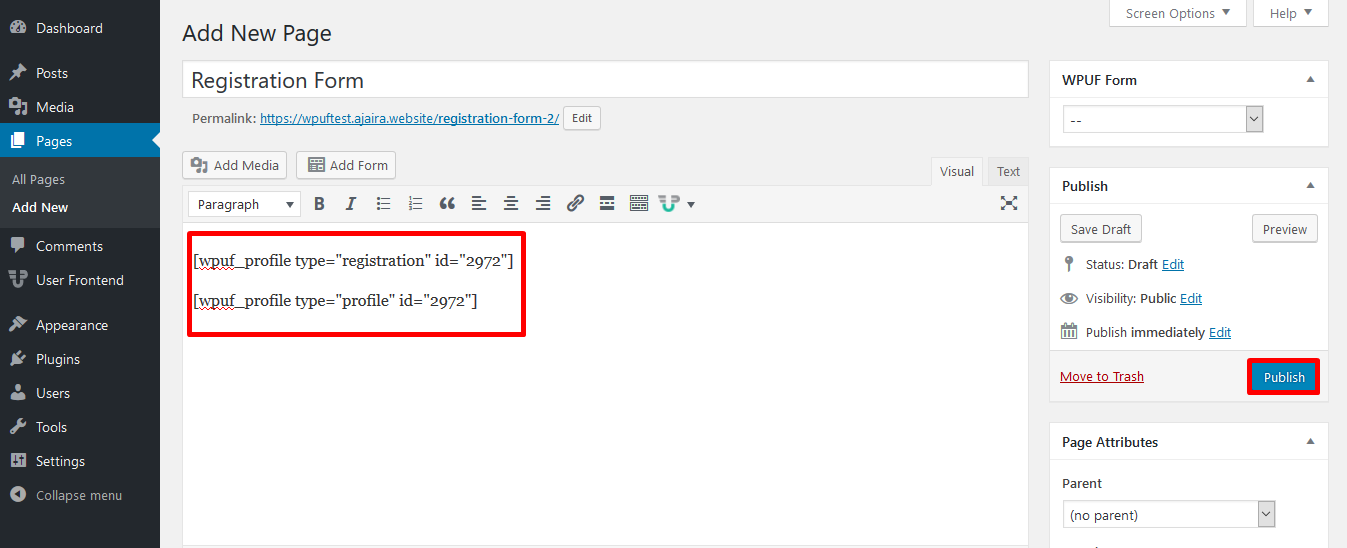 Integrate your WordPress Signup Forms with Email Lists
When you have set up your signup form, turn on your favorite email marketing solution from the range of email marketing integrations offered by WPUF.
Let's say, you want to integrate your registration form with ConvertKit.
Turn it on from User Frontend→Modules.
Login to your ConvertKit Account and obtain the API key and Secret Key from Account Settings.
Paste them on your User Frontend→ConvertKit dashboard in the fields provided. Enable Double Optin if you want to. Then click on Connect.
After connecting, go to Registration Forms and select the form you published.
Click on the Settings tab of the form.
Click on ConvertKit and enable the checkbox Enable ConvertKit.
Then select your preferred list for subscriptions from the drop-down.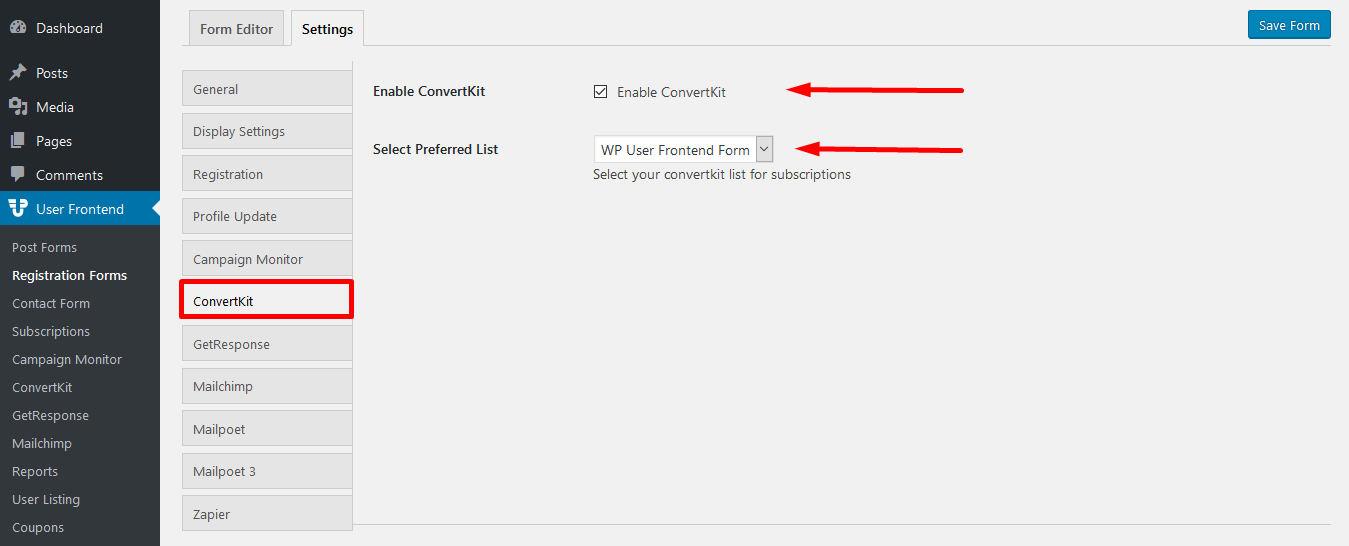 View After Integration
Fill up the published form using the link generated.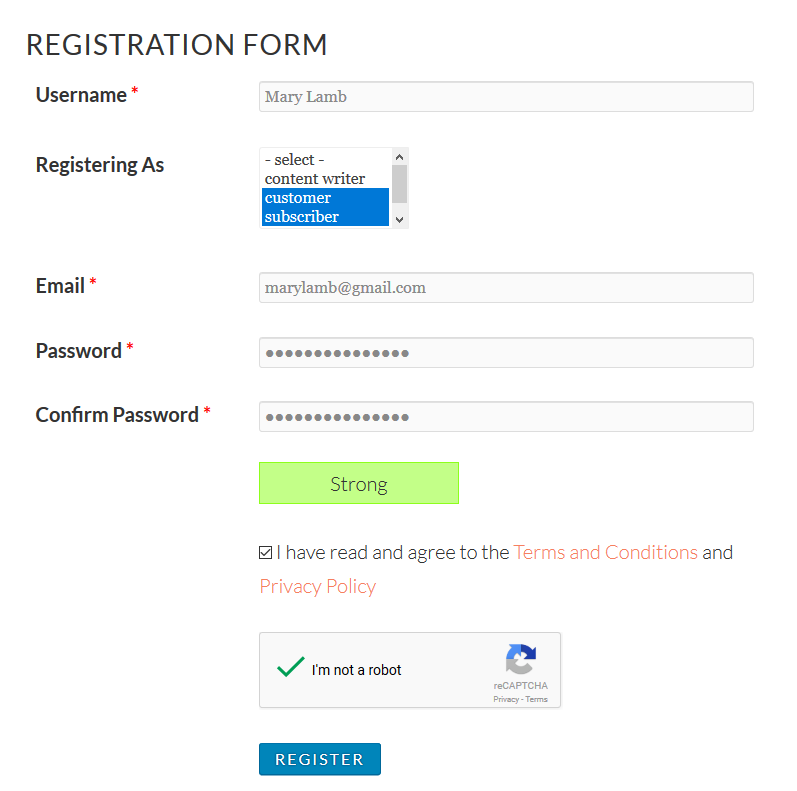 You can fill it up multiple times to check the integration.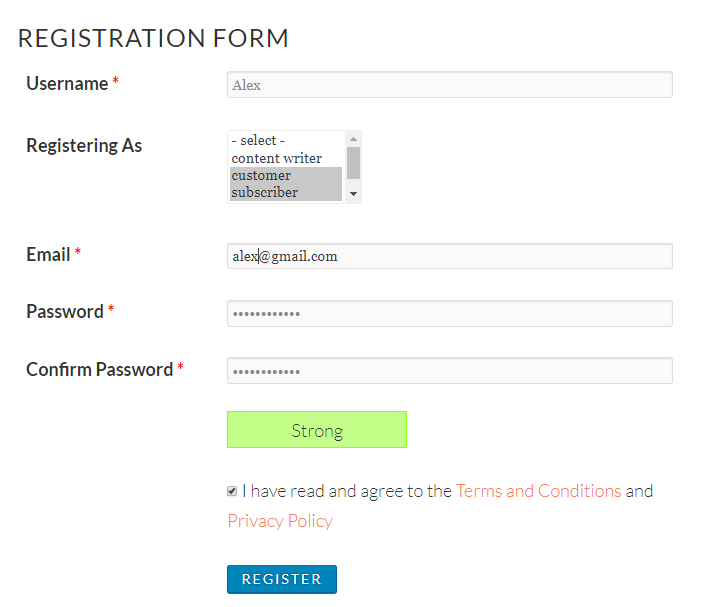 When the registration is successful, your email address will be automatically subscribed to ConvertKit.
To view the list, go to ConvertKit→Subscribers→Select All Subscribers from the drop-down.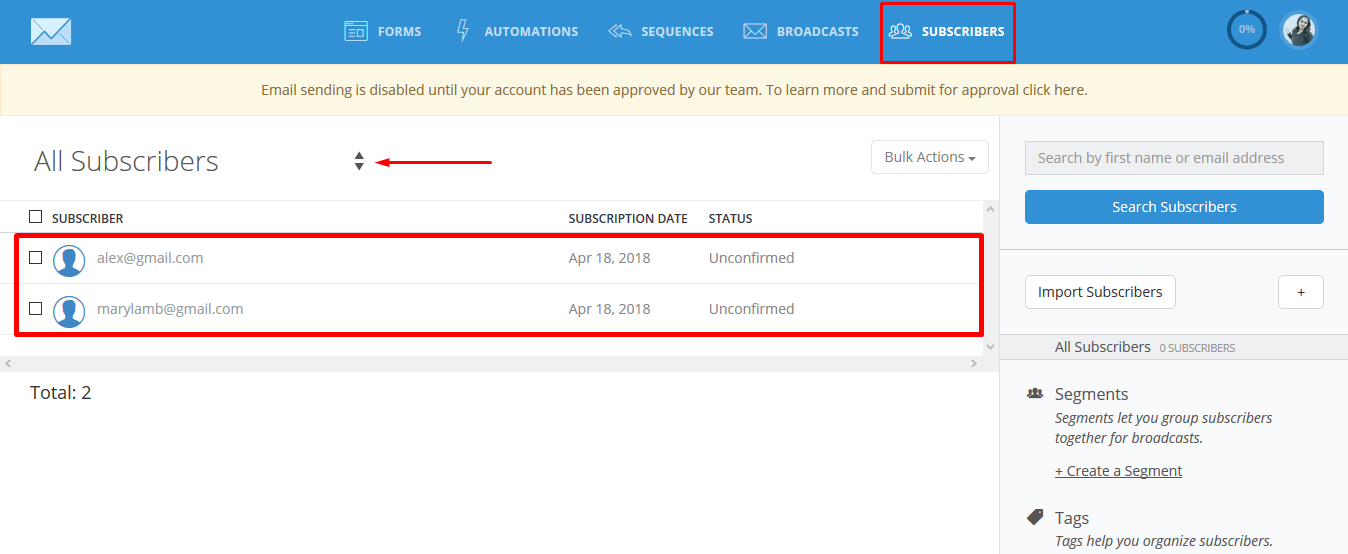 WP User Frontend integrates the email address of the registered user instantly with your ConvertKit account, and also tells you the date and status of the subscriber in your email list.
Now you can use these as leads to follow up to or contacts to make deals with or in other ways that fulfill your business goals.
In the same way, you can integrate your MailPoet, MailChimp, GetResponse, and Campaign Monitor accounts. The integration is a one-time connect after which your lists will be automatically updated with each new submission in the form.
It's super easy and efficient!
Better Ways to optimize your email lists with WPUF registration forms
Currently, WPUF only integrates the user's email address. But other information may very well be needed that will provide a better record to help with other customer management needs. For example, you may need the user's avatar, age, and other useful data, such as, purchases and membership history, in order to better cater to the specific demands of that user. A more comprehensive integration between the forms and the email lists may become a requirement when emails are your primary way to manage customer relationships.
A more detailed overview of the user data can even help you to use your email marketing solution as a substitute for a CRM.
So what do you think of these email integrations for WP User Frontend? Are they helping you to connect you better with your users? What other and better ways can these modules be used to serve your needs?
Feel free to let us know in the comments!