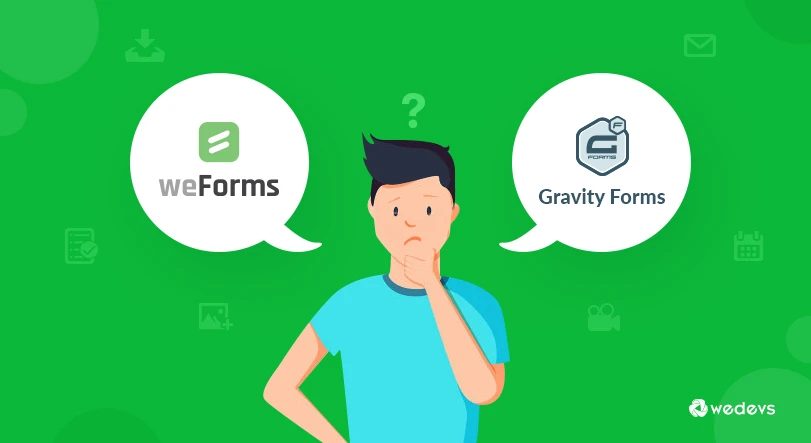 Gravity Forms Vs weForms: Choose The Best WordPress Form Builder
Imagine you own a WordPress website, but you don't have any forms in it. Would it be convenient for the site visitors to contact you? Guess not huh?
So having a contact form on your website always plays a vital role in letting people communicate with the site owners or admin. But more than having a contact form it is more important to choose the best WordPress form builder plugin for your website.
It is no secret that in today's time, if you own a WordPress site, then it is a must for you to have a contact form builder plugin. Though you must have heard about a number of website builders before but do you really have enough idea about contact form builders?
Almost everyone knows that a contact form on your website will work as a bridge of communication between the website visitor & site admin/owner. But to have this process of communication go smoothly, you would require the most feature-rich, compact & advanced contact form builder plugin for your WordPress site.
And so today, we will be highlighting two of the most powerful modern-day form builder plugin for your WordPress site. Gravity Forms & weForms.
How To Pick The Best WordPress Form Builder?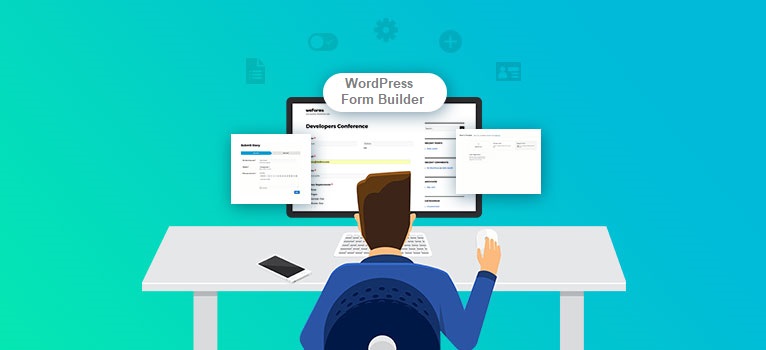 But before getting into the head-to-head comparison details between these two most comprehensive WordPress contact form builder plugins, let's find out on what basis you could consider a form builder to be a good one.
☑ User-Friendliness: Ease of use is something that comes with an easy interface that enables you to create forms with almost no complexity even if you are not much of a technical person.
☑ Mobile Responsiveness: You create a form for your website but it doesn't work properly on your mobile devices so is it something that anyone desires? So a form builder should always be fairly usable in all types of portable devices.
☑ Advanced Features: Whether it is in the form of enhancing your added functionalities by add-ons or its built-in high-level features, a good form builder should always consist of advanced features that can quickly help you create some high-end forms for your website.
☑ Pricing Range: The cost of using a form builder is always a major concern for most people out there. So starting from its various pricing plan, the price range should always be kept in customer's expected range so that they always feel it's something worth investing in.
☑ After Sales Support: To keep the trust intact over your company, product, or services, there is no alternative to better after-sales support. So every good form builder should have a dedicated department to provide personalized customer support after-sales. Reliable after-sales support always holds a big impact on the sales of every premium form builder plugin.
Gravity Forms Vs weForms: The Comparison
Gravity Forms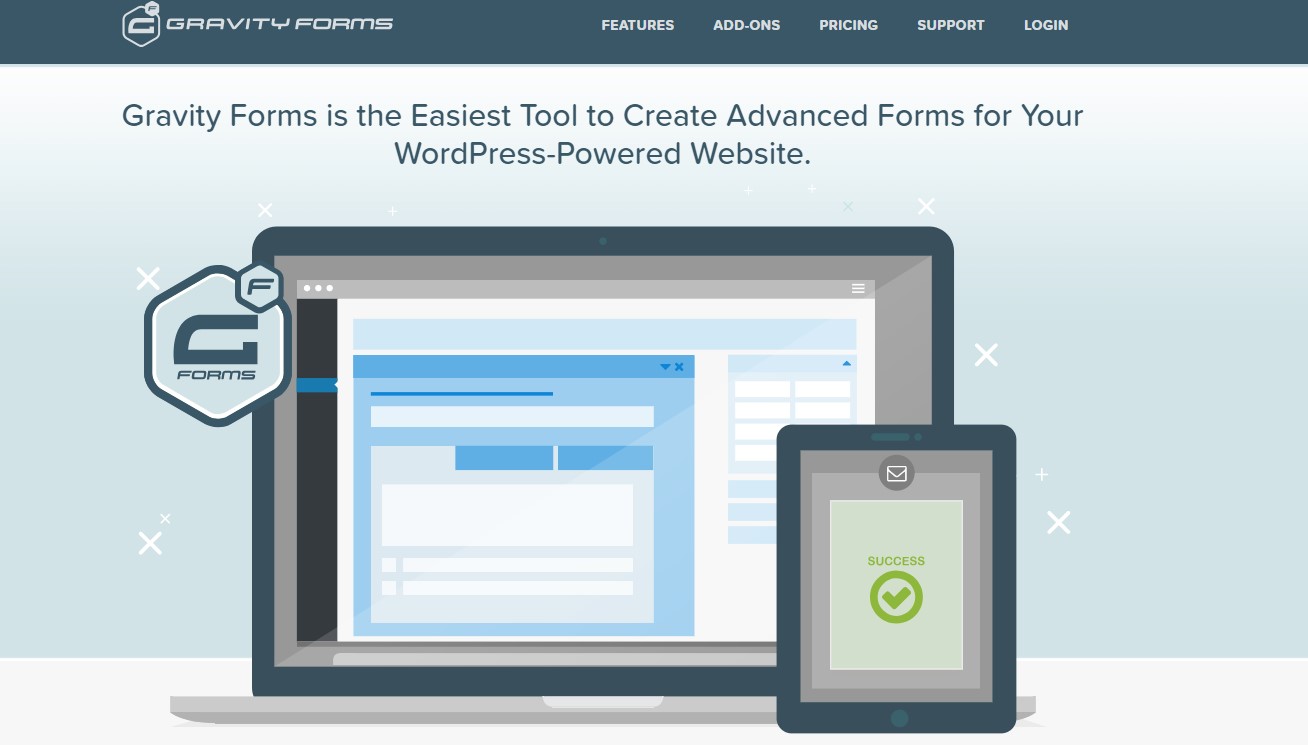 Now, when it comes to Gravity Forms, it is known to be one dominant form builder plugin for WordPress. It is clearly a popular form builder plugin available in the WordPress market if you look at its active installs & public feedbacks online. Quickly create and design WordPress form for its users with its unique drag & drop form building features.
It is also understood to be many developer's first choices as many of them have already declared this contact form plugin to be one of the flawless form builder plugins to come out from its developers for any WordPress site.
The premium version of the Gravity form is loaded with a number of advanced features that can easily make anyone a fan of this contact form plugin. It is a very highly customizable form builder which offers some really extensive features like email notification on form submission and a conditional logic option for receiving only a certain amount of submission each form.
In case you want to make any form valid & visible for only a certain period of time, you can create the form in advance. It will set the form expiration time and display a customized message when the form time expires.
So, all in all, a very handy and cool form builder plugin for every WordPress user.
Plusses & Minuses
The Plusses
An ample range of useful add-ons to choose from.
Limit forms by scheduling.
Has a highly responsive design.
Spam fighting ability.
Has premium support whenever you need it.
The Minuses
It doesn't have any free version.
For personal use, using the premium version can be expensive for some people
Key Features
✓ More than 30+ form fields.
✓ Form limitation feature.
✓ Set expiry period & validation of the form.
✓ Configure email notification on form submission.
✓ Set separate conditional logic on forms.
weForms

Being launched in the latter portion of 2017, this relatively new WordPress contact form builder plugin has already broken through the tradition & barrier of being just any other conventional form builder. weForms is currently claimed to be the fastest contact form plugin there is to build any type of WordPress site form. Creating any complex forms with the utmost easiness and flexibility is something that you will always fancy getting from weForms.
Trying to live up to its tagline of being the fastest & easiest WordPress plugin, weForms offers the most user-friendly user interface with over 23+ form field types to build the form of your wish. Not to mention that you can build some well-crafted and nicely designed forms even with its free version.
Feel the uniqueness of creating online forms with its well-responsive drag & drop form builder. Get the best experience of form submission as it is the best frontend post submission tool there is. Build and preview the form at the same time to see how it looks in the frontend for the user with just a single click.
With weForms, easily restrict forms, limit form submission, and apply form scheduling to have total control over your forms all the time. With the pro version of weForms instantly create the forms of your imagination hassle-free.
The current popularity & growth of weForms certainly projects its future to be at the top of the game in the coming years. It can be assumed even with current trends of form builder plugins, weForms will go a long way. And it will leave behind some of the top names in the WordPress form builder plugin arena as well.
Plusses & Minuses
The Plusses
Easy to use for any type of users.
Get to manage your form submission with some advanced features even in the free version.
Create any types of forms quickly with free templates & over 23+ custom form fields.
Best frontend post submission solution.
Comprehensive demo site.
Get all popular marketing tool integration such as MailChi4mp, MailPoet, Aweber, Campaign Monitor etc. with its pro version.
The Minuses
Relatively new in the WordPress form builder plugin market.
Documentation support still limited.
Key Features
✓ Over 23+ various form field types.
✓ Drag & drop builder with live preview in the frontend.
✓ 100% responsive forms for any device.
✓ Customized notifications & templates.
✓ Conditional logic, form entry restriction & submission limitation.
✓ ReCaptcha supported for better protection from spam attacks.
✓ Form redirection to custom URL or page.
So What's Your Final Pick?
Now, it is always a big challenge to pick the best form builder plugin for your WordPress site. Both Gravity Forms & weForms offers no shortage of features and goods that user will miss out on too much if they use one or the other. It can all depend on personal choices in many cases here.
But still, here are just basic impressions of both Gravity Forms & weForms to give you an idea of what type of users these form builder plugins will be best suited for.
Gravity Forms: Who's it for?
It is for the users who like to think outside the box and wants a highly customizable WordPress form builder that offers all the advanced & effective features then Gravity Forms is the right choice for them.
weForms: Who's it for?
If you want to design highly creative online forms that work smartly, save valuable time, are feature-rich, blazingly fast, and are easily operable then look no further, weForms is the contact form plugin that would best suit your WordPress site.
So which form builder would you choose for your WordPress? Decide yourself 😉
Are you already using one of these two form builder plugins in your WordPress? Then share your experience, views & thoughts on it in the comments section below.