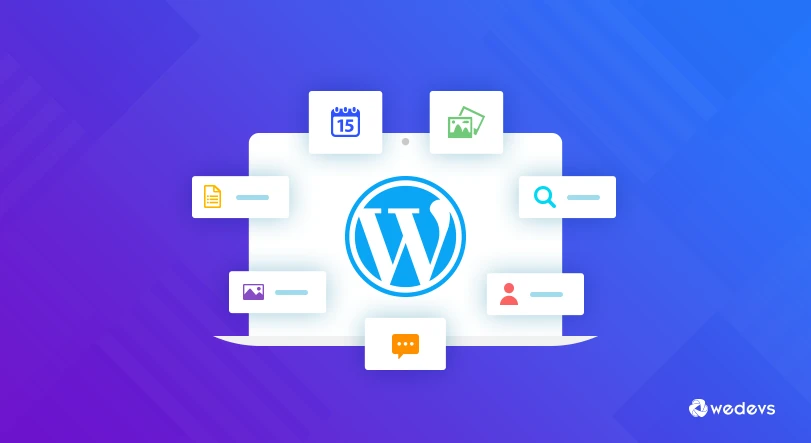 WordPress Widgets Tutorial: An All-in-one Guide
WordPress is really easy to use and easier to implement. It makes many people think that it might not have all the advanced features that other big content management systems provide. They couldn't further from the truth. It even does more than what others offer.
One such example can be given in the form of WordPress widgets.
What Are WordPress Widgets?
WordPress widgets are a simple customization layout option that the content management system offers. It helps you to add a block to your site, not limited to any particular place. Though WordPress widgets can only be added to a widget ready area only(generally called the sidebar), in reality, the sidebar, the header or the footer or any other place can be considered widget ready depending upon a theme.
Certain widgets perform certain actions that enhance the look and productivity of your website. They improve the functionality of your website by tenfolds when it comes to convenience. Widgets come in both static and dynamic format, one showing a fixed content, another one showing content dynamically.
How Does It Work?
Widgets work without needing you to know a lot about them. Yes, they are that simple to use.
You can easily get started with using WordPress widgets on your website without knowing a lot coding or technical aspects. They have all their customization option laid out right in front of you so that you can easily configure them to your liking.
In short, they(widgets) gather, organize and show specific content/contents from your site or any other place and makes it readily available to the users of your site. In the page, where you added your WordPress widgets.
WordPress comes with a default set of widgets. However, any plugin or theme maker can develop specific widgets for their products and there is no policy regarding this. The widgets can be easily moved, rearrange, modified right from the customizer.
Where Do You Find Them?
All the widgets that are currently available for your WordPress site are available in the WordPress backend menu options. Simply go to wp-admin→Appearance→Widgets you will be able to see a list of all the widgets that are ready to use.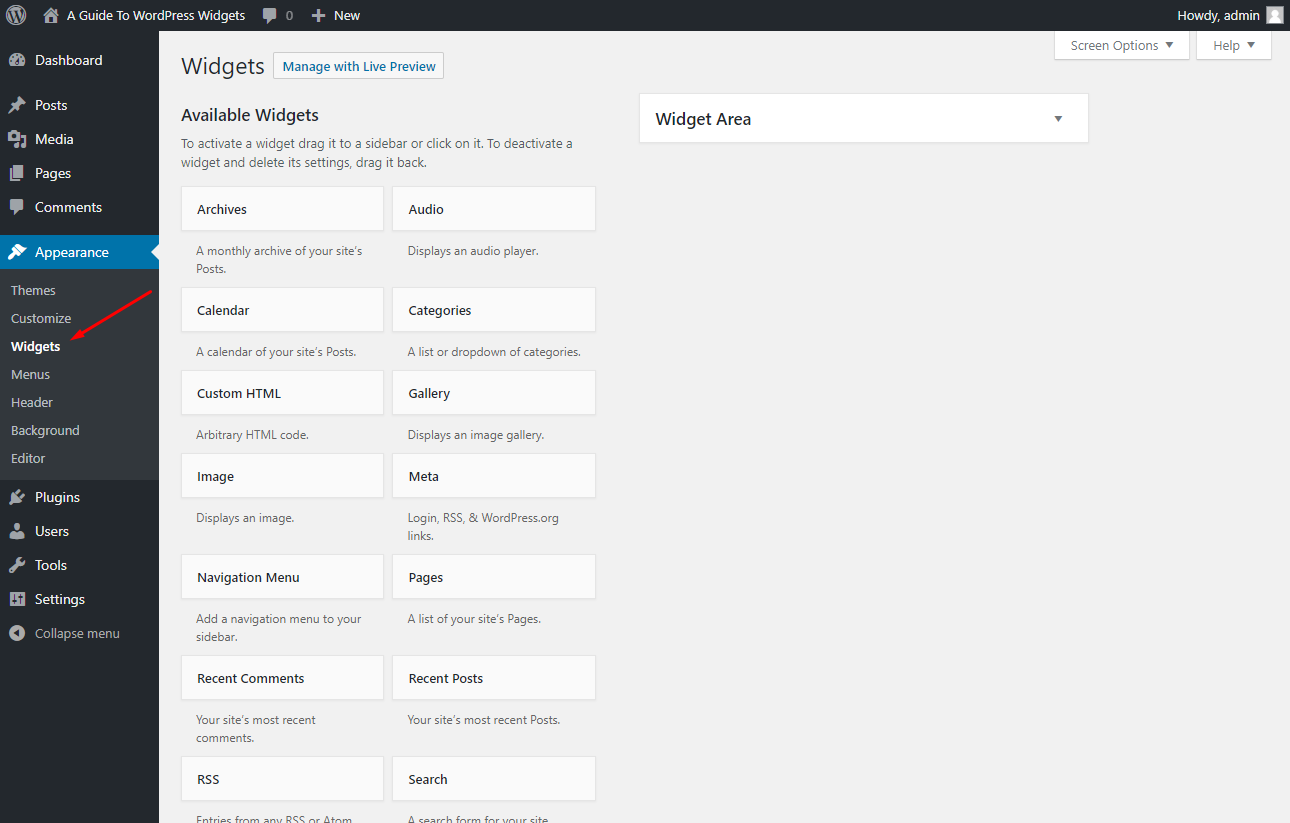 If you don't have any plugins enabled you will only see the widgets that are only available in the default WordPress environment. Widgets included will be
Archive: Show previously archived post
Calendar: Shows the calendar on your website in the form of a widget
Gallery: A widget that you can use to show a gallery of images of your choice
Recent Comments: Show a list of recent that have been published on your website
Search: A simple widget letting your users/readers search for stuff on your site
And many more
There is no fixed number of how much widgets there are for WordPress. From the vast array of plugins out there, many offer multiple widgets that the user can take advantage of. And then there are none.
Like Dokan, a premium multivendor plugin that enhances WooCommerce with its functionalities offers some great widgets that can be considered essential for an eCommerce store. You can learn more about Dokan widgets from here.
Add Them To Your WordPress Site & Configure
The process of adding a WordPress widget to your existing website is fairly easy. It's a simple drag & drop procedure. There is a Widget Area on the right side of the Widget section. All the available widgets can be added to that section and they will be added to your site in real time. You can also add them by clicking on the Add Widget button.
Contrary to this, there is also a live preview option to add widgets right from the frontend. Clicking on it will take you to the frontend customizer with a list of all the widgets. You can add them in a similar way.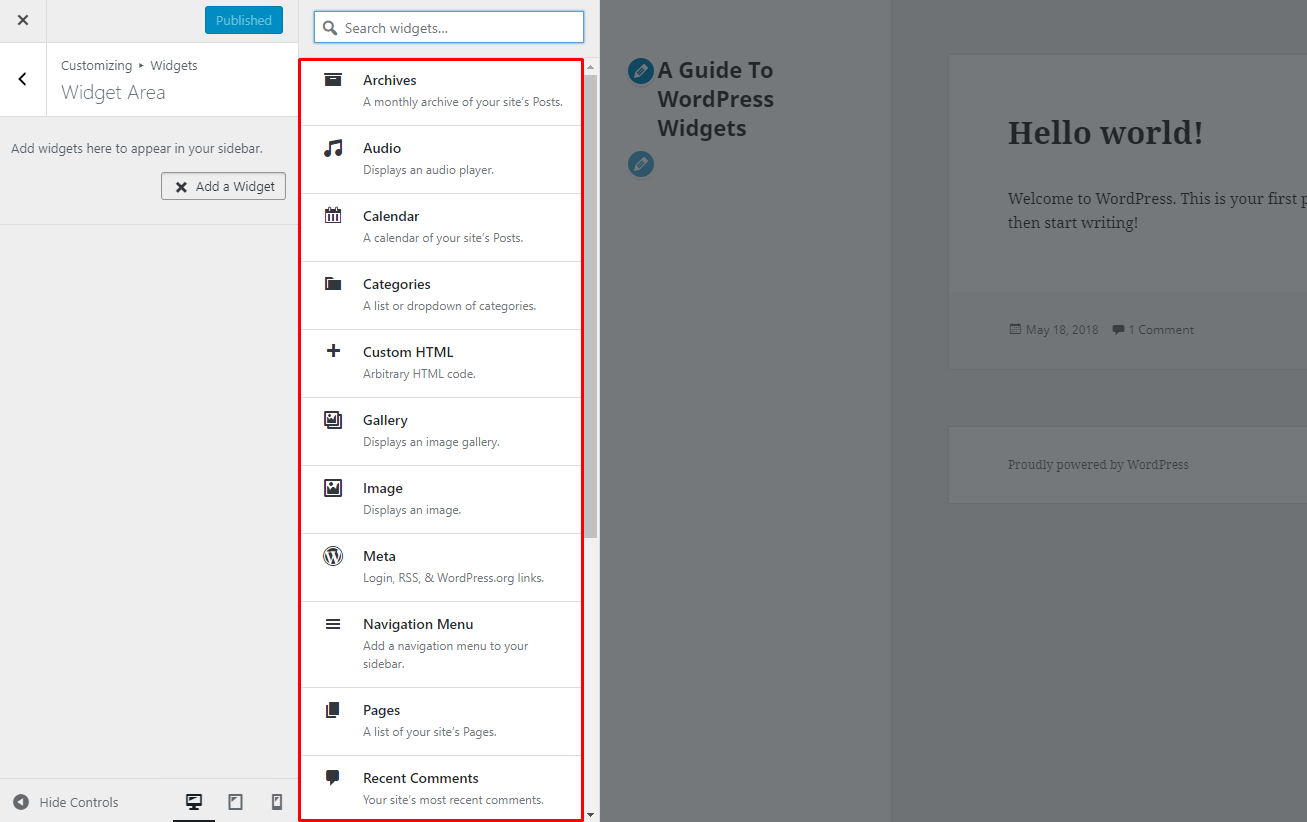 The customization options are pretty much the same when it comes to different widgets. Clicking on a widget after you have added them to your Widget Area, will expand it's customization options. Different widgets offer different customization options. Like: the recent comment widget will let you customize the number of recent comments.
There are also options to edit the title name, delete the widget and more.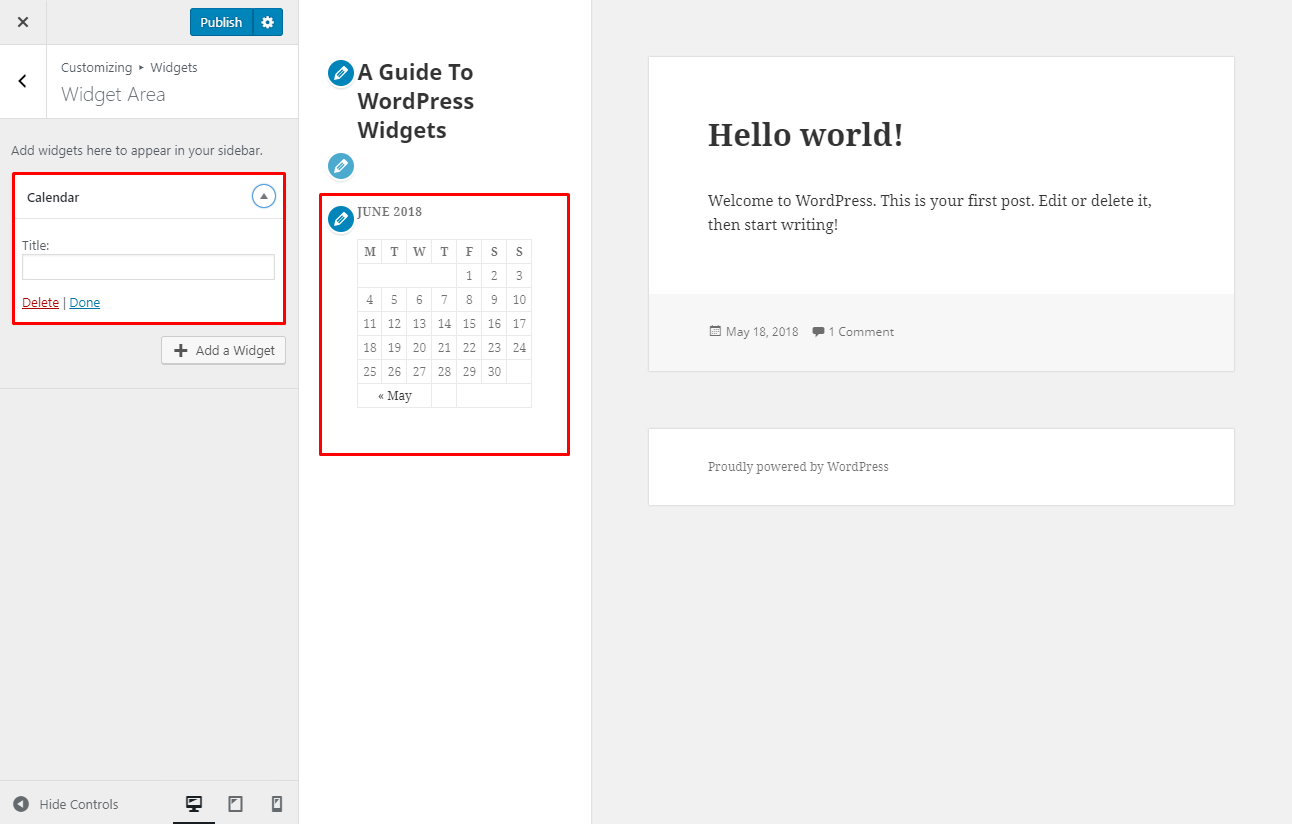 Pro Tip: Widget functionalities depend on the widget category as some have much more customization options compared to others.
There Are Two Kinds Of Widgets
The title is what it says. There are mainly two types of widgets when it comes down to it.
Widgets that are available by default
Widgets that come from certain plugins or themes
The second one is not compulsory in most cases but developers provide widgets for their plugin or themes to enhance the user experience. Here is an example of Dokan, which boast a number of widgets that it provides even in the free version.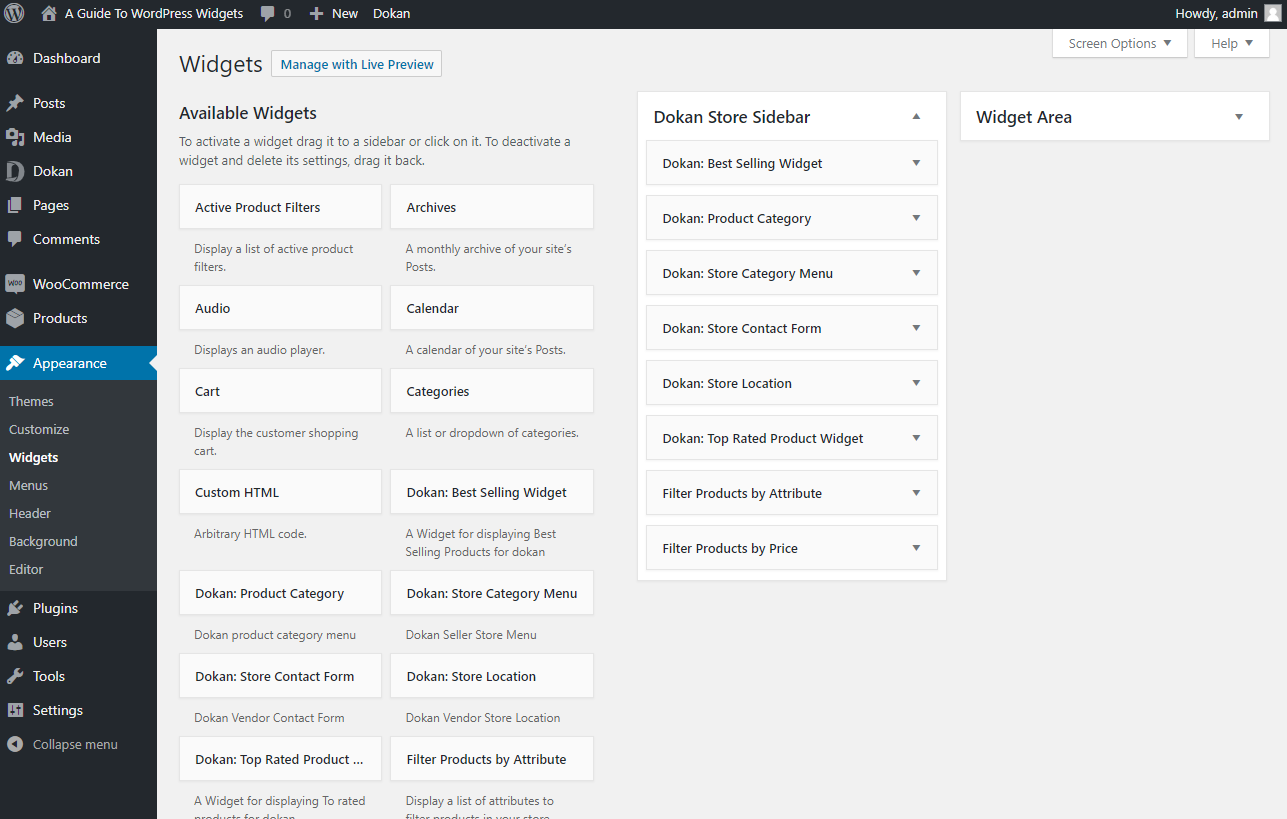 Get Started With Widgets
WordPress widgets make your site look more than a publishing platform as it extends the capability by truly helping your user/readers. By organizing all the pieces of information on your site in a more consumable manner and adding more features to it.
Our advice to you would be to see what are the available widgets on your WordPress site and see how you can take advantage of them.