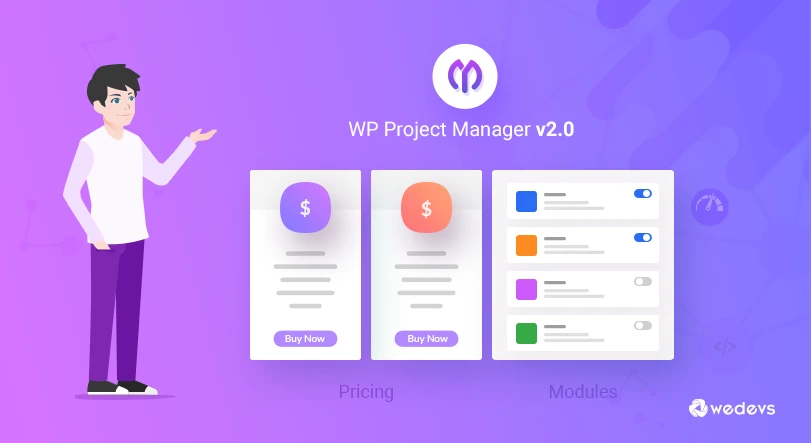 WP Project Manager v2.0: A Blazing Fast Experience & Changes in Packages
What do you think you need to succeed in your business? Is it only the money that you invest in it? It is actually being able to manage your projects efficiently after you invest the money in your company is essential to get success in that business. This is why you need an effective project management tool. And if you are a WordPress user then you must already know about WordPress Project Manager.
And now your very own WP Project Manager has released its brand new version. This post will be all about the changes you will see in the new v2.0 release of WP Project Manager and the things that will change the user experience of using it.
Please Welcome WP Project Manager v2.0
With the 1 year hardship of Team WP Project Manager, we have finally released the fully functional v2.0. And you will be amazed to know that the updates are made for the benefits of both developers as well as for the general users. So curious to find out what's new with v2.0? Here is what you were looking for.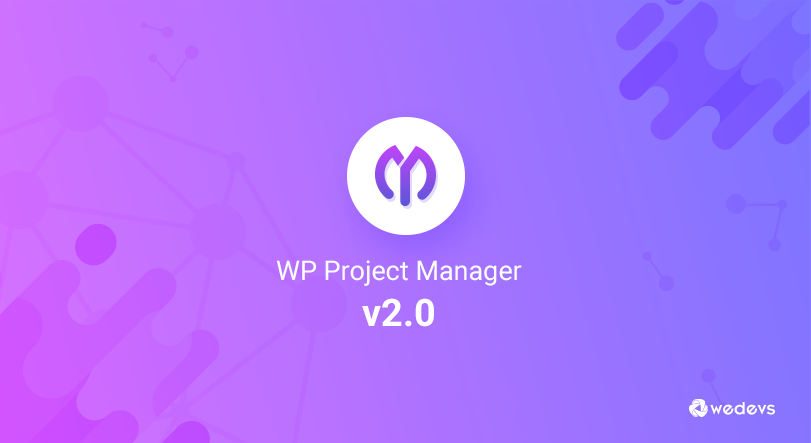 So What Really Changed?
Well for this updated version of WP Project Manager, we can divide the updates & changes into three categories – code structure, modules and new pricing plans.
Updates & Changes in the Codebase & Structure
The first change that you will notice is the complete rewriting & restructuring of the WP Project Manager code. Before the code of both frontend and backend operation was in the same place. But now in the latest version, codes of both ends are made independent. It has been programmed with the progressive Javascript framework Vue.js and created using REST API.
In the previous version, all projects were as relatively slower Custom Post Type but now in this version, we have migrated into Custom Table for a better performance and way faster user experience of your WP Project Manager. As before, the system used to slow down after a while It now loads the page instantly saving your time giving you the ultimate project management experience.
Our sole intention was to rewrite and re-modify the complete code structure was to ensure efficient performance from WP Project Manager. And with this latest update, we believe we have succeeded to do so.
Recapping The Changes
Completely rewritten the code using Vue.js
Created with a totally REST API
Single Page Application
Migration of Projects from Custom Post Type to custom database tables
Extensions Are Modules Now!
From now on, all the extensions of WP Project Manager will come with the premium packages as modules. You won't have to purchase, download, install and activate the extensions separately. Relief from extra work, right?
Well, this good news comes with a blast!
You will get the modules packed with the premium packages as the new pricing packages are coming in. There is a new menu under WP Project Manager Pro called Modules. You will have to head there and simply toggle on the button to activate the module that you need.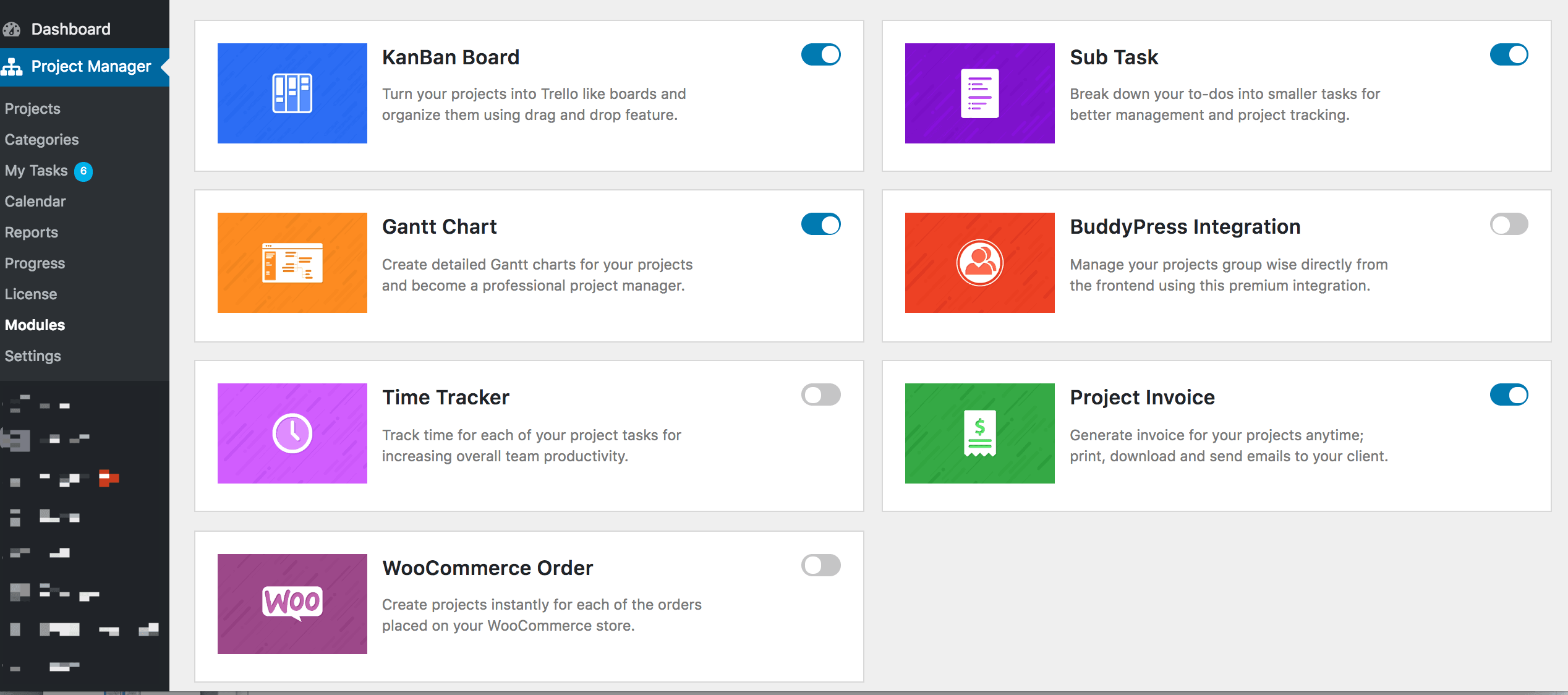 Extremely Easy Migration Process
Now that you have read about the technical changes, here's a good news for you. All these new changes won't affect your website at all. Besides that, the migration process is very easy.
Please note that – when you update to the newest version, sometimes your WP Project Manager plugin might become deactivated. So, you will have to activate it manually.
After installing the latest version, you will have to simply click a button and wait for the process to finish. However, we are recommending to keep a backup of your database before starting the migration. We have tested the migration a thousand time by ourselves, but just playing safe. You wouldn't want to risk to go something wrong.

The process will show you the status of the migration and if it fails for some technical reason, you can restore your database and start the process again.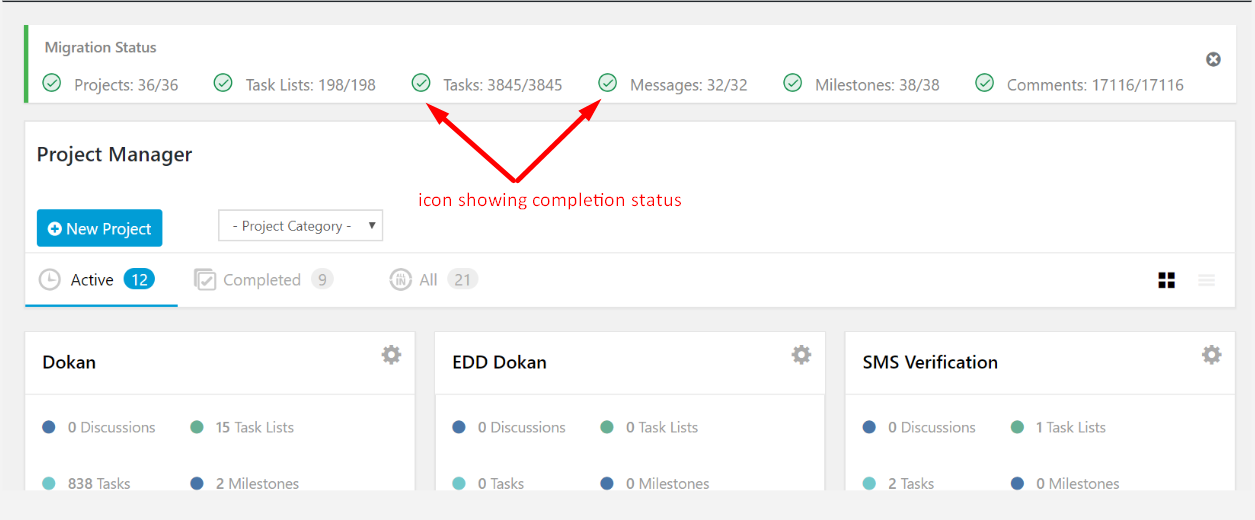 Please read this detailed documentation before starting
Changes in Pricing & Packages
Now comes that most significant part of the new release. We have decided to change the pricing of WP Project Manager Pro. As you will be getting the new modules with premium packages, we had to bring some changes. Besides that, your favorite project management tool is now super fast and saves a lot of your time. We also have plans to bring new features, modules, integrations with the upcoming releases. So, you will love the new version as we are doing now!
You might ask – how we have changed the pricing. Here is a glimpse of the new packages.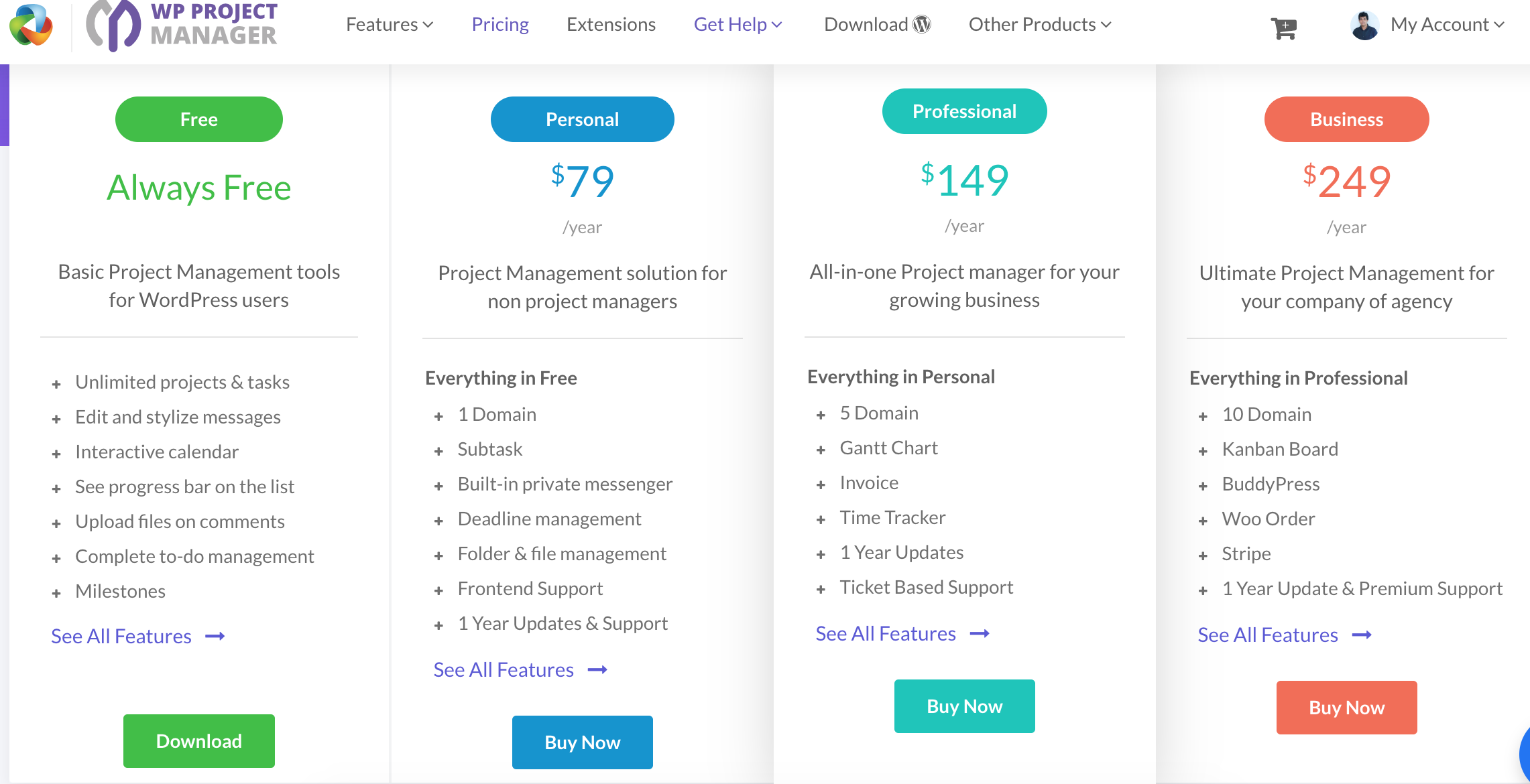 In short, we have combined the WP Project Manager Pro and it's extensions in the new pricing plans.
You can see, we have increased the price of the Personal package from $59 to $79. You might ask why we are charging more.
The answer is simple, we have made WP Project Manager Pro more efficient and reliable just for you. Our 1 year of hard work and dedication paid off with this new release. Now, you can enjoy creating project easily and also in a faster way than before. Using the Vue.js, the project management tool is now more powerful and solve your problems without any difficulties.
View the Updated Pricing of WP Project Manager →
What Happens to the Existing Extension Users
Now, an issue may arise with the users who have bought some of the extensions of WP Project Manager. If you are one of them, you can contact the support team and they will help you to sort out the issue. You will either get the closed package for FREE or get a discount code so that you can upgrade to that package.
What Can You Expect From This Update & For Future?
Everyone looks for a Project Manager that is easy to use & understand. So keeping the project manager user-friendly is something that will always be looked into in the future as well. Having to make the planning & scheduling easy is also something that the developer of WP Project Manager will certainly work on.
Much quicker access to all your data in one place is also something everyone wants in a project management tool. So it is very likely that in near future WP Project Manager will allow you to access all your data much quicker at one place.
Hopefully, soon enough, you will get to see much better reporting system that will collect your previously inserted project data and enable creating customizable reports.
Loading time of a page is termed as a set back by many. So, therefore page loading time of your WP Project Manager has already been alleviated with its same page action and it can be expected to be improved further for better usability.
Task management features need to be able to help complete the task at a quick rate, this is also something that can be more improved in the WP Project Manager for a much better project management experience.
What's More?
Using WP Project Manager as a mobile or desktop application is another future plan of ours. So with the current changes made, users can expect in getting to use WP Project Manager as a mobile application in the near future for sure.
Everyone expects their project manager to be robust and powerful. It helps them to manage their sensitive projects efficiently. And it is the extensions that boost up the performance & functionality of WP Project Manager by letting you handle projects better. So including some more useful extensions of WP Project Manager can be another futuristic idea that can surely add more value to its operations.
With all the latest version the developer of WP Project Manager has always come up with updates that would enhance the usability of the plugin. This hasn't changed in this version of WordPress Project Manager as well.
It is not unknown that a comprehensive project manager must be able to create project plans, distribute work, track task time, estimate project budget etc. efficiently. But you can't think about getting success with just all that. Along with those you would also need to have well-trained up & skilful workforce that can execute the plan to manage the projects properly.
Our sole intention of this version release notes was to let you all know about the usefulness of it. So let's hope through this new v2.0 release post of WP Project Manager, now you will be able to manage your projects much better than you could have done before.
Get The Best Project Management Experience
If you are still using the old version, we suggest you update to the latest WordPress Project Manager v2.0 right away to enjoy its unparalleled benefits that would boost up your company's growth and development in a much more progressive and professional manner as it would steadily but certainly enhance the productivity and proficiency of your company.
Or if you are a user who is looking to get a powerful project management tool that can manage teamwork and deliver projects on time from your WordPress powered website then
Try WP Project Manager Pro Demo →
and decide for yourself if would like to get it or not.
Let us know your thoughts about this new version of WP Project Manager in the comment section below. Also, suggest us with features that you would like to see in the future updates of WP Project Manager.