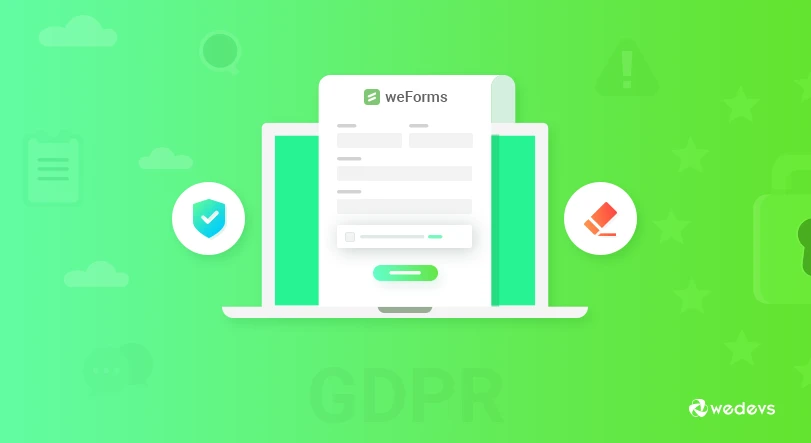 How to Create GDPR Consent Form In WordPress
Want to create the easiest GDPR-compliant forms for your WordPress site?
Don't take all the hassle consisting of the complicated processes involved.
With weForms builtin GDRP compliance settings it is much simpler to create forms that don't attract fines from the law.
A Basic Understanding Of GDPR
GDPR or General Data Protection Regulation has been the talk of the town recently. Just because it is a very big step toward the privacy of the common users.
In short, with its implementation whenever an organization asks for a user's information, they will have to ask for explicit consent about what they will do with that information. A complete detailed Privacy Policy will be presented to the users for consent.
if he/she agrees to it, only then can they use their information.
Though the policy of GDPR officially started in 2016, it didn't go into action until the 25th of May, 2018.
WordPress and GDPR
If you are a user of WordPress, implementing GDPR to your site is a little bit trickier than other platforms. As you have to deal with lots of user data. As well as data collected by the WordPress platform itself.
But WordPress thought of its users and provided them with an updated privacy policy guide. They have also made their existing privacy policy and privacy settings to match with GDPR.
It's easily findable at wp-admin→Settings→Privacy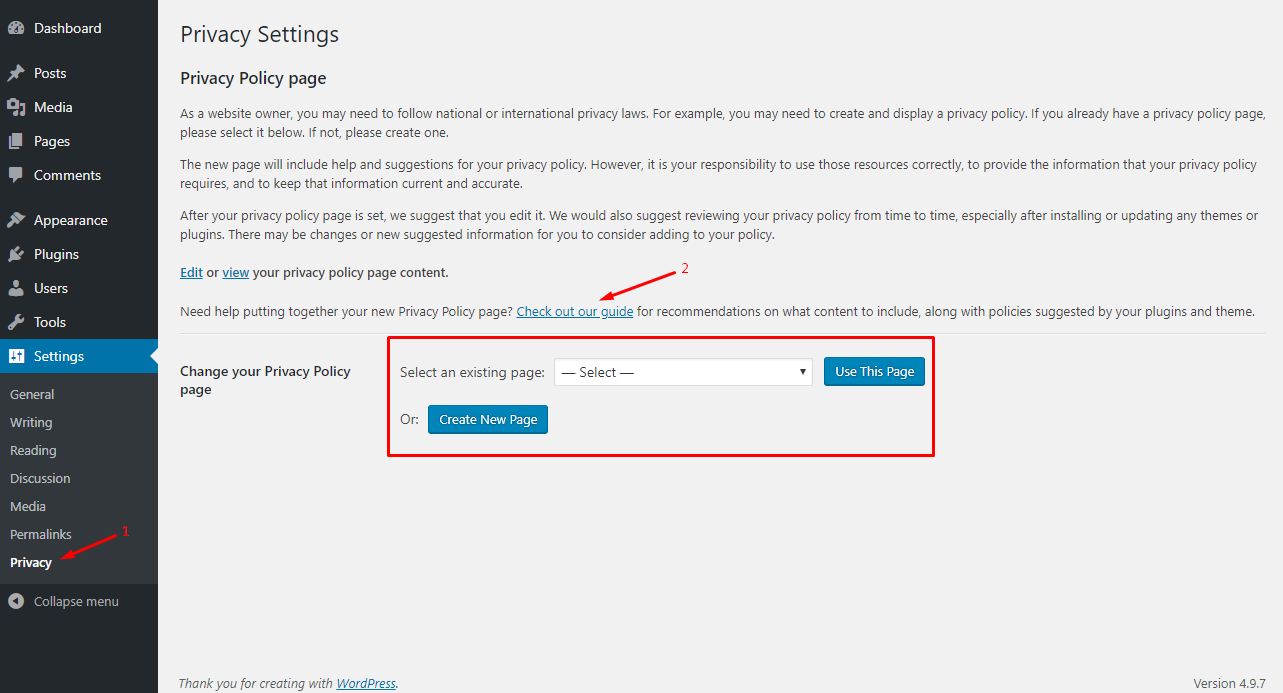 You will be glad to know that we have also adopted that policy and made sure that whoever uses our products, don't face any issues regarding this. If you are looking for a policy guide that you can use if you are using weForms you can find in the Check out our guide section.
Scroll down there to see the weForms section.
Create A GDPR Compliant Form
One of the most tricky parts of a GDPR consent form is making sure that it complies with the policies. You need to follow all the rules as well as take consent from your users. weForms is one of the first to implement a GDPR policy and easy-to-use settings for its users.
It lets the users easily create forms that take detailed consent form when filling up the form. Also if the privacy policy states and if the form supports the payments option, there are also settings to export/erase the submitter's payments data.
The First Step, Create A Form
To get started, at first, you need to create a form. Go to wp-admin→All Forms→Add Forms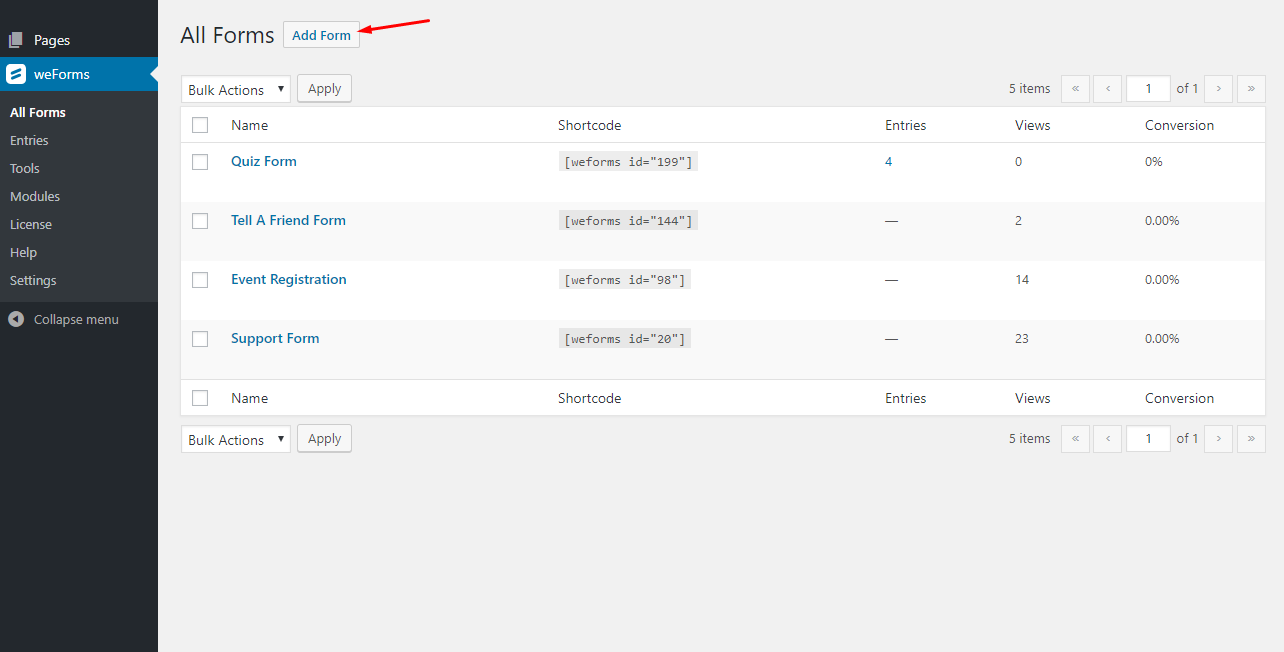 After creating and adding all the necessary fields you will have to add the consent field. You can find it in the downright section of the form builder. It is named Terms and Conditions. Simply drag and drop it.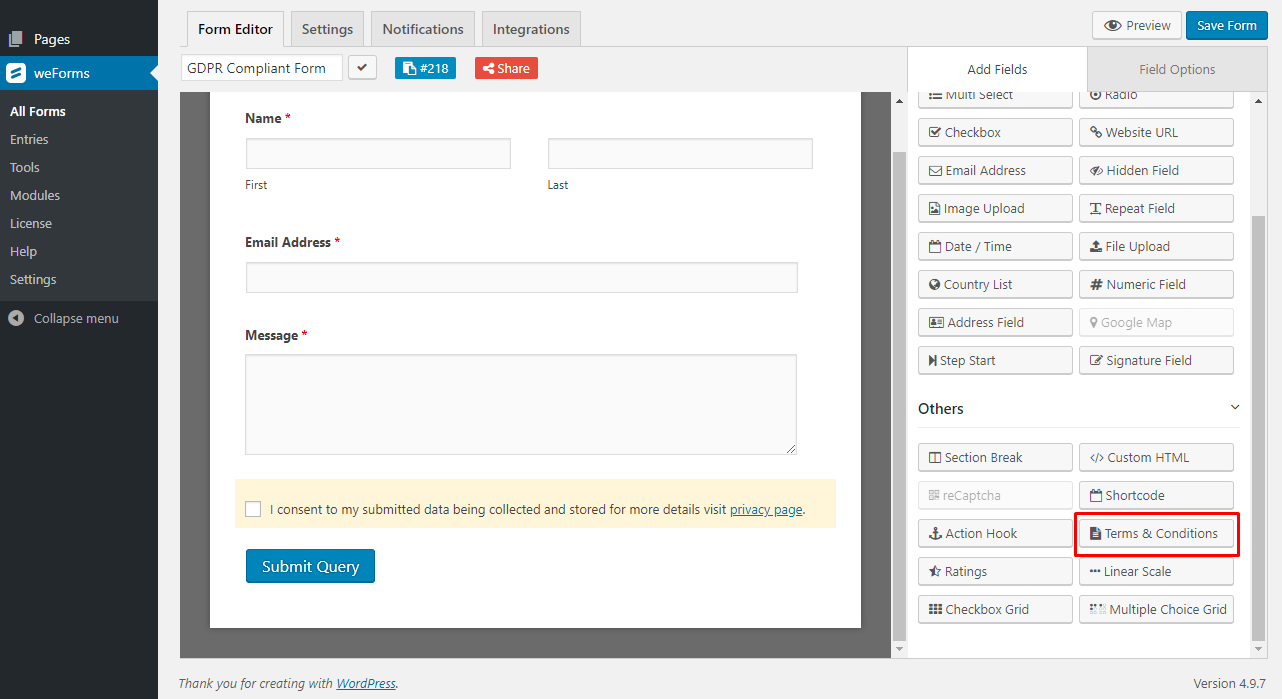 After adding the field you will need to go to the advanced settings of that field. Click on it and select the settings button.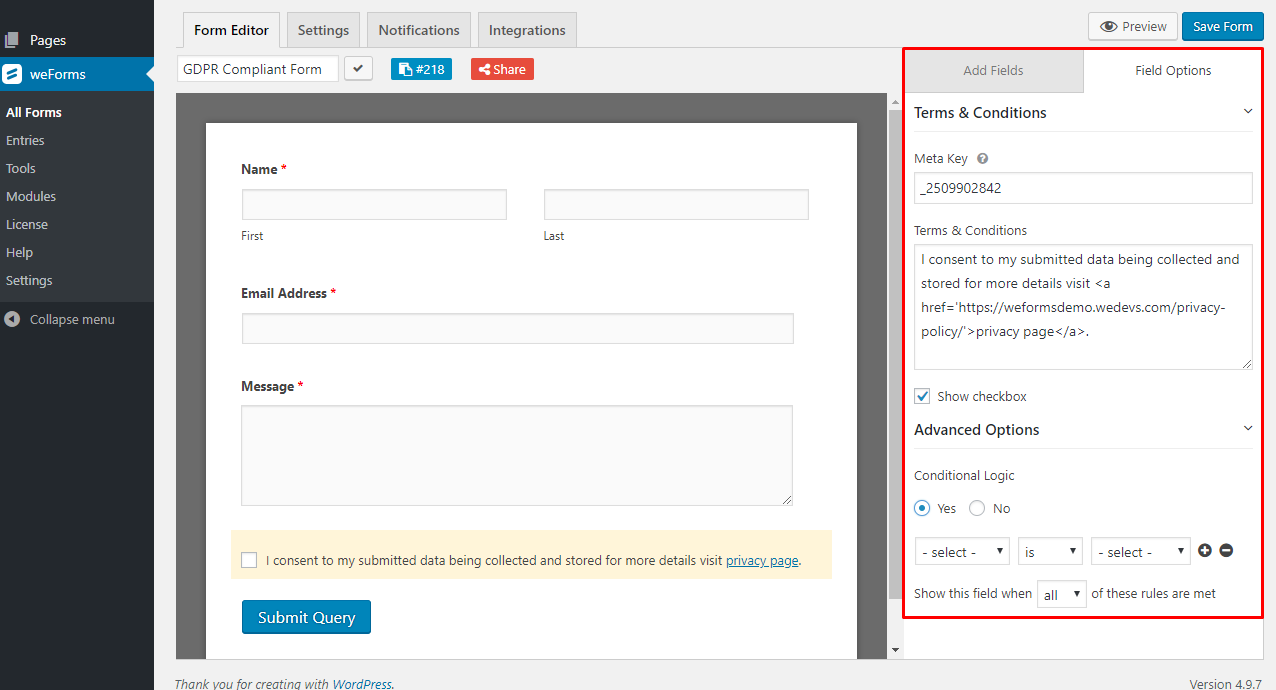 In the advanced settings, you will find
Meta Key: You name your meta key field from here.
Terms & Conditions: Here you can write the text for your GDPR policy consent and add a link to your privacy policy. To create a privacy policy you need to go to wp0admin→Settings→Privacy. Note: There is a privacy policy specifically for weForms. You can find the policy in the Check Our Guide link in the WordPress privacy section. Scroll down there to find the weForms part. Add the privacy policy page link after creating it.
Show Checkbox: Enables the checkbox for the consent. If enabled it will become a required field. To make a GDPR consent form you need to enable the checkbox option.
Conditional Logic: You can show the Terms conditional field only when certain conditions are met.
NOTE: The Show checkbox should be enabled from the settings to make the terms and condition field required. If not it will not be mandatory to agree to the privacy policy thus making your form not GDPR compatible.
Save the form, copy the shortcode and publish it. Then your GDPR consent form will be ready to use.
Admin Settings
weForms supports taking payment right from the built form. It has a payment module that enables this awesome feature. If you are interested you can learn more from here, our official article regarding this.
In the weForms admin settings, you will find advanced detailed privacy policy settings that comply with GDPR. The settings include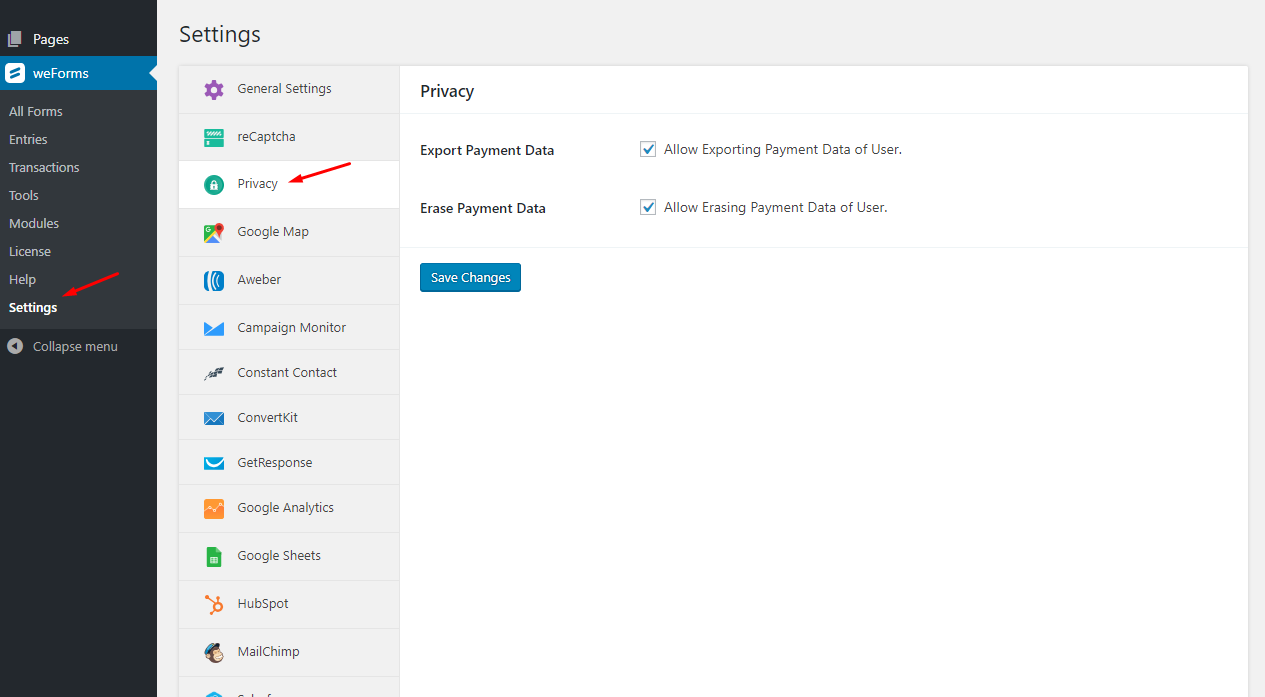 Export Payment Data: This setting allows the export of payment information on user data that you collected
Erase Payment Data: Enabling this will allow erasing all the collected payment information of users
NOTE: As the payment module is available in the Pro versions weForms, these features are only available in the paid version.
Frontend View Of Your GDPR Consent Form
Once you created your GDPR compliant form you can publish it instantly using the shortcode. Your policy-compliant form with all the terms and conditions should look something similar to this.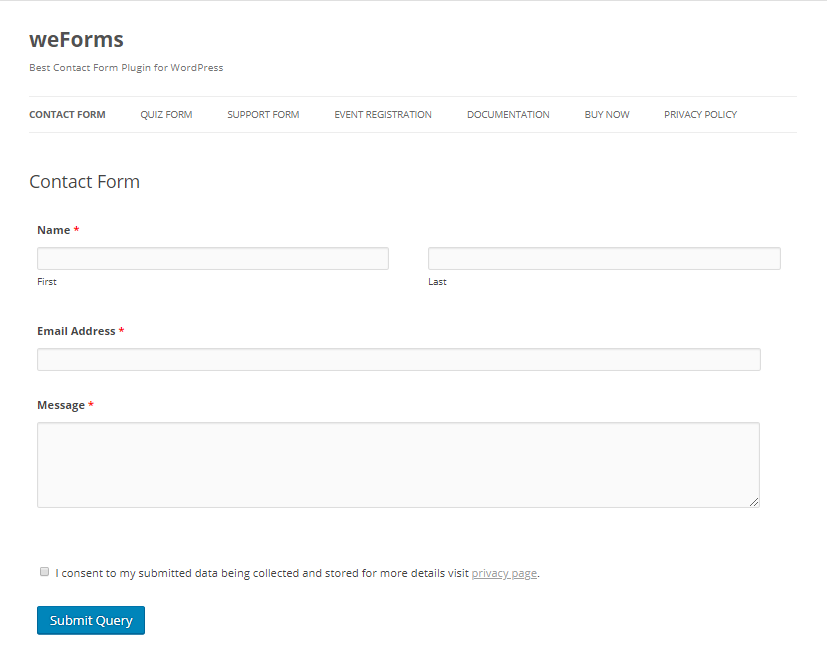 Ready To Get Started?
Getting started with weForms is extremely easy. It has been built from the ground up to be extremely intuitive. It even features paid versions with extended feature sets.