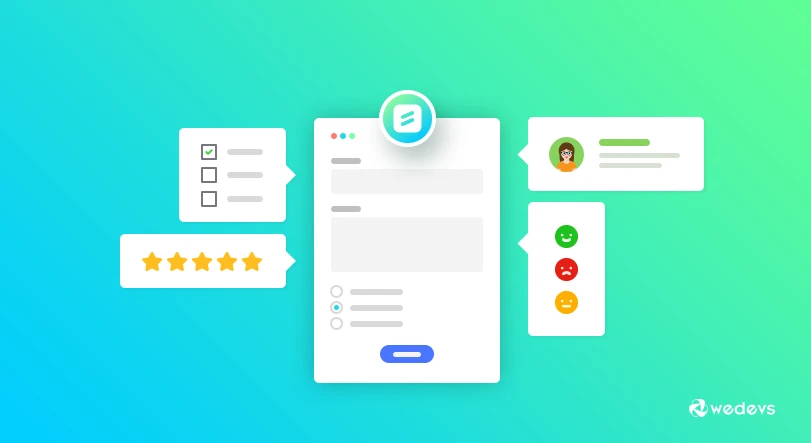 A Simple Feedback Form Plugin Is All You Need To Obtain Data For Your Business Needs
User feedback is an integral part of the business. Here's why: people want to be heard. It's gratifying when ideas, experiences, complaints, and thoughts are understood and make a difference to someone's time. "When people feel heard, they feel valued."
In the visitors stage, contact forms are essential to help guide your visitors into the consideration stage where they can decide on your products or services. But your job as a company doesn't end when the buyer has purchased. For sustainable growth, it's crucial to improve your offerings continually. User feedback forms are especially effective in the close and delight stage when users have converted and are now ready to be brand promoters.
Feedback surveys are great when you are trying to convert your existing customers or users into evangelists. Evangelists are promoters who believe strongly in your product and services, and recommend your brand to others. Surveys like feedback forms are an easy way to extract explicit data on your users.
So…just how useful is Consumer feedback?
Your customer feedback forms are a kick-ass source to obtain leads and can tremendously shape the way you strategize your products, services, and content marketing. You could easily use feedback as a lead-gen tool. Utilize the fact that with a purposeful feedback form you can have 60% of users contact details.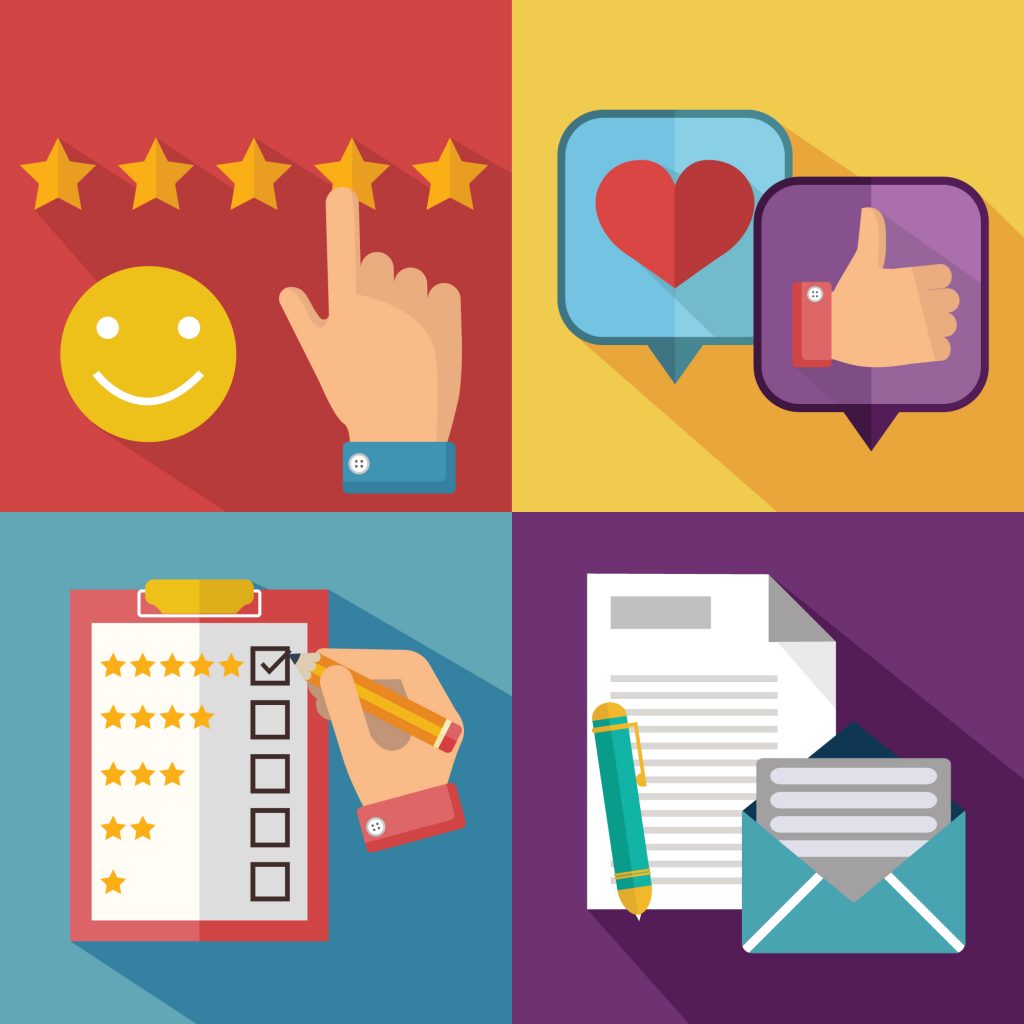 And now the best part.
Try and forward these "sales qualified leads or SQLs" to your high-performing sales or marketing team personnel to convert these complaints into delighted customers in significantly high rates.
Deploy these forms in your PPC landing pages or in emails as surveys. And use it with solutions that can track feedback on specific pages.
There are many solutions out there that fall in the category of competitive form builders. But not all of them are beginner-friendly, speedy as well as feature-rich. The rest of this write-up will explore on one WordPress solution, weForms, and what it makes stand out among others.
weForms: Fast & Easy Feedback Form Solution for WordPress
weForms is a multi-type form builder solution that can easily be used as a WordPress customer feedback plugin. With its minimalistic design, unlimited forms, and numerous customizable templates, weForms makes its mark as a competitive product in the form builder industry. What makes it different is its easy-to-use components like the drag and drops, convenient real-time preview, submissions manager, customizability, and interactive UI. And it's all within a single platform.
Since its release, this WordPress form builder has garnered considerable attention from users and industry leaders. And weForms users agree that it's one heck of a blazing fast solution for anyone needing to use forms for their website.
Creating a Feedback Form Survey
We recently created a successful feedback campaign for the trial version of our popular WP ERP plugin using weForms which helped us understand our leads a lot better. Not only we got a clearer picture of what our users are looking for, but also in what ways we can transform the product to make it more useful to them.
To create a feedback form with weForms, simply navigate to your WordPress dashboard. Then to weForms. Select Add New to create one from the given templates like Website Feedback, Comment & Rating Form or others.
Alternatively, you can start one from scratch with a blank form.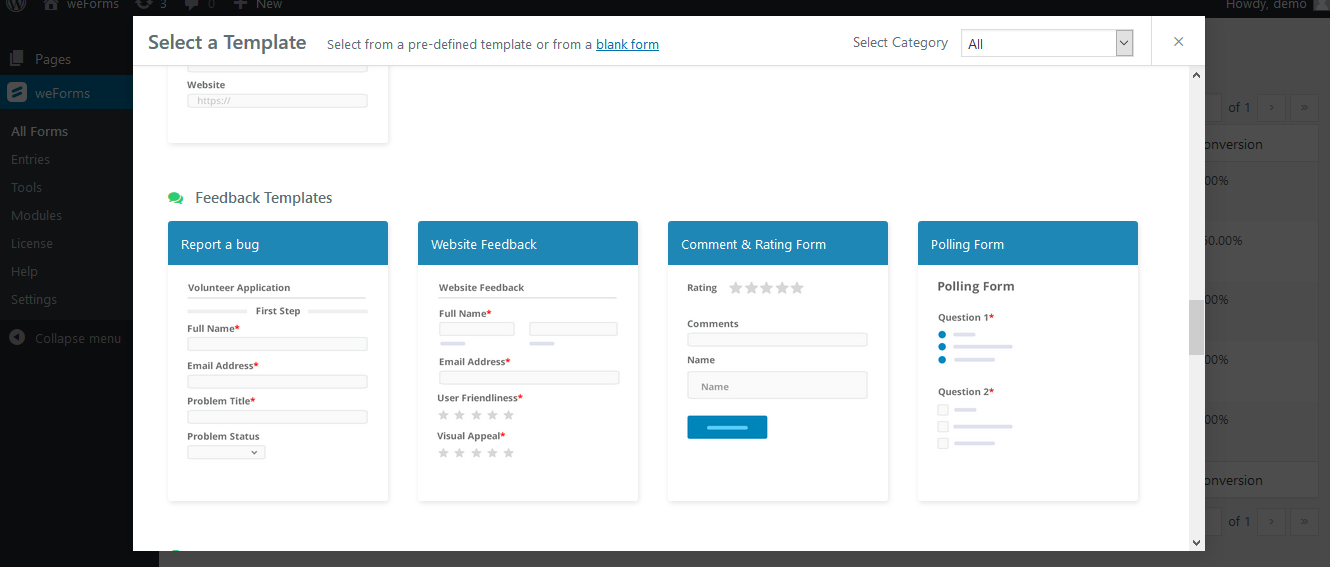 Start off with an Email Address field, Username, or other field that lets you match the feedback data with other user data, for example, purchase history, conversations or web analytics.

Selection fields like the radio buttons, drop-downs, multi select, check-boxes, and the multiple choice grids make it convenient for users to create the type of form they want.

The Meta Key option in each field lets you conveniently store all your custom fields data for later retrieval and modification.

Also worth giving attention to are the Advanced Options. With the CSS Class Name you can add a different background design or colour to your field to make its appearance more catchy.
Auto populate dynamically lets you guide your users into the kind of responses that you are looking for. These should not be biased so as to trigger favourable responses only. Rather your aim should be to get the feedback that's beneficial for your business. And that you will only get from honest, uninfluenced and unfiltered feedbacks.

You can also choose to demand unique values and eliminate repetitive answers for a field. This can be useful in fields like usernames, email addresses, customer IDs, or others where users are unlikely to have the same value.
Fields like Email, Username, and Display Name can be enabled for Auto-Populate option for existing users or customers when they are logged in. So that the form will automatically take input from the user's profile and hide the field.
This saves time on the user's end and ensures a faster process. It also eliminates chances of storing repetitive data in your database for the same user.
Add ratings or linear scales to understand how users generally perceive your product. These simplistic fields give a reasonably good impression of how your users view you. But they don't say why the user chose the particular rating.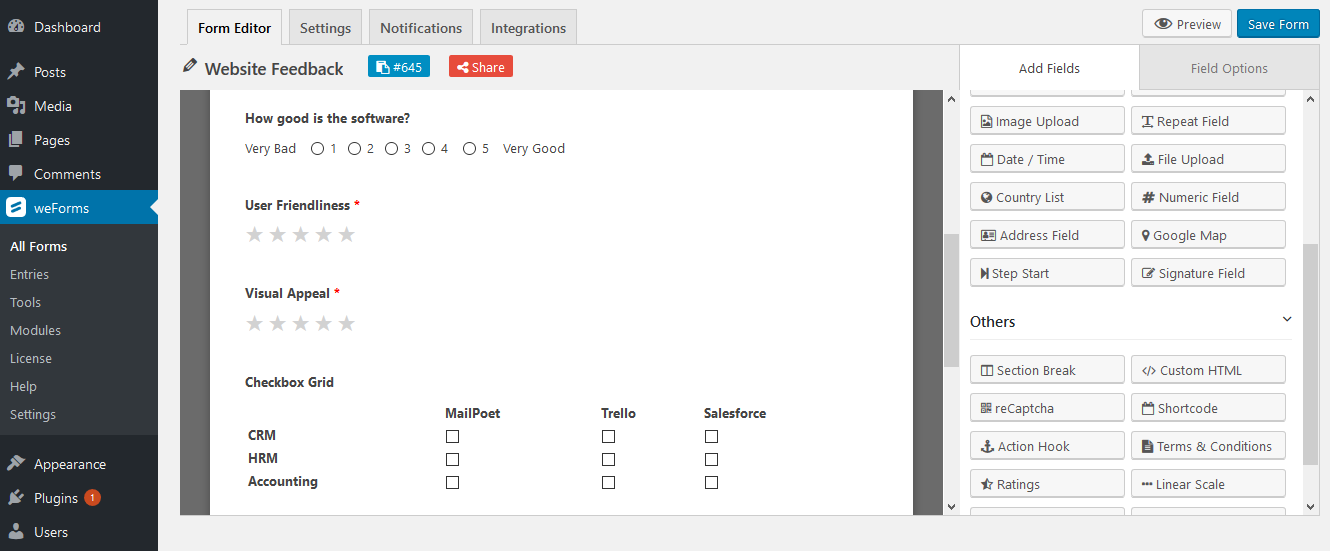 For this reason, add a few multiple choice grids or check-box grids and description fields to obtain a better idea of the user's feelings and preferences. Ask realistic questions about the product or service and features that the customer has practically encountered and will be able to answer.
Third-party APIs that take it to the next level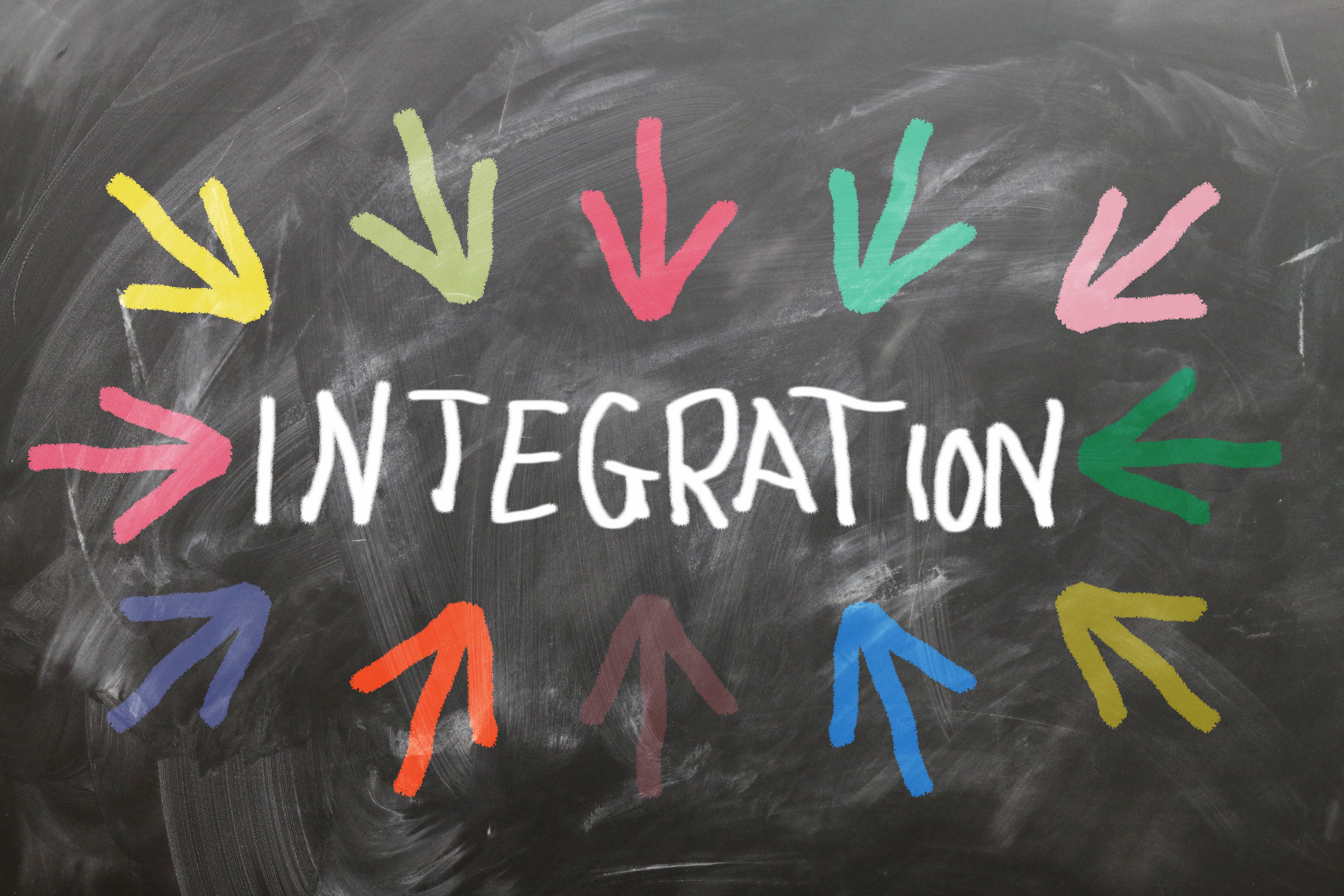 To further augment the lead-gen process, take advantage of third-party integrations and apps, such as, CRM productivity tools. One useful one is Google Analytics.
Tracking analytics and feedback side-by-side allows website owners to keep a closer eye on usage patterns and quickly identify technical and usability issues. The integration is also meant to help with A/B testing and the measurement of other changes to a site, such as the addition of new pages or sections and how they affect user behavior. – Kampyle
The host of Email Marketing solutions connected with weForms augments its value three-fold. MailChimp, ConvertKit, MailPoet, Get Response, Campaign Monitor, Constant Contact and AWeber API integrations – all sync your feedback entries into mail lists, automatically sync them and help you to generate leads by leaps and bounds.
What if you could bring the feedbacks into all the different solutions you are using so you could optimize your sales-based interactions? Productivity API integrations like Google Sheets, Slack, Google Analytics, Trello or Zapier with weForms are tools that automate several processes and open further doors so you can carry out sales-driven techniques directly with target users who have something to say to you.
These integrations let you have each of your feedback enter as a notification into the solution automatically with no extra effort on your part. In this way you cut down on having to enter repetitive information in all the softwares you are using. These extended features are not just modules that expand the system but they also let you optimize your marketing efforts along with your goals.
The WP ERP integration, for example, lets you have your user feedback entries instantly employed to your WordPress CRM database where you can transform these regular contacts into qualified leads. Now you can email, SMS, schedule meetings, calls, view previous conversations with agents, track purchase history, put them in contact groups or companies, and a lot more. Other CRM integrations include Zoho, Salesforce, and HubSpot.
A Next Generation Solution for your Lead-Gen Needs
As important as it is to obtain customer feedback, it is only purposeful when you utilize the information in the right way for your business. weForms understands the needs of beginners and advanced users, and guides users through its elements to transform raw feedback data into beneficial information so you can make insightful decisions. With the growing integrations, features, and modules, weForms is making it even more easier for users to generate leads, subscribers, and convert visitors faster into customers.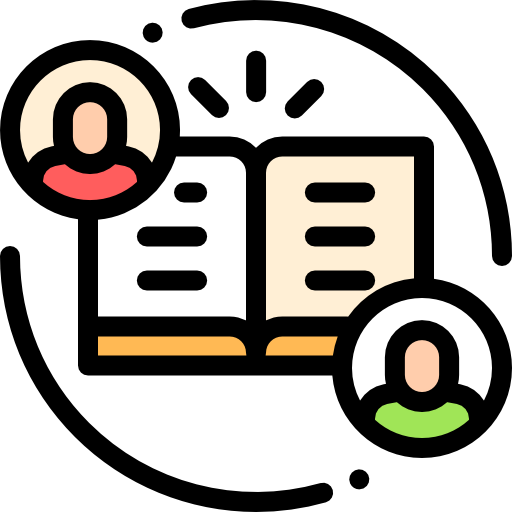 Checkout weForms: Create fast, easy & effective User Feedback Surveys!
Blazing fast forms with custom fields, free built-in templates, email notifications, submissions manager, and 20+ modules to create a great user experience.