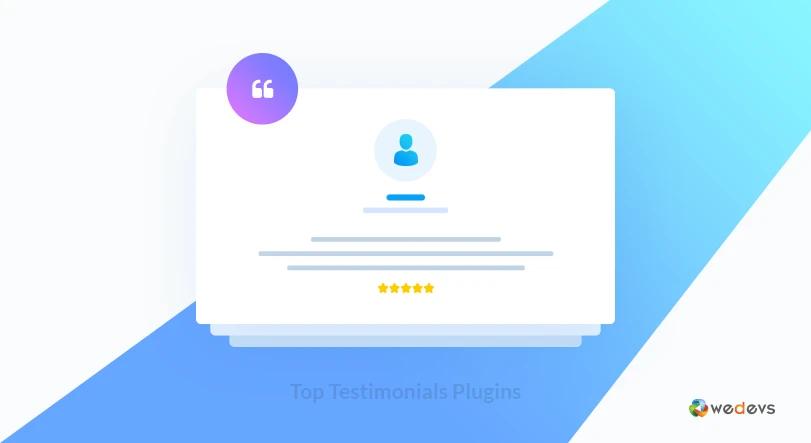 Top 5 WordPress Testimonial Plugins To Boost Your Online Business
Getting traffic to your site might be tough, but what's more difficult is gaining enough trust from your visitors to complete a sale.
Due to that reason, reviews and testimonials are a damn good method to gain the trust of your leads and potential customers. So, it's a crucial need for your site and something all website owners need to consider. Thankfully WordPress and its community of developers have made executing this action plan easy for WordPress site owners with a number of great plugins.
You just need to fetch the right one for your site!
Why Testimonial
Plugins

?

WordPress plugins make our lives easier. Having a testimonials plugin installed on your site gives you a wide range of options not just for managing or displaying the testimonials but also for collecting them, which will save you time and energy from manually collecting them.

WordPress testimonial plugins use shortcodes to insert content into any part of the WordPress site, so therefore no coding is involved. It's easy for the average non-coder to use. Some premium plugins even have a live editor with free testimonials preview before publishing feature.

Here are 5 popular WordPress Testimonial Plugins (Free & Premium) that you must check out.
5 Best WordPress Testimonial Plugins

This plugin is free and easy to use. Even more, it establishes a page to collect the testimonials and reviews from your customers.
It is also one of the very free plugins that have a built-in form to collect all the testimonials from customers. The form is easily customizable which enables users to decide what field they want to include. Moreover, it also has custom field support and has the spam protection option built-in.
You would just need to insert the shortcodes it provides. You can display the testimonials as widgets as well.
Important Features
Adding the custom fields support.
Compatible with WP Multisite & Multiuser.
Multiple anti-spam measures to prevent spambots.
Insert reviews on pages or widgets with shortcodes.
Works with caching plugins and custom themes.
And many more
Active installations: 60000+
Average Ratings: 4.5/5*

This is a testimonial plugin that has both free and premium versions. It allows its user to add testimonials to any post or page through shortcodes or sidebar widgets. The free version of this plugin mostly offers the basic features while as its primary feature it has the random or any specific testimonial rotation feature operable via shortcodes, widget, or theme option.
You will be able to configure the plugin to display all the recent, old, or any random testimonials when you use the shortcodes. And it is also possible to filter those testimonials by category or tag.
Furthermore, you will be able to edit a number of settings of the included field of each testimonial, video, or quote. Another feature is the transition carousel to add sliding and fading animation with its supported text, image & videos.
The premium version of this plugin supports some advanced features such as catching, adding excerpts, testimonials submitted by users, RSS feeds, etc.
Important Features
Multiple widgets per post or page handling capabilities
WordPress Multisite compatibility
Interface for admin to manage the testimonials
Easy configuration process of next & previous page indicators
Testimonial editing option for admins and editors
Active installations: 50000+
Average Ratings: 4.5/5*

Just as its title suggests, it is one of the easy-to-use testimonial plugins that is loaded with basic and interesting features. This plugin has over 80,000 downloads.
So, the free version of the plugin includes the presentation of sales or landing pages with images and various links. It is really simple to display the testimonial on the site as a customized widget with Easy Testimonials.
The testimonials get posted just like the blog post and like every other testimonial plugin, you are able to add reviews, statements, or testimonials onto any page or post with shortcodes. Not just that, you can even generate your own shortcodes from the settings with the custom display.
There are a number of cool transition effects available for the widget with the plugin. And you get 4 free themes in the free version and more than 75 professionally designed themes to choose from with some awesome styling options with it.
Important Features
Simple & highly customizable design
Add images easily to your testimonials
Supports excerpts for testimonials
Deeply compatible with multisite
Advanced testimonial transitions options
Active installations: 40000+
Average Ratings: 4/5*

This is another flexible plugin by which you can create testimonials as custom post types. The developer of this plugin has a very interesting way of selling this plugin. Instead of blocking out the advanced features behind the premium version, the owner decided to sell it with premium themes whenever the user would require to change the outlook of your testimonials.
Like most other advanced testimonial plugins, you're able to create testimonials as custom post types. And you're able to add them with the help of shortcodes fast and easily. Its unique animation and transition feature of showcasing the testimonials on-site will attract one and all for sure.
To change rotator settings of the testimonial you get the option of a checkbox to tick, which will automatically put the testimonials to display into a rotation mode on your site randomly. It can also control the speed of transition and effects of the testimonials accordingly.
There are two themes available with the free version. And you can choose a wide range of transition effects for the testimonials to display as well. With its premium themes, you can unlock some advanced options for the testimonials frontend view.
You can customize the display with custom templates.
Important Features
Custom template-making ability.
Option to add testimonials to multiple rotators.
Manage all rotator settings in the admin panel.
View the add rotator section based on user roles.
Dedicated author information field.
Active installations: 40000+
Average Ratings: 4.5/5*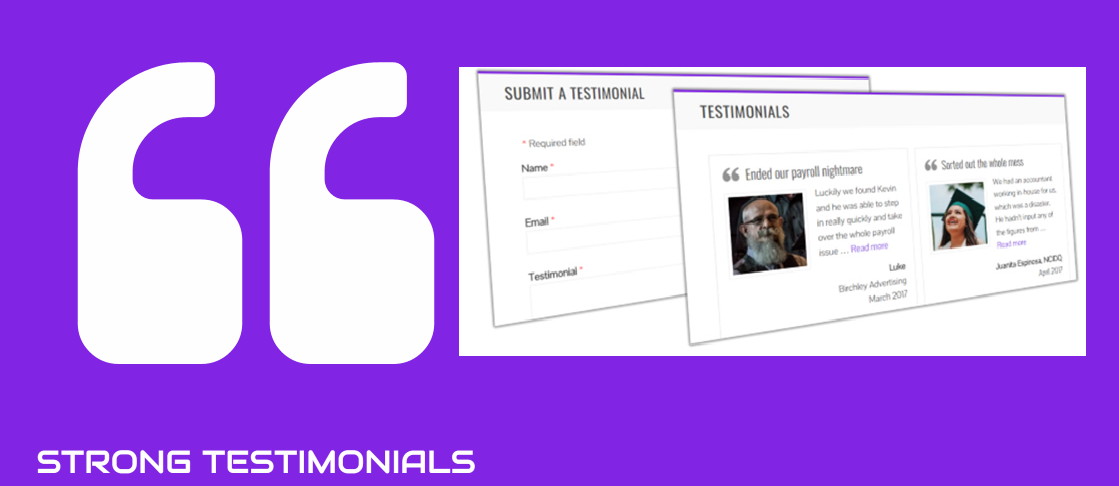 So this is a free plugin that has a collection of fresh templates to choose from. Also, it is extremely easy to use and most suitable for amateurs and non-technical WordPress users.
Moreover, the plugin is feature-rich and works well for any type of WordPress site that requires product reviews, testimonials etc. It has the supporting ability of shortcodes including the cool widget display. Not to mention its capabilities of filtering testimonials by the use of tags or categories.
As with most of its contemporary plugins, Strong Testimonials also provides a customizable front-end form to collect customer's testimonials or reviews. With its configuration setting, you will be able to add or delete fields of your choice. Moreover, you can also set up the notification for emails and configure the anti-spam options hassle-free.
Important Features
Really uncomplicated shortcodes.
Slider with numerous navigation options.
Customization capabilities
Developers-friendly design and attributes
Thumbnails and Gravatars supported
Active installations: 60000+
Average Ratings: 4.5/5*
Bonus Plugin: wpData Tables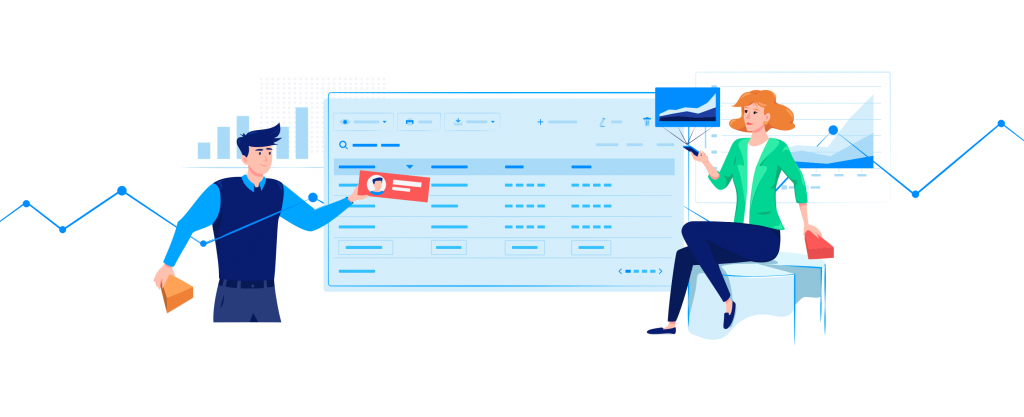 wpDataTables is a premier table and chart building plugin, we can easily say the best in its class. wpDataTables effortlessly process a large amount of data and do it quicker than any other tool of its type on the market.
wpDataTables help you present visitors of your WordPress website with interactive tables and charts based on huge volumes of complex data from different sources, such as MySQL, PostgreSQL, MS SQL databases, Excel, Google Spreadsheets and others. Check out the full feature list here. To extend its features, there are add-ons that can be super useful for your needs.
More than 21,000 sites use wpDataTables to create tables and charts in WordPress, and you should check why. You can try a free version, or you can go premium.
Choose Wisely
So, all the positive testimonials highlighted on your site are a powerful word-of-mouth marketing tool that can truly turn your visitors into paying customers.
Moreover, each testimonial plugin discussed here has several good qualities. So, all of them offer relevant functionalities and features that will augment the credibility of your business and help you earn a good reputation. Furthermore, for a first-hand experience, you can always check out their trials, demos, and website.
Also, share your experience with us with testimonial plugins for WordPress or simply share about the one that you are currently using in the comments section below.