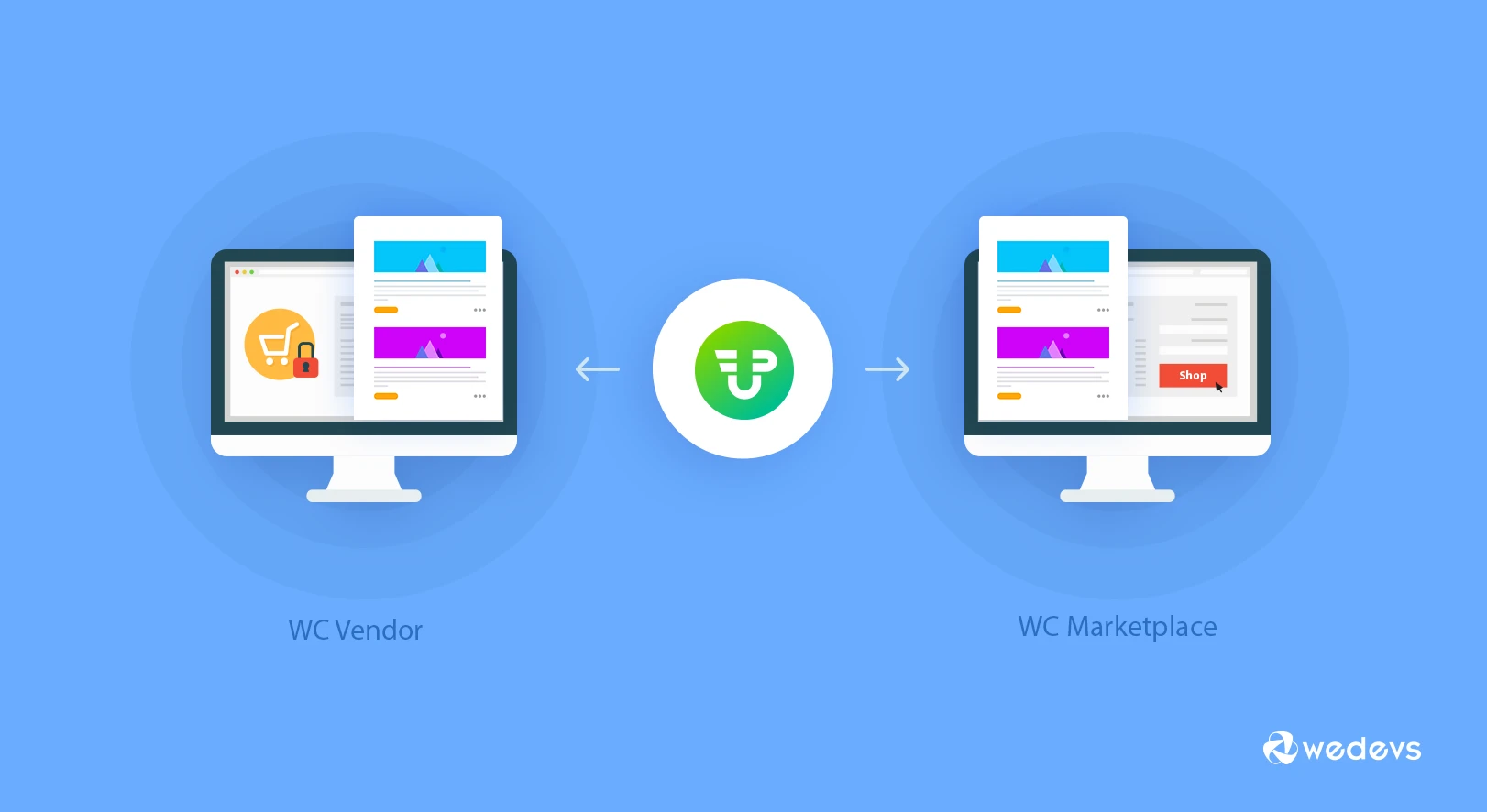 Integrate WC Vendor Marketplace or WC Marketplace with WP User Frontend
Over the years, WC Vendor and WC Marketplace have become a popular platform among marketplace owners. And thanks to these two plugins now anyone can set up a multivendor store in a WooCommerce site. In fact, now you can integrate WP User Frontend with it to improve the productivity of your marketplace. WP User Frontend has its reputation for making the best kind of user-submitted posts. Vendors are in great need of user-submitted posts. And this integration only adds to the vendors' benefits.
Requirements of this Integration
This is quite normal to have a minimum requirement when it is about integrating two systems. This is not an exception either. Let's see what you will need for this integration:
WooCommerce
WC Vendor Marketplace
WP User Frontend
You can also integrate WP User Frontend with WC Marketplace. In that case, you will have to install WC Marketplace instead of WC Vendor Marketplace.
Purpose & Benefits of This Integration
As mentioned above you can integrate these two plugins with to be benefitted most as a vendor. Purpose of this integration is varied and depends on vendors user case. With this integration, you as a vendor can edit the post you have just submitted. There is no limitation on the number of posts. See how this helps a vendor in their business-
A vendor can post a review of their products.
Writing is in the core of marketing. When a vendor has access to writing, then they can post blogs they think will be helpful to attract customers.
They can build a better customer-seller relationship. This will help the vendor understand buyers interest better.
Overall, a vendor can run content marketing of their own products in their own store.
Does it only help the vendors? It takes care of the admins at their best too. Admins create forms using WP User Frontend. As a result-
Admins can control and limit the vendor's movement ability
Admins can sell subscription per post and have commissions from vendors using WP User Frontend's subscription option.
The Process of Integration in a Few Easy Steps
Step-1
The first thing that should be kept in mind that to run WC Vendor Marketplace you must have WooCommerce installed into your site. To install and activate WC Vendor Marketplace, you will need to go to your dashboard. On the left side of your dashboard, there is an option for plugins. Click on "Add new" and search for WC Vendors Marketplace in the search bar. After finding out the plugin install and activate it.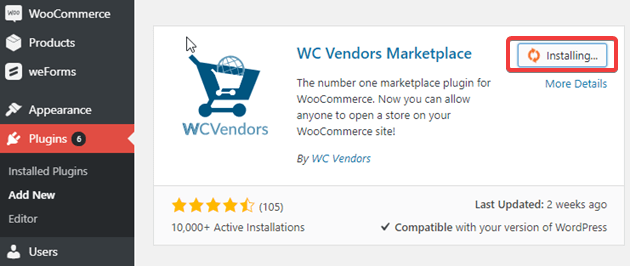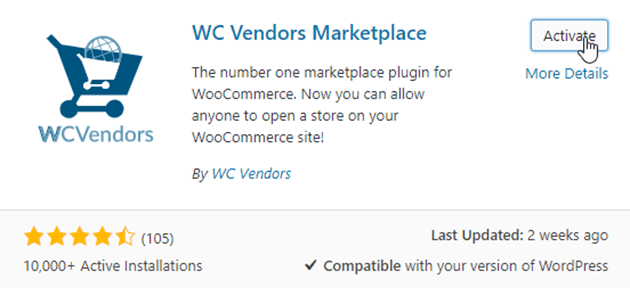 We used WC Vendors Marketplace plugin to show how to install and activate a plugin. But the process is just the same in all other cases. After activating WC Vendor Marketplace you have to go to the settings for further actions.
Step-2

You can go to the settings from here or you can go to the newly added WC Vendors plugin to look for its settings.  The plugin will automatically get added in your dashboard once you have activated it. From settings of your WC Vendor, you have to allow post so that your vendor can submit posts easily. From this area, you can also select the form which can be submitted from the dashboard.
After that, click on save changes to make the application successful. Now, look at the "Select Post Form" at the end. First of all, in this area, there can be multiple numbers of forms available. You have to select the one you would like to give access.
Most importantly, these are the forms you would have to make using WP User Frontend.
Step-3
Make a form you want with WP User Frontend. Let us assume that you already know how to create a user-submitted form using WP User Frontend. But do not freak out if you are unaware of the process. It is a superbly easy process. Buy yourself a few minutes and check out the documentation on How to Creating Post Forms here.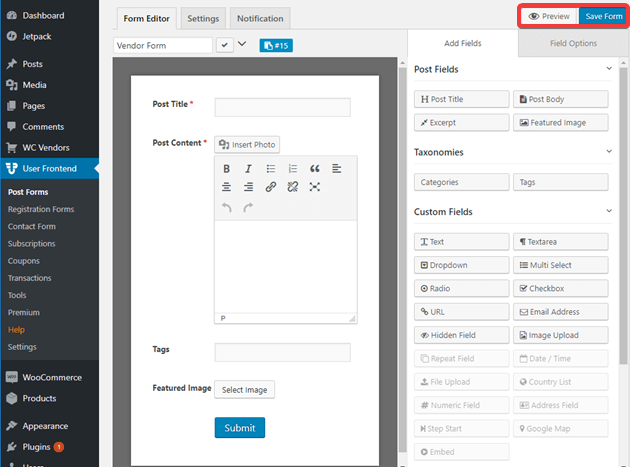 You can check how your vendors will view the post once you have created the form pressing on the preview button. You can put a name to the form you have created from the section below the block "Form Editor" as we did here. We named the form Vendor form.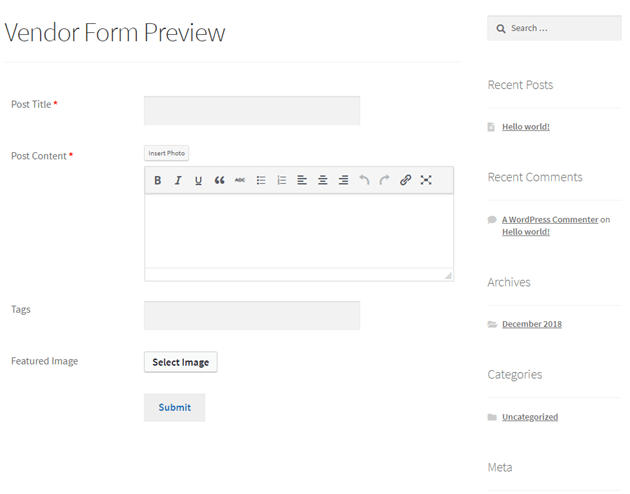 Step-4
Now, you have to configure a few items in WP User Frontend.  Select the post owner from Frontend Posting settings of it. If you are a WordPress user you know that you have to create users from user settings of your dashboard. We have created a user named Stephen in this case.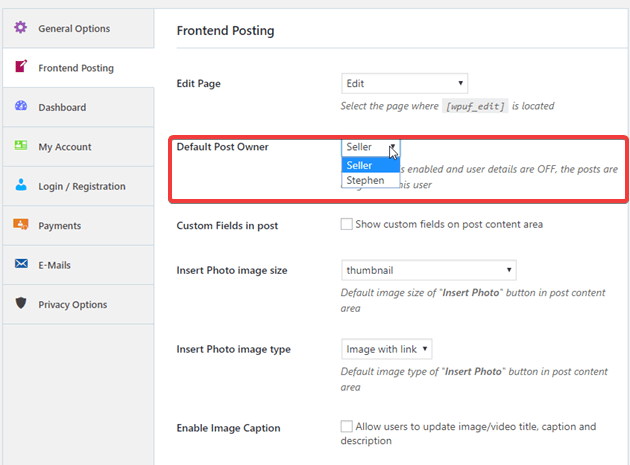 Step-5:
We are almost there. In step-3 we have already seen how the vendors see the form in the frontend. Now we will show you what happens when a vendor logs into the dashboard. We have created a user named Stephen as Vendor. And now we are going to log in as Stephen.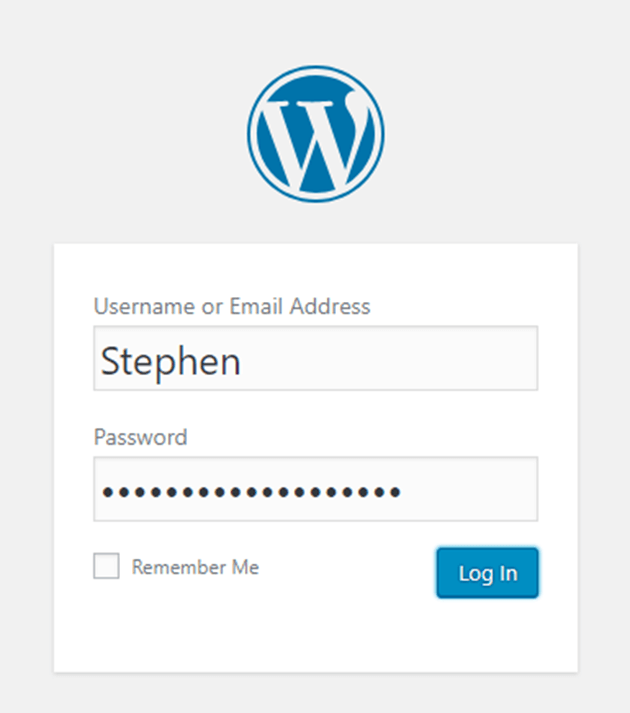 Step-6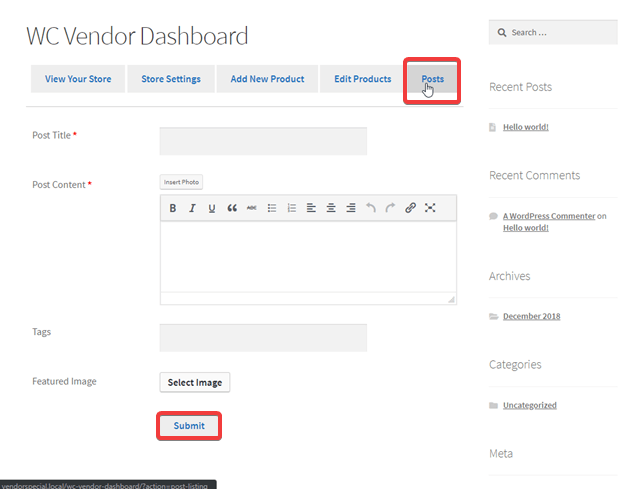 Once you have logged into the vendor dashboard, you will see the navigation bar with multiple options. Remember the form we created using WP User Frontend?  That form is here in the tab named "Posts". Now you can submit your post from here writing anything you want to view it to your audience.
Step-7
Vendors can even edit the posts they have submitted.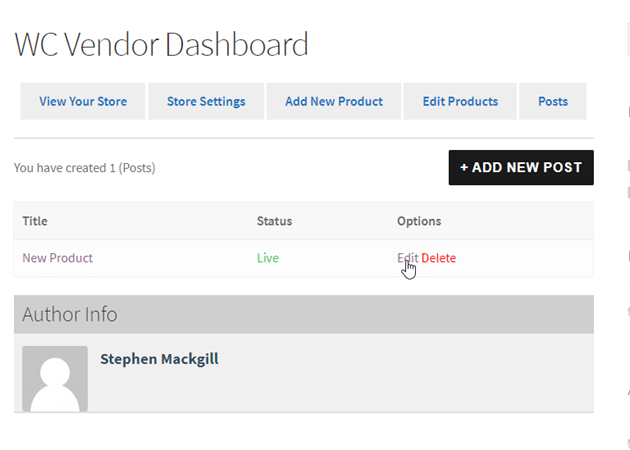 WC Marketplace Integration with WP User Frontend
WC Marketplace is a platform where you can transform your WooCommerce site to a multi-vendor marketplace. This platform also needs a system that can take care of admin, vendors, and customers all at once. Integration with WP User Frontend is equally beneficial in this case too as it were in WC Vendor Marketplace.
The good news is, you don't need to learn to operate the system separately. You can integrate WC Marketplace with WP User Frontend the same way as WC Vendor Marketplace. Here is the documentation, of Integrating WP User Frontend with WC Marketplace you can check it to know the process of integrating WC Marketplace with WP User Frontend and the tutorial of allowing frontend posting for vendors.
Wrapping Up!
These are not the only features of WP User Frontend. It has so many other features that will help you boost your productivity. You can visit the link below if you are interested in WPUF.