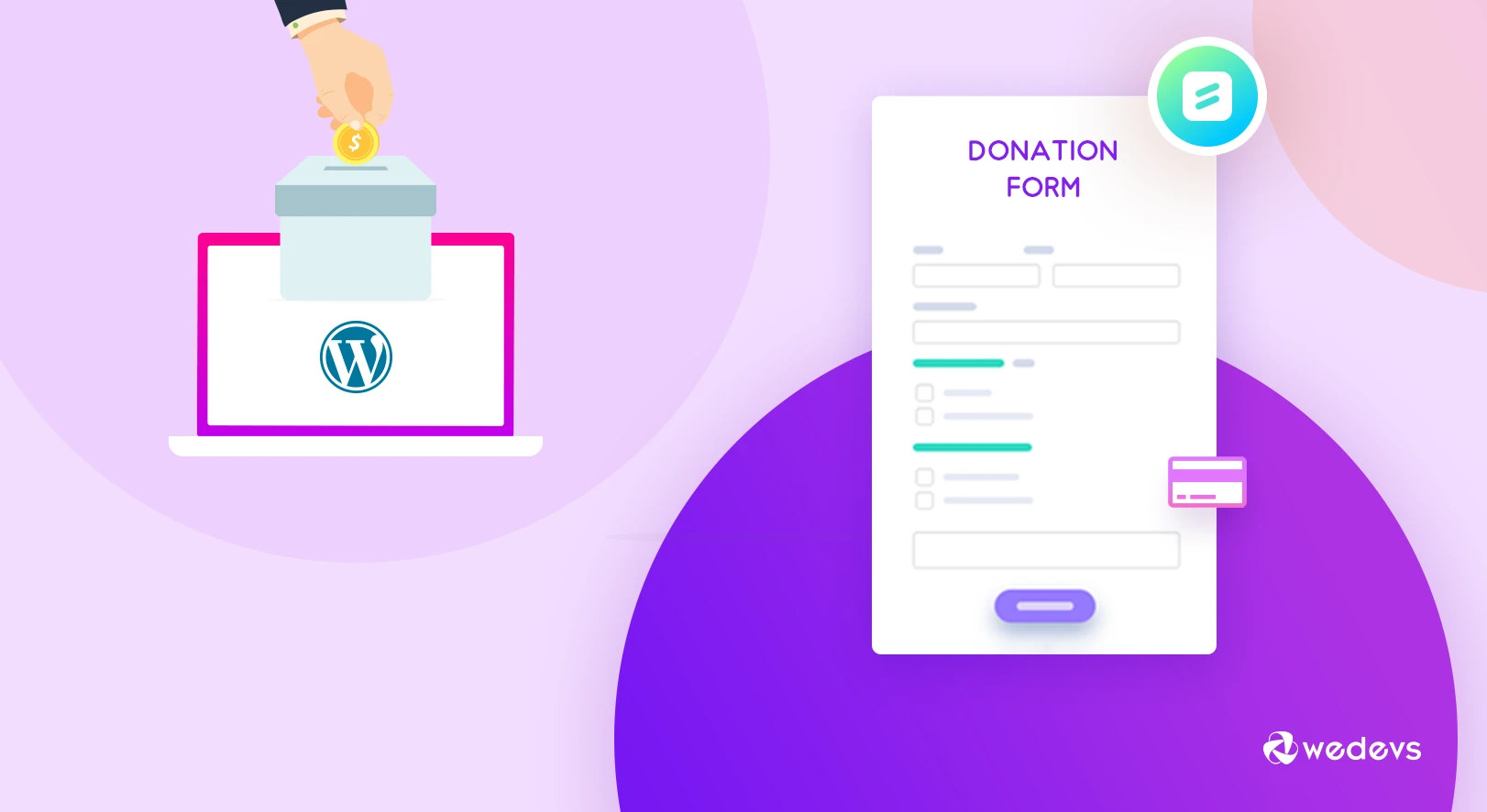 How to Deal with Donation Forms in WordPress
Donations these days are another way of rewarding people for their works. Growth in e-commerce is significant now. So is the increase in the number of freelancers. A number of designers, developers, content writers, content creators now depend on donations. Other than being a reward, donations are also used as a form of collecting money for a charitable purpose. Organizations are looking for a different and easier way to collect donation to serve their causes. And WordPress donation form serves that purpose much better than any other ways
Why Should You Use WordPress for Donation?
It is the easiest to collect a donation on WordPress. WordPress is a free content management system and its sole purpose was to make it susceptible to everyone. Serving that purpose WordPress is accessible to organizations and goldmine to the bloggers, freelancers, entrepreneurs even for small to medium business owners. This is considered goldmine because of the facilities it offers. Such as in WordPress, you have multiple ways of collecting donations. You can ask for donations on a monthly or weekly basis. You can add an extra button or you can use the greatest facility of WordPress plugins.
Adding a button or simply a form are the familiar ways of collecting donations. From these two options plugin is the more practical one.
Benefits of Using Form over Button
So many people use a button for donations. But a WordPress donation form gives the owner control over the process. For example, when you create a form you add fields which you think will be beneficial to your site. Additionally, it lets you keep the readers on your site for the longer period.
You can attract them into subscribing for your newsletters during this engagement. You can add multiple payment gateways as well.
All these facilities come with plugins. Using those plugins you can make donation forms and collect donation easily.
Getting Started Using weForms
weForms is famous for its ability to create endless forms trouble-free. It's drag and drops feature can create forms of any configuration within minutes. There is a module in weForm's business version named 'Payment'. You can enjoy the donation facility only by activating the module. This is like all in one situation. A plugin that is used for creating forms lets you enjoy donation facility without any hassle.
WordPress Donation Form Using weForms
Step-1
First of all, you have to activate the pro-version of your existing weForms plugin.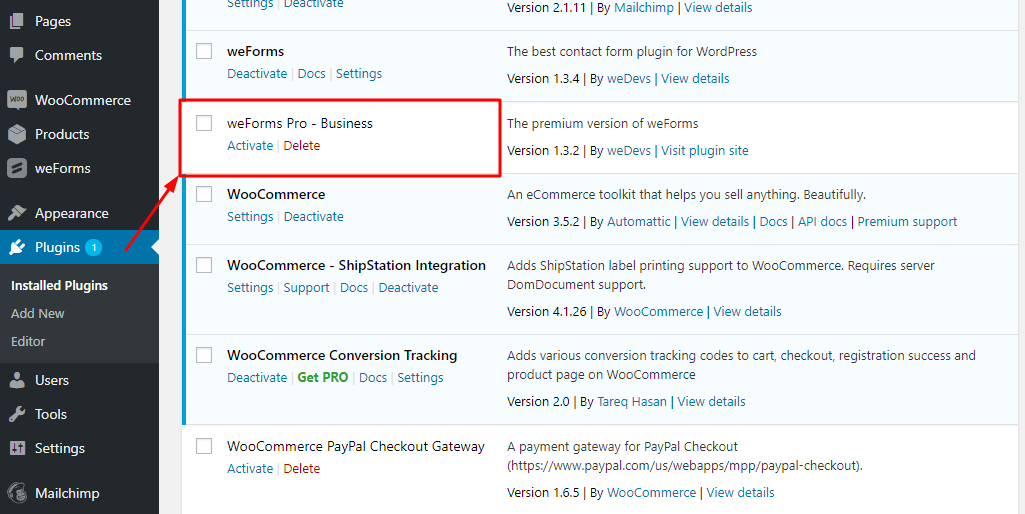 Step-2
There will be a tab named "Modules" under weForms. You have to activate the toggle bar of module "Payment" to allow the payment facility for a donation.
weForms>>Modules>>Payment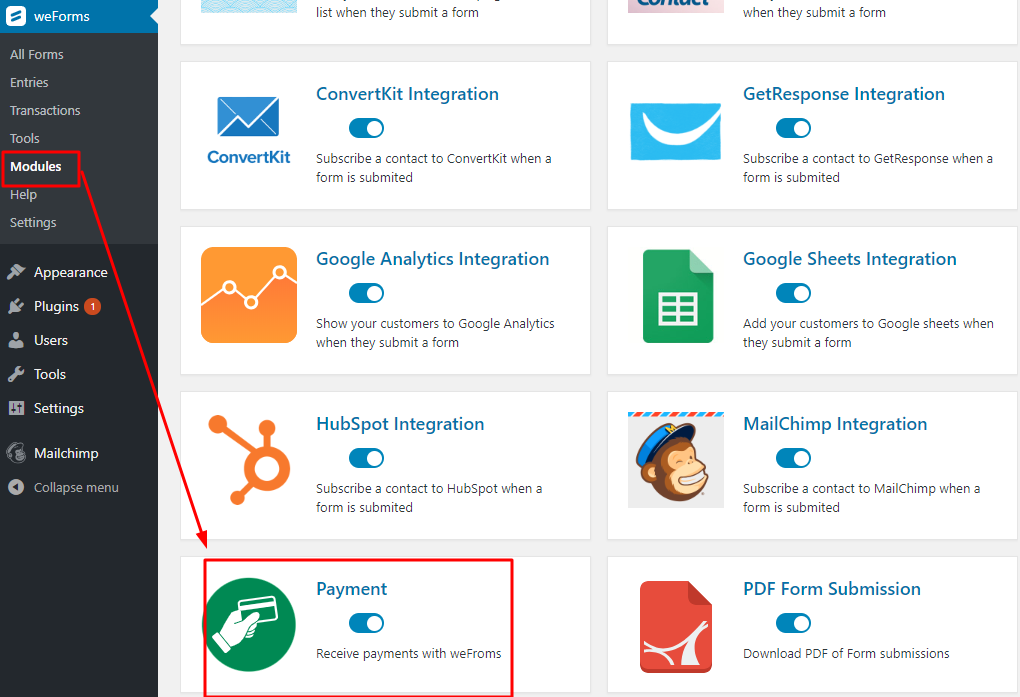 Step-3
When you activate the payment module a payment bar will automatically get added on the header.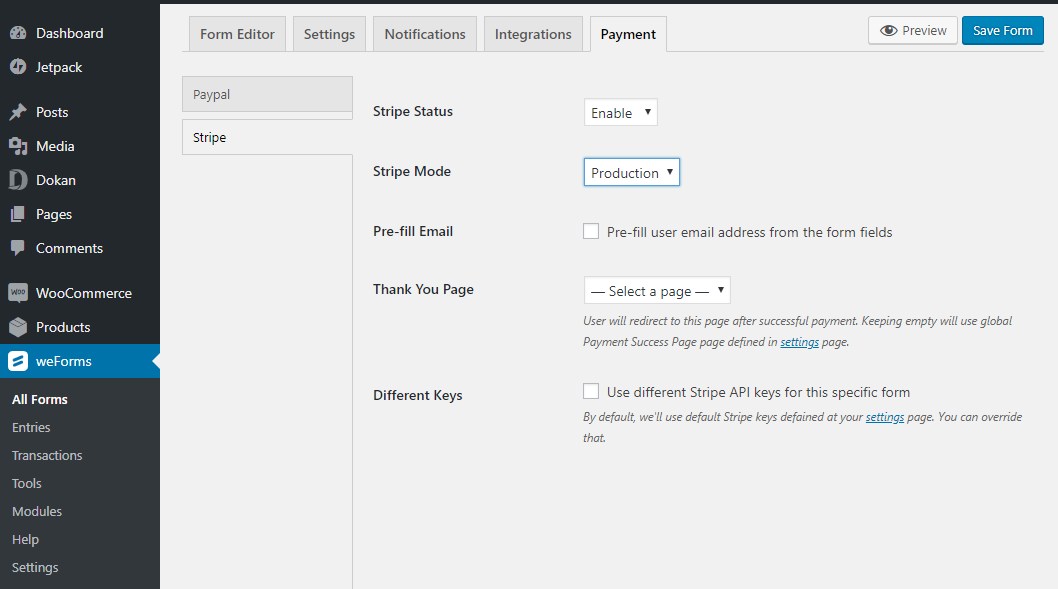 Step-4
When you are using weForms to execute your WordPress donation form you can pay through Paypal or Stripe. Navigate to
weForms>>All Forms>>Select a Form>>Payment
When you select a form you will see the option payment as the top right. You can select payment type from the section.
You can even fill up Email field from here. When you are done you have to save the form.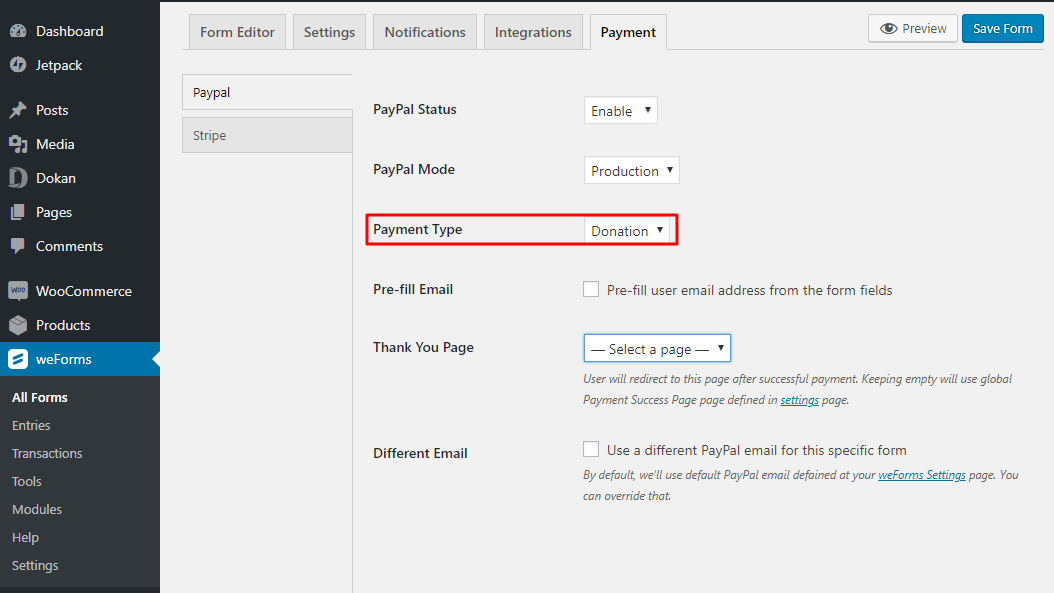 If you fill up the "Email" and "Different Keys" field in the stripe payment settings, few more fields will get added.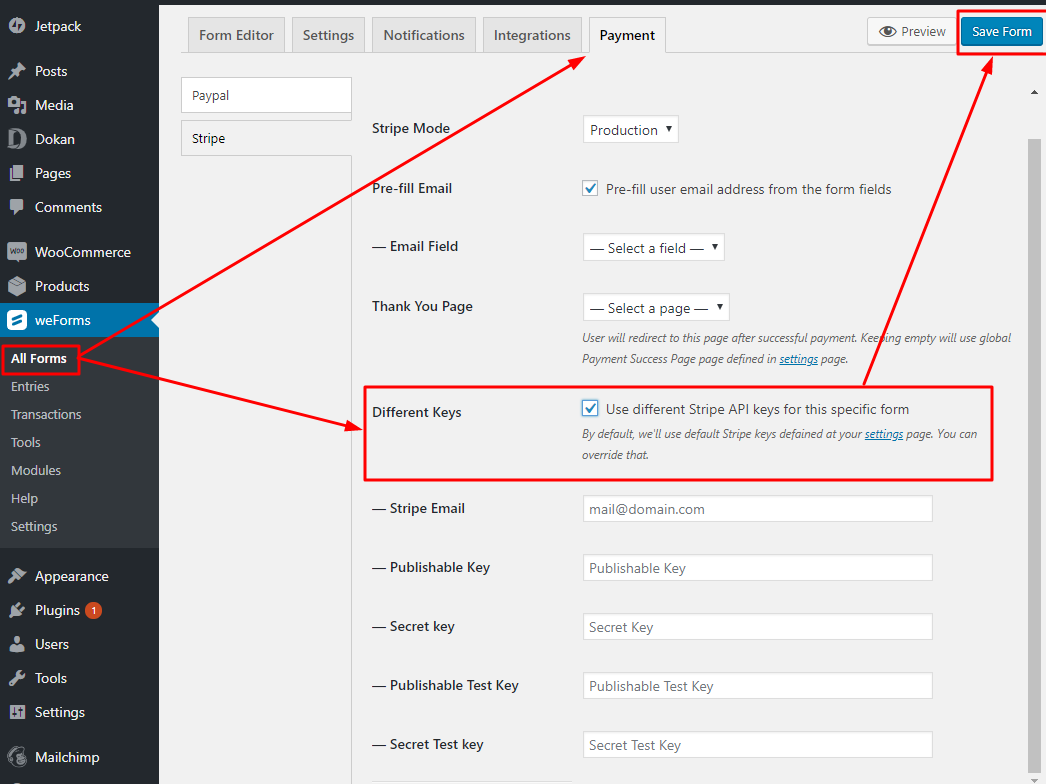 Step-5
Now to receive a donation with forms, you will have to create a form. You can start from scratch using the blank form or you can edit the existing templates.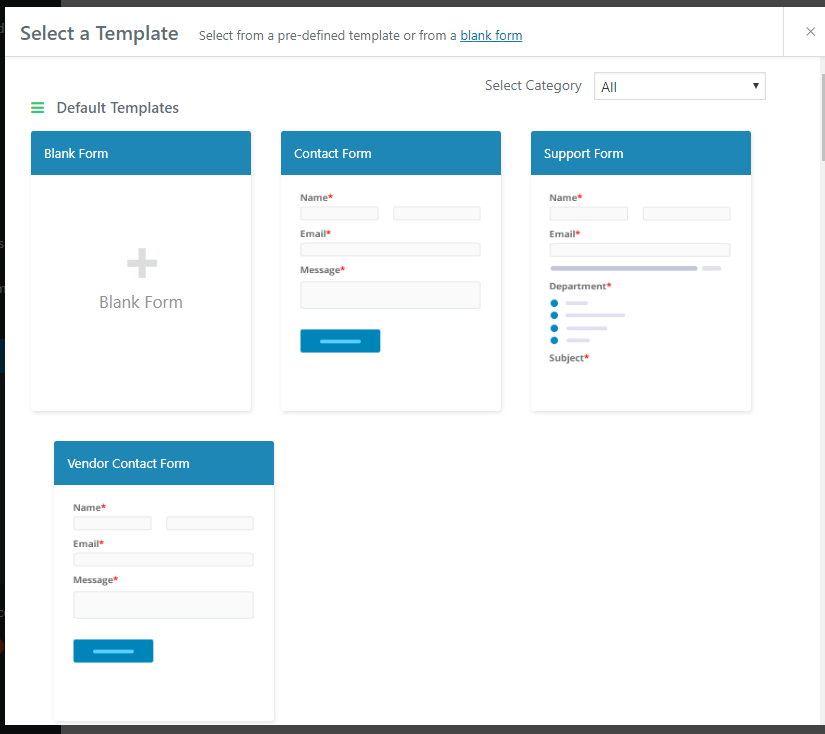 Step-6
While making a donation form you should give the form a name. You have to add the sectors you want to have in your form from fields available on the right side navigation bar. When you are done, save the form and don't forget to copy the shortcode provided on the top.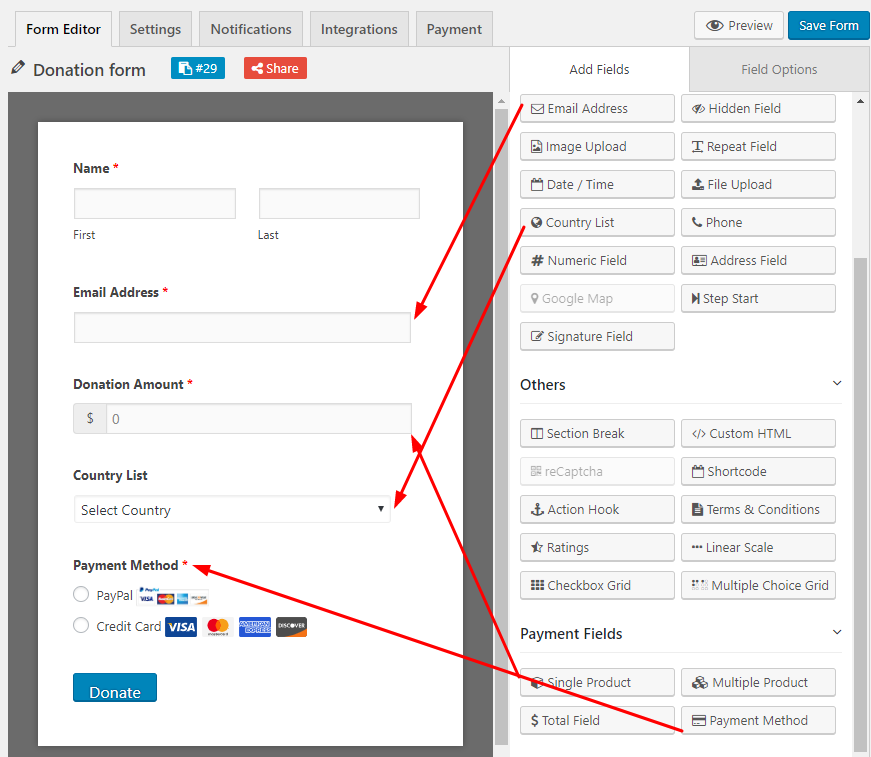 Here in this form; Name, Email address, Country list, is added from the available custom fields in the right side. Field of "Donation Amount" is created by choosing the "Single Product" field under "Payment Fields". 
Sometimes admin wants to fix a certain amount by default for donation. If you want to do that then you can go for "Multiple Product" field under "Payment Fields". There you can set a base amount for the donator. 
If you want to see how the form you created will look like to the donator in the frontend. You can click on the "Preview" button on the top right corner of the form editor.
Donating with weForms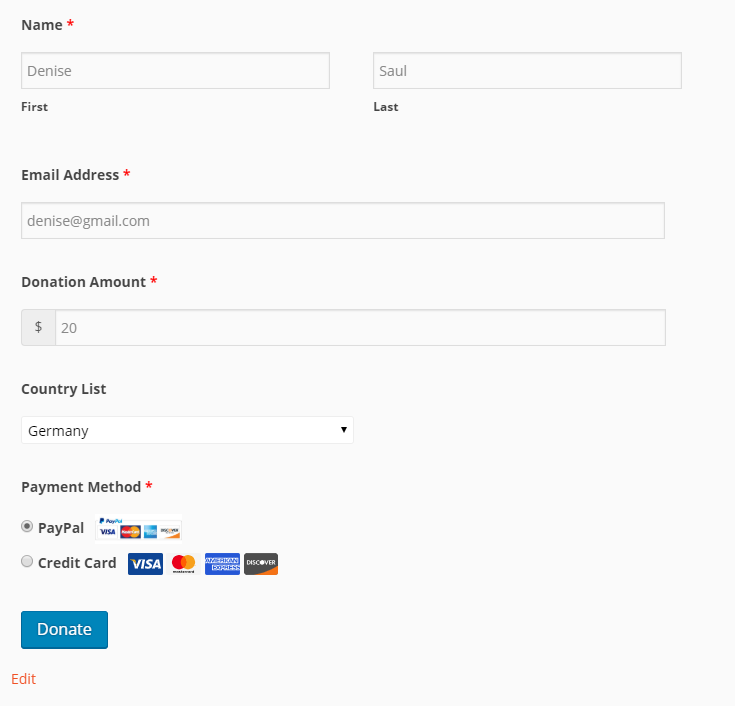 As a contributor, you will see the form like the picture above and you won't find donating any easier than this with a matter of just a few clicks. 
Uses of Donation Form in WordPress
Donations are the latest way of paying as contributors. When you have taken blogging as your profession you cannot go from door to door asking to make the donation of your works. This is where WordPress Donation Form comes in handy. You can simply add an extra form for donation asking for minimum recognition of your work.
On the other hand, non-profit organizations with small budgets look for an easier way to run their campaigns. Generally, they do not have that kind of budget for marketing. So they need donations. And they use WordPress donation forms to help their cause.
Wrapping Up!
Donations are driving forces of organizations and workers. WordPress like all other fields have made donations handy. weForms has added a complement to WordPress's flexibility.
If you are curious about weForms and want to find out how easily you can create a WordPress donation form then visit the link below to check out its demonstration yourself.