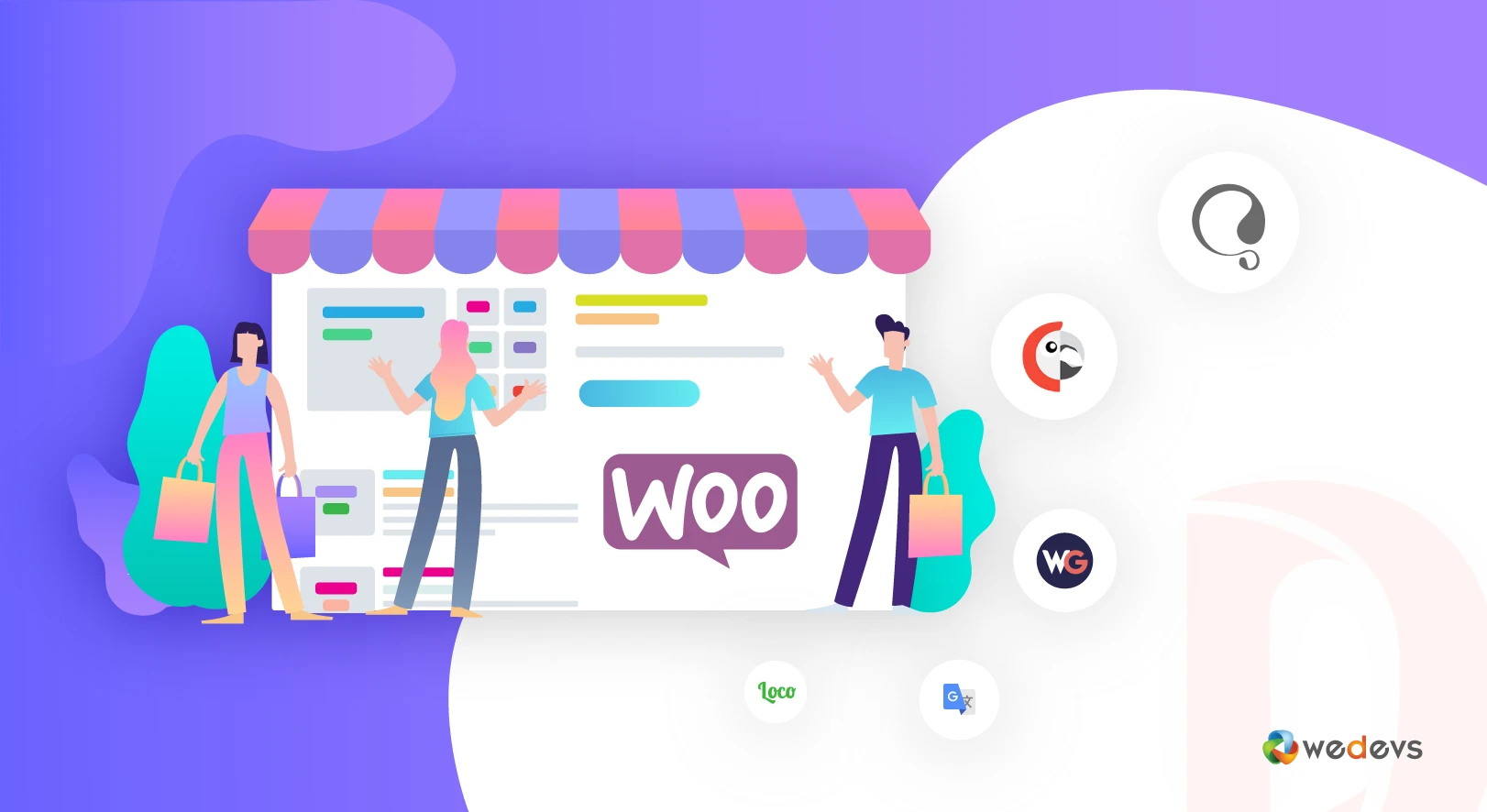 The Ultimate Guide To WooCommerce Multilingual Marketplace Owners
Multilingual online stores are becoming the next final move for even small to medium businesses. So are the WooCommerce multilingual marketplaces. Do you know why?
Today, around 75% of internet communities use their native language to communicate and perform other online activities. It simply means that if your marketplace is still only in English, you're losing some of your profits and that could be huge!
You have easy options to turn your single-language store into a multilingual marketplace, while you're using WooCommerce. There are some facts you need to consider before and after making your move.
In this article, we are going to show you how to develop the WooCommerce multilingual marketplace with detailed guidelines. If you're using Dokan Multivendor– the most popular WooCommerce multi-vendor marketplace builder, then it's easier to make your job done.
Let's start with this basic fact.
Do You Really Need a Multilingual Site?
More than nine out of 10 businesses surveyed across eight countries prefer to purchase products that have been adapted to local language and market needs –Commonsenseadvisory
It's simple if you want to increase your store's visibility and sales, you should develop a multilingual site. To become global, a multilingual site is key.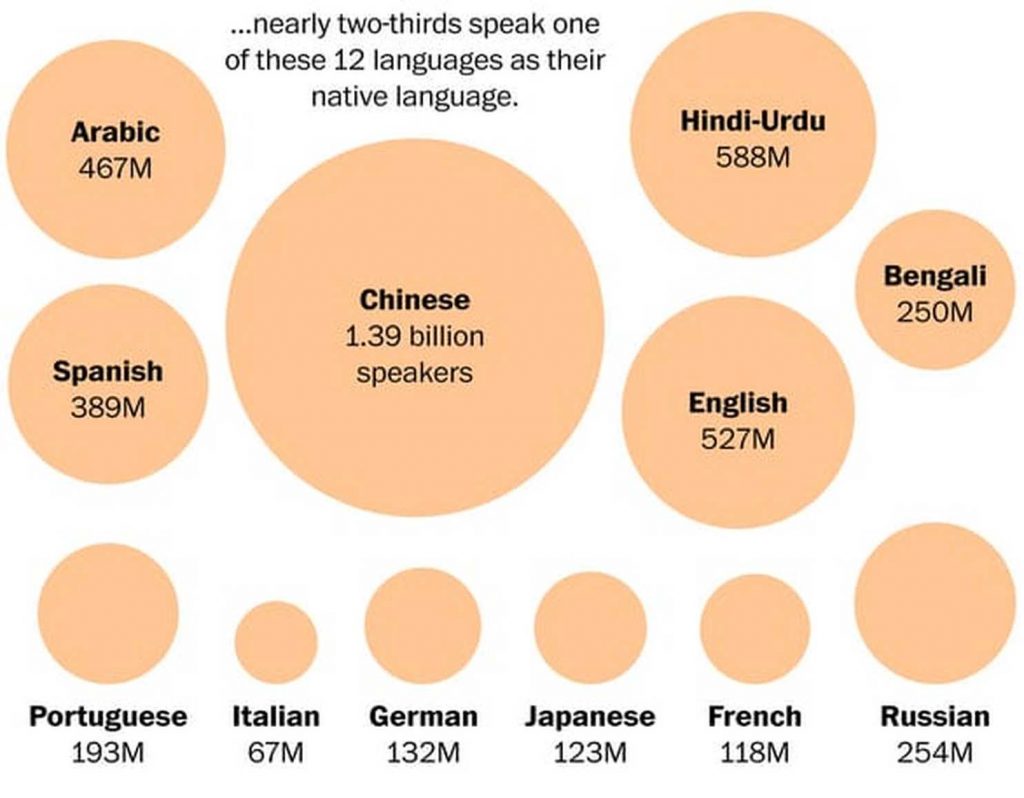 More language means more visitors, more engagements, more sales, and more profits. A multilingual store has a lot of benefits. But, if you're running a store with limited products targeting a local audience, this isn't the right time to create a multilingual store. Consider these facts to make a wise decision.
Are you already getting International traffic?
Where do the majority of your sales come from?
Do you have enough support tickets from foreign/global customers?
Are you ready to manage essential formalities related to sales like taxation or shipping?
Will you be able to offer a quality experience to all?…
You can easily find and measure necessary data using Google Analytics (Check Audience- language and location field) or a solution like WooCommerce conversion tracking. Also, as a marketplace owner, you may already have a clear idea about your customers, and options to get notified about their activities.
You can understand your needs and measure your capabilities better than anyone. Without a clear vision and enough preparation, building a WooCommerce multilingual store could be a waste of time, money, and effort. Online business today is all about data and smartness. So be smart while making a big decision and try to rely only on actual data.
Related Resource:
What Would You Get Creating a WooCommerce Multilingual Store?
A multilingual store can serve you in many ways. Check some core benefits of a WooCommerce multilingual store.
A Door to Becoming Global
Primary condition for global citizenship
To easily understand the perspectives of your customers
Best way to truly communicate and reach a common understanding
The basis for argumentation and reaching a compromise
Better SEO Advantage
Google will start indexing your additional languages as separate content and this helps a lot in terms of SEO
Search engines read all the versions of your store as the same site
You can deliver the contents to the native language which is already set by your visitors on their browsers.
Opportunity to target more regions precisely.
Better User Experience
A multilingual landing page allows users to select their preferred language
Technical possibility to detect the language of your customer's browser and then serve up the website in that language
Trust & Credibility
There is a general acceptance that a company with multiple languages must be global!
With a localized store, clients will appreciate your feeling of their culture.
Providing buying opportunities in their native language is the best way to earn the trust
Overcoming any possible cultural barriers is a massive trust builder
Openness to Customers
Easy way to differentiate your store from the competition
When you reach people in a language that is not your own, the whole world opens up to you!
And Finally, Sales!
Sales are the driving force behind any business, you know that. A multilingual store is one of the most effective ways to meet this goal. We mentioned some core advantages of a multilingual store. Now, check some case studies.
Net Media Planet (an online advertising industry) got on average a 20% increase in conversions.
Kinsta (a premium WordPress hosting provider) saw an 18% increase in overall organic traffic by translating their blog into different languages
Global shoe manufacturing companies like Bata Industries built the multilingual site to ensure a better user experience.
Still confused?… According to Common Sense Advisory- 75% of Internet users do not make important buying decisions except if the product information is in a language they can read or speak! So, what will you do?
Ways to Build a WooCommerce Multilingual Marketplace
There are different ways and solutions to turn your single-language store into a multilingual store or marketplace. We are going to show you the four easiest but most effective solutions.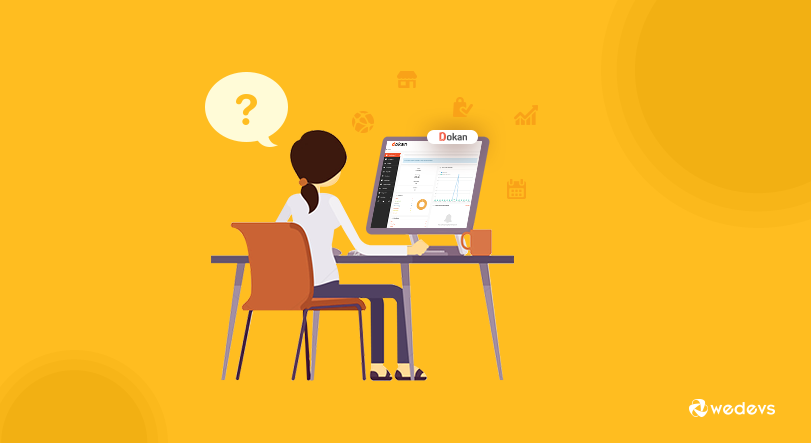 WPML: The Best WordPress Multilingual Plugin
WPMLis a premium plugin- designed to easily create a WordPress site in several languages. Its default install is available in over 40 languages. Moreover, you have options to add a new language using its language editor. WPML's pricing started at $29 for blogs and $79 for CMS.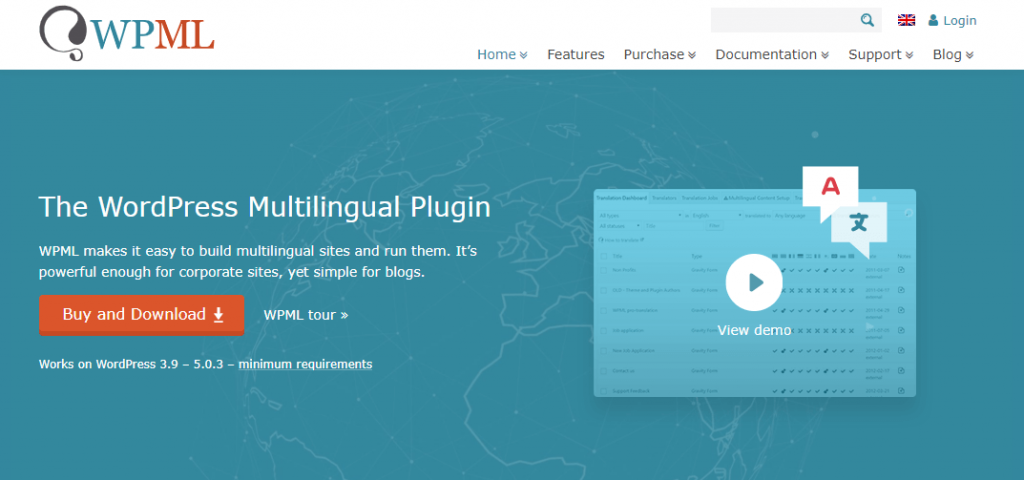 Needed Solutions to Build a WooCommerce Multilingual Store
WooCommerce– to deal with eCommerce issues
WPML– to make the entire site multilingual
WooCommerce Multilingual Plugin to handle product translation management
A dedicated theme that supports WooCommerce' customization
To start using WPML, you need to download and install it manually. Go to the official website of WPML and choose your plan- Multilingual CMS. Once you installed the solution and registered, You will be able to receive its automatic updates and installations for other components. Check this step-by-step official guideline to start the process.
How to Configure WPML?
WPML has four components.
WPML Multilingual CMS (the core plugin)
String Translation
Translation Management
Media Translation
When you first activate WPML, you will see a setup wizard to specify the essential settings. Follow the wizard to-
Set the default language
Add additional languages
Specify where to display language switchers
Register WPML
When you are done, your site is now ready to translate content into any language you want. In this step, you should know that there are two different ways to translate your content using WPML. Go ahead to explore the translation process.
Translate Your Content Using Translation Management
Quality is the main thing you should consider while translating your content. With WPML, You can manage your translation works using the Translation Management Add-on.
Go to the Translation Dashboard
Select the topics
Now, select translations options
Finally, click on the button- Add selected content to the translation basket.
See the steps in the below screenshot.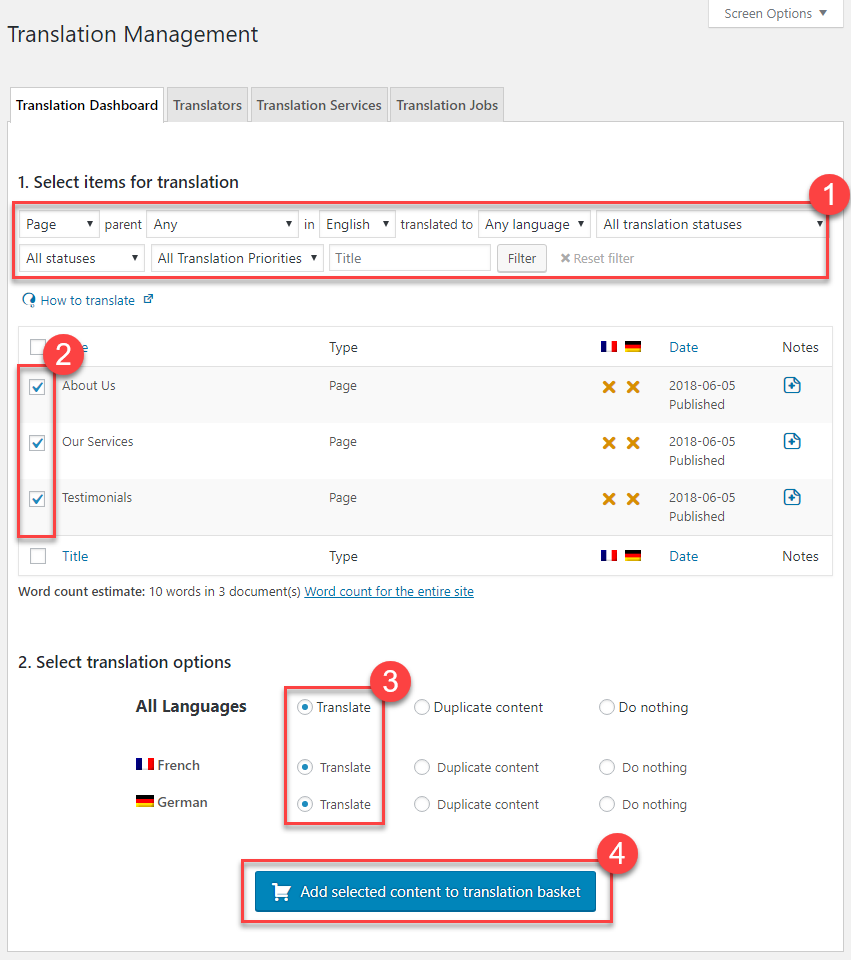 Need more help? Click to see the complete process. This add-on will help you send content for translation, check quality and updates, etc.
Content Translating by Yourself
If you are the only person to translate your store's content, you don't need to use Translation Management. Use the icons like plus & pencil etc. from your dashboard to easily translate and update. See the icons.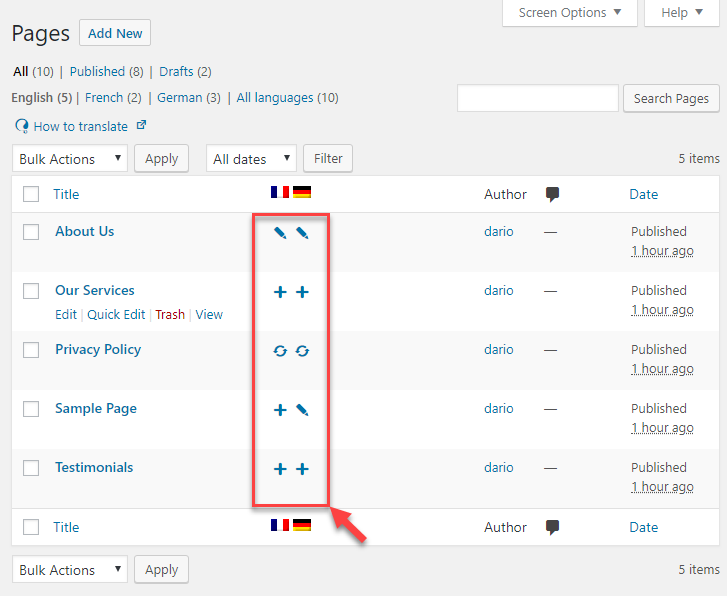 Pencil Icon means your content is already translated. Plus icon means this is still on the waiting list. Check WPML documentation to learn more. You can see and check your translation queue with WPML to translate necessary content and ensure real-time updates.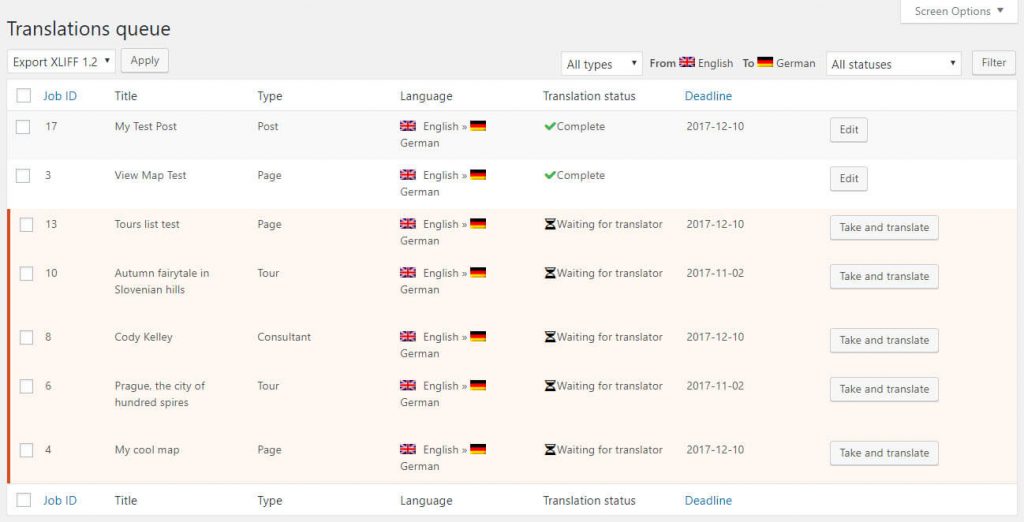 WPML is one of the best WordPress language translation plugins to help you develop and manage a multilingual store.
WooCommerce Multilingual Plugin & Why Add This to WPML?
WooCommerce Multilingual (https://wordpress.org/plugins/woocommerce-multilingual/) is a dedicated plugin for WooCommerce product translation management created by WPML developers.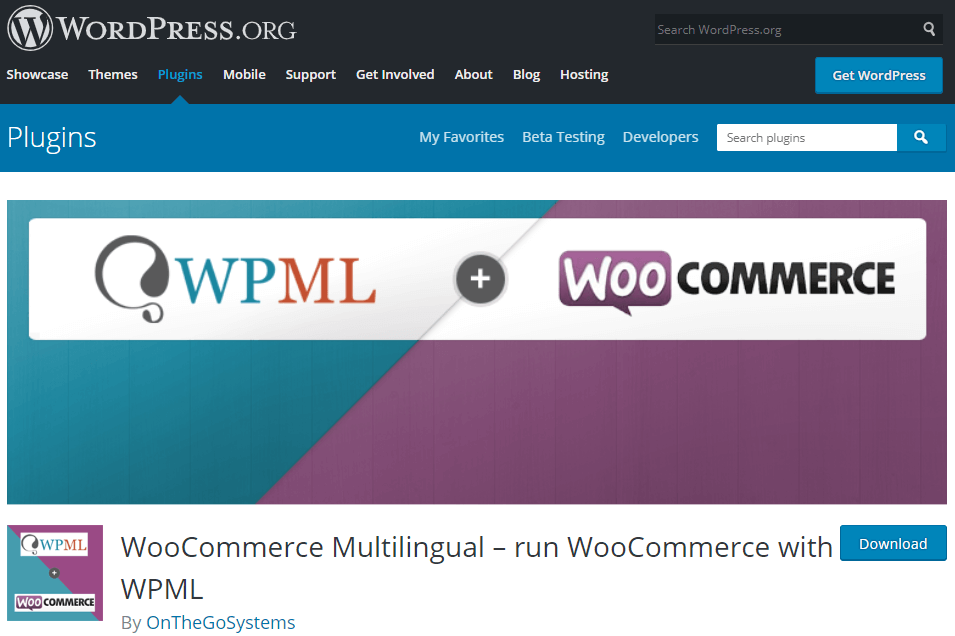 You need to install the WooCommerce Multilingual plugin to ensure full support for your WooCommerce multilingual store. WooCommerce Multilingual is the customized solution for the multilingual eCommerce WordPress site based on WooCommerce.
Fields Where the Plugin Will Help You
You can easily handle all your product-related information using this WooCommerce multilingual plugin. It includes-
Single product information
Product category translations
Translating product tag
Product attributes (like- bag or weight etc)
To ensure the best practices of WPML, Check WPML's Official documentation.
Polylang- Free WordPress language plugin
Polylang is a plugin to make multilingual WordPress websites. This solution does not integrate automatic or professional translation. You have to set the language either by the content or by the language code in URL, also you can use one different subdomain or domain per language.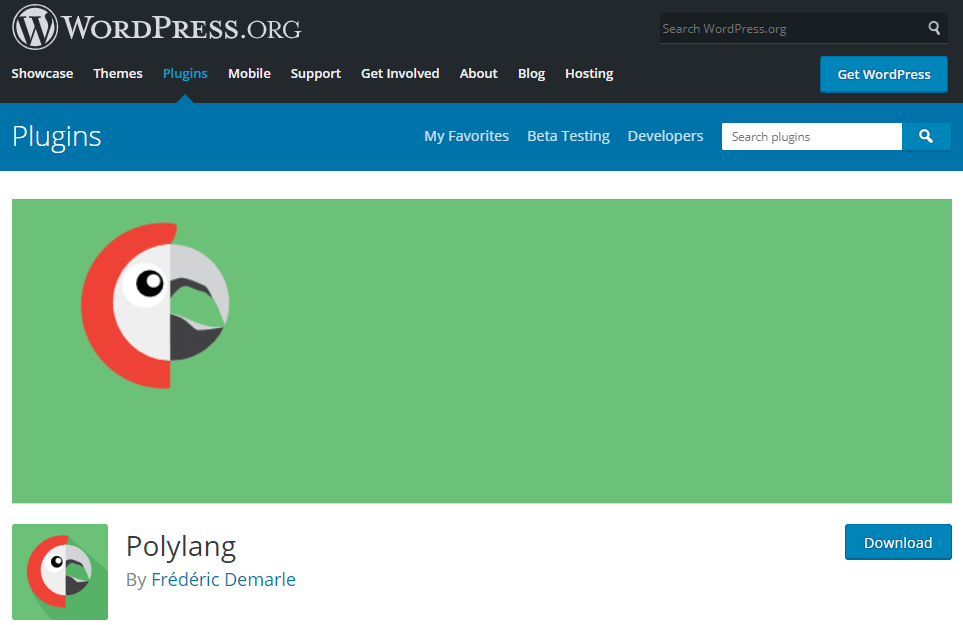 With over 700,000 installs, Polylang is one of the most popular WordPress language translation plugins.
Is Polylang Compatible with WooCommerce?
Yes, but you need to have a separate addon- Polylang for WooCommerce and that will cost you $99 for one site. You can't build a WooCommerce multilingual store with Polylang's free solution.
Polylang for WooCommerce allows you to combine the power of two popular WordPress plugins (WooCommerce and Polylang) to create a multilingual shop. It allows you to translate all the necessary fields directly in the WooCommerce interface.
Building WordPress Multilingual Site Using Polylang
You already know that- with Polylang, it's very important to set the language for all existing posts, pages, categories, and tags. Otherwise, you can't find them on the frontend. Go to your site's dashboard and install Polylang by clicking on Add New Plugin option. After installation and activation, you would see Polylang icon on the top bar of your dashboard.
Now, see how does Polylang actually work. Let's create a page in 4 languages.
Go to your Dashboard. Select Pages > Add New
Choose your default language in the dropdown list.
You can select an already existing page as translation. The plus (+) icon will then turn into a pencil icon.
You can create a new translation by clicking on the (+) icon.
The pencil icon will allow you to edit the translation. Check the process in the below screenshot.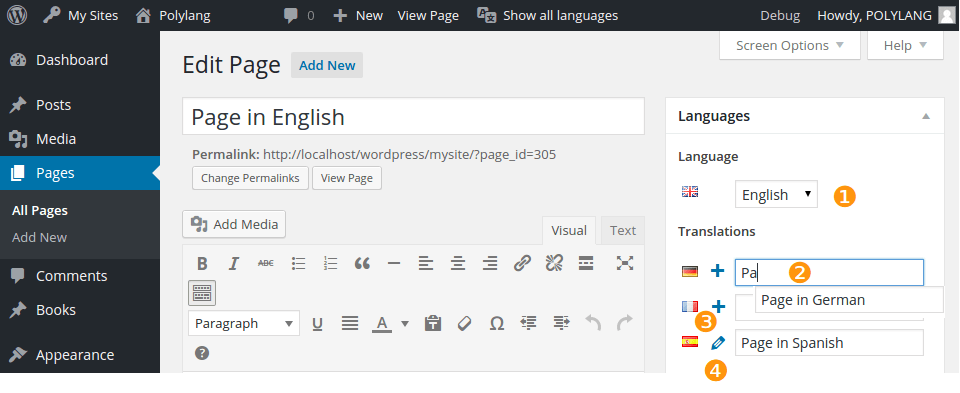 With Polylang, the operation for other fields like posts, custom post types, categories or tags is exactly the same.
Now let's see how to use these icons perfectly.
The check icon means that this page is already in the language. You can edit the page by clicking on it.
The plus icon will allow you to add a new translation.
The pencil icon refers that a translation exists. You can edit the translation by clicking on it.
It is not mandatory to translate all the content. You can filter the content by language. Here is how your pages are displayed in the table.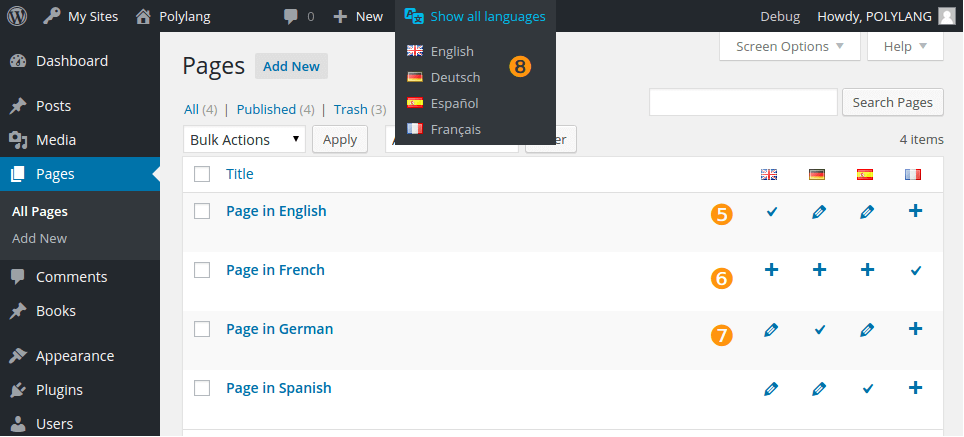 To learn the complete process, you can check Polylang's official documentation.
Now, you need to carefully install WooCommerce pages
Go to your Dashboard and select Woocommerce > System > Tools and click on the 'Install pages' button.
Install Polylang for a new WooCommerce site and get a go!
Extra Facility with Polylang
If you want to use professional or automatic translation services, install and activate the Lingotek Translation plugin.
You have the opportunity to migrate from WPML to Polylang. This is not something like which one is better- WPML vs Polylang?… It's all about your choice and priority when you feel or need. Just Install the plugin WPML to Polylang and follow the guideline.
Weglot: Automated WooCommerce Multilingual Site Builder
Another popular WordPress multilingual site creating tool. The unique feature of Weglot is- it can automatically detect and translate your text content. It's an easy and effective multilingual extension. Trying to find a perfect WPML alternative? It's Weglot!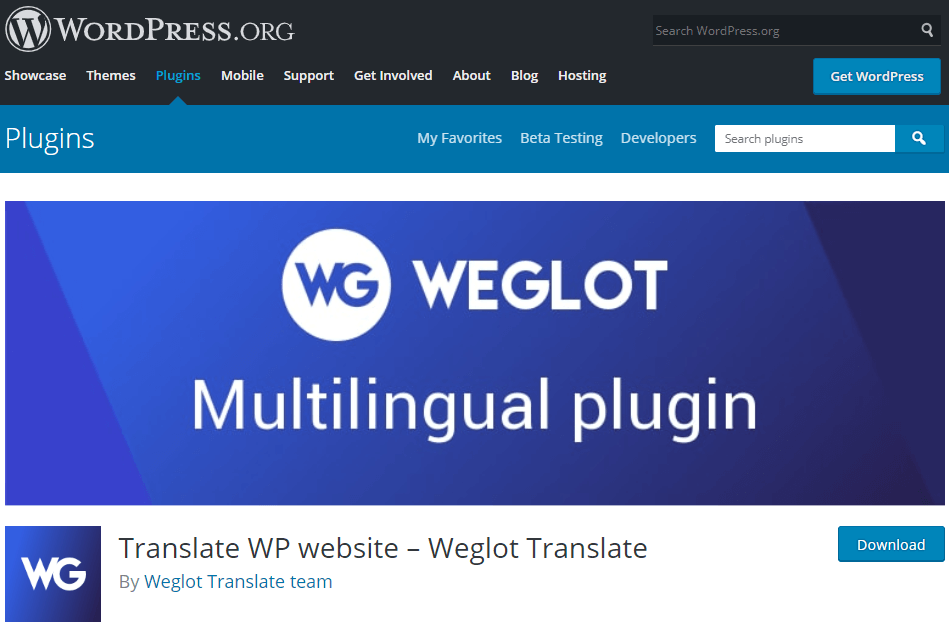 How to Install Weglot for Your WordPress Site?
WEGLOT ensures an easy setup for even new customers who have zero coding knowledge.
Go to your site's dashboard and install the plugin by selecting Add new plugin option.

After installation and activation, you need to add the API key. To get your API key, you have to create an account on Weglot's official website if you haven't yet.
Now just select your original language and destination languages.
Click on Weglot tab from the setting bar and select Weglot Translate. And you have completed the process.
Check the screenshot below-
Weglot has a dedicated support team to help you anytime. Check out their official setup page to learn more and get support for your further needs.
Is Weglot Compatible with WooCommerce?
Yes, Weglot is fully compatible with WooCommerce. The compatibility includes-
Home page
Product pages
Metadata and SEO items
Check out page, etc.
Weglot has a unique dashboard to add and edit translations. Also, you can purchase professional translations to ensure the quality of your store's content.
Migrating from WPML or Polylang to Weglot Translate
Yes, you have the option of migrating to Weglot Translate. Don't be afraid! It's easy.
Deactivate WPML or Polylang for making sure you only have one multilingual plugin
Start using Weglot Translate regularly
Moreover, if you need to import some translations, visit their support page or simply mail them to support@weglot.com. Weglot comes with a detailed pricing strategy. Choose your plan from their 5 different plans that started from $8.25 a month.
WPML vs Polylang Vs Weglot
Earlier, we already described how to turn your single-language store into a multilingual marketplace using WPML, Polylang, and Weglot. So, now you can ask- which one is better to start with? To clarify, check out this short infographic to compare these solutions and pick up the right one for your WooCommerce multilingual store.
We mentioned the necessary information including- Main translation interface, Focus, Quality, Price, and updating. These are enough to compare and make a primary decision.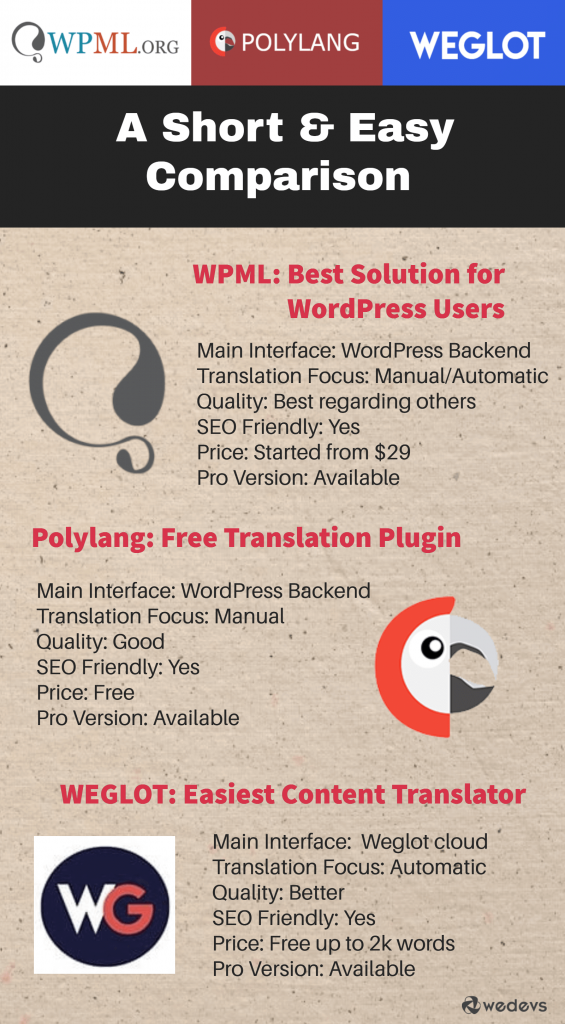 Translating WooCommerce Powered Dokan Multivendor Marketplace
Until now, we only talked about translating a single vendor WooCommerce store. What if you have a multivendor marketplace? As a WooCommerce-based marketplace owner, you may already know that Dokan is the most popular multivendor marketplace builder in the WordPress Community.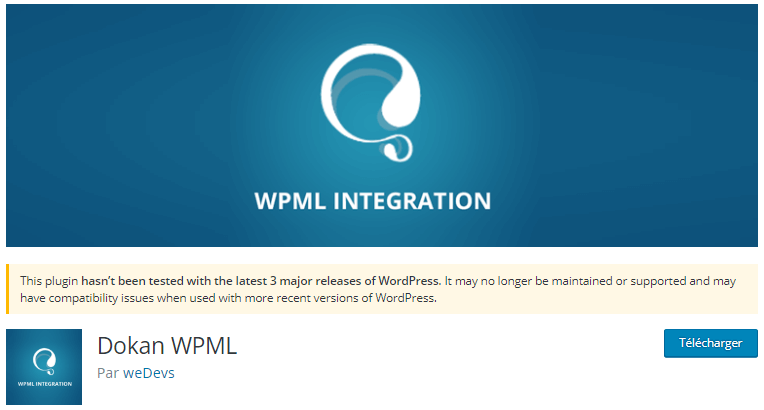 Meanwhile, with Dokan, you have an easy option to display your vendors' dashboards, product categories, store pages, etc. in various languages. So, you can easily turn your marketplace into a multilingual marketplace by just adding an extension- WPML Integration for Dokan.
It actually enables you to use WPML (The WordPress Multilingual Plugin) in your Dokan-powered WordPress multivendor marketplace.
How to Configure Dokan WPML?
To enable WPML for your Dokan Multivendor Marketplace, you will need the following plugins.
WPML core package (4 extensions)
Sitepress Multilingual
WPML Translation Management
WPML Media
And WPML String Translation
2. WooCommerce Multilingual
3. Dokan WPML Integration
Go to Your Dashboard, install & activate all the plugins (4+2=6)
Configure WPML & WooCommerce Multilingual plugin as we mentioned earlier.
Install and activate the Dokan WPML Integration plugin.
Navigate to WP Dashboard → WPML → Languages → Language URL Format
Set the translation link structure to sub-directories. That means the translation link for French would be site.com/fr
Create a translation of your pages and products and you are done. You can translate all your content and other fields of Dokan WPML integration.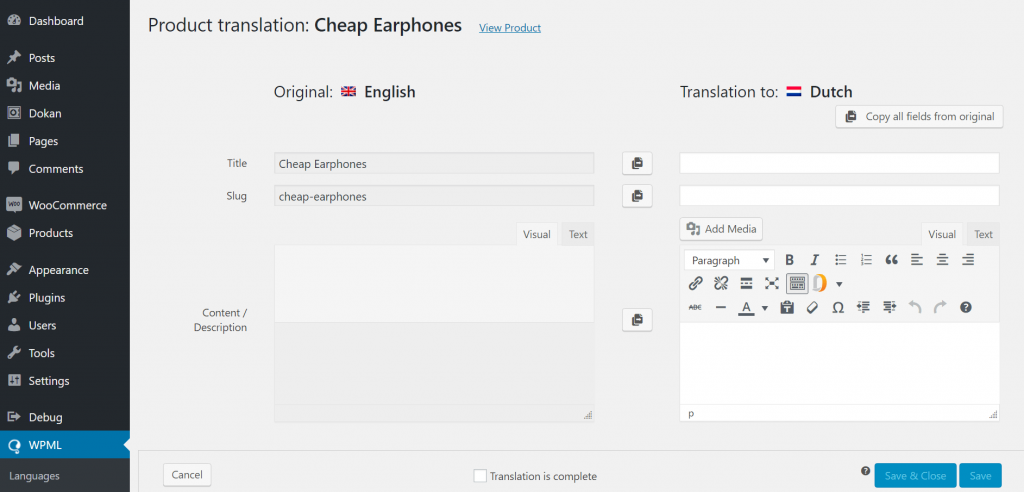 You will be able to translate the following fields into multiple languages using Dokan WPML integration.
Product categories
Vendors' products
Attributes
Variations
Dokan vendor dashboard
Store listing
Store pages etc.
So, now check out the step-by-step guideline on WPML to know more about this extension to implement it perfectly. Moreover, you can even install and activate this free extension to your WordPress multi-vendor marketplace for ensuring a quantum leap over your competitors.
Explore Some Awesome Multilingual Marketplaces Powered by Dokan
With over 60,000 multi-vendor marketplaces, Dokan is one of the leading marketplace builder solutions out there. So, explore some great marketplaces that are already translated into different languages using Dokan WPML integration.
Tomor Market
Tomor market actually is the Arabic language-based eCommerce marketplace. They translated their store into the English language to reach new customer bases across the world. See how easily they are running and managing their Dokan-powered multi-vendor marketplace in both Arabic and English languages, with just one click!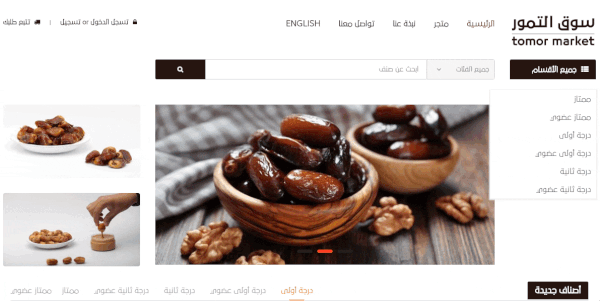 2. Good Morning Laos
Good Morning Laos is one of the most popular multivendor marketplaces in Laos. They also developed a dedicated WooCommerce multilingual marketplace using Dokan WPML integration. The site is available in both English and Lao language.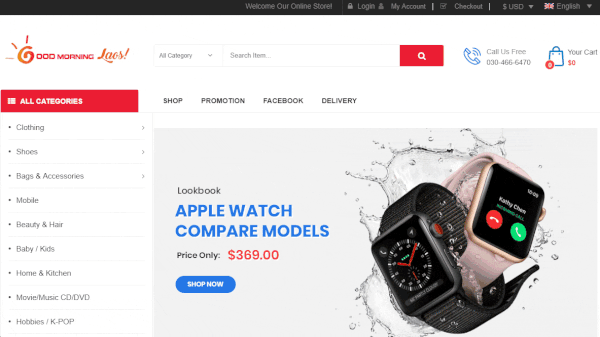 You can explore a huge number of Dokan-powered WooCommerce multilingual marketplaces. Check them out to make a wise decision and also to prepare a better plan.
Mezeej- Arabic-English-based multilingual store
Quindio destino vital- Spanish-English based multi-vendor marketplace
Jumunona– Russian-English based WooCommerce Multilingual marketplace
Ireloca-Deutsch-English-Nederlands language-based multilingual store
More Ways to Translate WooCommerce Store
Obviously, there are more ways to translate your store into different languages. We focus on the plugin options because these are easy, cost-effective, and ensure extreme quality. So, if you want to develop a fully automated and customized solution, you can prefer-
Creating custom translations with Loco Translate or PoEdit
Configuring Google Language Translator on WordPress
These are not manual, and also not capable to provide quality translations all the time. That is why you should consider manual translation using plugins.
Issues You Should Remember While Translating Your Store
Translating your content isn't tough but setting up the site for WooCommerce multilingual is a bit tricky. Moreover, there are three facts you need to consider and ensure the solution as required by Google algorithms.
Set Up Your URL Structure Perfectly
Top-Level Domains
Subdomains
Subdirectories
Don't Forget to Use Sitemaps or Hreflang tags
hreflang Tags Targeting Languages
hreflang Tags Targeting Languages and Regions
What Should You Translate to Get Desired Result?
In simple word, everything!
Contents
Image file names
SEO Meta
URLs (slugs) etc.
So, if you ignore or fail to complete the requirements, you may face a lot of challenges to get the desired Google ranking.
Related Article: Best eCommerce Platform for Startups
Before Ending on WooCommerce Multilingual
Online businesses have no boundaries. So, in order to become global, a multilingual store or marketplace is key. Since you have products and essential support, so why are you waiting? In this article, we have described all the necessary steps and possible ways to easily build a multilingual store.
Moreover, if you're running the Dokan-powered multi-vendor marketplace, then today it is even easier to translate your marketplace into several languages.
So, go ahead with developing a WordPress multilingual marketplace and ensure a quantum leap over your competitors.
So, do you already have a WooCommerce multilingual store or are you using a WordPress translation plugin? Let us know.
If you have any queries or confusion then we are always here to help you!