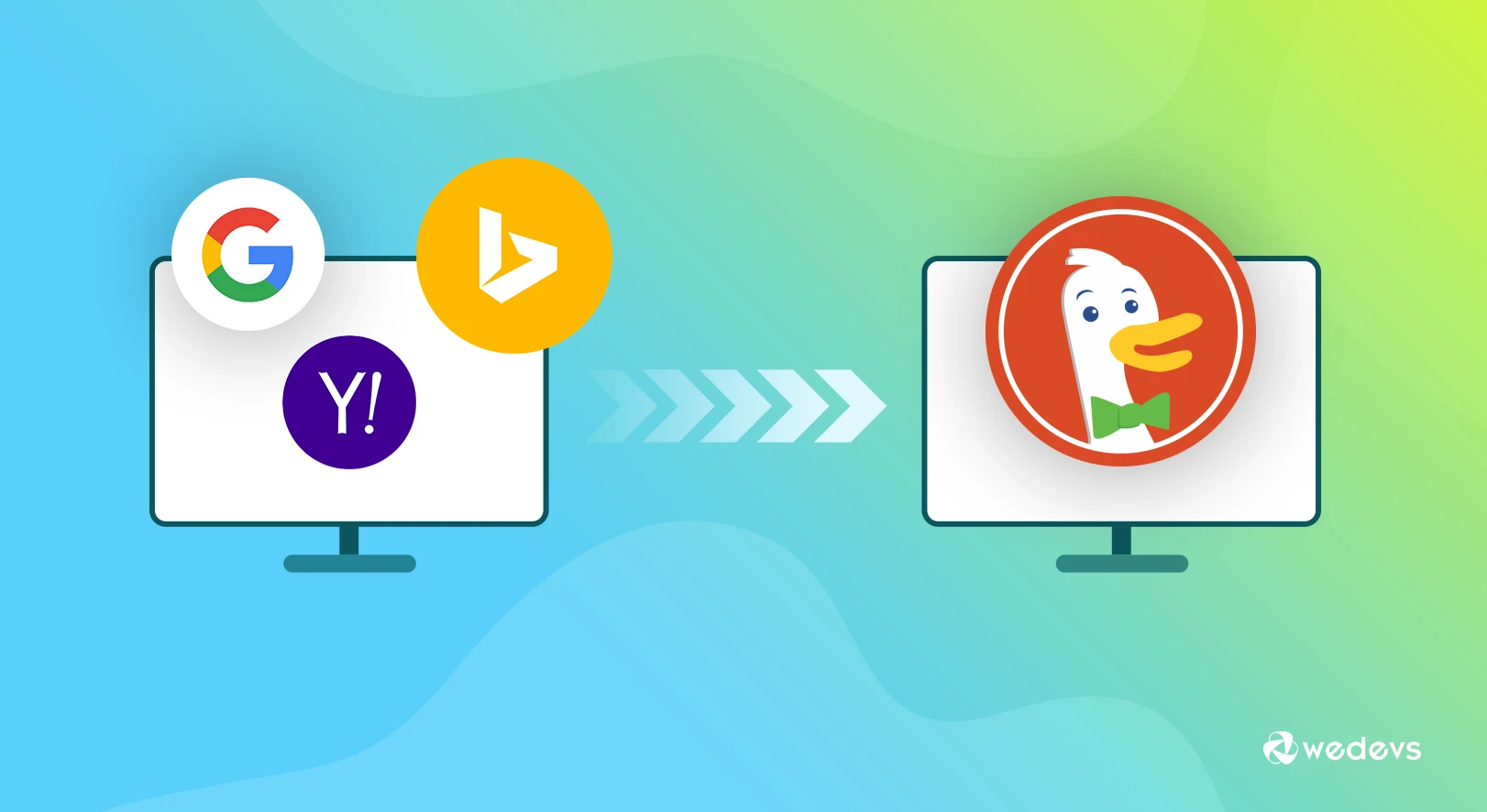 A Complete Guide to Make Your Search Anonymous with DuckDuckGo
How do you hop on to your browser and roam around the web? Using Google, Yahoo or Bing? If yes, then chances are high that you are being stalked!
Not convinced yet? Then I want you to recall this – Have you ever seen Amazon ads on the new iPhone popping out on almost everywhere you visit? Then probably you provided your personal information to the search engine somehow.
It happens because search engines like Google, Bing, Yahoo not only stores your personal data in textual format but also use them to reach you for promoting others' products by showing their ads on the relevant websites you visit.
What's even creepier is that Google Photo can recognize not just your face but your friend's face too. Another weird thing is Google Voice Assistant can recognize your voice and those of your friends'. Moving forward, Ads may appear even if you are using desktop applications. It's like there's no safe place to hide, right?
This is why I will be walking you through the way to get rid of these problems in a smarter way using the new search engine challenger, DuckDuckGo.
Why I Chose DuckDuckGo
When it comes to search engine solution providers, Google comes first due to its massive user base. Here are some data provided by Search Engine Land.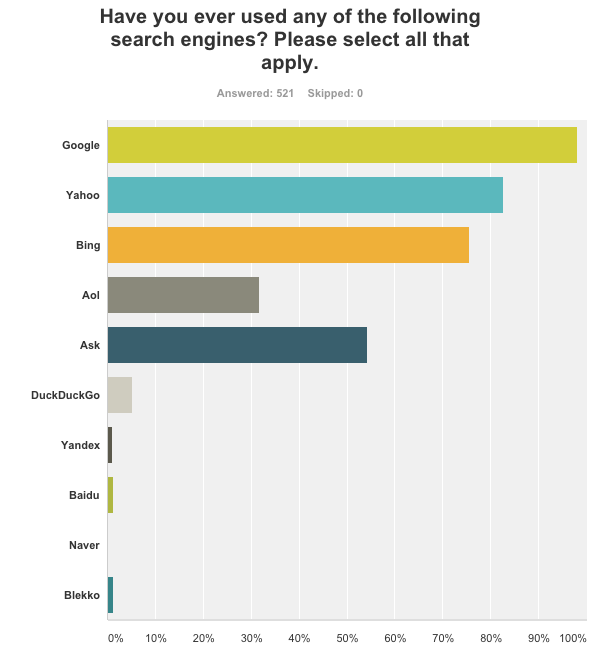 Seeing this data you may feel a bit skeptical about the performance of the newcomer, DuckDuckGo compared to its mighty rivals. But if you take a look at the constant growth of DuckDuckGo as of January, 2019, you will rest assured!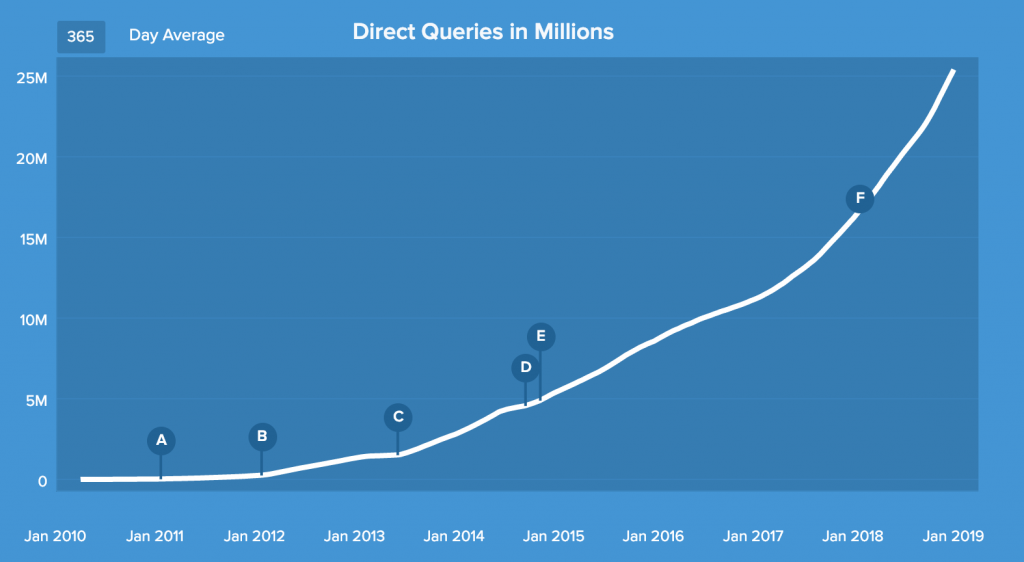 This upward moving curve shows how quickly and steadily DuckDuckGo is attracting its users.
Interest of DuckDuckGo and Similar Search Engines
Here are a few more data when the DDG is compared to its similar competitors like Search Encrypt, Start Page and Gibiru who also save your personal data by encouraging private browsing: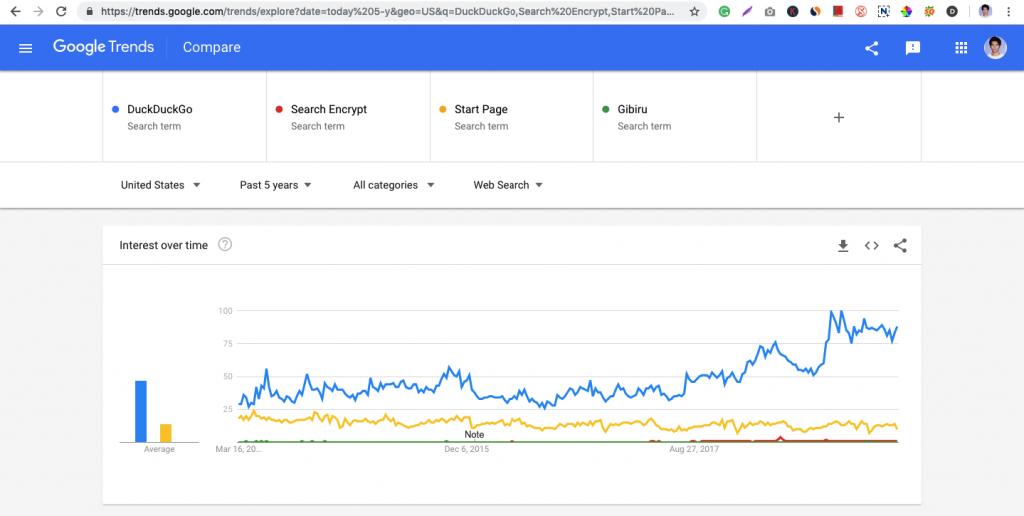 You can clearly see that the interest of DuckDuckGo is growing with a good pace.
Here are a few reasons I consider to use DuckDuckGo as my default search engine:
To stop getting traced by Google
To block Google trackers ambushing on the web.
To stay away from creepy ads
To prevent distraction during a session on a site.
You will also be overwhelmed to know that the DDG has donated over 1.3 million dollars to the organizations that work for online privacy and trust.
Before I show how to use DuckDuckGo let's see how we lose our data on Google and other similar search engines.
How You Lose Your Data on Search Engines
All search engines like Google, Bing, and Yahoo collect our personal data with the exception of some search engines like DuckDuckGo, Search Encrypt, StartPage, Gibiru and many more.
If you are on the thought that Google only takes data when we search for keyword then you are wrong. Google has acquired several giants and they collect personal information via YouTube, Gmail, Chrome, Android, Gmaps, and all the other services they run.
Here are a few strategy used by Google to steal your data:
Case: 1
Most if not all, we share our personal data sometimes consciously and sometimes subconsciously. For example, when we create a Gmail account, we provide our birthdate, nationality, sex etc.
Case: 2
When you search for a keyword on Google, it also collects the VPN of your website. Later on, it uses the VPN to show ads of its (Google or Bing or Yahoo) clients.
Case: 3
When we search for the keyword "best smart tv in 2019" on YouTube, you will see that they are showing you videos related to this search all the time! These suggested videos may seem inappropriate after you have purchased them.
Case: 4
If we go to a restaurant with your Google account connected with the internet, Google follows you on behalf of the restaurant owner to collect your rating by showing irritating push notifications on your smartphone.
Case: 5
Using the so-called incognito tab of browsers is nothing but a fallacy. Though the search results will be shown unbiasedly regardless of the IP or searcher's information, Google can still collect and store your searched keywords.
How to Make DuckDuckGo Your Default Search Engine in Chrome?
If you are using Chrome, fortunately there is a quick way to make DuckDuckGo as your default search engine. Follow these steps:
Step: 1
Go to duckduckgo.com. Now, you will see a pop up saying "Add DuckDuckGo to Chrome".

Step: 2
Now, you will see the following page.

Click on the "Add to Chrome" button.
Step: 3
Now, you should be getting the following pop up: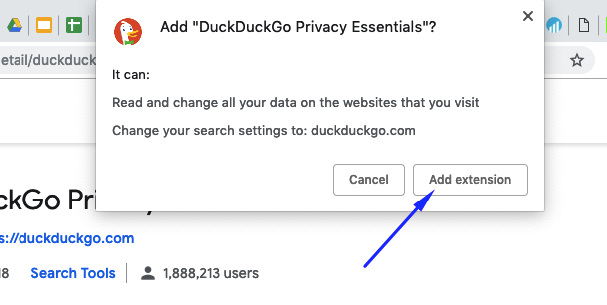 Click on the "Add extension button".
Step: 4
Presto! You are done with making the DuckDuckGo your default browser. Now, you can click on the "Start Searching" button to search your desired keywords.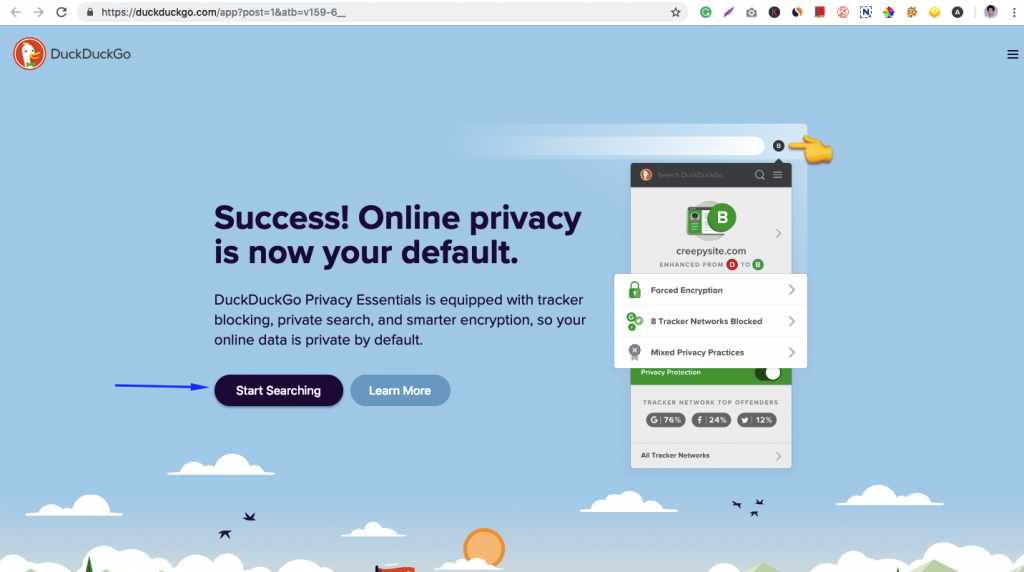 Searching with DuckDuckGo in Chrome
Simply open a new tab and start searching. Here, for instance, we are searching for the keyword "weDevs".

Here are the search results by DuckDuckGo:
How to Make DuckDuckGo Your Default Search Engine in Firefox?
Though the process is very much like the previous method, you can still follow these steps in case you face any difficulty while setting DuckDuckGo as the default search engine for Firefox.
Step: 1
Go to DuckDuckGo.com and select the "Add DuckDuckGo to Firefox" button.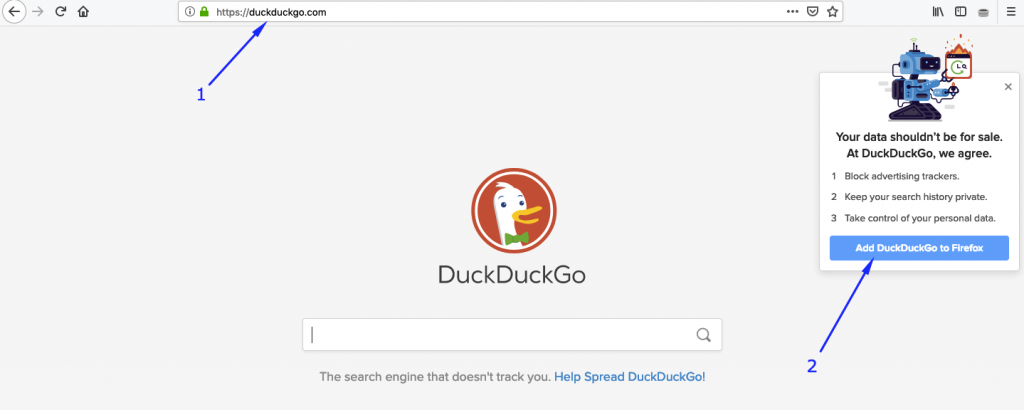 Step: 2
You should see the following pop up. Click on the 'Allow' button.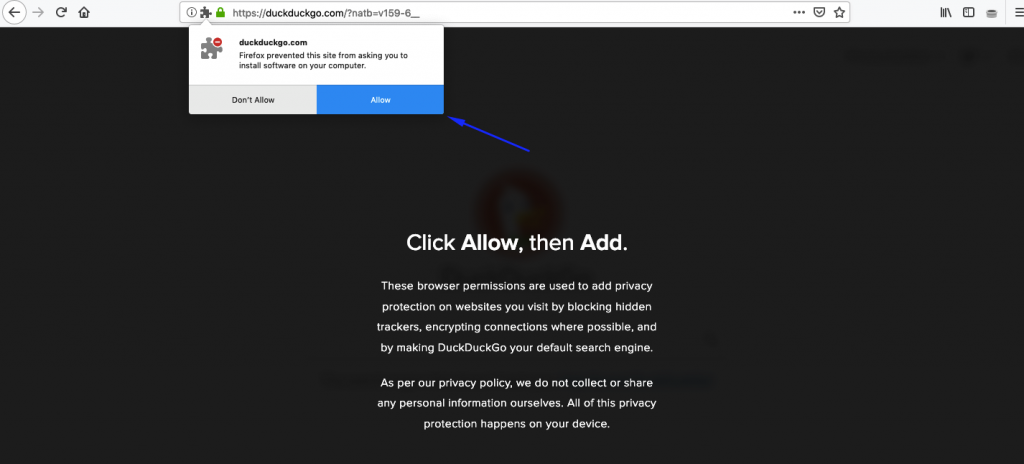 Step: 3
Next up, you will be getting another pop up. Hit the 'Add' button from therein.

Step 4
Bam! You are all ready through with the setup. Finally, hit the 'OK!' button to complete the setup. You can now start searching like I have shown you on the 'Chrome' browser part.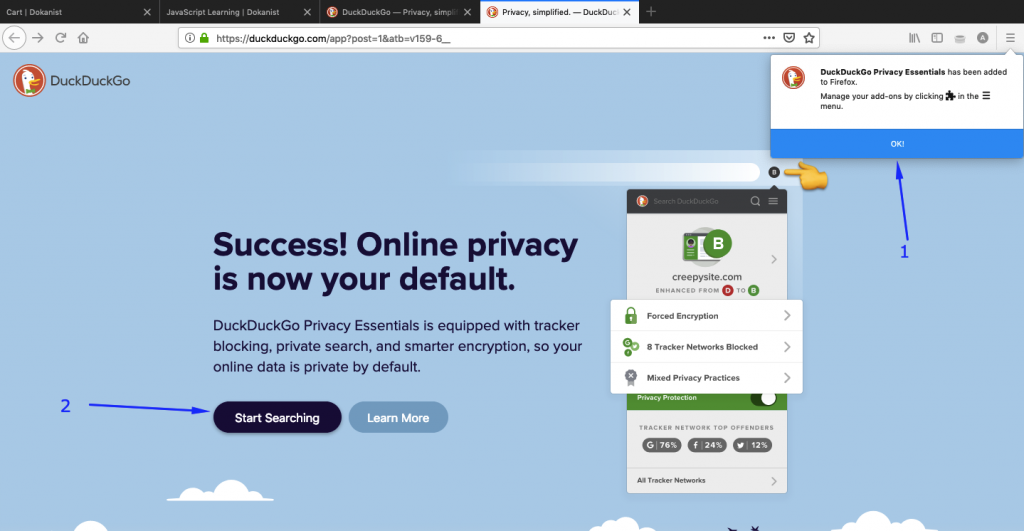 Searching with DuckDuckGo in Firefox
As I showed earlier in the Chrome section, login to www.duckduckgo.com and start searching with the search engine.
Can You Use Google along with DuckDuckGo?
Definitely. When you need Google just turn off the toggle bar of DuckDuckGo from the chrome settings.
Some Important DuckDuckGo Settings and Features
The settings option lets you set a preference for the browser. Meaning that you will be able to change the default settings of the browser. For example, you can choose the dark theme at night. You can go to the settings by clicking on the Hamburger menu right from the top right corner of the screen: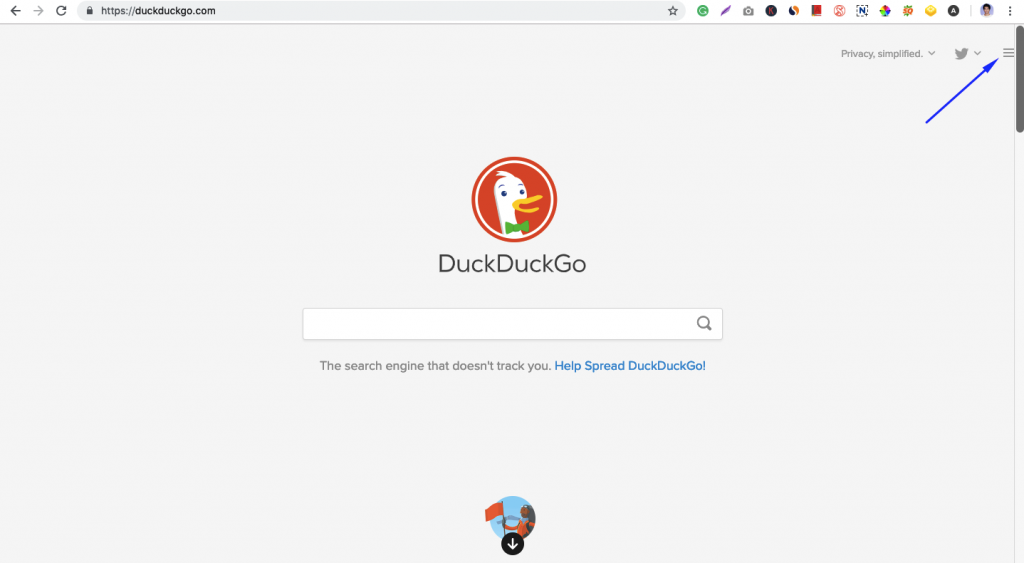 Next, you will find the settings sidebar: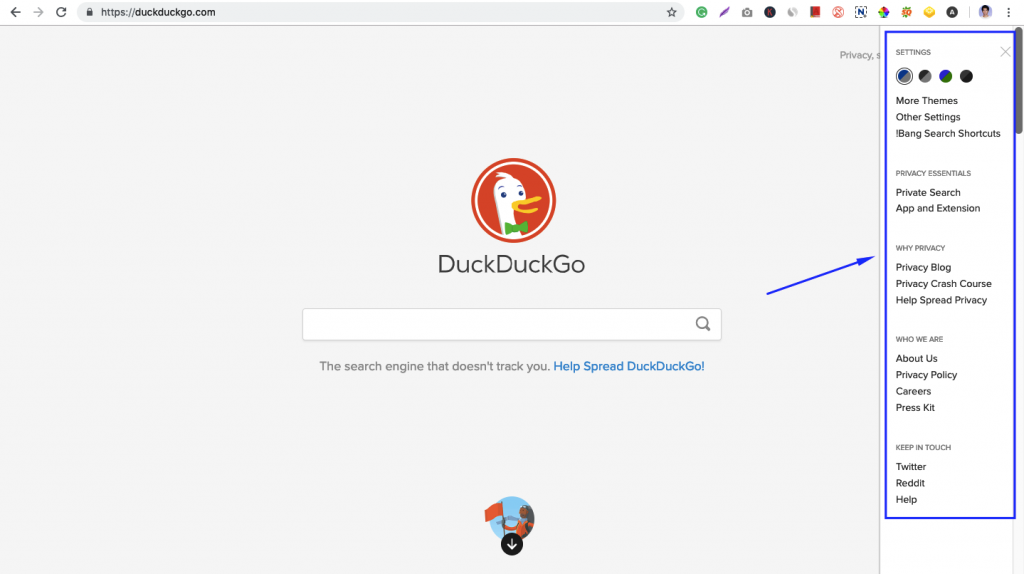 Here, watch out for some important settings and features:
More Themes
The DuckDuckGo offers a few themes to satisfy your hunger for beauty.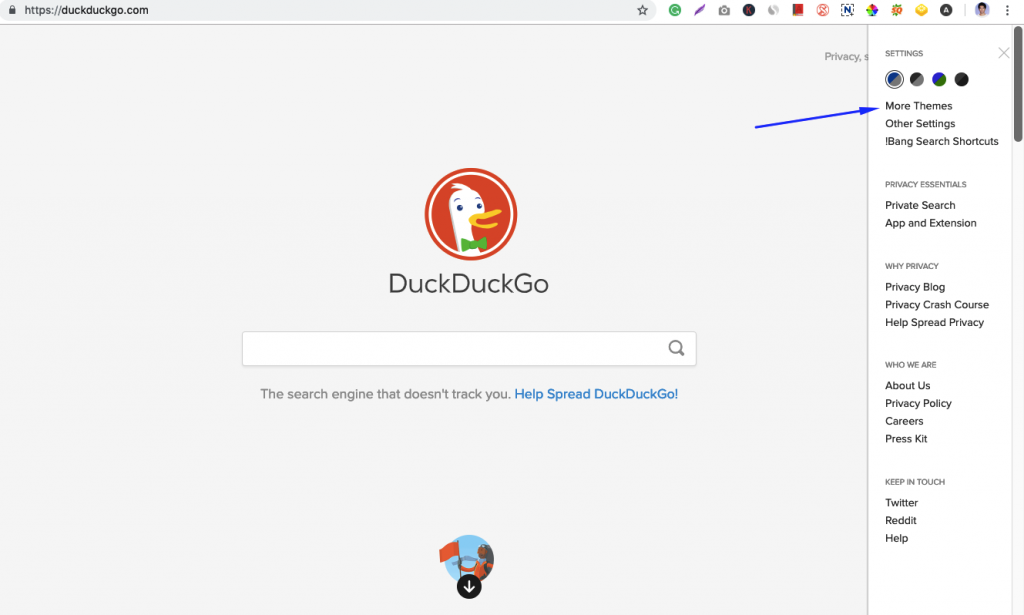 For example, you can use the dark theme at night to keep your eyes in cozy.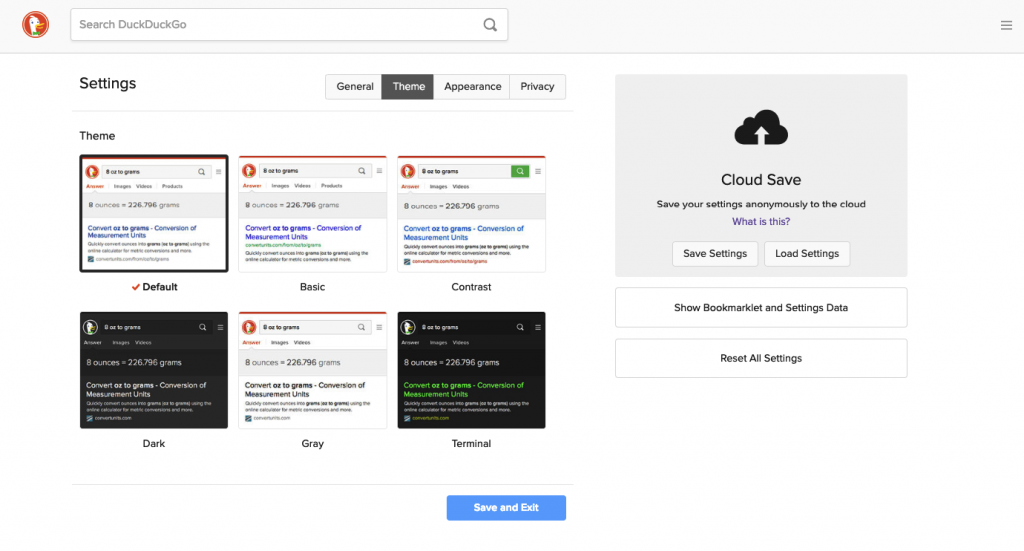 Other Settings
In the other settings, you can change your region, language, turn on/off the safe search, turn on auto-load images and so much more!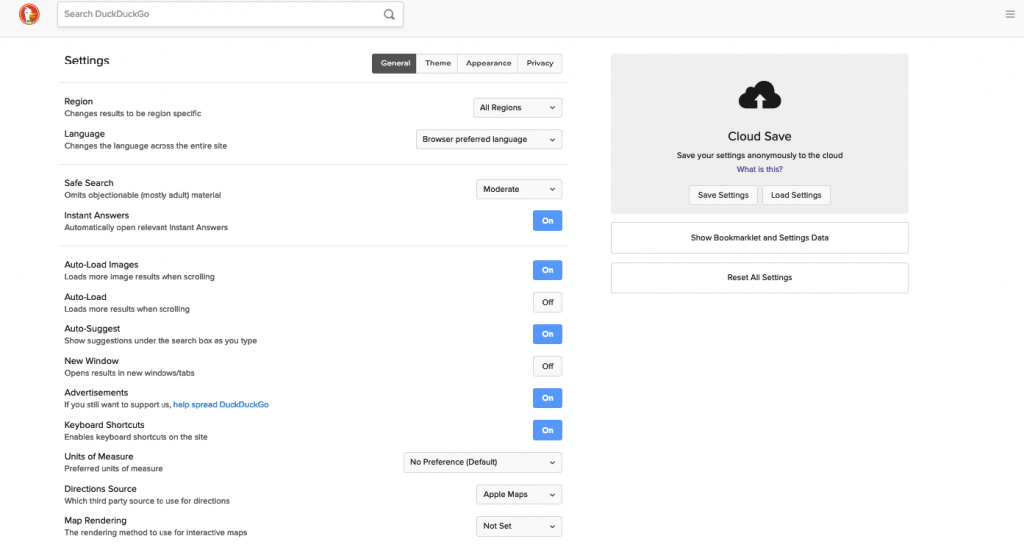 !Bang Search Shortcuts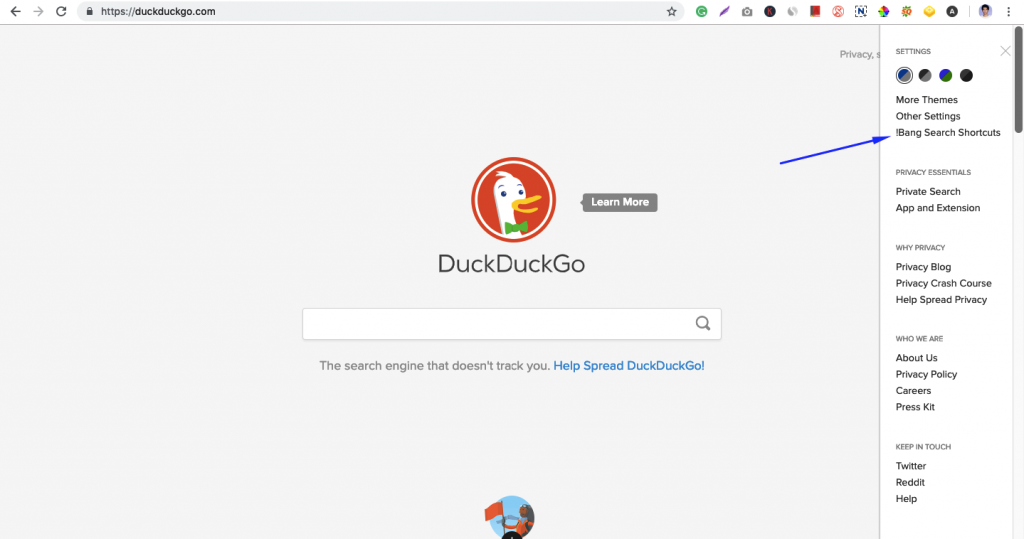 This is perhaps the best part while using DuckDuckGo. Why? Because this feature saves your time by using shortcuts to search. For example, writing on the bang '!w' on the search bar and hitting the enter button will quickly take you to Wikipedia.
Here is a screenshot when I logged in Amazon using this feature.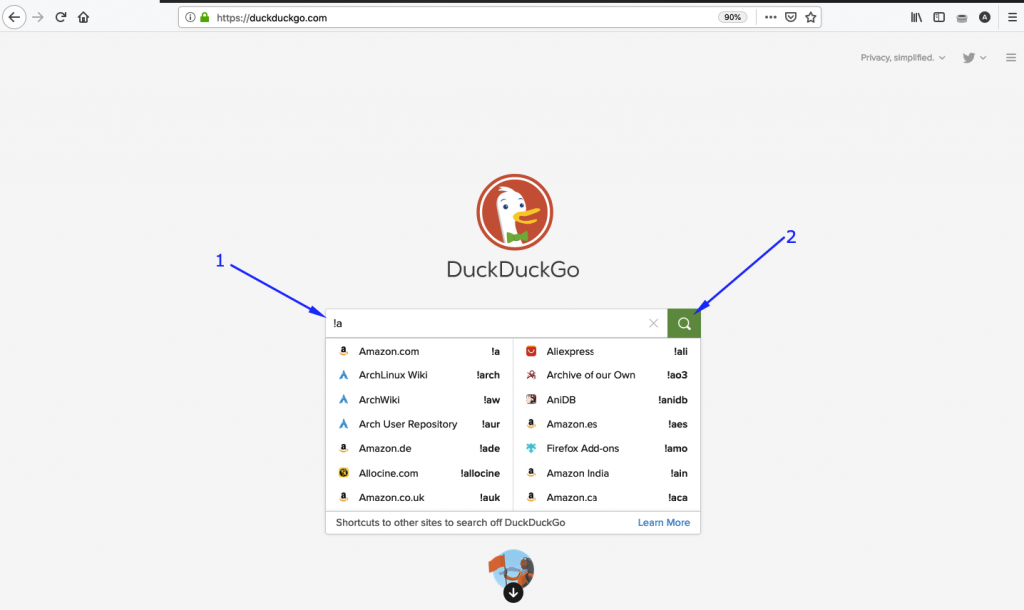 These popular bangs might help you:
Media

!img: DDG image search
!gimg: Google image search
!v: DDG video search
!yt: YouTube
!gv: Google video search
!hulu: Hulu
!nf: Netflix
!flickr: Flickr

!flickrcc: Flickr Creative Commons

!giphy: Giphy

News/Info

!imdb: IMDB
!wiki: wikipedia
!nyt: New York Times
!lifehacker or !lh: Lifehacker
!di Dictionary.com
!terp: brettterpstra.com

Google (almost all Google services are searchable)

!gcal: Google Calendar
!gdocs: Google Docs
!gfonts: Google Fonts
!tr: Google Translate

Other stuff

!ia: Internet Archive
!pib: Pirate Bay
!wu: Weather Underground
Interestingly, you can even also create your own bang in DuckDuckGo.
Bonus Tips – Deactivate or Remove DDG
You can still use Google or Bing or Yahoo at your disposal by deactivating the DuckDuckGo extension.
To deactivate it on Chrome click on the three vertically aligned dots menu: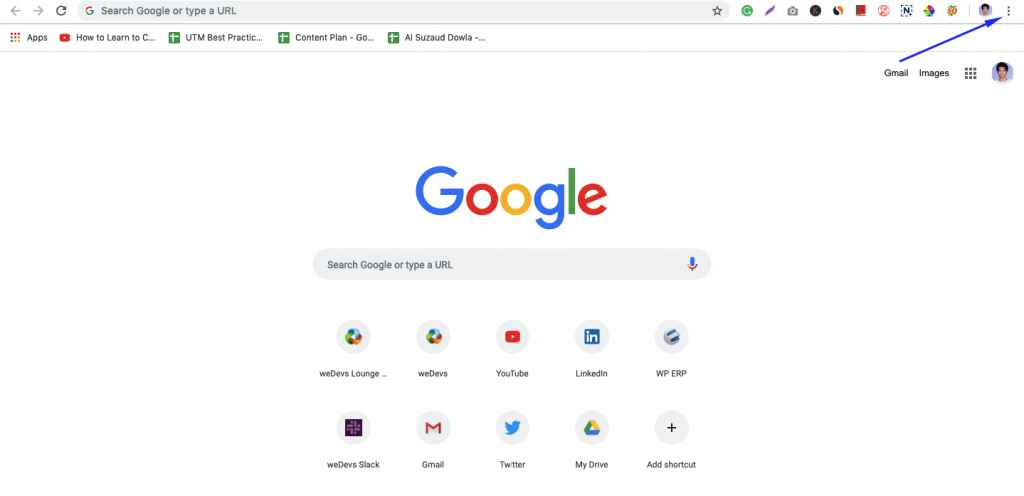 Next, select the settings option: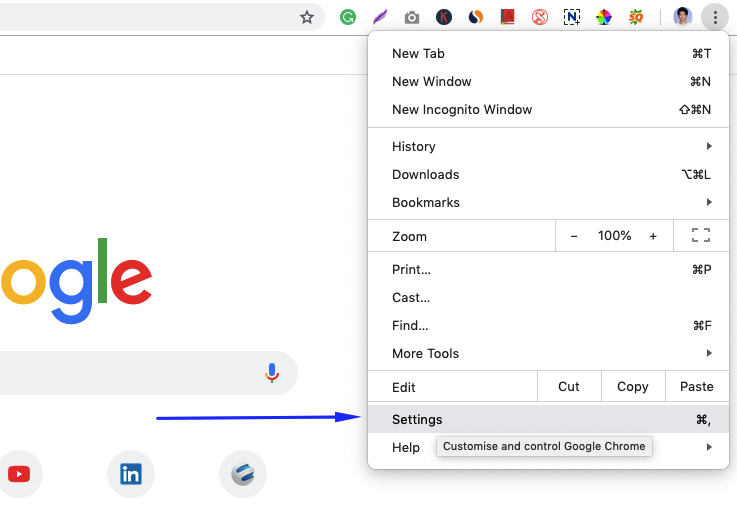 Next, click on the hamburger Settings icon: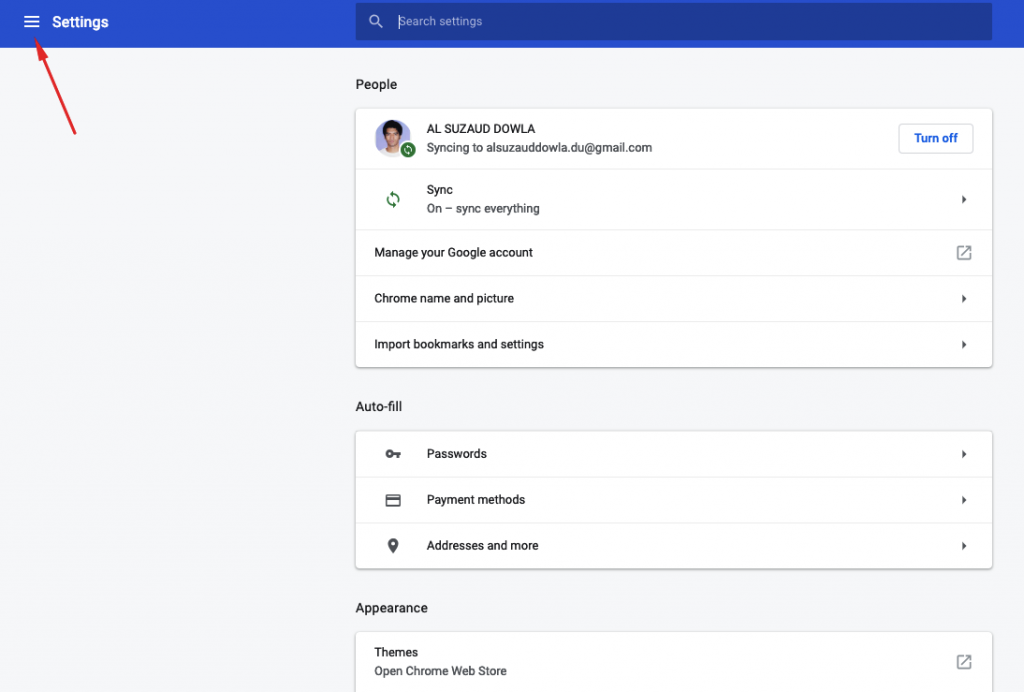 After that, go to the extension menu: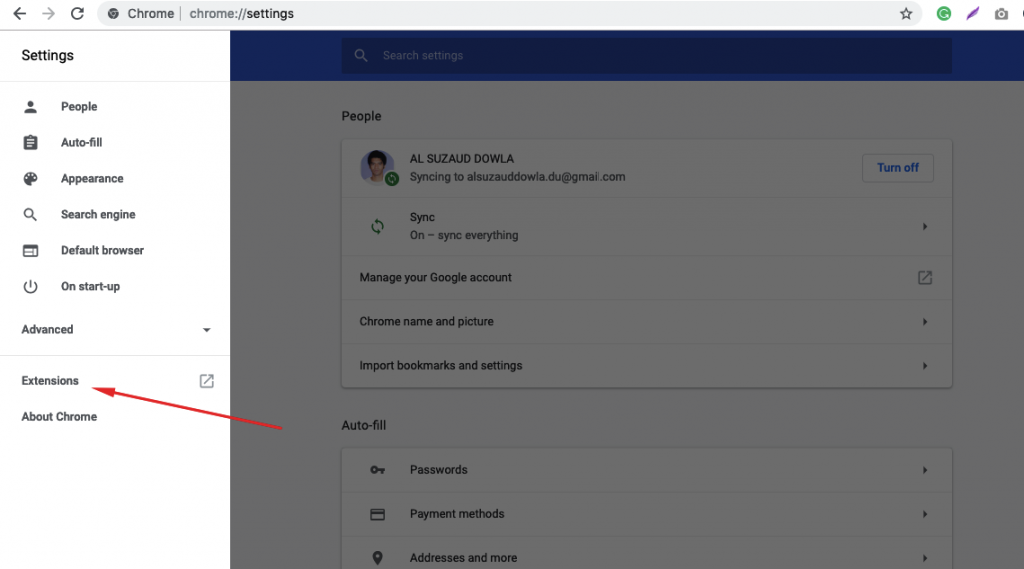 Finally, either (1) deactivate the DuckDuckGo by clicking on the toggle bar or (2) remove it from chrome permanently.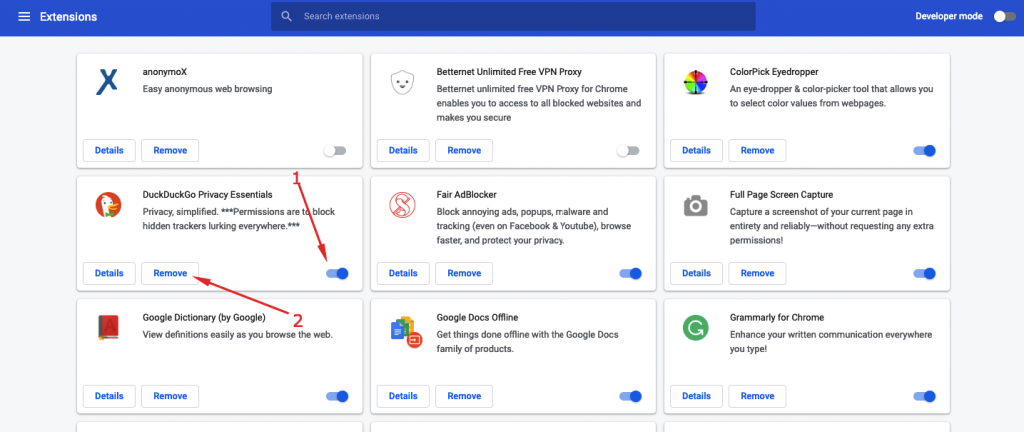 Keyboard Shortcuts
The keyboard shortcut in DuckDuckGo makes it fun to use. That's because you do not have to take your hands off every time you navigate between the search results.
Here are a few DuckDuckgo shortcuts to get go with the search engine:
All you have to do is when a search result is highlighted use the 'J' and 'K' button to jump from one result to the other. Also, use the "Return" or "Enter" key to go to the selected result's website or use Cmd/CTRL-Return to open it in the background.
However, if you use 'v', the result will open in a new tab. On hitting the Return button right after loading the search engine result page will take you to the first result's website.
You can also hit the 'm' button from your keyboard to focus the search result to get back to the search bar with '/'. Use the 't' button to go all the way up of the search result page at once.
Another trick is that you can use the 'd' button to perform a domain search within a same site, while a result is highlighted.
If you ever come across to "did you mean" suggestion, you can autocorrect it with a single keystroke by pressing 's'.
DDG has a similar search experience like the old school "I am feeling lucky" of Google. To do so, just add a "\" before the search term and you will be logged in the first result.
Instant Answers
The DDG (DuckDuckGo) can also give you instant answers like Google. Besides that, it shows answers in the form of sidebar schema snippets, slicing answers from popular sites like Wikihow, Wikipedia, StackOverflow and so on. For example:
Calculator: If you key any kind of mathematical expression into the search bar, you will get a calculator for it. For example, you can search for the regular mathematical expression like (8+3)*(345/34). You can also write a mathematical expression in words.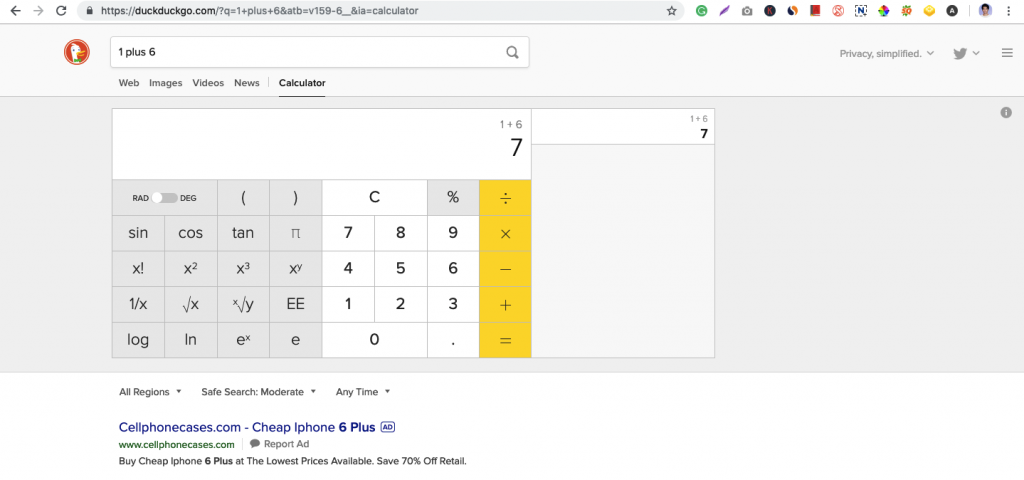 Featured Sidebar Snippet: If you search for any queries regarding coding or programming language, DDG will try to match you with the verified answers in StackOverflow and show you the relevant answer, often in right sidebar snippets.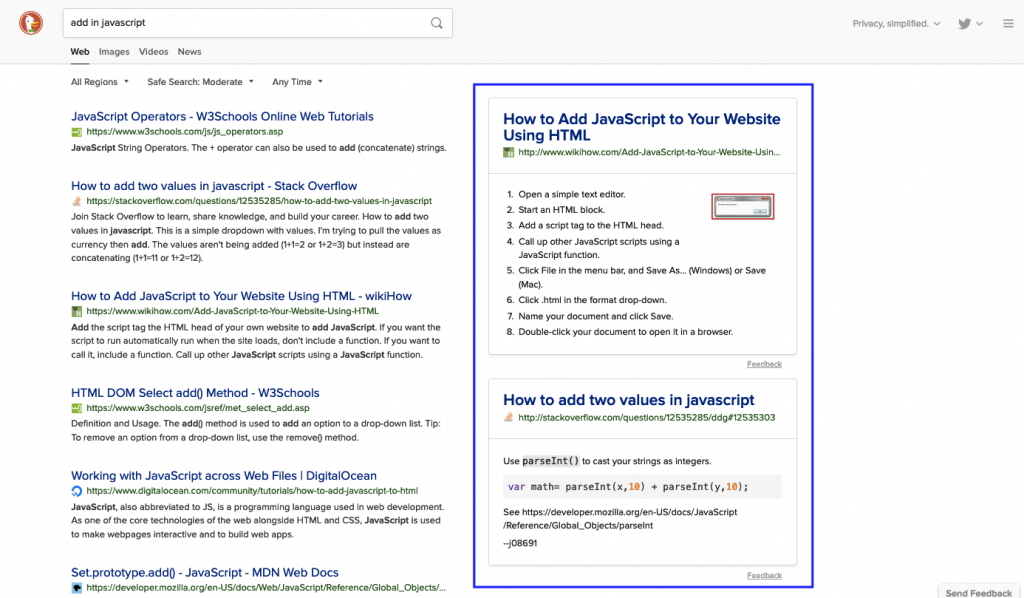 Loan Payment Calculator: You can also use the loan payment calculator. Use an expression like "Loan 100000 at 10% for 8 years" to use the loan payment calculator.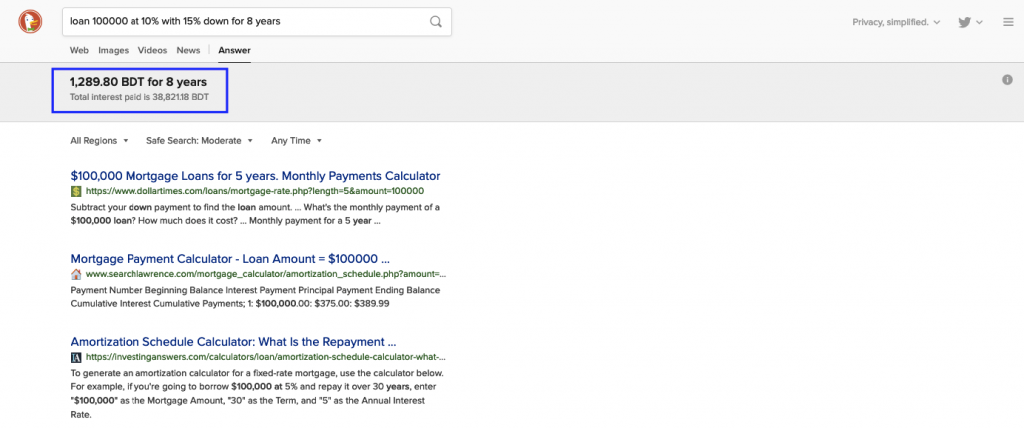 Recipe: If you lookout for a recipe in the DuckDuckGo, it will return the relevant search results for the recipe you are looking up.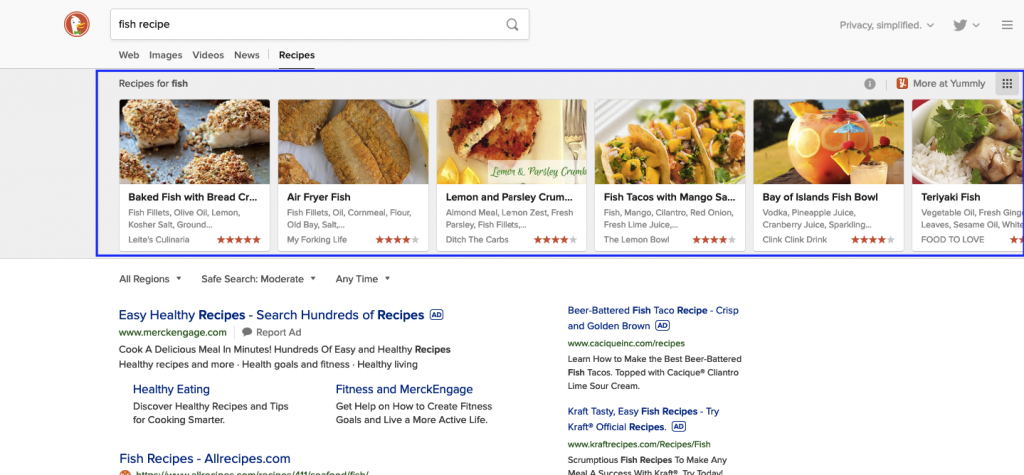 Calendar: Like Google calendar, the DuckDuckGo has a built in calendar.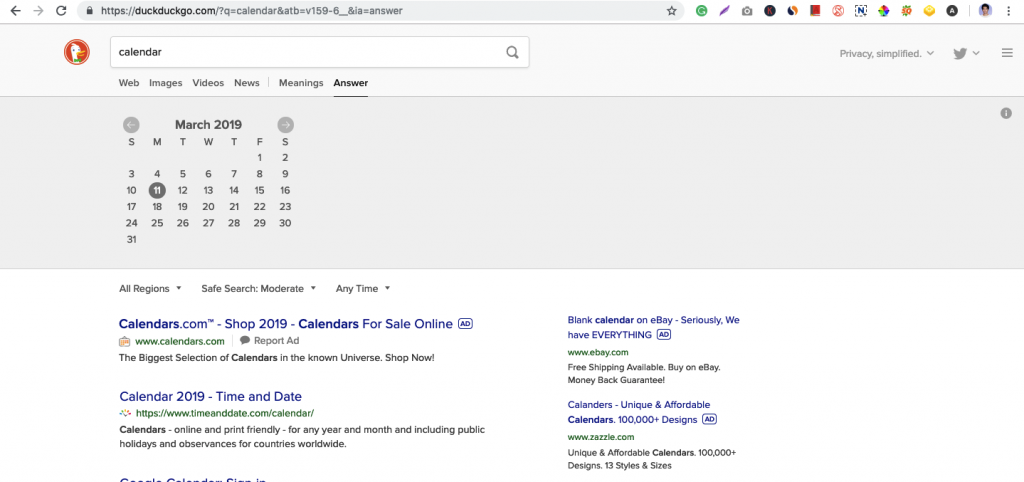 Weather: Just try the keyword "Is it raining?" in DDG and it will take you to the weather news.

Stopwatch: Search for the keyword "Stopwatch" and you will get a timer.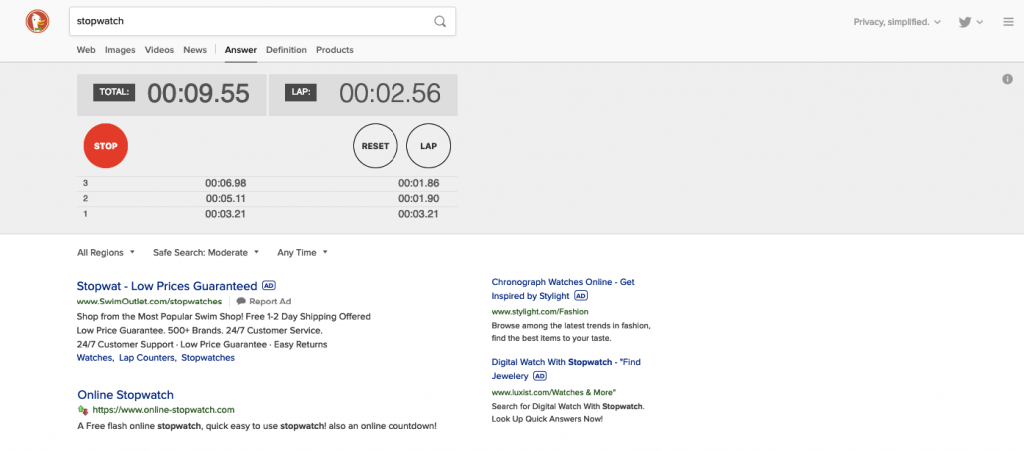 You can find an elaborate set of useful tricks available at the dev site of DuckDuckGo.
Over to You
It is not necessary for you to look for each and every feature of the giants when privacy is the main concern for you. Suffice to say, the DDG has overpowered the big guns with its unique anonymous searching that will help you stay in serenity – It's as if a simple triumph against the Goliath by David.
In the end, I would say, it will feel a little discomfort if you are using DDG for the first time as it has a bit different user interface. But with a little usage, you will see things will soon come under your belt.
If you want to stand out from the crowd with anonymous search functionalities with the DDG's exclusivity you had better play around DuckDuckGo right away!