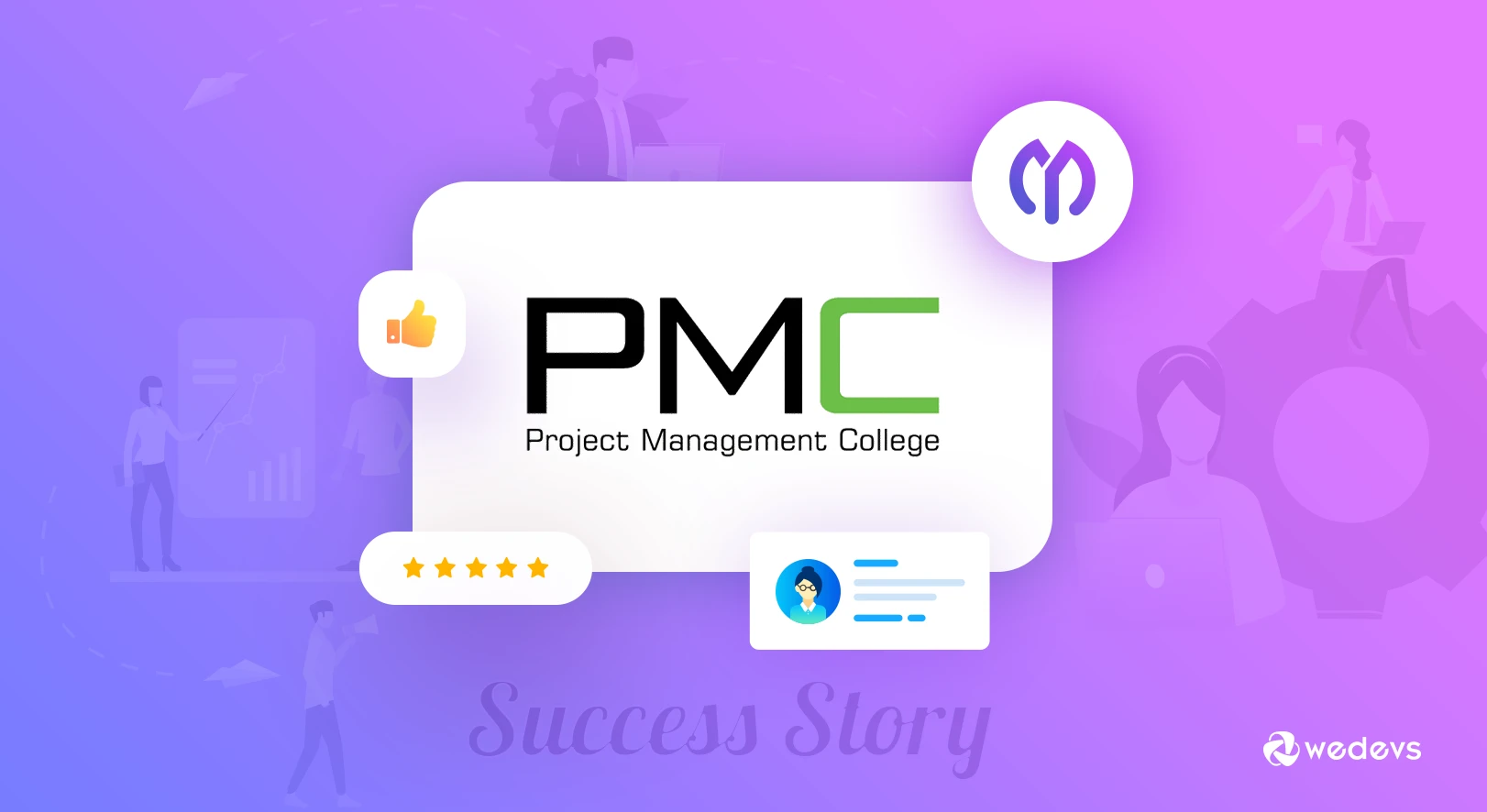 Aspiring Success Story of an Educational Institute 'Project Management College'
Achieving Project Management success may seem quite straightforward in the eyes but in reality, it is far from it. One might think, you fix a deadline, you hire the right people, and set up a quick budget and you are all set to attain success from your project. But actually, when it comes to any project management success, it depends on a number of factors.
Assigning the wrong people to a project, providing misleading information, project managers not being on the page are some of the major factors responsible for its unsuccessfulness. But with the right tool for project management, any company or institute can overcome it. In the same way Project Management College based in Central America, Nicaragua has overcome its project management challenges using the right project management tool.
So today's post will be all about the success story of an educational institute, 'Project Management College'. Also, the challenges it faced and how it has overcome it picking the right project management solution for its institution.
So without waiting any longer let's dive into the journey it prevailed.
PMC's Journey, Vision, Mission & Values
PMC as a project began its journey in the year 2000 with the intention of creating the best training center in project management. It holds a common goal of helping others in their training as project managers aligned with the Project Management Institute (PMI). The courses in it are designed in such a way that it is guaranteed to pass the certification exam in the first go.
Its vision revolved around people being able to apply and promote good practices in project management becoming the very first school of project management located in Nicaragua.
Its mission compiles of serving as facilitators to all professionals to help achieve their certification under certain standards
And lastly, it values Responsibility, Respect, Equity. The honesty of the institute goers and everyone involved in it.
Why PMC Opted for WP Project Manager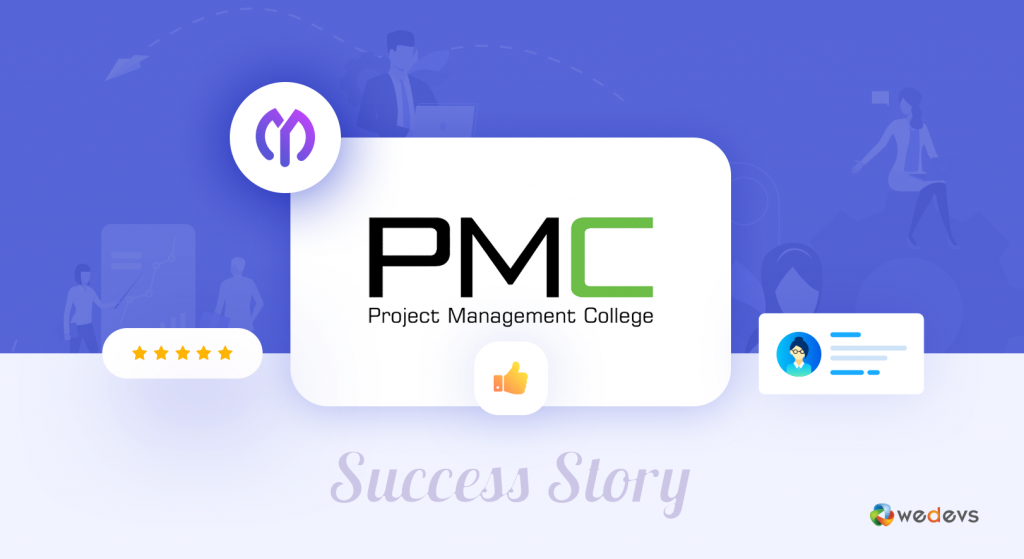 PMC's founder Nohar Martinez was looking for a project management solution that can help in its consultancies and work with its clients in different scenarios. Also, an efficient tool that can help its students who are preparing to become project managers.
After trying out a few other tools, WP Project Manager seems to have fulfilled all the requirements they were asking for. And in addition to that since WP Project Manager Plugin is said to help it work in an orderly manner allowing them to assign WordPress users to a certain task and automatically send those updates through emails to notify the users about the progress. So, moreover, they found it to be quite efficient and useful for their cause of managing their projects better and timely.
Want to get a better idea of how the WP Project Manager works? Then check out its dummy version from the link below.
Access Free WP Project Manager Demo→
How PMC Is Using WP Project Manager for Its Project Management Success
After opting to get to WP Project Manager, PMC has seen tremendous progress in terms of completing its projects. It has used the tool to its maximum potential utilizing all its useful entities & features. Here is how WP Project Manager helps in managing its projects for PMC's designated project manager & students.
Projects Creation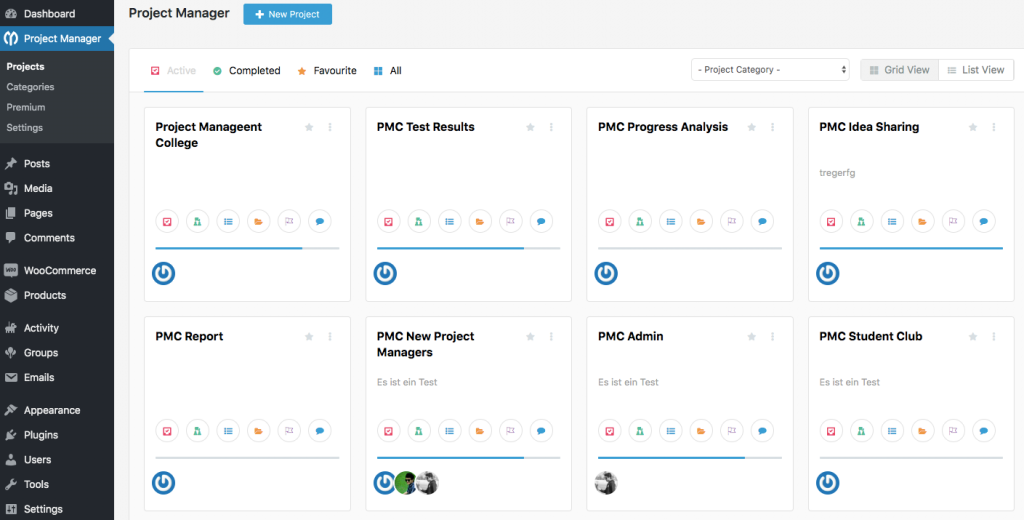 PMC can create several projects and view them all in one place to quickly get access to it. It can choose the projects it wants to review by clicking on the available listed projects.
Generating a Task List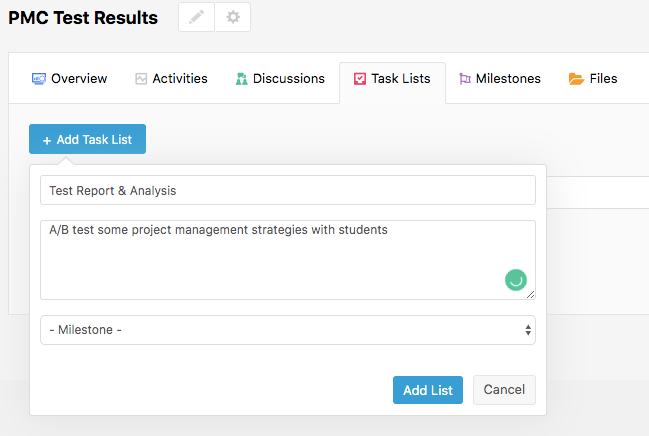 Based on the nature of a project, PMC is able to create a number of task lists. It can also set a milestone for the project managers and the people assigned to the project.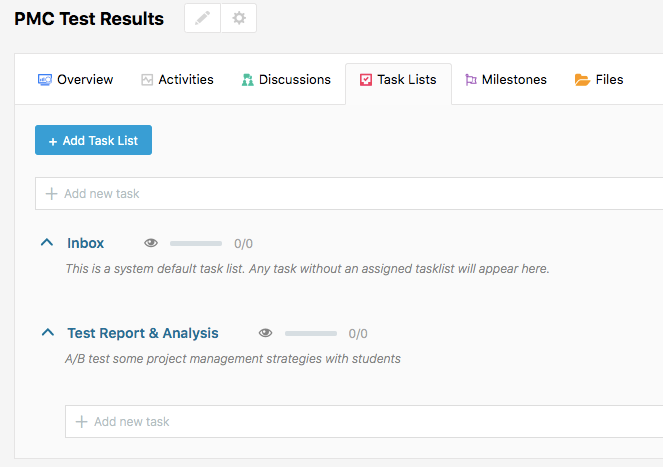 PMC is also able to write a small description to describe the kind of task it is under every task list created.
Adding New Task Under Task List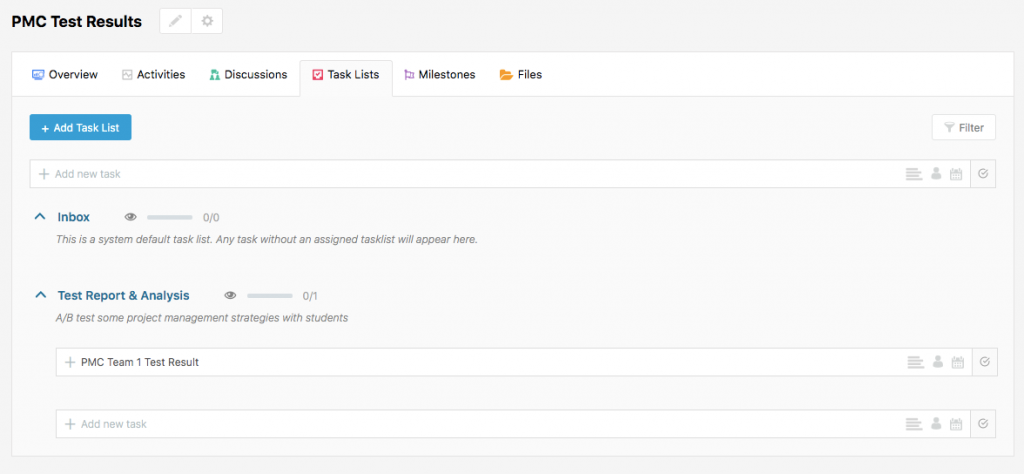 Under the task list, PMC can add an unlimited number of the new task to overview, update, assign it the project managers or students.
Assigning Users to the Task
Once PMC creates a specific task, it can then assign the task to anyone involved in the project.
Setting up a Deadline
PMC project managers get to set a calendar-based deadline to let anyone responsible to complete the project understand the urgency of getting things done on time.
Briefing Task Description
It has the ability to write a short or detailed description of the task. This helps the PMC project managers & students easily understand what and how they need to proceed or approach the task.
Assigning Users to Subtask
CMC project managers can also add a limitless subtask to manage the overall task in a more organizing manner & better.
Discussing Task Progress
Any project manager or student of PMC while completing any task can discuss the overall progress, drawbacks or comment any valuable information or message regarding the project hassle-free.
Attaching File on Comment & Notifying Users
Moreover, after completion of any task, the PMC project manager or student can attach any relevant files that are associated with the task. And not to mention its useful option of notifying all other users connected with the project in it.
What PMC Feels About Using WP Project Manager

WP Project Manager is an excellent tool to carry a list to do


Nohar Martinez, Founder PMC

The collaborators & workers at PMC use WP Project Manager to communicate with each other for at least 8 hours a day. So far they felt it is an excellent tool to do it daily work and project management task.
But it also has the scope of improvement that needs to be taken care of. Even though it is a great tool to manage the project, but when it comes to advance level project management, it is still not the perfect solution for them.
As it seems like in terms of budget monitoring & control, physical progress, or an in-depth comparison between the real or planned picture, there are options that it feels if included in the future would further improve the user experience turning it into an inevitable project management solution for one and all serving for every project management purposes.
Improve Project Management Success With the Right Project Management Tool
Now when you are looking to get success in your project management then there are more essential factors like defining the scope, objectives & deliverables, proper project planning, better communication, tracking & reporting the project progress, handling the changes in management, and more importantly risk management.
PMC is taking care of all these utilizing the right project management tool in order to get success. And WP Project Manager is exactly the kind of solution that helps you manage all these criteria efficiently.
Curious to learn more about WP Project Manager? Then