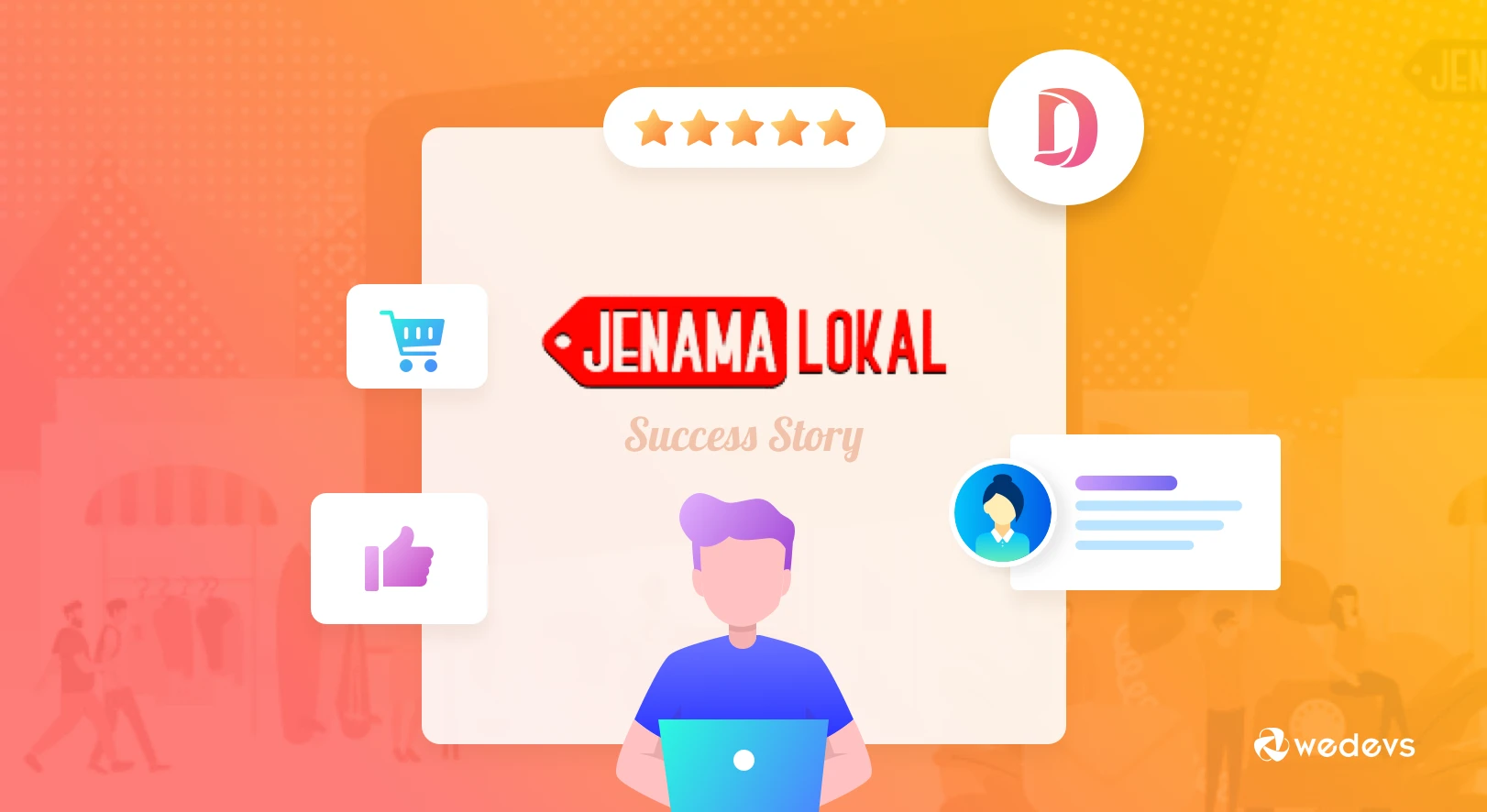 A Wondrous eCommerce Success Story With Dokan
If you browse online, you will probably find thousands of stories of online successful businesses & events that relate to e-commerce, business startups, their journey of becoming successful from startups, and more.
Not all online marketplace businesses out there meet with the same fate. Some become a painful experience of loss project and some become so influential that it inspires others to take up that business.
And here is one such success story that would undoubtedly influence everyone with the thought of taking e-commerce businesses like startups.
How It All Started With 'Jenama Lokal'
In every startup, you got to have an active team to grow your business over the years. Similarly, the idea of launching 'Jenama Lokal' got ignited by an enthusiastic team. A team of highly ambitious & dedicated souls. Let's meet them up.
Initially, the idea of this team was just to present a prototype of the Jenama Lokal website as a platform in front of its local investors.
The idea of building an online marketplace actually came up from the intention of promoting local products & brands.
And this is when the name Jenama Lokal came into the mind of the team which truly translates to 'Local Products' in the Malaysian language. And this is how the concept of Jenama Lokal.com was brought to light by this team of highly talented individuals.
Choosing Dokan Over the Others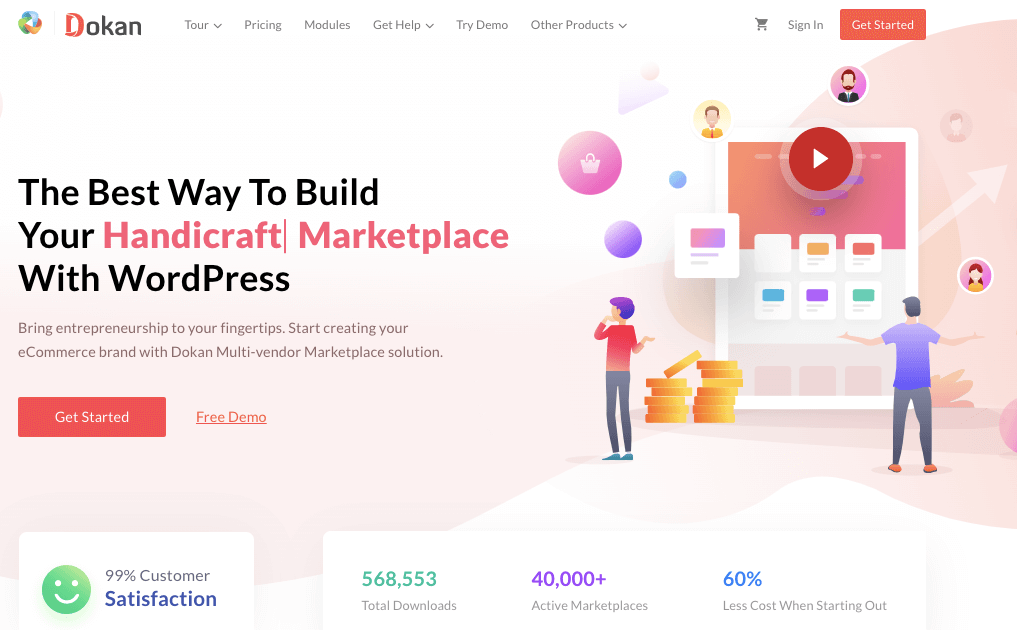 When we originally started with Dokan, the system is unexpectedly convenient and is offering many features

Team JenamaLokal.com
As the team of 'Jenama Lokal' was planning to get their prototype site ready for its funders, while doing so they come across Dokan. Once they tried it out they found the marketplace solution to be surprisingly user-friendly and it was something that meets their requirement of building their local marketplace site absolutely hassle-free.

The most important part is, it provides us with excellent support and service where any difficulties regarding Dokan will be cleared within 24 hours

Zakri Rozaini, IT Manager, JenamaLokal.com
Also, due to Dokan's extensive feature offerings are able to assist its user to achieve the goal that they had for their vendors with precise efficiency. Moreover, Dokan adds new features & updates them regularly that providing them with boosted performance & improved productivity.
More importantly, any issues small or big that arise with Dokan are normally solved by its ever-active support team within a day which enables them to ensure smoother operation of the JenamaLokal site.
A Small Sketch of 'Jenama Lokal' Marketplace
The beauty of a marketplace lies in how professional & interactive it looks from the outside.
The site's responsiveness, user-friendliness, and ability to present its products & brands interactively is something that attracts the visitors the most. And JanamaLokal.com excels in all those departments.
As we can see, JenamaLokal.com has slowly but surely unraveled itself to become quite a professional-looking marketplace for local users.
The design of the marketplace is beautiful with quick & easy navigation options in every corner of the store. In the marketplace, one can easily search or look for their desired categories or product faster than ever.
Shoppers Paradise
Once you enter the Shop Page, it seems like you have opened a new door full of your favorite goodies. You feel like you are lost in the kingdom of shopping bliss. Just pick the category you desire to start shopping.
Eye Catchy Design
The color combination & the whole setup of the website makes it look so soothing in the eyes. Though you might feel a little lost while scrolling down the marketplace due to having too many products & categories on the same page.
But all in all the design looks nothing less than any innovative international marketplace like Amazon or eBay.
Browse Through Your Favorite Categories
All the categories of the products display themselves really nicely at the sidebar. You can browse from one category to another more conveniently than ever.
Moreover, the visitor can quickly select available options for a particular product or get a closer view of any product by simply clicking on a quick view option on each item. While you simply hover over each item, you get options to like, compare or cart them.
Tap for Special Offers
There is also a separate tab named "Special Offer" in the marketplace where all the special deals & offers are listed.
Simply browse through them and get to buy them at a discounted price.
Visit Individual Brand/Vendor Page
Not only navigating through your favorite product or categories, but any new or old customer can also visit their favorite brand stores that are registered with the marketplace. Any visitor can even follow all popular vendor stores to get notified of their best deals & offers.
A Few Words of Wisdom & Future Expectation
Thanks to Dokan's user-friendly dashboard that is practical and convenient, our vendors are very satisfied with the service and features

Team JenamaLokal.com
Along with Dokan's praise for its support & services, the team of JanamaLokal also feels that over the last year it has helped them grow & nurture their business to a great extent.
They also say, the first year of using Dokan has passed away within a blink of an eye and it has surpassed all the expectations in terms of providing great customer service & after-sales support.
Now slowly & steadily after one year of utilizing Dokan to a full effect on the site, JenamaLokal.com has managed to reach more than 100 registered vendors with over 1000 products being sold through the site at the moment. And the dream is to make it only bigger & better from here on with the solid support of Dokan.
And now for the future, they expect Dokan to help them reach new heights. More by adding more exclusive features on a regular basis maintaining the same top-notch customer & support services.
As they feel this would help new & fresh entrepreneurs in terms of helping them grow their marketplace business in the near future.
Rewrite Fortune by Launching Your Marketplace Today!
So that's about it, the success journey of a popular e-commerce marketplace 'Jenama Lokal'. A marketplace that wants to keep promoting local brands to contribute to the growth of each other's business.
Most certainly this inspires you to get on with your very first dream marketplace, doesn't it?
If you are still unsure then you would probably want to take inspiration from this team of JanamaLokal.com. You can already see how easily they have established their desired marketplace with Dokan without much hassle.
So, if they can do it, so can you.
And if you are actually serious about launching your own marketplace or you own a WooCommerce site and want to turn it into a full-fledged multi-vendor marketplace then there can be no better marketplace solution than DOKAN. So what's holding you up?
Get started with Dokan and bring your most anticipated marketplace to life.
For any queries related to the marketplace, you can always reach out to its ever-ready support team at any time.