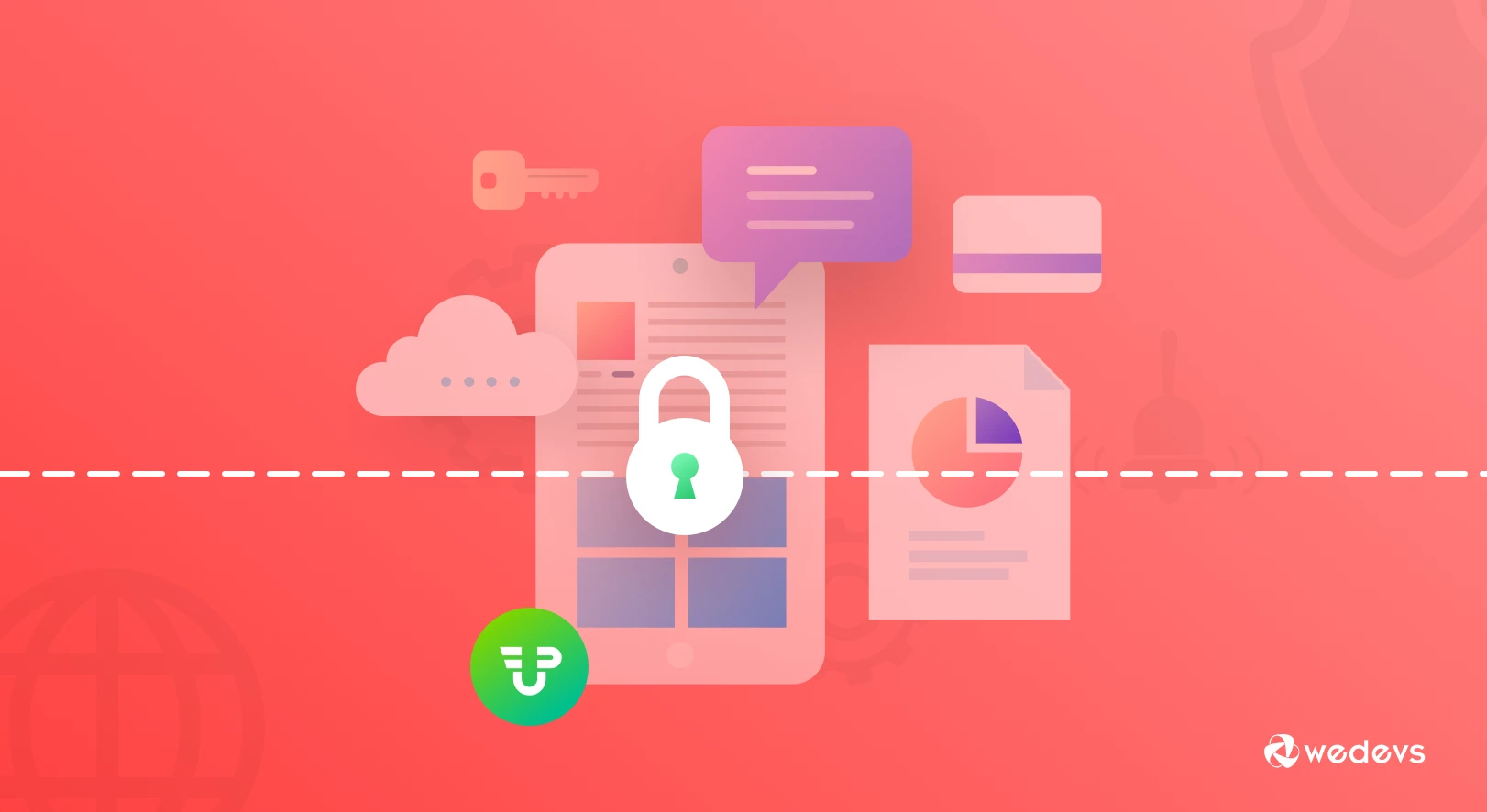 Content Restriction & Comment Management in WordPress: Smartest Way with WP User Frontend
If you are running a multi-user accessible website, then as an admin it becomes ever so essential to understand how much content you want to share with the other users on the website. This is when you would require the assistance of WordPress content restriction and comment management features to be enabled on your website.
There are a number of plugins that offer these helpful features of restricting web content and comment management. But probably none of it provides it better than WP User Frontend Pro.
Apart from its unique capabilities of frontend content management, it is also an ideal user frontend solution, that enables each user to build any type of form with its easy drag & drop form builder. Generate as many custom fields you want and preview any forms live to find out how it looks in the frontend.
Moreover, it possesses other cutting-edge & useful features and has all the characteristics to become-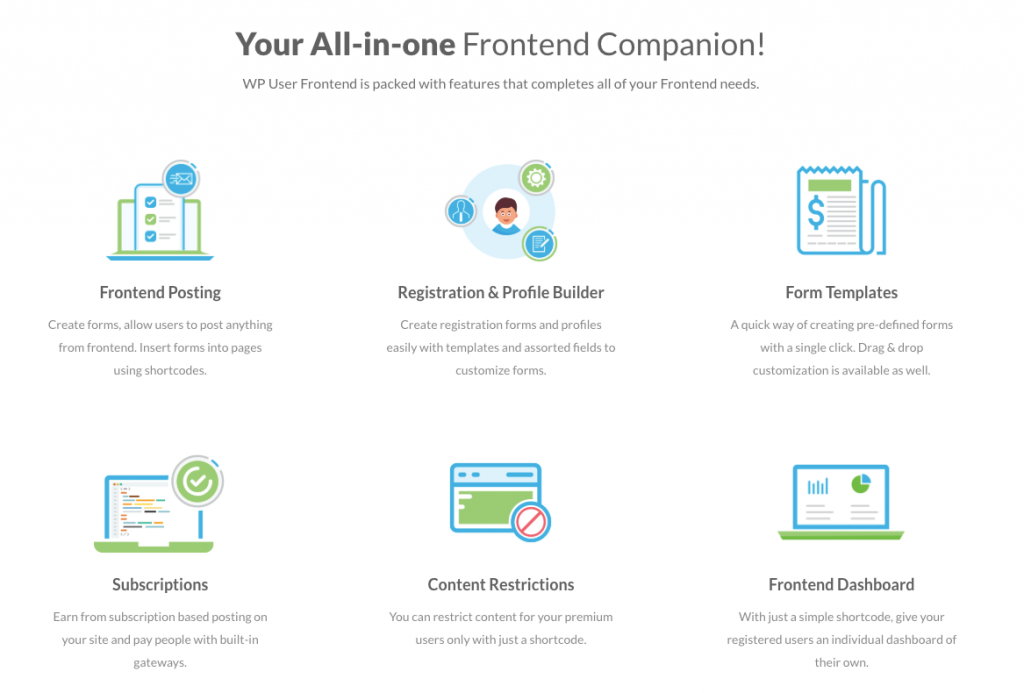 WordPress Content Restriction & Comment Management: How Do They Matter
Not all visitors visit your site with the same intention. When you have a variety of people accessing your website from all parts of the world then there are certain things you might want to keep it private and accessible for only certain types of users.
Many customers that visit your site might subscribe for different deals or packages so you wouldn't want to give access to each of the different customers the same thing either. As per their subscription pack and other things that they have signed up for, you may want to restrict a few things on the website. This is where a content restriction feature comes in really handy.
Similarly for comment management, there might be some people or fake ids that might look to deliberately spoil the good name of your company. They might spam on every post to promote their products or discuss irrelevant topics on the comment. So with the comment management feature, you can either block the user from commenting or delete them completely from the site.
This becomes quite helpful when you need to get rid of spammers and such worthless users.
Restrict Post or Page Content & Manage Comment Effortlessly
With WP User Frontend installed to your site, you can right away restrict any particular posts or page content based on selected user types.
In order to restrict any post or pages of your WordPress site with WP User Frontend, you will need to go to – WP Admin Dashboard → Pages/Posts → All Pages/Posts. Here is how you can activate the various options of WordPress content restriction below.
Display content to Everyone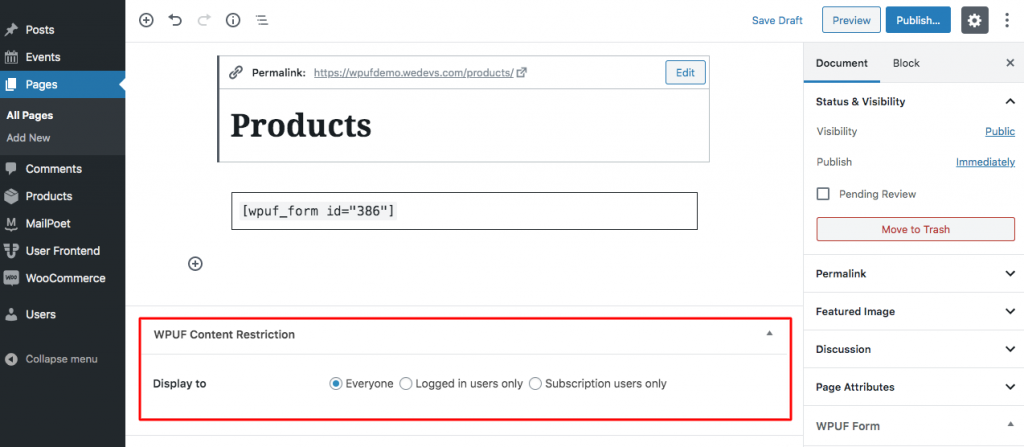 For a content available on a page or post, this option right here just lifts the restriction functionalities for all. With this option enabled, this particular content on the site will be visible to everyone in the frontend.
Display Content based on Logged in Users & User roles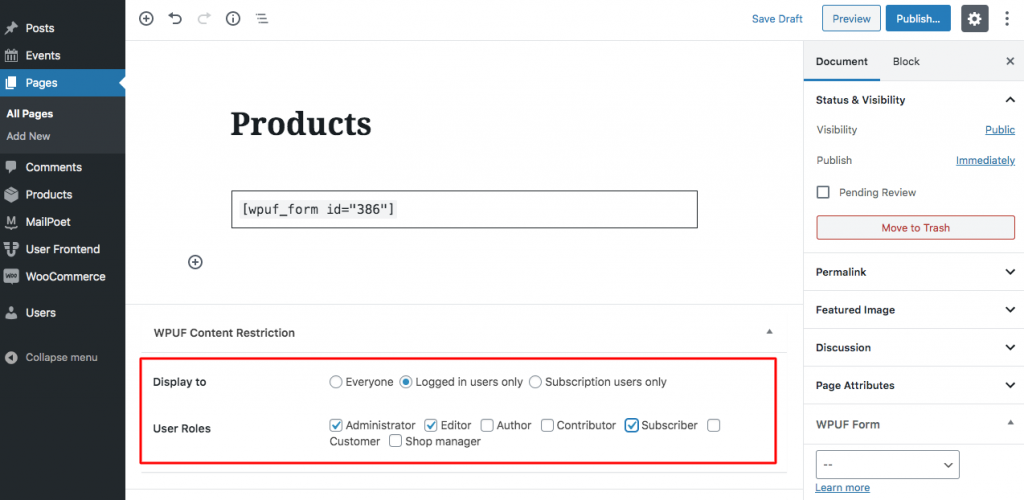 The content in a page or post can also be made visible for the logged-in users. Not just that you can even pick the users from the user role section to allow only those logged-in users to access the content on the page or post.

Once you try to access a page or post without logging in, then you will be displayed with a message something like the above

And if you look to view any post or page that is locked based on user roles, then you will see a note saying something like this above.
Display content based on subscribed users & plan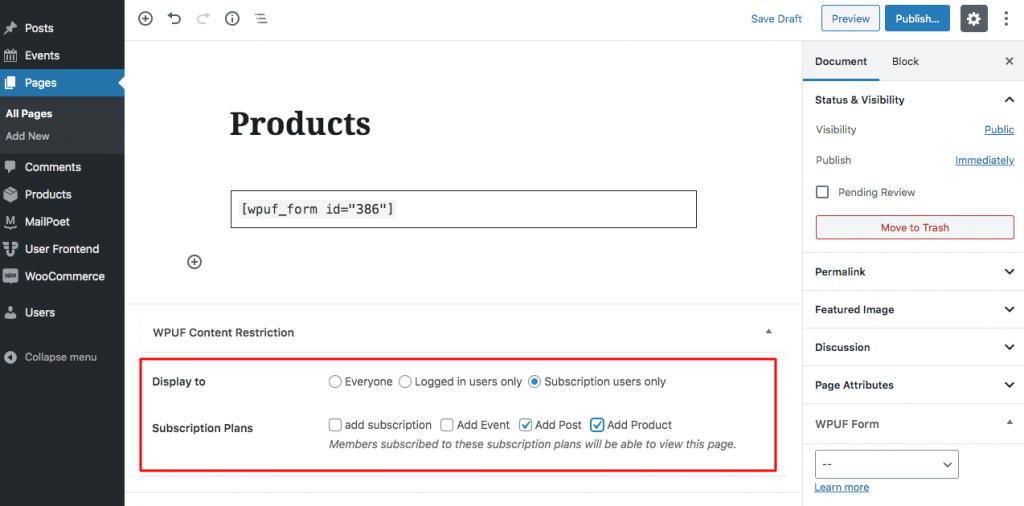 Many sites require their users to view certain content on pages based on the subscription packs they have. So here is the option that enables the admin to restrict users based on the subscribed plans of the subscribed users. The admin can restrict adding product, post, event, subscription, or any other customer plan for the subscribed users.

But when the admin restricts the post or page based on the user's subscription plan as shown above, then anyone other than from the allowed list will be shown the message above.
Lastly note that you can either make a certain page or post visible to the logged-in users, Subscribed users or you can just select everyone to make the content accessible for all.
Smartly Manage Your Comments with WPUF Comment Manager
Now in order to allow the user to manage, update or edit comments right from the frontend with WP User Frontend, you will need to activate the module 'Comment Manager'. This module also enables the admin to allow users to manage their post comments using a simple short-code.

Simply get to the modules tab of WP User Frontend and look for the Comment Manager module to activate it.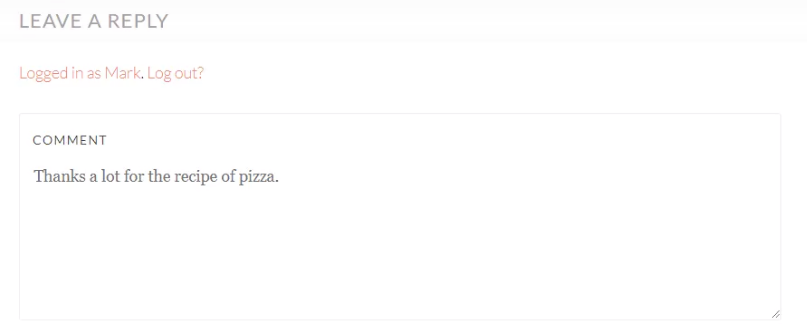 Once the module is activated, now anyone is allowed to comment from the frontend.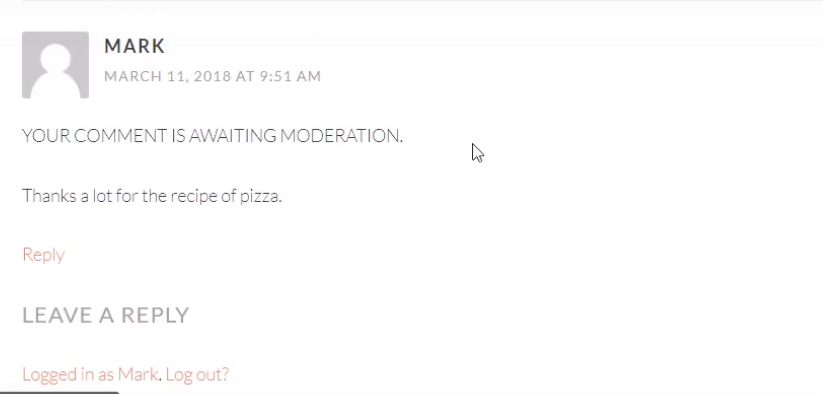 You might want to review the comment before a user can post it on your site. So you can also activate the option for the admin to approve any comment on the site before it is public. When you set this, once anyone posts a comment, it awaits the admin's approval to be publicly visible on the site.

Logging in with the admin account, you can easily approve/un-approve, label the comment spam or send it to trash without even needing to go the backend.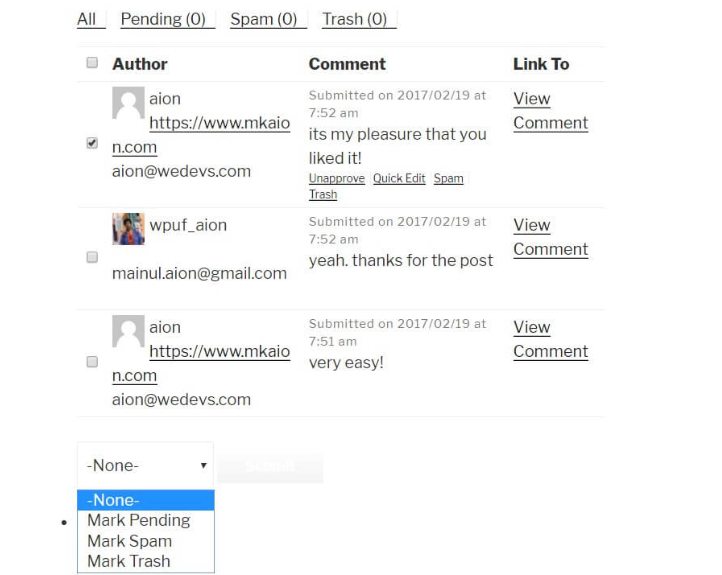 Not just approving or disapproving the comment, the admin can even quickly edit the comments and easily mark multiple comments in bulk to take certain action right from the frontend.
Comment Per Page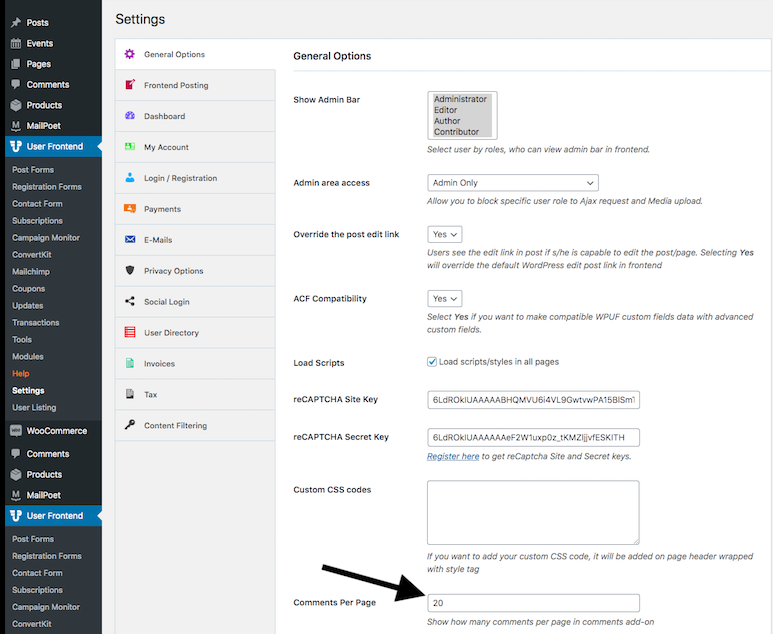 With the activation of the "Comment Manager" module, the admin of the site gets one more additional option in its settings. In the general settings of WP User Frontend, the block 'Comment Per Page' automatically gets added in it. In the block, the admin can set the number of comments he/she wants in a single page.
So when the number of comments on a page or post exceeds the defined value in the comment per page settings, it takes the oldest comments to the next page.
For a better idea of how the Comments Manager module works in a WP User Frontend, check out the complete integration video below
What's More?
Not just content restriction for pages or posts, now you can even restrict keyword-based content from posts content & titles with content filtering. Sometimes some people can come and start using some words that they shouldn't use publicly while posting something on your site.
This could turn out to be quite embarrassing on many occasions. This is where the content filtering option can come into good use.
Content Filtering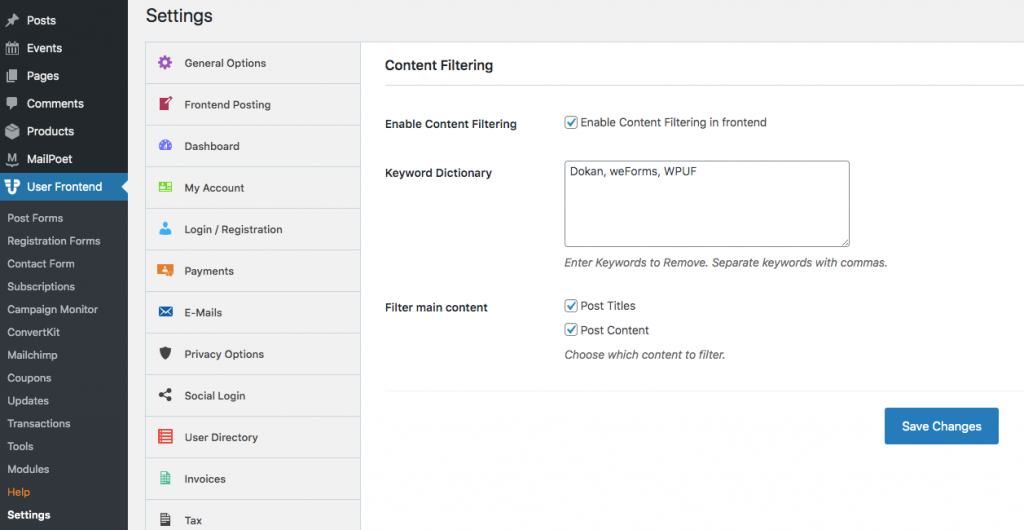 The site admin can set a number of keywords that they would like to filter out while the users are posting. So whenever a user goes on to post those words in any content or title, right away they will receive an error message something like below: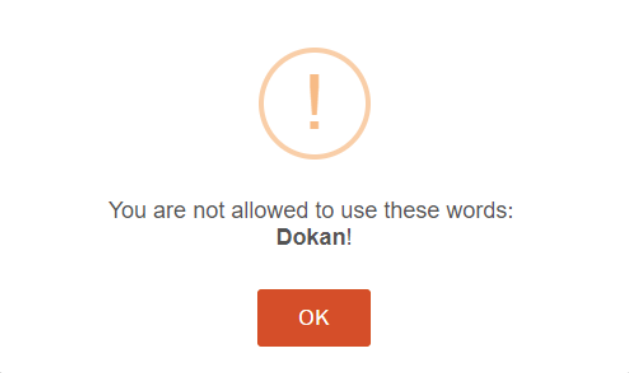 You will need to separate each keyword with commas in order to filter those words out from getting posted. Moreover, you can filter those words used by the user in both the post titles and post content.
Lock Post Edit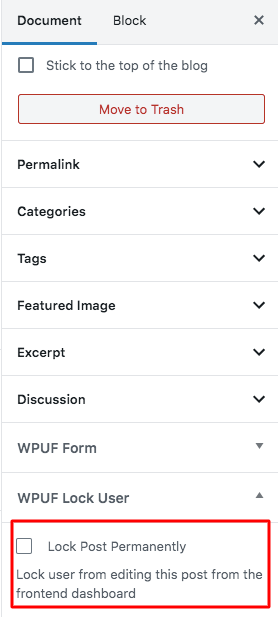 Another interesting feature is locking the post edit option. The admin can lock the users from editing a certain post whenever they like from their frontend dashboard.
This feature comes in really useful when there is any contest going on and the participants have to answer in the contest by posting in it. So the admin might require them to lock the edit post option so that the contestants can't edit or change their answers.
Turn Your Frontend Management Journey A Joyful One
No doubt there is a large buffet of WordPress content restriction plugins that might just do the job just fine for your website. But would a single plugin have all the features that you are looking for? Some might have better content restricting features and some comment management but not both.
And sometimes it becomes quite a hassle when you have to use and maintain multiple plugins at the same time for similar functionalities. And it also becomes quite essential for the user to find out the plugin that best fits your site as well.
WP User Frontend, on the other hand, works as an all-in-one frontend management system. It has both free and paid version and has a wide range of modules that just takes your website's frontend content management capabilities to a whole new level.
It has got great features with top-rated 24/7 customer support. Moreover, it is a highly rated WordPress plugin packed with free features that you can only get in the paid version of other plugins. Some of the free features of WP User Frontend include:
Unlimited form creation
Profile builder & editing
Upload & attach files from the frontend
Drag & Drop Form Editor
Guest post option
Allow submission & updating from the frontend
Form scheduling & entry restriction
Advanced custom field integration
Export/Import forms
and much more.
So want to find out whether WP User Frontend suits your WordPress site or not? Then
Are you using any other WordPress content restriction or frontend management plugin other than WP User Frontend? Then feel free to share your experience with us.
Also, let us know if you have any feedback or suggestions related to the features of WP User Frontend in the comments below.