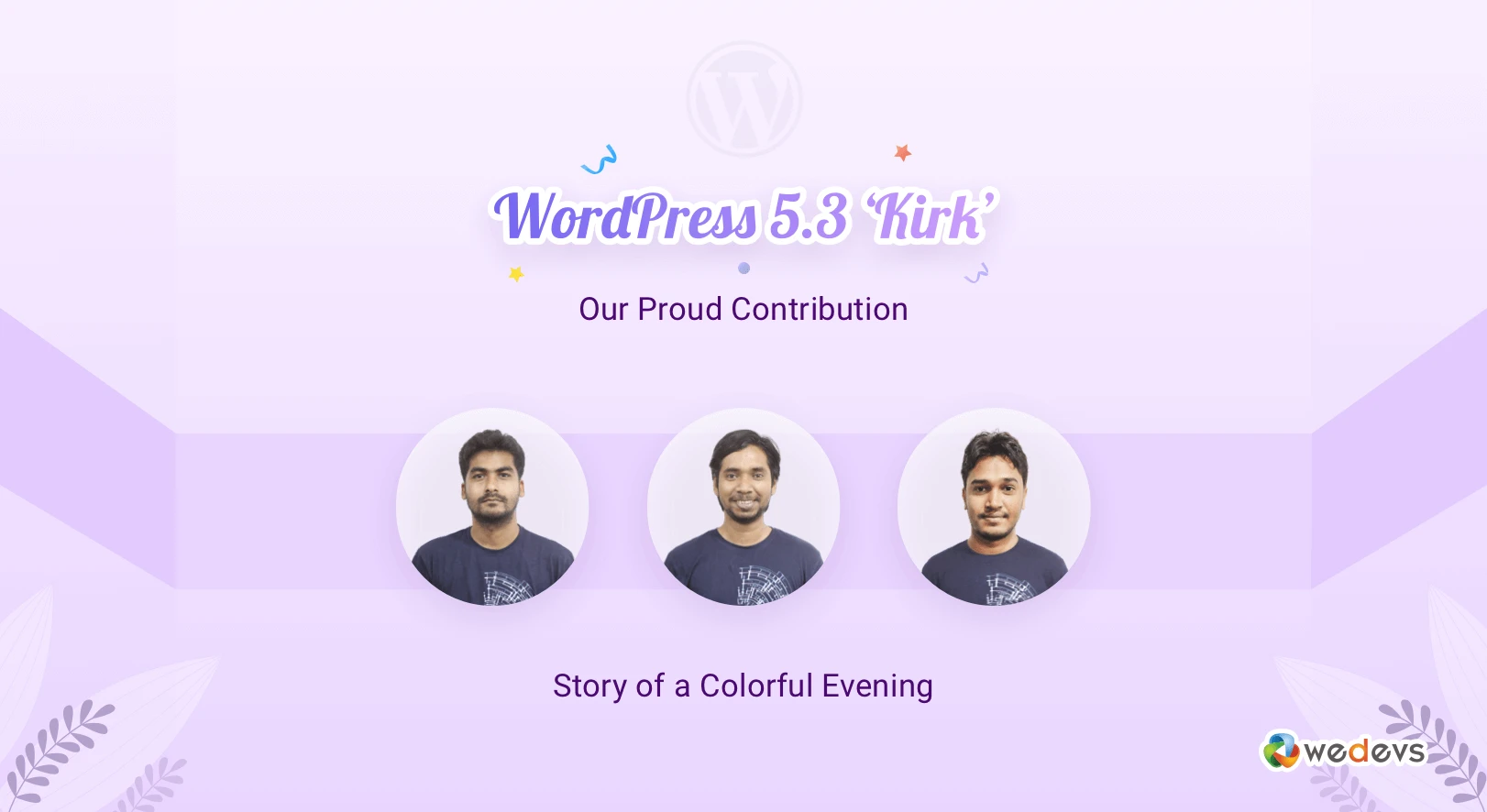 WordPress 5.3 & Our Proud Contribution: A Colorful Evening here at weDevs
Some moments become more important than everything around us. And the only way to honor them is a celebration.
We witnessed some happiest moments yesterday afternoon here at weDevs. WordPress 5.3 got released with a huge collection of new features and improvements. As a WordPress plugin development organization, it's really great news for us. Greater than that was seeing a few names of our team members on the golden list of contributors to this large release.
In addition to our regular work and helping community members, we are constantly contributing to WordPress core development- what else can be better than it! So, the day became very exciting and delightful.
Let's take a quick look at what we have contributed to WordPress core this time, how was our celebration and the notable updates-changes WordPress 5.3 came up with.
Story of a Colorful Evening
Tuesday at 4:15 pm, there was an announcement from our HR department. 'Everyone please gather on the playground at 5:00 pm sharp.' We all got together with a lot of thrills and eagerness. Office assistants seemed quite busy.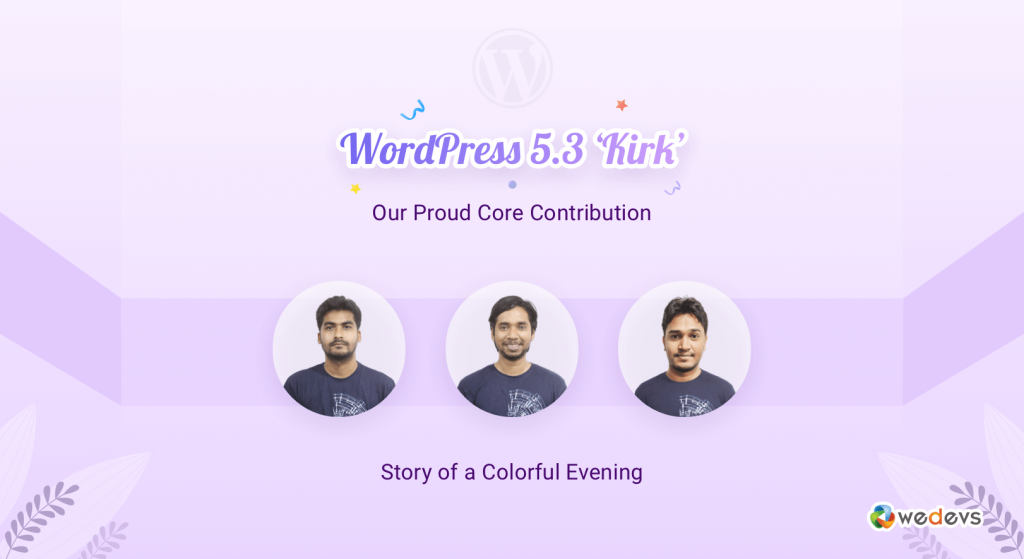 After a while, weDevs Founder & CTO Tareq Hasan joined us. Some large-sized colorful packets were brought to the table. Tareq Hasan said-
'It's always a pride contributing to WordPress core. This time three of us have contributed to WordPress 5.3 core release. It's really a big achievement and a great moment of enjoyment. Our heartiest congratulations to Towhid, Edi Amin and Mehedi Hasan. I want to see all of us got into the bandwagon of WordPress core contributors in the upcoming days. Just like we are doing here at weDevs to develop great products for the community. And today we are celebrating both our contribution and WordPress 5.3 core release, together.'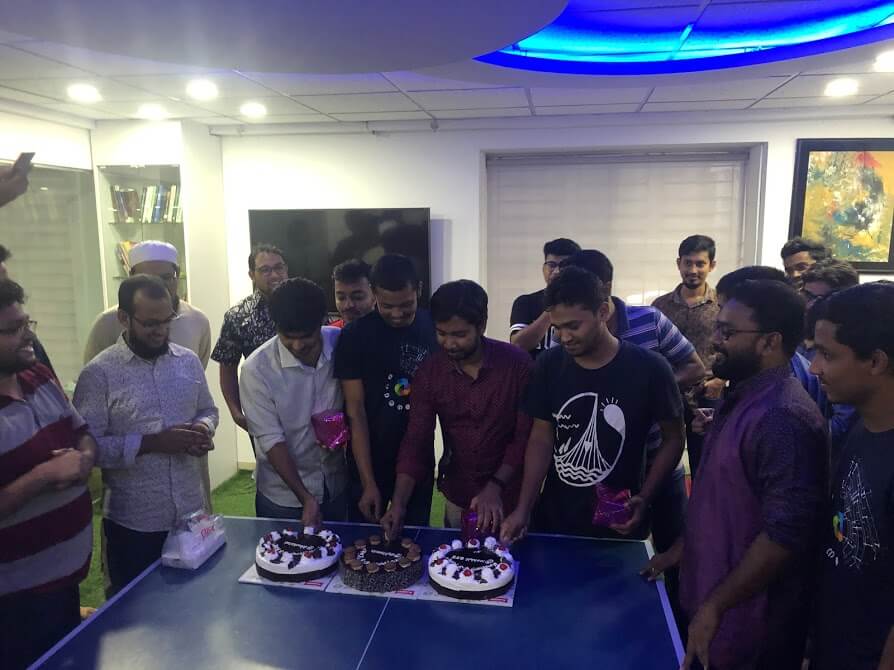 He then handed over beautiful gifts to them. The whole office was buzzing with the sounds of a crowd cheering.
Then we cut three cakes one by one. A beautiful evening got captured both in our memory and in the frames of our digital devices!
weDevs CEO and co-founder, our beloved Md: Nizam Uddin was on the way to returning home from WordCamp USA 2019. From there he wrote- 'Congratulations to Towhid, Edi Amin Bhai and Mehedi. Proud of you guys. All of you will get WordPress Core Badges, inshallah.'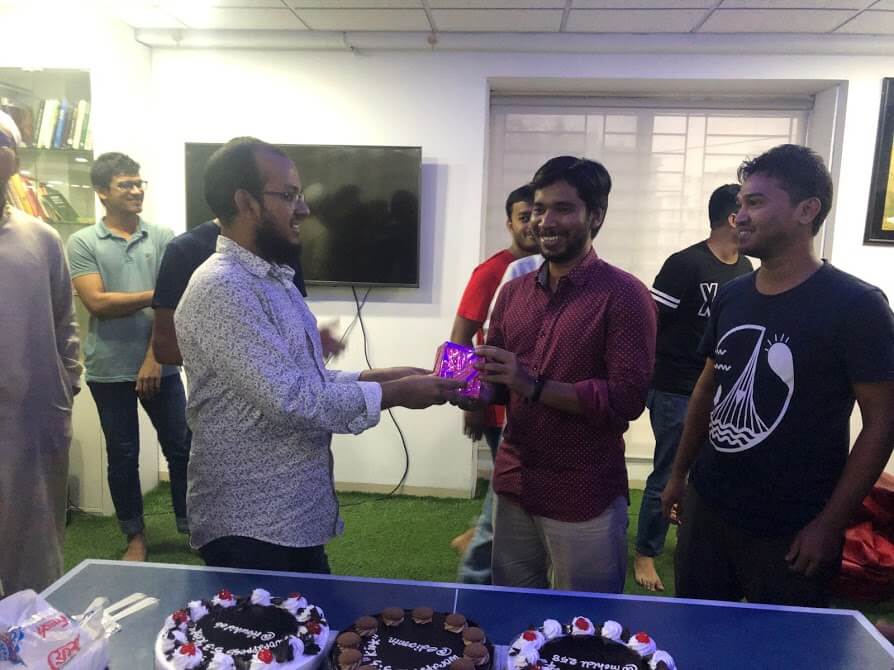 This is how we celebrate and recognize the contribution-success of our team members here at weDevs.
What's New in WordPress 5.3
It's the largest release after WordPress 5.0 in which we got introduced with WordPress Gutenberg editor. WordPress 5.3 expands the block editor with more intuitive interactions and enhanced accessibility. New features in the editor increase design choices, provide extra layout options and style variations to provide designers more control over the look of a site.
WordPress 5.3 named 'Kirk' in honor of jazz multi-instrumentalist Rahsaan Roland Kirk'
The main focus of WordPress 5.3 was on Improvements of Gutenberg block editor, design flexibility and the Default theme Twenty-Twenty. Let's take a short overview of them.
Improvements with Gutenberg Block Editor
WordPress 5.3 introduces over 150 new features and usability enhancements, including large image support for uploading even non-optimized, high-resolution pictures taken from your smartphone or other high-quality cameras.
With this updated combination, pictures will look their best.
Introducing WordPress Default Theme- Twenty Twenty
This release also comes up with the default Twenty Twenty theme, providing you more design extensibility and integration with the block editor. Creating beautiful web pages and advanced layouts have never been easier with WordPress's default themes.
Ultimate Design Flexibility
WordPress 5.3 comes with more robust tools for creating marvelous designs.
With the new Group block, you can easily divide your pages into colorful sections
The Columns block now supports fixed column widths
The new predefined layouts allow you to arrange content into advanced designs
Heading blocks now allow controls for text and background color
And more just like this. Designing is now a fun game with WordPress 5.3.
Core Improvements for Everyone in WordPress 5.3
Automatic Image Rotation
Improved Site Health Checks
Admin Email Verification
Special Improvements for Developers
Date/Time Component Fixes
PHP 7.4 Compatibility
What We Contributed to WordPress 5.3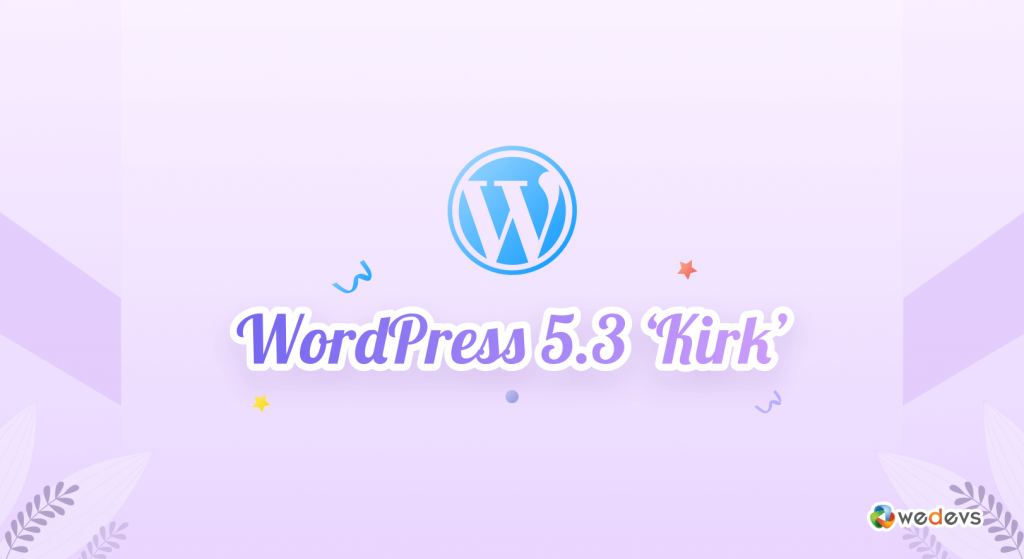 You know that as an open-source CMS platform, WordPress.org is free for all. Like using, anyone can contribute to 'Make WordPress.org' as a developer, designer, technical writer, translator, support engineer and more. WordPress really is a great platform 'for the people, of the people and by the people'! As we already said that this time three of our members contributed to WordPress 5.3.
Their area of contribution was 'core development' and they solved and developed around 30 issues. Our sincere congratulations to them.
Being a renowned WordPress core Developer, weDevs founder and CTO Tareq Hasan always encourage team members to contribute to WordPress core. weDevs CEO and co-founder Nizam Uddin is working very hard to make the community stronger by organizing, sponsoring and attending local-international WordCamps-meetups on a regular basis.
We are happy that we already have more than a dozen members in the team who has several WordPress profile badges.

Giving Back to The Community
When we were celebrating WordPress 5.3 core release last week, Our CEO Md Nizam Uddin was on the way to returning home joining WordCamp USA 2019. Just two days earlier, our marketing team returned from WordCamp Mumbai. Right now, another team is preparing to join WordCamp Kochi, India. We have organized Wadcamp Dhaka 2019 for the first time in Bangladesh just a few weeks back.
In addition to interacting with general users as well as developers from different parts of the world, we sponsor almost every notable WordCamps throughout the year. Yes, this is how we want to continue our contribution to the community. So, stay with us. Let's make WordPress a more powerful, more convenient, and accessible platform together.
Bonus- An Outstanding Infographic on Recent WordPress Stats for You!

What do you think? Don't hesitate to share your thoughts, experiences or suggestions with us in the comment section!