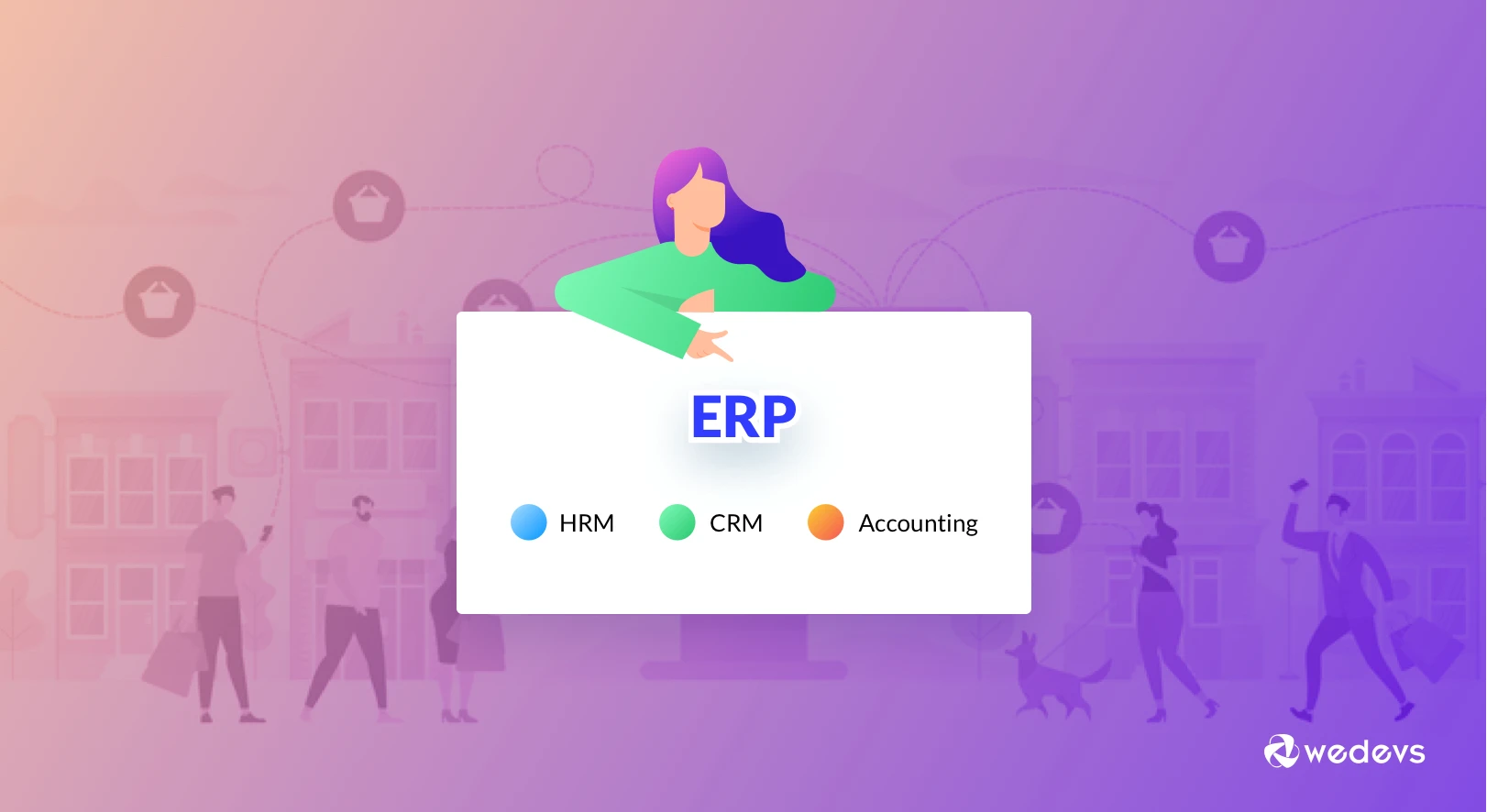 Best WordPress ERP Solution You Can Rely on in 2023
It's not a rare phenomenon that upon starting out your business, you may confront some unexpected expenses down the line. This can happen to anyone's business.
Not to worry! With the proper way of business management and book-keeping method, you will be all good to go. Unfortunately, managing a business properly and keeping books manually take huge effort and patience.
Fortunately, this is where the magic spell of ERP tools shines in! Today we will look at some of the most popular ERP solutions out there in the market.
Before we move any further, let's go over the reasons you can not do away with an ERP tool.
What Is ERP Software?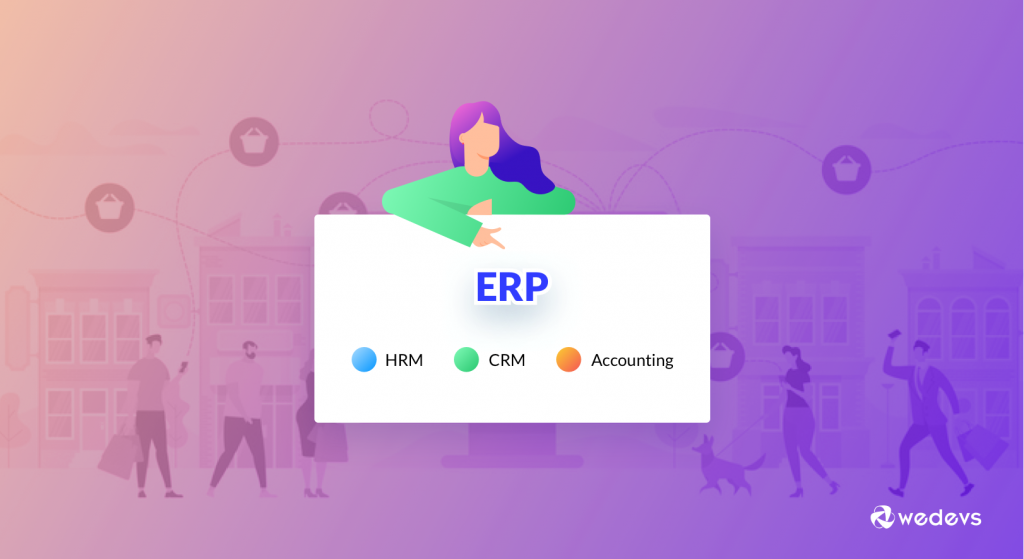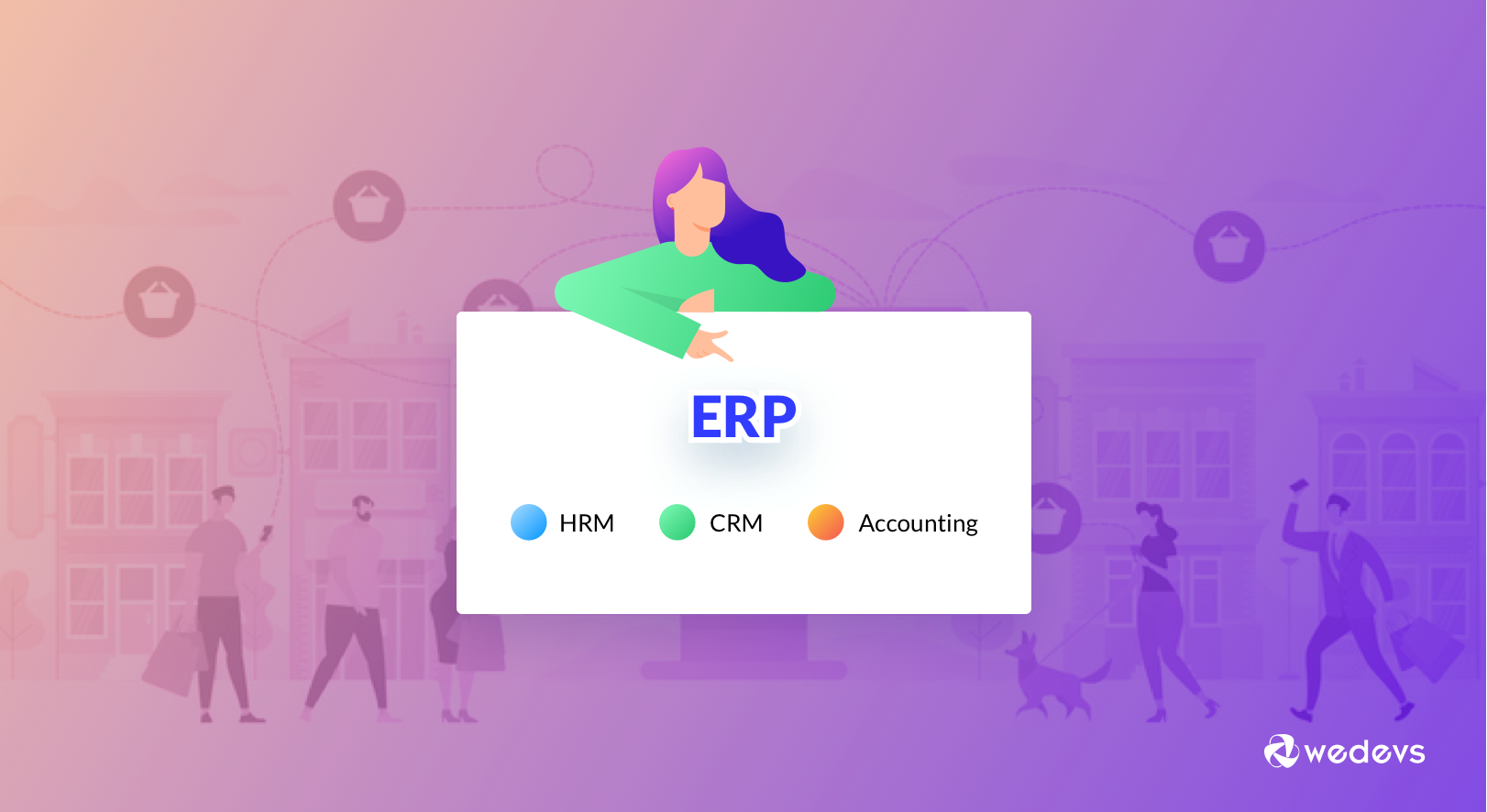 An ERP or Enterprise Resource Planning is a tool that allows you to manage your Human Resource, Client Resource, Accounting Process and Projects without the hassle of manual intervention.
According to Investopedia:
Enterprise Resource Planning (ERP) is a process oriented methodology which integrates systems used across different departments of a company, enabling easy and uniform flow of information under defined controls, aided by use of software applications and defined best practices.
Why Do You Need an ERP Tool?
Business management is a daunting task for every business owner. To run a circle around the competitors, it is a must to use an ERP tool for your business.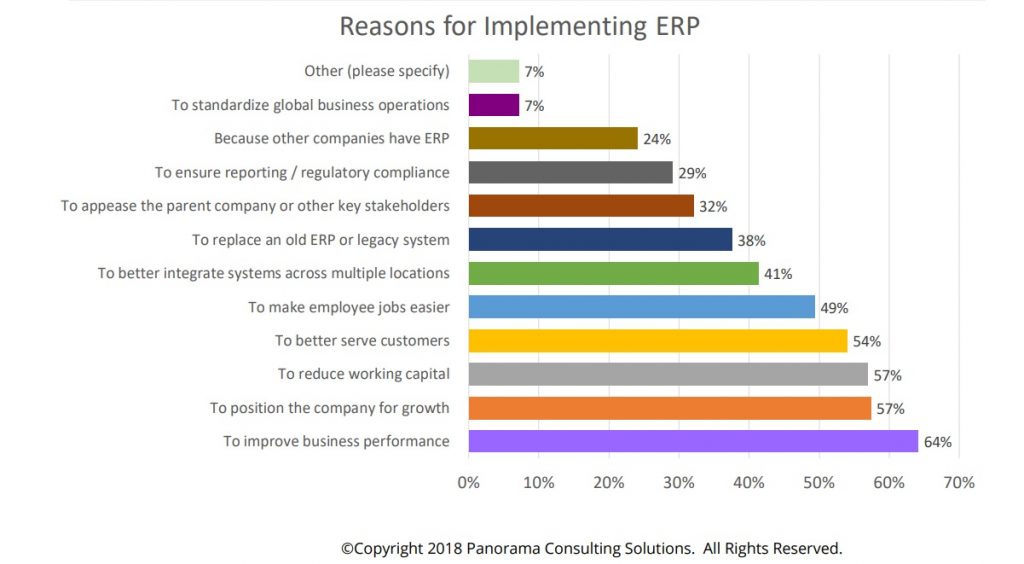 Having a few distinctive benefits made an ERP software a must-have for any business in recent times. Here are the reasons you can not fight shy of an ERP tool:
To Meet Customer Demands
You may use different solutions for different purposes. For example, you may use Inventory management software, Finance software, Asset Management software, Customer Management Software, Human Resource Management software separately.
When you use different software for different purposes, you will be in trouble managing data accurately and so things will get messy.
As a result, you will be likely to fail to deliver products to your customers as opposed to your promised date. This can happen due to the miscalculation of stock management, and the mismanagement of your customers the right way.
On the other hand, an ERP tool will help you manage all the data in a centralized way enabling you to meet your customers demands.
Streamlining the process automation
What if you could find your desired customer's phone number by just using their name as a filter? What if you could get the automatically generated employee attendance report? And what if you would be able to see who has how many leaves left without keeping the records manually?
You can get all of these by simply using ERP software. In fact, you can view all the business reports of your Human Resource department, Client Resource Department and Finance Department just with the assistance of an ERP tool. This is crucial to the advancement of your business.
Fewer Errors, More Efficiency
To diminish mistakes as a single person, you have to be careful enough so that there is no clerical mistakes or any discrepancies in managing your business resources.
Whether your business is small or big, you have to make sure that you have achieved operational efficiency. As mentioned, an awkward and error-prone business management process will result in draining all your hard-earned money.
Better Collaboration & More Productivity
No matter how big or small your team is, effective communication is a must for everyone in your business to stay on the same page. Plus, it ensures customer satisfaction which is a must to establish better brand awareness.
Effective communication is equally vital both for internal stakeholders and for the external stakeholders. With that said, real-time communication is also a necessary aspect you have to deploy for your business management or any project management.
Do Repetitive Tasks the Smart Way
It's always tedious to do the same task over and over again. For example, employees tend to take hours to simply accomplish repetitive tasks like stock management, report generation, order processing, task management, bookkeeping, monitoring stocks, customer data entry, etc. using traditional methods.
Luckily, if you employ the right ERP tool for your business you cannot just reduce the time taken to accomplish these repetitive tasks but can harness your employees' energy to carry out more complicated tasks.
Better Information Management
It's quite common that many organizations have inaccurate data all over their business arena due to human errors or simply not compiling them the right way.
If your business is in such a condition then neglecting the issue may deteriorate the situation over time. In fact, it may seem a little problem at first but with time the situation may worsen and consequently, it might hurt your brand image.
An ERP solution, on the other hand, will help you automatically input the transaction into the system and generate financial reports on its own. As a result, you can make the financial and accounting process simple, accurate and faster.
Better Employee Performance Management
If you can somehow manage to input employee performance data like the number of the tasks accomplished, taken time to complete those tasks over a certain period then it would be much easier for you to gauge the performance of your employees.
Above all, an ERP system is designed to address the work performance of staff, working at different levels in your business organization. As a result, you will be able to evaluate all of the employees more efficiently.
Improved Inventory Monitoring
Tracking inventories is one of the ever-growing concerns for a business owner. With the absence of an ERP solution, you have to store and sell inventories based on your gut instincts.
In case your guesswork goes wrong, you will see either excess or deficit of inventories in the warehouse. To figure out the optimum demand-supply equilibrium, you have to generate proper inventory reports. You can enter inventories and generate inventory reports automatically and effortlessly with an ERP system.
More Time & Money Saved
Though some vendors have lately introduced ERP packages in an affordable pricing plan, it is still a major investment for a business.
As opposed to this doctrine, investment on ERP tools may seem big at first. But it's Return on Investment (ROI) is pretty high because it will help you manage your business with the least cost possible.
Besides, ERP tools generally maintain a central database system. So, storing and retrieving data is much easier for the associated parties. This way, an ERP tool can save a lot of time.
So, Which Are the Best ERP Solutions to Choose?
There are a lot of ERP solutions out there each having their distinctive features. Some of them are aimed at different sizes of businesses, some are Cloud-based while some are self-hosted:
WP ERP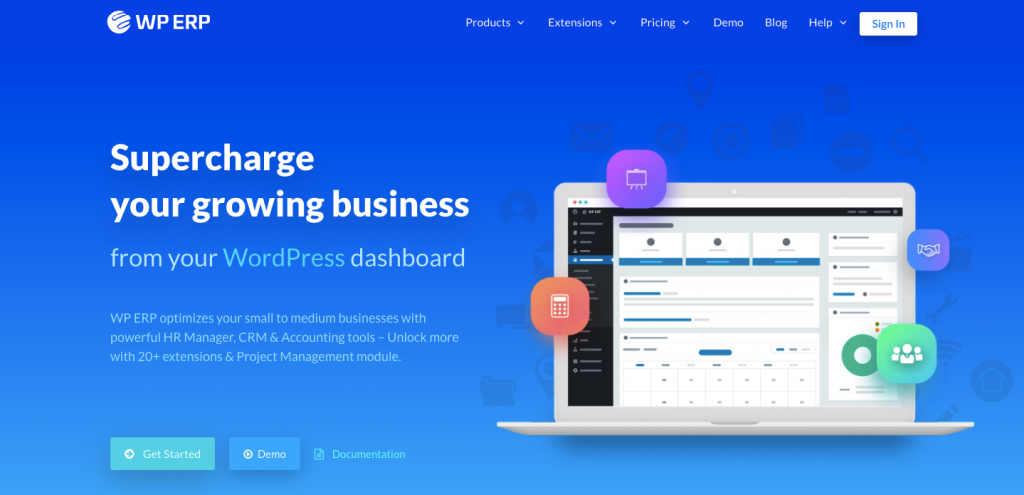 WP ERP is the pioneer and the only available complete ERP solution for the WordPress platform. According to Financesonline, WP ERP has secured 8 marks out of 10 and it also has 93% user satisfaction. It is best suited for small and medium-sized businesses.
If your site is built with WordPress, then you can start using WP ERP right away. The tool ships with 4 embedded modules – Human Resource Module, Client Resource Module, Accounting Module, and a Project Manager Module. The tool is highly scalable through a host of premium extensions
Finally, if you choose to use the WP ERP, you can go through this documentation to know how to install and activate it.
Bitrix24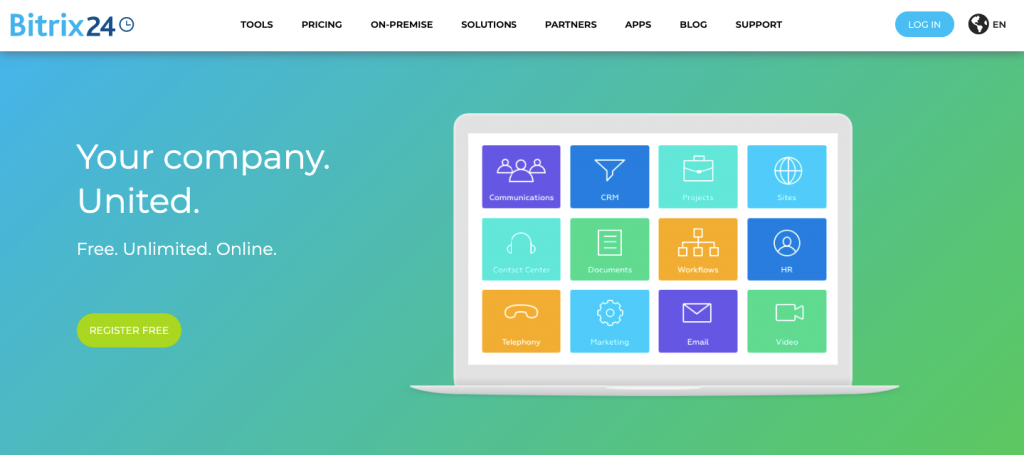 Britix24 is specially designed for operating a sales-oriented organization. This open-source ERP solution is available both in the cloud (free) and on-premise (paid).
It comes with a complete CRM module. Also, it supports other powerful sales tools like sales management, email marketing, telemarketing, workflow automation and so on.
Microsoft Dynamics 365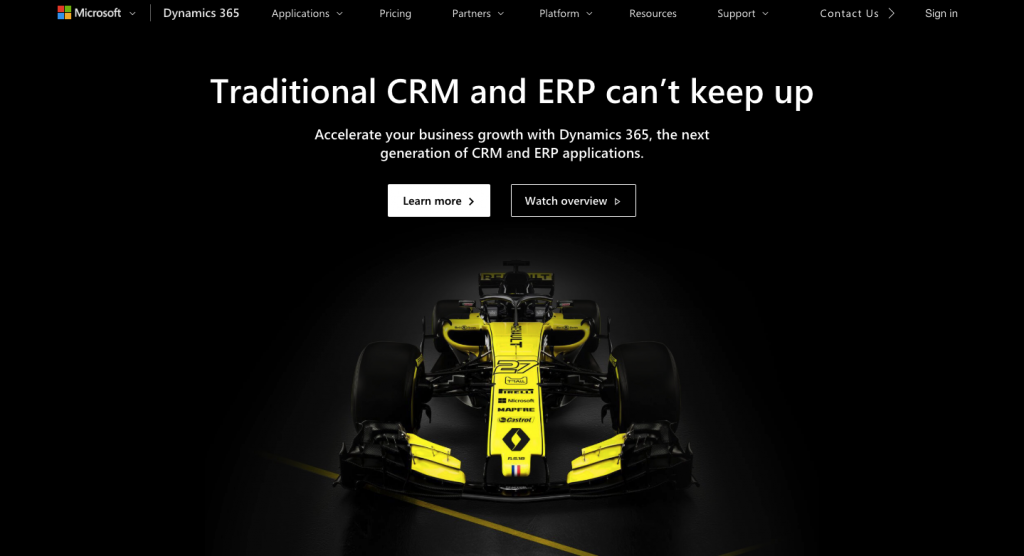 Microsoft Dynamics ERP is a potential tool to manage midsized companies accordingly. This interactive application can manage the entire supply chain and financial data concurrently.
Moreover, it can organize a company's work-flow, sales funnel, reporting, manufacturing, and human resource activities to help the administration.
Oracle NetSuite OneWorld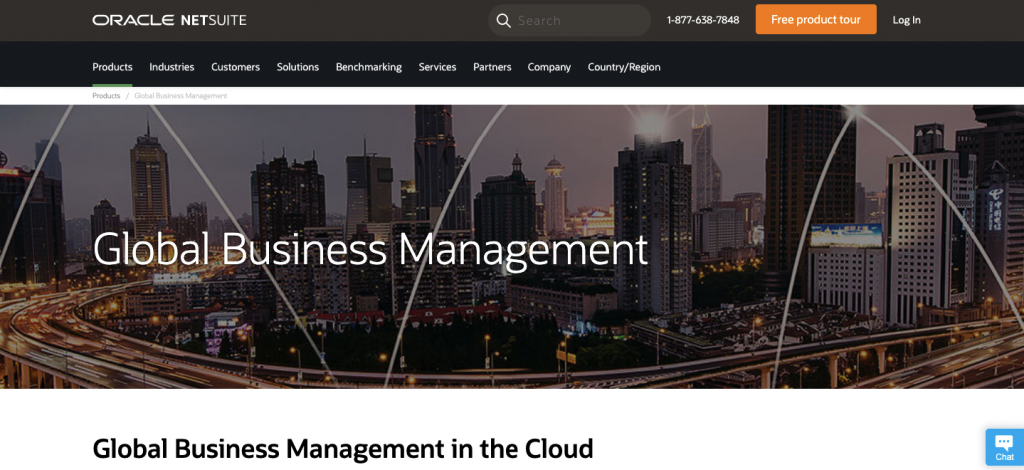 NetSuite OneWorld is designed to address the real-time financial and business management requirements of mid-sized companies.
By using a single account, you can manage several entities, subsidiaries, and multiple business units. The system also supports different currencies and government requirements.
SAP Business ByDesign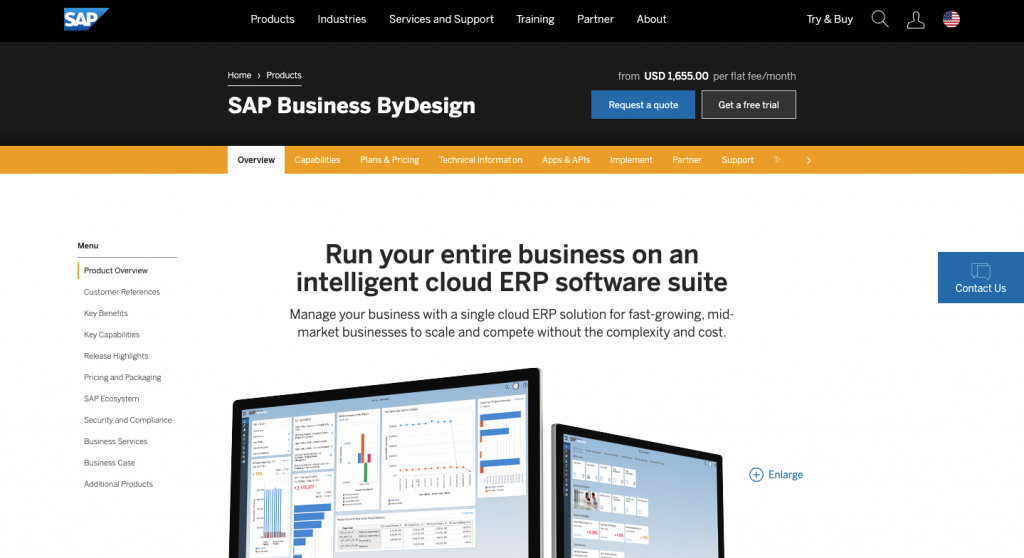 SAP Business ByDesign (ByD) is a cloud enterprise resource planning software. With this powerful tool, you can lead your whole business activities from one single unified cloud solution.
It combines all the functions across your company such as finance, CRM, HR, project management, procurement, supply chain management for small to mid-sized enterprises.
Business Cloud Essentials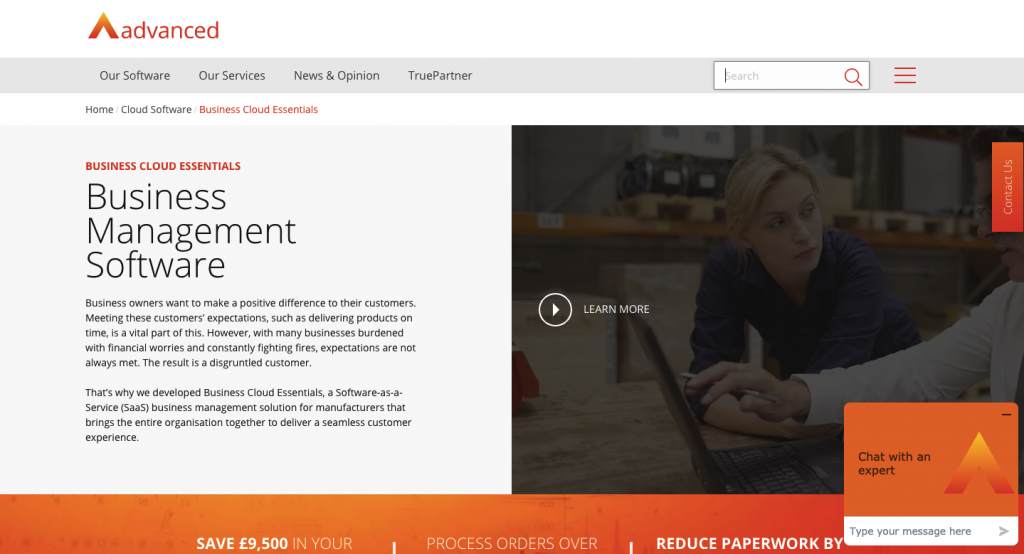 Business Cloud Essential is another cloud-based ERP solution to small and mid-sized businesses. It is flexible and is armed with most of the bells and whistles for the CRM, Payroll, Accounting.
As a bonus, you will get the operation feature that will aid you to streamline the production process.
ERPAG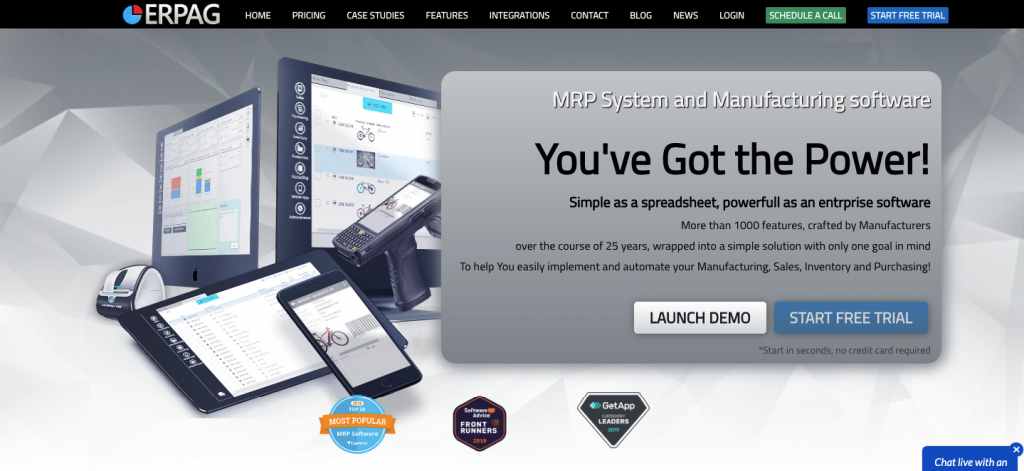 ERPAG will connect and streamline all business processes under the one cloud-based ERP and MRP software.
It is specially designed for small companies. You can easily manage your inventory and order management with ERPAG.
Tally.ERP 9

Tally 9 ERP is an all-round business management software to track all of your accounts, sales, debts, and others related to your business management and growth.
You can scale up your business with this comprehensive business accounting and inventory management software.
Key Takeaways
As the ERP tools mentioned here bolsters all the important facets of an ERP system, you can go for any of them. However, if you already have a WordPress website up and running, why you should go for a cloud-based ERP tool.
If you don't have a WordPress site, you will have to buy a domain name and hosting service to use the self-hosted ERP solutions.
Finally, as an ERP veteran, I would like to suggest you identify your own business needs before you are going to purchase an ERP tool. Because identifying your business needs is the foremost way to choose the right ERP solution you can rely on!