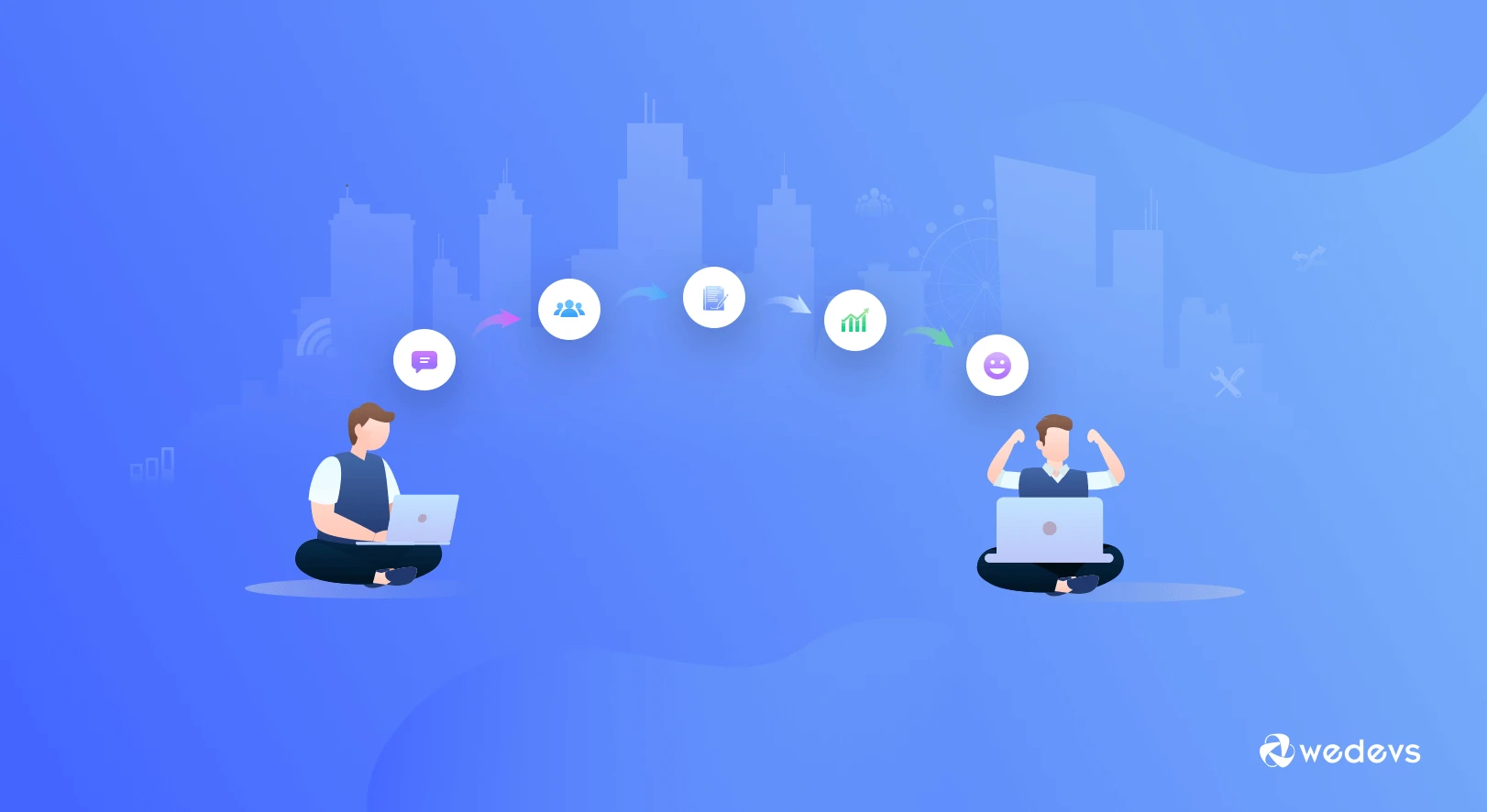 Customer On-boarding Process: Here's What You Should Care about in 2023
Is it a reasonable game-plan to find new customers every day? What good it will be if people purchase your product once and never come again?
According to a Gartner report, 80% of the company's future revenue depends on 20% of existing customers.
It's crucial to practice a fruitful customer onboarding process that makes them attached to your service, giving positive feedback, and feeling an urge to build kinship toward your business.
The first interaction writes the whole course of your forthcoming relationship with a customer. After someone shows interest in your product, you need to nurture him through continuous activities that focus on improving his knowledge of that product.
So if you aren't addressing customer onboarding as a serious issue yet, we don't want you to fall apart. Here in this post, we will show you how to develop and practice such a process that sticks and help to increase customer retention nonetheless. Keep reading.
How Onboarding Works
The customer onboarding process starts from the very touchpoints when a visitor lands on your website for the first time.
Firstly, it includes impressing clients to purchase, then keeps them connected, helps them learn the product and how to get the most out of it. Secondly, you need to solve their issues, and provide technical support if necessary. And finally, do whatever it takes to earn trust and make them acquainted with your service. 
In a nutshell, customer onboarding is a set of activities that involve aiding customers to understand your product, giving information step by step through emails, guidelines, tutorials, videos, or live chat, etc.
The onboarding cycle starts before the purchase, then beyond the post-purchasing stage, and keeps going on.  
The Importance of Following a Customer Onboarding Process
Having a data-driven and reliable customer onboarding process means you will ensure a low churn rate and on a way to building your brand reputation.
The top 3 reasons for a 53% churn rate are- poor onboarding, failing to build a strong relationship, and lack of authentic customer service.

The customer onboarding process demands you to take care of every single customer, give them a feeling that you really want to improve their product experience, and provide the relevant information gradually. 
That's how it works. If you are not convinced enough, let's get straight to some magnificent stats on the importance of customer onboarding.
Emphasizing your customer onboarding is a potential way to establish long-lasting customer relationships. And, if you already have one but don't get the desired results, it's high time to renovate your whole process.
Set Your Customer Onboarding Strategy
People tend to abandon a product they don't understand clearly. And, people love to get along with things that deliver the values they have been promised.
As you are not going to let your users abandon the site before converting, you must keep them to a continuous success funnel.
It is all about attaching people step by step in your onboarding cycle. As a business owner or marketer, you need to think from the customer's perspective.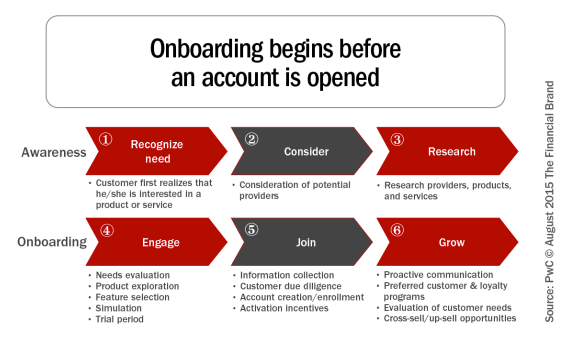 Before you are going through the activities to get your user familiar, there are some key customer onboarding best practices that need your certain attention.
Know Your Customer
Until you know how your customer perceives things, what is their early experience with a similar product, and the pinpoints that stimulate their purchasing decisions, your chances are low. So it's your first task to gather as much information as you can, conduct research, try to know what makes them enthusiastic to buy a service.
Well, how to get that information? You should read similar product reviews on various platforms. When they opt-in to your website, make individual research on their online activities, participation on social media, etc.
Set the Bar of Expectation
Never promise for something you are not capable to deliver. Avoid sugar-coating your offer. Be specific, be honest. Say exactly what you have and how your features and service can play a sufficient role in your client's success.
You may ask, why would I do that where boasting can hit the right cord and increase sell?
Well, here your intention isn't selling a product for one time and get past a customer. So, if you boast about a factor and when the time comes, fail to give it, can you imagine what happens?
On the other hand, if your customer knows what he can achieve or not, he can make himself prepare for any circumstances.
Set Customer Oriented Goals
Ask your customers what are their success metrics. Set your onboarding goals centered around those metrics. You will gain two advantages from it. One, it will let create a feeling amongst your customers that you truly doing business to make them successful. Two, your growth will be based on their satisfaction.
Establishing value
People care for values. Before they purchase your product, you should get them to learn and realize the utmost values your product may add to their achievement.
One of the best ways to emphasizes values is by giving them examples, show them how other individuals or company get benefitted from your business. You can share specific use cases, documentation, or free training courses (if it is possible) to brandished yourself.
Consistent Communication is the Key
After sending a welcome email to a customer, you can send him essential guidelines by maintaining a stable email sending frequency.
There is a thin line between a balanced or chaotic communication effort. You shouldn't poke your customers each hour of the day. Also, you shouldn't let someone detached from your learning attributes. A fine balance and wise approach is the key here.
Do something so stimulating that your customer feels free and enjoy every approach you made to them.
Success Measurement
Measuring success get us to improve our weaknesses and guide us where to focus more. Suppose you are following a customer onboarding process but don't measure all the efforts, the chances are high that you won't progress as you aiming at the beginning.
Some of the key metrics you ought to find out are the Churn rate, Lifetime Value of a Customer, Retention Rate, Customer Survey or Loyalty through Net Promoter Score (NPS).
Top 7 Steps to Establish a Successful Customer Onboarding Process
For any type of digital business, customer onboarding has two core milestones. One, when a customer signs up for your product for the first time. Two, when your customer gets the very first success by using your product. You need to achieve these milestones before your customer gets along with you and make decisions to stay with your product for a long time.
From the first interaction to last (though you don't know and should expect it may keep going), there are some crucial steps to guide the customers. It's essential to maintain a strategy while sharing product information. For example, people can't grasp a product's technical specifications unless they ask for it.
Well, let's take a look at these steps to establish a fruitful customer onboarding process in your company.
Send a Welcome Email as the Initial Catch
74% of people expect to get a welcome email after they are opt-in for a product. So it's inevitable. Welcome emails have a magnificent 91.43% open rate.
When one of your customers purchases your product, they expect an assurance from you. You should let them know that you are so thankful that they choose your product over others, and you will not let them down.
You can look at this welcome message from the renowned WordPress project management plugin WP ERP. It will help you to understand how to greet a customer in the first place.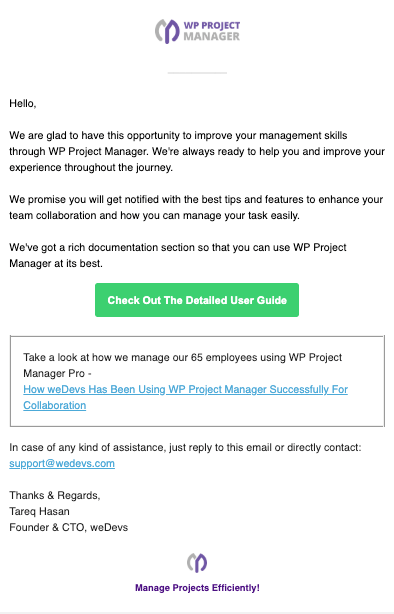 Help Your Client With Product Setup Guideline
You can add a user guide in your welcome email. The email example we've shown above has used this technique. They add a CTA button with an in-depth product setup guideline. The intention here is to aid a customer to learn the product setup step by step.
Though, it's also great to send the product setup guide in your next email. One best hack you may apply, make this tutorial or setup wizard simple and optional.
Include Information on How to Get the Best of it
When a customer buys your product, and get into their dashboard, they will see all the features and maybe feel a bit scattered on what to do at first. Because all the info fields will be empty and it's normal for them to get confused. You don't want to let your customers wandering around alone in this stage.
WooCommerce Multivendor Plugin Dokan is doing an amazing job in this regard. They add a help section directly to the user dashboard.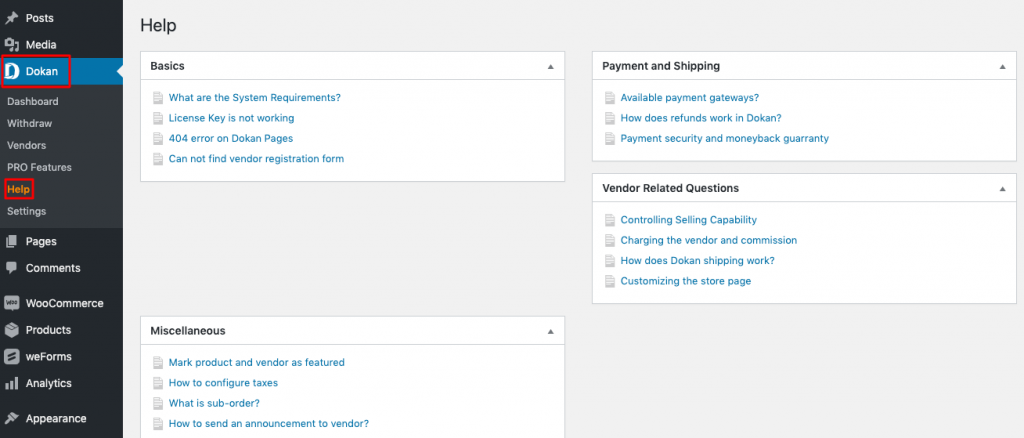 This step will guide any user to utilize all the features they need to the highest.
Interactive Product Learning Tips
We have emphasized consistent communication earlier in this post. Though, here we want to include consistent product learning guidance as one of the most crucial steps in the customer onboarding process. You should provide these learning tips gradually. And, it must be interactive.
You should follow the customer interaction with your product. At any stage, if they face an obstacle, you should solve their issue as soon as possible.
Some of the best ways to provide interactive product learning tips are- sending them video tutorials and infographics, inspire customers to submit support tickets and employ instant support, etc.
Build a Q & A Section and Powerful Product Data Centre
A data center or knowledge base helps any interested people about your business to learn simultaneously. It should be such resourceful with information like your product's technical specifications, documentation, customer reviews, detailed set up guidance. Besides this informations, you must launch a Q & A section where anyone must find all the possible questions and answers regarding your product.
Sending Product Update Email and Offers
Product updates are a continuous process. It intends to improve customer experience and increases brand value. Whenever you release an updated version of your product or introducing a new feature, let your customers know this. Also, show them the necessary steps on how to utilize this new update or feature in the simplest way.
On the other hand, get your user to feel more excited by sending offers on various occasions or festivals. Also, let them know if you have made any achievements.
For example, Dokan shares greetings and offers a few days ago when it touches the milestone to have 30000+ active marketplace around the world.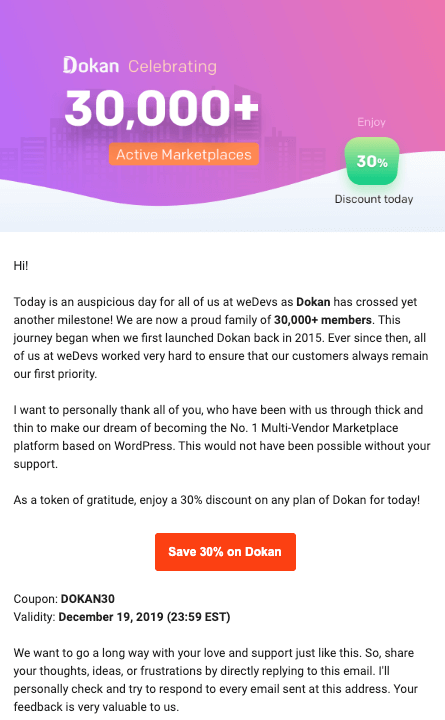 Celebrate Each of Your Client's Success
Your company grows with your clients. And, at the beginning of your customer onboarding strategy, you have set customer-centric goals. So, each time one of your product user making a success or gain, you should celebrate it.
You can send congratulatory emails or calls, tips on how to improve the strategy to grow more. The intention of this step is to spread the idea upon your business people that they are getting success and you consider yourself an essential part of it.
Wrapping Up
We see our customers as invited guests to a party, and we are the hosts. It's our job every day to make every important aspect of the customer experience a little bit better.

– Jeff Bezos
It needs an ongoing effort to develop the perfect customer onboarding process. We believe now you can plan and execute your own way.
As it is been said, never stop learning and improvising, you should find yourself on this growth funnel. If you want to strengthen the user experience, the only way is to improve your service and let them understand it.
So tell us what do you think right now. Do you have any questions left? Don't forget to put your questions or idea in the comments section.