 WordPress 4.2 Is Just Around the Corner: Here's What's New

It's that time of the year when a new version of WordPress is just about to hit the doors. Having just released the security update 4.1.2, developers are gearing up for the final release of WordPress 4.2 which is expected to bring a number of new features, improvements, and bug fixes.
In today's post, we're going to briefly introduce to what's new with the new update that's scheduled to be released today.
Theme in Customizer
WordPress has been really pushing the customizer feature to enable users to customize their website and see the changes in real time. The next iteration of WordPress takes the Customizer to a whole new level. Previously, you could only switch themes from your Appearance -> Theme page. But with WordPress 4.2, you will be able to switch themes right from the Customizer.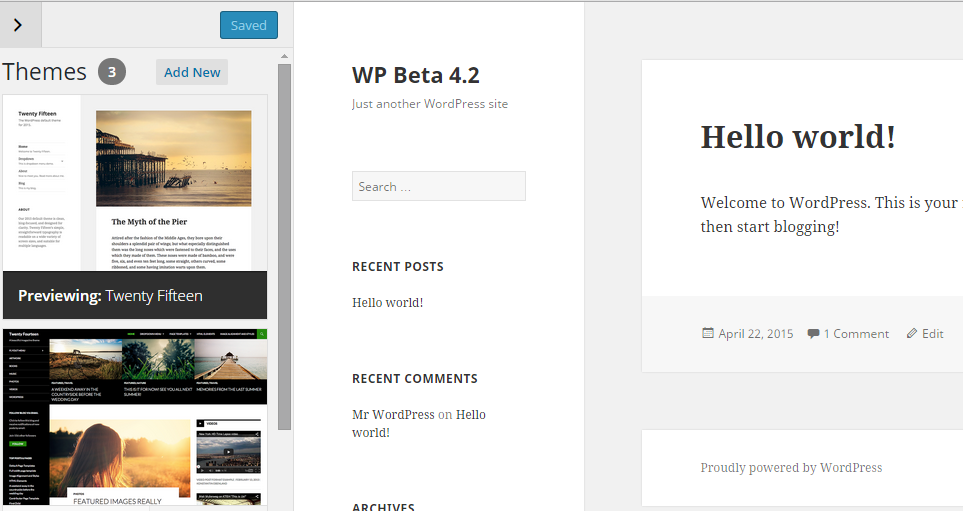 Before switching, much like the Theme page of your dashboard and the rest of the features of the Customizer, you will also have the ability to preview or add a new theme all from the comfort of Customizer. This not only makes setting up a new theme easier but also makes it easier to choose a theme in the first place based on the preview.
Even Faster Plugin Installation
Update: This feature was initially available with WordPress 4.2 Beta, but in later releases, considering the security issues it may arise, the new plugin installation system has been dropped. So it's likely that although the feature has been developed, the 4.2 final version will not have this.
About the time when you thought plugin installation couldn't be any easier, WordPress 4.2 proves you wrong and makes plugin installation a breeze. When you're on the new version, all you need to do install and activate a new plugin is just click the Install Now button.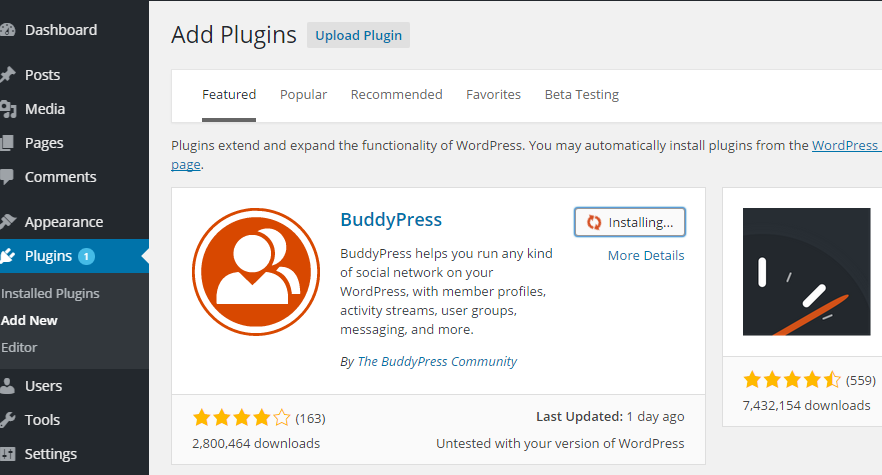 Previously, or should we say currently, since 4.2 hasn't been released yet, you needed a couple of steps to install a new plugin. First step would be to click the Install Now button, second step would be to click the Activate link that shows up when the plugin installation has completed.
With the new version, WordPress has eliminated the second step. Now when you click Install Now button, it will automatically install and activate the plugin without asking you anything. The process makes plugin installation faster and better.
If you want to install a plugin but not activate it, though, you will have to go back to plugins page and manually deactivate it. It may be troublesome for some people, but chances are there will be tweaks in the future to control that behavior.
Installed plugins can also be updated by one click. No more going to WordPress Updates page and then click to update the plugin. WordPress 4.2 enables you to update the plugin as smoothly as you can install and activate a new one.
Renovated Press This Button
Press This is likely the least used WordPress feature to date. Though I could be wrong, the button deserves more attention and user than it currently has for the feature that it offers. If you're not familiar with Press This button at all, don't feel alienated. You're not alone.
Press This is basically a bookmarklet that stays on your browser's bookmarks bar. Whenever you're visiting a website that you like and want to write on your site about, you can click the Press This button, and it will do its magic and import some content from the site into your WordPress editor, a link back to it, ready for you to write more and press the Publish button to share the word.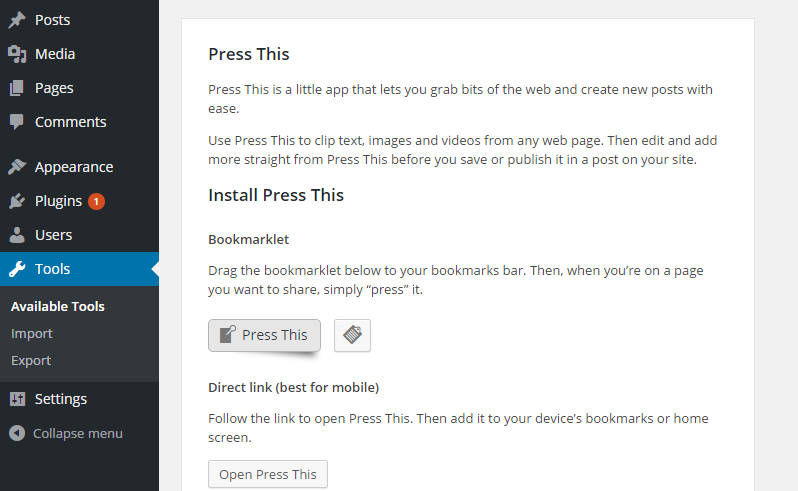 Press This button works on any website on the web. What's more, if you're on a website that supports oEmbed, such as YouTube, Twitter, Instagram, etc., then the button will also import the embed code for that content into your WordPress post editor. So imagine watching a YouTube video, clicking the Press This button to write a post about it, and having the video automatically embedded into your post just like that.
There's another Press This link that you can find on the Tools page of WordPress 4.2 that will enable you to use the same feature from your mobile browser.
Updated Emojis
You may like them, you may not like them, you may not care about them at all. But there are tons of people who love emojis and WordPress 4.2 will have built-in support for emojis. Whether you're writing a post from smartphone or you're looking to add emoji on the post slug, as long as you can write text, you will be able to add emoji to your WordPress-powered website.
WordPress 4.2 will also include a number of new under-the-hood improvements and bug fixes. Right off the bat you will also notice a slightly changed color in the dashboard menu. A full changelog will be available when the new version has been released. For now, you should update your site to WordPress 4.1.2, the security update that recently went out and is strongly recommended for all sites running WordPress, and keep your fingers crossed for the new WordPress release.