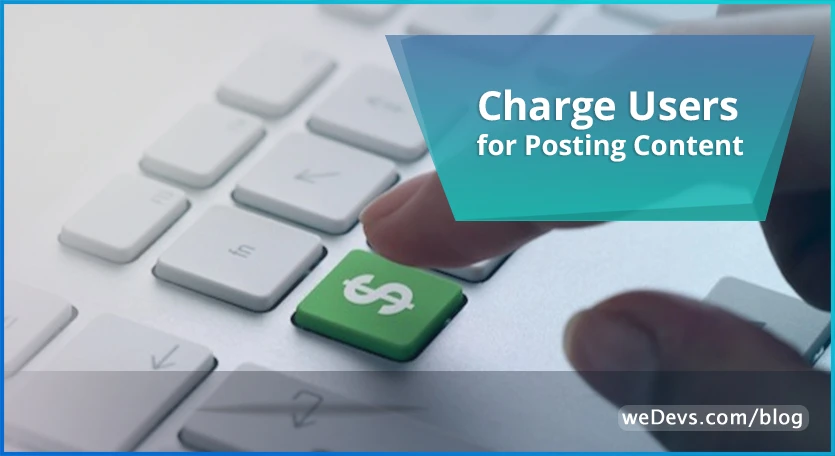 Charge Users for Posting Content
Charging for Contents? What's that?
Your site needs feeding and there are more people out there who would do it for you. The best thing is, you can charge for it. WP User Frontend enables you to charge users for posting content and all.
If you are running a blog, a content portal or a large marketplace then you will need a lot of quality content and products to be crowding your website. You or your associates might not be enough to generate all of them. But if your site is really that credible and has growing traffic then there is good news for you! People would be crawling to put their contents or products on your site for publicity or advertisement.
Your need for quality content and revenue both can be met by a simple trick. People can showcase their contents, images, videos, products or product reviews on your site and you can charge them for promoting those items. Many sites have opened up a huge businesses just basing on this principle. The bigger your viewer base is, the higher chances you get for advertisements and your charges.
Let's consider the same thing from a different perspective. Say you have a market, not a blog. So now, if someone needs to sell something very urgently, like a car or a house, he/she would want to put it up somewhere important with a lot of people looking at it. The same way you would put "House for sale!" on the porch. But if you'd have to put the same sign on a highway billboard, you would have to pay the holder.
This works the same way. You maintain a nice site, manage reputation and good design, people post and you earn money twice. If you are doing good enough, you might even attract large companies to sponsor you.
Subscriptions for Payment
You can offer people to pay per post or open a subscription pack with limited post numbers and validity to appeal to different kinds of marketing people.
Some people would want to post to your site seldom or even randomly. But again some are regular marketers who need to post regularly. Posts can be of any type depending on your site's nature. Some sites only share funny contents where some markets depend on high-value auctions, sales, etc. Post charging is thus done likewise.
What's the Tool to do it?
WP User Frontend is a frontend-based form submission plugin for WordPress, excellent for gathering user posts or enlisting products. This can be used as the most perfect submission platform and display for any kind of site, because it is highly customizable with themes and has a wide range of features. If you have a WordPress powered site, or want your content to be collected from a separate site, WPUF is the just the thing.
Why WP User Frontend is so good?
When you are dealing with many users and handling a huge number of orders, what first comes to mind is a content management and site security. Since WPUF runs on WordPress, it is quite secure. In case of content management, WPUF has an elaborate post meta, taxonomy and tags and all your contents count as posts. So, it is easier for you to track and sort posts, check post hits, create SEO or set a post-expiration date. Let's note some points:
Frontend: WPUF has a frontend interface for post-submission. So, people will find it easier to use and it can be customized anyway you want.
Open Source: The plugin is completely open-source. So if you like it or see a potential that you can use, you are free to customize the codes.
Subscription Packages: You can create subscription packs for your users absolutely any way you want. You can create post limits, subscription duration, and post validity, etc.
Security: WordPress is the most secure CMS on the web. Plus, because of WPUF's frontend feature, users never need to go backend of the site which keeps your admin panel unseen.
Payment Gateways: WP User Frontend supports several gateways including PayPal. So, paying your subscribers for their posts will not face any limitations.
Custom Post Types: With custom post types, you can restrict or categorize the submitted posts more easily and handle a volume of features. It also comes with the ability to set custom post meta, taxonomy, and tags for further categorizing.
What Can You Create to Charge?
Many sites offer content posting for free. But that's okay. It creates balance. But if you want to charge people to post on your site, the options are also promising. With WP User Frontend, you can create any of these mentioned services.
Blogs/ Content Portals:
One of the very common things you can do is open an audience-targeted site with news, recent events, or creative guides. At first, you can let it run for free. That way you will grow a list of contributors and subscribers. Then you can extend it to a paid membership section where only the best of the best stuff will be posted. You can charge your content creators for posting in that section. WP User Frontend supports all sorts of the photo, audio text, or video files.
Or,
You can promote a campaign by allowing them to post on your blog and charging for those posts. Similarly many sites charge companies for posting reviews of their products or softwares etc.
The more you grow, the more you can earn from advertisements. Even your site advertisements can be submitted through WP User Frontend.
Listing sites:
You can even create a product, auction, or any kind of other listing sites with WP User Frontend. Say, you want to create a site where people want to list their items for selling later or just to get exposure. In such cases, people will be willing to pay to get their content up. If it gets better, you can even curate the virtual gallery and raise the charges.
But if you stick with products or auction, you should know that User Frontend is fully compatible with WooCommerce and so, you can use it as a transaction point for your business.
Contest Submissions:
Many contests have an entrants fee. Say you are hosting an online design contest for professional designers and you want to charge whoever wants to post their work. Since WP User Frontend has built-in payment gateway support, users can log in very easily, upload their files through User Frontend's file-sharing system and pay for his submission at the same time through the integrated gateway.
So much in a single software and there are so many other possibilities!
You are a Click Away!
Try out WP User Frontend for free which comes with a handful of features.
Resources:
Learn more about WP User Frontend at their product page or documentation site.
You can also check videos of WP User Frontend in action.
Since WP User Frontend is offering you so much to do for free and so much more can be done with it, you might want to get a pro version and get regular updates, support, full features and new features added regularly. It also has a line of paid add-ons to extend your features further.
Buy Now! Don't wait.