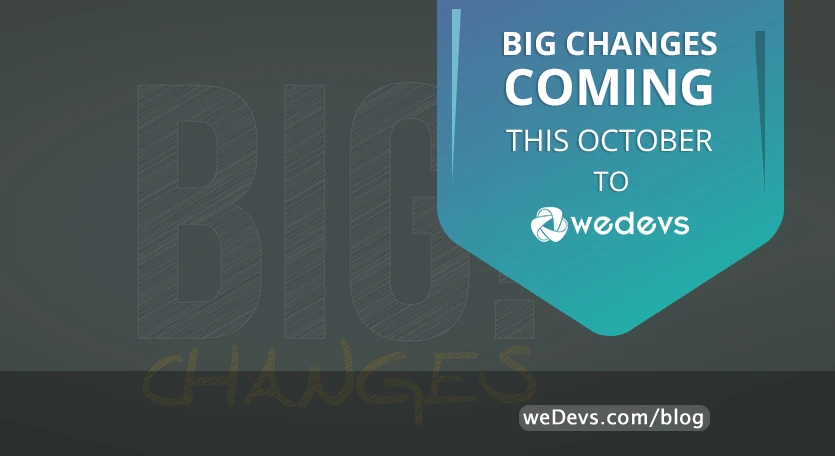 Big Changes Coming this October to weDevs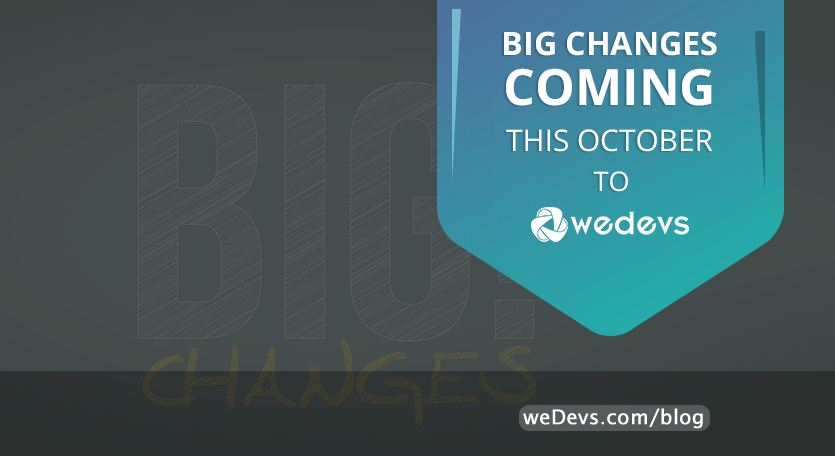 We are bringing some huge changes to weDevs this October. Our customer support facility and experience will be redefined to improve our services and ease our management. As our customer base grew bolder, our existing system faced troubles and it needs to grow as well to raise the standards. We are excited about these changes as it will benefit both us and our users.
Let's take you through how we plan to do it.
The Problems We Faced
FORUM
We are leaving the support forum and moving on to an alternative (Helpscout). Honestly speaking, forum has become a less effective system and many new better alternatives have come to light.
– If you are a regular user of our forum you might have noticed that earlier this month our support forum was spammed and we had to spend around 2 hours to get that dirt off our turf everyday. We do not want that to happen again.
– People have been commenting on other's threads, which created a hindrance to provide proper support. Sometimes, a customer who does not have the same problem are commenting on others threads which is creating more confusion and slowing down support. We try our best to solve your issues but these are just making it hard.
– Sometimes our users need to share login information for support, which we take through personal emails. But some users accidentally or unknowingly posts their login details in the support forum. Though none of the users account has been compromised yet because we immediately remove them if it happens.
– It is actually hard to track users requests, purchase status and support status through the forum. Having these info would be very handy to provide a better support.
Improvements We Are Preparing
– We are moving to a ticket based support system using the amazing Helpscout. With Helpscout, our users will not need to create an account and get support from the convenience of their email. We on the other hand will have a interface with the customers details. So, it will be easier for us to back track user history and provide a better support. Yoast embraced this same policy and were able to reduce support times down to just more than a minute from 7 minutes. We are expecting a similar speed from our support after this change.
– Providing support with Helpscout will also increase security of information and a more individualized support can be provided. Spamming will be bye bye. We will have all your purchase, update history and other relevant info displaying readily on our side.
– We are also designing a new documentation site with better usability and interface. We can integrate this site with Helpscout and then we will be able to search and input docs from the support directly. Helpscout also has a reporting feature to check for support docs which were searched but not found.
– Also, users will not need to go back to forum to check replies back and forth. They will be able to create a ticket form our site and get all the followups from email. You probably have noticed that WordPress themselves have started to roll out password resets through email. Email is just better and secure.
Upcoming Changes planned for October
– Our pro add-ons might come with licence from now on. So, if licences are introduced, you will be able to use the add-ons just like the main plugin. Licences may be divided for either one site or multiple sites. Licences can be made recurring so that you can just subscribe and forget. We are still discussing the matter.
– We have already mentioned a few weeks ago and you might have already seen it in practice that we are updating our plugins on the go. Which means if we find a bug or add a feature or make some tweaks, we push the update instantly so that you do not need to wait anymore. For example, Project Manager was updated 6 times this month only.
– All the free plugins and add-ons are now managed from GitHub repository. So if you are a developer, you can always log in to github and check our last commits and branch developments.
– We are adding a happiness rating to our support when we move to Helpscout. So, you will be able to rate a good support or mark if support was not helpful. We will check your ratings and work on it.
That's all I can tell so far. If you have some comments or suggestion which we should focus on this refresh, let us know in a comment below.