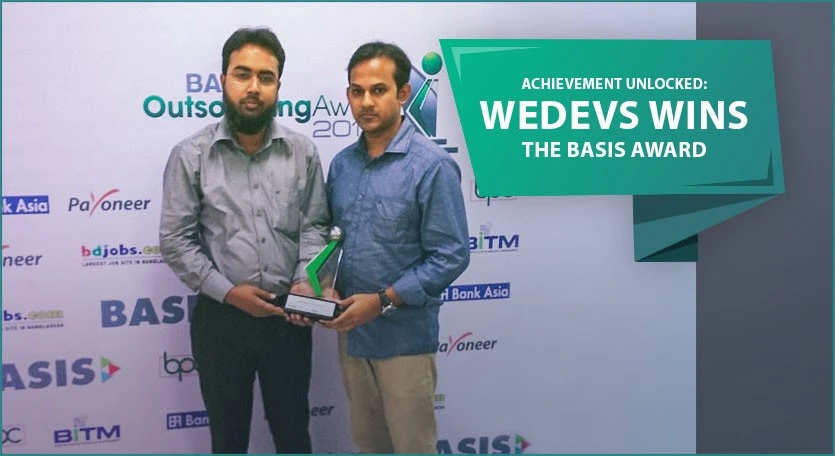 Achievement Unlocked: weDevs wins the BASIS award

Winning Feels Good
We very humbly want to inform our valuable clients and users that we have been presented with "BASIS Outsourcing Award 2015" on startup company category for playing a leading role in the industry by Bangladesh Association of Software and Information Services (BASIS) on last 2nd November at the Diploma Engineers Institution, Kakrail, Dhaka.
We are humbled
We worked really hard over the years and your support have been vital for us to continue to push our limits. We started as a really small start up in a small room back in 2012 of only a few people, hardly around a team of 7 has now grown into a family of 22 passionate WordPress village.
We wholeheartedly thank the Almighty and all our clients, contributors, investors, developers, support engineers, even the chaayewala basically everyone who has ever helped us with our hard work and inspired with positive energy. It really would have never been possible. We request and depend on your trust and support for us to help ourselves grow bigger and stronger so that we can bring change to Bangladesh at a national level. This award came to us as a nationally recognized respect, we promise to work harder to bring the benefits of the web to all the people.
The award was handed over to Tareq Hasan and Nizam Uddin, the company founder and the co-founder/CEO of weDevs Ltd.
A Brief of Our Works
We have more than 20 WordPress plugins, plugins which make complex work easier and manages them smartly.
3 of which we are reputed for are Dokan, WP Project Manager and WP User Frontend.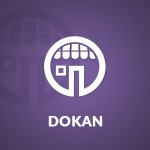 Dokan Multivendor marketplace is our prime product with more than 1200 paid customers and more than 7000 downloads on the free version. Dokan is the only fully frontend multivendor ecommerce platform for WooCommerce. With this plugin, anyone can create a market like Amazon, eBay, Etsy or Bikroy in minutes. All reputed international gateways and local bKash payments are supported. You see, we have created a solution for the world but we didn't ignore localizing it.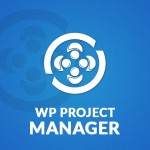 WP Project Manager let's you manage your projects online with the features similar to Trello, Basecamp etc. The most charismatic quality of our project manager is that all the other solutions focus only a side of project management,  but none of them provide solution for all the aspects. Our plugin can handle projects in Gantt type charts, Trello like cards, Google like calendars and much more. Guess what, it is also frontend.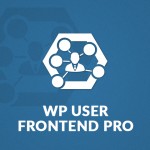 WP User Frontend let's you create custom post types and forms to enable you to do a vast spectrum of work to be done easily. Creating contest submission platforms, WooCommerce uploads, database sites, listed auction sites etc, anything that you want to be built can be done from Frontend with this plugin. This plugin was built to handle massive data and it is very secure.
Freedom
To keep up the goodwill we have always created free versions of our plugins which are extremely powerful non the less. We didn't carelessly ripped them of features. Please feel free to download and try any of our free plugins and since they are open source, you can customize them too. Our free plugins can be found on WordPress.org repository or on our company site wedevs.com
Our Upcoming Projects
Our ERP solutions are on the way. This is just the start of a flow of good news about to come the next year. We have already sponsored more than two WordCamps this year including WordCamp Pune and upcoming WordCamp US. When ever there is some event, we are sure to launch discounts.