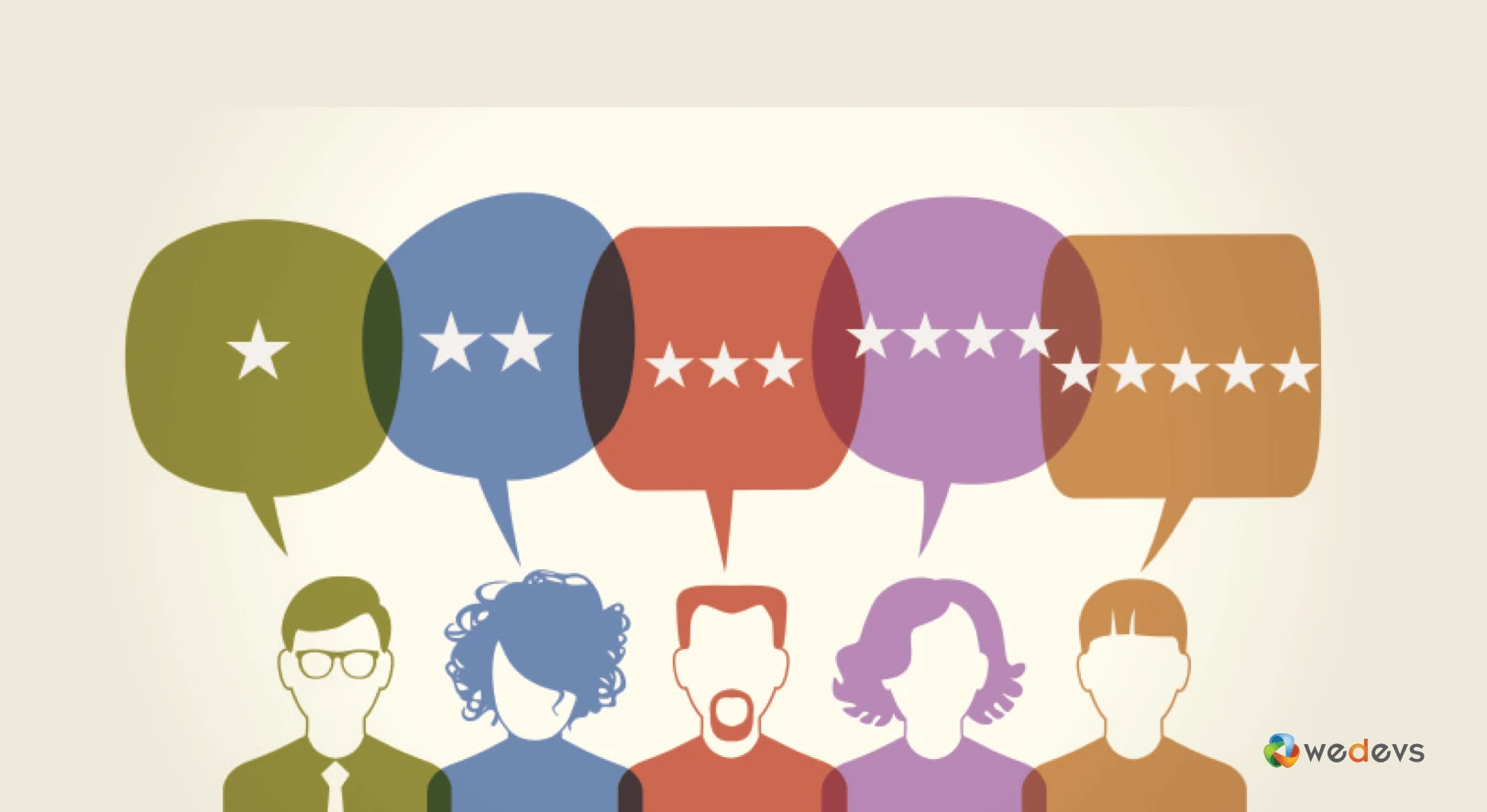 How to Use Product Review to Increase Popularity and Sales
Did you know – about 63% customers tend to buy products online from stores which have more and better reviews and ratings? Reviews have proved to work like magic for your store's sales and reputation.
Product reviews are one of the most efficient ways of branding and marketing of your online store. A good review can always increase the popularity and reliability of a product. You may know about the term 'Word of Mouth', which is a medium of communication between customers. Reviews serve the similar purpose for the online stores.
When a customer reviews a product, they put their name behind the recommendation. This makes it even more valuable. Other customers often check the reviews and it influences their decision of buying.
In today's article, we shall talk about the benefits of product review in your Dokan store. You will also get to learn about useful tips on how you can increase your store popularity with it.
Let's have a look into the benefits before checking out the tips.
Authentic and free advertising for your store
With positive reviews and customer satisfaction, your store gets free advertising. Though it comes free, it is more effective than spending on advertisements or campaigns. Customers  expose your products and share their experience when they post a review. This hugely increases customer awareness, trust and reliability of your store.
Optimized search results to support your products
Search engines display results depending on the number of time a keyword is used. A customer posts a review mentioning your business name. Search engines like Google take that into account and display your business name in the search results more frequently.
Recommendations from customers can increase your sales
A product review is like peer recommendation and it is more trustworthy to your customers. Customers will look for other people who have already used that product online. When they find a review, they seem to believe it more than what is mentioned in the advertisements. Research shows that about 90% of customers trusted recommendations from people they know and 70% trusted reviews posted online. This makes reviews a powerful form of marketing.
Constructive suggestions open new doors of improvement
You will get suggestions from your customers through reviews. This can be a great thing as you will get to improve your products by resolving customer problems. This can turn out to be a great business practice and increase customer loyalty. Product reviews also provide you criticism, which leads to new opportunity and improvement.
Attracts more customers and connects them
Product reviews are a form of communication which creates a better understanding. It also showcases your products online. By this way, other customers can see them and develops a relationship between customers.
Tips to use product review for increased popularity
You can ask your customers personally to post a review after purchase.
The review process in Dokan stores is very simple, customers can easily post reviews.
You can also offer loyalty points for each review to your customers.
Optimize your store for better reviews.
Approve both positive and negative reviews as a mixture will make things more believable.
Consider customer suggestions for improvement.
Product reviews work amazingly in Dokan
Dokan Multivendor has built-in product review feature, which can a great tool to increase your product popularity. Navigate to- Seller Dashboard → Reviews. You will find all the reviews segmented as published, pending, spam and also trash. You can approve pending reviews and display them on your store page.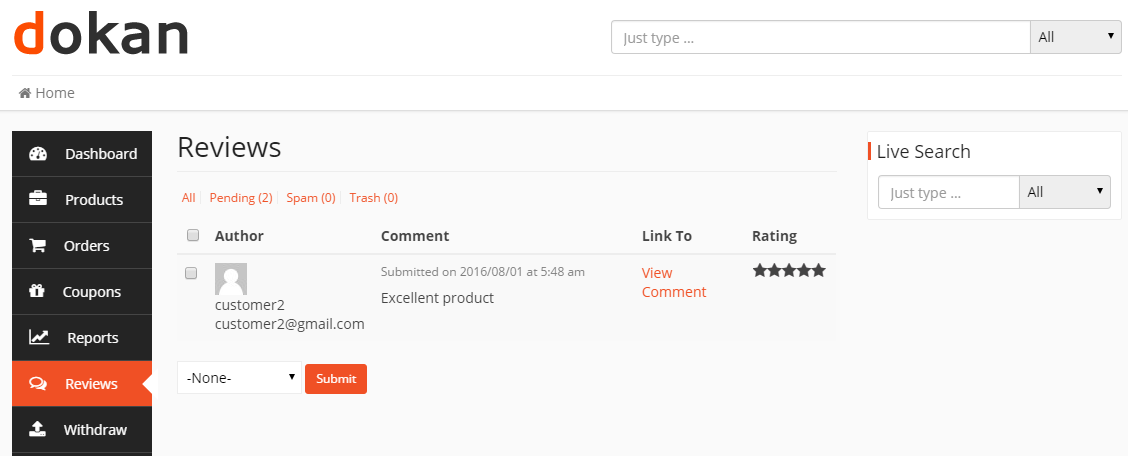 Click on the Pending tab and you will see all the pending reviews and you can approve the ones you want. All you have to do is to check the review and select the action you want and click Submit button.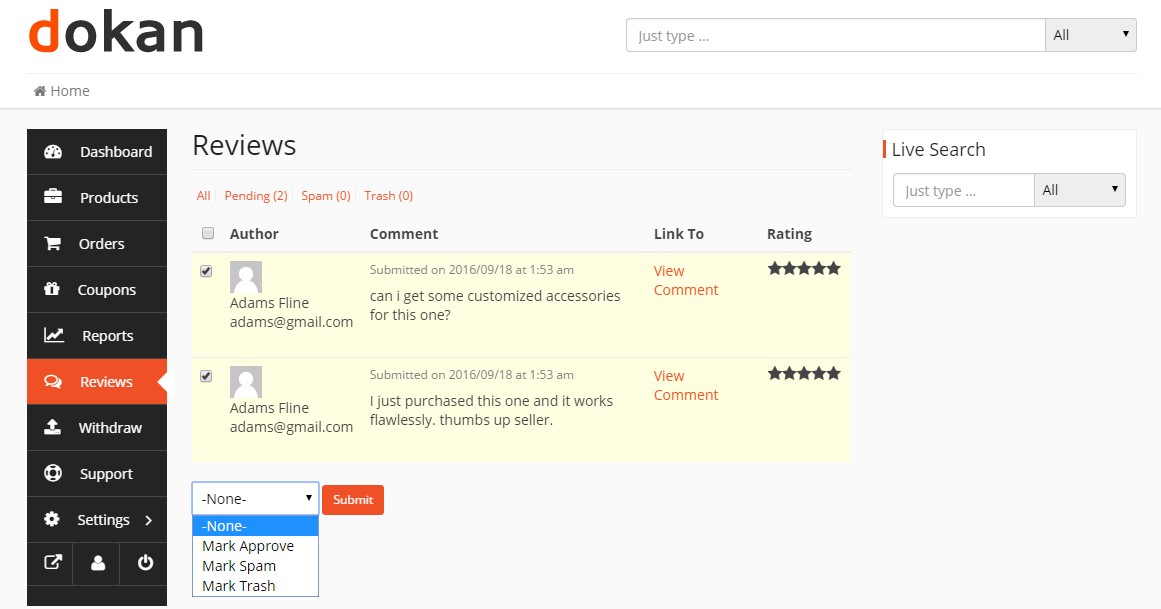 This will display the approved reviews on the product page and also your store page. You can display reviews as peer recommendations on your store page and it effectively increases the popularity of your store.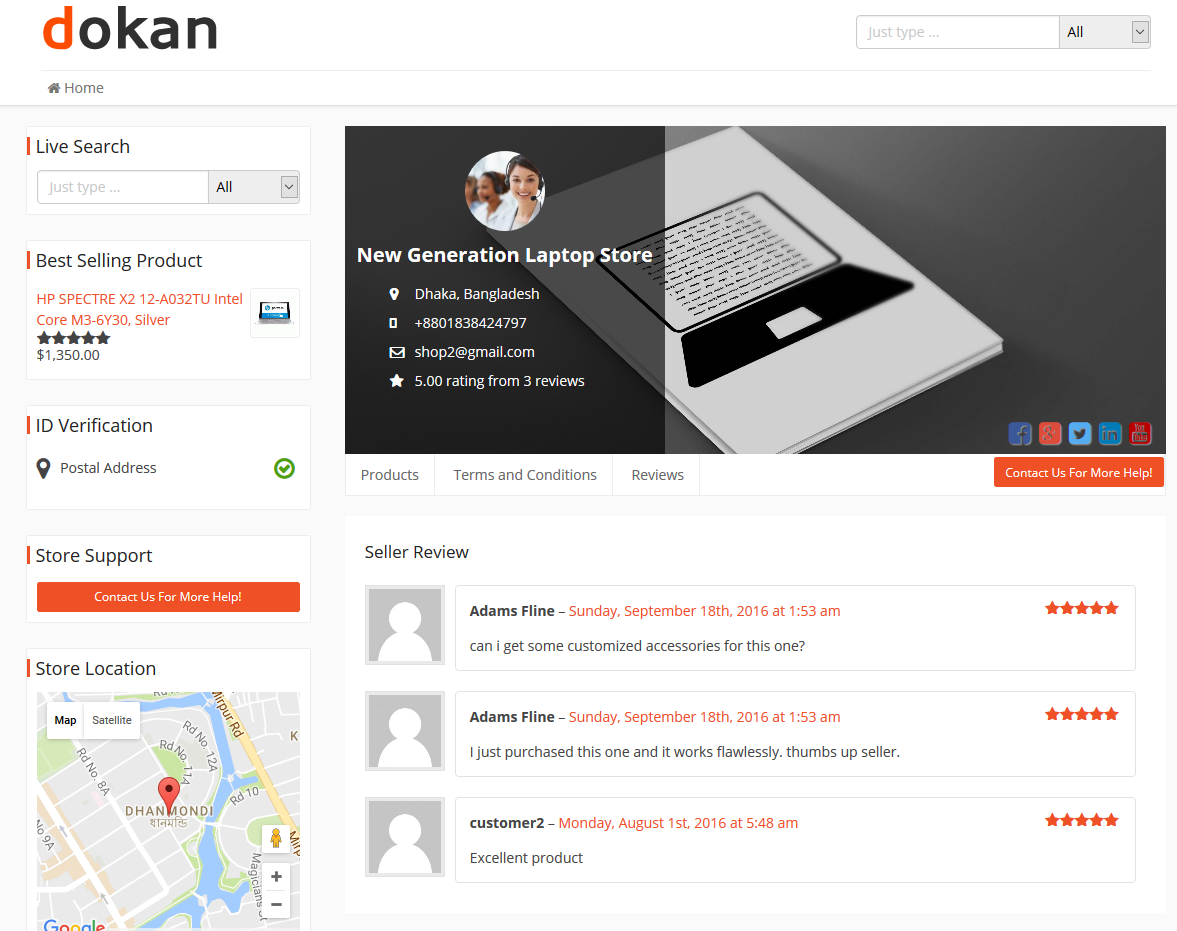 Did you like how Dokan handles reviews? You can get Dokan for yourself!