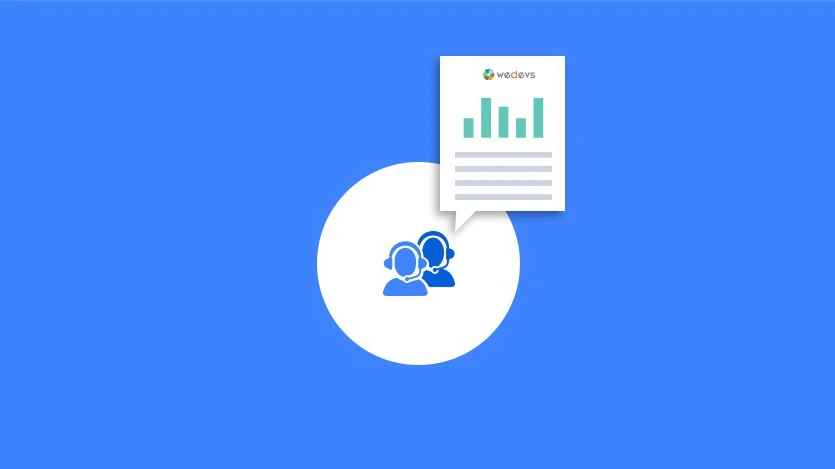 weDevs Customer Happiness: Starting Amazing 2017
At weDevs, we love taking our solutions with our clients to heights. We may build more features, release 20 more plugins, make more in sales – but it will not matter if we do not stay with the people who are using it. Which is why, our support team is dedicated to provide you any help you need to get you started with your marketplace, enterprise, or team productivity.
We have had a really great run in our support team this month really. We celebrated the new year with most positive reviews (5 stars) on our WordPress.org repository and managed a quick response rate. When we make efforts for our clients and see that they are getting a good result, we know our work has made something greater.
We want to take you into deeper insights from now on. This is the first installment of our journey. You can hope to see more insights like this in 2017.
Our reformed team strategy
We have doubled our support force, gave them special training, enriched their development knowledge and based on their performance, dedicated them to specific plugins only.
As a result, every plugin has the issues funneled down to their representatives and dedicated developers are always on standby to fix them. This was the key element which changed our support game entirely.
Reviews
We have received Nineteen 5-star reviews just on Dokan, our most popular plugin famous for building multi-vendor marketplaces. That's just the cherry on top.
Here are some of the best reviews: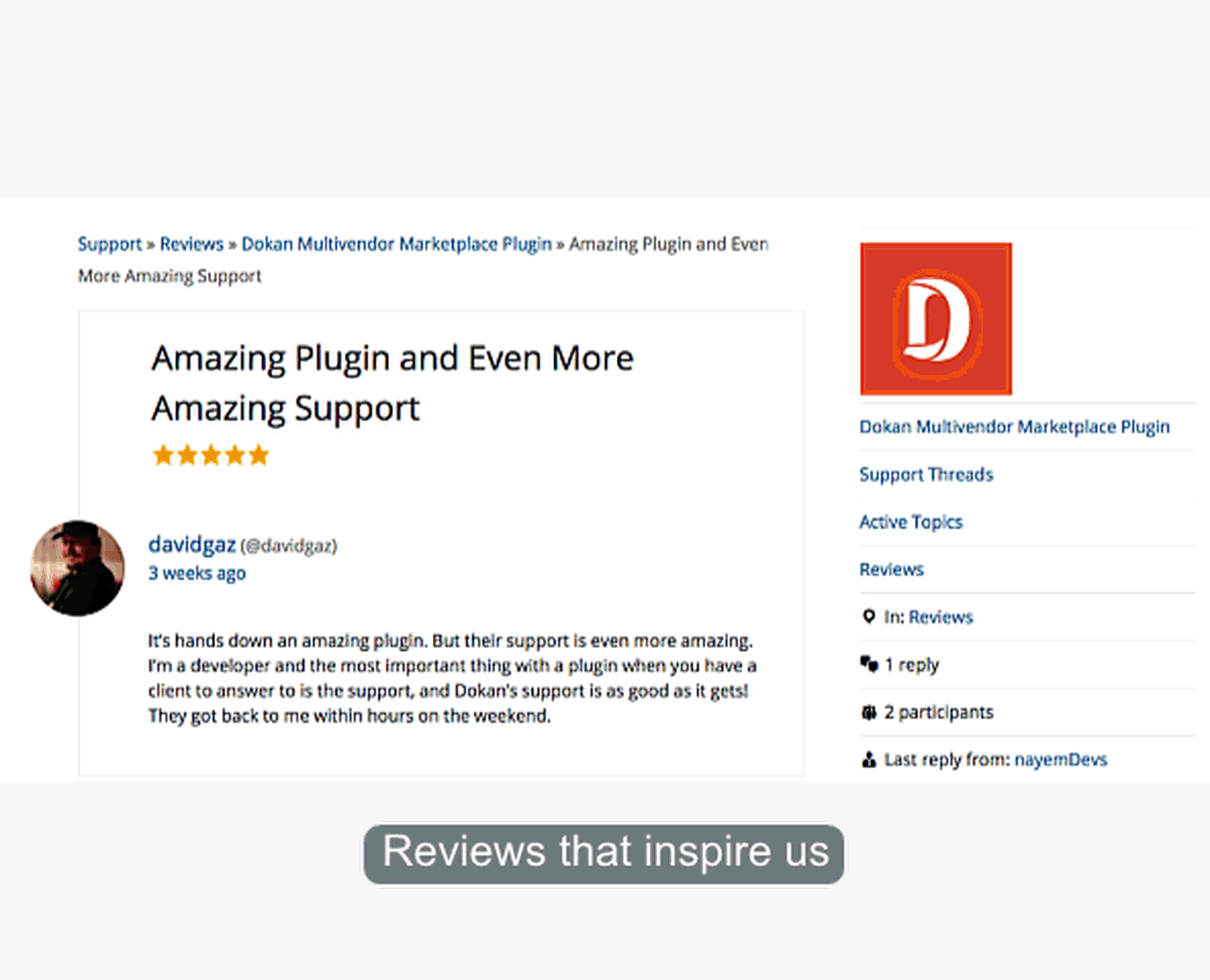 Our flagship plugin, Dokan Multivendor Marketplace got the most of the reviews. People have addressed it as an amazing plugin and stated that they had a great experience for the support staff.
Some of our clients have also clarified the negative reviews about our support. They indicated that weDevs support is very good and they are also reactive. Most importantly, they addressed Dokan as a very good and perfect plugin for sellers.
Next, we have reviews for the WP ERP and clients were satisfied with the support team. They got their issues fixed very quickly so that they can get started with the plugin.
We also got reviews stating Dokan Multivendor Marketplace as the best multi-vendor plugin. When the issue is too complicated, our developers handle them directly. Sometimes we break the rules to help our customers. Our solutions are trusted and time tested over the years. Collaborating from the other side of the world can be tough, but we make it happen. People are even happy with the pricing because this customer said it was worth it. 🙂
Improved response time and issue handling
Digging into the cake, we also see that we have also resolved a significantly higher number of issues than past months and yet the responses got quicker. Here are reports from our support channel:
The overall performance of our support team
The following report of our support team shows that they have helped a total number of 1016 customers in January. The average reply per day was 117! They have closed 2458 issues this month.

How much we worked
The productivity reports clearly show the dedication of our support team. They have sent total 3401 replies and resolved 351 problems.
You will be surprised to know that, 45% of the issues were resolved on the first reply. This is really outstanding.

How our customers rated the tickets
Now, we will present the happiness report of our customers so that you can get a clear idea about how good our support is. The reports illustrates that 79% of the customers were happy whereas only 14% of the customers were not satisfied with the support. We also have 7% customers in the middle, who were okay with the support.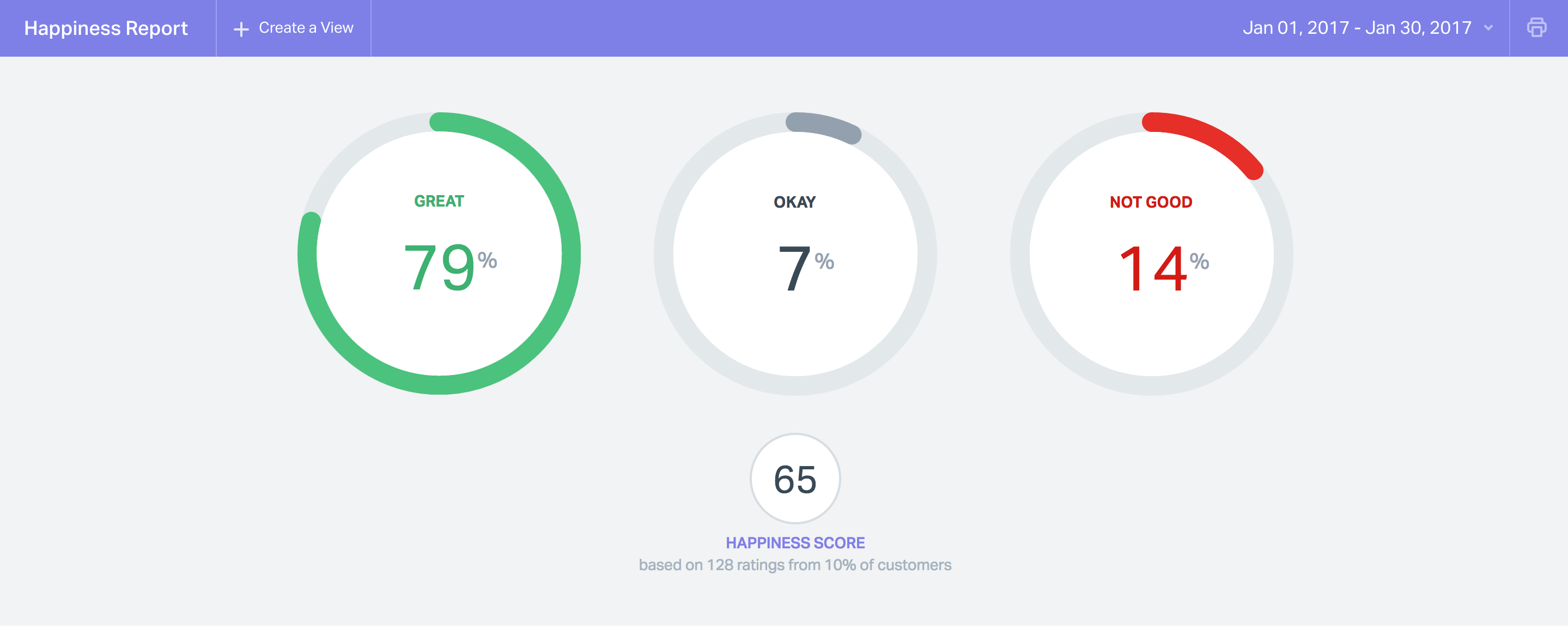 How many tickets we handled
In the month of January, our support team handled 3479 conversations among them 3253 were new ones. The total number of customers were 1112 and the average conversation per day were 115. Tuesdays have always been the busiest for our team.
Why does these matter?
Good reviews, good feedback and statistics gained from these help us to set our goals, figure out where we are improving, where we need to. Like our team strategy, it was developed from such analytics and after practical feedback we know it is the right thing to do. Not only that, it also keeps our moral high.
Bug fixing ?
A combined number of 40 bugs were reported during January from all our plugins and extensions. We fixed them all.
We have already moved to a much stable product base right now for Dokan and WP User Frontend. Wp Project Manager is being heavily worked on and expecting a bug-free, stable and refreshed plugin by this April. Here is a list of issues on each plugin:
Dokan → 16
WP ERP → 3
WP User Frontend → (Free 6), (Pro 11)
Project Manager → (Free 1), (Pro 3)
Released plugins and extensions ?
Updates and new releases mean extra pressure and testing for our support staff. Which is why we have moved to a report based system where we filter the functionality and use cases first hand for the team so that they can absorb the material more efficiently. All of our plugins are always in use by our support staff so they know exactly how you interact with it.
In January, we released 5 new extensions from weDevs, they are –
QR code generator for WP User Frontend
Stripe Gateway for WP User Frontend
SMS notifications for WP User Frontend
Vendor rating and review for Dokan
And 4 extensions from WP ERP
WooCommerce integration for CRM and Accounting
Now its time for your input
We believe that this month has been a turning point for our customer happiness. We only hope to continue this flow and give you better in the coming months from weDevs.
Your valuable advice are always welcome to us. Please drop by in the comments section or mail us at info@wedevs.com for reaching out.