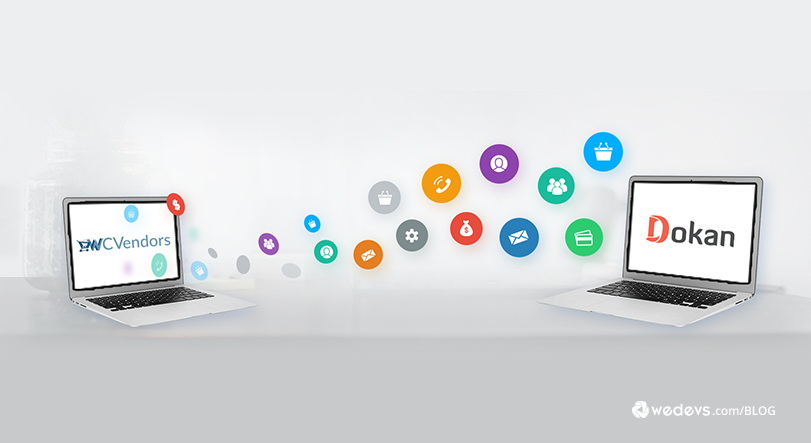 How to Upgrade Your Marketplace: WC Vendors to Dokan Migrator Plugin
If you are a marketplace owner who wants to start using Dokan Multivendor and currently using WC Vendors, there is a good news for you. Your fear of losing order details and vendors are no more!
Many people often ask us about the differences or similarities between Dokan and WC Vendors, so we had made this features comparison. We realised that rather than explaining this to them, why not give them something where they can actually experience the marketplace with his/her current transactions loaded into Dokan. So, the importer was built in such a way that you will not need to go back to WC Vendors any more.
This free plugin is a game changer. It has made moving your existing marketplace sellers, vendors, orders amazingly easy. Solutions like this should exist between all ecommerce platforms. Because, if you want your users to get onboard quickly, there is nothing better than opening it up across solutions and platforms.
Since Dokan and WC Vendors are both based on WooCommerce, most of the data they manage are the same. The only thing that is different is the way they manage it.
How does the migrator work?
It is really easy actually. Just simply install this free plugin and then use it to import the data.
This is as simple and easy as it gets. You will only need to import Vendors and Orders to get everything from your WC Vendors powered marketplace into Dokan. Depending on the number of orders or vendors, this will take you less than a minute to several. Then you will be ready to go!
Here is a complete documentation of the process.
Take this review from a WordPress Forum User for example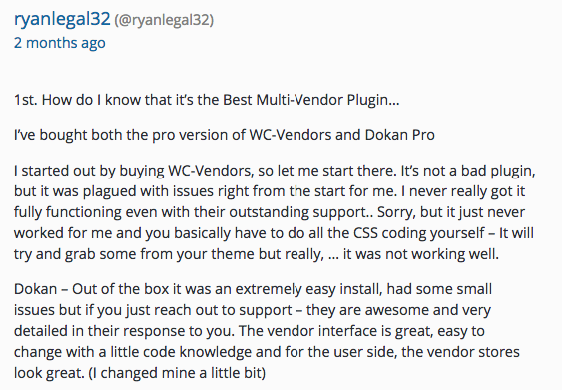 This guy bought WC Vendors and it didn't work out for him. Ryanlegal32 faced the exactly same problems we mentioned above. He had issues with the interface, pricing and support (No. 3 & 4 on our list). Now he wants to switch to Dokan. With the migrator plugin, he can do this in seconds. He has already invested a lot of effort in setting up and trying to make it work, he should not need to spend more energy on migration anymore.