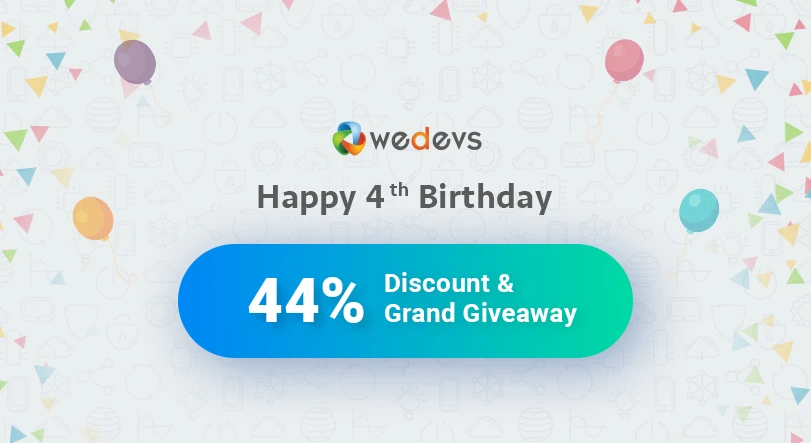 weDevs 4th Birthday 2017: Big Discount & Giveaway!
It has been 4 years (2017) since we launched as a company and we are humbled to see where weDevs has come. On 18th March 2017, we are celebrating our anniversary with a bigger plan to give back as a display of respect for our well-wishers.
We have designed a giveaway for our clients and a discount for anyone who wants to get any solution from us. But on that soon, I am getting a little emotional here and so I will talk shortly about the journey.
How we came to be
At the very very beginning, in 2008, before we even became a company, we only were a blogging site. We developed small themes, plugins and covered reviews, tutorials. Which is why we still blog very passionately on tech.
It is during this time where we picked up our love for WordPress and Open Source development from the community. After some experience and learning, we started as a startup company in 2012 and offered premium plugins. Our company took off like a rocket!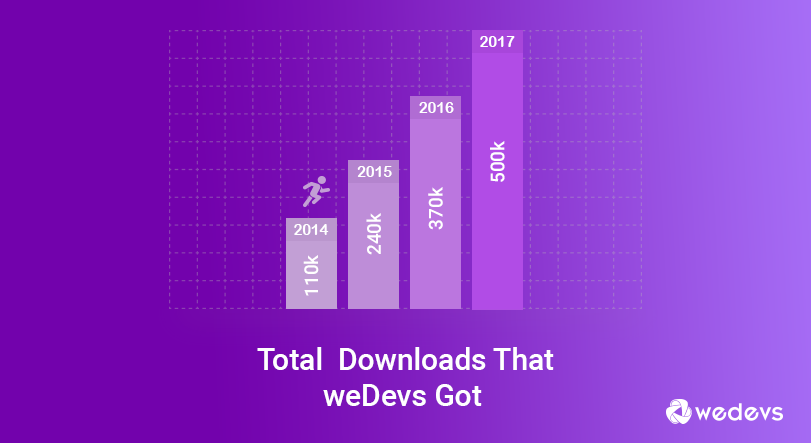 We never thought we could come all this way. Now, after 4 years, we have become one of the biggest WordPress companies in the region holding a 30+ member and several departments with 4 major plugins.
We have launched WP ERP, the first-ever complete and free ERP system on WordPress, built from scratch. We have sponsored several WordCamps so far and contributed to the community when we had the chance.
weDevs now have an assembled lineup of 50+ paid plugins, several themes and many free plugins. These products have given us 500K+ unique installs and 20K+ premium users from all over the world. We now serve customers whose business are located mostly in North America, Europe and Asia.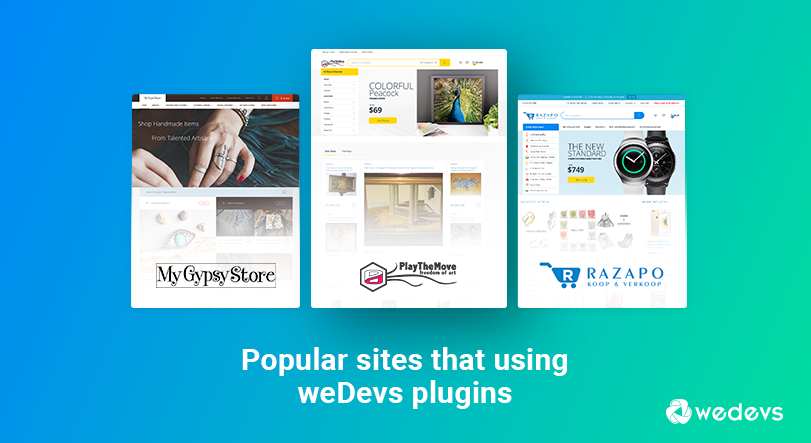 The Anniversary Gifts
A Discount for All
All users of weDevs products will avail a 44% discount on everything. If you are using Dokan, Project Manager or User Frontend, this is the best time to switch from free to pro.
This offer is effective immediately and will be valid till 21st March.
Just imagine you are getting the best multi vendor marketplace, Dokan for only 111$ US dollars! However, all good things do not last long, you will get only 4 days to act!
You need a coupon code to make this magic happen. BirthDay17 is the spell you need to cast at checkout.
Giveaway for lucky winners
You can get any product of your choice totally free! The only limit is that you get to select only 1 (one) plugin or extension. But to avail it, you must complete this 2 min campaign we have setup here so that we can pick 4 lucky winners. This opportunity ends soon, hurry up!
Terms and Conditions of the Giveaway Contest
Each winner will be eligible for only 1 prize.
The winners will be selected automatically on the basis of their score earned in the contest.
Each participant can tweet about the giveaway campaign only once in 24 hours.
Each winner will be treated as a regular weDevs customer and will be eligible for services as any regular customer is.
Each participant will be added to our mailing list and sent resourceful and relevant contents once in a month. Nothing to worry, email newsletters can be unsubscribed any time.
weDevs holds the right to terminate any entry for duplication or other unethical practice.
Contributing to the community
It is true that at weDevs our foremost priority is to create awesome WordPress products for our users which will solve their problems and enhance productivity. But there is more to that, we always believe we should contribute to the amazing WordPress community that we belong to. We actively seek and consider any opportunity that will help our community to become stronger over time. For example, we helped arranging the contributor day to translate WordPress in Bengali under the local WordPressians banner.
WordCamps we took part in these 4 years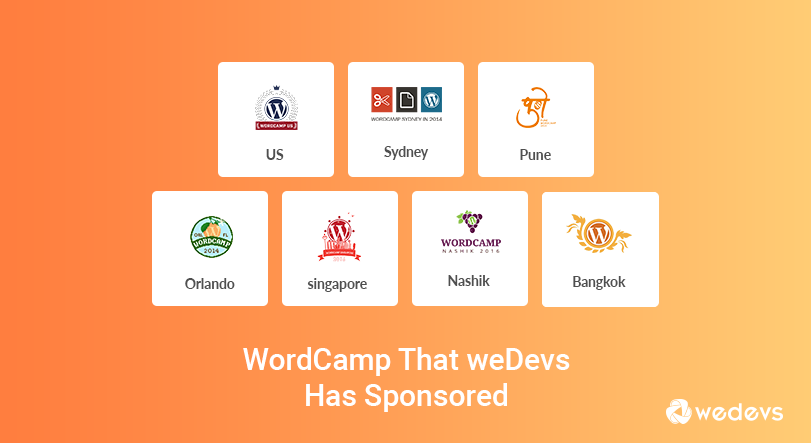 Our first sponsoring was back in September 2014, WordCamp Sydney. Sadly, due to visa related issues we could not attend the event. But our WordPressian friends kept us updated about the programs and all through social media.
Couple of months later, we sponsored WordCamp Orlando in December 2014. Bad Luck, something unavoidable came up and we had to skip our flight. As you may not know, our team was still considerably small back then and everyone had a key role to play. So, we had to stay back.
Finally, after missing out two anticipated occasions, we could attended WordCamp Pune and became their Angel sponsors (September 2015). The experience was amazing; we exchanged souvenirs with other participants, took selfies, made new friends and had loads of fun!
We sponsored WordCamp US 2015. We flew to Philadelphia to attend this mega fest and it was an exciting tour for us as well!
For 2016, we flew to Singapore with a big team to sponsor WordCamp Singapore.
As our company moved forward and we grew as a family, we tried to increase our level of engagement and contributions with the community. We were Gold Sponsors for both WordCamp Nashik and WordCamp Bangkok (February 2017).
Did you notice that our site got a new design?
The link is the same. We have totally revamped our website and reorganized the entire layout to be more stylish and easier to navigate.  Take some time to navigate around it. It looks good, doesn't it?
Results Ready!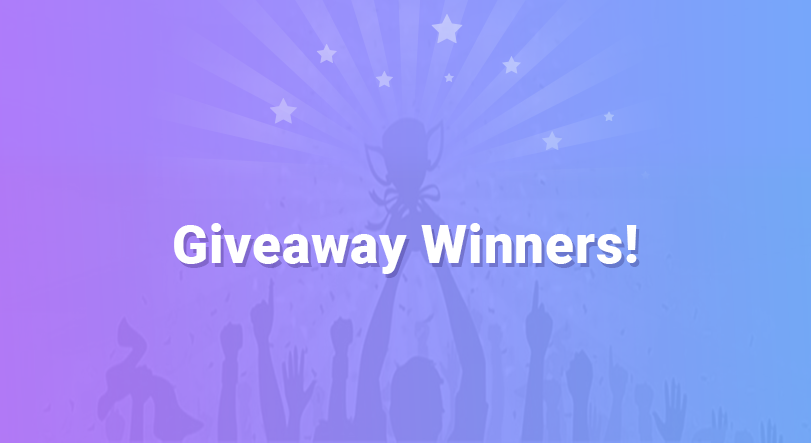 Our automatic selection process has given us the names of our winners. And our big surprise, we are rewarding not 4 but 5 winners! Also, our 44% coupon was used more than 400 times combined from weDevs and WP ERP to get powerful plugins like Dokan, User Frontend, Attendance, Recruitment, etc. We are now super busy talking to our new friends.
Here are the winners:
Faisal Hossain Shuvo (Dokan PRO)
Ahmed Nabil (Dokan PRO)
Dale Reardon (1 WP ERP Extension of choice)
Dannie Herdyawan (WP User Frontend PRO)
Dixon J Parraga (WP Project Manager PRO)
Big congratulations to you all! Each of you will get the plugin or extension you mentioned during the campaign. Check your email, our marketing team is already trying to reach you and waiting for your response. We have some amazing interview and promotion plans for you, so keep in touch!
Please hurry, we can only wait as much as the next weekend (Sunday, April 1st.) to get at least a response from you.