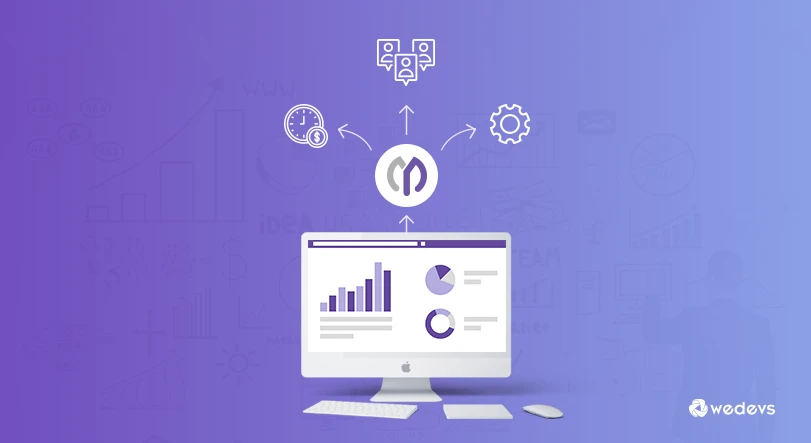 Managing Projects Made Easy with WP Project Manager!
Anyone who has been assigned to manage a project for even once knows how demanding this job is. You need to deal with loads of complexities related to task planning, resource allocation, team collaboration, update management and so on.
Project managers are often seen as the whiny person always complaining about things around them. This is because s/he is required to deliver too many tasks at a very short time.  It is also their job responsibility to talk to each team members individually about their requirements, plans, task priorities and execution updates. 
How About Solving All These Problems Easily?
What if we could minimize this hassle for managing projects? What if project managers could access all the task documents, team profiles, progress reports, discussions- in one place? You can buy all these conveniences in your life if you have a dedicated project management solution like WP Project Manager.
It is a WordPress plugin that solves all the pain points we have outlined above. It enables business owners and managers to handle their projects seamlessly and remotely in their WordPress websites. So, basically you are turning your WordPress website into a powerful project management tool!
WP Project Manager Exclusive Features
WP Project Manager is a feature-laden and user-friendly solution. Anyone who needs to manage a team or deliver a project on time can streamline their work process by using it. Let it be a marketing team, creative agency, software firm or support service team- WP project manager can help any management professional to become more efficient and organized.
Now we will give you some guidelines about how you can use WP Project Manager for your projects.
So, lets get started!
Create Your Projects with a Few Clicks
You can create countless tasks and projects easily with WP Project Manager. An option box will appear when you click on New Project in the main menu. Then your priority would be to name the project and write a short note on it. Add relevant members to the project and assign different user roles to them. Tick "Notify Co-workers" box to inform teammates.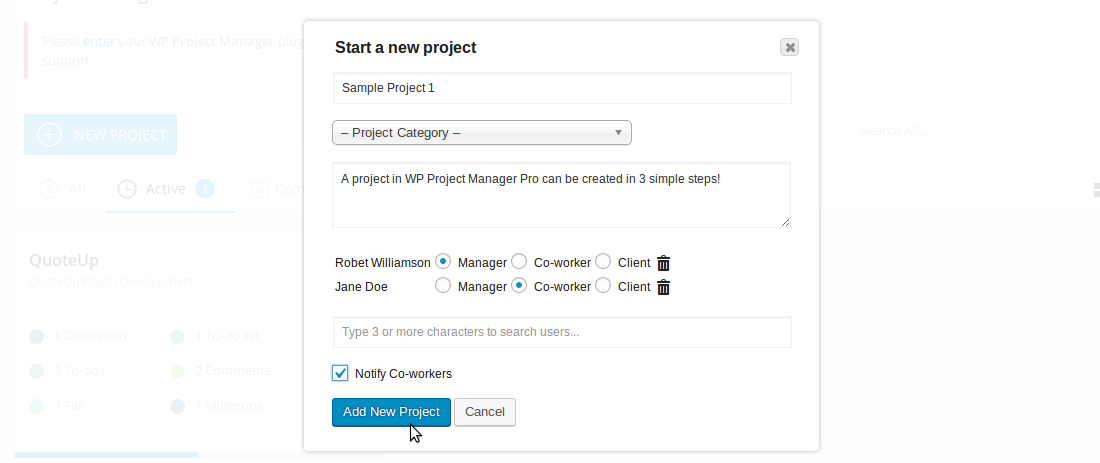 Break-down Projects and Assign Milestones
This is an extremely useful option since it allows you to break down the projects into multiple achievable tasks. You can add milestone or time range to the sub-tasks as per your requirement. It will help you to meet project deadlines with considerable ease.

You should use this option for your ongoing tasks. But what if you have not started working on a sub-task and kept it for the future? Simply add it in the to-do list. The option is located next to the milestone option.
Collaborate through Discussion Tab
The makers of WP Project Manager realized- it is important to let users be more participative with a discussion tab. It works as an open chat room for the project members allowing them to share their task updates and notify team members.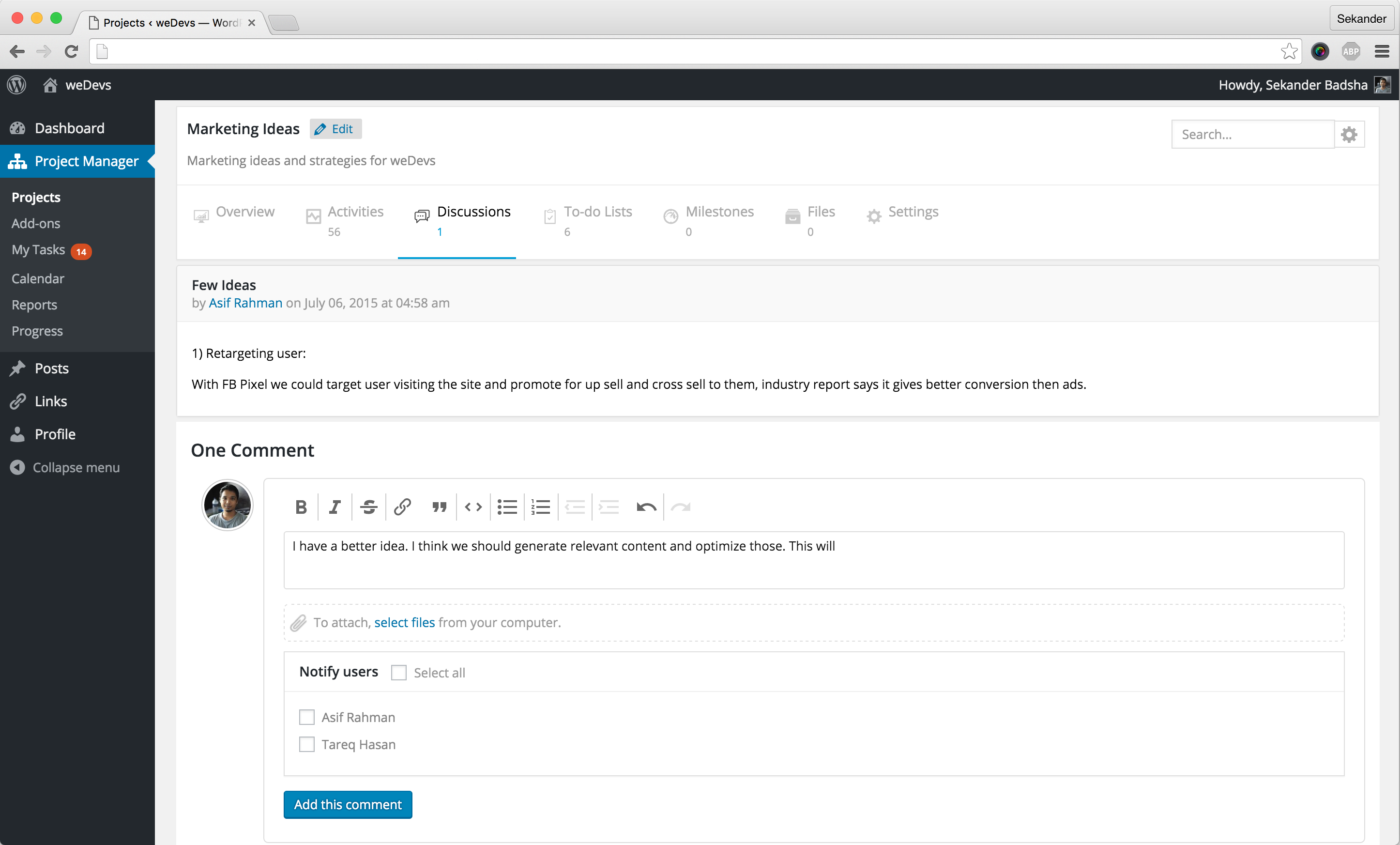 Share Necessary Documents with Respective Teams
You can also share necessary documents or knowledge resources for a project in the Files tab. It helps your team to exchange ideas without facing any hassle or inefficiency. For example, it is mandatory for a creative team that designers collaborate by sharing .ai or .png files with each other.

Assign Appropriate User Roles to Have Greater Control
This is another important feature that you must use to ensure smooth functioning of your project. A big team often consists of different hierarchical and technical layers. It is a must thing for you to customize or redefine permission level for your team members. You wouldn't want everyone to get admin controls, right? There might be some of the restricted contents that only a few members should be allowed to view.
Make sure all these aspects remain under your control by clicking on the settings tab.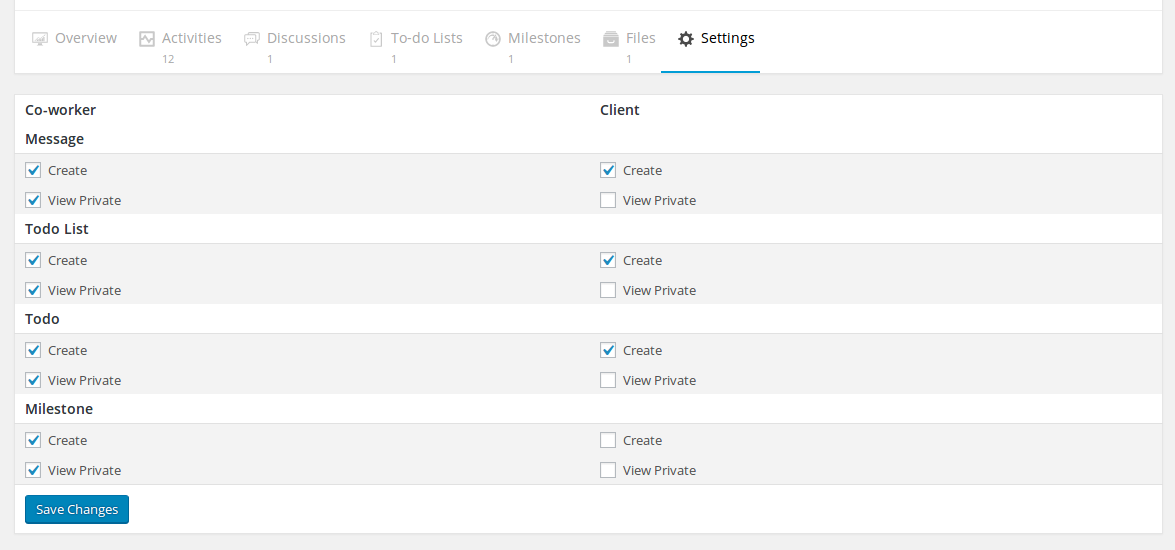 Use GANTT Chart to Have Quick Overview of Task Updates
GANTT chart is a popular visualization tool for project planning and task updating. If you want to know the latest update of a project for example dependencies, available time etc. by having a glimpse, this is a must-have feature for you.

This comes as an extension for WP Project Manager. You need to download it from the add-ons option before using it.
View Real-time Dashboard to Track Progress Reports
This dashboard works like a real-time performance report for all users. You can track your completed and due tasks with a calendar view in this dashboard. Its smart visualization will help you understand your performance standing with a simple glance.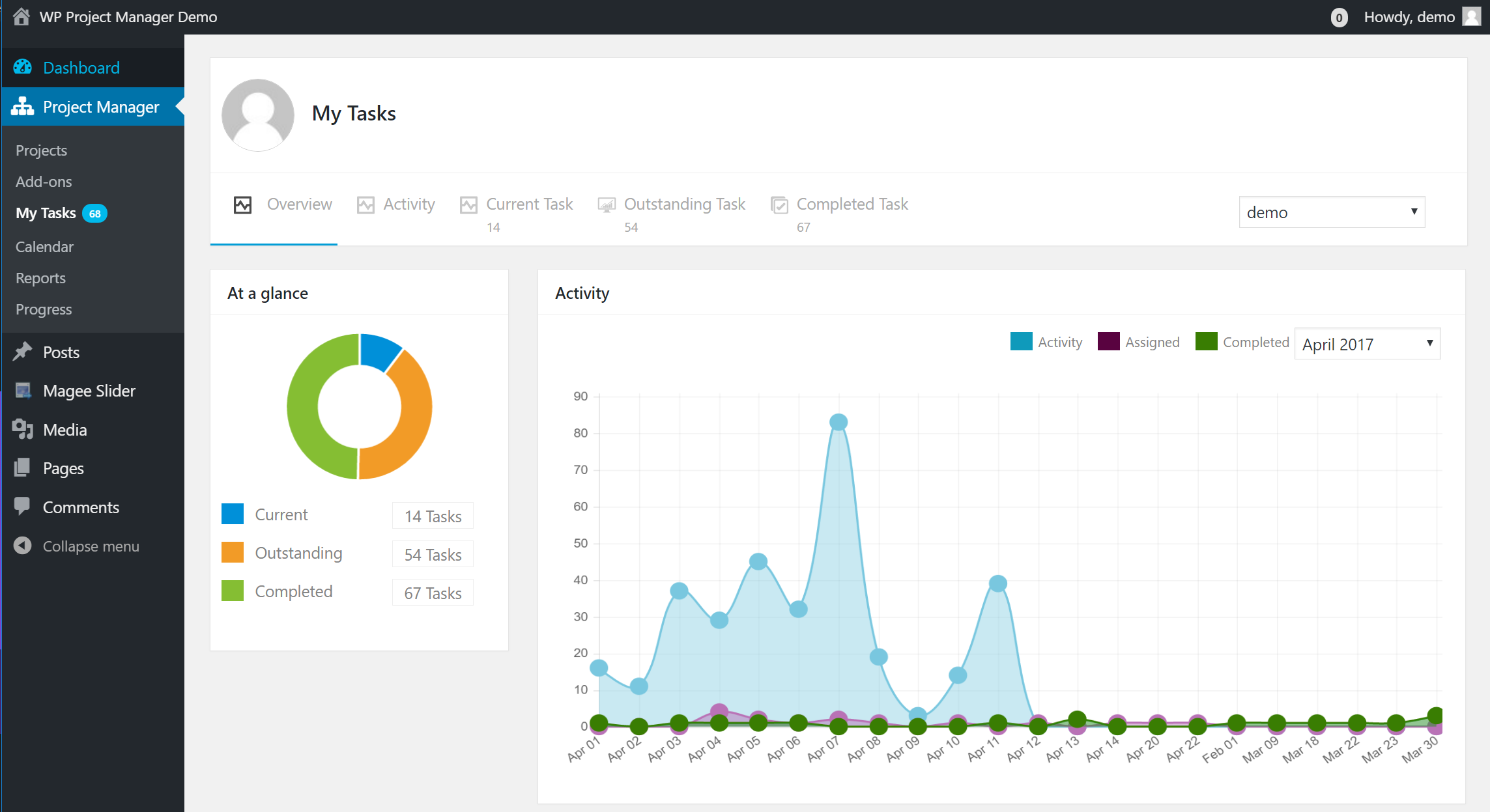 You need to go to "My Tasks" option to access this useful dashboard.
Enable Daily Digest Feature to Receive Task Notification
This is a special feature of WP Project Manager. There are times when you are bogged down with tasks and other obligation. Life becomes difficult for you. You start feeling like you are losing track. Daily digest helps you tackle these problems successfully. Enable this feature to get notified about your project updates on daily basis.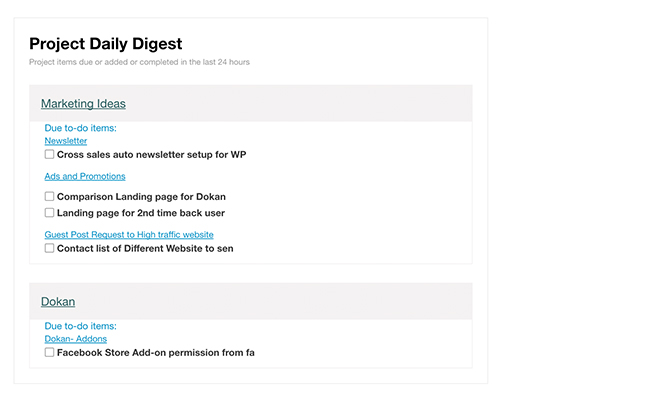 So, that is how WP Project Manager lets you be in the driving seat of your business. Every day. Every week.
A Complete Package to Solve Your Business Needs
A project management and team collaboration software like WP Project Manager can help you become more efficient. Feeling worried about the installation process and support service? Confused whether it will provide an excellent value for money?
The makers of WP Project Manager planned the solution keeping you and your need at the center. I can explain that to you day in and day out, but you should definitely check it yourself!