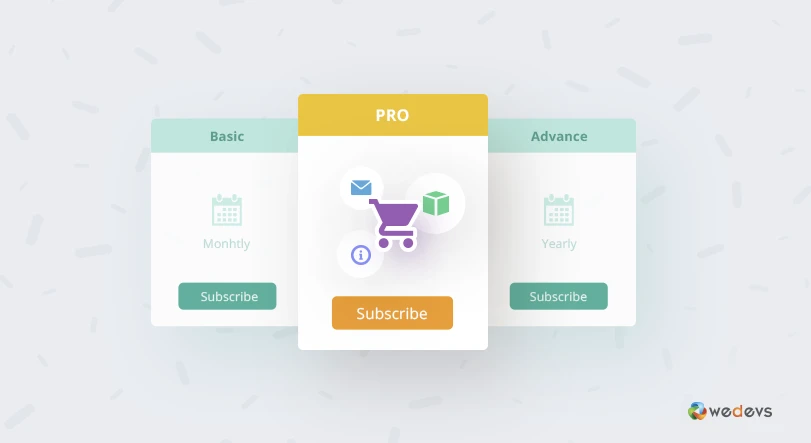 You Could Sell Subscription Based Services Like Amazon Prime
When it comes to eCommerce, Amazon is a benchmark brand. But what makes it so special? – We asked ourselves. It certainly didn't come all this way overnight. We pointed out the specific breaking point that triggered the chain fusion which lead Amazon to its current heights.
Among the many obstacles of a successful eCommerce platform, they solved one like a boss. They introduced a subscription-based service that offered users a various range of benefits for a monthly or yearly price. Now it has become the backbone of their industry.
It is a subscription service platform whereupon membership, users get a variety of services like free shipping, video streaming subscription, hundreds of ebooks, and much more. We are going to focus only on a few to make a point. How does it add more value to your store or marketplace?
A subscription product can be aimed at a problem as a solution.
People at Amazon realized that customers are leaving with an abandoned cart just because the shipping rate that came out after going to checkout was high, it freaked them out. So, they released a subscription pack that allowed them to get 2-day free shipping at only 99$ per year!
So no matter what country and volume you are ordering from, if you are subscribed to prime, you do not need to pay any dime but yet you get fast delivery in less than two days. Now, shipping is only one of the many benefits Prime offers.
To learn more about what Prime covers, you can check this article.
What Value can a Subscription Product like that Add to Your Store or Market
Having a subscription-like that will definitely give a more professional impression. It will also draw more trusty customers. Let's look into some advantages you will start to experience instantly.
Vanish Shipping Rate Related Fear
If you have a marketplace, store, or thinking of creating one, you should be very concerned with this issue because more than 90% of the abandoned carts are caused by a surprise from an unexpected high shipping rate. When your customer does not need to worry about shipping rates, they are more likely to make the purchase.
Impress More Competitively
Removing the shipping rate makes a huge psychological impression on the customer. The pricing at the checkout becomes significantly lower than the others. One customer may even browse through several stores or markets at the checkout and compare the prices and order from the lowest.
If the customer can do that with you and have no shipping cost attached, your price will most definitely be lower than anyone else. To feel that comfort of shopping, your subscription will work like magic.
Earn More Upfront
You can consider this as an additional earning channel from your store or market. You need to design your service so that you can make atleast some profit from it. So, when the customer pays you for the subscription, suppose for shipping, whether he uses it fully or not – you have the money and your profit from the subscription can range from your safe margin to 80%-90% if the customer isn't a regular shopper.
Loyal or Retaining Customers
Someone buying a subscription from you means he trusts on your services enough to stay with you for a longer time. This is a key indicating factor for your store or market that you can really expand upon it.
For Amazon Prime, a customer will surely prefer shopping with them since they have already made sure that he will face no shipping cost, or access any book for a year. You get more chance to do more business with the customer and engage him more with your offers. Loyalize and retain.
How WooCommerce or other based plugins can support subscription
Now, if you want to enable subscription based products for your WooCommerce store, you need two plugins.
The membership plugin will let you link products (like a selective free shipping) to your packages.
This subscription plugin will allow you to make it recurring and leverage several other beneficial features into those membership packages.