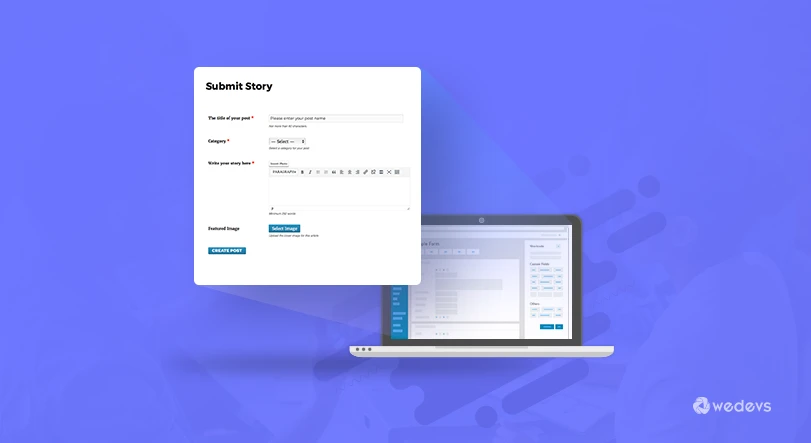 How To Take Guest Posts and Submissions from Frontend
You have a personal or agency site where a lot of people visit regularly for your content. Over time you have developed a follower base who wants to work with you too. So recently, you have come up with the idea to expand your site's activity with guest posts. If you have considered keeping the backend access all to yourself but want guests to post blogs, images, videos, and all other sorts of content on your site, then there is no alternative of a frontend posting solution. Whether you have your site on WordPress or not, a suitable WordPress guest posts plugin is what you need. So here is the idea →
Allowing Guest Posting not only saves you from letting in countless of your users access to your backend, but it also saves time and energy for your users who may simply not want to go through the registration process.
Guests Need No Registration! Here is How
The whole concept of guest posting is that the guest contributors on your site will not need to go through any registration process. WP User Frontend is the perfect solution for you because with this, your users can create posts, choose categories, and also edit even without having to register.
Creating a Form
You can choose to open an existing form of your choice from the list under wp-dashboard->User Frontend->Post Forms. Or you can create a new form by clicking on Add Form located above the Post Forms page.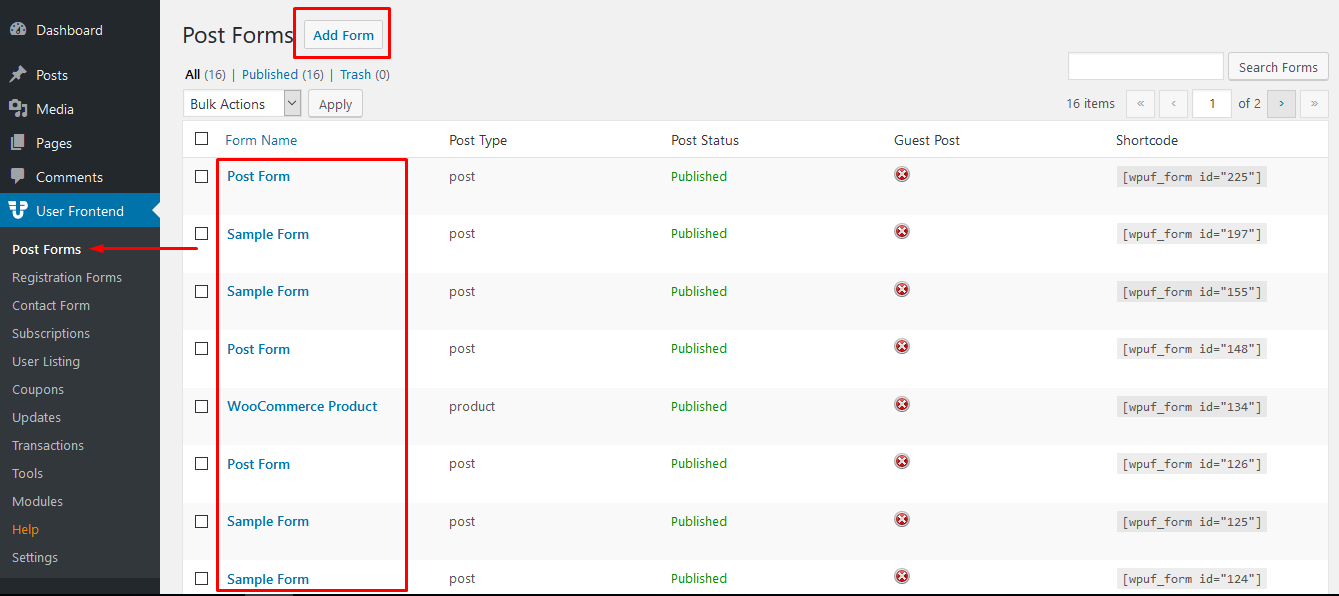 If you choose to create a new form, WP User Frontend gives you the option to choose from templates, such as, Post Form and WooCommerce Product. Or start from scratch with a Blank Form.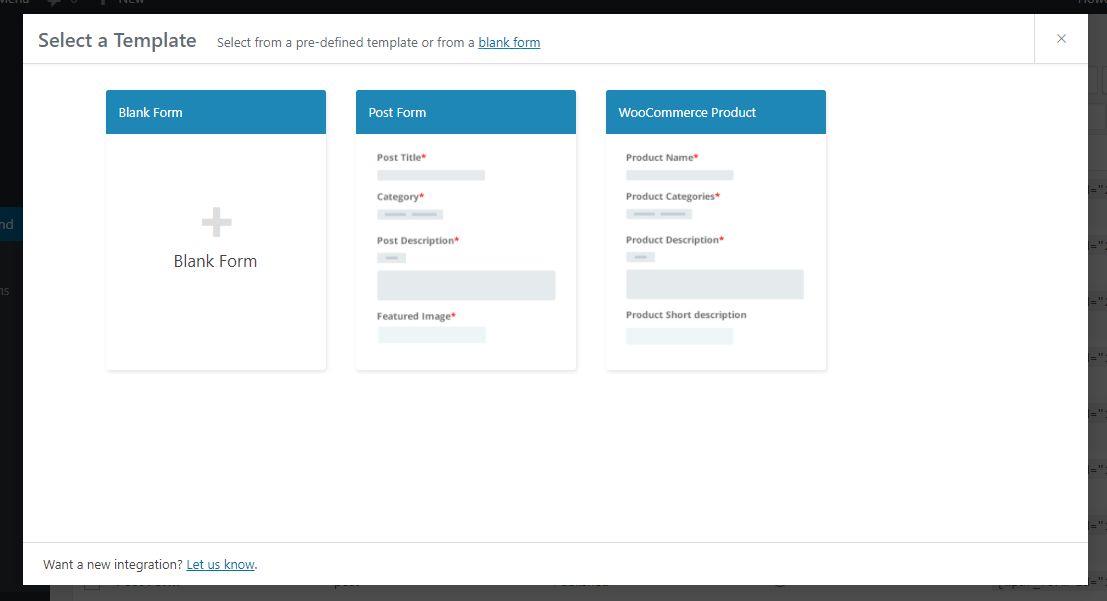 Drag and Drop the Elements
With Post Form, your users can create blog posts. Apart from Post Fields and numerous Custom Fields, you can add Taxonomies like Categories and Tags for better sorting and SEO purposes. You also have the option to let your users add a featured image and excerpt to the post that would appear on web searches.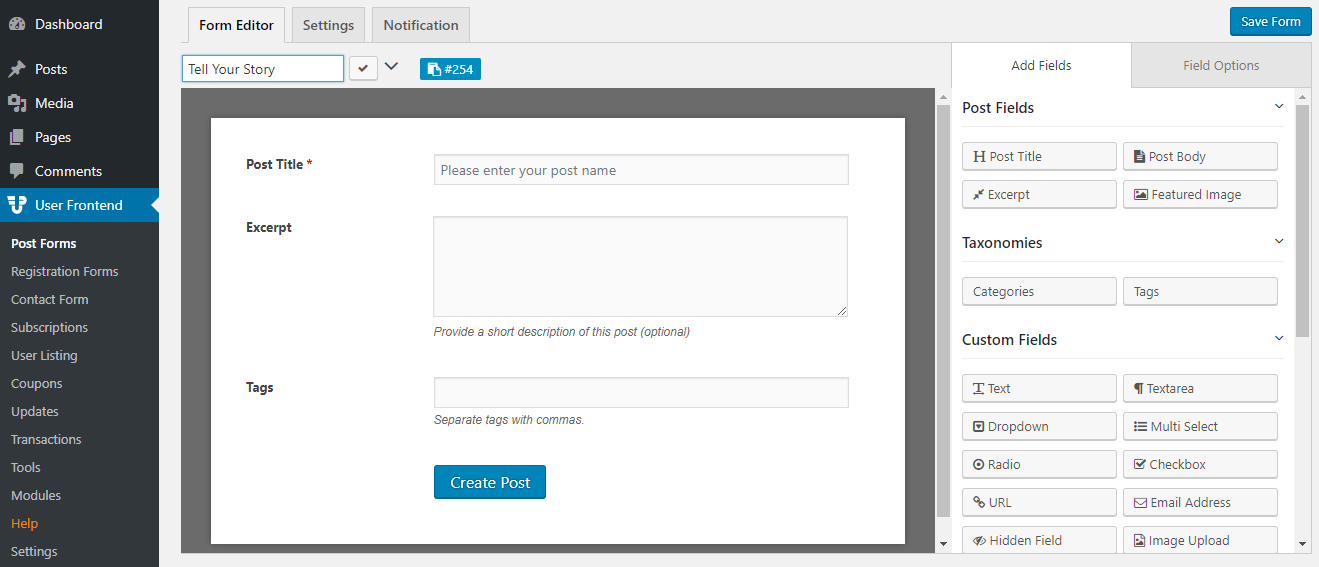 What's more, you can even choose whether you would like only your subscribed users to post on your site, or just about anyone! We will pick anyone because we do not want users to register before posting.
Configuring Guest Post feature on WP User Frontend
You can enable Guest Posting to your site by going to a form's Settings. From Settings, click on the Submission Restriction page. You will find multiple settings under the guest post feature to customize the experience further.

Click on the Enable Guest Post checkbox at the start of the page to start using this feature:

This will open up more options for you to use, as you can see above:
You can automatically register your guests simply by asking them to fill in their Names and E-mail. To do this, simply enable the checkbox for Require Name and Email address.
You can also require your guests to authenticate their emails in order to ensure they are genuine users. Not bots or spammers. To do this, simply enable the checkbox Require Email Verification for Guests.
Once you are done configuring everything, save the form.
Publishing Your Post Form
Copy the shortcode located above the form under the Form Editor tab. The shortcode for your form can be found at the top of your form or from the forms listing page. It would look like this: [wpuf_form id="1234"].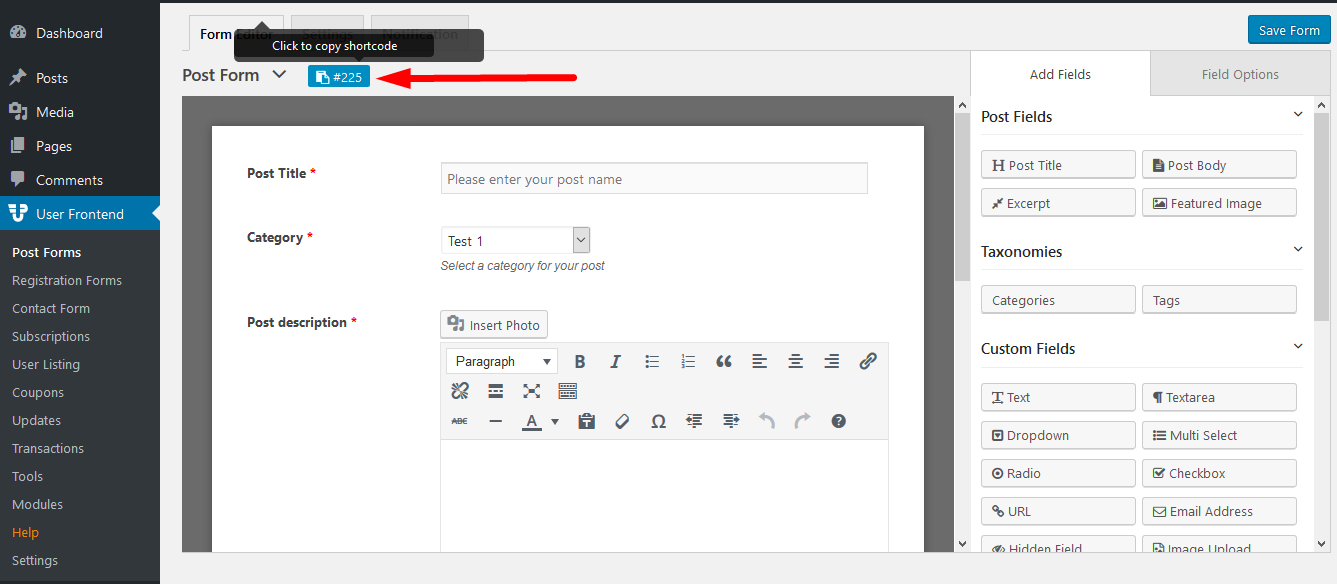 Now simply create a new page like you usually would from your dashboard, and paste the shortcode to embed the form.
Don't forget to check Everyone from the WPUF Content Restriction section. Click on Publish page and you are good to go!
Using the Form from the Frontend
This is how the guests will experience your form. At the corner of the page you will notice that at the moment of submitting this form, the user was not logged in.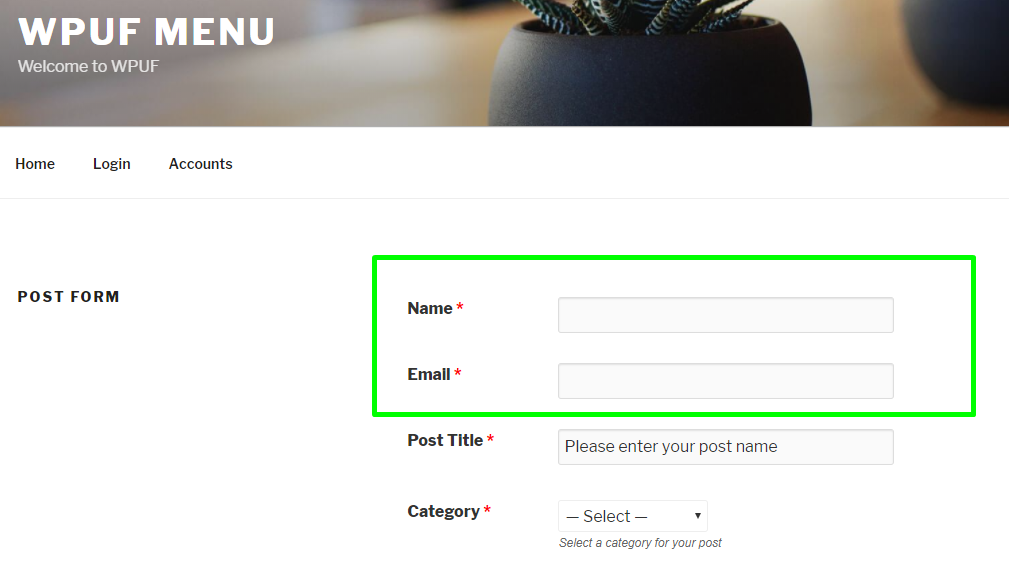 When you enable Email Verification, users will receive an email notification upon submission to confirm their email and publish the post they created.

An email like the one below will be sent to the user's inbox, asking for confirmation:

When a user clicks on the given link, his/her post will be published on your site and will appear along with other published posts.
Why Choose WPUF for your Site
The whole idea about Guest Posting is to let your users and readers feel a positive push to contribute to your business. The WPUF plugin makes this happen by making the process seamless for your users to post and publish anything they like. It thus allows easier development of user-generated content for your site. Of course, you have the final upper hand before any of your guest posts get published.
WP User Frontend comes with all the essential features for creating, editing, and publishing firms. Both the FREE and PRO versions have Guest Posting features.