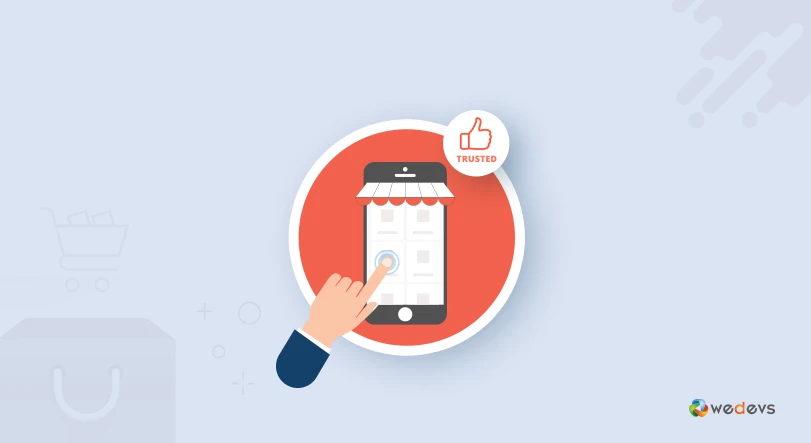 Is Customer Trust Really the Determining Factor for your eCommerce?
Why is it that so much emphasis is placed on developing customer trust and good consumer relationships for eCommerce business?
Research finds that: 67% of consumers trust a purchase on a familiar online marketplace even if the retailer selling the product is unfamiliar to them. If customers had a satisfactory experience, 54% will return to buy from the same marketplace again. The reason being they trust the marketplace.
With the continually emerging and evolving online marketplaces, one of the known ways to stay sustainable in the eCommerce ecosystem is to develop long lasting and reliable relationships with customers. There are other factors too that influence customers to buy from you, for example, the quality of your product and a well-functioning website. But what makes Trust stand out?
Trust is the overriding factor that determines whether a visitor will purchase from you or not.
Trust is the magnet that brings together your other strengths and competencies.
Without consumer trust, no individual quality of your business is usually enough for visitors to buy your service or product. If all your distinctness and strengths don't come together to create trust for your visitors, they will simply leave for other options.
So what are some of the proven ways you can influence and grow trustworthy relationships with your clients?
Solidify the Relationship
Online fraud of financial and personal information is one of the major reasons people are reluctant to buy online. Offline shopping precludes giving out personal and financial information in many cases. Since eCommerce precludes live and verbal social communication, your customers may never get to interact with you personally. Therefore, the need to establish trust is higher in eCommerce.
So how can you reinforce that you are genuine and trustworthy?
One way to do it is through communicating testimonials and reviews. Post reviews from your previous happy clients on your website, social media, like Facebook, Twitter, LinkedIn, and also send them on newsletters to your subscribers. Online feedback and testimonials play a huge role in shaping your users' decision to buy or not. Word of mouth remains to be the single most effective sales factor and marketing technique that does its job without you having to spend your finance on it. But it obviously doesn't come without effort. Therefore, it's important to have a good website technology, quality products, and of course, a good customer support service for your clients to speak something good about.
Research again shows:
88%

of online

consumers look for ratings and reviews

, with

47%

of online consumers seeking them only

if [they] are not familiar with the retailer

and

41%

only

purchasing if ratings and reviews are present. – Bizrate Insights


.
Obtain reviews by seeking them personally from your consumers either through email, phone calls or social media. It can also be in the form of ratings like on Facebook, but even better are descriptions and videos of your clients talking about how your product or service benefits them. And don't be afraid to ask, because customers do love communicating their experiences. Also, keep up with reviews of your services and products given on other websites and forums, such as Yelp, Amazon, and Yahoo. Show that you are responding to customer's feedback, solving their problems, and also appreciating their good ratings.
Invest in Trust Seals
However, reviews and testimonials are not 100% guaranteed to build trust between you and your customer. Once a potential buyer has read and heard all word-of-mouth and first-hand reviews, there may still be a gap in his/her mind before they choose to buy from your store. A significant percentage of online shoppers (70%) refuse to continue with their online transaction because they did not trust the transaction. 53% also say that if there was a seal present, they wouldn't have canceled the transaction.
This is important. It pushes your customers to trust you and have faith in your business. Computer users and eCommerce consumers now increasingly recognize the significance of Trust Signals. One of the most widely recognized methods is the SSL/TSL certification, which is a networking protocol that serves browser authentication, encrypts and secures client and server communication, and makes the server authenticated.
eConsumers increasingly look for the padlock and know the difference between http:// and https://. When they see the green bar on a website, they instantly know that it's a place they can trust enough to enter their information. They know it's a genuine business and safe. Without this, they are left to trust the vendor alone which is something most users are not comfortable with.
Though this license can be expensive depending on the level of security you integrate, but worth it if you are serious about building customer loyalty and selling more.
A padlock and green bar in a browser's URL window are an indication that the website has obtained Extended Validation SSL (EV SSL). Even that little "s" in a URL is a sign that the site is a trustworthy e-commerce site…It ensures that all data passed between the web server and browsers remain private. – Jeremy Said
After Sales and Ongoing Support
What's next after you have ensured your website is secured, authenticated, and users are able to verify that you are a genuine seller?
Ensure that your customers are now able to reach you anytime. Your contact page and details should be up to date. And the contact information should be present in every page, usually in the footer. Adding your address in addition to your phone number eases your customer's worries even more. Ensure that you respond to all customer queries. Having representatives to manage live chats is the most beneficial support you can provide to your users. It works as a substitute for face-to-face interaction and brings satisfaction that you care about your clients and there is someone to listen to their issues.
Stay in touch with your customers through email marketing. Send newsletters for updates, new products, and offers. Reward your loyal customers with discounts, coupons, and gifts, and they will reward you.
Wrapping up
Trust influences a consumer's decision to visit your site, buy your product, return to the site, and even promote your brand. Sometimes customers themselves become brand ambassadors of products because of the benefits they have received and the faith they have gained in the business. Without trust, visitors will simply drift away to competitors and choose other options. It doesn't take much long for the visitor to lose attention, but a lot for the vendor to gain and retain it. So ensure that you are investing wisely in building trustworthy relationships.
So, is TRUST really the determining factor for the success of your eCommerce? The answer is overwhelmingly, yes. But it is not something that can be built in a short time. Moreover, with each customer, building a long lasting relationship will vary because the perception of each client will vary and so will their interaction with you.
No one method guarantees success.
What is known is that customer trust develops in stages, not instantly. The more you solve customer's concern points to remove their hesitations, the more you increase your chances to gain trust from your visitors.
Do you know of other methods to build trust with your clients? Have they worked for you and your business?
Share your experience with us in the comments below!